Our Inn was built in the 1860's and was lovingly restored in 1995. The interior, exterior, and grounds are beautiful. The inn is a peaceful, welcoming sanctuary, perfect for your Bar Harbor and Acadia get away. Fantastic breakfast are included.
My friend and I stayed here for 4 nights and could not have asked for a better airbnb experience!! The inn itself is so quaint and the decorations are adorable. Jerry, the host, is extremely knowledgable about hiking and trails in Acadia, and even gave us the best places to eat in Bar Harbor. He immediately made us feel welcome and part of his family, and his breakfasts were the best! The location is perfect (5 min walk tops to main area) and I can't wait to stay here again. Anybody coming to Bar Harbor should definitely stay here if they want a unique and unforgettable experience.
Elena
2016-06-04T00:00:00Z
The host canceled this reservation 20 days before arrival. This is an automated posting.
Rajiv
2016-04-29T00:00:00Z
Lovely, welcoming atmosphere. Cookies, lemonade, tea, water, coffee all out in the dining room for guests to enjoy throughout the day. Right outside downtown, 5 min walk to Main St. The room was clean, bed was comfortable, bathroom spotless! And our hosts were welcoming and very helpful with suggesting hikes and bike rides throughout Acadia. We also had the most AMAZING breakfasts every day. I would recommend StoneThrow to anyone looking for a quiet getaway to Bar Harbor/Acadia!
Dariel
2016-05-31T00:00:00Z
Type de logement
Chambre privée
---
Type de propriété
Bed & Breakfast
---
Capacité d'accueil
2
---
Chambres
Bar Harbor, Maine, États-Unis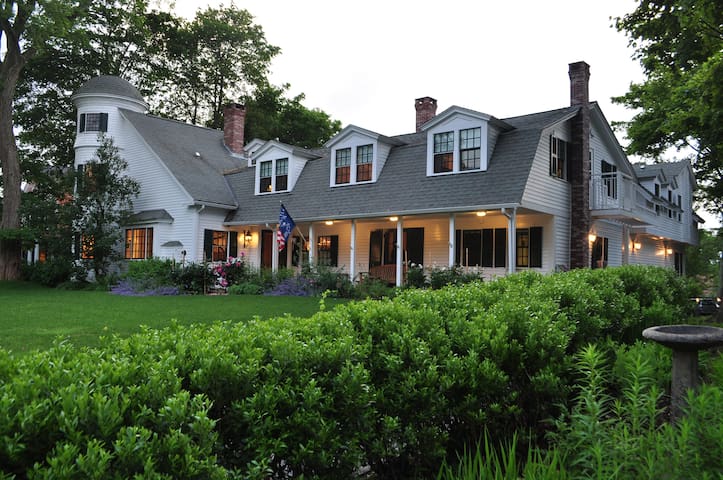 The Holland Inn B&B provides an informal option for travelers who enjoy great food and who may appreciate local insight about the area. See the web site for all info.
Evin was a great host, she helped us plan our time inAcadia. Her breakfasts were gourmet! We would highly recommend her B&B
Carolyn
2016-06-08T00:00:00Z
Evin was delightful. The inn was right downtown and was a tidy and comfortable place to stay. Needless to say, Bar Harbor is a gem and the Holland Inn is a great place to stay. Breakfast was damn good too... As good (if not better) than anything we ate in town. Thanks too for all the hiking tips : )
Patrick
2016-05-23T00:00:00Z
Evin is a great host, and her breakfasts are fantastic. She is on premises virtually all of the time and is generous with her advice on local restaurants and attractions. The inn itself is within walking distance of downtown and the harbor, which makes it easy to pop in and out while exploring the city. Acadia is only a short drive or bus ride away. We had an excellent stay and would recommend Holland Inn B&B to anyone looking for a nice experience in Bar Harbor.
Jeff
2016-08-03T00:00:00Z
The Holland Inn is a lovely and well run B&B in a fantastic location. Evin is a wonderful host. She is knowledgeable about the area and goes out of her way to make you feel comfortable. The room was excellent - better than the descriptions. Lovely. Breakfast was a good start to our active day on the trails. We would definitely stay here again.
Jay and Janet
2016-06-10T00:00:00Z
Can't say enough wonderful things about this B&B, host Evan and the location! Really best breakfast at any B&B I've been to, Evan gave us tons of advice on things to do and see in town! What a great trip! Would definitely stay here again on next visit. Rooms are a little bit smaller than hotel rooms if you are used to 2 queen beds. Our room had 1 queen bed. But we knew that was what it was ahead of time, had a nice big bathroom, great porch, coffee maker, everything you would need! We mostly walked everywhere as location is so perfect! Real close to the sand bar which connects to Bar Island! Again. perfect visit! would highly recommend.
carolyn
2016-06-01T00:00:00Z
Everything was just how it was described. My husband and I wanted to get away for a few days in Maine, we had a wonderful time. Would and have recommended staying at the Holland Inn B&B. Evin was very nice had great suggestions for things to do and I don't think you can find a better breakfast, so delicious! Would definitely go back again.
Lanni
2016-06-17T00:00:00Z
The Holland Inn was a great place to stay while my boyfriend and I spent a couple of days hiking in Acadia. The room was a great size with a private bathroom. My favorite part of my experience at the Holland Inn was the breakfast - it was absolutely fantastic. The bumble berry butter was out of this world. The inn is also very close to downtown bar harbor, and we spent an entire afternoon exploring the historic sea cottages and the shops/restaurants in the area. Evins advice on which hikes to do was also invaluable. I would definitely come back here again!
Kaitlyn
2016-05-19T00:00:00Z
The Holland Inn was the perfect place for our stay in Bar Harbor. The room was very cozy and had a nice big bathroom. The location was excellent, close enough to the center of town that it was a convenient to walk but far enough that we were able to enjoy some peace and quiet. What set the Holland Inn apart from anywhere else is Evin, the innkeeper. She's incredibly warm and accommodating and immediately makes you feel super welcome and at home, and she's super helpful with recommendations for things to do in town or in the park. Evin's breakfast creations were easily the highlight of our stay. She strikes a fantastically delicious balance of spicy, sweet, and salty in her dishes -- and she will cater to any and all dietary restrictions. I couldn't imagine a better place to stay in Bar Harbor, and next time we're in town there's no question that we'll be staying at the Holland Inn.
Jeremy
2016-06-05T00:00:00Z
Type de logement
Chambre privée
---
Type de propriété
Bed & Breakfast
---
Capacité d'accueil
2
---
Chambres
Bar Harbor, Maine, États-Unis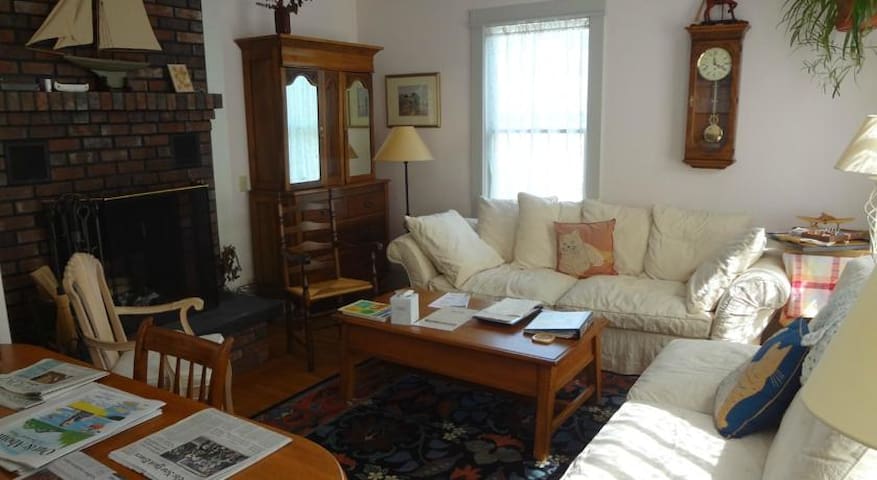 The Saltair Inn Waterfront B&B is a bed and breakfast located on the shore of Frenchman Bay in downtown Bar Harbor. Rooms include a full breakfast, luxurious waterfront suites, private baths, off street parking, and real innkeepers. Listed rate is for a king bed with private bath and water view. If the listed room is not available, we will send you a message with other options. A 9% Maine State Sales Tax will be added and expected at check out.
Kristi & Matt are the most welcoming, kind hosts! We had such an amazing stay at Saltair. It's the most beautiful house, and the waterfront view is perfect. Breakfast on the back deck was delicious. We already can't wait to be back!!
Chris
2016-08-05T00:00:00Z
Kristi and Matt were both excellent hosts, very welcoming, and eager to help us make the most of our trip. The accomodations were very comfortable and centrally located. Couldn't recommend staying here more.
Ankur
2015-09-08T00:00:00Z
The Saltair Inn was lovely, cozy and very welcoming! Our hosts Matt and Kristi were wonderful hosts and we will definitely be visiting the Saltair Inn again if we ever get the chance to travel back to Bar Harbor!
Stephanie
2016-10-31T00:00:00Z
Wonderful stay at Matt & Kristi's gorgeous B&B! They were great hosts and served up a delicious breakfast. Can't beat the location, right on the water and an easy stroll into town for dinner. Will be back!
Marianna
2016-09-19T00:00:00Z
Type de logement
Chambre privée
---
Type de propriété
Bed & Breakfast
---
Capacité d'accueil
2
---
Chambres
Bar Harbor, Maine, États-Unis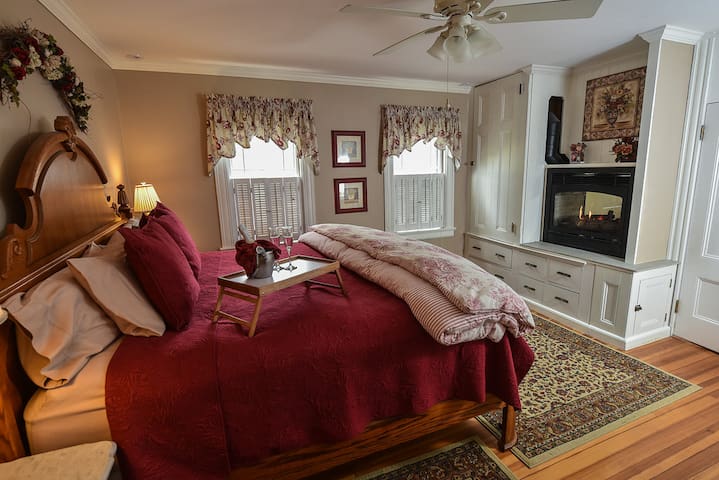 In the middle of downtown Bar Harbor is the former Canterbury Cottage B&B. We offer three bedrooms that each have their own separate bath & TV. We have 1 king bed room and 2 queen bed rooms. All rooms are located on the second floor. The 1st floor offers a dining room and a living room with TV and a fireplace. Guests are restricted from using the kitchen. Wi-fi is available. Sorry, no pets!
Type de logement
Chambre privée
---
Type de propriété
Bed & Breakfast
---
Capacité d'accueil
2
---
Chambres
Bar Harbor, Maine, États-Unis
1

–

4

sur

4 Bed & Breakfasts
Saisissez les dates souhaitées pour connaître le prix total. Des frais supplémentaires s'appliquent et des taxes peuvent être ajoutées.