Completely renovated space with beautiful hilltop view of Bethlehem and beyond. Convenient to historic downtown Bethlehem with lots of restaurants and shopping, Sands Casino, Lehigh and DeSales University, Moravian College, Black River Vineyard, Promenade Shops. Plenty of private, well-lit and secure off street parking. With over 1,400 sq ft of space this residence is perfect for a single person, a couple, or can easily accommodate 6+ people. Feel free to stay 1 night, a week or even a month!
Please note that there are stairs from the parking lot leading up to the loft, and the loft itself has 2 floors so there are stairs inside as well. The 1st floor provides the main living area, along with a full service kitchen, dining area, washer & dryer, half bath, the master bedroom, and a full bathroom. There are 3 bedrooms on the 2nd floor along with a full bathroom. The kitchen is equipped with a Keurig coffee maker (coffee and tea K-cups provided), gas stove, dishwasher, toaster, plates, glasses, utensils and pots and pans so you can feel free to cook any of your meals, or visit one of the many restaurants in and around downtown Bethlehem. Upon check-in you'll find some of our fresh eggs in the fridge from our free range chickens. And for those over the age of 21, you are welcome to request a complimentary bottle of hand crafted wine from our high quality and locally grown grapes. Pets are welcome with approval from the owner and an extra fee. Satellite TV is available in 3 rooms and the Loft is set up with Wifi.
The loft is located on the top of a hill, thus no easy access for walking. South Mountain Park is located within a 1/2 mile drive. There are also plenty of places to walk in and around downtown Bethlehem, including Sand Island.
Nice space!
nick
2017-01-19T00:00:00Z
The BRF loft was absolutely awesome! Beautiful home and a very nice location. We were visiting with some friends and loved how close to Allentown we were!! Communication was a breeze and I would definitely recommend staying here!
Kacie
2016-12-18T00:00:00Z
Lovely place, lots of space. And thanks for the homemade wine! Delicious!
Dave
2017-02-17T00:00:00Z
Kris's loft was a perfect stay for our family wedding at Saucon Valley CC. Easy uber ride to downtown Bethlehem as well. Place was spotless and we enjoyed the personal touches like the fresh bread, eggs & wine! Communication was super easy as well. Place can be a little hard to find, but once you do, it's great!
Ryan
2017-01-15T00:00:00Z
This was an amazing experience and Kris made it all the better!! I am so happy we chose to stay here. I quick trip to the mountain, secluded enough but had wonderful stores/ restaurants/ bars/ breweries/ all around. Bethlehem is full of character and the loft made it that much better. We will love to stay again.
Kimberly
2017-02-20T00:00:00Z
Communication It's been a pleasure chatting with Kris on the place and has been on top of the reservation from booking to when we left. She's provided quick answers when needed and quickly helped me out when I needed to add a couple more names to the reservation. She also was very helpful with keeping me up to date with check-in and directions to the home. Location There's plenty to see and do within a 20 minute drive from the house. We got to visit several places around town and enjoy the area. It was also not too far from Allentown where we got to chill at the AHL All Stars game. There's plenty of rolling hills and views from the home. And during the evening, it's nice and quiet. Amenities I admit, this is an awesome place. There were 5 adults on the trip and we all had our own rooms. The kitchen is spacious with plenty of amenities. The TVs and the reclining chairs in the living room made it feel like we in a theater. A group of us sat there and watched at least 3-4 movies reclined and enjoying watching it all on a big screen. The bedrooms all had nice memory foam mattresses to sleep on. And ample lighting in each room. One thing to note though is that there are some stairs to climb in this loft. One set of stairs outside the building to get to the second floor. Another set of stairs when entering the home. And one final set of stairs between the main floor and bedrooms upstairs. So if you're booking and planning to have big luggage, daily trips with a gear or with the elderly, it may be something to consider.
Eric
2017-01-30T00:00:00Z
This was a very nicely appointed home with the best mattresses we've encountered! The local fresh eggs and wine were very nice touches! Kris was very attentive and went so far as to ship a pair of glasses that were left behind. Definitely recommend, but be careful pulling out of the driveway.
Nancy
2016-12-30T00:00:00Z
My friends and I had an awesome stay at the loft. The place is just as described - super clean, spacious, and the beds are quite comfortable. Kris was communicative and welcoming. Highly recommended, would stay again!
Brennan
2017-04-02T00:00:00Z
Type de logement
Logement entier
---
Type de propriété
Loft
---
Capacité d'accueil
6
---
Chambres
Bethléem, Pennsylvanie, États-Unis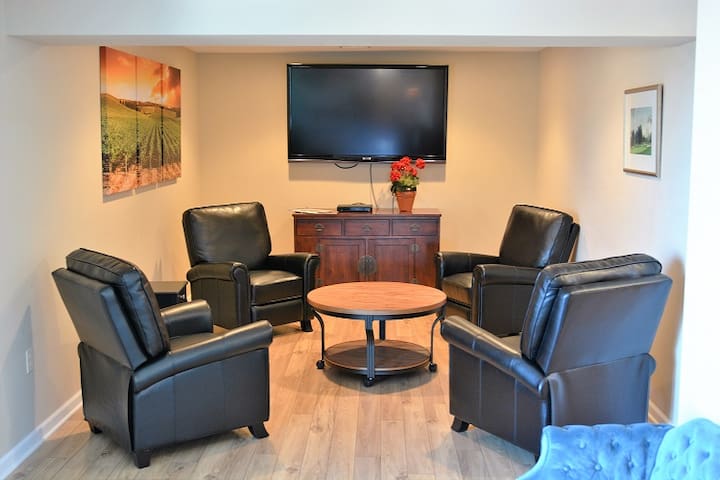 Located on the top floor of a 19th C Wireworks Factory, the stone building also houses an art gallery, studio and venue restaurant with a dining patio. The Washington Post described the building as, "Beautifully rebuilt and completely contemporary."
Le Loft est un pied carré 2000, appartement de deux chambres. La chambre principale dispose d'un lit queen-size et la mezzanine a trois lits jumeaux taille avec un lit queen size-lit. L'appartement est entièrement meublé et comprend une cuisine complète, une buanderie et une salle de bains. Cette propriété a une politique et la politique « animaux considérés comme » non-fumeur. Services Loft Le Loft à FLOW dispose d'un poêle à granulés de fonte / maïs et stationnement hors rue. L'appartement offre également la télévision par câble, une connexion Wi-Fi, DVD et un lecteur de CD pour se détendre à l'intérieur. Vous pourrez cuisiner sur place dans la cuisine entièrement équipée et le patio à manger en plein air à la base de la montagne. Le bâtiment abrite également plus de 4000 pieds carrés d'espace de galerie d'art et les œuvres d'artistes de renom et co-propriétaire Victor Stabin ainsi que d'autres artistes invités de renom. Le restaurant dans le bâtiment est actuellement ouvert pour des événements spéciaux.
Les amateurs de plein air peuvent accéder à un vaste réseau de sentiers reliant un quart de mile de la mezzanine pour profiter du vélo, la course, la randonnée ou le ski de fond. La proximité de la rivière Lehigh offre également un accès pour le rafting en eau vive, le kayak et la pêche par un certain nombre de pourvoiries. boutiques éclectiques, des musées et le Mauch Chunk Opera House sont à distance de marche de la propriété. D'autres activités à proximité incluent la baignade, la pêche et la navigation de plaisance à la belle Chunk Lake Park Mauch. Au cours de la chaque saison, les visiteurs peuvent profiter d'un certain nombre de festivals annuels, y compris les week-ends de feuillage d'automne, Jim Thorpe Célébration de l'anniversaire, Jour de la Terre, temps de Noël d'antan, Winterfest et le Festival Burlesque.
We felt like we were at home from the get go. Joan was super nice, easy going and so accommodating. The space is incredible, comfortable, spacious and has every thing you could possibly need. This is by far the best place we have ever stayed, the pictures don't do it justice.
Jacinta
2016-08-22T00:00:00Z
10/10 place. Amazing one of a kind setup. Loft is awesome, patio even better. Great location easy walking distance to restaurants coffee shops etc. Seems hard to believe their could be a better place to stay in Jim Thorpe. Worth the money.
jared
2016-10-13T00:00:00Z
What a unique and inviting place! A spacious and artistic loft that is comfortable and near everything Jim Thorpe, PA has to offer. While Joan wasn't able to meet us as she was on her own vacation, she made sure to have someone there to welcome us upon our arrival. The place was clean and well-appointed--comfortable furnishings, nice lighting. It's less than a mile from the train, less than a ten-minute walk from the local concert venue, and a two-mile drive to the lake. We did the bike train up (and biked down) the Lehigh Valley Gorge, we visited the shops in town, and had a fabulous dinner at Moya. Hard to believe this quaint spot is only two hours from NYC. Thank you, Joan, for a great place to stay!
Camille
2016-07-18T00:00:00Z
Joan made me and my entire family feel welcomed. She was incredibly gracious to give us a tour and some background on her wonderful loft which contains such a rich history.
Scott
2016-01-19T00:00:00Z
Weekend stay was great! The house is a pleasant stroll into downtown. Great open floorplan and funky décor/art. Would happily make this my go-to Jim Thorpe place.
Erin
2016-07-25T00:00:00Z
Joan was a great host! The location and loft were amazing, highly recommended. It was clean and spacious. The art gallery below was beautiful and a must-see. Great getaway from NYC to go hiking and walk around a charming town.
Sima
2016-09-12T00:00:00Z
Joan was wonderful to work with throughout the entire booking and stay. She was responsive to requests with quick and accommodating responses. The loft was exactly what my family and I expected with a great atmosphere. We loved the use of the private patio out back and the large open spaces of the rooms. Location to town was great as well with only a few blocks walk to downtown. Great place for a group looking to connect!
Chad
2016-10-11T00:00:00Z
Joan was a wonderful host. We were so happy to have booked her loft. Thank you!
Jen
2016-12-04T00:00:00Z
Type de logement
Logement entier
---
Type de propriété
Loft
---
Capacité d'accueil
7
---
Chambres
Jim Thorpe, Pennsylvanie, États-Unis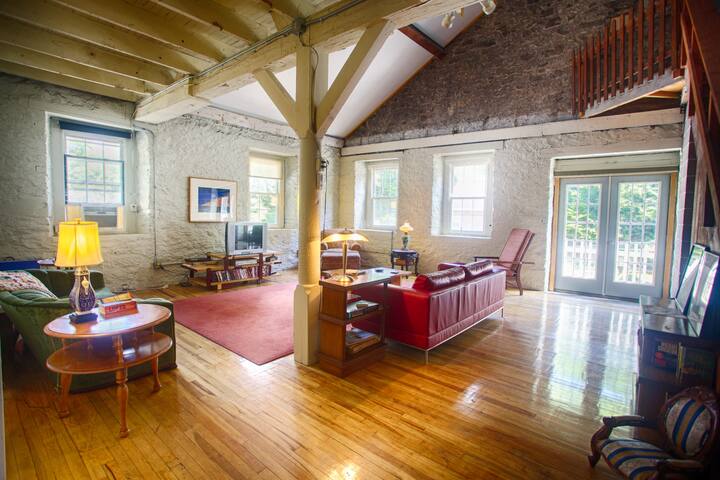 New listing special winter price! Spring mountain 20min away! Completely private super sized 2 bedroom duplex loft in a unique converted historic building. Every room is filled with an abundance of natural sunlight, and very cozy. It's also located in a great location for traveling anywhere you want to go!
14 feet ceilings flooded with natural sunlight make this a great place for inspiration, and comfort.
Everything you would ever need, or want to do is right outside the door.
Andrew was just awesome in every way ! Made my trip so convenient and made sure we were comfortable in every way. Place was just immaculately clean!! I recommend this place 1000% !!!!!! Thank you so much Andrew and hope rebook next time with you !!!! Regards, Eric Kwon
ERIC
2017-04-02T00:00:00Z
We loved staying at the loft! Comfortable and really clean. Unique space with a lot of natural light. Andrew was super accommodating. Easy commute to Philly and only 15 min to great hiking at Valley Forge.
Thomas
2017-02-24T00:00:00Z
Beautiful apartment and building! Extremely spacious, clean, and comfortable! Great location and easy to access highways, restaurants, and social destinations. Highly recommend this apartment!
Sue
2017-01-28T00:00:00Z
I had a great weekend at Andrews ! The loft was very comfortable and home like. The neighborhood was quiet , friendly, and convient to everything you need. I will visit again if I'm in the area :) !
Keisha
2017-02-20T00:00:00Z
Nice place. Close to king of Prussia mall and Philly.
Weixiang
2017-03-09T00:00:00Z
Andrew's place in Royersford was super cute. Had to find a place to stay for a family Christmas get together and his place was perfect. The swinging couch and board games brought back childhood memories. Only thing I say it needs is curtains in thevery bedrooms. I'm just a light sleeper and once the sun came up I couldn't stay a sleep.
Patricia
2016-12-25T00:00:00Z
What a great place!!!! Cozy, immaculate, and fun. Loved the decor and had everything I needed. Spent a peaceful wonderful time. Andrew and Natasha were very attentive and accommodating. I will surely be back.
My
2017-03-23T00:00:00Z
We had a great say at Andrew's place! It's a fun and spacious apartment! We enjoyed working on our laptops from the swinging couch. It was fun to look at all of the artwork in the place. It had everything we needed while we were there. Most of all, we were impressed with how CLEAN the place was. Seriously, can I pay whoever cleans that place to come to my house? Not a speck of dust anywhere! Not on the plants, not on the windowsills, no where. I wouldn't normally notice if dust WAS there, but the absence of dust just jumped out at us, because the place was so amazingly clean. Also, Andrew met us promptly and check-in and check-out were easy. Will definitely stay there again if we are in town.
Elizabeth
2017-03-26T00:00:00Z
Type de logement
Logement entier
---
Type de propriété
Loft
---
Capacité d'accueil
4
---
Chambres
Royersford, Pennsylvanie, États-Unis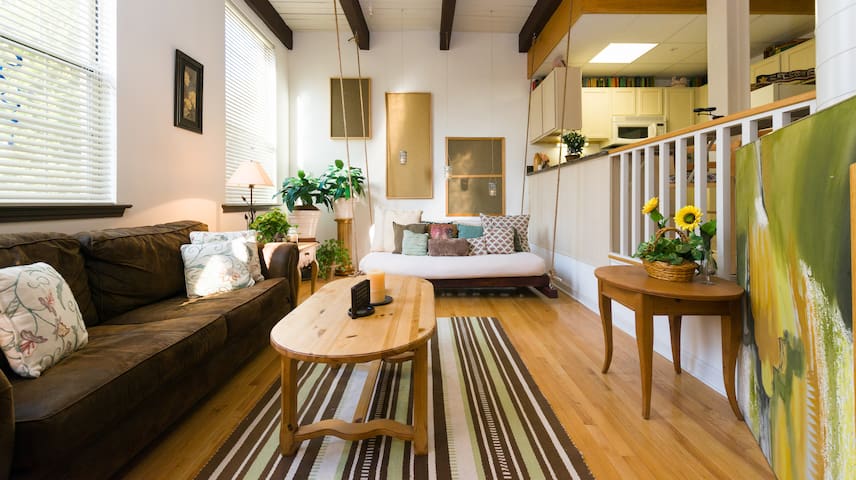 Bucks County Country Oasis-Lakeside Barn and Nature Preserve. Come lose yourself in the majestic scenes and sounds of this lush Bucks Country destination. Watch the blue herons, hike and fish the lake and streams, 60 acres. Rental Contract
Stay in an enchanting barn dating back to the 1800's and just redone as a guest house and sanctuary. Experience all the luxury of a modern oasis with professional kitchen, new bathroom, wifi and AC.
Yafa and Barry and the puppies and the wild turkeys and the great blue herons and the stocked fridge and the bonfire and the everything was just amazing all over
Jason
2016-09-25T00:00:00Z
Yafa's guest house is BEAUTIFUL. The property is gorgeous, the house well-appointed, pool spectacular. Yafa was a very generous host as well, having left the juiciest tomatoes, peaches, prosecco and other foods for us when we arrived. There were some issues with the plumbing, but Yafa was quick to respond and take care of the problem. Would recommend for a group of 2-3 people.
Alexandra
2015-08-10T00:00:00Z
Yafa's farm is a dream. It's far more beautiful than the pictures. The house is lovely and looks out onto the pond. We spent a long time canoeing in the pond, enjoying the sun and watching the heron and beaver who live there. We also loved walking around the woods that surrounded the pond. Yafa was an amazing host, exceptionally warm, nice and inviting. We can't wait to stay there again.
Victor
2015-10-13T00:00:00Z
We had a wonderful time at Yafa's guest house & her property was fantastic! She was so sweet and hospitable & made us feel extremely welcomed. Like many of the reviews before us she left us several food items in the refrigerator and a beautiful plate of freshly picked tomatoes & peppers. The guest house was lovely & positioned right next to the small pond on the property. We saw several animals including deer, blue heron, and a small beaver swimming around, it was such a beautiful escape from NYC. We would definitely go back and Yafa made the experience just that much better! Btw she also gave us some of her home made tahini treats…yummy!
david
2015-08-31T00:00:00Z
Very welcoming and beautiful property. If you are looking to escape, this is a great location. There is no television and very limited internet access, but a very serene setting.
Michael
2016-07-13T00:00:00Z
Two friends and I stayed overnight at Yafa's to relax over 4th of July weekend. The property was beautiful, the barn was as pictured, and the view of the lake was stunning - but unfortunately, it did fall short of what we had expected. What we were most excited about was the pool - it's been a humid summer so far, and the chance to swim was, for us, the deciding factor between Yafa's and another Airbnb rental. But when we got there, we discovered that the pool had been drained the day before. This was obviously a major bummer, especially since there'd been no warning or notice beforehand, even though I had written Yafa the morning of our stay. Our second backup would have been exploring the nearby trails or watching movies inside the cabin - but there was next to no WiFi signal (I had a poor connection & my friends couldn't even pick up a WiFi network), which meant we couldn't access Netflix as we had planned. We also had no idea where the trails where, and couldn't look up where to go. :( Not a big deal - we could have easily asked Yafa. I ended up asking her about the WiFi connection, around 9pm (mobile data was totally unreliable), and she did answer around 11:30pm - she said she didn't know why the WiFi wasn't working, and suggested hanging out on her front stoop to get a stronger signal (which, to me, makes saying that there is WiFi connection a little deceptive). Why didn't we ask her in person? When we arrive and drove up to Yafa's house (the main building), she called down from the second floor that she was napping and to just go ahead and drive down to the barn - despite the fact that I communicated multiple times about our arrival time. After that, we just didn't feel comfortable knocking, and since she never came around to say hello, we never got the chance to speak or ask questions. We still had a great time, but all in all we were all a little disappointed and actually ended up leaving a little early the next day. So should you stay, definitely reach out ahead of time, and be explicit with any questions or concerns you might have. Some other notes: some shampoo/body wash is provided, but a very small amount, so bring your own. The double bed fit 2 people just fine, and the couch was spacious enough for a third, but no additional blankets or pillows were provided, so bring those too. Parking was easy, some food and a bottle of Prosecco was thoughtfully provided, and yes, there are herons in the lake!
Melissa
2016-07-05T00:00:00Z
The place was more beautiful than portrayed in the pictures. It's very scenic and unique which is why I chose this location. Yafa was very accommodating and attentive to anything I needed.
Samuel
2015-09-16T00:00:00Z
Yaffa's guest cottage and property is beautiful and HUGE! The pool was lovely and sitting by her little lake was also a pleasure. The guest house was very clean and mattress was comfortable. She left us a bottle of wine and lots of breakfast supplies. TAKE NOTICE: This is a "guest house" that means you will be sharing the property with Yafa if she is home. Luckily she was out of town when my husband and I were there so we felt we could roam the property without having to ask for permission to do anything. I'm not sure how the experience would've been had she been there but we had a fabulous and romantic wknd! And she let us bring our dog which was amazing!
Whitney
2015-07-07T00:00:00Z
Type de logement
Logement entier
---
Type de propriété
Loft
---
Capacité d'accueil
3
---
Chambres
Perkasie, Pennsylvanie, États-Unis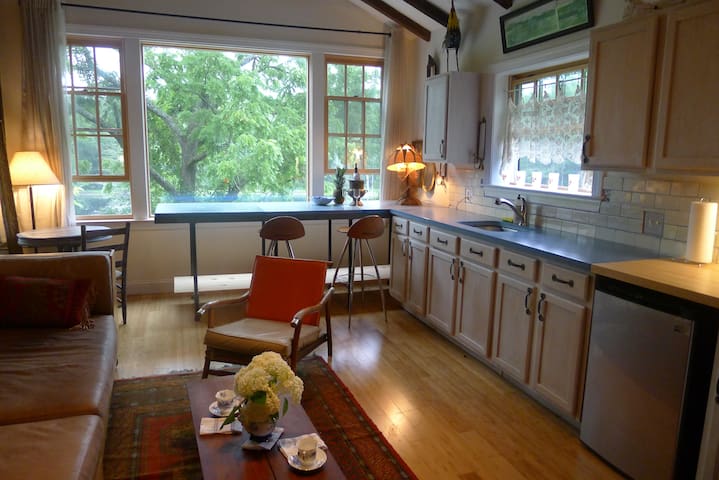 Allentown - Airbnb
:
Moyenne de

5

sur

5

étoiles sur les

49

commentaires des voyageurs
Saisissez les dates souhaitées pour connaître le prix total. Des frais supplémentaires s'appliquent et des taxes peuvent être ajoutées.