The house surrounded by Mediterranean vegetation welcomes you like a hug where you feel "at home". Ten meters away from the beach give you a chance to enjoy the sea as an element of which you are part. It is naturally cool a place of peace and armony. the space around the house is equipped to have max relax and play with kids
Stintino Holidays house in a very suggestive location on the sea, few steps from Pelosa beach, it was an old recover for boat. It is inside a 7.000 mq. of gineprus and tipical mediterranen vegetation. Now it is a very confortable house. It has all comforts you need to live a peaceful and relaxing holiday. Outside a nice and confortable schower and a big barbecue. The house is very special for family with children. Outside the gate there is windsurfing and diving center, and all the wind you need to sailing and surfing and to be enjoy to leave the best time of your life. I will make special price for two weeks prenotation, friends group and family.
The house is really on the beach, by the sea. the wiew on Asinara ireland . All around tipicol mediterraneean vegetation, there are every kind of enjoing: Windsurfing center, equipped beach, sailboats and motor boats, canoes, boards of every kind and experienced teachers. For fire sunset they offer happy our by boat. Baby sitting service Sailing courses for children and adults. Around the house for the pleasure of good food there are restaurants and pizzerias and small bars on the beach or on the promontory of Capo Falcone, with breathtaking views. Unforgettable trips with catamaran or goiter Asinara.
Loredana nous a très bien accueilli, charmante essayant de nous donner toutes les bonnes indications, les balades les restos, accueil parfait. Le lieux est idéal, parking dans la maison, , Loredana a su être très discrète ensuite. Nous nous sommes sentis chez nous.
nathalie
2016-07-30T00:00:00Z
Loredana est très accueillante et a tout arrangé pour que nous soyons à l'aise. Le logement est très confortable et je pense tout à fait unique dans le secteur : on est littéralement "sur la plage" avec tous les avantages d'être à la fois sur la plage et dans l'eau, et d'avoir l'intimité de la maison pour prendre une petite douche ou faire des allers/retours entre la plage et la maison. Les seuls inconvénients qu'on pourrait trouver serait qu'il faisait bien chaud et qu'il y avait en effet quelques petites bestioles mais l'alternative serait d'aller en vacances en ville dans un pays du nord, donc bref, in fine il n'y a pas de point noir : allez-y les yeux fermés.
Antoine
2015-07-25T00:00:00Z
Que dire à part que tout nous a plu! La maison est bien équipée (grande cuisine, douche extérieure, barbecue, chambres impeccables...), au calme, dans un jardin typique sarde, et elle est très bien placée: le jardin donne directement sur la mer! Stintino se trouve à 5 minutes en voiture et est une petite ville très sympa, où nous avons dégusté de nombreuses spécialités locales...Loredana et Francesco ont été des hôtes très accueillants et disponibles, nous ont donnés de nombreux conseils de visites, restos, plages... Un séjour très plaisant dans un endroit magnifique! Cosa dire a parte che tutto ci è piacciuto! La casa di Loredana e Francesco ha tutto per passare una vacanza serena e tranquilla... Il giardino è bellissimo e da direttamente sulla spiaggia!! Stintino è a 5 minuti in macchina ed è un paese molto carino. Loredana e Francesco sono stati degli ospiti molto accoglienti e disponibili, ci hanno dato preciosi consigli per visitare, per mangiare bene,... Un soggiorno molto piacevole in un luogo unico. Da fare!! A very beautiful house, with many equipments, surrounded by a tipical sardinian garden wich offer a direct private access to the sea! The center of Stintino is less than 5 minutes by car. Loredana and Francesco are very friendly and available...They gave us may advices about visits, eating, ... A place to go absolutely for relaxing and enjoying.
Anne Et Arnaud
2014-07-05T00:00:00Z
La maison de Loredana a un charme fou. Elle est cachée dans une pinède sauvage, comme coupée du monde, et juste au bout du jardin, à quelques mètres, le portail s'ouvre directement sur une plage magnifique. C'était une expérience paradisiaque ! Merci Loredana....
Magali
2014-08-10T00:00:00Z
Il y a toujours un peu de suspens quand on arrive dans une nouvelle maison de vacances : sera-t-elle à la hauteur de nos attentes ? Conforme à la description qui en a été faite ? Aux photos ? A l'image que vous vous en êtes faites ? Il y a souvent au moins une petite déception et bien là : la surprise est magnifique, le lieu est splendide, Loredana est accueillante et très ouverte, le lieu répond à toutes nos attentes. A peine arrivé on pense déjà qu'il faudra accepter de quitter cet endroit de rêve et l'on sait déjà que l'on aura un pincement au coeur. Si vous cherchez une plage à l'eau turquoise (visible depuis la maison et le jardin), familiale (plage de sable fin où les enfants ont pied quelques dizaines de mètres) où il fait bon vivre (maison située dans un grand bois en bordure de mer et à l'abri de tous les regards), FONCEZ ! On se sent privilégié dans cette maison, c'est un petit trésor où il est facile de se ressourcer en famille. On y coule des jours heureux et très simples au milieu des éléments naturels : petit déjeuner sur la plage déserte (à 20 pas de la cuisine), baignade, douche chaude extérieure, lecture, repas à l'ombre des pins, petit balade, pedalo jusqu'à la tour de la Pelosa, sieste, re-baignade, apéro sur plage, snorkeling, barbecue.... Pour le reste l'intérieur de la maison est simple et fonctionnel. Nous aurons plaisir à y retourner, nous n'avons pas eu le temps d'aller sur l'île d'en face (l'Asinara), ni de faire un peu de voile, du paddle et de la plongée sous-marine (toutes ces activités pouvant être organisées sur place à quelques pas de la maison).
Rosine
2016-06-12T00:00:00Z
The location of this property is absolutely amazing as it is essentially on one of the nicest beaches in Sardinia. Sardinia having some of the best beaches we have ever been on. Being able to get up and have breakfast and play with the kids at sunset on a deserted beach was a great experience. I can't imagine there is any realistically affordable property in Sardinia with a better location. The Stintino area itself is very nice with great facilities and restaurants. Stintino town itself has a great real Italian feel. The host Loredana was very flexible on arrival times and very welcoming and available to assist and offer advice as required. The property has real character and charm and everything you really need. We used the BBQ most nights and there is great local produce available nearby. Tuna steaks and Calimari from the local fish shop were very nice. We would highly recommend this property to couples but even more so for small families as the beachside location and what it has to offer is a rare thing to find anywhere never mind Sardinia where the beaches are truly world class.
Nick
2016-07-21T00:00:00Z
Loredana, amichevole e gentile padrona di casa, pronta a fornire tutte le informazioni necessarie per la permanenza . Casa confortevole e immersa in un bosco veramente "magico" a "un passo" dal mare incantevole ! Esperienza che ripeteremo . Grazie Loredana .
Francesco
2015-09-10T00:00:00Z
Our early morning and late evening yoga sessions on the beach next to the house were very energizing, only disturbed by the occasional vendor who would walk past with his merchandise. The seawater is crystal clear and lovely warm. It felt more like a swimming pool than the sea as there is hardly any difference between the ebb and the flood moments. It is a wonderful place to hide away after a dip in the sea and still get a nice tan. Between 10 and 18 hrs the crowds appear and the adjacent hotel entertain its guests until late at night. The BBQ is excellent for fresh fish bought in Stintino. Loredana leads you with great expertise into the secrets of how to prepare the BBQ, how to pile the coals into a pyramid and show you when the coals are ready when covered with gray ash. A must is a breakfast at La Piazetta in Stintino, a catamaran trip to parco Nazionale dell'Asinara and a walk to Cala Secca. We were with four adults which meant that one couple had to sleep on the sofa bed in the living room which doesn't give a lot of privacy. Make sure to keep the army of ants out by leaving your waste outside. Mille grazie Loredana.
Barbara
2015-08-03T00:00:00Z
Type de logement
Logement entier
---
Type de propriété
Villa
---
Capacité d'accueil
6
---
Chambres
Stintino, Sardegna, Italie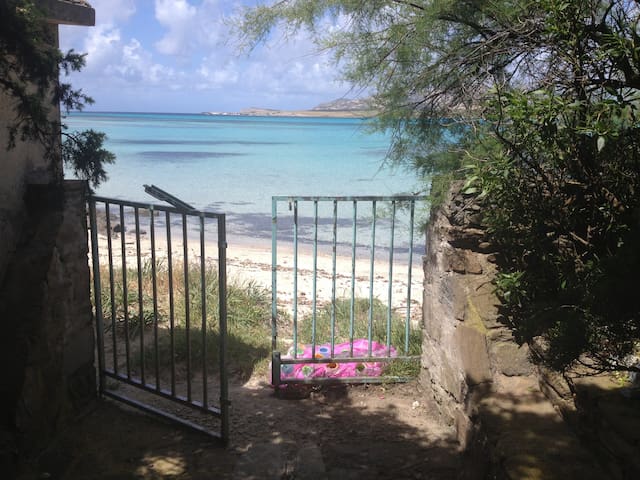 The villa is situated in the Ancora village, far from the sea about 500 meters ( Ancora beach ). Basically it takes a private road and at the end of the area is the sea. Pelosa Beach is about 2 km of pleasant road that runs along the sea. It 'a nice walk that I myself try to do all the days. The country is located in the opposite direction at about 3 km. There are many restaurants, the nearest being at Ancora beach and many small supermarkets both in Stintino that in Pelosa beach area.
Rooms are placed at different levels of the house. Each with a separate entrance and each with a private bathroom, both with air conditioning. The master bedroom with views also has a private terrace. At guests' disposal there are: The use of all the common parts: covered veranda of 60 sqm, divided into two relaxation areas and a dining area. The garden and pool area with 4 sun beds with mattresses and a dining area with sunshade. Outdoor parking
Stintino è ben collegato all'aeroporto di Alghero dal quale dista circa 50 km. Stintino è un tipico villaggio di pescatori con ha magnifiche spiagge: Le saline, Ezzi Mannu, La Pelosa. Si trova di fronte all'Isola dell'Asinara che è un parco naturale incontaminato in quanto fino a pochi anni fa è stata un'isola carcere. E' possibile organizzare gite molto interessanti su quest'isola. Tutta la zona è servita da un bus navetta che fa la spola tra le spiagge e il paese. Anche la cittadina di Alghero merita una visita. Ha forti influenze catalane e splendidi bastioni.
Type de logement
Chambre privée
---
Type de propriété
Villa
---
Capacité d'accueil
4
---
Chambres
Stintino, Sardegna, Italie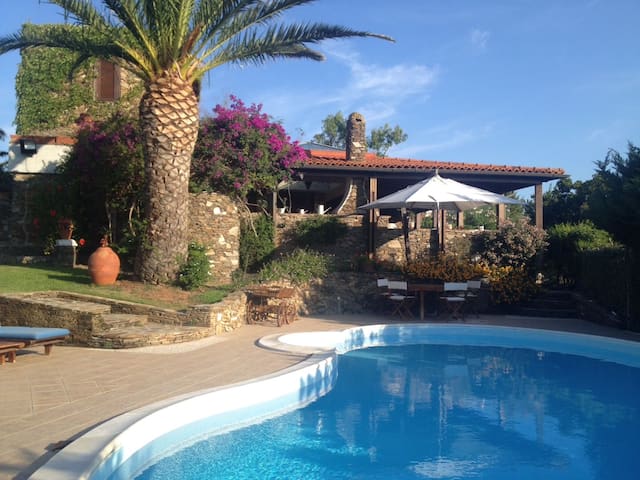 Villetta a schiera a70 metri dal mare e a pochi minuti dal centro del paese. Con la navetta, in bici o a piedi è possibile raggiungere la Spiaggia della Pelosa, incantevole. Due camere da letto, soggiorno e angolo cottura, giardini e patio.
la vicinanza al mare ed al paese A 70 metri vi sono delle calette di sassolini e sabbia grossolana con un' acqua cristallina il silenzio e il relax posteggio vicino alla casa possibilità di portare animali lenzuola , asciugamani ed altro a disposizione. due bici a disposizione Il phon
Relax, Si trova in una zona periferica, vicino al mare ma anche al market più grande del paese.
Tres bel endroit hote tres accueillante logement ahreable et calme
Véronique
2016-07-31T00:00:00Z
Super accueil de Constantina, nous sommes arrivées avec 2h de retard, elle nous a attendu sans remarques. Elle s'est personnellement occupée de nous, à faut le tour de l'appartement avec nous, nous expliquant le fonctionnement de tous les appareils. Appartement exactement similaire au descritif. Constantina reste à l'écoute tout au long du séjour pour nous renseigner et faire en sorte que le séjour soit des plus agréable. Je recommande cette hôte et ce logement. Très bien placé. 2 Vélos inclus.
Aline
2016-06-01T00:00:00Z
Logement idéalement situé à stintino, proche du centre et des plages , au calme . Costantina est très accueillante et arrangeante, nous avons passé un très bon séjour dans son logement.
Gladys
2016-07-14T00:00:00Z
Tot estava perfecte. El tracte de Costantina va ser inmilliorable! Ha estat gentísima. La casa molt maca i cómoda
Nicoletta
2015-09-11T00:00:00Z
The host canceled this reservation 37 days before arrival. This is an automated posting.
Tommaso
2015-05-21T00:00:00Z
La casa é situata in posizione strategica tra la celebre spiaggia La Pelosa, il paese e altre bellissime spiagge meno note molto apprezzabili (le saline, ezzi mannu). Dispone di due spazi/giardino anteriore e posteriore molto godibili. Costantina, seppure non siamo riusciti ad incontrarci, si è dimostrata gentilissima e molto disponibile (ancora auguri di pronta guarigione) . Molto consigliata. Paola
Paola
2016-08-09T00:00:00Z
Acogida cariñosa por parte de la propietaria, que nos dio consejos sobre las playas de la zona; ademas nos dejo alimentos basicos al llegar en domingo. Vivienda bien ubicada y completa, en buen estado. recomendable.
angel
2015-07-15T00:00:00Z
Costantina's place is a nice, small apartment with all the things you need for a short holiday close to the sea. The communication with Costantina was excellent and very friendly. Thanks!
Tobias
2016-10-07T00:00:00Z
Type de logement
Logement entier
---
Type de propriété
Villa
---
Capacité d'accueil
7
---
Chambres
Stintino, Sardegna, Italie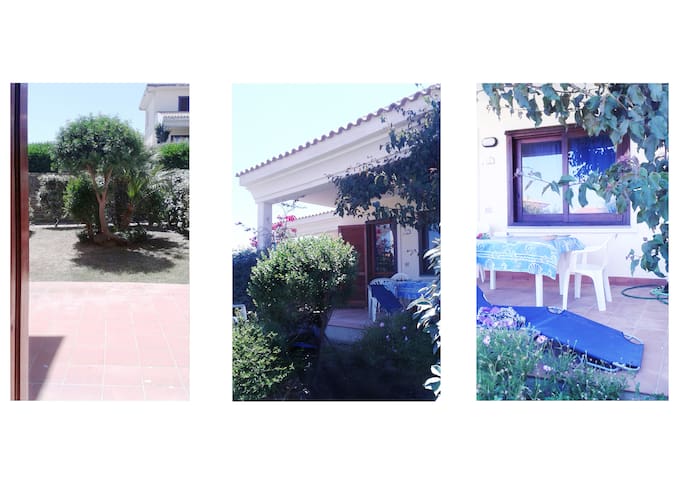 Villa Sunrise, perfetta per due coppie, o una famiglia numerosa, il terrazzo offre un fantastico panorama vista mare con un alba mozzafiato. le stanze da letto hanno un terrazzo ad uso esclusivo. sotto casa tre spiaggette riservate a 200 metri.
Villa Sunrise e posizionata fronte mare a circa 200 metri, sulla splendida collina di TancaManna a Stintino, una tranquilla e prestigiosa zona resedenziale. Gode di un panorama strepitoso sul Golfo dell'Asinara che offre un alba mozzafiato. Posta in posizione strategica tra il centro storico di Stintino e la spiaggia La Pelosa, permette di andare comodamente al centro o in spiaggia senza fare uso dell'auto, il centro commerciale anch'esso è poco distante. A meno di 200 metri è possibile raggiungere numerose piccole e riservate calette bagnate dal mare cristallino tipico della Sardegna, la zona è servita da servizio navetta bus, collegando cosi tutte le zone di maggiore interesse di Stintino. La casa è posta al piano superiore di una villa bifamiliare, un grande terrazzo panoramico, arredato di tutti confort, vi dara' il benvenuto, tavola per pranzare all'aperto, un secondo tavolino molto intimo e romantico perfetto per un aperitivo in coppia, sceaslong prendisole, barbeque, tenda. La zona cucina living è dotata di tutto il necessario per cucinare come foste a casa vostra, stoviglie, biancheria, microonde, tavolo da pranzo per sei persone, divanoletto, tv, hi-fi. Climatizzatore. La camera da letto matrimoniale spaziosa, con ampio guardaroba e terrazzo ad uso esclusivo vista mare, la seconda camera dispone di letto matrimoniale + letto singolo a soppalco può essere usata sia come matrimoniale che doppia anch'essa è dotata di ampio guardaroba, minifrigo e terrazzo personale. Il bagno moderno, colorato e spazioso è copleto. disponibile lavatrice.
TancaManna è una tranquilla collina posta vicino il centro storico di stintino. il condominio è composta da 12 ville bifamiliari tutte attrezzate con terrazzzi panoramici e parcheggo.
Mauro e Diana sono stati gentili e disponibili, ci hanno fornito molte informazioni utili e sono stati velocissimi a intervenire quando abbiamo avuto un problema (che non dipendeva da loro). L'appartamento e' in una zona tranquilla, a circa 15 minuti a piedi dal centro storico e a pochi minuti dal porto turistico con le partenze per l'Asinara. La spiaggia della Pelosa e' a circa 3 km, volendo si puo' raggiungere anche a piedi con una passeggiata lungo la costa. La descrizione e le foto corrispondono alla realta', in particolare la terrazza ha una bella vista ed e' molto comoda.
Deborah
2016-09-10T00:00:00Z
La villa è molto bella ed accogliente proprio come nelle foto. La vista dalla terrazza, ricca di piante, del mare e dell'alba è incantevole ed è perfetta x mangiarci. La persona che ci ha accolti, il Sig. Mauro, è molto simpatico e disponibile. La villa è a 5 minuti a piedi dal mare (calette tra gli scogli) in un posto molto tranquillo. A poca km ci sono altre spiagge e mare incantevoli come la Pelosa. Consigliatissimo.
Vincenzo
2016-07-24T00:00:00Z
We loved this apartment. Stunning views, close to the sea, and just a few minutes from the best of Stintino's beaches and restaurants. Mauro helped us with a very late check in, and gave us some very useful insider information on where to swim, eat and enjoy ourselves. Thank you!!
Michael
2016-09-23T00:00:00Z
Maura & Dina's apartment is beautiful, Great setting, ocean view and a breezy patio. We love our our stay at their place. Highly recommend
Mohammad
2016-07-17T00:00:00Z
Type de logement
Logement entier
---
Type de propriété
Villa
---
Capacité d'accueil
6
---
Chambres
Stintino, Sardegna, Italie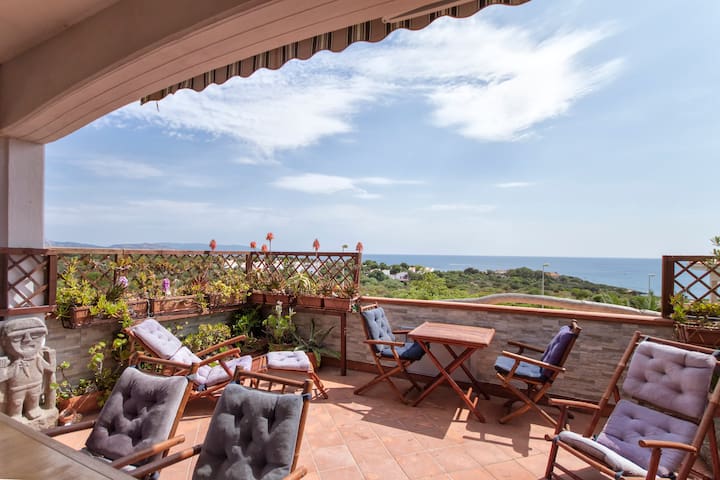 stanza in Villa privata vicino al mare,bagno privato nuovo ,parcheggio privato con annesso giardino di 1500 mq..Barca privata per uscite giornaliere e per battute di pesca in esclusiva (previa richiesta).Le passeggiate in barca sono un must.
location tranquilla...camera matrimoniale con bagno privato
Arrivée un peu compliquée avec des indications insuffisantes pour des gens qui ne sont pas du coin. Cependant notre hôte s'est plié en quatre pour nous recevoir dans ses meilleures conditions. Bien que difficile de communiquer avec lui (mélange d'anglais d'italien ou d'espagnol mais pas simple...) L'emplacement et le cadre de la maison est super avec le calme et les chants des oiseaux. Dommage que le jardin ne soit pas mieux entretenu. La maison a un vrai potentiel mais mériterai quelques arrangements de rafraîchissement. D'ailleurs assez étrange d'arriver dans une maison avec tous les volets fermés tandis qu'il faisait jour ( raison peut-être de l'odeur de renfermé...). L'hôte nous renseigne sur les possibilités de bateau pour l'île (trop de vent le lendemain pour profiter du bateau de son ami) mais il nous accompagne jusque devant l'agence de voyage qui réouvrira le lendemain ainsi que dans des restaurants pour avoir des réductions (que nous n'avons jamais remarqué sur les additions finales :) Très belle salle de bain sur la photo mais pas celle qui nous a été attribuée... La notre avec une seule vasque et une petite douche avec un pommeau rafistolé au scotch... Mais un cumulus de 60litres! Les serviettes de bains avaient rétrécis au lavage ;) mais 2 peignoirs (un en nid d'abeille et l'autre pour la natation) à dispo ;) Le matelas en effet confortable mais victime de ses années puisqu'une bosse nous sépare. Petit déjeuner self service dispo dans le frigo ( briquettes de Jus de fruit, yaourt, confiture, beurre, croissants en sachet et biscottes) avec assiette en plastique ;) Nous ne remettons pas en cause la bonne volonté de notre hôte mais adepte de Airbnb depuis des années entant que Guest et hôte on s'attendait à une prestations différente par rapport au prix du séjour.
Mélusine
2015-05-19T00:00:00Z
Nous avons malheureusement été très déçus par le logement et l'accueil qui nous a été réservé. Daniele n'était pratiquement jamais là, les draps du lit étaient humides (chambre apparemment fermée tout l'hiver) et il nous a fallu dormir avec une polaire (!). Petit-déjeuner de gâteaux industriels sous plastique, et contrairement à ce que pourraient laisser croire les photos, la mer est loin... Daniele n'a même pas daigné nous dire au revoir quand nous sommes partis.
Dominique
2016-04-25T00:00:00Z
Très bon accueil par Daniele. Nous n'avons pas eu de mal à trouver la villa qui est proche des plages: elle est très spacieuse, au calme, dans un quartier résidentiel. Il y a deux terrasses et un toit terrasse. Les hamacs installés dans le jardin et les transats de la maison sont très appréciables. La chambre et la salle de bain étaient propres et fonctionnelles. Daniele a le souci du bien-être de ses locataires. Nous avons fait avec lui une journée bateau formidable: il nous a emmenés dans des coins magnifiques et était à nos petits soins. Malgré la barrière de la langue, nous avons discuté avec lui toute une journée de façon chaleureuse en franglais-espagnalo-italien: un bon souvenir!
Alexandra
2015-07-28T00:00:00Z
Notre séjour à stintino se passa très bien. Daniele est un hôte sympathique et à l'écoute, il nous a aidé à trouver un restaurant et nous a même déposé dans le centre car nous n'avions pas de voiture. Le logement est spacieux et très propres. C'est une grande et belle maison au milieu d'un terrain arboré
Gladys
2015-08-18T00:00:00Z
Un passage chez Daniele c'est s'assurer tous les bons filons de Stintino, Daniele connaît tout le monde, est très accueillant et sympa, il ne parle pas français mais on se comprend très bien ;) l'habitation est située dans un quartier tranquille et idéal pour un séjour! Merci!
Fabien
2015-06-24T00:00:00Z
Daniele met us on arrival - the house was very clean and he provided breakfast snacks and a fully stocked fridge which was great! We did not realise this from the ad, but the villa is a shared villa and we were told that another couple would be staying during our stay which was quite unexpected and not previously communicated. Strangely the couple never showed up so it made it a bit weird as we kept expecting to come back to other guests. On a couple of occasions a person turned up who we did not know and did not speak any English but we think it must be the gardener/maintenance person - again, this wasn't communicated so it was a bit weird to have someone show up! We didn't have the bathroom shown in the pictures, but the bathroom was fine if a little more dated than the one shown. Overall the villa has a bit of a shared house/hostel feel, but the area is fantastic, it is about a twenty minute walk to the beach and there are a few restaurants walking distance away but a car would be recommended and the driveway is safe and easy to park. Daniele didn't turn up for our checkout and we didn't hear anything from him after waiting for an hour.
Thomas
2015-09-09T00:00:00Z
We stayed at Daniele's place for only one night and had the whole house for our own. It is very close to the Pelosa beach, surrounded by trees with a great roof terrace. Everything is as pictured in the profile, clean and very quite. Daniele only speaks Italian or Spanish and very little English, which made it difficult for us to communicate. Nevertheless he was kind and provided us with all the information needed. Check in and out time was flexible. I would recommend to stay at Daniele's place, even suitable for more than just 2 people.
Ines
2014-10-21T00:00:00Z
Great house in a area of many vacation houses. Really quiet and 20 min walking distance to the perfect beach la pelosa. The room was nice and the bathroom clean and almost newly renovated. For breakfast Danielle provided everything we needed. The coffee machine did a really good job. We recommend this place. Tip: take a look from the roof top to the sea.
Fabian
2015-08-23T00:00:00Z
Type de logement
Chambre privée
---
Type de propriété
Villa
---
Capacité d'accueil
2
---
Chambres
Stintino, sassari, Italie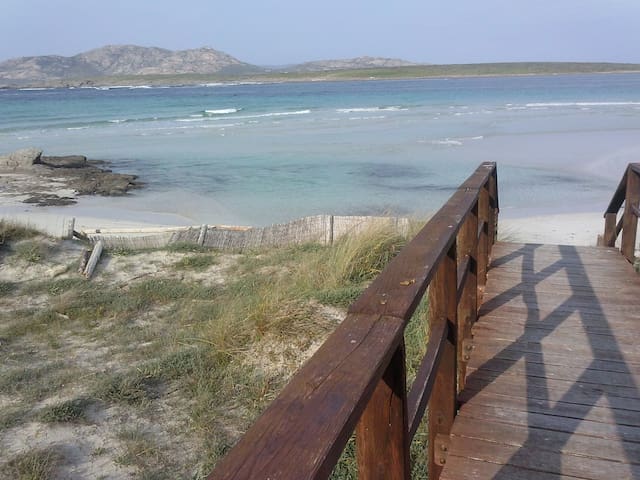 This holiday rental house can offer an intimate and tranquil base within this beautiful region, having a tree-filled mature garden, with an extended terrace area. Perfect for children. Great location, ideal for al fresco dining, only few minutes walk from the famous La Pelosa beach.
Although not in a remote location this holiday house can offer an intimate and tranquil base within this beautiful region, having a tree-filled mature garden, with an extended terrace area, I can personally vouch that here it is all too easy to be 'busy doing nothing'. Accommodation consists of 2 double bedroom, lounge/diner, kitchen, 2 bathrooms and alternative outside shower area. The property is ideal for children, surrounded by a thick Mediterranean garden. It guarantees an high level of privacy and tranquillity.
Stintino is a small fishing village on the north-west peninsula of Sardinia. The village has 2 ports of – Portu Mannu and Portu Minori: one mainly for the fishing boats and the other for pleasure craft. You can book and take boat trips from here to the uninhabited Isola Asinara to the north, which is home to albino donkeys. It is surrounded by beautiful beaches: La Pelosa to the north and La Saline to the south. It is famous for it's annual Tuna Festival in June. Tennis facilities, bicycles and bike hire available locally. Out of season (October to May) the property and location are incredibly tranquil with birds being the only noise that you will regularly hear, however during this time, the immediate local facilities are closed, and those not wishing to walk to Stintino regularly will find a car useful.
Type de logement
Logement entier
---
Type de propriété
Villa
---
Capacité d'accueil
6
---
Chambres
Stintino, Sardegna, Italie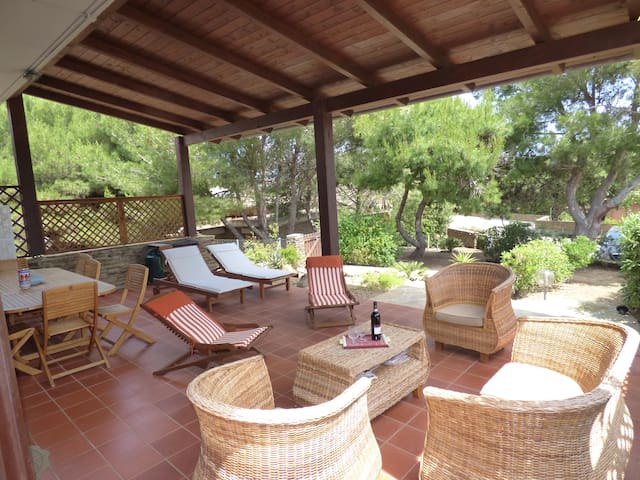 Villa finemente arredata. ogni stanza ha bagno con doccia. cucina esterna con barbecue. piscina. terrazza vista mare. possibilità biciclette per andare in spiaggia. parcheggio coperto privato.
Type de logement
Chambre privée
---
Type de propriété
Villa
---
Capacité d'accueil
4
---
Chambres
Stintino, Sardegna, Italie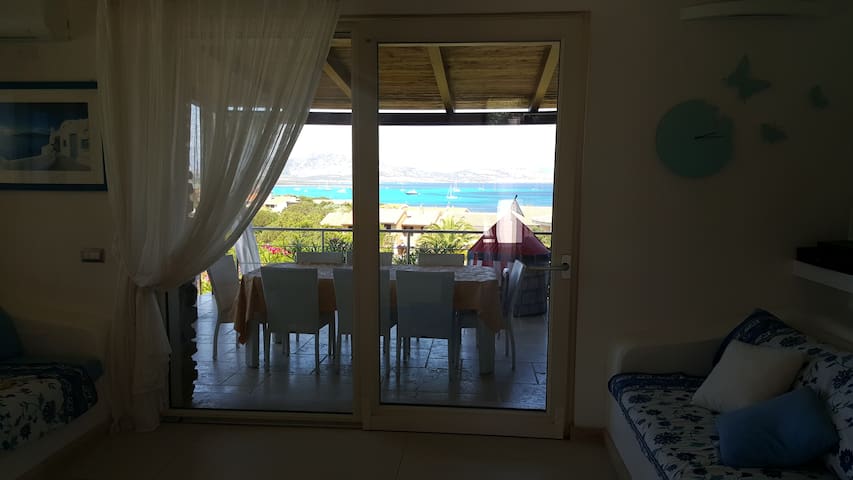 You will be staying in a private villa, with private entrance, garden and swimming minutes from away from one of the 10 most stunning beaches in the world, 'La Pelosa beach' and the lovely historical village of Stintino. The property is situated inside Stintino Country Paradise, where you can find day and night entertainment, supermarkets and shops. Moreover, you can benefit from a fantastic free shuttle bus service from the resort to the main beaches and to Stintino centre, morning till evening
A peaceful resorts in Stintino, with walking distance access to the beach, restaurants, swimming pool, restaurants and and evening entertainment. Amazing garden with private swimming, terrace and barbecue. Daily shuttle bus from the residence towards the most popular beaches in Stintino
Guests will enjoy a spectacular sunset, lots of fun water sports. It would be fun to rent a motorbike, scooter or bike to explore the small fish town of Stintino. Inside the Country village Resort, guests can benefit from mini market, that sells different kind of groceries, fruit and vegetables,alcohol and tabacco, clothing shops, big swimming pools, bars, restaurant, evening entertainment with music and different kind of shows. Alghero is a must see spot, one of the historical cities near Stintino. It is just 40min drive from the Villa.
Maison correcte et reposante. Idéal pour partir en famille ou entre amis.
ovidiu
2016-08-28T00:00:00Z
Très belle maison propre, conforme au descriptif. Joli jardin et belle piscine! Bien équipée dans un beau lotissement proche de la mer et de la ville voisine.
Herve
2016-08-25T00:00:00Z
We had the most amazing stay at Stefy's villa in Stintino ! It's a great location and the resort provides a bus service to the beach. There are plenty of on site facilities such as shops, restaurants, etc...family entertainment is also available. We particularly enjoyed the fully equipped villa and the swimming pool is very lush ! Overall, it was a very peaceful experience and a villa to fully relax away from the city. It's ideal for families, couples or groups of friends. Stefy's meet & greet exceeded all expectations! Highly recommended!
Johan
2016-07-25T00:00:00Z
Exclusive oasis of calmness and comfort in Stintino area. Very comfortable villa with 2 bedrooms, kitchen and living room. Personal pool, sunbeds, sun shower, and barbecue. 3 minutes by car to Saline plage, 10 minutes to Stintino and Pellosa plage. 700 meters to Stintini shuttle bus (every hour). 700 meters to local entertainment and commercial center (entertainment program every evening).
Nelli
2016-07-15T00:00:00Z
Stefy was very helpful whenever we needed to contact her. The villa is a good base from which to explore Stintino. It is set in a holiday village with a useful,small supermarket and restaraunts.
Jesal
2015-08-27T00:00:00Z
La villetta è veramente moto carina, curata nei particolari è dotata di piscina, portico e caminetto per cucinare e rilassarsi la sera dopo una giornata di mare! Luogo molto tranquillo e silenzioso, Stefy sempre gentile e disponibile. Da consigliare!
Serena
2016-08-24T00:00:00Z
Type de logement
Logement entier
---
Type de propriété
Villa
---
Capacité d'accueil
5
---
Chambres
Stintino, Sardaigne, Italie

5-8 June Rally Alghero Jumping in the Dust 28 June Sardinian Gay Pride We are waiting for you!!!
In una posizione strategica per raggiungere facilmente sia le spiagge che i siti di interesse culturale della città catalana, ma anche delle zone limitrofe e dell'intera isola sarda. La villa è situata in una posizione tranquilla e silenziosa nella campagna algherese offrendo la possibilità di una vacanza comoda e al tempo stesso di assoluto relax. Si tratta di una villa di nuova costruzione con una ampia piscina, una spaziosa veranda con forno a legna, barbecue e un immenso giardino di ulivi e alberi da frutto. La casa, ben arredata con mobili in stile rustico davvero gradevoli, può ospitare fino a 9 persone essendo costituita da 4 camere da letto, due bagni, una cucina ed una sala disposte su due livelli. È necessario disporre di un mezzo di trasporto personale ( auto,moto...) per raggiungere la casa sita a circa 4 km dal centro cittadino. Si accettano i vostri amici animali! Per qualsiasi chiarimento o richiesta siamo a vostra (website hidden) aspettiamo!! Antonella & Pier Paolo
Antonella & Pierre Paolo were great hosts and have made our stay great. They were very helpful from the beginning, guiding us home and getting everything we needed for our baby. The house is amazing, basic on the inside but incredible on the outside (exactly as on the pictures) with a wonderful barbaque, huge gardens and swimming pool we have enjoyed. There is no wifi, but thanks to it we have "disconnected" for a week. Overall, a great experience in a wonderful villa.
Loinaz
2014-05-25T00:00:00Z
We had a great time at the Villa in Alghero. Antonella was very nice and recommended nice restaurants and beaches. The house was like on the pictures and had all we needed.
Jens
2015-05-25T00:00:00Z
The host canceled this reservation 33 days before arrival. This is an automated posting.
Timo
2016-05-01T00:00:00Z
We are so happy that we rented just this house! Just a lovely place, great barbecue area outside, nice and clean pool, a great house with many big clean rooms and a perfect location with close to city and lovley beaches. The host was so nice and kind. Thank you for making our vacation a time to remember.
Mina
2015-06-11T00:00:00Z
We stayed in September in the great villa Don Peppino, and had a very good time. The house is big, and the sleepingrooms dark en cool. The swimmingpool is very big and clean. It is 10 minutes drive to the old city of Alghero, that is very nice, and close to the beaches. Pier Paolo and Antonella are welcoming and easy in contact. Overall a great place to stay!
anne marijn
2014-09-28T00:00:00Z
We have stayed in the house of Antonella with three couples and three kids in may 2014. We had a very good experience at the beautiful house of Antonella. She and her friend Piere are perfect hosts and the communication was very easy with them. The house was clean and well organised. The pool is incredible and the garden is beautifull and spacious. There is a outside fireplace to prepare a great BBQ. I would recommend going there in summertime though because the boilers provide limited hot water. :-)
Kim
2014-05-07T00:00:00Z
Generally - lovely, quiet and nice place. We were welcomed and well looked after. We had wonderful time. Pier was helpful and gave us useful advice about area, beaches and places worth visiting. Maps were available - thank you:) As villa is about 5 km from the town, you must rent a car to make sense of moving around. Villa is suitable for 2 families - there are 4 quite spacious bedrooms - 3 in basement and one close to the kitchen on ground level. Swimming pool is suitable for both - children and adults as consist both shallow and deep area. We enjoyed so much being around the village - garden is huge with olive and other trees - children played happily around. Thank you Antonella and Pier for lovely stay:) and contact for renting a car.
Maria
2015-06-02T00:00:00Z
We had an awesome time at Villa Don Peppino! The estate is huge and beautiful and except for some barking dogs very quiet. The swimming pool was very clean and very big. We enjoyed it a lot! The house offers everything you need. Even though it's quite close to the airport (about 15 minutes by car) there is no aircraft noise at all. The city center with restaurants and supermarkets is very close as well. The hosts were very polite and took care of any problem immediately. We really do recommend this house, it offers a lot of space, is clean, equipped with everything you need and perfect to relax and spend some quiet days in the sun.
Sascha
2013-10-07T00:00:00Z
Type de logement
Logement entier
---
Type de propriété
Villa
---
Capacité d'accueil
9
---
Chambres
Alghero, Sardaigne, Italie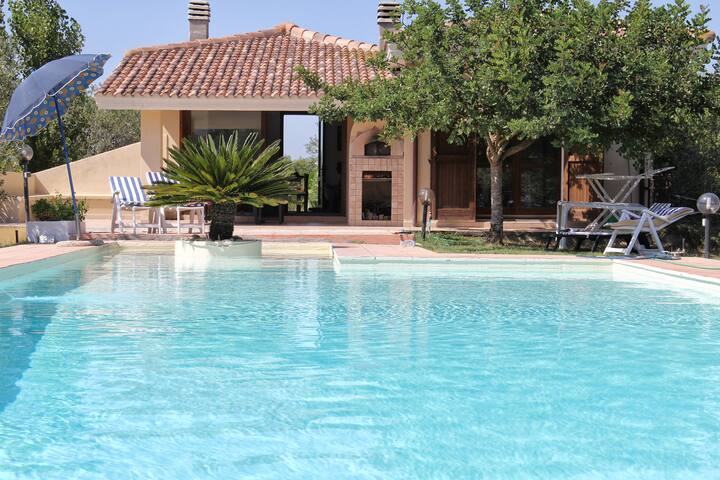 Il mio alloggio è vicino a My villa is located in a residential area of Alghero where there are some luxury hotels and some good restaurants. The house is in front of the sea and you can reach the city center with a ten-minutes walking on foot. Near the villa there is a bus stop that takes you to the sandy beaches on the other side of the city. The villa has a garden, car and moto parking, balconies outside the rooms and a large terrace on the top floor for sunbathing. All the rooms have private bathroom and airconditioning. This room is located on the ground floor..
Très bien reçus, Maria est très agréable, la chambre est propre et dans un quartier calme un peu à l'écart du centre. merci beaucoup!
Fanny
2016-08-04T00:00:00Z
We spent one night on Maria's house. It was perfect. Maria is a real great person and she was very available because we booked only 1h hour before arriving. The room is large and clean perfectly. We had a nice breakfast on the terrasse. The location is ideal, you could go in the center in 10min by walk and you can park the car in front of the house. I hardly recommand this place.
Magali
2016-08-30T00:00:00Z
Stanza e bagno molto ampi e pulitissimi. Bella Villa con giardino posizionata in zona tranquilla a 10 minuti a piedi dal centro. Le altre stanze hanno ampi terrazzi. Maria Chiara è molto gentile e disponibile e attenta alle esigenze degli ospiti. Ti fa sentire a casa.
Cinzia
2016-09-11T00:00:00Z
Maria Chiara was very friendly and helpful throughout the duration of our stay. The house is in a great location - a nice walk along the beach to the town. The breakfast each morning was delicious!
Jessica
2016-07-22T00:00:00Z
Camera molto e ampia e il bagno privato è pulito e seminuovo.
luca
2016-08-18T00:00:00Z
Maria es una anfitriona estupenda. La casa está a 5 minutos del centro en coche y a 20 andando, un paseo muy agradable por la costa y recomendable ya que cuesta encontrar parking en Alguer. El desayuno está incluido (zumo, café, bizcocho casero hecho por Maria, dulces y tostadas). La habitación y el baño privado muy limpios y con aire acondicionado, y puedes dejar el coche en su jardín. La casa esta muy bien decorada y tiene WIFI. María también nos recomendó una playa que nos encantó!
LAURA
2016-08-03T00:00:00Z
Maria is a great Host :-) Thank you for everything. All the best. Armin
Armin (Bobby)
2016-09-28T00:00:00Z
Maria's place was great, the host is very welcoming and helpful. House is specious and clean! Really great stay :-)
Anna
2016-07-26T00:00:00Z
Type de logement
Chambre privée
---
Type de propriété
Villa
---
Capacité d'accueil
2
---
Chambres
Alghero, Sardegna, Italie
Splendida villetta all'interno del residence Capo Falcone. Gode della più bella vista di tutta Stintino su due mari. Zona esclusiva e riservata da cui è possibile raggiungere in pochi minuti sia l'impagabile spiaggia della Pelosa che la selvaggia scogliera della Valle della Luna.
Appartamento padronale più dependance arredate con gusto e fornite di ogni confort. Cucina super accessoriata ,ampia griglia esterna e Aria condizionata .
Type de logement
Logement entier
---
Type de propriété
Villa
---
Capacité d'accueil
6
---
Chambres
Stintino, Sardegna, Italie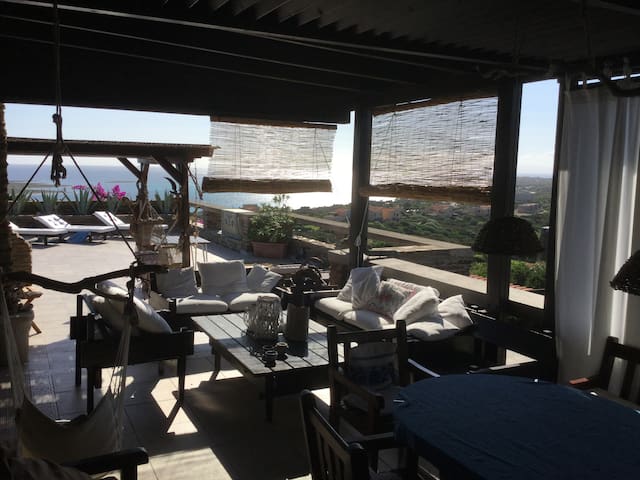 Country house with swimming pool, 150 meters from the sea, with private access. The house consists of large living room with kitchenette, 1 double bedroom with private bath, 1 double bedroom, 1 single bedroom, 1 bathroom. It 'also equipped with large covered terraces, wood-burning oven and barbecue. Swimming pool (12m x 6m, depth 1,2m/2,5m) open seasonally, and private parking. The price includes linen, towels, pool cleaning and final cleaning of the house. There is also a microwave, electric kettle, crockery of all kinds. The house is surrounded by the mediterranean vegetation, in a quiet and silenced area and is in front of the sea in a wonderful overview position. At the same time is just 3 km from the center of Alghero, just a few minutes away by car. Ideal for a couple or for family with children. The pets are welcome, please require. The house is not reached by public transport, so you need to have a car. ATTENTION ATTENTION ATTENTION: In the period between May 1 and October 10 we require a minimum stay of 7 days. Changeover day is Saturday.
Antonio etait disponible dès notre arrivée, bien que tardive. Très belle maison et très agréable. Départ à 10h un peu tot, on aurait aimé rester jusqu'à 12h, mais la maison etait louée.
MICHAEL
2016-08-07T00:00:00Z
Nous avons passé une merveilleuse semaine en famille à la Casa Julia d'Antonio! La situation -au calme, à 3 km d'Alghero, avec une vue imprenable sur la mer et le Capo Caccia- est tout simplement fantastique. La maison est agréable, avec une belle piscine - et nous reviendrions volontiers pour en profiter durant les mois d'été! L'accueil et la disponibilité d'Antonio ont été remarquables durant tout le séjour.
Johann
2015-04-18T00:00:00Z
villa magnifiquement située, belle terrasse et grande piscine que les enfants ont adoré! position stratégique, tout près d'Alghero tout en étant au calme! intérieur un peu vieillot, surtout au niveau des sanitaires et de l'équipement de la cuisine mais ce n'est pas dérangeant pour des vacances d'été. le four à pizza et le barbecue en terrasse sont très agréables et fonctionnent très bien; bref de très belles vacances en famille dans un endroit idyllique!
catherine
2014-07-27T00:00:00Z
Casa Julia was nice for our family of four. From the porch, there is a beautiful view at sea at sunset. We loved to go to Alghero, to the Grotto of Nettuno, to the beach of La Pelosa, etc. We had a great time. Antonio was on time to bring us to the house at the beginning of the rental period and also at the end of the rental period, when we had to go to the airport. Thanks for letting us stay in Casa Julia, kind regards, Mynke
Mynke
2016-05-01T00:00:00Z
We had a wonderful stay. The house was the perfect size for our family of 4. We have a 5yr old and 3yr old. They loved the pool. It was very easy to keep an eye on them given the closeness of the house to the pool. Our host Antonio was helpful and attentive. The house was very clean and had everything you could need. The view of the sea was amazing. As for sightseeing, there was much to do. We went to Alghero, Fertilia, Bosa, Sassari and the amazing beach in Stintino. All in all, it was exactly what we were looking for. Whether good or bad, future guests should know that there is no WiFi and cell reception was limited.
Christopher
2015-06-13T00:00:00Z
Een prachtig huis met een fantastisch groot zwembad.Een vrije ligging, net buiten Alghero, maar zonder last te hebben van de drukte van de toeristen aldaar. De inrichting is een beetje gedateerd, maar dat is ook niet zo erg, het is een huis waar je buiten moet leven. En binnen is het met het uitzicht zeker geen straf. Antonio is stipt op tijd. Hij was behulpzaam. Hij maakte nergens een problem van.
Maarten
2015-05-04T00:00:00Z
Antonio was a wonderful host. He arranged to meet us and take us to Casa Julia, then spent a lot of time explaining everything and offering advice. Casa Julia is everything we hoped it would be - who would not be delighted with a beautiful house in lush gardens, with a pizza oven and bbq, a sparkling pool and fantastic views over the Meditteranean! We were provided with beers and basics, then Antonio's Dad gave us wood to set up the pizza oven. We made wonderful pizzas, and then baked goat. Fantastic experience and place to be.
Meredith & Bert
2015-11-08T00:00:00Z
Very beautiful house with wonderfull view and an awesome swiming pool. Nice place, not far to the center. Crazy sunsets ! . Thank you Antonio,
Magali
2013-09-16T00:00:00Z
Type de logement
Logement entier
---
Type de propriété
Villa
---
Capacité d'accueil
5
---
Chambres
Alghero, Sardaigne, Italie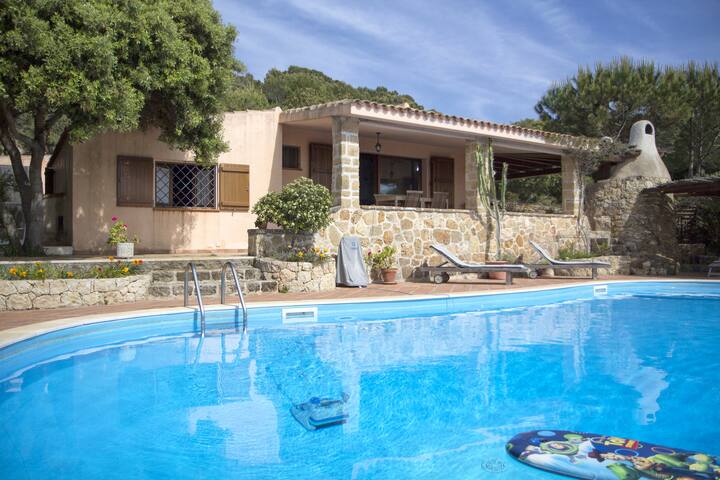 Il mio alloggio è vicino a splendide viste panoramiche, parchi e ristoranti. Ti piacerà il mio alloggio per questi motivi: la luce, l'intimità e i soffitti alti. Il mio alloggio è adatto a coppie, famiglie (con bambini) e amici pelosi (animali domestici).
Un curato giardino mediterraneo, all'interno del quale si trovano una piscina e una veranda coperta, circonda Villa Bianca che si affaccia nel Country Village. Il colore predominante degli arredi, il bianco, infonde una sensazione di pace e serenità e crea un'affascinante contrasto con il verde del giardino e il blu della piscina. Villa Bianca ha una superficie di 140 mq su un unico livello, dispone di tre camere da letto, due bagni, un'ampio soggiorno, la cucina attrezzata, una piscina panoramica e si trova a pochissimi km. dalle spiagge più belle di Stintino.
Punta su torrione è un complesso residenziale di recente costruzione, costituito da ville con piscina e appartamenti in recidence, si trova su una collina a picco sul mare, a circa 2 km. dalla bianchissima spiaggia delle saline e a 4,5 km. dal paese di Stintino. Al villaggio fa capo una piazzetta con il centro commerciale dove si trovano negozi di tutti i generi.
Type de logement
Logement entier
---
Type de propriété
Villa
---
Capacité d'accueil
6
---
Chambres
Stintino, Sardegna, Italie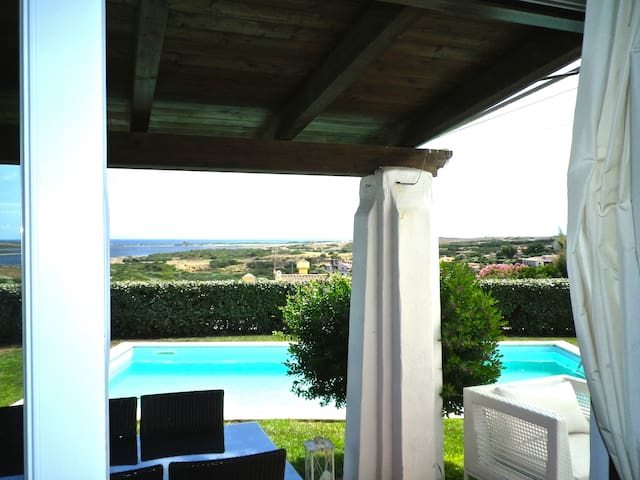 Il mio alloggio è vicino a spiaggia e trasporto pubblico. Ti piacerà il mio alloggio per questi motivi: gli spazi esterni e il quartiere. Il mio alloggio è adatto a coppie, avventurieri solitari e chi viaggia per lavoro.
Quartiere a 10 minuti di auto dalla città: residenziale, tranquillo, abitato e verso la strada per le città marittime più vicine a Sassari.
Luna et sa maman sont charmantes et très accueillantes. La chambre est très confortable avec une porte fenêtre donnant accès à une terrasse et au jardin de la maison. La maison est calme, propre et agréable avec un jardin typique, ses grands arbres, ses oliviers et à 10 minutes des commerces et des transports en commun. N'hésitez pas :)
Sarah
2016-10-26T00:00:00Z
Nice and quiet place. Host is very frindly and really took care of us with every need. Very nice people. Can only recommend :)
Jiří
2017-03-29T00:00:00Z
La casa è in campagna ma non lontano dal centro di Sassari Quindi per me era la disposizione perfetta La camera fa parte della casa ma ha un entrata indipendente che da sul grande giardino Silenziosa con il bagno quasi in camera e tutto per gli ospiti La raccomando a coloro che vogliono visitare Sassar e dintorni ma allo stesso tempo godersi le campagne sassaresi Luna è la madre sono persone dolcissime e disponibili
ferdinando
2017-03-22T00:00:00Z
Luna e sua madre sono state accoglienti malgrado la difficoltà a trovare la casa a causa dell'indirizzo sbagliato. Non lontano da sassari una volta che si conosce la strada. Adatto per viaggi di lavoro o coppie che non vogliono spendere tanto. Immersi nel verde a 10mn dalla città
Pietro
2017-01-15T00:00:00Z
Type de logement
Chambre privée
---
Type de propriété
Villa
---
Capacité d'accueil
2
---
Chambres
Sassari, Sardegna, Italie
Villa 8 beds, with spectacular sea views of Capo Caccia and the Gulf of Alghero. With private swimming pool, large patio and surrounded by the Mediterranean typical of Sardinia.
The situation is ideal for families with children, couples or groups of friends ; Your pets are welcome . The house consists of a large living area with kitchen , three bedrooms , two bathrooms , indoor fireplace and outdoor barbecue . Is only 2 km from the nearest beach and 6 km from the center of Alghero .
Nous avons passé une semaine très agréable dans la demeure de Stefano. Le cadre est génial et l'extérieur paradisiaque. Une voiture est nécessaire pour se rendre à la villa. La magnifique ville d'Alghero est à 10 minutes et la plage la plus proche à 5 minutes en voiture. L'intérieur de la villa est un peu vieillot et les draps n'étaient pas vraiment propres. Cependant l'extérieur est tellement beau que l'on oublie vite ces petits détails. La bouteille de bienvenue était également un geste que nous avons beaucoup appréciés.
julka
2016-06-05T00:00:00Z
Très bonne communication avec Stefano ! Accueil parfait ! C'est un couple d'amis à lui qui nous a accueillis avec le sourire et d'excellents conseils (restaurants). Rien à dire ! En ce qui concerne la villa elle est très bien située, à 5 km du centre d'Alghero (très belle vue pendant le trajet). Maison bien plus chaleureuse qu'en photo et très bien équipée. Le coin piscine est super, vue sur la mer ! Nous avons vraiment apprécié notre séjour chez Stefano !
Andrea
2016-09-19T00:00:00Z
Nous avons eu beaucoup de plaisir à séjourner dans la maison de Stefano. La maison est magnifiquement située. Il n'y a aucun vis-à-vis, la piscine est agréable et bienvenue lors des chaudes journées sardes. Stefano s'est montré très prévenant, et Amandine et Antonio d'une grande gentillesse. Seul petit bémol : la maison supporterait un bon rafraîchissement et l'équipement de la cuisine est un peu lacunaire.
Olivier
2016-07-24T00:00:00Z
Three words to describe Stefanos villa: Old but gold! We've found exactly what we were looking for. The location is really quiet and peaceful. As mentioned in the description: you need a car, but nothing wrong with that. The pool is also fantastic. With over 2m, it is deep enough to swim and dive at one end - and with 50 cm on the other end also fun for toddlers. At our arrival, Antonio and Amandine (who took care for checkin) gave us great tips on what we should visit. One of our favourits: Spiaggia la speranza - 5min away by car. We highly recommend to visit this beach. From the beginning to the end, Stefano and his friends were always available. We've felt secure, welcome and in good hands. Regarding the property, it is actually way bigger than visible on the photos, which is fun for kids to explore. You can't go wrong with Stefanos villa!
Simon
2016-10-03T00:00:00Z
We had a lovely time, the villa is very nice and there is a beautiful view. One of Stefano's friends met us at the airport and guided us to the house, which was very helpful. The house is a bit out of the way, you definitely need a car to get there, but on the upside it's very private and quiet.
Patrick
2015-10-19T00:00:00Z
Great experience all round - Stefano's friend, Antonio, met us in town late at night and brought us safely to the villa which is a bit out of town. He even went back to his mothers house to get us milk for our 18 month old. Antonio was available to answer questions by text throughout our stay. Overall a great stay and would highly recommend. Great service, great welcome, bottle of wine on arrival, amazing location with large pool and great bbq facilities - Overall the villa is spacious, clean, quiet and private.
colin
2016-07-07T00:00:00Z
Stefano has been a very good host, easy communication and good English which makes it easier of course! He was not in Sardinia but we were welcomed by his mum and his friend Antonio. For issues we had to contact Antonio and when we needed help (when the gas run out) Antonio was there within half an hour to change the gas bottle. He also gave us some good tips (e.g. Pedromare bar on the coast with amazing views!) and came back to our texts within minutes. The villa was lovely and the pool was absolutely stunning. We didn't have the warmest weather as we were there in April but I can imagine that in warmer months the villa will be a very comfortable, cool and relaxing retreat. It is located a bit out of Alghero, say 10 minutes drive from the old town. The road is lovely though, along the coast. Inside it is very spacious and with three bedrooms and one shower room and another separate toilet very suitable for a family or two couples. The patio area is the best bit of the villa with different sitting areas. There is a fairly large garden surrounding the villa which was great for our kids who just pottered around. The kitchen is good with a Nespresso machine, oven and enough pots and pans. The bathroom is a bit dated but clean. We overall enjoyed our stay very much. Thanks Stefano!
Rosa
2016-05-01T00:00:00Z
We had a wonderful (EMAIL HIDDEN)munication with Stefano could not be better. villa, garden and pool are really a must. 5 km outside Alghero so a car is necesarry. We would recommand this villa to everyone.
Nanna & Rob
2015-10-11T00:00:00Z
Type de logement
Logement entier
---
Type de propriété
Villa
---
Capacité d'accueil
8
---
Chambres
Alghero, Ss, Italie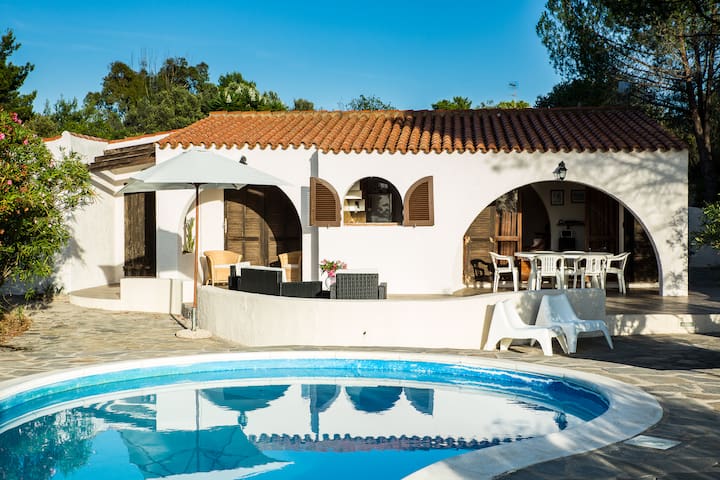 The house is located in a natural park , the coast can be reached through a private access at 70 meters of distance. You will like it for the beautiful panoramic view, the location and privacy. My house is suitable for couples, business travelers and families with children.
The villa, on a surface of 140 square meters, includes a double bedroom, a bedroom with three single beds, two bathrooms, a kitchen, a dining room with fireplace, a large living room that opens onto a spacious terrace overlooking the sea. In the main room it is placed a sofa bed for two additional guests. The large terrace enjoys a beautiful view over the Bay of Porto Conte and is a fantastic place to relax, meditate and organize lunches and dinners. From the terrace a pathway of only 70mt leads to the sea. The surrounding area of one hectare includes a garden and a large parking. The materials and finishes are inspired by the architecture of the sardinian tradition, in the most remarkable reworking of the first architectures of "Costa Smeralda". The large arches overlooking the sea, wrought iron, exposed beams, the interior "incanniciato", and many other details make the building a typical example of mediterranean architecture.
The splendid panoramic position is the exclusive character of the house: the property is part of a nature park, and is surrounded by thick mediterranean vegetation. Guests will enjoy absolute privacy. In the area, not infrequently, you can see fallow deer, cormorants, turtles and other animals that inhabit the park.
Amazing location. Isolated from everything, in front of the sea with private access. In the middle of the national park. The terrace view is exactly as in the picture. Very nice with kids, they have lots of space to run around The house is large, used to be a restaurant. It is very nice , although it is clear that it was a restaurant before, so the space is a bit oddly distributed. The furniture is quite basic and essential, but there is everything you need. There is a nice large chimney, which is useful if you go in colder seasons. The equipment was a bit scarce, but you just need to ask for what you need, the host is very welcoming.
david
2016-10-15T00:00:00Z
Type de logement
Logement entier
---
Type de propriété
Villa
---
Capacité d'accueil
5
---
Chambres
Alghero, Sardegna, Italie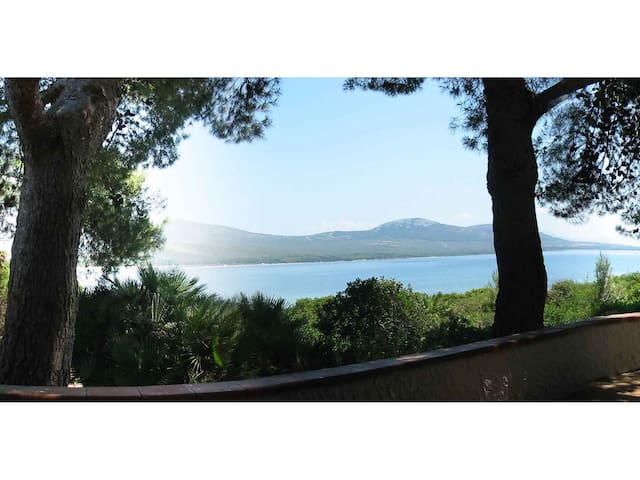 The villa is located in an exclusive resort just in front of the astonishing bay of the Asinara island. From every room you can enjoy the blue crystal sea. The large garden and ample private parking allow you to have serenity and privacy. La villa è situata in un esclusivo comprensorio e gode di una fantastica vista che abbraccia tutto il golfo dell'Asinara. Il grande giardino e l'ampio parcheggio consentono di avere la massima serenità anche nei periodi di maggiore afflusso turistico.
The house is a family house, the owner lives in the other house. The house has a very spacious terrace whith garden, a large panoramic living room, a modern kitchen with electric oven, dishwasher, fridge and freezer. There are three bedrooms, two doubles and one twin, two bathrooms with shower without bathtub. For the lovers of sports there is a large selection of activities, from diving, sailing and windsurfing, trekking and mountain-biking excursions right next to the house. The beaches are the main attraction of Stintino, "La Pelosa Beach" is the most famous and with no doubt one of the most beautiful beaches in Sardinia (2nd in the top ten beaches in Italy 2015 at tripadvisor), facing the national park of the island of Asinara with crystalline water and very fine white sand. The house enjoys a breathtaking view of "La Pelosa Beach" which is only 10 minutes walk.
Activities that you could do in Stintino are: 1) visit the Asinara National Park ((URL HIDDEN) You can reach the island by boat from the nautical center "Isola d'Ercole" (URL HIDDEN) in the harbor in front of the house (cross the road at the traffic lights to enter the gate and go to the bottom left to the sea). On the island you can hike, rent bikes or take a guided tour by jeep (this is the solution that we believe is best for you because it allows you to see the most beautiful areas in a single day). 2) Water activities in the nautical center "Isola d'Ercole", you can rent a dinghy or a small sailing boat, canoe. There is also a sailing school for adults and children. For all the activities at Isola D'Ercole you have 20% discount: you can contact Paolo and specify that you are my guests. He can helps you to choose the best way to visit the area. 3) Beaches In addition to the famous beach of La Pelosa (10 minute walk or bike ride from home) you can visit the beach of Saline (out of Stintino, pass the petrol station and at the second roundabout take the third exit). If you don't want to go far from home you can go at the nautical center across the street and rent an umbrella and lounge by the sea or beach chair. There's also a bar, a restaurant (Il Porticciolo) and a swimming pool. Relaxing place. A short hike to see the entire coast (the magnificent view in bright days) you can do it by climbing up the tower you will see in the upper left corner from the porch of the house. Coming out of the gate of the house, turn right and go up. Turn right again to a low stone wall with a walkway. Cross the wall and climb up to the left at an intersection on the right with a steep climb. Go up the hill and go up to the tower (about 45 min). 4) Stintino Visit the village and the two ports. Tonnara Museum, history of tuna fishing in the village.
Amazing place with great hosts. The view is unmatched, and the place is walking distance to a beach, pool and restaurant. The hosts were gracious and responsive, even inviting us for an apertivo. If you're going to Stintino, stay here.
Stephen
2016-07-14T00:00:00Z
Annamaria is a great host and the place is beautiful, highly recommended , thanks for the sweets and jam !!
Raimundo
2016-10-14T00:00:00Z
Had a wonderful stay at Annamarias place. Great smooth communication from start to finish and her husband met us at the house and was lovely and helpful. Unfortunately we had bad weather during our stay but we're happy that even though we were indoors a lot we had a great view to enjoy. The home looked as great as in the pictures. Loved the little extra touches like some nice treats and toys that our baby enjoyed playing with. Highly recommend this place and would love to stay here again.
Charmaine
2016-09-20T00:00:00Z
Great friendly hosts. Great house in a great location.
Chris
2016-10-25T00:00:00Z
We loved staying in Stintino! We were welcomed by Annamaria and her husband and they gave us sardinian cookies and homemade jam! We felt home right away. The house is beautiful and the view is stunning. We will come back! Thank you!
Suzanne
2016-10-19T00:00:00Z
The house is fantastic!! The house has a gorgeous garden, panoramic views of the blue waters and Asinara Island, and is an easy short walk to the most beautiful beaches including La Pelosa beach. Annamaria was the ultimate host. She provided very helpful information and advise for touring the area, including sending us to a wonderful agriturismo for our best meal in Sardinia. Truly the perfect vacation stay, we will return next year without doubt!!
Brian
2016-09-26T00:00:00Z
Хозяева Анна Мария и Франциско были очень приветливы. Всё объяснили и рассказали. Место просто потрясающее, вид на лужайке каждое утро супер! Дом очень уютный и милый.Единственное не очень удобные душевые.И нет москитных сеток. Ну это мелочи, кому то это совсем не важно. Главное природа и море просто фантастика! Пляж в шаговой доступности и очень хороший ресторан!С удовольствием приедем ещё ! Спасибо!
Ann
2016-06-26T00:00:00Z
Type de logement
Logement entier
---
Type de propriété
Villa
---
Capacité d'accueil
6
---
Chambres
Stintino, Sardegna, Italie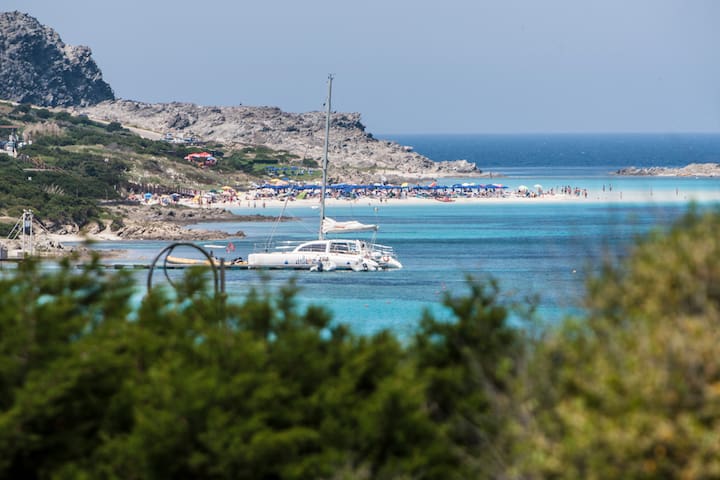 Stupenda casa nel parco regionale di Porto Conte immersa nel verde, vista mozzafiato sul mare, ampi spazi all'interno della casa, accesso privato al mare, possibilità di escursioni a piedi all'interno del Parco con percorsi naturalistici, panorami meravigliosi per ricercare piccole spiagge riservate.
Camera riservata e silenziosa , Possibilità' di una seconda camera con letto matrimoniale e bagno privato , contattare l'Host per la prenotazione
Parco Regionale di Porto Conte
Type de logement
Chambre privée
---
Type de propriété
Villa
---
Capacité d'accueil
2
---
Chambres
Porto Conte Alghero, Sardegna, Italie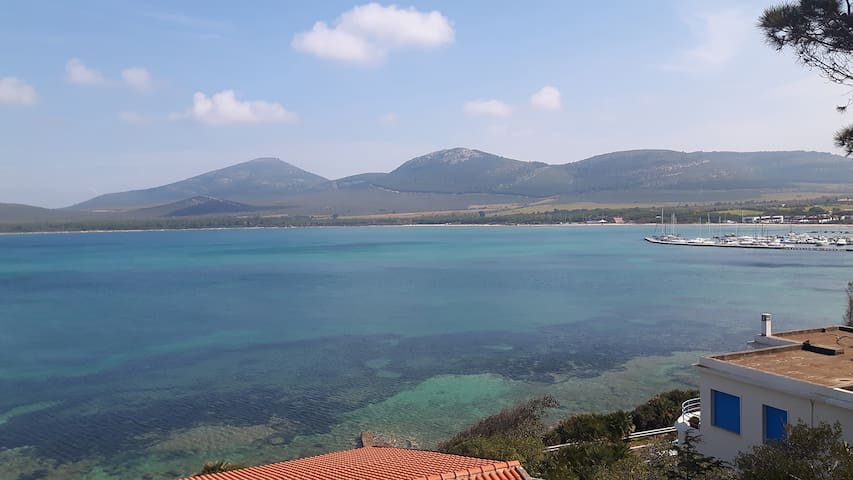 Argentiera - Airbnb
:
Moyenne de

4.39

sur

5

étoiles sur les

203

commentaires des voyageurs
Saisissez les dates souhaitées pour connaître le prix total. Des frais supplémentaires s'appliquent et des taxes peuvent être ajoutées.