Slunné útulné podkrovní studio v cihlové zástavbě nedaleko centra a přesto na zcela klidném místě. Ubytování je vhodné pro páry i sólové cestovatele, také pro obchodní cestující.
Krásné okolí Českého středohoří a Českosaského Švýcarska, můžete vyrazit na nespočet zajímavých výletů. Dojezdová vzdálenost do Prahy i Drážďan - cca hodina autem.
Type de logement
Logement entier
---
Type de propriété
Loft
---
Capacité d'accueil
3
---
Chambres
Ústí nad Labem, République tchèque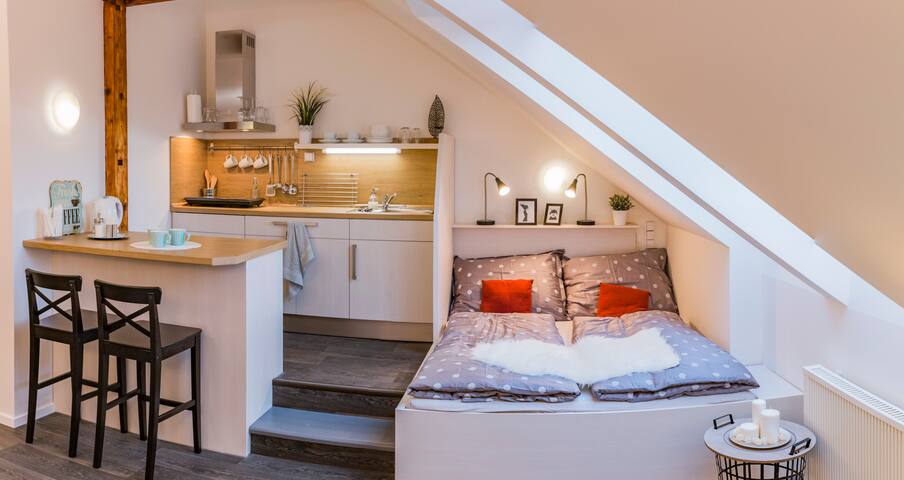 Small family house Opens his big welcoming arms: waiting for you room with a bathroom, a shower and toilet, living room, dining room, WIFI morning breakfast and the day truly exceptional care or - absolute indifference! As you wish.
Breakfast was fully vegetarian
Rein
2016-11-16T00:00:00Z
Type de logement
Chambre privée
---
Type de propriété
Loft
---
Capacité d'accueil
2
---
Chambres
Rakovník, Central Bohemian Region, République tchèque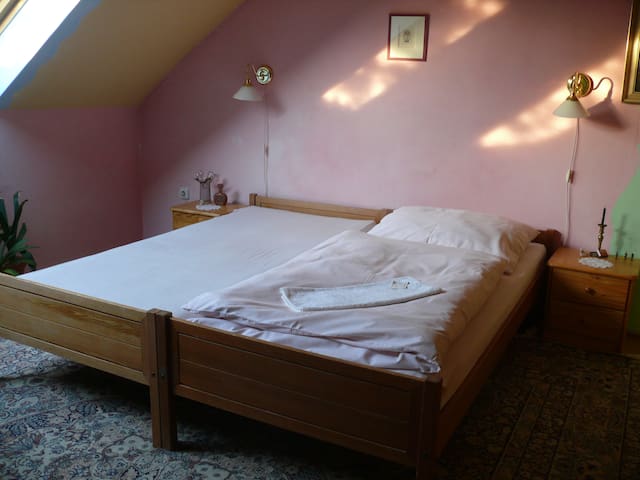 Loft is located in the historic center, next to the house of Karel Hynek Macha (a Czech poet). THe hotel is basic and clean. The center is about 8 min. Walk. Loft has two separate rooms.
The property is located on a local restaurant. It is very quiet restaurant where no events are celebrated. THe terrace belongs to the restaurant.
Clean, simple, in the nice historical area, no noice. We vere suprised by the complimentary breakfast on Sunday (when is dufficult to find an open store). Value for money.
Renata
2016-07-03T00:00:00Z
The apartment is basic, clean, quiet and in a good location. The kitchen (on the floor below) does not have a great deal of equipment, no salt . Communication was good.
Toon
2016-05-04T00:00:00Z
Eine nette Unterkunft, einfach, ruhig und sehr zentral gelegen. Vielen Dank, gerne wieder einmal!
yvette
2016-05-17T00:00:00Z
Great Location - the flat was in the very heart of the city Litoměřice. Amazingly it was the house of the famous Czech poet K.H. Mácha. After our experience, we can only recommend.
Tomáš
2016-06-18T00:00:00Z
Hartelijk ontvangen. Gastvrouw sprak zelf geen Duits of Engels, maar er was iemand bij die goed Engels sprak. Ruime kamer. aparte keuken met koffie en thee voorradig. We waren er in het weekend en alles voor onszelf. De locatie staat in het middelpunt van een historische omgeving en vlakbij het centrum. Wel even een korte stijle klim om er te komen. Heerlijk ontbijt ' s morgens, en nog voldoende voor de lunch. De elektrische fiets moest wel een trap op.
Piet
2016-08-09T00:00:00Z
The apartment is fairly basic, but is warm, clean, quiet and in a good location. The kitchen (on the floor below) does not have a great deal of equipment - this didn't bother me as I was eating out. The wifi didn't work at all when I was there - I had the correct password but couldn't connect either via my iphone or my laptop. For me, this was a nuisance, but it wasn't a complete disaster. However, I can imagine that for some people it could be a real problem. In summary: the apartment was fine for my purposes, and it was very reasonably priced.
Nick
2015-11-20T00:00:00Z
Gerne wieder! Vielen Dank!
Lisa
2016-08-28T00:00:00Z
We sadly never met Denisa BUT she had arranged for her friend Stana to be there to greet us and show us everything. The accommodation was simple but good, the water was hot and amazingly it turned out to be the house where the poet Karel Macha had lived and died whose poem 'Maj' had been the first Czech poem my wife had read when she started studying the language. There was also a restaurant run by Stana on the ground floor of the building where we ate on the second night and had a very enjoyable meal.
Peregrine
2015-10-21T00:00:00Z
Type de logement
Chambre privée
---
Type de propriété
Loft
---
Capacité d'accueil
4
---
Chambres
Litoměřice, Ústí nad Labem Region, République tchèque
Cosy attic with 2 rooms, large hall, kitchen, dining place and bathroom in country house located close to airport, Prague and other "must" see in Czech Rep. There is available big garden with grill and roofed sitting, great for summer warm evenings.
cosy and large attic
Great location for chilling out after Prague visit. Surroundings is great for cycling trips. Located 5 km from Golf playground Botanika Křivoklát castle (belongs to the oldest and most important castles of the Czech princes and kings. The history of its construction starts in the 12th century) is located within 30 min by car. Karlštejn castle (founded in 1348 by the Czech King and Holy Roman Emperor Charles IV) is located within 40 min by car Lidice (the village of which became a symbol of Fascist despotism in World War II) located within 15 min by car.
Le séjour chez tatjana fut très agréable. Le logement était confortable, calme et propre. L'accueil de Tatjana était très chaleureux, elle nous a fait faire le tour du propriétaire avec le sourire et nous as même laissé des petits conseils pour nos visites à Pragues. Vraiment bien ! Je vous la recommande.
Selma
2016-01-04T00:00:00Z
I spent 5 weeks at Tatjana's cozy attic apartment in February 17. Tatjana is incredibly kind and generous person which gives you feel like home. Apartment itself is furnished with wooden, authentic rustical stuff. It will stay in my heart.
Martin
2017-02-28T00:00:00Z
Desde que llegué me hicieron sentir como en casa, me recogieron en la terminal del autobus porque llegué en la noche. El barrio es tranquilo y seguro, a media cuadra de la casa hay un café / bar muy acogedor. Tan pronto como llegué me ofrecieron mapas de la ciudad y de Praga. Cada una de las fotos coincidia, la casa esta en muy buenas condiciones y está completamente equipada tiene áreas comunes y en realidad es una casa de ensueño. Alguno días en lo que ellas iban a la ciudad me ofrecieron ride y me ubicaron cuando estaba un poco perdido, también me orientaron en el uso del tranporte público. Finalmente tuve algunos problemas con mi tarjeta y se prestar a ayudarme con toda la amabilidad y paciencia del mundo. Son íncreibles, amables y el lugar es una delicia.
Israel
2015-08-24T00:00:00Z
Velmi doporučuji! Super ubytování,velmi vstřícné jednání. Moc hezké domácí prostředí. Vřele doporučuji!
Kamil
2015-09-29T00:00:00Z
I highly recommend this accommodation and this town. The host and her daughter were very thoughtful and helpful. The daughter met me at the bus stop in town when I arrived. The accommodation was spacious and charmingly furnished. The internet connection was high speed, and there was plenty of hot water. The kitchen was well-equipped. The town was just small enough and just large enough to be perfect. A great place!
Gerald
2016-10-23T00:00:00Z
Idealne miejsce na odpoczynek, cicha okolica po prostu niezwykłe , przyjaźni ludzie a Tatjana jest przecudowną i pozytywną osobą :) Niczego nam nie brakowało , mieszkanie piękne i co najważniejsze dużo w nim prywatności . Dziękuję .
Michał
2016-08-22T00:00:00Z
Excellent House!!..Nice LOcation, NIce hOuse, Nice Host!!!. I prefer and recommend this Place..
sanu
2016-05-09T00:00:00Z
Cozy and spacious place. Nice little town 30 min away from Prague. Thanks to Tatiana! Also there is a very friendly dog )
Semen
2016-03-31T00:00:00Z
Type de logement
Logement entier
---
Type de propriété
Loft
---
Capacité d'accueil
4
---
Chambres
Unhošť, Central Bohemian Region, République tchèque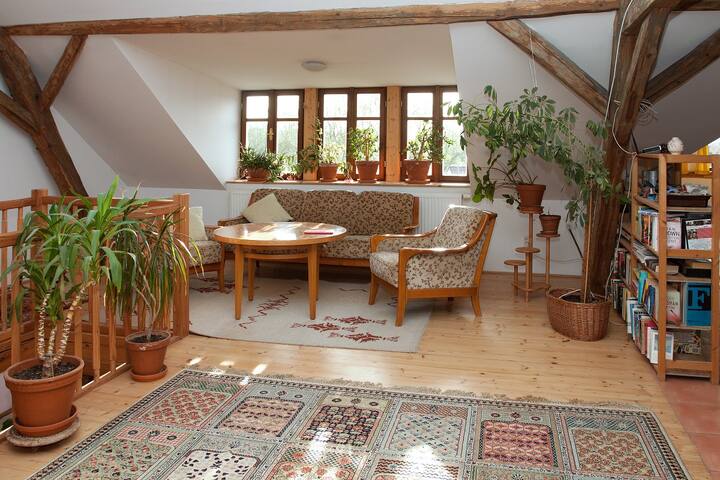 Loft apartment with 2 bedrooms for 4 guests. Great place by Tisa Walls Rock City, a filming site of the Chronicles of Narnia. It's a popular tourist destination and paradise not only for climbers, area of Elbe Sandstones and Czech Switzerland NP.
Apartment consists of 2 rooms (bedroom = 2 single beds, living room = 2 single beds). So the total capacity is 4 people. Guests also have a private spacious fully equipped kitchen with dining section, and bathroom with a tub. There is also another private room in the house. If it's rented too, the total capacity is 6 guests.
The house itself is located in the middle part of the village of Tisa. There's a beautiful view of the Tisa Walls Rock City from the garden of the house. It's a place not only for climbers (there are 113 registred climbing routes), but also for regular tourist, especially for children. Hikers can go trekking on many marked or even unmarked trails, for bikers there are many bike trails as well. In winter time it's a popular area for cross-country skiing, there are 30 km of cross-country skiing trails. There's even a downhill skiing slope in Tisa. And in on a hot summer day, you can go for a swim in two local lakes. Tisa is just by the Czech/German border, so it's also very easy to explore the German part of the region. Tisa Walls Rock City is part of the Labe/Elbe Protected Nature Area with the largest table mountain of Central Europe (Decinsky Sneznik) and it's a ideal starting point for exploration of the Czech and Saxon Switzerland national parks. The beautiful historical town of Decin with its castle is also nearby.
Nous avons passé un très bon moment dans cette maison très claire et calme. La propriétaire est très sympathique et accueillante.
Agathe
2015-03-09T00:00:00Z
The apartment is very spacious, squeaky clean and perfectly equipped, especially for families (kitchen with anything you need, washing machine, baby cot... down to the baby WC-seat). The house is literally a stone throw away from the Tyssa Walls, which is lots of fun with kids. Communication was very smooth and easy. The hosts were really eager to make our stay as comfi as possible. Thank you! Die Wohnung is sehr geraeumig, blitzblank und perfekt ausgeruestet, besonders fuer Familien mit Kindern (Kueche mit allem, was man so braucht, Waschmaschine, Babybett ... sogar ein Baby WC-Sitz). Das Haus ist um die Ecke vom Eingang zu den Tyssaer Waenden, die wir als Familien-Wander-/Kletterziel waermstens empfehlen! Kommunikationsmaessig lief alles super-glatt. Die Gastgeber waren wirklich sehr bemueht, unseren Aufenthalt in jeder Hinsicht einfach und bequem zu gestalten. Danke!
Nora
2016-08-17T00:00:00Z
Spacious honest clean well equipped apartment. Central to Dresden and Prague. Lovely and peaceful. As indicated in previous reviews the host was great on check in and then scarce. But we really did not need any assistance and we're quite happy to be left alone. Perfect if you prefer to self cater.
Helen
2015-09-04T00:00:00Z
Our hostess was very welcoming and helpful. The apartment was spacious and very clean, with a well-equipped kitchen. There was even a washing machine in the bathroom, which we could use! The wi-fi was quite fast, although one night it wasn't available. The apartment is very close to the entrance to the Tisa rock walls, (excellent hiking and rock climbing!) and to several restaurants. We enjoyed our stay very much, making day trips to Dresden and to the Czech Switzerland National Park.
Emily
2015-07-18T00:00:00Z
We enjoyed our stay in Tisa! The appartement offered everything we needed and lots of room for me and my partner - a family of four could easily stay there as well and comfortably. Though Tisa is a really small town, we managed to get around by public transportation - there is a bus stop right next to the house and a bus for Usti nad Labem leaves every hour (20minutes ride). Before we arrived, all our questions were dealt with by an agency called Czech Homestays and their friendly staff. Our host herself we only saw once - upon our arrival. We were not able to get in touch with her again afterwards though we tried which was a little strange as she lives in the same house.
Antje
2015-04-05T00:00:00Z
Very nice apartment and great area. We enjoyed our stay. Thank you very much.
Marc
2016-02-27T00:00:00Z
We had a great Time in Tisa! The Apartment is beautiful and just as discribed perfectly equiped. We could imagine that we came back someday. Ivana was very friendly and helpful. The landscape is awsome and just in the neighborhood. We highly recommend to stay there.
Victoria
2016-01-02T00:00:00Z
Probably one of the nicest located, best equipped and cleanest places I've ever been to. The host is super welcoming and nice. The place is huge and there is nothing more you could wish for. It was a perfect stay.
Marco
2016-08-06T00:00:00Z
Type de logement
Logement entier
---
Type de propriété
Loft
---
Capacité d'accueil
4
---
Chambres
Tisá, Ústí nad Labem Region, République tchèque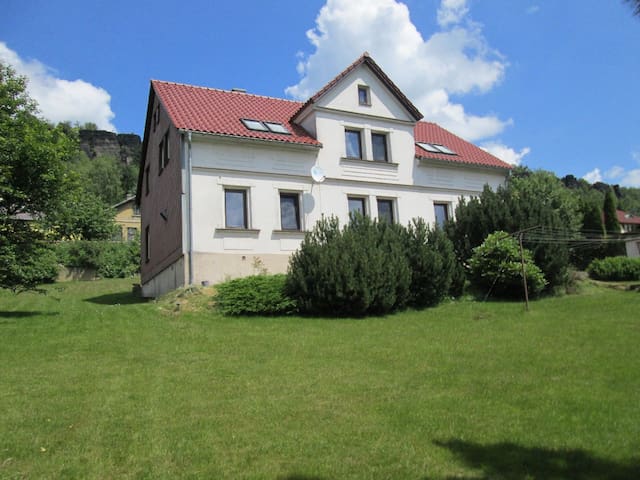 Appartement spacieux grenier dans la maison construite dans les années 30 du 20ème siècle situé dans le quartier paisible de la ville de Děčín d'où vous pouvez facilement explorer la région de la Suisse tchèque NP ou les beautés de la Suisse saxonne NP.
La maison (appartement) est situé dans l'endroit idéal dans le quartier paisible de la ville. En 5 minutes, vous pouvez vous rendre au centre de la ville pour visiter le château de Děčín, beaucoup de restaurants et de boutiques, en 15 minutes par la voiture, vous pouvez vous rendre au parc national de la Suisse tchèque, où vous pouvez facilement faire beaucoup de randonnées à travers le paysage beutiful des roches et des forêts, où la porte de Pravčická (le plus grand arc de grès en Europe) a lieu.
Děčín est une petite ville d'environ 50.000 habitants. La dominante de la ville est le château de Děčín avec son magnifique parc. Il y a une piscine, zoo, centre commercial, la possibilité pour le patinage en ligne ou à vélo, via ferrata, rafting ou de la voile sur la rivière Labe, tout disponible à partir de l'appartement en quelques minutes. La maison est située dans le quartier paisible de la ville dans les collines, il y a une vue sur le château et de toute la ville depuis le salon. A côté de la maison il y a une grande aire de jeux pour les enfants.
Denisas place was awesome. We felt really, really welcomed by her and the whole family and had a great time in Decin and all the beautiful tracking places around. The appartmenent was very clean, spacy and comfortable. The best thing was the big window from where you had a great view on Decin. The inner city was very close, so we could walk there. Denisa gave us some very good hints for great tracking places. A perfect place and vacations for getting engaged :)
Sara
2015-05-27T00:00:00Z
Denisa made us feel very welcome and provided lots of information about the apartment and seeing the local sights. She was always very quick to respond to queries and went out of her way to help us. The description of the apartment is very accurate. It has fantastic views and is very well equipped. There is plenty of space, it is very comfortable and the WiFi was fast and reliable for us. The area is quiet and feels very safe. Car parking on the street is unrestricted. The main square, several restaurants and a good supermarket are less than 10 minutes walk from the apartment. The area has some steep hills and the apartment is at the top of the house, so be prepared for some exertion, especially if you have heavy luggage. We would have no hesitation is staying here again.
Mark
2016-07-11T00:00:00Z
Denisa was a very nice host! She is friendly and very cooperatively! The flat is modern and comfortable. We did enjoy spending time there.
Lukas
2014-08-06T00:00:00Z
Like this place very much. Great n helpful host, especially her mum n brother. Great view from the big window. The guide that she introduced was excellent. If she can improve the coverage of the wifi, her place would be heaven .
Charlene
2016-06-02T00:00:00Z
The view from this apartment is a very pleasant! It's clean and light. There's one room with a double bed and the living room with the couch if you are 2 couples. Denisa answers her messages very fast, good communication. It was a good experience!
Amandine
2016-04-04T00:00:00Z
We had a wonderful stay in Denisas flat. Denisa was very nice and very very helpful and answered all our questions. Furthermore she gave us lots of helpful recommendations of nice restaurants in Decin. The flat was clean and beautiful, we really felt at home!
Katharina
2016-03-30T00:00:00Z
We had a great stay in Denisa's Apartment. Denisa herself comunicates really well, which we appreciated. She gave us some good suggestions as to what to see in the area. Very cozy apartment for a couple traveling with an 8 month old and a 3 year old. The apartment is with close proximity to the center of the town and Decin Castle. By the way, the small cafe in Decin Castle has amazing crepes. We had to go back, kids in hand. I highly recommend staying at Denisa's place.
Maciej and Rikke
2014-09-10T00:00:00Z
Wir haben ein paar nette Tage in Denisas wunderschöner Wohnung verbracht. Sie ist liebevoll eingerichtet und für zwei Personen irre groß. Sie ist mit allem ausgestattet, was man braucht. Wir haben uns sehr wohlgefühlt.
Tilmann
2015-05-17T00:00:00Z
Type de logement
Logement entier
---
Type de propriété
Loft
---
Capacité d'accueil
4
---
Chambres
Děčín, Ústecký kraj, République tchèque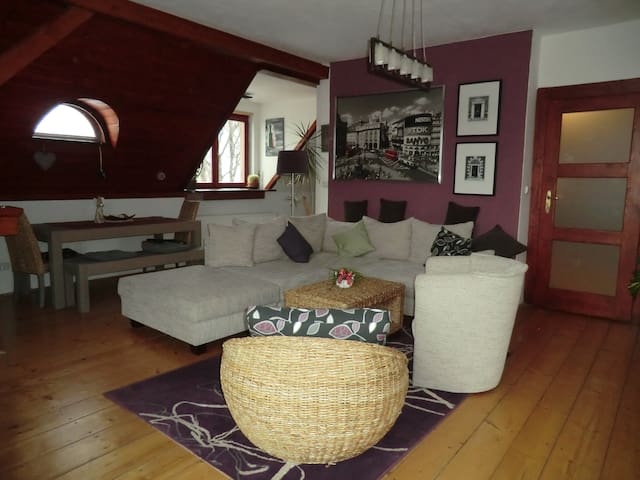 Ubytování je skvělé pro páry i sólové cestovatelé, pro turisty, cyklisty, milovníky přírody a vína, ale i pro služební cesty. Od nás máte blízko na letiště, do přírody, ke sportu, do Prahy i na Karlštejn. Budete ubytováni v podkroví a navíc v domě s naší malou rodinnou vinotékou, kde můžete v klidném prostředí degustovat.
Tetín je obec ležící ve Středočeském kraji asi 2 kilometry východně od okresního města Beroun nad řekou Berounkou. Obec Tetín se nachází na stezce Svaté Ludmily, která je součástí cyklotrasy B3 Praha – Norimberk. Historicky Tetín patří k nejstarším vesnicím v České republice. Počátky Tetína jsou v pověstech spojovány s Krokovou dcerou Tetou, ale archeologicky je datován do poloviny 10. století. Počátkem 10. století zde byl dřevěný knížecí dvorec, který byl vdovským sídlem kněžny sv. Ludmily, která zde byla v roce 921 zavražděna. V 11. a 12.století zde bylo sídlo Tetínské župy, která spravovala celé Podbrdsko. Tetín je zmiňován v zakládací listině vyšehradské kapituly. V roce 1288 zde měl sídlo královský lovčí. Ke konci 13.století byl hrad přestavěn na sídlo přemyslovských levobočků. V roce 1321 hrad držel Štěpán z Tetína, který Tetín prodal císaři Karlu IV. Ten pak tetínské panství připojil ke Karlštejnu.
Hrady: Karlštejn, Křivoklát, Točník, Žebrák Příroda: CHKO Český kras, CHKO Křivoklátsko, Koněpruské jeskyně Sport: Golf Karlštejn, Golf Beroun, Tenis Tetín, Aquapark Beroun
Příjemné ubytování hned nad skvělou vinárničkou se skvělým vínem a lokálními pochoutkami. Vstřícní majitelé a veškeré péče, kterou by si cestovatel mohl přát. Doporučuji!
Ladislav
2017-02-26T00:00:00Z
Type de logement
Chambre privée
---
Type de propriété
Loft
---
Capacité d'accueil
3
---
Chambres
Tetín, République tchèque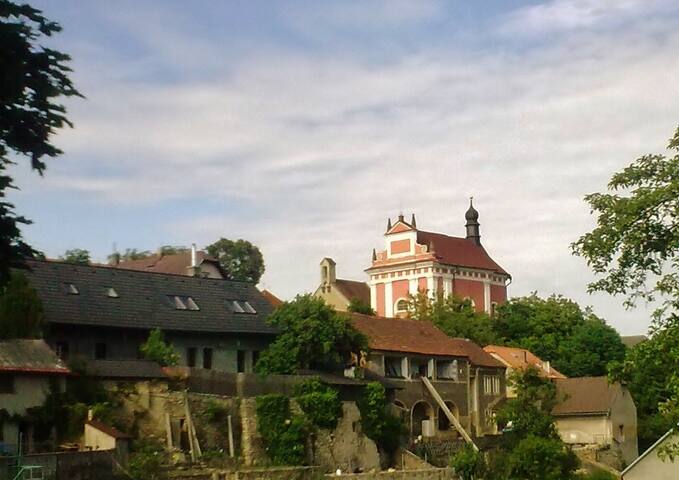 We'd like to offer you cosy and beautifully furnitured room in our sunny artistic loft flat in historical building located in Prague 6, next to Divoka Sarka nature reserve. Our flat is a fusion of modern and retro style. A room for you has a double + single bed and lounge space. One bathroom with shower and bathtub and two separate toilets. Whole flat is fully equipped and ready to use for you. You are also welcome to chill in living room and to cook in the kitchen.
Our loft flat is full of art. We are an illustrator and fashion designer, couple of enthusiastic artists with two dogs. This is a beautiful flat and also a creative space. You can feel our love and passion for art and design in every detail.
For nature lovers 5 minutes by walking to the Divoká Šárka nature reserve. It is named after the female warrior Šárka, who, according to mythology, threw herself to her death from its cliffs after betraying her lover Ctirad during the Maidens' War. There is a lake Džbán (The Pitcher) and public swimming pool located in the middle othe reserver. The water of the pool is supplied by clean and fresh water from the Šárka spring creek that passes through the park and the lake.
Lucas and family are very good host. They were very accomodative and guided us at each stage of our Prague trip. From check-in to check out they were so concerned about visitors felt like we are at home with family(URL HIDDEN)The home is unique and well maintained. Being creative they have decorated well. It is situated in a secure residential locality well connected(URL HIDDEN)strongly recommend this venue for family/bachelors etc. Thanks Lucas again for considering us. It was worth funfilled trip. As told will come back and visit you soon with family :)
Guruprasad
2016-05-22T00:00:00Z
this is an amazing house! It's fashion, clean, and very comfortable! We really enjoyed out stay here. Lucas&Margareta is very nice couple! Thank you so much! i will definitely recommend to my friends who want to come to Prague!
vicky
2016-12-23T00:00:00Z
Lukas & Margareta waited for me at the subway station and walked me to their home, despite the late hour. Their loft is clean, sunny, and tastefully decorated. It is located away from the hustle and bustle of the city, yet close enough to still be convenient. Lukas & Margareta had great recommendations on what to see/do in Prague, as well as Europe in general. I would have loved to stay longer! A lovely home with lovely people (:
Angela
2016-09-18T00:00:00Z
Lukas and his wife are great hosts. The room is cozy and beautiful.
jiang
2017-01-03T00:00:00Z
I had a wonderful stay in Lukas home, the perfect couple makes perfect home, very beautiful, very clean, I even don't want to go out, just want to spend more time in this beautiful home, every morning sunshine comes from lots of Windows on the top, green plants so lovely, every thing in the home is high quality. And I love the beautiful wife Margareta's beautiful smile, she cooked delicious food for us, I love to talk to them, wish I could meet them in China some day. Perfect home with two beautiful person! Perfect stay! 他们的家非常漂亮完美,屋顶的窗户,家里的木头横梁,植物,让家充满了艺术气息,家里太干净了,连厨房每个抽屉都整整齐齐干干净净,家具质量很好,夫妇俩人非常好,热情,女主人非常漂亮甜美,做饭好吃。位置也很好,出门有地铁,总之,完美的住宿体验,我住着不想走了。
An
2017-01-22T00:00:00Z
在知乎上看到一个姑娘半年前在这家有爱美好的艺术家夫妻家里度过的完美布拉格之旅,我本身也是学画画的,非常喜欢这种loft格局式的房子,房屋整洁干净,每一个窗台前都摆了各式造型的花花草草,家里养了两只可爱的狗狗特别亲人,舔我一脸口水,还叼来玩具让我玩,女主人甜美的笑容真的能即刻消打动我的心,男主人也是非常友好和温和。他们过的生活简直是我梦想中的样子,只可惜行程太紧张,只在布拉格住了一晚,但这短短的一天,让我觉得幸福开心的想对所有人笑!下次有机会一定还会再来的!
JING
2017-01-07T00:00:00Z
Lukas & Margerita are such a great couple, it felt like we had been friends forever. They were really kind, hospitable and offered me dinner and wine. They even gave me a gift! The apartment is gorgeous, tastefully furnished, really clean and in a quiet residential area, offering an insight into how the locals live. It's a short walk to the metro/tram that takes you everywhere in Prague and not far from the airport. I highly recommend this place and would not hesitate to stay there if I'm ever back in Prague. Thank you so much guys!
Dami
2016-08-08T00:00:00Z
As a first time solo- traveler, I couldn't have hoped for a better stay! Sadly, Lukas and Margareta were out of town during my stay but they were easily reachable by email and always responded kindly :) They were very thoughtful and had left behind a superb Prague guidebook and a hand drawn map (Lukas is an awesome illustrator!) explaining how to travel to the metro station from the house. They had also arranged for their friend to pick me up at the train station and show me the house, who was equally kind and helpful. I had a wonderful time at their apartment, and would definitely return for another stay! (And hopefully meet Lukas and Margareta and their adorable dogs the next time!)
Palka
2016-06-20T00:00:00Z
Type de logement
Chambre privée
---
Type de propriété
Loft
---
Capacité d'accueil
3
---
Chambres
Prague, Prague, République tchèque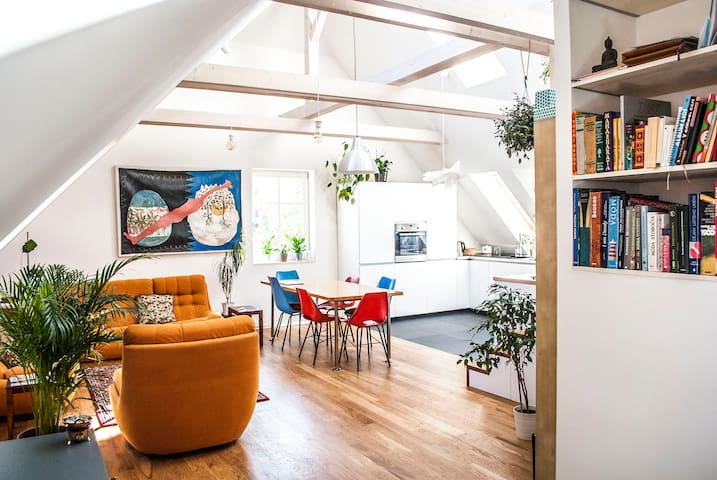 V klidně čvtrti na Letné
Type de logement
Chambre privée
---
Type de propriété
Loft
---
Capacité d'accueil
1
---
Chambres
Děčín, Ústí nad Labem Region, République tchèque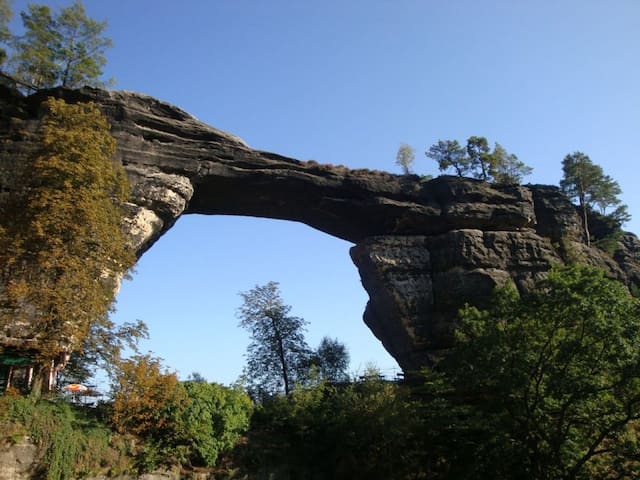 We offer a studio apartment with a large bedroom, fireplace and a roof terrace with separate access. The house is located between residence of the US Ambassador and Ministry of Defence. A few minutes away is the Royal Park Stromovka.
Une super adresse allez y les yeux fermés !! Mates est très réactif et très sympa Un magnifique appartement chaleureux, romantique : très belle décoration !!! Très propre, très bon couchage :) La cerise sur le gâteau : Toit terrasse !!! Très bien situé : Metro A et tram à 5 min à pied (Facile d'accès depuis l'aéroport : bus 119 15min + 3 stations de métro À pour seulement un ticket de 32 couronnes (1,20€ environ)
Nadège
2016-07-29T00:00:00Z
Wir hatten trotz Regenwetter einen tollen Aufenthalt, das lag auch an der sehr schönen Unterkunft. Besonders toll ist die Dachterrasse. Für das leibliche Wohl war ebenfalls gesorgt und die Lage ist perfekt für Ausflüge.
Franziska
2016-10-07T00:00:00Z
Peaceful neighbourhood, a little out of the city centre. The appartment is spacious and very homely and has all the appliances we wanted eg. Hairdryer, Iron, Washing machine. The hosts were helpful and responded quickly to all questions. Breakfast on the roof terrace was a real highlight.
Chloe
2016-09-08T00:00:00Z
Matthew was most welcoming and it was really helpful for him to show us all the things in the house. sorry for late review. i have been caught up with lots of work lately. we are really thankful to Matthew for letting us stay in this heavenly place of his. will cherish these lovely moments forever. thank you once again
Shuaib
2016-04-17T00:00:00Z
Wonderful place!!! Great location, VERY friendly hosts who go above and beyond to make you feel welcome and comfortable. The space is very large and has everything you could possibly need. We stayed two nights and could have stayed a week.
Jen
2016-05-05T00:00:00Z
We've stayed in Prague 6 a number of times before and it's very much our kind of place. There is a great cafe just round the corner, good for access to the uni and town is a 15 min walk or a 5 min tube or tram ride away. The flat was even more lovely than the images let on. Light and airy with everything you could need and every attempt made to welcome us including a couple of bottles of much appreciated beer!
Declan
2016-08-02T00:00:00Z
Thanks very much for the warm reception of Matthew. For the first time to Prague ,with a lot of time to delay. Matthew waiting in the intersection for a long time. Very sorry. The location of the apartment is very good, walk to the subway station by 8minutes. There are Chinese restaurant and supermarket nearby, and life is convenient. Room is clean and tidy. There is a feeling of home. Recommend everyone to stay.
leo
2016-06-09T00:00:00Z
The best airbnb I've stayed at yet! Loved every second of our stay there. Thank you Mates!
Carol
2017-03-25T00:00:00Z
Type de logement
Logement entier
---
Type de propriété
Loft
---
Capacité d'accueil
4
---
Chambres
Prague, Prague, République tchèque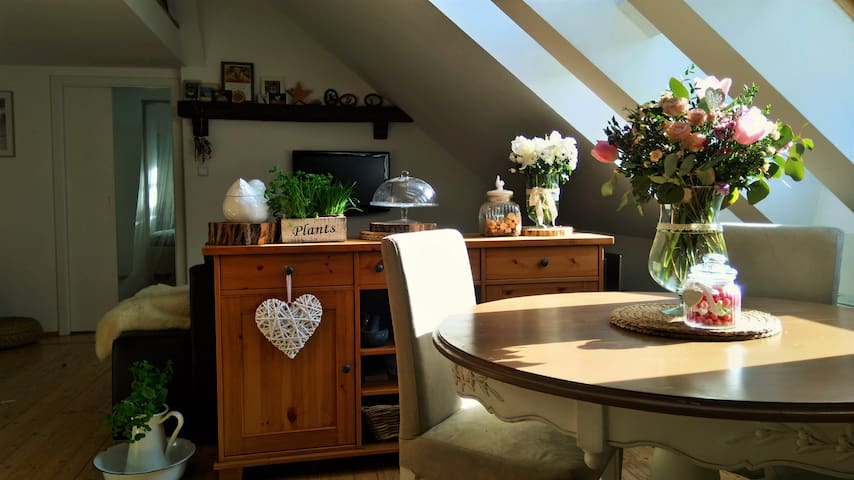 I had this flat built for me, my wife and two sons as a place where it is easy to be happy. Now, 20 years later, mission accomplished :) Two rooms are free for you now. Welcome and enjoy Prague! Jan Antonin
Jan's place was great. Light and spacious and we had plenty of privacy. The location is also wonderful as it only takes 15 minutes walk though the park to get to the historical part of Prague. We had a wonderful time and Jan was a great host
Maja
2016-06-02T00:00:00Z
Nice place and good stay!
Jiali
2016-06-09T00:00:00Z
Jan Antonin ist ein sehr netter, hilfsbereiter und freundlicher Vermieter. Er hat uns persönlich begrüßt und uns sehr viele gute Tipps für unseren Aufenthalt gegeben. Die Wohnung ist sehr individuell und sehr schön eingerichtet und tip top gepflegt. Es hat uns an nichts gefehlt. Außerdem ist es nicht weit zum Stadtzentrum, welches man gut zu Fuß oder gegen geringes Geld mit der Tram erreichen kann.
Carina
2016-05-25T00:00:00Z
Nice house!
Danny
2016-08-12T00:00:00Z
地理位置真的很好,重點是這一區的位置與環境很安全,走路就可以進入布拉格的主要觀光區。雖然與房東一起住,但是完全沒有被干擾的感覺。
Esther
2016-06-11T00:00:00Z
The apartment is very nice, everything is perfect. Mr.Antonin is really a friendly Person, and he helped us a lot. i have to say, it was really a comfortable journey ! and i love Prague~
浩
2016-01-01T00:00:00Z
Really beautiful and comfortable with big balcony. Short distance to the old town. Jan is so kind so warm. Feel like at home
RONGHUA
2016-05-22T00:00:00Z
Jan was an excellent host! He is very easy going, welcoming and keen to make sure your stay is as pleasurable as possible. His loft is a wonderful place to have as a base whilst you explore the beauty of Prague. Highly recommended to anyone wanting to explore Zlatá Praha. The views from Jan's loft are stunning as well. A memorable trip indeed, in no small part helped by our stay with Jan at his unique loft.
Phil
2016-08-08T00:00:00Z
Type de logement
Chambre privée
---
Type de propriété
Loft
---
Capacité d'accueil
3
---
Chambres
Praha, Prague, République tchèque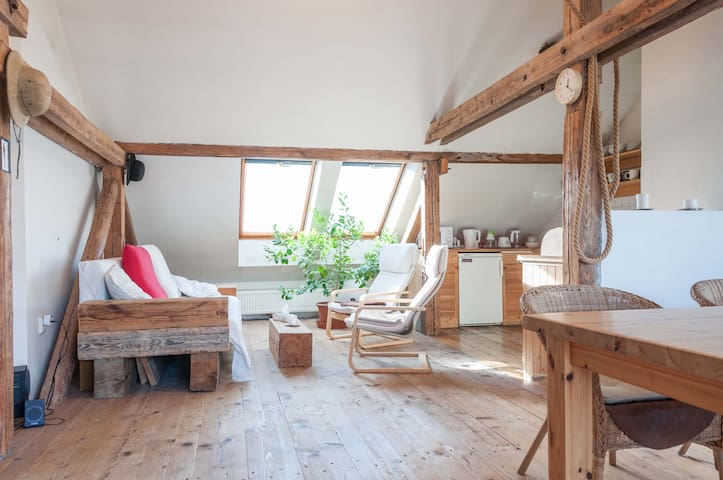 Appartman in the house. Appartman is on the 3rd floor without elevator. Center 8 km. Transport Tram Nr. 22, 25 to the center is fast interval of 10 minutes. The apartment has views of downtown, the house quiet, pleasant surroundings, greenery, restaurants and supermarket 500m. Non-smoking adults, not children, not for animals. Please own slippers and towels. Caution - late arrivals outside the predetermined time are charged 400 CZK, arriving after 11pm you can not accept and can not accommodate
nteresting place in Prague - Prague Castle 7 minutes by tram, views of the city and living in the countryside. The center is away 25 minutes by tram (Malostranska station), you can travel by subway (metro Petřiny or Motol) nadaleko.Unikátní station is part of the city with history, around the baroque churches, prized peaceful environment. Suitable for accommodation of mission - peace to rest, relaxation and good connection to city center by tram without transfers, or maybe the right bus and metro. The preferred access from the highway, the car does not need to go to the center. Parking on the street in open space or garage Kaufland (with a fee).
Culture and history - Hvězda padlock, complex and baroque Benedictine Abbey of St.. Margaret sport - Ladronka - inline park, cyklopark flat, swimming pool and sauna Homolka.
appartement en duplex tres agreable, lumineux, calme. à 20 mn du centre ville en tramway, station au pied de la maison. grande surface à proximité. Ludmila qui est l'hote est tres cordiale, toujours prete à rendre service. une bonne adresse. Un grand merci Ludmila :)
emmanuel
2015-10-26T00:00:00Z
Bien, appartement très agréable tout comme l'hôte
Jules
2015-11-14T00:00:00Z
Ludmila a été très accueillante et arrangeante pour notre arrivée. L'appartement est très agréable et joliment aménagé. Il est par ailleurs idéalement situé avec la ligne de tram 22 qui va directement eu Hradcany ainsi qu'un supermarché à proximité. J'y retournerai volontiers si j'ai l'occasion d'aller à Prague.
elise
2016-08-12T00:00:00Z
Très bon voyage passé à Prague ! L'appartement est lumineux, situé dans un quartier paisible. Il faudra prendre le tramway pour s'y rendre mais celui ci se trouve proche de l'appartement et permet de se retrouver un peu plus avec la population locale.
Demet
2016-08-16T00:00:00Z
Très bon séjour ! Bel appartement merci encore !
Stéphanie
2016-04-12T00:00:00Z
Logement spacieux et idéal pour les personnes aillant besoin d'un pied à terre lors de leur découverte de la ville. Le quartier est calme et il y a une station de tram à environ 400m (ligne 22) qui vous amène aux stations principales du centre ville. Aucune surprise l'appartement est comme décrit ! Assez spacieux, bien isolé et propre. Ludmila et son fils ont été très accueillants, discrets et nous ont bien renseigné sur la ville.
Delphine
2017-01-02T00:00:00Z
Ludmila is very kind. She gave us tips and tricks about Prague and was always nice and smiling. She is also easily reachable on the phone in case of any trouble or simple question. I liked the area a lot. It is outside the centre but very well connected by tram or bus. The district is very calm with all the necessary commodities. I was also happy about the flat itself: it is cute and as nice as it looks on the pictures. I definitely recommend it!
Manon
2016-08-08T00:00:00Z
Nice and clean house. Best part is the view from the bedroom. You can see all of Prague. Very peaceful and next to a tram station. Ludmilla was there to give us keys and helped us with local info. I would recommend this place if u don't mind staying 15min away from city centre. We loved it . :)
Rasika
2016-07-01T00:00:00Z
Type de logement
Logement entier
---
Type de propriété
Loft
---
Capacité d'accueil
2
---
Chambres
Prague, Prague, République tchèque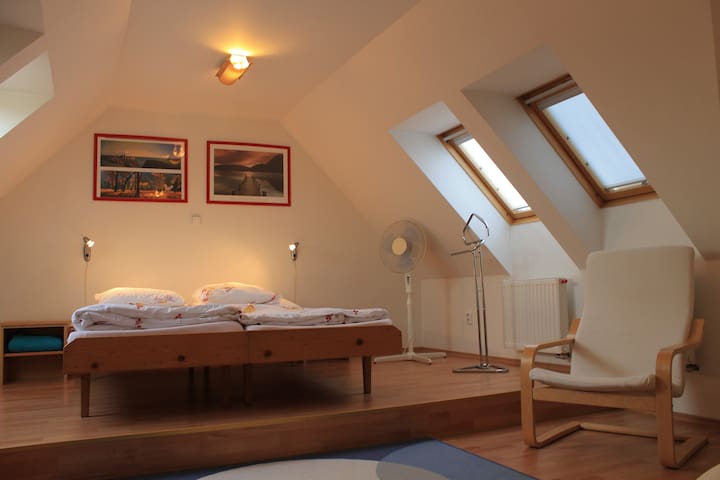 A brilliantly renovated, two bedroom attic-flat with drawbridge entry. It's on a quiet street with easy access to the center. The main living-space is a large A-frame room with lots of windows and plants, a full kitchen, TV, and a 90's hifi stereo.
***LIMITED AVAILABILITY*** This beautifully renovated attic apartment with a castle view comfortably sleeps 4. The main living-space is a timber A-framed attic, accented by two brick chimneys which dramatically bookend the room. It has 5 large windows, beautiful houseplants, a full kitchen, a wine-rack, wireless internet, a large television, a comfortable beanbag, and a children's play-space. There is a loft bedroom with a double bed above the kitchen and a main bedroom with a king-sized bed across the drawbridge. The large bathroom, like the kitchen and main living-space, has incredible views of Prague and the castle. Towels & other essentials are provided.
Located in the Hanspaulka neighborhood of Prague 6, the house, like many others around it, has a 3-tiered garden with a swimming pool and a BBQ hutch. It is perched above a quiet, safe, neighborhood street with endless free parking. Surrounding parks close to the flat include Divoka Sarka, Stromovka and Letna.
Jeff was very helpful; he gave me pointers about the city and he also let me checkin right after I got from the airport (earlier than on the listing). Also was very flexible on the checkout side.
Marian
2016-01-02T00:00:00Z
Type de logement
Logement entier
---
Type de propriété
Loft
---
Capacité d'accueil
4
---
Chambres
Prague, Prague, République tchèque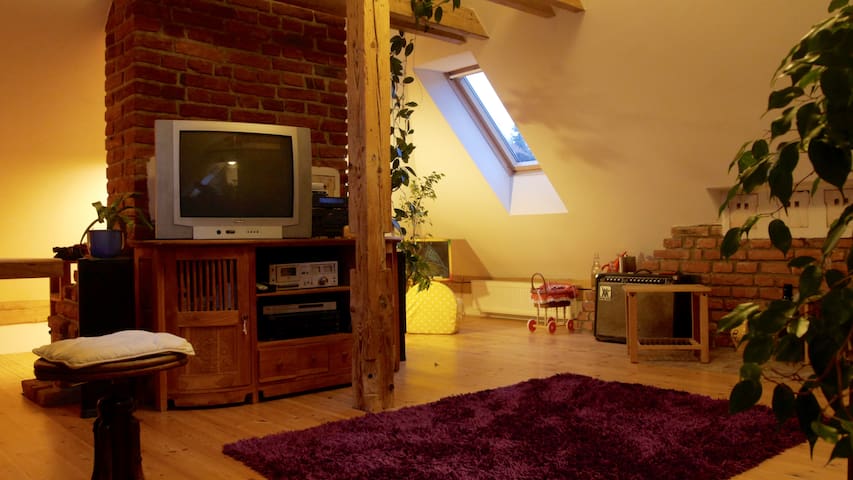 Tourist accomodation for 2 people , garden house , attic room , own bathroom, central heating , in the the ground floor little kitchen , refrigerator . 5 min to the TRAM to the center - nonstop,near Prague castle-15min, to the center 30min , 5 min walk to the hypermarket
near Prag castle, near Obora Hvězda , family houses
Le studio est charmant et très bien situé, Sona est accueillante et aimable
Bernard
2017-03-08T00:00:00Z
Sona est une femme formidable. Elle m'a beaucoup aidé pendant ce court séjour de 4 jours. Elle m'a envoyé un itinéraire de l'aéroport à chez elle avec tous les détails possibles et inimaginable! Elle m'a fait visiter une maison clean dans une zone pavillonnaire à 2 min du Tram. A 30 min du centre du ville. J'ai passé un très bon séjour! Encore merci Sona !! :) Bisous de Amel et moi ...
Ahlem
2015-12-27T00:00:00Z
Logement très agréable dans un quartier calme et tranquille. La station de tram est à quelques centaines de mètres et mène directement dans le centre de la ville. Le studio est parfait pour servir de petit pied à terre, étant une annexe de la maison nous étions tranquilles et libres de nos allées et venues. Ce petit duplex était parfait, propre et bien équipé ! Je recommande vivement !
Jules
2016-10-25T00:00:00Z
We spent 3 nights there, and we were very happy with the accomidation! Everything was so cosy and full of character, and the beds were very comfy. It is only a short tram ride from Prague centre and easy to get to everything we wanted to see. Sona was very welcoming too. There was a kitchen with hob and a fridge, a living room/dining room with a log fire place (very cosy in the evenings) and a bathroom with a shower. The bedroom was nice and spacious, and the garden lovely and green.
Victoria
2016-07-19T00:00:00Z
Die Wohnung ist Super inkl. der Umgebung. Wir wären am liebsten länger dageblieben weil wir zur Zeit des Aufenthaltes eine "Eigene Wohnung" hatten. WiFi und ein Schöner kleiner Garten.(URL HIDDEN):-) Alena und Bodo
Bodo
2016-08-01T00:00:00Z
Amazing little cottage at the back of Sona's own residence, so it was very private and well equipped! Sona was very helpful providing description of the city with maps. The place is also 5 minute walk to a huge supermarket and the tram stop. The tram takes about 20 minutes to the train station.
Dishana
2016-08-30T00:00:00Z
Sona's studio is a cozy, beautiful, and comfortable place to stay. We loved returning to its pleasant snugness at the end of our long sightseeing days and hosted candlelit family dinners around the table. Whenever we needed something Sona came right away to provide it. The tram into the city center is 5 minutes away and a huge grocery store with pharmacy, wine store, bank and bakery is 10 minutes walk away.
Lisa
2017-01-05T00:00:00Z
Sona was very friendly, the studio was clean and close to the tram (only 30 minutes from the center)
Mirela
2016-01-02T00:00:00Z
Type de logement
Chambre privée
---
Type de propriété
Loft
---
Capacité d'accueil
2
---
Chambres
Prague, Prague, République tchèque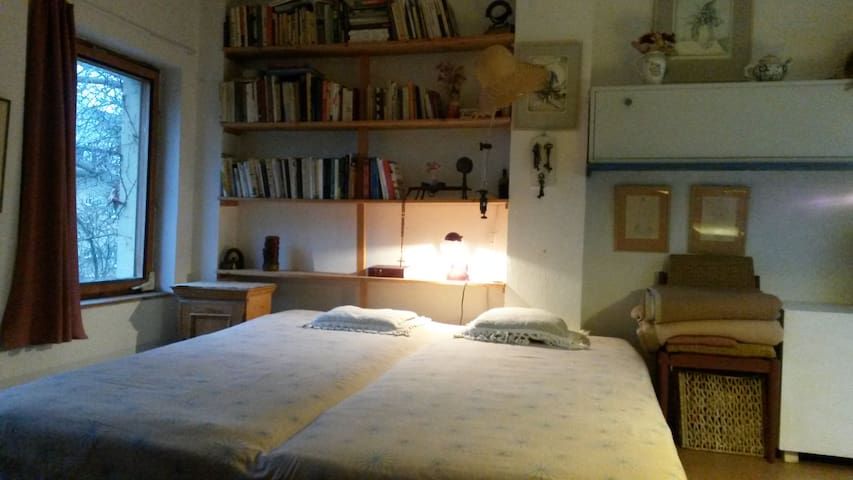 This 2 room attic apartment is situated in old Prague, just a 3 mins walk from Prague castle. Available kitchen and bathroom. Separate entrance door to the apartment from a private flat. Free and safe parking in a closed backyard (see photos).
Attic apartment with excellent location, aprox. 3 minutes walk from St.Vit's cathedral and the Castle.
There is an amazing park called Petrin near by for great romantic strolls in the summer or even in the winter with some of the most amazing views of Prague (see all the photos for more details).
Logement très agréable, simple et avec beaucoup de charme. On s'y sent à l'aise tout de suite. À l'arrivée, nous avons apprécié l'accueil de Vitek, le fils de Jana, le frigo avec du jambon, des oeufs, des yaourts, des fruits, ... Ainsi que le savon et le papier toilette ! Également l'entrée par la charmante cuisine de Jana, et l'accueil de Izi, le gentil chien (essayez donc de lui prendre sa balle ...) Le quartier est calme, avec un petit côté provincial, ce qui est très appréciable après la foule du centre. Beaucoup d'ambassades/ministères (présence policière). Un beau jardin tout près avec des arbres en fleurs (en Mai) permet de descendre sur le centre de Prague (notamment le pont) avec une superbe vue panoramique sur la vieille ville, en 15 mn environ (en marchant d'un bon pas). Attention, la remontée est rude ... Heureusement, le tram 22 est là en cas de grosse fatigue. Accès par le jardin également à la colline de Pétrin (avec la mini tour Eiffel et le mini labyrinthe de miroirs). Des jeux pour enfants également. Château et ses jardins, cathédrale, Notre dame de Lorette, monastère de Strahov, et même l'église Saint Nicolas dans la descente très proches. Plus loin, en bas, sur la droite : le pont Saint-Charles et la place de la vieille ville, l'hôtel municipal, les supermarchés, l'ile Kampa, la place Venceslas (là, ça commence à faire loin à pied), et la maison dansante. En bas à gauche, le quartier juif (synagogues et cimetière). En résumé, on a adoré ! Les petits bémols s'il en faut : - Prévoir les courses quand on est au centre. (Il y a un mini market juste en bas de l'immeuble pour l'essentiel, mais pour plus de choix, c'est plus loin) - Attention si vous êtes très grand (plus d'1m90, salle de bains en pente, pipi debout de côté ;=) )
Catherine
2016-05-08T00:00:00Z
Le séjour chez Jana a été très agréable. Je suis restée deux semaines. L'appartement était propre, spacieux, lumineux et très indépendant (même s'il faut passer par la cuisine de Jana pour y accéder). Le chateau et le centre de Prague sont accessibles à pied ou en tramway, l'appartement est très bien situé pour un séjour touristique. Jana et sa famille ont été très sympathique et accueillants. Je me suis sentie comme à la maison. Je reviendrai avec plaisir et recommande ce logement !
emilie
2015-02-22T00:00:00Z
J'ai été très bien accueilli par Jana. Comme je suis arrivé en fin de journée elle m'a indiqué plusieurs restaurants dans le quartier. Et le lendemain m'a monté des légumes, du pain puis dans la soirée m'a fait gouter sa très bonne soupe au poulet. L'appartement est très bien situé, à côté du château. Il y a quelques commerces à proximité et des bureaux de change ouverts tard dans la nuit.
Vincent
2014-12-10T00:00:00Z
Had a lovely stay with Jana. So close to the monastery and castle - it made it so easy to take trips around and come back for lunch and rest as needed. The apartment was set up well, and we really appreciated the bread and cheese left for us on arrival as we came in about 9.30pm and hadn't eaten dinner yet. Easy to find and hosts were welcoming. Thanks again
Michelle
2016-01-03T00:00:00Z
Jana's place is simply fantastic. Very comfortable with a lot of little touches which transform a holiday house into a home away from home. As others have said, she thoughtfully provides some basic food supplies - eggs, bread, butter, milk and good coffee - and with the grocery store downstairs, and bakery across the road, mornings can be relaxing and taken at your own pace. The place is sun lit throughout the day because of the many windows, and it was fun to watch a thunder storm roll overhead through the sky lights one afternoon. I pretty much had the place to myself when there as, although you pass through the kitchen if the downstairs apartment, her son who lives there was away during my stay. The neighbourhood is safe and quiet, but easy (if a steep downhill and back up return) walk to the old town centre. Good exercise after all the good food to be had in Prague! Thankyou Jana for making your place available!!
Eli
2016-07-18T00:00:00Z
Die Wohnung ist sehr gemütlich und sehr nett eingerichtet. Sie liegt in einer absolut perfekten, ruhigen Lage - die Aussicht ist toll. Man fühlt sich rundherum wohl und "wie zu Hause". Jana und ihr Sohn sind wirklich sehr nette Gastgeber. Es ist alles vorhanden was man braucht. Jana hat uns, für ein gemütliches erstes Frühstück, alles vorbereitet. Nebenan ist ein Supermarkt, der bis 23 Uhr geöffnet hat. Das Auto konnten wir im Hof kostenfrei und sicher parken, was in Prag ein großer Vorteil ist. Die Wohnung liegt am Hügel hinter der Burg und wir haben den Spaziergang in die Stadt (rund 15 Minuten), mit wunderbaren Ausblick, sehr genossen. Auf dem Fußweg in die Stadt kommt man bei mehreren Lokalen vorbei. Es gibt auch die Möglichkeit mit der Straßenbahn oder mit dem HopOn Bus (Haltestelle direkt vorm Haus) in die Stadt oder wieder retour zu kommen. Nach unseren Sightseeing-Touren waren wir froh in diese ruhige Gegend zurückzukommen :-) Für uns ist die Wohnung ein absoluter Geheimtipp und sehr empfehlenswert. Wenn wir wieder in Prag sind, werden wir sicher wieder Jana´s Wohnung wählen.
Christine
2016-05-02T00:00:00Z
Жилье соответствует описанию, расположение отличное. Чистота и аккуратность в квартире на высоком уровне.
Anna
2016-08-01T00:00:00Z
We were looking for a nice, low priced apartement for four persons that is located next to the city center, with free parking and without any add ons like breakfast. Jana's apartment was just perfect for our one night stay in Praha - cosy, clean and within walking distance to the castle and the city center. Our host Jana was very obliging, friendly and contactable at any time - she was answering all our questions before out trip detailed and within short time! The "check in" and everything else work out just fine! Thank you so much!
Johannes
2014-07-26T00:00:00Z
Type de logement
Logement entier
---
Type de propriété
Loft
---
Capacité d'accueil
4
---
Chambres
Prague, Prague, République tchèque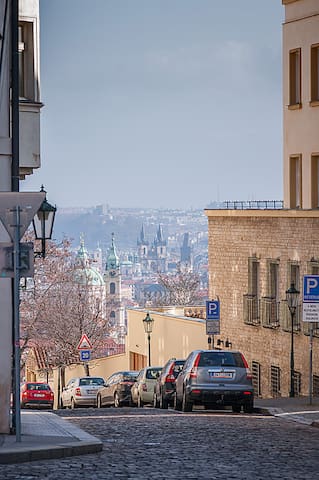 The room is suitable for young travelers. It has its own bathroom. Only kitchen is shared. One floor below is a laser tag game center with a bar. Tram station is right in front of the building (direct connection to the main train station).
- Tram stop right in front of the house - Laser tag arena and bar just downstairs - Shopping center (Tesco, Cinema City and other businesses) just 10 minutes walk from the house (or just one tram stop)
- Opposite the house is newly renovated ancient Malostransky cemetery. - 15 minutes walk from the house is a park Kinsky garden with a summerhouse Kinsky. From here you can walk to the Petrin Tower. Other nearby attraction is Villa Bertramka, which houses a museum of W.A.Mozart.
Logement situé en face d'un tram desservant une station de métro et un grand centre commercial également accessibles à pied (à une station seulement). Un petit peu de bruit mais raisonnable, la chambre et les parties communes sont très propres.
Sophie
2017-01-28T00:00:00Z
Fidèle aux descriptions, l'endroit est agréable et facile d'accès grâce au tramway!
Agathe
2017-01-02T00:00:00Z
Appartement très bien situé, juste devant le tram direct vers le centre-ville (10-15 minutes). Il s'agit d'une chambre pour trois, avec sur le palier une salle de bains et une petite cuisine. Parfait pour passer quelques jours sur Prague pour pas cher ! Parking privé en option, pour 200 couronnes tchèques. Pas de problèmes de communication car Jakub parle anglais.
Delphine
2016-09-28T00:00:00Z
Our stay at Jakubs place was perfect! There is a tram stop right outside the front door which takes you to the train station and centre of Prague. There is a huge shopping centre one stop away (or a quick walk down the road) which has a supermarket. The room was spacious and had its own kettle, microwave and mini fridge and some cool lights. Jakub was a really nice guy and extremely helpful as he advised us how to get to his place when we arrived and showed us around the place. We would definitely stay here again!
Aimee
2016-08-06T00:00:00Z
Die Unterkunft liegt direkt an einer Straßenbahnhaltestelle, damit ist die Innenstadt schnell zu erreichen. Wirklich schönes Zimmer.
Silja
2016-07-20T00:00:00Z
Excellent value! There are several rooms on the same floor and they share the same bathroom and the kitchen corner. However, the room itself has its own key and basic electrical appliances and can almost be considered a studio. The location is well connected to the center. Overall, very good value.
Sergey
2016-11-01T00:00:00Z
우선 프라하에서 5일 동안 저렴하게 잘지낼수 있었어요 프라하 중앙역에선 9번 트램타고 10분 정도 경치 보고 뭐하다보면 금새 내려요 격식을 차리고싶고 푹신한 침대를 원하는 사람이라면 호텔을 추천하고 저렴하고 다락방같은 곳에서 편히 있고싶다 하면 이곳을 추천해요 특히 세탁기 ,냉장고 사용할 수 있어서 좋았습니다 저는 여행기 길어서 호텔 / 비엔비 /호텔 이런식으로 예약했는데 호텔에선 빨래가 안되니 이곳에서 모든 빨래 해결 ! 그리고 주인분 친절하고 답변 빨라요
초연
2017-03-15T00:00:00Z
Eine sehr nette und hilfsbereite Person :)
Siti
2016-12-05T00:00:00Z
Type de logement
Chambre privée
---
Type de propriété
Loft
---
Capacité d'accueil
3
---
Chambres
Prague, Prague, République tchèque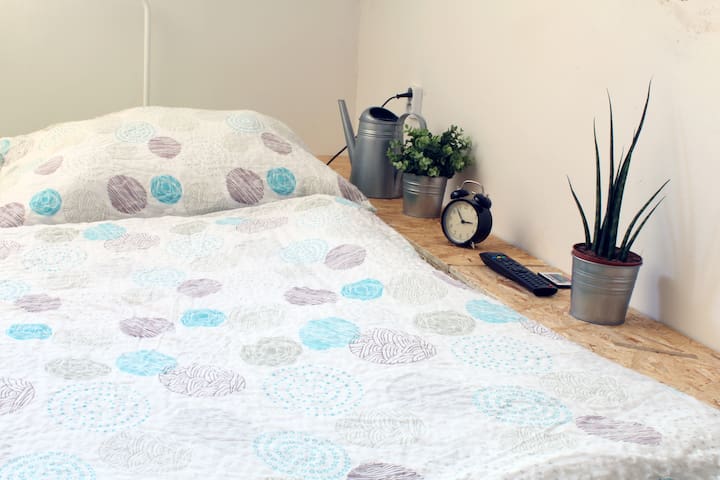 Surrounded by numerous bars & restaurants, in the centre of Prague, housed in Neo-Baroque building, the loft apartment offers a spacious private bedroom, a shared bathroom w/bidet and bath, & open plan kitchen-living room w/fridge, oven, microwave, dishwasher, dining table, and a sofa.
This modern duplex loft is close to the very heart of Prague - minutes away from Prague's 'Soho', Wenceslas Square, New and Old Towns. The loft is close to many transport links.
The Neo-Baroque building is situated in former Royal Vineyards (Vinohrady), in the neighborhood of the National Museum, Vinohrady Theatre and Parliament, Central Train Station, a few embassies, parks, many bars and restaurants. Christmas markets are within walking distance: Namesti Miru Square - 3 mins Tylovo Namesti Square - 7 mins Wenceslas Square - one market 7 mins away, another - 10 mins away. Stare Mesto Square - 20 mins Namesti Republiky Square - 20 mins
L'appartement est très bien placé , dans un quartier calme mais très proche du centre et des transports. La chambre est grande avec suffisamment de rangements. La cuisine est bien équipée et permet de faire à manger si on le désire. Commerce de proximité ouvert tard le soir pas loin. Restaurants aux alentours.
Marie-Pierre
2017-04-08T00:00:00Z
Rolandas est quelqu'un de gentil et accueillant. J'ai passé un bon séjour. Logement proche du métro pour être rapidement en centre ville. Merci à toi
Charline
2017-03-09T00:00:00Z
Gran lugar. Muy cómodo, limpio y en general agradable. Muy buena ubicación. Cerca a la estación principal de trenes y a la plaza más importante de Praga. Nunca tuve necesidad de tomar tram, bus o metro.
Elena
2016-11-10T00:00:00Z
Rolandas ist ein großartiger Gastgeber. Als ich bei der Buchung technische Probleme mit der App hatte, hat er meine Mails soger um 6 Uhr morgens prompt beantwortet und mir bei der Buchung geholfen...großartiger Service! Auch sonst war unser Aufenthalt super. Das Zimmer ist groß und gemütlich. Die Bilder sagen eigentlich alles aus. Die Wohnung liegt zentral genug, um alle wichtigen Punkte Prags zu Fuß zu erreichen. Wir kommen gern wieder!
Martin
2016-08-14T00:00:00Z
Very nice room and Rolandas is very friendly and an excellent host. Would recommend
Mike
2016-10-06T00:00:00Z
Rolandas & his roommate are great hosts who are willing to be sure your stay is great. The location is a great place to set up to explore the vast city of Prague. Their neighborhood has great amenities and access to public transit. All major attractions and the train station are all walkable distances. Highly recommended!
Matthew
2016-10-18T00:00:00Z
He helped me a lot. Thanks for his help, I enjoyed my trip in Prague. My luggage was delayed on the first day, but he called the airport luggage office instead of me. Finally, my luggage returned to me! His flat is located near transport facilities stops. And very neat and clean.
Soki
2016-08-01T00:00:00Z
This's is super place for staying in Prague for tourism or business trip. It's cozy room in beautiful area of Prague. Everything that you need is close. Convenient transportation access and quiet street
Yulia
2016-07-04T00:00:00Z
Type de logement
Chambre privée
---
Type de propriété
Loft
---
Capacité d'accueil
2
---
Chambres
Prague, Prague, République tchèque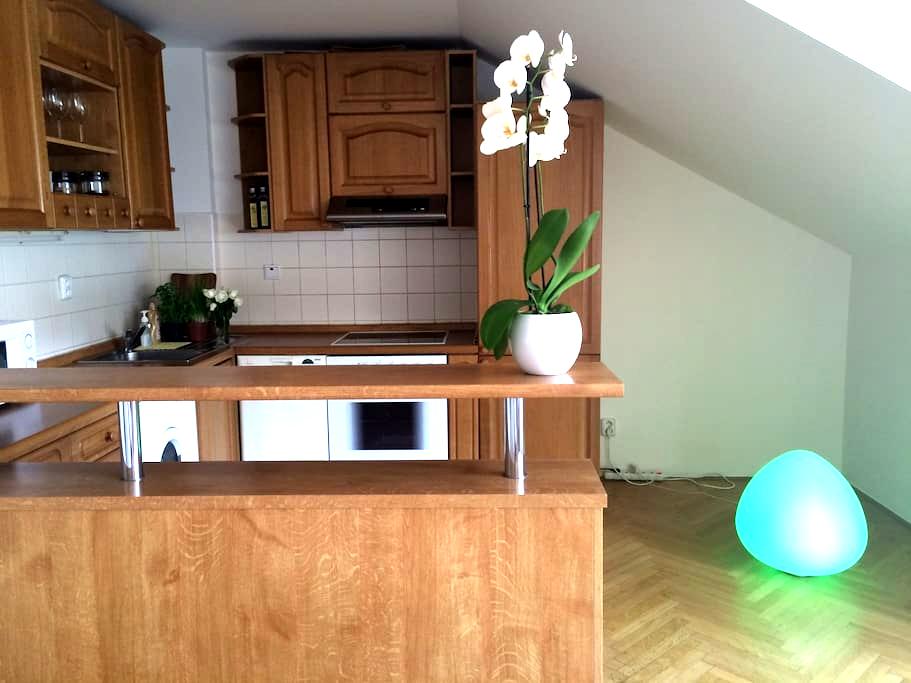 Located right in the city center with beautiful view to the Prague castle and Žižkov tower. Newly refurbished glamorous attic studio equipped with everything so you will feel like at your own home or in the quality hotel. WiFi, flat screen TV, fridge, washing maschine, safe available. Public transport station.
In the heart of the city centerThe place is new, nice and romantic.
The whole studio is romantically designed to provide you a very pleasure atmophere and place to relax. In the heart of the city center with easy access of the most beautiful places of Prague.We offer the following services:Non stop currency exchane, airport transfer non stop.The cleanliness of the property is our big aim such as the satisfaction of our guests. Some beverages like coffe, wine, mineral water, soda and some fruits are free of charge.
Vaclav est très accueillant,il répond très rapidement à toute question sur internet,le studio est très feng shui,très agréable et calme dans un quartier vivant et dynamique
julia
2016-12-28T00:00:00Z
Appartement très propre, lumineux. Bien situé, proche des moyens de transport (tramway). Propriétaire attentif attentionné. Appartement neuf, récemment rénové. l'accès à l'espace nuit (mezzanine )est difficile, peu ou pas approprié à tout le monde.
Gilles
2017-03-22T00:00:00Z
The apartment was in a good location. Getting an Uber was extremely easy and cheap. They had food and drinks in the apartment when we got there, which was very nice. Internet was good, everything was very clean. I would absolutely stay there again.
Gian
2017-03-12T00:00:00Z
It was a great choice booking appartment from Vaclav. The flat is convinetely close to public transportation to get to the city center. City center There are lot of restaurant and caffes around. The appartment was clean and we were left with complimentary waters and snacks. Vaclav was very helpful for picking us up from the train station and helping with our luggage. They gave us great suggestions with places to see and visit while in Prague. I would definetely book with them again. They were very polite and gave us a warm welcome to such a beautiful city as Prague. Katarina and Hilkiah
Katarina
2017-03-30T00:00:00Z
We had a wonderfull (EMAIL HIDDEN)munication and check-in was perfect! Vaclav was really courteous and also prepared some little gifts and food when we arrived. The check-out was also very comfortable and flexible. I would recommend this place to everybody!
Anne
2017-04-04T00:00:00Z
Great place close to everything we wanted to do. The place itself has recently been remodeled. It has the expected amenities. Vaclav was very helpful. We book the place with only 2 hour notice, no issues.
Jonathan
2016-11-13T00:00:00Z
Vaclav was an awesome host! It was my gfs birthday and he received us with chocolates and even a small doll of a sheep as a birthday present! The flat is very well located, just 15/20 mins by walk to the city centre. Despite it was -12°C outside, the heater of the whole building works really well and we were never cold. It's a luxury to have hosts like Vaclav. I've been in other places with airbnb and this one is one of the best I've ever been to. 12/10 totally recommend this airbnb.
Guille
2017-01-08T00:00:00Z
Wonderful place. Very clean. After check-in I have got 10 minutes of tanning in tannig studio which is right at the entrance of the building. This time in winter it is very pleasent because outside temp is below zero C*. Friuts and beverages were free of charge. Very romantic place. My car was parking right at the building. WiFi connection was also OK. I will stay here again. Max satisfaction!! +1
Andy
2017-01-14T00:00:00Z
Type de logement
Logement entier
---
Type de propriété
Loft
---
Capacité d'accueil
2
---
Chambres
Praha, ČR, République tchèque
Břvany - Airbnb
:
Moyenne de

4.83

sur

5

étoiles sur les

607

commentaires des voyageurs
Saisissez les dates souhaitées pour connaître le prix total. Des frais supplémentaires s'appliquent et des taxes peuvent être ajoutées.