CASA DUARTE Come stay in an original ranch house near old Route 66 at the base of the San Gabriel Mountains. The towns of Monrovia, Arcadia and Azusa are nearby, with coffee shops, restaurants, brew pubs and movie theaters. There's a walking trail, bike path and horse trail right across the street from Casa Duarte and on the weekends there's several palindromes to watch. There's a Class A bike path along the San Gabriel River that goes to Long Beach.
Russell make the experience very pleasant from the beginning with check in as we were open to checking in around his schedule but he was very responsive and relaxed willing to let go with the flow of our trip. The house is very charming with a remote feeling location below the mountains. Bear his Australian is so sweet and friendly. The room was nice with our own bathroom with lots of windows for fresh air and a fan. Russell showed us the grounds including the pool and made us feel very welcome, would definitely stay again if in the area.
Jennifer
2015-07-11T00:00:00Z
Russell is a fantastic and gracious host who made me feel very welcome. The property is unique and beautiful and the room is spacious and comfortable. I will definitely stay here again and highly recommend it to anyone looking for a friendly, relaxed atmosphere.
Aaron
2016-04-26T00:00:00Z
Good overall experience. Very friendly place.
Jesus
2016-07-23T00:00:00Z
Russell was out of town, but Susan and Douglas were very hospitable and accommodating to me and my dog! Room and private bath were great, fenced in space for dog, pool for swimming, use of fridge and kitchen. I would definitely stay here again!
Colleen
2016-10-26T00:00:00Z
I had a great first Airbnb experience staying at Russell's place, the room + private bathroom were very clean and comfortable, cozzy house & pool, unfortunately we didn't get to meet Russell this but it's alright cause Susan & Douglas were there to welcome us, they both were sweet and talkative folks that helped us with any doubts we had. my fiancé and I felt like home while staying there, would definitely recommend this place for anyone who's looking to stay at a nice atmosphere & down to earth place.
Arlenne
2016-11-16T00:00:00Z
I found this interesting home clean, bright, very liveable and convenient. I stayed one week with great satisfaction.
IRMA
2016-11-06T00:00:00Z
My stay at Russels was awesome! Susan and Douglas were so accommodating and very nice. The location was great and very spacious. The mountains are right there and has great access to freeways and trains.
Kathriene
2016-11-26T00:00:00Z
Russell was fun to talk with, great conversationalist and sense of humor, very friendly and down to earth. It was nice having my own bathroom, just a little awkward for me having to go through it to get to the bedroom. Shower was great. Mattress was too firm for me so I bought a mattress topper. Parking was tight due to his neighbors van in the way. His housemates were great to talk with. Overall I had a pleasant stay
Deborah
2016-10-22T00:00:00Z
Type de logement
Chambre privée
---
Type de propriété
Bed & Breakfast
---
Capacité d'accueil
2
---
Chambres
Duarte, Californie, États-Unis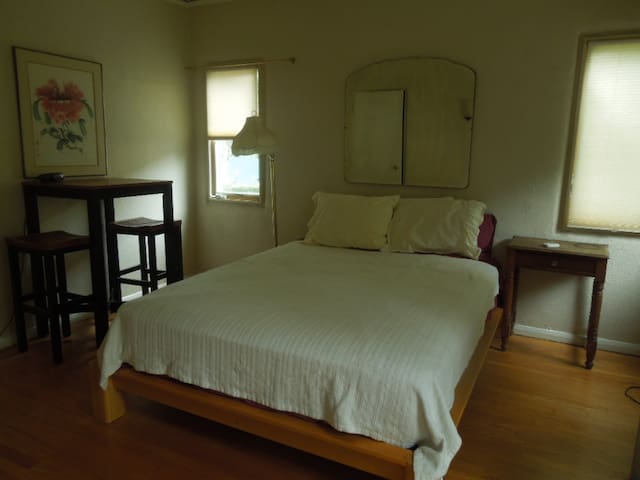 Bedroom with queen size bed in the lovely, quiet & safe city of Monrovia near Duarte, Arcadia, Pasadena, Irwindale, Azusa Full home privileges! 3 other rooms available if This ones booked! Home is shared 4 other professional women. Bathroom is shared with 1 other person. Private patio area. Only 5 minutes to City of Hope and 10 minutes to Huntington hospital, 5 minutes to old town Monrovia, close to rail station. Females only.
Rose accommodated my last minute booking. Rose and her other guests were very friendly.
Muhannad
2015-02-12T00:00:00Z
Excellent host and beautiful neighborhood!
Julie
2016-08-22T00:00:00Z
Rosemary was a great host. I enjoyed my time at her airbnb home!
Tabitha
2016-07-25T00:00:00Z
Type de logement
Chambre privée
---
Type de propriété
Bed & Breakfast
---
Capacité d'accueil
1
---
Chambres
Monrovia, Californie, États-Unis
I want to invite you to stay in my house. My home is clean and has a wonderful location, close to the train that takes you to Los Angeles, Hollywood, etc. etc. walking distance to the Mall, Price includes breakfast, internet, and cable.
My house is clean and has lots of space.
This area in Arcadia is very nice.
It was perfect! Beautiful home with amazing space. Martha is a wonderful host. Offering coffee before we left in the mornings made us feel at home. Well placed ot was the best place ever for us. We will have many trips that way and will choose this spot every chance we can!
Marge
2016-08-17T00:00:00Z
no
Abhishek
2016-08-08T00:00:00Z
Martha is a great grandma. Also she is a beautiful lady. The apartment is homelike with many Mexico works and a nice garden. And the dog penny is so cute. You must love Martha and Penny.
Yang
2016-06-02T00:00:00Z
When I first got approved to stay at Martha's, she called me shortly after to confirm and to check if I needed anything else. When I got there she let me park in the garage and escorted me to my room. Now the room was very clean and gave off a "homey" feeling. The bed and the sheets were clean and she even provided a small drawer near the bed. WIFI and breakfast were provided. Since I don't have a parking permit in Arcadia she was very accommodating and let me park my car in the garage and gave me the garage key during my stay there. Martha is a very sweet lady that who was easy to talk to and was very accommodating during my stay. I appreciated the mornings we spent talking and got to know each other more because to me I knew she was genuinely interested in getting to know me. I felt like a family member coming back home to visit. She has the cutest pup ever! Her name is Penny and she was full of joy and knew of some tricks. She was shy at first and barked at me but in the end we became friends. Overall I can say that my visit really felt personal because how attentive Martha was to my needs and I would not have to look for another place on AirBnB in Arcadia because I already found my go-to place. Thank you so much Martha.
Omar
2016-04-17T00:00:00Z
The house is clean and cozy. Martha is very friendly. The location is very good. It's a good choice to live here.
Qinghua
2016-03-19T00:00:00Z
Martha is very friendly and you feel like staying in a warm family house, room and bathroom is clean, penny is very adorable too.
Chaiyong
2016-07-25T00:00:00Z
I loved that it was quite close to the Mall and for the Festival .. Exactly where I need to go to.. The purpose of my visit! The house and room was rather nice, lots of wood... Floors, chairs, felt grandma's place. The floor creeks a little bit, more noticeable at night, but if you don't mind, it won't matter I guess. Overall looks clean, but not spotless, not clean enough to walk barefoot in, since I'm Asian.. And my socks quickly got dirty there just one night. I would've appreciated knowing it was right at the corner of a busy street, and no street parking at night (though she has a smallt garage; I don't have SUV, but if i did, I would've appreciated to know that, in case you have a large wide SUV or van, forget it. Tight parking or tough to park spaces, or paying for parking is my pet peeve.) Cars were passing by all night, hard to sleep-it was hot and no AC so had to open door, or risk suffocating, and the fans you know don't help as much.. Nothing beats fresh air, polluted as it may be in L.A. But seeing as the picture looked like its in a secluded corner--I wrongly thought it was at cul de sac..private. I booked it based on that. There were cheaper air bnb places nearby.. But overall it's decent 4/5 stars because it turns out to be so close to work.
Kathy
2016-09-04T00:00:00Z
It was my first Airbnb booking and it was absolutely wonderful . Martha is a very kind lady, I really enjoy the communication with her. She have a lovely dog called Penny, and she is really the quiet type of girl. Sure I'll come back for a longer stay.
Leo
2016-04-24T00:00:00Z
Type de logement
Chambre privée
---
Type de propriété
Bed & Breakfast
---
Capacité d'accueil
2
---
Chambres
Arcadia, Californie, États-Unis
A retired couple welcome you to share their 4-bedroom house. The house is in the center of Arcadia and about 30 Mins driving to LA downtown. Walking distance to rack track, Arcadia county park, bus lines, restaurants, etc.
A retired couple welcome you to share their 4-bedroom house. The house is in the center of Arcadia and about 30 Mins driving to LA downtown. Walking distance to rack track, Arcadia county park, bus lines, restaurants, etc. Please check if you have more than 2 travelers, another room could be available at additional charges.
房间很干净,有独立卫生间,主人也是很好的。
bei qi
2014-11-20T00:00:00Z
I stayed with the nice family a couple of days, with a unforgettable memory. Their hospitality and considerate arrangement make us have loved this city -- Los Angeles. We'd always remember this place and the puppy-Didi.
YI
2014-10-17T00:00:00Z
Ming was a great host. Room was very clean and we had no issues coming or going, even late at night. Would repeat.
Paul
2014-11-03T00:00:00Z
1st time in airbnb Ming and his wife are friendly and welcoming. Stayed there for 3 days a good experience.
joseph
2014-09-02T00:00:00Z
At $80 per night, I wish Ming could have provided more essential element of a great stay. We had to stay a week long without the basic essential such as AC, clean sheets, clean room, and privacy. Ming was great and very accommodating in other areas, but the place requires a bit of an improvement to make it a pleasant stay. The bathroom also need more lighting and the toilet doesn't flush properly.
Tim
2016-08-02T00:00:00Z
Type de logement
Chambre privée
---
Type de propriété
Bed & Breakfast
---
Capacité d'accueil
2
---
Chambres
Arcadia, Californie, États-Unis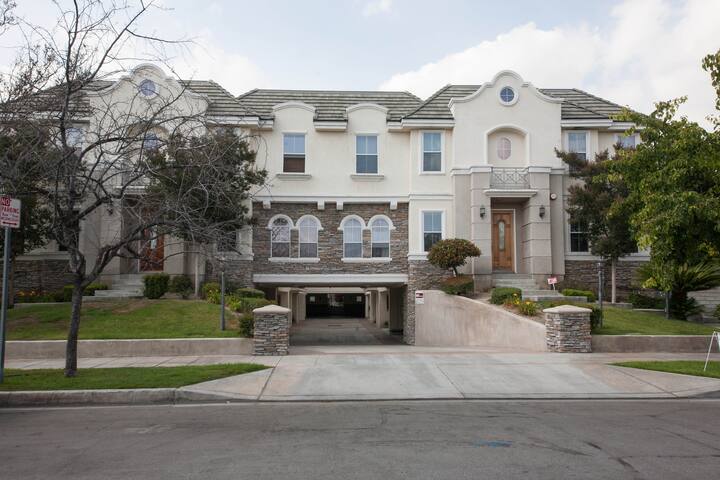 The house is located on the Monrovia/Bradbury border. You will have your own private room with closet and storage space. Your room will have a comfy queen size bed with fresh sheets.
Home located 1 mile from base of Monrovia Canyon park. Home is close to Duarte, Bradbury, Pasadena, Altadena, Arcadia, Glendora, San Dimas, Covina, Baldwin Park, San Marino
The neighborhood is quiet and very safe
Rose is an amazing person and greets you with a big smile. She is a super host. The room was comfortable, everything was nice and clean. All of us living in this place used to hangout, have fun and do amazing things over the weekends. It was amazing to see the warmth everyone else had. Rose had this amazing collection of tea that we used try every other evening. It was a memorable stay. I am definitely going to visit again.
Amit
2015-02-19T00:00:00Z
Rosemary is super sweet and very helpful; she'll give you lots of recommendations for places to eat or visit or anything. From the best burgers in town to what's new and hopping--she knows what's going on. Monrovia is a great place to be for people who are ready for something bigger than a small town, but not as big as a city. Everyone here is very friendly, and the home is very comfortable and welcoming. Although it's on a bit of a busy street, I actually do not find the cars to be especially bothersome. In fact, I don't even notice them; it's surprisingly quiet.
Madison
2015-08-31T00:00:00Z
Everything was great. Nice, clean room w/ private bathroom. Access to the kitchen and laundry area. Rose did a great job as a host, waiting for me as I arrived the first night, giving me directions to close by restaurants and grocery stores. For sure I recommend it and stay again if I needed to go back to Monrovia.
Cris
2015-01-24T00:00:00Z
It was wonderful coming back to Rosemary's place. Clean comfortable with great professional women.
Christine
2016-08-15T00:00:00Z
Rosemary is a beautiful person and her home was the perfect transitional housing when I moved from NY to LA. The location is convenient to wonderful shops, eateries and best of all, it is peaceful. I loved it all.
Christine
2016-06-14T00:00:00Z
That was fantastic!
Peter
2015-03-29T00:00:00Z
Rosemary's house was very comfortable. I've never lived with other people before and I thought I would hate it but I didn't experience any problems. The room I had was big and the house was quiet. Rosemary made sure I had everything that I needed. And she is very nice.
Lubna
2017-02-20T00:00:00Z
Rosemary was a great host, she was very communicative, friendly and became a great friend after my stay with her. She cares for her guest, her house is beautiful and I loved her dog Honey! Very clean, a lot of privacy, I felt very safe!
Paloma
2015-09-30T00:00:00Z
Type de logement
Chambre privée
---
Type de propriété
Bed & Breakfast
---
Capacité d'accueil
1
---
Chambres
Monrovia, Californie, États-Unis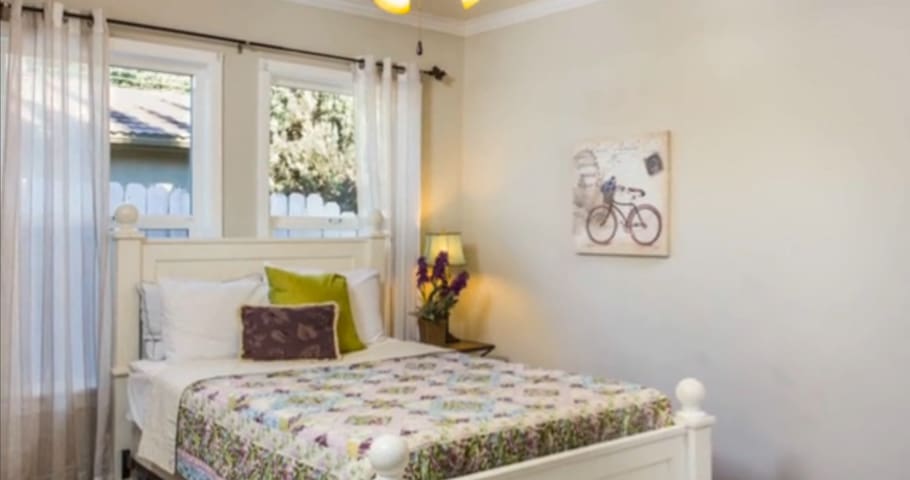 King size bed elegance bathroom with shower and craw feet tub and bidet.
Private balcony, walk in closet
Very upscale area nice neighborhood with beautiful mountain view and city light view.
Received all the needed info. from Christine in email and text. The studio with bath was as depicted. The bathroom was spacious and super modern and nice. It's in a nice residential neighborhood. There was a small refrigerator, microwave, and coffeepot in the little area where the closet was, and there was ample room to hang up my clothes, etc. Nice full-length mirror at end of hallway. The entire studio was VERY clean. There was a gate to get in with a code, as well as a code used to get into the studio. The studio was way close to town, and very walkable to restaurants, shops, etc. We came to attend a weekend workshop, and were happy to find the workshop was only a couple of miles away. This is a good value for the price, and Christine was very nice to rent from.
Marcia
2016-03-16T00:00:00Z
A great experience! The luxurious room and amenities make for a wonderful stay. I would highly recommend it. Christine is a wonderful host and does an excellent job at anticipating your needs.
Shack
2016-02-17T00:00:00Z
The photos represent the spacious room and bath very well. The accommodations are above the garage. Christine has a code entry on both the gate and the door, so she does not need to be there when you arrive. This worked very well. I did not meet Christine during my stay but knew she was available if I needed anything. That was fine with me! The room and bath were very clean. The area is very nice and very quiet and residential but still within walking distance to "town" and a Starbucks and grocery and ice cream and restaurants. The views of the mountains are spectacular. I would definitely stay here again.
Deborah
2016-01-13T00:00:00Z
Type de logement
Chambre privée
---
Type de propriété
Bed & Breakfast
---
Capacité d'accueil
2
---
Chambres
Sierra Madre, Californie, États-Unis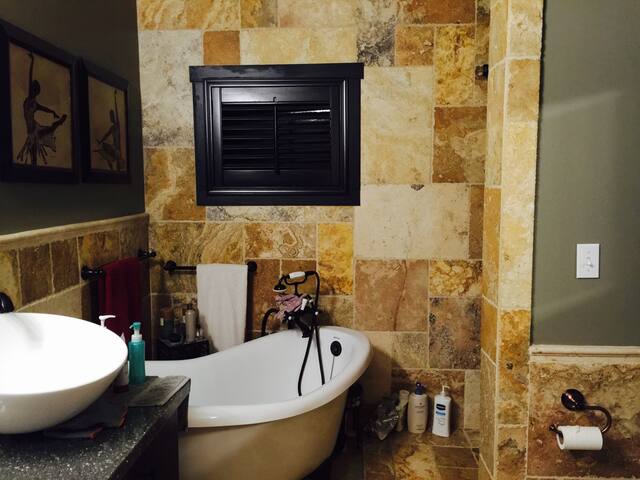 1

–

6

sur

6 Bed & Breakfasts
Saisissez les dates souhaitées pour connaître le prix total. Des frais supplémentaires s'appliquent et des taxes peuvent être ajoutées.