Saisissez la date d'arrivée au format jj/mm/aaaa
Saisissez la date de départ au format jj/mm/aaaa
Logements que vous pouvez réserver sans attendre l'approbation de l'hôte.
5 cabanes
· Carolina Beach
5 cabanes
· Carolina Beach
Saisissez les dates souhaitées pour connaître le prix total. Des frais supplémentaires s'appliquent et des taxes peuvent être ajoutées.
Cet été (juillet et août), vous pouvez essayer l'un de ces 100 logements les mieux notés, dans toutes les gammes de prix, pour découvrir Sonoma d'un point de vue local. Entrée dans les lieux 24h/24, réservation instantanée, mais aussi vin et petites spécialités locales à disposition… autant d'invitations à vous détendre et à profiter pleinement de votre voyage.
This is a small cabin at the back of our property that has good privacy from the main house. It's a cozy space, but with a King size bed and a loft it easily accommodates 4 people, and we have packed in many more than that! Very close to the beach.
The cabin is rustic but well equipped, with a KING size bed, fold-out futon, small fridge and sink area with a coffee maker, as well as a private bathroom. The kitchen isn't really set up for cooking, but we have a teapot for hot water and one of our first guests gifted us a small grill, so outdoor cooking is totally available. The KING bed is very comfy, and the futon has a thick 8" mattress, and the space can be arranged as a sitting room or as a bedroom studio. There is an additional futon in the loft that is nice for lounging or birdwatching. There is plenty of onsite parking on the property, and you will have open access to the large backyard and fire pit area, basketball court and climbing rope! There's also more than enough room to set up a tent or two outside if you're feeling adventurous. The blueberry bushes next to the cabin are in full swing, first come first served! We will be in and out of the main house and are generally around to help with any questions you may have about your stay. Happy to help build a fire in the pit out back or recommend stuff to do in town.
We live in a beautiful wooded neighborhood with large open spaces. Great for a morning walk or a jog with the dog. We live on the corner of two streets, both of which end at the intercoastal waterway. You'll definitely want a car for getting in and out as there is no public transportation in the area. Taxis are readily available for taking you to the beach or to downtown Wilmington for about $10-$20. We are not directly on the water, but access is fairly straightforward. You can walk either left or right out of the driveway and soon you will hit the waterway with some really nice views. The neighborhood is popular for early morning walkers.
The cabin was great. Had everything you needed and beds were made when we got there.
Sophie
October 2015
The cabin was great! Everything was just as described. Katia and David were outstanding hosts. We would be happy to stay at their place in the future.
Miguel
December 2016
A great experience for who wants to connect with nature/rustic weekend and close to the beach and restaurants if you wants to go out. Super cozy!
Luisana
October 2016
Great cabin and great host ! I will definitely come back for my next weekends to the beach.
Caroline
August 2015
The perfect get away! A cozy, clean, quiet place to get away from all the businesses of life. Katia is a wonderful person, very hospitable. We also brought our two dogs amd they loved it! This cabin has no TV so its perfect for bonding! Can't wait till our next trip back! The location is great! Close to the water, beautiful scenery, restaurants, and local businesses. I can't say enough about this Airbnb find!
Bobby
November 2016
The tiny cabin is awesome! We had a great time and everything about the cabin is exactly as pictured and described. Thanks for being great hosts!
Matt
September 2015
Tremendous location for everything in the Wilmington area! Easy access to beaches, restaurants and stores convenient. Delightful cabin in the woods! Clean, comfortable, perfect.
Dave
December 2016
Loved this place! The cabin was beautiful and cozy, perfect location, David was wonderful. Loved the atmosphere! Felt very at home!
Hailey
August 2015
Type de logement
Logement entier
---
Type de propriété
---
Capacité d'accueil
4
---
Chambres
0
Wilmington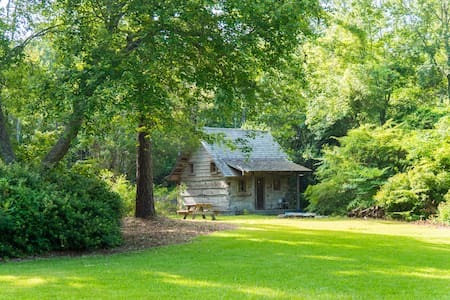 Our cozy little cabin has a nifty sleeping loft with two futon mattresses, a couple of queen size beds and a single bed to comfortably sleep five. This is a crash pad for the lo-fi traveler. With a full bathroom, a dorm fridge and a microwave.
The cabin is an efficient, one room building that is fun for a single traveler or some friends wanting to have a dorm-like getaway. The cabin has a smallish water heater so showers last for a glorious seven minutes depending on how hot! Group shower anyone?? Guests have access to the Jengo's backyard and can even have a little bonfire or a backyard cookout if planned ahead. Someone from the Jengo's family is usually wandering around doing stuff. The backyard is a great place to lounge in a beach chair or play games too. We'll join you if you want!
There are a couple of off-street parking spaces on our campus. You can walk to most downtown locations and an uber is super cheap to anywhere in town, including the beach. Easy access to major highways as well. You're staying in the middle of the Cucalorus Film Festival's residency campus - and there's a special, curated selection of vhs tapes from the past 22 years that you can sample right in the cabin. During the week, Cucalorus staff are around at Jengo's Playhouse to give you some suggestions about cool places to eat and explore.
Dan Brawley for President 2016!!!! Favorite. Everything here is a favorite. If you don't give Jengo's a chance, you're doing it wrong. Perfect experience for the colorful at heart. (Beware of glitter.)
Lauren
September 2015
The cabin was super cozy. The entire experience was so fun. Dan was very easy to coordinate with and we couldn't have been happier when we opened to door to find the coolest little bungalow surrounded by a magical yard. We wish we could have stayed longer. Close to downtown and easy access to the beach. We had a wonderful night and slept great!
David
June 2015
Awesome place, very comfortable and easy to access. Also in a nice location that was close to downtown.
Mathew
September 2015
We had an excellent experience staying in The Cabin. The Cabin was exactly as described and pictured in the listing. We especially enjoyed the porch overlooking the beautiful yard. The bathroom was quite nice with all modern ammenities, and the shower pressure was great after a day at the beach. The Cabin is in a historic neighborhood within walking distance from downtown. Dan ensured that we were greeted and guided around upon arrival. I would definitely consider staying here again.
Melissa
September 2015
The cabin was a perfect retreat for us! Close enough to walk into downtown, but tucked away from the hustle and bustle, it was exactly what we are into. Matt was there when we arrived and he showed us around and made sure we were comfortable. We took advantage of the outdoor space and played badminton, then relaxed out in the yard. Since it was just one short night we didn't have time to build a fire or grill, but those options were available. The cabin itself was very cozy and there were ample sleeping accommodations, which would come in handy for a larger group. Overall the stay was great and I would definitely return. I highly recommend the cabin to anyone looking for a quiet, cozy, and fun getaway!
Kailyn
June 2015
Really enjoyed the cabin, it had lots of personality! There were only 2 of us, but it could easily fit 5. It was clean and had extra towels and other basic amenities. It's about 20 minutes from the beach and 5 from downtown. Dan was flexible with arrival and departure times.
Tim
September 2015
We had no idea The Cabin would be perfect for us. The open layout was the perfect way for us to catch up. Although we did not get the opportunity to meet Dan, Matt gave us a tour of the area. This is a great space and we hope to return when it is sunny. We also will consider coming for the festivals Matt told us about.
Felicia
May 2015
Dan is an amazing host. He took on quite the task tending to a wayward group of comedians from all over the country in town for our comedy festival. He went as far as to pick a few of them up at the airport. They stayed for multiple days and it was trouble free from the beginning to the end. Such a great artist retreat!!
Matt
May 2016
Type de logement
Logement entier
---
Type de propriété
---
Capacité d'accueil
5
---
Chambres
0
Wilmington
Fifteen minutes from Wilmington, Wrightsville Beach, AirPort & UNCW. Our newly constructed cabin sits on a bluff overlooking the NE Cape Fear River. The lodge is a 400-sq.ft modern cabin with all comforts, and expansive porch. Wheel chair accessible, with kitchen, modern bathroom & queen sized bed. Experience a relaxing weekend retreat or romantic getaway. Boat ramp is in walking distance bring your kayak or boat. Explore North Carolina's best kept secret, the NE Cape Fear River!
Type de logement
Logement entier
---
Type de propriété
---
Capacité d'accueil
2
---
Chambres
1
Castle Hayne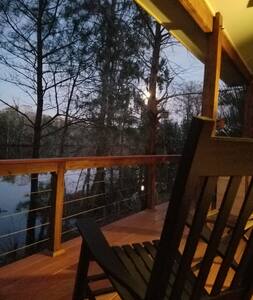 This 340 square foot cabin is adorable with modern luxuries. Located 20 min from Wilmington, on a small lake perfect for fishing Country atmosphere, yet convienence to city make the perfect get away spot for those who enjoy the best of both worlds.
Cottage has TV but no wifi. A/C and heat. Full size eat in eat in kitchen. Full size shower in bathroom. One bedroom with bunk beds. 2 day beds in living room. Perfect for 2-3 people. Free on site parking. Small lake 20 feet from front door for fishing. Very quiet, surrounded by woods. Entire cottage and surrounding yard, and lake excluding private property (posted). Owners residence is adjacent property (1/2 mile). Feel free to ask questions or concerns but will respect privacy. I am very busy.
Cottage is off a dirt road that leads to some residences. Very little traffic. Nearest neighbor is out of view. Some parts are private property. Please note and comply with no trespassing posted. On site parking. 12 min on hwy to Wilmington. 10 min to small town of Burgaw. 5 miles on hwy to gas. 15min to I40. No children under 13. No pets please. No smoking.
This little cabin is located about 15 minutes outside Wilmington. I personally chose this spot because it's off the beaten path and is a quaint getaway spot in the woods. The host was responsive and the cabin was comfy and was as described.
Sheena
December 2016
This was a great place to book for rest and relaxation. It's cozy and comfortable and within 5 minutes of a great market (Eagle Island) for seafood and produce and 20 minutes to downtown Wilmington or the Coast. Alma Jeanette is a lovely host and very responsive to requests. Great for the value.
Anna
January 2017
The hostess is very attentive to any request, she does her best to make everyone feel welcome and have a comfortable, fun, relaxed stay. If you're looking for a quiet little relaxed stay this is the spot!
Kinley Morgan
October 2016
This little cabin is adorable, eclectic and absolutely comfortable! Alma is a delightful host who was super flexible, and welcomed us with open arms! Although the space is just outside of the city, you feel a million miles away! We will definitely be back!
M
November 2016
Type de logement
Logement entier
---
Type de propriété
---
Capacité d'accueil
4
---
Chambres
1
Currie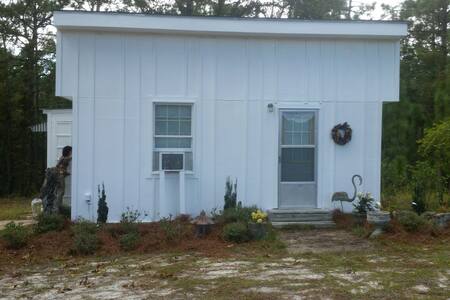 This completely renovated property is actually almost 100 years old! Step back in time to remember a simpler lifestyle...yet enjoy new granite countertops & large master suite. Step onto the covered porch to relax and enjoy the sounds of yesteryear
Enjoy your morning java as you listen to the birds chirp and stroll the grounds that you can call your own! This unique opportunity is only a stone's throw from Home Depot Center and Shops and Walmart in the quaint town of Shallotte. Just minutes to Holden Beach and Ocean Isle Beach. Only 35 Miles outside of Wilmington... and 37 Miles North of Myrtle Beach. This is an awesome one of a kind opportunity!
Type de logement
Logement entier
---
Type de propriété
---
Capacité d'accueil
3
---
Chambres
1
Shallotte