We'd love you to come and stay in our lovely cabin in a leafy street ideally positioned for Hampton Court Palace and Station, which is 15/20 minutes walk. Hampton Court Station trains go straight to central London - Waterloo and take 35/40 minutes. Shops, pubs, restaurants, and live music are 5 /10 minutes walk away. Street parking. We look forward to welcoming you to this great area and hope you will love it as much as we do.
This cosy cabin is a totally self-contained space at the bottom of our garden in a residential area. With independent access, guests can come and go as they please. There is an en suite bathroom (with shower), kitchen area and folding table and chairs. It's in a sunny spot with seats on the decking and full of light when the sun's out particularly at the end of the day. French windows open onto the garden. The bed is a very comfy pull out super king size bed with space for duvet and pillows underneath. There is plenty of drawer, chest storage and some hanging space but no wardrobe. The kitchen area includes a kettle, toaster, fridge, oven and microwave oven and is fully equipped. There is a Smart TV with Freeview and Netflix together with a separate internet cable (the wireless broadband and mobile coverage can be a bit patchy). The cabin is warm and fully insulated and has two oil filled radiators plus a heated towel rail in the bathroom, although it is unlikely you will need it during summer months. There is a Tesco Metro, small Sainsbury, butchers and many other shops, restaurants, pubs with live music and cafes within a 10 minute walk For your stay we will provide: - fresh towels and bed linen - tea, coffee and sugar with milk on arrival - adaptor We are a 15/20 minute walk from Hampton Court palace with its many events. From there you can take a leisurely river cruise or stroll, cycle or run along the river paths to either Kingston or Richmond and perhaps sample a beer at one of the many river pubs along the way. Both towns offer excellent shopping, restaurants, wine bars, river pubs, Rose Theatre and cinema. It 's a short walk or bus hop away from the River Thames, River Mole and Ember, East Molesey and Hampton Court shops, pubs, bars and restaurants. There is also lovely walking, cycling and running along the River Thames tow path, Bushy Park, Hampton Court and Richmond Park with Teddington town with it's boutique shops. A 'pay as you go' gym and sports centre and two swimming pools are within 5 minutes' drive We aim to provide you with an enjoyable and comfortable stay and look forward to welcoming you.
This neighbourhood is very special to us and we believe you will fall in love with Hampton Court Palace and all there is to do and see on the banks of the river Thames just as we have!
This was my first time using Airbnb, and I am so glad I came to Fiona's cosy cabin. Fiona greeted us with a fantastic and warm smile and went through house rules, suggested places to visit and where to eat around the area. She was easy to contact if we needed otherwise she just let me and my partner get on with things and we had total privacy. The cabin? The cabin looks exactly like the photos, it is so nicely done and everything you need is there. Also everything is extremely clean. If you are looking where to stay, then if you stay at Fiona's cosy cabin you will not be disappointed. Fantastic place, excellent host. Thank you once again Fiona for having us.
Claudia
2016-09-26T00:00:00Z
Had a fantastic experience. Pretty little cottage, good location and a lovely host. Couldn't have done better!
Christen
2014-11-12T00:00:00Z
I stayed with Fiona for 6 days during the Olmypics. she was a great host. The cottage had a supply of tea, coffee, shampoos, gels, towels etc. The pull down bed was v comfortable and the cottage a great little spot in the quiet area 20 mins walk from Hampton Court Palace and the river Thames. Fiona was friendly, attentive and even provided me with a 3G doogle for internet as the wireless didnt really reach to the cottage. I would thoroughly recommend Fiona's cottage if you need a place with easy access to london, near the beautiful Thames and the majestic Hampton Court Palace.
Ian
2012-08-08T00:00:00Z
We had a lovely stay in the cabin - it was very cosy and quiet. Fiona made us feel very welcome and made sure we had everything we needed, and she accommodated for us when we had to extend our stay. The area seemed very friendly and it was a short walk from some beautiful greenery around Hampton Court. Though we were there while waiting to move into our new flat it felt like being on holiday!
Kit
2014-12-05T00:00:00Z
The Cabin is very comfortable, it is exactly as described, clean, tidy, and complete privacy. I had some issue with my laptop internet IP address, but Fiona was so helpful and provided her personal laptop to finish my work till I managed to solve the problem. There is so much to do, the local area is so rich that there is always something to do, and Fiona would always help to suggest a nice place or local activity. The area is residential, so you can feel safe at all time. I would defiantly stay there again.
Ghassan
2014-12-09T00:00:00Z
Very clean, cosy and all you need in a small space. Calm neighborhood and a short walk to shops and restaurants. Only 15/20 minutes walk to Hampton Court Palace. I've loved it.
Fernando
2016-02-01T00:00:00Z
Staying in the cabin was perfect in every way!! We loved it and didn't want to leave.
vicky
2014-12-14T00:00:00Z
Fiona hat uns sehr freundlich und liebenswert in Empfang genommen und uns in ihren wunderschönen Garten geführt in dem am Ende das wunderschöne, kleine Häuschen stand in dem wir drei tolle Tage verbrachten. Es gibt eine kleine Küche mit allem was man benötigt, sogar Kaffee, Tee, Schokolade und etwas Süßes und frische Blumen aus dem Garten standen bereit. Wir kommen auf alle Fälle wieder! Vielleicht im nächsten Jahr zu den "happy days 2017"?! Danke Fiona für eure Gastfreundschaft :-))
Stephanie
2016-05-31T00:00:00Z
Type de logement
Logement entier
---
Type de propriété
Cabane
---
Capacité d'accueil
2
---
Chambres
West Molesey, Royaume-Uni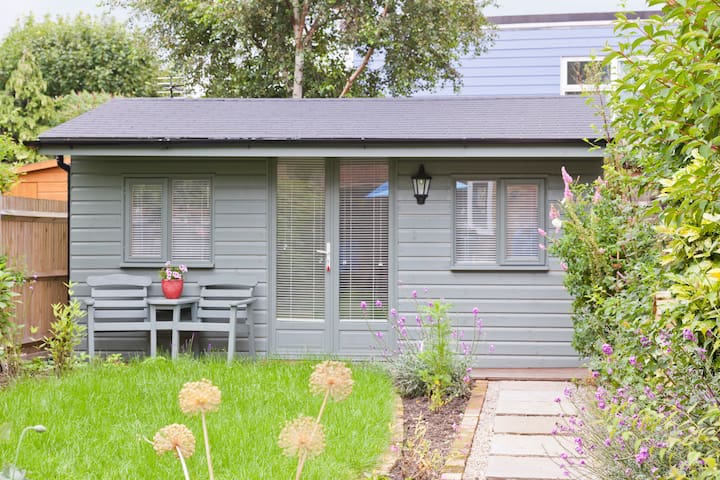 Ma place est à proximité des restaurants et des restaurants, des activités pour les familles et les transports en commun et tout ce que Londres et ses nombreuses attractions touristiques peuvent offrir. Vous allez adorer ma place à cause de sa paix et de tranquillité, la proximité de nombreux lieux d'intérêt, l'ambiance chaleureuse, le grand jardin, l'utilisation de vélos pour explorer à proximité de Bushy Park et la chaleur et l'hospitalité des propriétaires .. Ma place est bon pour les couples, les aventuriers en solo, les voyageurs d'affaires et les familles (avec enfants).
30 mètres carrés comprend une chambre principale, un salon avec un vrai canapé en cuir, une table pliante avec quatre chaises, machine à expresso, thé et café, une douche électrique alimenté, un espace extérieur où vous pourrez profiter du jardin.
quartier calme, à Hampton Hill et Teddington rue sont très proches, vous pouvez trouver une grande variété de magasins d'alimentation, des pubs, des restaurants, des bars et les magasins. Une courte promenade est loin royale Bushy Park, où vous pouvez passer quelques heures à explorer ses nombreux coins ou peut-être profiter d'un thé l'après-midi dans le café »situé au cœur du parc.
Silvano & Laura are brilliant hosts and their place is wonderful. Nice and quiet, clean and everything has been thought of. It's also a short walk to shops and a supermarket and Bushy Park. Don't go anywhere else if you need somewhere to stay in London.
Andrew
2017-02-22T00:00:00Z
Great host couple, very hospitable! Great cabin style room, shower room and loads of extra living space, snacks etc and coffee facilities. I look forward to booking again!
Tim
2017-03-03T00:00:00Z
Fantastic stay. Great lodge, everything was thought of. Lovely touches like little chocolates on pillow. Handy location too.
Rose
2017-03-17T00:00:00Z
I would like to say a big thank you for your kind hospitality when we stayed in your air b and b. The facilities were perfect - shower , bedroom and tv!!! .The choices for breakfast catered for everyone's needs . I personally would use this accommodation when I visit London again and would highly recommend it.
Rhiannon
2017-02-19T00:00:00Z
Laura & Silvano's place is a great little cabin for a weekend getaway. The small local town is great for a stroll and has all the necessities. The cabin itself is very spacious and accommodating. Great for couples but can fit a family. You won't go wrong with this place. Fully recommended.
DuShaun
2017-03-05T00:00:00Z
Silvano and Laura were fantastic hosts who could not do enough for us on our visit. A great place to stay and made it a great weekend!
Gary
2017-02-05T00:00:00Z
Laura and Silvano are incredibly welcoming hosts. The cabin is very well equipped and cosy! We loved it so much we extended our stay for an extra night!
Tom
2017-02-10T00:00:00Z
Beautifully clean and comfortable. Just as described. We could not have wished for more. Everything was carefully thought about with care. We will be booking again!
Roberta
2017-02-12T00:00:00Z
Type de logement
Logement entier
---
Type de propriété
Cabane
---
Capacité d'accueil
3
---
Chambres
Teddington, Angleterre, Royaume-Uni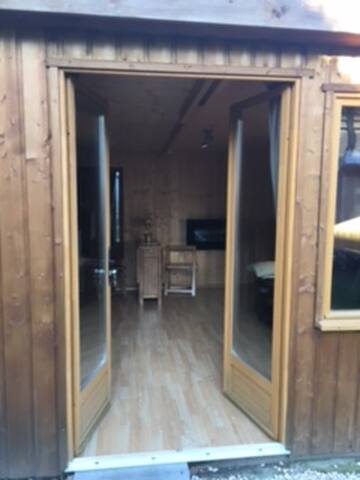 Ma place est à proximité du centre-ville de Weybridge et les bars et les cafés de Queens Road avec un accès facile à la station mainline (20 min à pied) et le train rapide à Londres Waterloo en 30 minutes.Short distance de M25, M3, Heathrow et Gatwick. Il est idéal pour les couples et les voyageurs d'affaires.
Stayed to attend a running race, the accommodation was great, Melanie was very welcoming and the place was fantastic. Thanks for a great stay.
Peter
2016-11-25T00:00:00Z
This place is a total gem! Melanie was lovely, helpful and welcoming and the place was great. It has everything you'd need for a short stay, including a fully equipped kitchenette with oven and hob. The road traffic was noisy but Melanie kindly provided earplugs so it was no bother at all, got the best nights sleep I'd had in ages! Will definitely stay again when im working in the area.
Emma
2016-09-29T00:00:00Z
We really enjoyed our stay at The Lodge. It was very comfortable and well appointed. There was some road noise at night but this didn't bother us and we slept well.
Ian
2016-09-22T00:00:00Z
The lodge was a lovely stay, provided with the basic necessities for a one night stay. The hosts provided an excellent service with good communication, parking for two cars and introduction when arriving at the lodge. Overall the stay was most pleasant and will look to use again in future if necessary. Thank you to Melanie and Simon!
Fatema
2016-11-03T00:00:00Z
A lovely one bedroom lodge. Very comfortable and clean. Thanks so much.
Richard
2016-10-19T00:00:00Z
The apartment/ lodge was fabulous. Spacious and very comfortable. Well located to Weybridge and therefore access to London? Some road noise from a main road running next to the property but I felt this did not distract me. Just a really lovely place and superb value. Melanie was a delightful host.
Angus
2016-09-14T00:00:00Z
Lovely place. Stayed just for the one night due to business arrangements but would thoroughly recommend for families/leisure. Hope to be back soon!
Jamie
2017-03-15T00:00:00Z
A lovely place to stay and very friendly and welcoming hosts. Comfortable and private accommodation which is nicely fitted out. Would definitely stay there again and recommend to anyone.
Andy
2017-03-26T00:00:00Z
Type de logement
Logement entier
---
Type de propriété
Cabane
---
Capacité d'accueil
2
---
Chambres
Weybridge, Angleterre, Royaume-Uni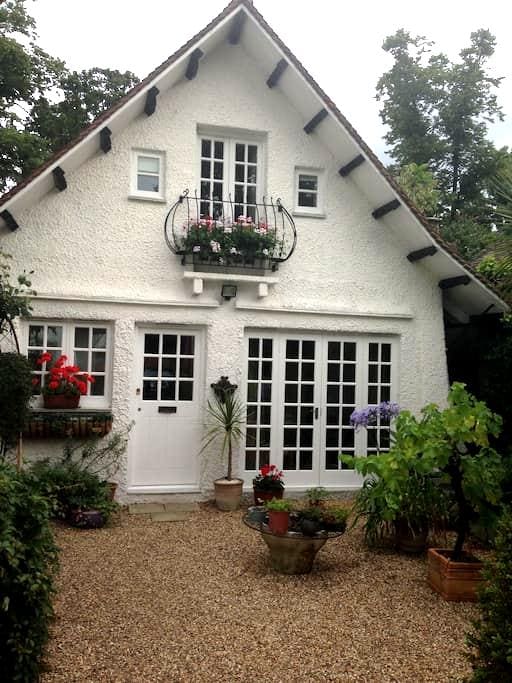 Secluded, confortable, Den wee au pied de notre jardin. Isolés et sur deux étages, cet espace d'une chambre dans le village de Hersham est à proximité des commodités, la route et les liaisons ferroviaires en direction de Londres et de la campagne du Surrey. Ayant une entrée privée avec parking et de stockage pour les vélos, votre séjour sera ininterrompu. Vous pouvez même utiliser le barbecue à gaz et des sièges sur le pont pour profiter du soleil dans ce jardin plein sud.
Confortable pour 2 personnes qui veulent avoir accès à Londres et Surrey. Douche / WC, chambre, salon et cuisine petit-déjeuner. Rez-de-chaussée comprend la cuisine, wc et un salon avec une chambre au sous-sol accessible par un petit escalier. Lumineux et spacieux avec chauffage, l'espace est un endroit idéal pour échapper à un peu de paix.
Quartier résidentiel calme avec des voisins amicaux. Services: Marché Waitrose, Cafés, Restaurants, Pharmacie, Pubs tous à 5 mn à pied. Golf: nombreux parcours de golf de haut niveau dans la région environnante. À distance de marche Burhill Golf Course. Foxhills, Colline de St George et Silvermere sont tous dans les paramètres régionaux. collines Surrey: les parcs nationaux et la North Downs tout à portée de main. Thames chemin: à proximité de la Tamise où il y a la location de bateau, canoë et vous pouvez marcher / vélo le long du chemin de halage à Weybridge, Hampton ou au-delà. Liens vers le canal de Basingstoke. Equitation: leçons et trekking disponibles à proximité (URL HIDDEN) ou déposer jusqu'à Sandown pour regarder des courses de chevaux.
The den is deceptively big! It's the perfect size for a cozy getaway in the centre of the beautiful village of Hersham. It has all the amenities you would expect plus lots of little extra touches. It's been furnished to a really high standard and Mark is super friendly.
Nicola
2017-02-12T00:00:00Z
The host canceled this reservation 53 days before arrival. This is an automated posting.
Frederick
2017-02-26T00:00:00Z
I really enjoyed my stay at Marks place. It is comfortable and spacious and very close to important amenities. There area is also well worth exploring.
debra
2017-02-07T00:00:00Z
Type de logement
Logement entier
---
Type de propriété
Cabane
---
Capacité d'accueil
2
---
Chambres
Hersham, Angleterre, Royaume-Uni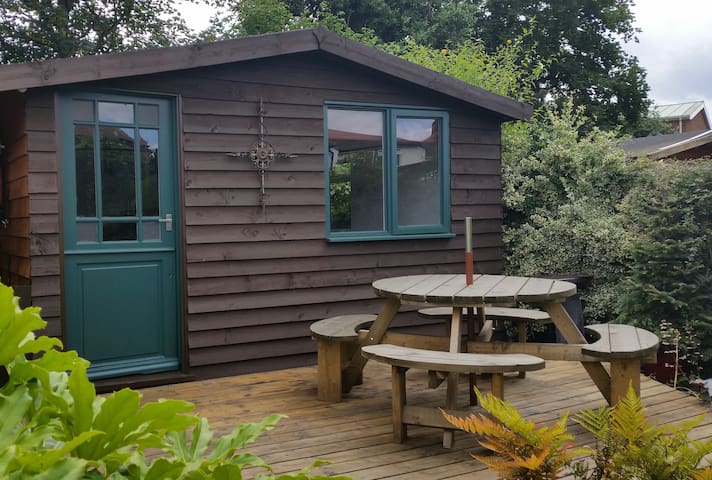 Saisissez les dates souhaitées pour connaître le prix total. Des frais supplémentaires s'appliquent et des taxes peuvent être ajoutées.