Saisissez la date d'arrivée au format jj/mm/aaaa
Saisissez la date de départ au format jj/mm/aaaa
Logements que vous pouvez réserver sans attendre l'approbation de l'hôte.
Saisissez les dates souhaitées pour connaître le prix total. Des frais supplémentaires s'appliquent et des taxes peuvent être ajoutées.
Cet été (juillet et août), vous pouvez essayer l'un de ces 100 logements les mieux notés, dans toutes les gammes de prix, pour découvrir Sonoma d'un point de vue local. Entrée dans les lieux 24h/24, réservation instantanée, mais aussi vin et petites spécialités locales à disposition… autant d'invitations à vous détendre et à profiter pleinement de votre voyage.
Charming studio, located in the heart of downtown Murphys.
The Night Owl is an attractive studio perched on the second story of a shoppe in the heart of downtown Murphys. The large, covered patio is the first thing to greet you when you come up the stairs. Plan to lounge out here at night enjoying a cocktail or two. It also would be ideal for barbecuing and outdoor dining in the fresh air. When you enter the Night Owl, you may be reminded of the apartment you once dreamed of having in downtown Paris. The sitting room welcomes you but your eye is lead past the kitchen to the dining area with its peaked ceiling. The alluring bedroom area is separated from the kitchen with a curtain. The queen size bed is centered under a large skylight which lets in plenty of natural light. There is also a queen air mattress, should you need additional sleeping accomodations. The bathroom in the Night Owl is just off of the sitting room. The bathroom is petite and the shower EVEN SMALLER... with not a lot of elbow room. Parking immediately downstairs is reserved for the store below and parking at the hotel is reserved for guests. Please plan to drop your stuff off and park you car down the street near the Murphys Park. This house accepts pets. The fee is $20 per pet per night. Great access to immediate downtown Murphys. Desirable location, steps from all the downtown shops, wine tasting, and restaurants. We provide little interaction between the ourselves and the guests. Our system set up to do the booking online, with information on check-in procedures emailed directly to our guests. The cottages have a keyless entry system, which allows guests to arrive anytime after check-in hours. They do not need to make an extra stop to pick up or turn in a key.
Centrally located to everything in town... the park, the shops, restaurants, and the ever popular Murphys' Winery Tasting rooms. Central to easy walking throughout town. There is one taxi service in the area. There are no parking spaces directly near the Night Owl. Guests are encouraged to unload their luggage and then find a nearby public parking spot. Queen air mattress is available should you need to sleep additional guests. The Night Owl has a two night minimum on Friday and Saturday nights and a three night minimum on all major holidays.
this place is fantastic! I expected a very small place from the description, but it's really quite spacious. Yes, the bathroom and shower were pretty teeny, but the kitchen is quite bit, proper dining room, really everything is MUCH bigger than we expected. And the deck is divine! It's right downtown so a million restaurants and bars to hit. We definitely would stay there again, and we thought the value was very good, considering including cleaning fee it's around $210 a night. MUCH BETTER than some tiny hotel room, you basically get a small apartment!
Jeff
August 2016
The place is very cute and convenient in the heart of downtown Murphys. Well appointed with an easy to inflate mattress for the kids. Only problem was that we didn't get the arrival directions and access code (I think host was still figuring out the details of the system) and we had to find it on our own and call upon arrival. Not a big deal for us but some people would find that stressful. I think they'll figure it out easily for next time!
JC
June 2016
My wife and I stayed in The Night Owl for two nights during Murphys' Christmas Open House and we could not have had a better time. The apartment is centrally located right off Main street, so it is very convenient to come and go while exploring the many winery store fronts and shops nearby. At the end of the day it was nice to come back to a comfortable and cozy place where we could relax. I'm 6'2" and had no problem with the small shower. We enjoyed the local coffee left for us in the kitchen both mornings, but you will definitely want to cross the street and pick up some pastries to go with it from the amazing bakery. Murphys is a great little town with friendly people and a surprisingly interesting history and this comfy place is perfectly situated place to make the most of your visit.
Joshua
December 2015
Great place centrally located in town! The keyless entry made checking in and out so easy. I would definitely stay here again!
Lilly
September 2015
The night owl was a great little loft apartment. It had all the amenities we needed in a funky little space. Since my girlfriend and I were only there for one night, we didn't really need much, but the loft had great space and all the creature comforts one would need. There was enough space for the two of us - with our dog - to move around and be comfortable. The only downside is the SMALL shower. At 6' and 200lbs I was just barely able to navigate in the space. The location was great - right off of the main street of Murphys - with restaurants, bars and tasting rooms all within just a couple minutes' walk. We were able to leave the car parked for and not need it until we were ready to head home. There was some mention of the apartment being loud, but it wasn't that bad. There was some noise coming from the Murphys Hotel bar, but we were able to sleep right through it. All in all, a great little hideaway for a weekend trip!
New
January 2015
Welcoming place in a charming historic town. Great stay!
Jonathan
February 2016
This is the best place to stay in Murphys! Very clean and charming and much bigger than I expected. It is very centrally located to all that Main St has to offer. On a crowded weekend, you may have to walk a bit for parking but it is not too bad. It has a huge deck and I wish there were more people to share it. Hope to be back soon!
Jason
March 2016
Great little cottage a short walk to all the shops and restaurants on Main Street. Basketball hoop and ball in the back were great for our two boys! Very clean, relaxing spot.
Shoshana
July 2016
Type de logement
Logement entier
---
Type de propriété
---
Capacité d'accueil
4
---
Chambres
0
Murphys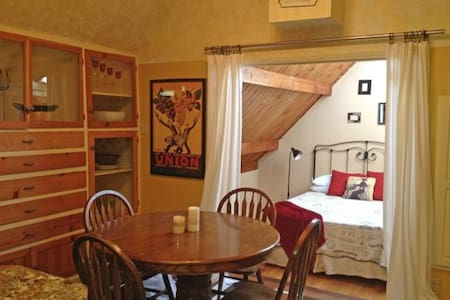 Stay at our 1400 square foot second story loft on a small animal ranch in the beautiful Gold County of California near Murphys and Angels Camp. There are pristine views of our pasture of goats, mini horses and dogs and the neighboring vineyards. Near Ironstone Vineyards Amphitheater. We are below the snow line approximately 45 minutes from where the best snow activity areas are located.
2 bedroom, 2 bath, large kitchen, laundry room, covered balcony. Hardwood floors in the living area. Carpeted bedrooms. Satellite TV, DVD player and electric fireplace in the living room. We have a BBQ which can be utilized per agreement with owners. Central heat and air. Guests have a private entrance to the loft. Other property access accompanied by owner(s) only. Owners on on-site at the adjacent main house. If any needs arise, we are available to assist. Our Lab, Count Chocula, will greet you!
Acreage neighborhood with vineyards and animals. Oak tree pastures. Murphys taxi can provide service. Only 5 miles from Murphys, California, a popular wine tasting and dining location with 22 wine tasting rooms along the main street. Owners will provide taxi service information as we wish all our guests to stay safe. In the area: Moaning caverns with zip lines; Columbia State Park; Big Trees State Park; Lake Alpine; Bear Valley Ski Resort.
Liz was a fantastic host from first communication all the way through our stay. Her loft proved to be the perfect weekend getaway for my girlfriend and I. The property is beautiful and the location is fantastic. We hope to come back soon.
Nathan
September 2016
What can I say about the Loft... It is simply outstanding! Very cosy and comfortable. Close to Alpine Lake and White Pines Lake and just two hours from Yosemite Park. Liz is just the perfect host. Very kind, generous and helpful. I definitely recommend the Loft at Spirit Oak Ranch. You will be not disappointed !
Olivier
August 2016
The Loft is truly a loft, big roomy, very nicely kept, clean, rustic charm with modern amenities and with all the little extras you need. Liz was very attentive from the start of our communications and Matt was incredibly helpful and nice when he met us to check in. Thank you so much for a wonderful stay and we hope we can stay again in the future!
Sacha
October 2016
We couldn't have had a better first experience with AirBnb!! Liz and Matt were super friendly and their loft is the best place for some R&R! They even suggested a route to get to Ironstone Amphitheater that made getting in and out on Sunday a piece of cake! Thanks for the wonderful stay!!
Ashley
August 2016
We loved staying at Liz and Matt's loft! Liz communicated so well with us and have clear instructions how to find the home (can be a bit tricky). We were greeted by Matt who made us feel very welcome and got us right into our stay. The loft itself is beautiful, roomy, and very comfortable. the adjustable bed was perfect and the everything was so clean. Having a washer and dryer was a huge plus too. The binder of instructions and recommendations Liz made was so thoughtful and helpful and showed that they really care about providing the best environment and possible stay for their tenants. We loved meeting Liz and all the rambunctious animals too! All in all it was a fantastic stay and we really loved Murphys and the Loft!
John
September 2016
Perfect place with very accommodating hosts. Excellent location, too! We thoroughly enjoyed our stay with our three little ones. Highly recommended!
Joshua
July 2016
Wonderful space, open and comfortable with high airy ceilings. Great kitchen area with island, worked so perfectly for us. Hosts were warm and quick to help when we had questions. Comfortable beds, double headed shower, a real gem. The WiFi was even good! We enjoyed our stay there very much. Thank you !
Tammy
November 2016
The loft is really great and Liz and Matt excellent hosts! The loft is bigger and more beautiful than the pictures, plenty of room for 4 people without feeling crowded at all. The neighborhood is quiet, and waking up to the views of foothill oaks was wonderful. Communication was easy, and everything went very smoothly. Thanks for a terrific stay, we'll likely be back. :) This is a great value, as it is private, yet close to Angel's Camp, Murphys and plenty of good wineries.
Karen
June 2016
Type de logement
Logement entier
---
Type de propriété
---
Capacité d'accueil
6
---
Chambres
2
Angels Camp