Saisissez la date d'arrivée au format jj/mm/aaaa
Saisissez la date de départ au format jj/mm/aaaa
Logements que vous pouvez réserver sans attendre l'approbation de l'hôte.
Saisissez les dates souhaitées pour connaître le prix total. Des frais supplémentaires s'appliquent et des taxes peuvent être ajoutées.
Cet été (juillet et août), vous pouvez essayer l'un de ces 100 logements les mieux notés, dans toutes les gammes de prix, pour découvrir Sonoma d'un point de vue local. Entrée dans les lieux 24h/24, réservation instantanée, mais aussi vin et petites spécialités locales à disposition… autant d'invitations à vous détendre et à profiter pleinement de votre voyage.
A large open-plan loft space within a rural outbuilding with stunning countryside views. Perfect for two people but can accommodate children on camp beds. The property is located in beautiful West Dorset, in the delightful village of Netherbury and just 15 minutes drive from the famous Jurassic coastline. The loft space is spacious and light with beautiful views and has a log burner to keep cosy in the winter months. A very peaceful location where a car is essential.
Perfect for two people in single beds set apart, or can be joined together to make a large double bed. We can accommodate children on camp beds, although please note that the room is open-plan. Most pets are welcome but please confirm with host prior to booking. Open-plan bedroom and living area,with separate downstairs bathroom and hallway. Wifi & TV.
Located in the quiet, beautiful West Dorset village of Netherbury, 5 miles from the market town of Bridport and the Jurassic coast. Nearest shops are in the quaint town of Beaminster just 2 miles away where you will find an excellent butcher and grocers as well as some lovely gift shops. Nearest pub is in Waytown 1 mile away and lots more pubs and restaurants within a 4 mile radius. Car required as very rural spot! No kitchen or cooking facilities. A small fridge and kettle are provided.
Type de logement
Logement entier
---
Type de propriété
---
Capacité d'accueil
2
---
Chambres
1
Bridport
The Loft is an inviting & cosy, self-contained first floor studio apartment with stunning views across fields to the River Hamble. Spotlessly clean, king sized bed, comfy lounge area, brand new kitchenette, dining table, bathroom & private balcony. Peaceful & relaxing with glorious views across lawns and fields down to the upper reaches of the Hamble River. All towels & linen. With easy access to Whiteley, Solent Business Park, Hamble, Winchester, Southampton, Salisbury & Historic Portsmouth.
The space is a lovely private, contemporary, first floor studio loft apartment in the grounds of our family home. Well furnished and spotlessly clean, the apartment is situated above the double garage and sits within the 17 acres of lawns and paddocks of the main house. The loft has its own private access, all its own amenities, plenty of parking and a fantastic view from the balcony down across the grounds through to the River Hamble. The Loft includes a good bedroom space with a comfy king size bed and pretty screen that separates the bedroom space and the bathroom off from everything else. All linen and towels are supplied. If you stay for more than a few days we'll change your towels, if you stay for more than a week we'll also change your bed linen at no extra charge. There is a cosy lounge area with amazing views down to the river, books, a coffee table & TV. There is also a good size kitchen table to work, study & eat at with the door open down to the gardens & river or the velux open to the sky. The brand new kitchenette has a full sized fridge, combination microwave, egg boiler, toaster and kettle. All crockery and cutlery are there as well as basic cleaning items, kitchen roll and so on to make it easy for you. We leave you with tea, coffee, sugar and milk so you have the basics to set you up for a lovely stay. On your first night with us we also leave a few things to make breakfast - some free range eggs from our chickens, some bread or muffins, sometimes juice or fresh biscuits or cookies. There's always a potential snack waiting for you! The loft also has a modern en-suite bathroom with shower, WC & basin and heated towel rail. There is heating, wardrobe and storage in the rear of the apartment. There's also a private Juliet balcony that looks down across the lawns and fields to the river. You can leave the door wide open and still be completely private, enjoying the views down the field to the river. The loft has velux windows that are lovely to leave open in the day or at night to breathe in the fresh Hampshire air. An ideal base for a sailing weekend in Hamble, shopping in Winchester or Southampton, Whiteley Shopping Village, visits to Historic Portsmouth and the South Coast or working at nearby Solent Business Park (30 minutes walk). Guests have stayed with us for Beaulieu Montagu Museum, Southampton Boat Show, Goodwood Festival of Speed, Hamble Sailing Weekends, weddings and also exploring the New Forest. It also works really well for those working or studying in nearby CAA, NATS, Warsash Maritime, Solent Business Park and Whiteley as it is so much nicer than a faceless hotel after a day at work or study. Check in time is after 12 and check out time is before 11 but we are very happy to be flexible if we don't have other guests before or after you. Please just ask when you make an enquiry. The Loft is peaceful and relaxing and a beautiful place to stay, sleep, study, compare travelling plans and notes and prepare for the next day. Whilst there is free wifi all the time, it isn't the fastest so you just have to be a little patient being out here in the sticks! The kitchen is great for preparing and eating breakfast, salads, picnics and simpler meals. It has a brand new combination microwave, fancy egg boiler, full size fridge and toaster to use. There is no actual oven though. We also give longer term guests a hot plate to use if they would like to grill meat and fish and make a few more meal combinations when staying in the loft apartment. There is a list of interesting places to go and useful numbers for you if you need them, plus a few books if you forget yours. Otherwise just put your feet up and enjoy the escape! You have access to and from the studio loft as entirely suits you. We will greet you on arrival and then leave you to your own devices. There is ample parking. The loft has great views across private land to the River Hamble but there aren't really any public walks from here. Please ask if you would like to walk around the gardens and fields as they are family space. For great walks, you can go to the nearby Manor Farm Country Park or drive to the hard at Bursledon (3 miles) and enjoy the coastal path down to Warsash and for many more miles. You can walk to Swanwick Train Station in just over 20 minutes and then there are trains to Southampton, Fareham, Gatwick and more. There are taxi numbers in the loft too and hourly buses from the top of Burridge Road to Fareham, Hamble, Hedge End and Botley (which also has a train station for London and Winchester). You can also walk to Solent Business Park & Whiteley Shopping Village (30 mins) where there are quite a few restaurants and shops, cinema and coffee places. The Loft is great for singles and couples but definitely no children as the stairs to the loft are steep and we also have a large pond, swimming pool and the river, all of which are potential danger zones. The apartment belongs to my folks (who live i...
The loft apartment is ideally situated to access the River Hamble, Hamble Village, (15 mins) Whiteley Shopping Village & Solent Business Park (5 mins & you can walk in 30 mins), Southampton (20 mins), Winchester (30 mins), Historic Portsmouth, Chichester, Lymington and the New Forest (all 45 mins). The Loft is in a rural setting, surrounded by fields, you cannot walk to any pubs easily as there is very limited street lighting and no pavements from here. However several of the pubs including The Jolly Sailor, Horse & Jockey, Elm Tree (& a few restaurants at Whiteley) are within 5 minutes drive. There is a list of the good ones printed out and left in the loft for when you arrive as well as some local taxi numbers if you fancy having a few glasses of wine when you're out. If you're staying with us because you're working or studying, it's lovely and quiet and there's wifi (albeit it requires patience as we are out in the sticks) and a big kitchen table to work on. You can leave the apartment door open and enjoy fabulous views down over the garden and fields to the River Hamble. We are 5 minutes drive from Botley Train Station and Swanwick Station, 15 minutes from Southampton Parkway Station and Southampton International Airport. Botley and SAP go direct to London Waterloo very regularly and take 1 HR 35 mins and 1 HR 15 mins respectively. The Swanwick line goes to Gatwick Airport direct (1 HR 30) and you can walk there in 25 minutes. The M27 is less than 10 minutes away which will take you east towards Portsmouth and Chichester or West to Southampton and Bournemouth. You can get to Winchester in half an hour and Richmond in an hour up the M3. The loft is pretty rural so a car is almost essential unless you have a lot of time and like a lot of walking. We have three large working dogs, two labradors and a springer spaniel. (As well as chickens and a cat) All are very friendly and well-behaved but can be a bit exuberant when you first arrive!
All perfect
Helen
July 2016
I stayed the loft for 3 weeks to study and found the place absolutely fantastic. John and Sheila were lovely and so were the cakes and biscuits baked for me to keep me going late at night! The loft is spotless and very well furnished and the views and peace and quite made for the perfect study hole. I'll be staying there again for sure! Big thanks all round to Rebecca too for her communications!
Simon
October 2016
Sheila and John both helped to make the stay an enjoyable one. The location was stunning and we were able to take a stroll down their path to the beautiful River Hamble. Their dogs are very obedient too if needs be. The loft flat is light, spacious, clean and airy with a kitchenette area for basic preparation inc microwave. They provided home reared eggs, bread,milk,marmalade,margarine, apple juice and lovely home made cookies too (as well as tea/coffee/sugar).....all top quality! A place well worth staying at.
Carolyn
July 2016
What a wonderful place to stay! We had a truly lovely time staying with John & Sheila and we couldn't recommend their lovely loft highly enough! From the lovely comfortable interiors including delicious homemade biscuits to the gorgeous grounds, our stay was a treat.
Hiedi
September 2016
Our stay at this loft was delightful. The hosts were very kind and helped us with directions when it was late and we were lost. The space is spacious and we were comfortable. The location was also very convenient to where we needed to be, and views from then property are lovely. This was then perfect place for us as a couple and we would highly recommend staying here.
Desiree
November 2016
We had a most enjoyable Airbnb experience staying with Becky's parents, John and Sheila. They were incredibly helpful and accommodating and made sure we had everything that we needed. Sheila's home-made cookies were world class and John was a font of local knowledge. Their dogs were also very welcoming. The flat was very cosy and the grounds were beautiful. We enjoyed a lovely picnic down by the river. All in all a top experience. We very much hope to visit again soon.
Ben
August 2016
We had an excellent bank holiday weekend staying with Rebecca's folks, flat was as per photos and John and Sheila were very welcoming (even left us some cake!). We had plenty of space and the dogs were very well trained. House and grounds were picturesque to say the least, would recommend for a quiet stay in the country.
George
May 2016
We were made to feel so welcome. Our hosts were waiting to welcome us when we got there. We were shown around the accommodation and everything was explained to us. The setting was stunning with fabulous views of the River Hamble. The accommodation was very well equipped, and spotlessly clean.S A path was even mowed into the field so that I could walk down to the river without getting wet. We would not hesitate to recommend this booking and we will do our best to get back there again.
Ray
May 2016
Type de logement
Logement entier
---
Type de propriété
---
Capacité d'accueil
2
---
Chambres
1
Hampshire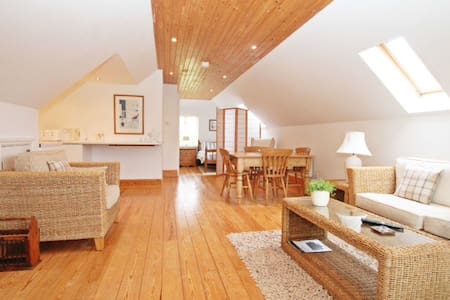 Part of a previous cottage, with beams, in its own separate accommodation from main house; stunning views and lots of space, on farm with *clayshooting available some Saturdays and two *coarse fishing lakes,
We are right on the main A35 so you will encounter road traffic noise.
tres accueillante et adorable ruth. un petit mot avec nos noms etait ecrit sur la porte. des jolies fleurs fraiches un studio tres propre tres spacieux et romantique. c'etait vraiment bien.
marie helene
August 2015
Great location for Bridport and surrounding areas. Warm reception from Ruth on arrival. Beautiful comfy room with a stunning view. Highly recommend taking a walk to feed the fish! Lovely stay
Keeley
September 2016
Ruth made us very welcome . The studio was perfect for our friends who were visiting Dorset for the first time to attend our sons wedding in the village. They were bowled over by the fabulous views and the comfort of the studio . Noise from the proximity to the main road was not a problem and the village of Symondsbury is within walking distance. The local pub provided very genial hosts and good food . There is also a restaurant at the village tithe barn complex lovely for breakfast and cream teas plus one or two interesting shops.
Mary
July 2016
Ruth and her husband were very welcoming and nice, we particularly appreciated the biscuits, milk and water upon arrival! The studio is very comfortable and larger than it looks in the pictures, with a great view out of the window at the end of the room. The home is on the main road near an exit for Bridport which is about 1.5 miles away, and there is a pub and small village with a really lovely cafe at Symondsbury Estate Kitchen a short walk across the field behind the house. Should you explore the ground you'll find fishing lakes at the bottom of their fields, and they apparently arrange clay pigeon shooting too. Wifi signal wasn't great in the studio itself.
Geraint
November 2015
Had a lovely weekend stay with my wife and 7 week old daughter. The apartment was clean, cosy and well stocked with essentials! Apartment was lovely and warm on our arrival which was great with the little one. Hot water is pretty much instant and the various sofas are very comfy. Thank you Ruth for the apartment (and Phil for settling us in!).
Andy
October 2016
The place was as described in the posting, nice and comfortable. Ruth welcomed us along with Brian. Showed us the room and it has all the amenities that you need. In the evening we went to the lake and Brain was feeding the fish and my son who is 3 years was very exited and he also feeded them. Overall we had a good stay and would visit again.
Anju
August 2016
We had a fab two night stay here and would highly recommend. The studio is really spacious and has everything you need (fridge, hair dryer, water, soap). Views are amazing. Studio is clean and comfortable. Yes there is some noise from the road however it didn't really bother us and the studio, location and lovely friendly hosts as a whole outweigh the noise. We walked 10minutes passing the fishing lakes and fields to the Ilchester Arms in Symondsbury for dinner, which we'd Ruth recommended and we weren't disappointed. Great location to explore the coast, definitely go to West Bay, we loved it!
Louise
July 2016
We had a lovely time staying at Ruth's studio! We felt incredibly welcome and looked after. The spacious flat was perfect for a quiet weekend with a lovely view and within walking distance for everything we needed. Would certainly recommend and stay again! Amazing Lego collection added bonus.
Benjamin
November 2015
Type de logement
Logement entier
---
Type de propriété
---
Capacité d'accueil
2
---
Chambres
0
Bridport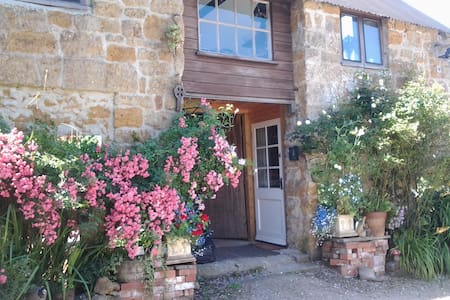 Situated two miles from World Heritage Site of Stonehenge, this spacious studio loft is completely self contained, with en-suite shower room, kitchenette and seating area. Light and airy this room in the eaves has it's own private entrance & parking.
Great for those wanting a base for a few days to explore the local area with day trips to Salisbury, Bath, Winchester or the South Coast all within an hour's drive. Quiet village location, transport essential. Although there is no TV reception we have left a pile of dvd's for you to choose from or welcome to bring your own and facilities to warm up a meal with microwave, kettle and toaster provided. Wifi is available on request. Self contained apartment with independent access allowing you to come and go as you please. Love to meet guests but respect their privacy and very happy to offer advice, information and local knowledge.
Quiet village location within easy reach of Stonehenge, great walks and local pubs. Small supermarket open from 7am - 10 pm, 7 days a week. Own transport essential Access to the room is up a steep stair case, so please take care whilst coming up and down and use the handrails provided.
I arrived quite late but was still welcomed. Nice hamper of breakfast food supplied for the morning. I would stay again and may well do so.
Andrew
September 2016
Fiona made everything easy for us, from her prompt response to our visit request to very clear directions for finding and accessing the property. A very convenient place for visiting Stonehege and minutes from the A 303. The studio loft was a perfect stopover with everything we needed and a lovely breakfast hamper thoughtfully packed with a Continental breakfast. We would definitely recommend this listing.
Val
June 2016
The contact with Fiona was good from start on. Although I did not meet her in person, she made us feel very welcomed in the house. The location of the house is perfect to visit Stonehenge and the region of Avebury. The studio is cosy and the bed was quite comfy. Dear Fiona, we and the Vespas made it back to Germany in one piece but we did not feel quite like 19 anymore ; ) but it was great fun. Cheers Carola and Paul
Carola
June 2016
Fiona was really wonderful. We got a description to find the way, which worked good. She left tourist information for us and a lovely basket with breakfast for all of us. The loft ist cozy with a modern bathroom and a kitchenette for having breakfast. We really enjoyed the stay at Fiona.
Ines
August 2016
I was staying for work purposes. Excellent communication with the host. Easy access to the loft accommodation. Place is exactly as described. Would recommend to future air bnbers!
Loi
September 2016
We had a lovely stay in Shrewton! Fiona & Graham gave us great directions and access instructions which meant we could come and go independently which was perfect for us. The space is just as described and was well-equipped with everything you may need. We were very thankful for the delightful breakfast hamper too! Ideally located for a highly recommended visit to Avebury!
Kyla
October 2016
Tolle, geräumige Unterkunft. Viel Privatsphäre durch extra Gebäude. Organisation und Kommunikation sehr freundlich. Sehr zu empfehlen!
Katharina
September 2016
We had a pleasant stay in the studio of Fiona and Greham. Very comfortabele, clean and quiet. We recomment this place also if you want to visite Stonehenge. We thank Fiona and Graham for their great hospitality.
Mariska
December 2016
Type de logement
Logement entier
---
Type de propriété
---
Capacité d'accueil
2
---
Chambres
0
Shrewton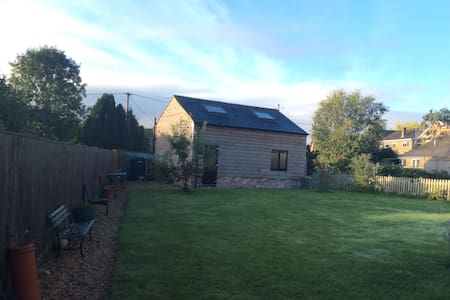 Secluded, private and comfortable. Ideally placed for exploring Salisbury Cathedral (4 miles), Stonehenge, the New Forest and Jurassic Coast. Or a great relaxing stop off en route to Devon and Cornwall.
Secluded, quiet, comfortable Outdoor seating, local walks, tennis court by appointment As required, here to help whenever you need.
Beautiful countryside, proximity to Salisbury, Stonehenge, the New Forest, Winchester and the south coast. Local buses to Salisbury and Southampton. Railway station in Salisbury (4 miles) Easy access to local shop and excellent local pub
L'appartement et l'endroit était vraiment calme et paisible. Merci Jane pour le merveilleux accueil.
Julie-Anne
May 2016
The house is pretty even better than pics show it. It is clean And elegant, surrounded by a lovely wood. Our stay there was comfortable. The breakfast was rich. Highly recommended
Simone
August 2015
The host made me feel very welcome as Jane sent me emails prior to my arrival with good instructions on how to get to the property. Jane responded very quickly to any of my questions and gave me a warm, friendly welcome on arrival. The annex was beautifully decorated with good kitchen and bathroom facilities. Jane was very generous in leaving breakfast food supplies of fresh bread, cereals, milk croissants, and juice. I really appreciated that. The location is very remote and quite a tricky path to get to so it would not suit people who would prefer to be within a village with amenities. Alderbury is about 10mins drive into Salisbury but it has no community atmosphere. As I have lived close by and know the area well it was perfect for me to use as a base. The location is grt for travelling either towards Salisbuy, Bath, Romsey, Southampton, Winchester and Stockbridge which I did during my stay. There is a engine/ possibly pool heating equipment close to the property which generates some sound so not entirely quiet. The annex is lovely and very well appointed. As it is an annex in a roof space there are slopping ceilings and a couple of feature beams all adding character but could be a problem if you are tall. Overall I really enjoyed the privacy and freedom that comes from being in a separate dwelling. Thank you Jane I really enjoyed it.
Fiona
July 2016
Jane was an excellent host, including helping me when I got a bit lost! The Coach House is in a lovely secluded location with lots of trees all around. The facilities in the accommodation are really useful & everything was very clean. It might be uncomfortable for taller people - I'm 6'3" and some areas of the Coach House were a bit tight. Overall though very much recommended.
Colin
February 2016
We were down in Hampshire for our friends' wedding and had a lovely time staying in Jane's coach house loft. Jane gave us a really warm welcome and was really helpful - she went to the trouble of bringing us a full length mirror so we could check ourselves out before going to the wedding. The property was clean and had everything we need, and is in a secluded and quiet location. Would definitely recommend - thanks!
Ela
June 2016
I spent a month and a half at High Trees House and my stay there was just great. The property is really beautiful, the flat is lovely and very well-equiped. The area is quiet and peaceful and the location very convenient: in the countryside but just near the A36, 30 min from Southampton, 10 min from Salisbury and 3 min from a supermarket. Jane and her family were very welcoming to me and I sincerely thank them again for it. I had the feeling to be home for all my time there, and I'll definitely come back if I ever have to spend some more time in the region!
Arnaud
January 2016
Cosy, quiet and welcomed by an adorable black-lab. The rooms were spotless and came with everything we needed. I liked that while it's right next to the house, it's entirely separate and we could come and go without disturbing anyone. I'd come again, perhaps in the summer to explore the new forest.
Mark
March 2016
Jane went out of our way to make us feel welcome. The apartment was really lovely, even nicer than we had imagined. She even saved us when we got lost on the way to the local pub!
Arthur
August 2015
Type de logement
Logement entier
---
Type de propriété
---
Capacité d'accueil
2
---
Chambres
1
Alderbury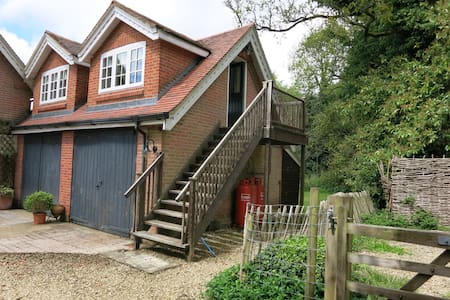 Bed @ Byways is situated in the village of Holton, 5 minutes drive from Wincanton and the A303. The village has a good pub and restaurant within walking distance. The property offers great country views. There is an ensuite shower room, simple breakfast making facilities and dining area. An area of the garden is reserved for guests. There is off street parking. The property has one double sofa-bed so is suitable for couples and single travellers. A travel cot can be made available.
Bed @ Byways is a double studio room above an outbuilding, detached from our family home. The studio is accessed via an external staircase. The room has far-reaching, glorious countryside views. The spacious room contains a sofa-bed with TV and DVD player. We receive many freeview channels. There is a fridge, toaster and kettle and a dining area for two people. There is an ensuite shower room. The corner sofa converts into a comfortable double bed. We have wifi access but guests should be warned that our rural village does not yet have superfast broadband. An area of the garden with outdoor seating is reserved for guests. Guests will have their own key to the studio. Access is via an external staircase to a private front door. Guests can park in front of the property on our driveway. Our family home is adjacent to the studio. The studio has security lighting. An area of the garden is reserved for guests. We aim to greet our guests on arrival and offer local information if required. A key safe is used if we are unable to meet our guests. We provide a guest pack which includes useful information about the local area.
Holton is a small rural village in Somerset. It is a peaceful spot yet conveniently situated only 5 minutes from the market town of Wincanton and the A303. The local pub, The Old Inn serves excellent food and is a 5 minute walk to the centre of the village. The abbey town of Sherborne is 8 miles to the south with quaint shops, castles, tearooms and the Abbey. From Holton, many attractions are within a 15 minute drive. These include Haynes Motor Museum, Fleet Air Arm Museum, NT Stourhead, Hauser and Wirth art gallery and Wincanton Racecourse. We are ideally situated for those visiting schools at Sherborne, Bruton or Hazelgrove. The A303 is just 5 minutes by car, making Byways an ideal stopover for those en-route to or from the South West. The nearest train stations are Templecombe (4 miles) and Castle Cary (7 miles). Several taxi services operate in the area including Crabbs and Destination Travel. The Berrys bus operates from London Hammersmith to Wincanton daily. All local facilities are available in Wincanton including supermarkets, Post Office, Library, many pubs and numerous take-away restaurants. There are many excellent pubs and restaurants in the neighbouring villages. Details of these are shared in our visitor information pack.
Type de logement
Logement entier
---
Type de propriété
---
Capacité d'accueil
2
---
Chambres
0
Somerset
The SoBo Boathouse is a self contained loft apartment on the first floor of our outbuilding, designed to be a fully equipped home, the boathouse provides great accomodation with all the comforts you'd expect. There is an open plan living space come bedroom with kitchen and Hermes double sofa bed, seperate private bathroom with bath and shower and seperate double bedroom. The space sleeps 4 as is and we can add a temporay additional single bed or travel cot to sleep an additional child.
The boathouse occupies the whole first floor of our outbuilding and offers a self-contained loft apartment that can sleep up to 4 adults and one child in a travel cot or two adults and three children sharing a double bed. The open plan living space has a kitchenette with oven, hob, sink, microwave, kettle, toaster and fridge and a projector that gives a 3-metre screen for movies. Black out blinds ensure a good cinema experience and a good lay in too! We have a selection of DVD's and apple TV. The bedroom has a nice double bed a large wardrobe with drawers there are cubbyholes for additional storage. Heating is by digital radiators so you can set the temperature precisely. The bathroom sports a 1.5metre bath, shower, sink, toilet and heated towel rail. We include all the freshly laundered bedding and towels you could need. The kitchen is fully equipped with with a full compliment of pots, pans and utensils and we invite you to self-cater. The fridge is an under counter unit with no freezer. The Boathouse building is in our back garden which is a lovely place to relax on a sunny day. If you have kids that need to burn off some energy are a 10 minute walk through fisherman's walk to the beach. Also on the cliff top is Sandy Park playground. 10 minutes walk inland takes you to King's Park and the home of Bournemouth Football Club. Our middle aged Border Terrier 'E.D.D. the Dog' does wander around but is very used to our two kids and is a super little chap for any kids that are nervous around dogs. He is part dog, part paperweight. You have the whole first floor, downstairs is a garage/store, you can park infront of the house or tuck your car behind the boat house via the access road if you don't plan on using it. You can store bikes on the ground floor. You can access the boathouse via gates at the front or back of the plot. Access to the boathouse is through a keypad gate and into through our back garden. There is PIR lighting to show you the way. We are sociable family people, getting to know our guests has been the absolute best bit of air bnb, you are more than welcome to hang out and be as sociable as you want. Please enjoy the back garden which can be a nice oasis of calm after the beach on a sunny day.
Southbourne is a brilliant area, up and coming, the seaside is a 10 minute walk from our house through fisherman's walk. The highstreet has everything you need and some nice individuality making it a great place to wander around. You can see the Brewhouse and Kitchen from the front door of our house and the CO OP for supplies is next to the Brewhouse. We are 10 minutes walk from Pokesdown railway station, there are good bus links and we have off street parking for your car. Feel free to bring pedal bikes as we have a good sized garage. Access is via the side gate which has a keypad on it so you can come and go as you please. Just before your stay we will email you with the gate key code and full instructions on how to use space and the cinema projector.
Wonderful hosts! Sheri and Mark were really welcoming and friendly. The accomodation is great! Perfect for what we wanted! Very clean and well presented! Thank you for everything!
Lizzie
July 2016
My family's stay at Mark and Sheri's boathouse was wonderful! We were welcomed by a very friendly Sheri and her daughter, who showed us the space, shared their toys with us, and gifted us with essentials: beer and coffee. The space itself is bright, spacious, clean, and well equipped with a projector and movies. All instructions were clear and communication was prompt, but though we didn't see them much what struck me most is how welcome our hosts made us feel. Definitely recommended.
Krystel
September 2016
Everything about our stay with Mark and Sheri was great. They are warm and welcoming hosts, the boathouse is very comfortable and ideal for a family holiday, itnus well located for the beach and local shops. Mark and Sheri answered our questions very quickly and helpfully before we arrived and were so lovely and friendly throughout our stay. This was our first time using airbnb, and we would definitely recommend this listing for anyone looking for a beach holiday.
Dan
August 2016
Mark and Sheri were amazing hosts and we loved our stay! The house is lovely and has been done up to an excellent standard. They were super hospitable and helpful too. Would highly recommend this airbnb to anyone, we'll certainly be back!!
Matt
July 2016
What a lovely place to stay. As soon as we arrived we were made to feel at home. Our 3 year old daughter instantly made friends with our hosts daughter and she loved playing in the large garden and sand pit, heaven. The loft was also very comfortable and decorated very tastefully. We loved the Puffin window detail. It was my partners birthday and we were left Prosecco and Beer in the fridge which again was a lovely touch. Mark and Sheri were great, very chatty and friendly, like you wanted to have a beer with them and put the world to rights. In terms of the location it was ideal, it was a 5 - 10 min walk to the beach, 2 mins to the high street where there is all you need, including good places to eat and grab a drink. We were meeting friends as having a party on Avon beach and again it was just a 10 min drive, so all very easy to get around. We would love to go back and would highly recommend visiting. Thank you for a wonderful weekend.
Helen
July 2016
Fantastic hosts, couldn't be more welcoming, even left a bottle of fizz for us. Great location, close to amenities and a short walk to the beach. The boathouse was very clean and homely, well equipment and we loved the projector. Thanks for a great stay, would definitely recommend :)
Laura
September 2016
Fantastic hosts! Very welcoming and nice. Sherry gave us a couple of welcoming beers that was much appreciated. Would highly recommand this place to stay.
Torbjørn
October 2016
Mark and Sheri are wonderful hosts and can't do enough to make the stay comfortable. our experience of them both is they are very warm and friendly. Thank you so much for making our stay relaxing and comfortable. This is also from Raul (age 10) x
Trinder
September 2016
Type de logement
Logement entier
---
Type de propriété
---
Capacité d'accueil
5
---
Chambres
2
Bournemouth
Large double room in annex with shower room and walk-in-wardrobe. It is separate to the main house and guests will have their own key. In private road with direct forest access. Space for two cars, lovely for walks, only 15 mins drive to Southampton.
Access to drive and side of property I am happy to help with any questions and advise anywhere to eat, visit etc.
Quiet, very lovely area to live in Near Southampton, Bournemouth, Portsmouth, Winchester and Salisbury Easy access to main roads Forest walks in area 15 mins walk to Ashurst train station 20-25 mins drive from Southampton Airport 20 mins drive to center of Southampton Pick up from stations and airports can be arranged Please be aware that the stairs are steep
chambre et salle de bain correctes
Armelle
July 2016
Mia was great!! Sadly we didn't get the chance to meet her, but she was very efficient and let us know exactly where the location was, places to go nearby, and she responded instantly if we had any questions! The room is also a great size, great storage space too! The only downfall were the stairs leading to the room were a little narrow and quit tricky to carry bags up and down the stairs, but everything else was absolutely perfect! Even sweet chocolates on the bed and tea and coffee facilities! Fantastic
Sarah
August 2016
Mia's place was the perfect location for the evening as I was working close by. Plenty of parking and a really comfortable bed. Private and quiet, highly recommend.
Claire
December 2016
Clear and friendly communication by email and text. Room light and spacious (seems bigger than it appears on the photo), and very quiet (all I could hear at night was the hooting of owls in the woodland just across the road). Very comfy bed. What not to like?
John
July 2016
Mia's place was great, we were housed in a separate annex to the main house (though no one was around anyway) and the location was convenient for getting to nearby attractions. Mia couldn't meet us unfortunately but her communication was great and we had no problems at all.
Sam
April 2016
We had a very comfortable stay at Mia's annex. The room was very spacious, very clean and the bed was very comfortable. We had our own annex with its own entrance and it was very private. Perfect for our visit to Peppa Pig world with our 2yr old daughter!
Rebecca
February 2016
We had the most fantastic stay at Mia's place after a wedding nearby. A beautiful location, spacious room & great host.
Nick
August 2016
My first Airbnb stay so I did not quite know what to expect. It was a very positive experience. It was very comfortable, clean and although Mia herself was away working when I arrived she still managed to create a welcoming atmosphere. I was only there overnight but I could see as I left in the morning it had a super location and wished I could have stayed more time to explore the local walks (Mia had left information in the room).
Stephen
April 2016
Type de logement
Chambre privée
---
Type de propriété
---
Capacité d'accueil
2
---
Chambres
1
Hampshire
Three bedroom cosy stable conversion in the New Forest National Park with a gate onto open forest. Family friendly - wifi, cot, high chair, toys, DVD's and CRB checked babysitter. Rural location yet 10 minutes drive from Lymington and Christchurch and 15 minutes to beaches at Hengistbury Head and Mudeford Quay.
Cosy converted stable set in the grounds of our family house which sits in two acres of paddocks in the heart of the New Forest. Ideal for family holiday or romantic break. Stunning, tranquil rural location - walk out of our back gate onto miles of open forest - magical woods for exploring/mountain biking/picnics and forest stream nearby for paddling and pooh sticks. Downstairs kitchen diner with coffee machine, dishwasher, washing machine, fridge, freezer and microwave. Downstairs toilet. Upstairs, 3 bedrooms - Bed 1: either super king or twin; Bed 2: Double; Bed 3: Double or twins or single + cot as required. In addition a double sofa bed in the living room. Cosy living room with flatscreen TV, DVD player, Bluetooth wireless speaker and wifi. Shower room. Selection of kids toys including brio train track, Lego, picture books and DVD's. Access to concept 2 ergometer in outside stable. Plenty of off-road parking. Outside seating area adjacent to the forest with picnic table for your exclusive use. There is no private garden. You are welcome to use the football area and trampoline in the paddocks but these are shared. A welcome basket including milk and treats will be waiting on your arrival. Access to: 1. CRB checked babysitter if you let us know in advance. 2. Kids toys, picture books. 3. 12 foot trampoline with safety net. 4. Paddock football pitch (bumpy but fun!!). 5. Toddler ride ons and balance bike. 6. Tree swing. 7. A selection of DVDs. 8. Wifi. 9. Local area guide with recommended activities and attractions. 10. Concept 2 ergometer in one of the stables. Please note the garden at the back of our house is not for shared use, but you are welcome to use the paddock with football field and there is an outdoor table for eating, some comfortable seats and a bar-b-que for your exclusive use. We are two doctors with three young kids and live on site. We are happy to offer advice about things to do and see in the area. Equally we are happy to leave you in peace if you prefer. We'll give you our phone numbers in case you have any questions.
THE FOREST The New Forest National Park is a stunning area for mountain biking, walking and riding. All can be accessed from our back door. There is a riding school within a mile of the house and miles of mountain biking tracks are available for exploring the forest. The living room overlooks the open forest and wild ponies gather outside our back gate daily. THE COAST We are 10 minutes drive from the coast and Lymington and/or Christchurch where you can rent boats to sail or explore the solent. You can also take a car or passenger ferry to the Isle of Wight from Lymington to explore the sailing meccas of Cowes or Yarmouth. Sandy beaches are 15 minutes drive away in Highcliffe, Hengitsbury head and Mudeford. If you want to explore a bit further afield, you can visit the stunning natural harbour in Poole (30 minutes drive away) and get the chain ferry from Sandbanks to the Studland Bay Nature reserve. For those interested in nature there are several bird reserves in the area and the New Forest Otter Sanctuary. KIDS ACTIVITIES Peppa Pig World and Paulton's amusement park are a twenty minute drive away. Moors valley nature reserve has outdoor wooden adventure playgrounds and tree climbing, as well as a miniature train. Open air salt swimming baths in Lymington, indoor 25m pool in Pennington (10 minutes drive). New Forest Wildlife park - otters, owls, bison and a brilliant wooden outdoor adventure playground. Crabbing at Lymington Quay. Longdown dairy petting farm with pony rides, playground, tractor rides, goat, calf and pig feeding. Cinemas in Christchurch, Bournemouth and Southampton. Soft play in Christchurch and Southampton. Science museum in Winchester with interactive kids displays. Dinosaur museum in Dorchester and on the Isle of Wight. Marwell Zoo with giraffes, tigers, meerkats and snow leopards. Beaulieu motor museum with playgrounds, antique cars and a train to explore the grounds. Calshot activities centre is one of the largest outdoor centres in Britain and has a climbing wall, sailing, windsurfing, archery, indoor skiing and more. Legoland is 90 minutes away by car and worth a day trip. Tank museum and monkey world in Bovington ..... there is lots for kids to do! CULTURE For cultural visits, the stunning medieval cathedral cities of Winchester and Salisbury are 40 minutes drive away, with boutique shops, coffee shops, restaurants and the cathedrals to explore. Both Bournemouth and Southampton have theatres and Bournemouth a symphony orchestra with regular concerts. There is an excellent train service from Brockenhurst (10 mins drive to the station) to London Waterloo. Trains leave every 30 minutes and it takes 94 minutes to get there, so ideal for day trips to the museums and the West End. The Beaulieu Motor Museum is of interest to car enthusiasts and there is a military history museum at Hurst Castle. EATING OUT There are a number of great restaurants in the area such as the Pig in Brockenhurst, Limewood Hotel, Chewton Glen, Gordleton Mill and The Jetty. Lots of information and contacts are provided in the cottage. This is a rural area and a car is really needed to get around. Taxis are readily available if you want to go out to one of the local restaurants. Taxi numbers are in the information folder in the kitchen.
We had a great holiday, the accommodation is the perfect location to enjoy both the New Forest and Dorset. Our outings ranged from lovely forest walks to crabbing at Lymington Quay! Plus a fun day at Peppa Pig world! The accommodation is very comfortable, clean and well equipped and perfect for relaxing, especially on very rainy days! The host provides a comprehensive guide to the area, including activities and places to dine out- this supported the planning of our holiday. We would love to return in the future. Many thanks
Meg
April 2016
A great break in a beautiful location. No traffic noise and a huge three bedroomed house to stay in. Great hosts... nothing was too much trouble. Many Thanks.
Anthony
May 2016
We had the most amazing stay at this cosy new forest cottage. The hosts Denny and Mike were friendly, approachable, accomadating , and our children loved playing with their children in the safe environment that surrounded this property. The property backed onto the new forest national park which was beautiful and tranquil. Our children loved watching the new forest ponies walking upto the gate of the cottage, and then walking with them on our walks. The property was spaces and clean, and matched the description perfectly on air bnb. The cottage was safe comfortable, homely, and we especially like the stairgate which meant our youngest could roam freely upstairs without us worrying. Loaction was also fabulous as it was within easy driving distance to beautiful walks, forest and attractions the new forest had to offer.
Andrew
August 2016
Lovely private location with direct access to the forest and the ponies. Cosy cottage with everything you need in the kitchen and bedrooms
Stefanie
October 2016
Great spot. Very comfortable house. Well equiped.
Rudolf
July 2016
Warm welcome, clean and cosy with direct access to the New Forest. Felt secluded but still lots of amenities close by. Would recommend staying here with kids also.
Gareth
October 2016
The cottage is cosy and very well-appointed - great to have a good range of equipment and utensils in the kitchen and lovely to have a welcome basket of goodies waiting for us. Sitting in the comfortable living room looking at the ponies grazing in the New Forest and listening to the birds singing is delightful and the cottage is well-placed for exploring the coast and inland attractions alike.
Victoria
April 2016
The location was perfect backing onto the forest and within easy reach of villages and places of interest. Our Host sent excellent directions to the cottage along with a list of 'things to do' categorised under helpful headings such as 'historical' 'cultural' 'child friendly' etc plus a list of local restaurants and pubs.
Rosemarie
October 2016
Type de logement
Logement entier
---
Type de propriété
---
Capacité d'accueil
6
---
Chambres
3
New Milton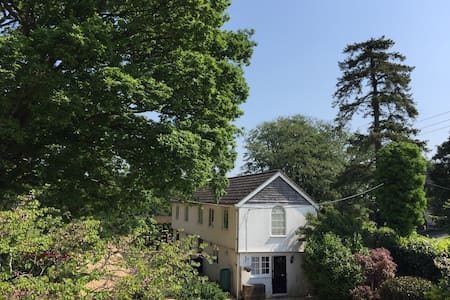 Just for those looking for a cheap place to stay at passing by.
Robbie was an excellent host, and the accommodation was brilliant. Lovely family home. Will definitely stay again!
Kit
January 2016
Type de logement
Chambre privée
---
Type de propriété
---
Capacité d'accueil
1
---
Chambres
1
Donhead Saint Mary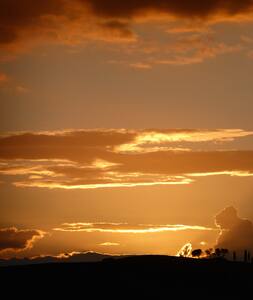 Gloriously isolated, self contained rural retreat, perfect for adventurous hikers and cyclists
Rural retreat with a cosy loft bed. Lovely reception area with wood burning stove and fabulous views of garden though large picture window. Modern shower and loo situated below the mezzanine level. Kettle, Fridge available in reception area. Steep stair access to bedroom on mezzanine level. Access is available to garden and viewing platform I am available to transport luggage to next destinations should guests wish to walk or cycle.
Country side is ideal for Mountain Bikes and Hikers Need to access the barn by a car. Salisbury is 20 minutes away. Southampton Airport is 35 minutes away. If guests are hiking and wish to bring one dog that is OK. The dog must sleep downstairs and not in the loft bedroom.
Type de logement
Chambre privée
---
Type de propriété
---
Capacité d'accueil
2
---
Chambres
0
Downton
This cosy self-catering studio is perfect for a couple, or a family of three. There's a double bed plus a fold-out single bed, fully equipped kitchenette (fridge with freezer compartment, induction hob, microwave/grill) and modern bathroom. Situated above a detached annex at the front of the property, the studio has its own front door with parking right outside. The heart of Lymington is a 15 minute walk away and we are perfectly located for exploring both the New Forest and South coast.
Christophe made us feel very welcome. We had a lovely time, great location. The accommodation was brilliant, highly recommended!
Anita
August 2016
Our trip to Lymington was a relaxing experience. We were made to feel welcome by our host Christophe and thoroughly enjoyed all the natural beauty that was on offer along the south coast. Our home was clean, tidy, private, full of character and very suitable for a couple's retreat. This ideal location was perfect for exploring various points of interest for visitors seeking adventure. Thank you Christophe for making our stay comfortable. All the best.
Gadina
August 2016
Made to feel very welcome with time taken to talk through how things worked and great orientation information. Fresh clean relaxed accommodation. Thank you
sam
July 2016
Christophe made me very welcome on arrival and the loft had everything I needed. Location good and easy to find. Will definitely return for a leisure visit in the future.
Andrew
July 2016
Nice attick appartement. Comfortabel, we stayed with three persons. . We liked the surrounding, National Forest Park and beach nearby we als made a dagtrip to the Isle of Wight.
jan
August 2016
Christophe hosted my parent and my aunt for two nights. His place rounded out a great summer 3-day break for them. They had a great stay and enjoyed the hospitality very much.
Jagir
August 2016
Christophe made us very welcome and quickly sorted out some minor issues with the accommodation. The venue was well placed for visiting Lymington, New Forest and environs and it was very easy to find. It was close to a busy road so it was a bit noisy. The accommodation was basic but adequate for requirements but neither spacious or luxurious.
Neil
July 2016
Type de logement
Logement entier
---
Type de propriété
---
Capacité d'accueil
3
---
Chambres
1
Lymington
Located near the River Hamble in the lovely village of Warsash. Plenty of local places to eat and drink. Stunning river walks and opportunities for sailing.
The cabin is cosy and private. It is in the roof space so mind your head! You are invited to use the garden which has beautiful views over the River Hamble. Many evenings you can watch the Cruise ships sailing down the Southampton Water on the start of their adventure. Separate guest access to the cabin. Shared washing machine and drying facility. We will be available to answer any questions and give advice on making the most of your stay. Locally there is Hook with Warsash Nature Reserve, this runs down to the shore and includes Hook Lake. These inter-tidal mudflats covering some three miles of shoreline provide a home to a rich variety of wildlife, some species are rare and in decline. Ideal location walking, fishing and photography. Ideally located to The Warsash Maritime Academy (5 minute walk) which offers an extensive range of Maritime courses. The new Whiteley Shopping Centre and Retail Park is 4.5 miles away. Portsmouth historical dockyard and Southampton are just over 15 miles away. Bus service close by. You are invited to use the garden which has beautiful views over the River Hamble. Many evenings you can watch the Cruise ships sailing down the Southampton Water on the start of their adventure. Separate guest access to the cabin. Shared washing machine and drying facility. We will be available to answer any questions and give advice on making the most of your stay.
Locally there is Hook with Warsash Nature Reserve, this runs down to the shore and includes Hook Lake. These inter-tidal mudflats covering some three miles of shoreline provide a home to a rich variety of wildlife, some species are rare and in decline. Ideal location walking, fishing and photography. Ideally located to The Warsash Maritime Academy (5 minute walk) which offers an extensive range of Maritime courses. The new Whiteley Shopping Centre and Retail Park is 4.5 miles away. Portsmouth historical dockyard and Southampton are just over 15 miles away. Bus service close by.
Jane is a great host! She is friendly and easy-going. We loved staying in her apartment and for the moment thought it would be nice to stay there forever)) We liked the view from the window, we liked the room and the kitchen. The only "minus" is a canted ceiling which is typical for cabins - you need to get used to it! We were surprised to see a large room - on the photo it's much smaller.
Yuliya
August 2014
Jane was a fabulous host, ready with an offer of tea or wine at your arrival. Friendly and open, I met the whole family. The Cabin was just as shown in the photos, perhaps even slightly bigger than expected. Very clean and tidy with the essentials to get your stay started. Great location with a very pretty view. I will certainly stay here again if my travels bring me back to Warsash.
Susan
July 2014
Fantastic all round made very welcome and able to relax and enjoy our stay. Can't speak highly enough. Thank you for having us.
Andy
December 2015
Absolutely wonderful stay, Jane thought of everything and was a very welcoming host. Much more provided than you would expect which was lovely. The apartment was spotless, beautifully decorated and shops were only a close walk away. Nearby there is a nice pub and it was very easy to catch a ferry over to the hamble. I can't recommend the cabin highly enough and I'm sure you will enjoy your stay!
Helen
October 2015
A wonderful stay as always. Jane and her husband are great hosts and the accommodation immaculate - highly recommended
Jan
July 2015
The Cabin was as good as it looked. We were visiting family so already knew the area well, the location was both central to the Village and quiet with glimpses of a view. Jane and Kevin were fantastic hosts who could not have done more for us. We will hopefully stay again.
David
January 2016
What a fantastic find this turned out to be. 1st class accommodation in a superb location, exactly as described. Both Jane and Kevin are wonderful hosts, where nothing is too much trouble. We staying again very soon and looking forward to it. Thank you Jane and Kevin.
Jenny
October 2016
They were at home and explained everything to me.
Alan
July 2016
Type de logement
Chambre privée
---
Type de propriété
---
Capacité d'accueil
2
---
Chambres
1
Warsash
Private luxury loft space with ensuite, in family home. Double bed and bunk bed, Living area with sky TV, DVDs and mini fridge. Light breakfast available. 5 min walk from Charmouth's Jurassic fossil beach and set beautiful Dorset countryside.
Light airy living and sleeping space in quiet seaside village. Discount for couples no children. Guests have full access to the private space upstairs and importantly a parking space. Perfect for a family of 4 with child friendly DVDs, books and toys
Chambre absolument adorable, très bien aménagée, très cosy. L'accueil est chaleureux et fait rapidement se sentir comme chez soi. L'environnement est superbe, avec un superbe chemin qui monte de la plage vers la falaise (possibilité d'une boucle à faire en courant, ou en marchant). Endroit très reposant qui mérite une halte de plusieurs jours. Le breakfast est généreux et varié.
Stephane
July 2015
Un séjour très agréable! Accueil très chaleureux par Lucie. La chambre est charmante et contient absolument tout dont peut rêver une petite famille en voyage: des provisions pour le petit déjeuner ou pour un petit snack, y compris des fruits frais, une salle de bains équipée, un lecteur de DVD avec quelques films familiaux forts appréciés quand la météo est capricieuse. Lits confortables. Et sans oublier la wifi pour les geek! Bref, un petit paradis pour un séjour à Charmouth!
Anna & Guillaume
August 2015
Lovely room, clean and very tastefully decorated. Generous and good quality breakfast provision. Very kind and helpful host, thanks Lucie :)
Rossana
May 2015
We spent a wonderful 4 nights with Lucie and her family. As first time Air bnb users we didn't quite know what to expect and were more than happy with the experienc! The room was very comfortable and Lucie very thoughtfully stocked the fridge with some lovely treats and breakfast things. We were all made to feel very welcome and the kids especially loved Stanley. Can also recommend Charmouth fish and chip shop which is just around the corner! We would highly recommend a stay with Lucie to anyone and hope to return ourselves in the future. A huge thank you from all of us xx
Amy
January 2016
The place was awesome. We loved the place
Sajin
March 2016
Lucie was a great host and the room was comfortable and accommodated the four of us (two adilts, two children) easily.
Sian
September 2015
The host canceled this reservation 55 days before arrival. This is an automated posting.
Kat
Lucie was very kind and helpful. The place is wonderfully situated giving access to many sightseeing itineraries. The loft is well equipped and comfortable for a family of 4. We would recommend Lucie's place without hesitation
Jeff
July 2015
Type de logement
Chambre privée
---
Type de propriété
---
Capacité d'accueil
4
---
Chambres
1
Charmouth