370 sqm stone villa fully renovated in 2014. Two storey building with : 5 bedrooms, 6 bathrooms, two fully equipped kitchens, two living rooms, play room with 9' billiard and table soccer, home cinema and lots more, 3km from the beach
This 370sqm, two storey stone villa, fully renovated in 2014, is situated on landscaped grounds of 700sqm, in the center of village Astros (50m from the village square). The house can comfortably accommodate 12 persons in 5 bedrooms [upper floor 4 bedrooms (3 with double beds + 1 with two single beds), ground floor 1 bedroom (with 1 double bed + 2 single beds)]. There are 5 bathrooms in the house (1 for each bedroom), 3 out of which are inside the bedrooms, and also another one to serve the outdoor space and the pool. Other amenities : 2 fully equipped kitchens (1for each floor) 2 living rooms (1 for each floor) The house is tastefully furnished and art decorated 4-car covered parking space with remote controlled sliding doors Fully air conditioned and centrally heated 24/7 hot water Internet wi fi connection inside and outside Central alarm system Washer and Dryer Swimming pool with Jacuzzi 4 stereo hi fi sound systems 50" smart TV with satellite plate and DVD player (upper floor) HD projector with 120" screen and complete home cinema system (ground floor) Play room with 9-feet billiard and table soccer 2 old stone ovens and gas barbeque Furnished outdoor space and built sofas 4 wooden day-beds and 2 (9sqm each) sun umbrellas 2 Nespresso coffee makers with capsules Bathroom / Pool towels and Linen
La maison est magnifique , très propre et correspond totalement à la description et aux photos.Nous avons séjourné à 12 personnes pendant 17 jours sans problème d'espace. Cette villa a fait le bonheur des grands comme des petits avec sa pisicne, son billard, son babyfoot , ses télés...ce qui n est pas mentionné dans l annonce et qui est un vrai plus c est tout ce qui est fourni avec la maison : des serviettes, du café, de la lessive....pour toutes question notre hôte était disponible. en résumé , nous avons passé un super séjour!
Aurelie
2016-08-31T00:00:00Z
Séjour magnifique dans une maison incroyable, fidèle aux photos en encore mieux ! Plaisir de la piscine, des prestations proposées, extérieur et intérieur de la maison vraiment superbes. Et aussi un accueil très chaleureux de Gregory, qui nous a mis très à l'aise dans sa maison, qui nous a conseillé sur les environs et qui s'est montré très disponible et prévenant pendant notre séjour. Nous serions bien restés plus longtemps !
Caroline
2015-08-19T00:00:00Z
This house is beautiful! We spent a few days here with my family - there was 11 of us and it was so hard to leave. The house is in the middle of this sweet town but when you're out by the pool it feels secluded. Everything is new and clean. Every bedroom has its own bathroom. Everything you could possibly need you will find in the cupboards. It's so luxurious but it's also so comfortable! And there was room for us to sit altogether whether it was upstairs, downstairs, inside or outside - you get the point. It's truly the best place we all can highly recommend it!!! This was possibly the best family trip we've had. And the hosts made it even nicer - they are so lovely and helpful. We didn't even go to the beach because it was so nice to hang out by the pool all day. And there's also a massive screen w projector/ pool table etc. and yummy food to take home nearby in the square. It's also a really to Nafplion and not too far. Everything was perfect!
isabella
2016-05-30T00:00:00Z
Gregory was very hospitable, approachable. We felt welcome and at ease in his home. He was a discreet host and pleasant to work with, making sure we had everything we needed during our stay. He was very prompt in communicating via telephone and email. He suggested interesting sites and attractions in the area. The home exceeded our expectations. It was one of the most beautiful homes we saw in Peloponnese. The seaside town has maintained an authentic Greek atmosphere. It was a great base for excursions to all of Peloponnese. There are plenty of uncrowded beaches nearby, many have showers. We have already highly recommended that our friends and family visit here. We will pleasantly remember this vacation. Thank you, Gregory!
Jacek
2015-07-26T00:00:00Z
From the first moments the host made us feel very comfortable , he explained us everything we needed to know for the house and the villages around and he was very friendly ! The house was AMAZING ! better than the photos ! The home cinema was bigger than we believed and the play room was exactly what we wanted for a group of 10 friends ! the rooms were great and the part that every room had its own bathroom made us feel very comfortable ! Generally the house has a lot of space and things to do , so everybody feels kind of independent! We will book it for sure AGAIN !!!! Thank you !!!
Elina
2015-09-13T00:00:00Z
Μια εξαιρετική επιλογή, σε ένα σπίτι κόσμημα στο κέντρο του χωριού. Γούστο , στυλ και αρχοντιά σε ένα σπίτι που θα ικανοποιήσει ακόμα και τους πιο απαιτητικούς. Ο κ.Gregory, θα σας κάνει να αισθανθείτε οικεία με το καλημέρα στο τηλέφωνο. Πρόθυμος να κατατοπίσει και να ικανοποιήσει οποιαδήποτε λογική σας επιθυμία. Πισίνα, μπιλιάρδο, δωμάτια με στυλ, οι πέτρινοι τοίχοι, καλόγουστες τραπεζαρίες, home cinema, εξωτερικά ηχεία στην πισίνα, άρτια εξοπλισμένη κουζίνα, ο συνδυασμός του μοντέρνου με το παραδοσιακό, συνθέτουν ένα εκρηκτικό κοκτέιλ άψογης διαμονής που αν προστεθεί σε αυτό η άριστη ανθρώπινη εξυπηρέτηση και φιλοξενία εκ μέρους του κ.Gregory, κάνουν ήδη την παρέα μας να ψάχνει την επόμενη ημερομηνία που θα ξανά επισκεφθεί την συγκεκριμένη κατοικία. Ευχαριστούμε για όλα! Περάσαμε υπέροχα YOLO
Maral
2015-06-28T00:00:00Z
The house is amazing. It was very nice to stay there for few days
Cindy
2016-08-13T00:00:00Z
The villa was superb! We were there mid October and although Paralio Astros, the nearby beach town was quiet, sea was nice and warm and few restaurants were still open. Pool table and table football were of very good quality and a lot of fun for children and adults. We were 4 adults and 5 children and there was plenty of room for all of us. Good cooking facilities, very nice bathrooms, living rooms, and bedrooms. Overall, a very beautiful garden and house! If this house would be by the sea and nearer to airport, it would be just perfect. The drive was 2.5 hours to Athens airport and roads were very good. There are nice beaches close by and Mykenes is not far by car from the house. Nafplio was also close by and nice day trip destination (amazing views from the castle up the hill).
Jussi
2016-10-23T00:00:00Z
Type de logement
Logement entier
---
Type de propriété
Maison
---
Capacité d'accueil
12
---
Chambres
Astros, Peloponnisos Dytiki Ellada ke Ionio, Grèce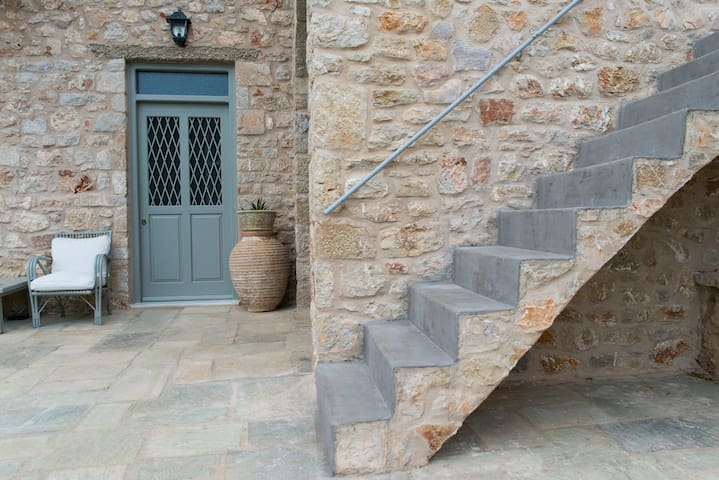 Attic apartment with a double bed and 2 sofa beds that can accommodate 2 persons each.Including a fully equipped kitchen with dining area, it opens to a large balcony overlooking the sea and the mountain. Great for families with small kids or friends
The complex features a stone-paved courtyard with a shaded seating area. BBQ facilities, as well as a table-tennis table and a basketball court, are also available.
Type de logement
Chambre privée
---
Type de propriété
Appartement
---
Capacité d'accueil
5
---
Chambres
Astros, Peloponnisos Dytiki Ellada ke Ionio, Grèce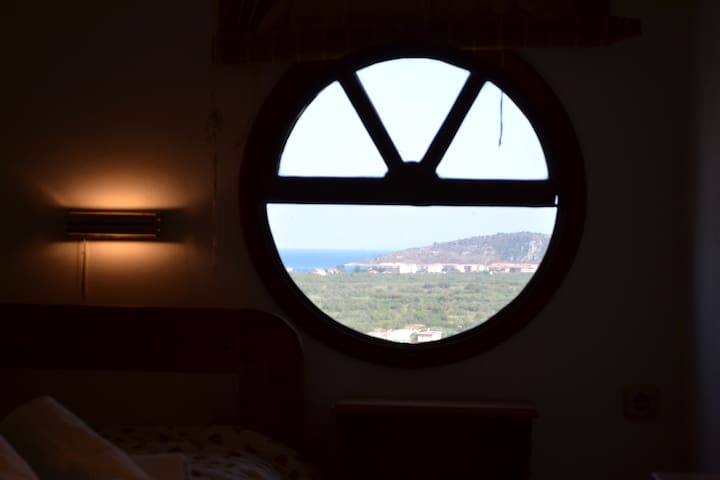 It is a stone, luxuriously renovated villa of 220 sq.m with a swimming pool and a surrounding area of 600 sq.m. It is a very comfortable house, fully equipped, ideal for families, groups of friends and couples. Ideal from winter to summer. It is close to the beaches, mountain areas and to known historical and archaeological sites such as Nafplion, Mycenae, Epidaurus etc. You will find many local products. Suitable for rest and relaxation and relief from stress. It is a small paradise.
The house is ideal for rest and relaxation, relieving residents from the stress of everyday life and the hectic pace of life. It is for those who wish to visit a paradise. Inside, downstairs there is a bathroom, a large kitchen with a dining room, a living room with a fireplace and a second dining room for 8 people. Upstairs, there is a bathroom, there are three bedrooms, and in the master bedroom there is also a sitting area with a fireplace and a desk. In all the rooms there is a TV. The house is ideal for all year around. In summer one can enjoy the hot sun, with dives in the pool, and picking fresh fruit from the garden. In addition, you can visit the beautiful surrounding BLUE FLAG sandy beaches which are a 5 minute drive away. You can also taste the delicious fresh fish and local products at traditional taverns in the area by the sea (5 minute drive) or local meat in picturesque mountain villages (25 minute drive). The location of the house is such that it allows a very short time (up to 1 hour) to find yourself in places like to Paralio Astros, Nafplion, Leonidio, Tripoli, Argos, Epidaurus (and also enjoy a great show ), Tegea, Mycenae, Sparta, Olympia, Mystras, Agios Petros Kastanitsa etc. In winter the two large fireplaces keep good company in great conversation, games and relaxing moments with family and friends. The cozy place and friendly atmosphere rekindle relationships and brings people closer. Do not forget to buy good local products such as local meat, cheese and wine, and pick vegetables usually present in a biological garden and have a nice barbeque for family and friends!
The neighborhood is quiet and friendly.
Type de logement
Logement entier
---
Type de propriété
Villa
---
Capacité d'accueil
8
---
Chambres
Astros, Grèce

Voulez-vous vivre dans un seul bleu villa familiale individuelle donnant sur un large lit de rivière asséché d'un côté et glorieux, une vue imprenable sur la mer? Il est la base idéale pour explorer la belle Péloponnèse orientale ou simplement se détendre. Un choix de plages sont à quelques minutes de marche. La villa bleue elle-même a tout ce que vous pourriez souhaiter dans une maison de vacances, à l'origine de deux maisons; la villa a été rejoint pour l'hébergement de vie ouverts. S'il vous plaît lire ci-dessous L'ESPACE hébergement.
Comme mentionné, la villa a été rejoint à l'étage inférieur pour laisser un superbe établissement de plan de vie ouvert. Les zones de chambre cuisine, salon et repas se jettent dans l'autre. A l'étage, les deux maisons ont été maintenus séparés. Cela signifie qu'il ya deux escaliers, les deux menant aux chambres et salles de bains, donnant une intimité totale à deux couples. Sur le bord de mer de la villa, il y a aussi une salle de séjour avec un canapé-lit confortable. Cette chambre dispose d'un balcon donnant sur la mer avec ses vues panoramiques. Il peut également être utilisé comme une troisième chambre si nécessaire. La montagne a une belle chambre calme avec vue sur la montagne. Toutes les chambres disposent de la climatisation et du chauffage indépendant ainsi que des fenêtres avec un rouleau ou des volets pliables, plus intégré dans les écrans de mouche. A l'extérieur, il y a une grande terrasse avec une table et des chaises dans un domaine, des meubles et des bancs occasionnels de l'autre côté de la véranda. Il y a un grand jardin et sécurisé à plusieurs niveaux qui est professionnellement maintenu avec de l'herbe. Il offre également des vues fabuleuses et des brises complets avec des bancs. Un parking souterrain sécurisé est prévu pour deux voitures. Dans une direction est la plage du village avec plusieurs bonnes tavernes le long de la promenade, tous offrant une bonne nourriture et la boisson, ce qui suggère le premier restaurant sur le chemin. En plus des plages et des tavernes le long de la promenade a un supermarché, supérette, pharmacie moderne, bar-café (excellent café, des pizzas et des gâteaux) et un Kafeneion traditionnel. Astros est la ville la plus proche avec les plus grands supermarchés et autres magasins à seulement 10 kilomètres. Il ne faut pas oublier qu'il ya une petite plage isolée dans une autre direction. Grandes plages se trouvent à seulement quelques minutes en voiture. Lieux d'intérêt peuvent être facilement accessibles depuis la villa sont énumérés ci-dessous ainsi qu'en d'autres suggestions de divertissement énumérés dans le quartier, y compris une randonnée dans les montagnes Zavista.
Tout le monde est sympathique et serviable au-delà de la croyance. peuple grec prennent une sieste après le déjeuner à environ 14h30. Le village devient encore plus tranquille à ce moment-là. En outre, il y a un certain nombre de sites archéologiques à proximité, notamment Naphlion (beaux châteaux et de la ville de Venise), Mycanae, Nemea, Epidaure, Tyrintha, Argos et Korinthos pour ne citer que quelques-uns. D'autres habitants sont Athènes, Olympia, Monemvasia sont un peu plus loin, mais super pour une excursion d'une journée. Et que diriez-vous de prendre un ferry pour les îles? J'ai laissé quelques cartes d'affaires des commerçants locaux. Je recommande en particulier Stelio est dans Mycanea (Hellas Art EO Mikinion Fichtion 21, Argos Mykines 21200).
Bijna twee weken lang hebben wij een prima verblijf gehad in de blue villa at the sea. Wij werden ontvangen door host George, met wie wij tijdens het verblijf meer dan eens contact hadden. Enkele keren heeft hij heel bereidwillig geholpen met het oplossen van wat huishoudelijke problemen, naast het prettige contact dat wij hadden met hem en zijn vrouw. Zij zijn een warm en meelevend echtpaar, die ons verblijf extra glans gaf. Fijn dat de villa ruim is opgezet en dat de jongens (18 en 21) elk hun eigen kamer hadden. Elke ruimte is voorzien van airco. Warmte en muskieten zijn goed buiten te sluiten middels horren en luiken. Echt stil is het er niet vanwege een doorgaande weg en veel hondengeblaf in de buurt. Ligging is ideaal ten opzichte van het rustige strand, dat maar 3 minuten lopen is. In het stadje zelf is weinig te beleven, maar Nafplion en andere leuke dorpjes zijn binnen een half uur rijden bereikbaar. Ook een bezoek aan het bergdorpje Anavryti in de buurt van Sparta was prachtig. Mooi uitgangspunt voor het maken van bergwandelingen.
Sigurd
2016-08-12T00:00:00Z
Type de logement
Logement entier
---
Type de propriété
Maison
---
Capacité d'accueil
6
---
Chambres
Xiropigado, Peloponnisos, Grèce
Kato Doliana - Airbnb
:
Moyenne de

4.78

sur

5

étoiles sur les

23

commentaires des voyageurs
Saisissez les dates souhaitées pour connaître le prix total. Des frais supplémentaires s'appliquent et des taxes peuvent être ajoutées.