Exclusive Four Chambre Stone Villa avec piscine près de Dubrovnik. Profitez de ce très luxueux 3500sf villa de 4 chambres avec vue sur la marina ACI. Cette villa haut de gamme offre une luxueuse atmosphère détendue avec une vue sur la mer depuis chaque chambre.
Profitez de ce très luxueux 3500sf 4 chambres, 6 salles de bains villa située à 12 minutes du centre-ville de Dubrovnik en bordure de beaux jardins et une eau naturelle unique crique à l'eau potable pure. Cet établissement haut de gamme offre une luxueuse atmosphère détendue combinée avec la proximité des divertissements et des restaurants. Superbes vues sur l'ACI Yacht Marina parmi les meilleurs dans la côte. La villa est décorée avec goût avec un mobilier design les plus belles et offre à ses clients un parfait point de départ pour explorer Dubrovnik et ses «environs. Restauré à la perfection par un architecte célèbre, il est l'une des plus belles villas dans la région de Dubrovnik. De nombreuses améliorations dans toute la maison comprennent des appareils en acier inoxydable et lave-linge et sèche-linge. Rez-de-chaussée de la villa dispose de 2 chambres avec 2 salles de bains, salle d'eau et un couloir qui mène à la maison d'hôtes avec cuisine d'été et une table menant à la terrasse meublée avec barbecue à gaz et la piscine avec une douche extérieure. Premier étage contient également 2 chambres avec 2 salles de bains privées dans chaque chambre. Toutes les chambres ont vue sur la mer et air conditionné. Le salon au deuxième étage est la salle de vitrine où vous pourrez vous détendre dans un plan ouvert cuisine-séjour zone longue et spacieux avec de grandes baies vitrées offrant une vue panoramique sur la mer et la campagne environnante. . En plus de la cuisine, salon et salle à manger, cet étage dispose d'une salle d'eau avec laveuse et sécheuse moderne. AC est également installé sur cet étage, ainsi que la télévision par câble qui a une grande variété de programmes internationaux. Tous les meubles, les décorations et les appareils sont importés des États-Unis lui donnant une sensation internationale spéciale. À l'extérieur en face de la maison il y a une terrasse et un garage privé de deux de voiture qui complètent la maison. plage la plus proche est à 5 minutes en voiture. Cette propriété pourrait convenir d'une grande famille ou un groupe et surtout les amateurs de plein air. Cette villa peut accueillir 8 adultes, avec la possibilité d'un autre 2 adultes sur des lits d'appoint plus 1 petit enfant dans un lit bébé (à la fois fourni gratuitement). Draps et linge compris. service de nettoyage une fois par semaine gratuitement. Rez de chaussée: se compose de 2 chambres, chacune avec lit queen-size, air conditionné et salle de bains avec douche; un couloir mène à la cuisine ouverte spacieuse en plein air / été sur une terrasse confortable, meublé et avec barbecue-grill tout simplement parfait pour ceux persistante dîners d'été. Plages Piscines sont situés à Stikovica et Zaton, ou encore à la plage Veliki Zali de Brsecine. Attractions dans la région, notamment les villes historiques de Dubrovnik et Cavtat, excursions vers les îles off shore tels que Mljet et les îles Elaphites. Un peu plus loin un champ, des excursions vers le Monténégro et Mostar sont également possibles et mérite une visite. Juillet et Août check-in sur le week-end, le samedi, 7 jours minimum. Adresse (SENSITIVE CONTENTS HIDDEN) est erroné, le droit est Ulica de Izvora, à côté de l'eau fraîche du ruisseau.
Nous avons passés une excellente semaine dans ce lieu charmant et accueillant que nous recommandons sans hésiter. La mère d'Izabela fut disponible et chaleureuse, allant même jusqu'à nous conter des récits historiques au sujet de Dubrovnik. La villa était propre et calme, les chambres spacieuses.
Muriel
2016-09-27T00:00:00Z
We stayed here early August for 10 days a family of 6, a lovely old stone house with fabulous views in a quiet location only 15 minute drive to central Dubrovnik buses are just down the road to all locations. The house is fully equipped and very tastefully furnished with a fresh water spring in the grounds we filled our bottles 2 tines a day and kept in the fridge the purest water. ever. On first arriving here the area is a bit built up and grim and road is a bit hairy but once at the house it is a lovely little quiet community so don't be put off.Izabelas mum greeted us with drinks and a lovely light lunch and all the info we needed.
Denise
2016-08-14T00:00:00Z
Beautiful place, house is as described, up on a hill, gorgeous views. In our second night, two bathrooms didn't have hot water and Izabela's Mom came to check it out, but couldn't fix it, we end d up using the other bathrooms. Izabela and her Mom were very helpful.
Carol
2016-07-31T00:00:00Z
The host canceled this reservation 193 days before arrival. This is an automated posting.
Natascia
2017-02-01T00:00:00Z
Type de logement
Logement entier
---
Type de propriété
Villa
---
Capacité d'accueil
10
---
Chambres
mokosica, Dubrovnik-Comté de la Neretva, Croatie
My place is close to the Old Town of Dubrovnik where You can find various beaches, historic sights, restaurants, cafes, bars and shops. This location is perfect for guests who love to enjoy the sun and the sea, being close to the touristic center, but far enough to avoid the crowds and keep their peace and privacy. My place is good for couples, solo adventurers, business travelers, families (with kids), and big groups.
This four bedroom Villa with terrace and swimming pool features air conditioning, WiFi, free private parking. On the outside You can find swimming pool with sunbeds and parasols, jacuzzi, garden, furnished terrace with BBQ facilities. The inside of the Villa provides You with four bedrooms each with air conditioning and SAT TV, three Bathrooms with shower, washing machine and hair dryer, living room and dining area, kitchen. Kitchen features refrigerator, oven, stove, dishwasher, coffee machine, water kettle, toaster. Ironing Facilities and Safe are on guests disposal. Guests have Two Bicycles at their disposal.
Villa Arion is located in Mokosica, just 15 minutes a ride to the Old Town of Dubrovnik where You can find various beaches, historic sights, restaurants, cafes, bars and shops.
别墅在斯普利特前往杜布罗夫尼克的路途中,距离老城区车程10分钟左右。租客住一楼,房东一家三口住二楼三楼。房间干净舒适现代化,厨房用品非常齐全。是一家人旅行非常棒的选择。
颜
2016-10-12T00:00:00Z
The hosts Zora & Ante went above & beyond our expectations. Nothing was a problem, they drove us to Dubrovnik sights, took us to the pharmacy as one of us was sick. They were great.
Carmel
2016-10-08T00:00:00Z
This place was awesome! Close enough to the Old City but away from the big crowds. The bus stop is a stones throw and extremely easy to use with buses coming every 15 minutes. Zora and Antonio were amazing hosts! Before we arrived I had emailed about a high chair. They didn't have one but said they would see what they could do. Sure enough when we arrived, the high chair was there. The villa was beautiful and the pool was amazing! Everything was new and wired with the latest technology. We had frequent maid service and daily fresh towels. They brought us down delicious Turkish coffee every morning. They treated us like family. Whenever we had a question they were more than happy to help. They had the best recommendations for beaches, restaurants, and shopping. They even took us to the grocery store and gave us a ride to a local restaurant that was amazing. As a special treat they took us for a scenic ride up the mountain and shared some amazing knowledge and history. Couldn't have asked for more. Thanks Zora and Antonio!
Bridget
2016-08-29T00:00:00Z
Our vacation was simply fantastic. We were a family of 8 and stayed at Villa Arion for a week. The hosts are extremely nice, helpful and generous. The villa is super clean and modern. I do recommend however renting a car as it's a 20min drive from the old town, alternatively there's a bus stop a few minutes away.
Sandra
2016-08-20T00:00:00Z
It was a wonderful time at Villa Arion - Zora was very welcoming and kind. The villa and especially the pool was wonderfully relaxing. The villa is conveniently located, very well furnished, close to bustling Dubrovnik, but just about right for those who want to have some real "time off". To sum up, I highly recommend staying there!
Philipp
2016-07-10T00:00:00Z
This family is the most selfless, and best example of AirBnB hosts. They provided clear directions and we're very fair with pricing. Zora and Antonio had a great sense of humor and made you feel welcome. Their son Franco was very helpful with rides to the airport following our stay. Clean, friendly, highly recommended.
Jeff
2016-10-10T00:00:00Z
We booked last minute, literally the same day and arrived two hours later due to a mess up with our pre booked accommodation. Wow we were so lucky. We arrived to the most amazing, immaculate villa with stunning views, and the nicest host family ever. The villa itself was so comfortable, clean and has everything you need, wonderful linen, fresh towels, toiletries and 7 wide screen TV's for the times you want an hour away from the sun. The host family are the nicest people and took us shopping and couldn't do enough to ensure we were settled. Fully air-conditioned, plenty of space so you are not on top of each other. Amazing pool and views. 15mins on the bus into the old town of Dubrovnik. A couple of really nice restaurants a walk away from the villa. Local shops we highly recommend using. A great butcher, baker, fruit stand and super market. You can then prepare all your lovely produce on the well lit BBQ. Also a local pizzeria to deliver. We totally relaxed, the kids had a great time feeding the 24 tortoise in the host gardens. Kept the kids amused for hours along with the pool. All the furniture is of the highest standard as are the beds and crockery etc... Zora and Ante will remain friends and we hope they will visit England. We certainly plan on going back to the Villa. We had use of their bikes. This is a truelly special place. High attention to detail with everything.
Sara
2016-08-08T00:00:00Z
Super Nice!!! We had a Great time And the husband of zora helps us out a lot. The house was amazing, swimming pool, bbq, near bus station ect. I defiantly recommend the place! Thanks again! Xxx
Jochem
2016-09-26T00:00:00Z
Type de logement
Logement entier
---
Type de propriété
Villa
---
Capacité d'accueil
12
---
Chambres
Prijevor, Dubrovačko-neretvanska županija, Croatie
Villa Cordelia is a beautiful 4 bedroom villa with a swimming pool, located in Rijeka Dubrovačka bay. It is 10 minutes drive from main port and bus station, and 15 minutes drive from the centre of Dubrovnik and around 30 minutes from the airport.
Villa Cordelia is located in beautiful Rozat area of Rijeka Dubrovacka and near one of the smallest rivers in the world - River Ombla. It's full lenght, from the spring to the brackish waters (where fresh water mixes with salt sea water) is around 50 meters! Whole area of Rijeka Dubrovacka is known for it's natural beauty and it also has 24 old summer residences of Dubrovnik Republic noblemen.
Type de logement
Logement entier
---
Type de propriété
Villa
---
Capacité d'accueil
10
---
Chambres
Rožat, Dubrovačko-neretvanska županija, Croatie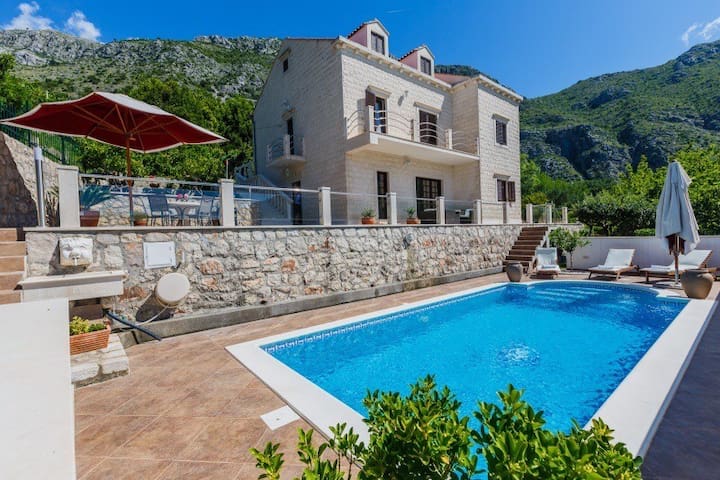 Luxurious summer residence, located in Rijeka Dubrovacka, in a remote village Rozat- 5km from the city of Dubrovnik. Come and spend a great vacation in the embrace of this elegant beauty.
The ground floor consists of lobby, 2 bedrooms ( one double, one twin), living room, kitchen, bathroom, toilette. The first floor consists of big living area, two double bed bedrooms, a bathroom and a small gym. Front side of the house has a balcony, and a terrace with dining table for eight people and a lounge area. On the lower part of the terrace is a swimming pool ( 8.5m x 3.7m) with sun deck and another smaller lounge area. The pool is surrounded by the wall fence. The property is surrounded with plant and fruit trees gardens. The house is equipped with everything that guests might need : deck chairs, backflow swimming device in the pool, gym, dart, and a car with driver if a guest needs one. The interaction with guests is on a high standard. Everything that guests staying in our villa might need, we are on 24/7 disposal to provide the same and make guest feel more satisfied with his stay.
Quiet and friendly neighborhood.
After a long trip , we were welcomed to a very nice and comfortable house. Our host was friendly and at our disposal if there was anything we needed. The stay was relaxing as everything was convenient. Upon arrival there was plenty of parking and the house was clean and in order. The house is spacious with plenty of room, quiet neighborhood with a lot of privacy, which was exactly what we were looking for. We especially enjoyed the outdoor patio and pool. Multiple stores are near by and we had everything we needed. The house is just minutes away from town.
Philip
2016-06-20T00:00:00Z
Type de logement
Logement entier
---
Type de propriété
Villa
---
Capacité d'accueil
8
---
Chambres
Dubrovnik, Dubrovnik-Comté de la Neretva, Croatie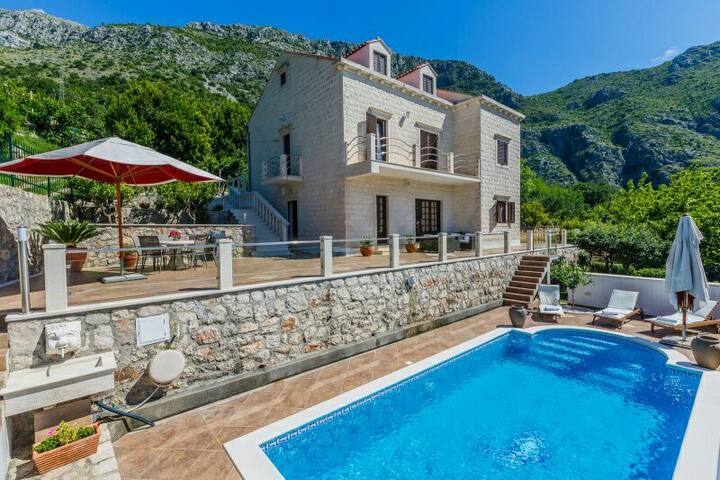 Villa de luxe Lu est une villa moderne NOUVEAU avec PISCINE et vue sur la mer Villa est situé dans une belle partie de Dubrovnik où la rivière Ombla se jette dans la mer à 9 km de la vieille ville historique Villa entière - Séjour avec cuisine et salle à manger, 5 chambres, 6 salles de bains WIFI gratuit et un parking Plage, station de bus, restaurant, lungo mare sont en face de la maison Magasins, banque, bureau de poste sont situés à 100 m de vila 20 km de l'aéroport 7 km de la gare routière principale et le port de ferry
From the spacious terrace you can enjoy the beautiful sea view and relax in the heated swimming pool. Villa has a beautiful garden with 200 year old olive trees. Villa Lu has 280 m2 and two levels with teracce 100 m2 ideal for the family or group of friends. Newly furnished it consist of 5 bedrooms, 6 bathrooms, full equipped kitchen with stove, oven, dishwasher, kettle, toaster, dishes, fridge, coffee machine), dining room, living room and large terrace also equipped with kitchen. Villa is also equipped with AC, TV SAT, LCD TV, wireless Internet, hair dryer.
Situé dans un quartier calme de luxe Villa Lu est un excellent choix pour ceux qui préfèrent se détendre loin de l'agitation des touristes. Arrêt de bus est en face de la villa, commerces, boulangerie, poste, banque, cafés bars et un restaurant se trouve à 100 mètres de la villa. La plage est en face de la villa. Vous pouvez également profiter de l'ACI Marine à seulement 3 minutes de la villa en voiture, avec une grande collection ACI, restaurant, bar à cocktails, snack-bar et un pub. Il dispose également d'un terrain de tennis, aire de jeux de football avec gazon artificiel, aire de jeux pour enfants terrain de boules, piscine publique et un coiffeur.
Type de logement
Logement entier
---
Type de propriété
Villa
---
Capacité d'accueil
10
---
Chambres
Općina Dubrovnik, Dubrovačko-neretvanska županija, Croatie
This lovely romantic room fit two persons. It has private balcony and panoramic view on the sea, located only few steps from the local pebble beach. Newly renovated bathroom and other amenities in the room will make your stay beautiful.
- In the room are: WI-FI, air condition, small refrigerator, electric kettle for water and satellite TV. - Lines, towels, final cleaning and parking are included in the price. The view from the balcony is on Zaton bay. There are terraces behind Villa which are with sunbeds and you are free to use it.
- A natural sight is the freshwater source Vrelo, located at the bottom of the bay, whose waters once moved mills. - The intriguing renaissance summer manors of former Dubrovnik aristocratic families are a historical sight that make Zaton recognizable as a summer manor region. - Villa Ivanka is located only few steps from the local pebble beach, where you can sunbathe, swim or relax in shade of century old carob tree. - Zaton is located only 10 km from City center of Dubrovnik. - Zaton Mali - Center 500 m - Restaurant 500 m - Supermarket 500 m - Bus station 600 m - Bus schedule is on the board in the hall in front of the apartments. - Post office 1000 m - ATM 1000 m - Dubrovnik airport 29 km - Dubrovnik main station 8km - Dubrovnik main port 8km
Marija m'a très bien accueillie: autour d'une boisson fraîche, elle a pris le temps de me donner toutes sortes d'informations. Je la remercie aussi pour sa disponibilité. La chambre est très propre et très bien située. La vue superbe. Je reviendrai volontiers!
Dora
2015-08-25T00:00:00Z
A really nice room, clean, tidy, elegantly furnished. Villa Ivanka has also its own beach (nice) and it's very close to wonderful places (Dubrovnik, paradisaical beaches, good restaurants) The hosts were very helpful. When you got there I was not feeling well and they helped us in many ways (quick check-in, they provided us with hot tea and thermometer...). The villa is full of nice little spots where you can sit in the shade and enjoy the sea view.
Martina
2014-08-20T00:00:00Z
I would highly recommend staying here. The view was incredible and the room was very comfortable and clean. Marija was very friendly and went above and beyond to make sure we enjoyed our stay. I hope we will be able to go back some day .
Katrina
2014-09-18T00:00:00Z
Es un apartamento nuevo muy cerca de la playa (se puede llegar andando en escasos minutos) y lo encontramos impecablemente limpio y preparado. Las vistas a la bahía son fabulosas y se corresponden con las fotos mostradas. Tiene cerca dos supermercados y varios restaurantes. En un momento (unos 10 km) llegas a Dubrovnik.
Luis
2014-07-12T00:00:00Z
Gospodyni to wiarygodna kobieta, która zrobiła wszystko dla naszej wygody i umilenia podróży. Pobyt u niej to uczciwie i dobrze wydane pieniądze. Pokój, a właściwie apartament był wspaniały, przestrzenny ze ślicznym widokiem. polecam gorąco.
Justyna
2016-09-20T00:00:00Z
I had a brilliant time at Villa Ivanka! Very clean room with all you need and amazing balcony with superb view of the pretty bay. Two minutes walk from the tiny, local beach with clear blue water. The owner is super nice and helpful took me and my heavy backpack by car to the bus stop -:) Thank you for great stay!
Christina
2014-07-18T00:00:00Z
Villa Ivanka was lovely! We had a hard time finding it - the sign is only visible from one little corner of the highway - but once we did it was exactly what we were looking for! We appreciated all of the advice and would visit Zaton again in a second!
Anna
2015-07-25T00:00:00Z
Everything was lovely, and as described, but internet (wifi signal) was very poor or entirely absent in our room. Great view, 2 min walk to the beach, friendly and knowledgeable host have us detailed instructions on parking in Dubrovnik.
Edward
2014-09-07T00:00:00Z
Type de logement
Chambre privée
---
Type de propriété
Villa
---
Capacité d'accueil
2
---
Chambres
Zaton, Dubrovnik-Comté de la Neretva, Croatie
Villa Rock, a luxury spacious, modern villa with a private pool that can be heated and views over the mountains to the Adriatic coast, to dream of. The villa is air conditioned, with internet access and satellite TV. It sleeps up to 8 guests.
The accommodation at Villa Rock is spacious, comfortable and contemporary with each room offering mountain and sea view and a pool that can be heated during the cooler months. A large open plan, fully fitted kitchen has breakfast bar dining facilities, fridge/ freezer and separate laundry facilities. The lounge area offers you comfortable sofa's, Wi-Fi, satellite TV and a DVD player. Both Master bedrooms have King-size beds, are en suite and have fitted wardrobes. The modern en suites have walk in showers and his and her sinks. Each twin room has the possibility of additional beds being added, fitted wardrobes and have adjacent bathrooms. One of the Master bedrooms and a Twin room share a balcony with additional table and chairs. An extensive pool terrace offers you an area to BBQ, dine alfresco or to relax on the sun loungers, umbrella's for shade and outdoor sofa's. All this with the stunning panoramic views makes for comfortable living.
Villa Rock is situated just over the border in the Herzegovina region of Bosnia. Ideally located just 4 km from beaches at Milini and amenities and 6km from Dubrovnik Old Town and 14 from the airport. You must take advantage of the location and enjoy the beautiful 13th Century town of Trebinje in Bosnia or travel further afield to visit Mostar. Less than an hour away, through the mountains is Kotor and the spectacular Fjords in Montenegro. After a full day out it is wonderful to come back to tranquility and views from every room and terrace!
We had a great time at Villa Rock. The house is big enough for 8 persons, high quality with good equipments and a view worth a million. There is also a large dinner table on the 1st floor inside which is not visible in the pictures. There are 3 floors in the villa. Caution: sound proofing in house is poor quality. Ivanica had only two small markets but at Croatia side there are bigger ones easy to find. Bosnia side was a lot cheaper to eat as well. Tip: you can see the border queue partly from the balcony of villa and make it easier to choose right time of day to go. That was not an issue for us. Mili is really a lovely person and helped us out while having troubles. Actually all people were really nice and willing to serve :). Overall a smart and luxurious choise to really think about. We would go again.
Marko
2016-07-02T00:00:00Z
We had Gordana meet us on arrival and she gave us lots of information about the villa and the area. She had also left us some fresh bread, ham and melon. Really thoughtful after a long journey. Later we met Millie who was equally helpful and very friendly. Overall great hosts and a great stay.
Sam
2016-09-03T00:00:00Z
We had a great time at the villa. Mili, the property manager, was very nice and welcoming and showed us around the entire property. The villa was very clean, very organized, and had more than enough accommodations for us. We fell so much in love with the place that we asked to stay for a fourth night, and Sara was kind enough to let us. The area is very quiet, just right after the Bosnia border, with an amazing view.
Emmeline
2015-06-14T00:00:00Z
We felt very welcome by Sara and Mili, and everything was in very good shape - and our large family all enjoyed our time there. The house is private and has a great view, and the neighborhood is quiet (with some empty houses around). A great location for driving around, see different cultures and crossing many borders :-)
Geir
2015-10-11T00:00:00Z
We had a really nice week in this fantastic house in Bosnia, close to the croatian border. The house appears as new, nice and well equipped, and we really didn't miss anything. We had nice tours to Trebinje and Mostar in Bosnia, and Dubrovik, Cavtat and the island of Lopud in Croatia during our stay. The only draw back was the long line we had to stay in because of the passport controll near the border. There were still a lot of tourists in the area the first week of August, and the line was long from seven o'clock in the morning to five o'clock in the evening. However we learned to cope with this, and chose different tours then planned to avoid the long line. Because of that we got to see nice old cities in Bosnia that I am not so shure that we would have visited if it wasn't for the the passport controll when going into Croatia. We would like to come back to this house sometime! - Marte Hallem
Marte
2015-08-12T00:00:00Z
I booked this villa for 4 nights for a short getaway for myself and my closest girlfriends to celebrate our 30th birthdays - we wanted somewhere big enough for us to laze around the pool and be able to cook and drink wine together - this really fitted the bill. The view from this villa had us all mesmerized from the moment we arrived - it is just as gorgeous as the photos depict. The villa itself was clean and comfortable and had everything we needed (wifi, towels and plenty of kitchen/serveware) - we were even welcomed by the friendly staff with a yummy meat and cheese platter and bottle of wine, a really nice touch. The immediate local area is sparse but we could find everything we needed within a short car journey away and were only 10 minutes drive from Dubrovnik. For anyone who is a bit nervous about the border control/queues, it really wasn't too much trouble for us, although we could see that in higher season a little queuing could occur. We had great communication with Sara from day one (thank you). We all said that we would be sure to visit again!
Hollie
2016-06-04T00:00:00Z
Me and eight friends lived in Villa Rock during one week in July and our overall opinion of the house and the housekeepers is very positive! The house is clean and feels very spacious and it is ideal for a group of 8 people. We stayed nine people which worked fine with us but this meant that one person slept in a pullout bed on the floor in between two beds. There are large and nice bathrooms attached to each one of the four bedrooms, which we found to be very convinient since we never had to que for showers or toilets. During our stay the outdoor-temperature rarely dropped lower than 30 degrees celcius, even during the nights, despite this indoor temperatures in bedrooms worked super with the very efficient air conditioning. One big plus is the spacious terrace outside of the house with a really beutiful view of the valley, mountains and the sea. Ideal for outside dinner during nights when shadows made it less warm. The pool was also clean and a real oasis to stay in during the warmest hours of the day. We had a great time in Bosnia. The local restaurant in Ivanica served fantastic grilled meat and at the small, local store everything you needed could be purchased for less of a cost than on the Croatian side. The vegetables and fruits and the local cheese (grilled as halloumi) were superb! We had one day of travelling in Bosnia, visiting Trebinje and Mostar, which both can be highly recomended. The one and only negative aspect of staying at Villa Rock for us was the car-cue, driving through the border of Bosnia/Croatia. During our week the cue appered at 7 am and subsided at 7 pm. We were a bit surprised by this phenomena and it held us from driving to the sea some of the days. The days we drove to the Croatian side we had to wait between 40-60 min in this cue. I do not now if this is representative for other weeks/months of the year but this was the case during our week. Something to be aware of if your main focus of your stay is to explore the Croatian side. Overall we had a wonderful stay!
Marie
2015-07-20T00:00:00Z
Type de logement
Logement entier
---
Type de propriété
Villa
---
Capacité d'accueil
8
---
Chambres
Ivanica, Fédération de Bosnie et Herzegovine, Bosnie-Herzégovine
This beautiful four bedroom villa with swimming pool is situated at a 5 km distance from Dubrovnik in a place called Rožat. It features free Wi-fi, air-conditioning, free private parking and LCD TV. It has 220 sq.m and is dived in two separate floors.The house is equipped with everything you need to feel comfortable, deck chairs, swimming pool,exercise equipment, bicycles.
The ground floor consists of a living area, kitchen equipped with refrigerator, oven, stove, water kettle, coffee maker; toaster; microwave oven, and juicer. There are also two bedrooms, bathroom, additional toilet and a pantry. The first floor consists of spacious living area, two bedrooms, bathroom with Jacuzzi bath, gym and playroom. The living area has a balcony with a nice pool view. It features free Wi-fi, air-conditioning, and private parking for four cars.
Restaurants and cafe bars are 1,5 km away as well as an ATM machine. The main bus station is located 5 km from the property. The airport Čilipi is 23 km away.
Type de logement
Logement entier
---
Type de propriété
Villa
---
Capacité d'accueil
8
---
Chambres
Rožat, Dubrovačko-neretvanska županija, Croatie
•Luxury Villa Maslina with beautiful NEW infinity SWIMMING POOL and sea view •Situated in Dubrovnik in quiet part Mokošica which is 10 km away from historical Old Town •Entire Villa-3 living rooms, 3 kitchen, 3 dining rooms, 8 bedrooms, 7 bathrooms •FREE WIFI and PARKING •5 minutes walking to the nearest beach, bus station, shops, restaurant, caffe bars, lungo mare and excursion boat for islands •20 km away from Dubrovnik Airport, 7 km from main bus station and ferry port
Type de logement
Logement entier
---
Type de propriété
Villa
---
Capacité d'accueil
16
---
Chambres
Mokošica, Dubrovačko-neretvanska županija, Croatie
Furnished in a contemporary style, Villa Anna is unique with uninterrupted views over the pool and valley, to the stunning Dubrovnik Riviera. The open plan living area is complete with satellite TV, DVD player and internet access and air-conditioning throughout. Along with the impeccably presented three large en-suite bedrooms which sleep up to 6, this villa is the epitome of luxury. If you haven't yet discovered the joys of Dalmatian Coast, look no further than Villa Anna as your luxury base.
Accommodation offered at Villa Anna is divided between two floors and comprises three superbly appointed, luxurious bedrooms, each one designed in a contemporary style. The bathrooms, all en-suite, are meticulously appointed with the highest quality fittings. On the ground floor you'll find an elongated living room with floor-to-ceiling glass doors to enjoy the full panorama. Beautifully furnished seating, designed in a modern and minimalist style, with satellite TV, DVD player, air-conditioning and internet access throughout, is a magical place where you can relax and witness the nightly sunset display. Open plan to the lounge is a fully fitted kitchen and stylish dining area with dramatic modern chandeliers and table that comfortably seats eight for dinner. The outside space has been landscaped with great attention to detail, precisely planted and with infinity pool designed to melt into the distant waters of the Adriatic Sea. Sun loungers and daybeds are thoughtfully placed to enjoy both sun and shade and there's a wonderful veranda where you can dine alfresco on barbecued steaks. There is also further WC and shower by the pool. Villa Anna provides a quiet and comfortable ambience for those who seek some quality time with friends and family. It sleeps up to 6. Ideally located just 4 km away from the nearest beaches and restaurants, 6 km from Dubrovnik Old Town and 14 km from the airport.
Villa Anna is situated just over the border in the Herzegovina region of Bosnia. Ideally located just 4 km from beaches at Mlini and amenities and 6km from Dubrovnik Old Town and 14 from the airport. Please note that Villa Anna is on an introductory offer for this year only due to it being part of an on going building development. It is a front line property giving it an interrupted view to the Adriatic. In the summer months only light work is carried out on neighboring properties, usually within their interiors.
We are so sad to leave Villa Anna. It is an amazing Villa with breathtaking views. It's exactly as in the photos, modern, comfy and with all the necessary items for our stay. The beds and sofa are really comfortable. The hi-speed internet was a blessing too and the neighbourhood is really nice and quiet. Sara was a very good host helping us with every detail we asked, even though she was not in town. The property manager (Mili) and Sara's family were always on hand, extremely helpful and offered great advice on restaurants, supermarkets etc. Overall the experience, villa and the hosts were amazing, me and my family will definitely be back and highly recommend Boz holidays.
nadia
2016-09-28T00:00:00Z
Alles super perfekt!
Patrick
2016-09-17T00:00:00Z
Sara was an exceptional host - very helpful and everything was perfect at the villa and with our hosts. Mili, who met us at the villa, was so very helpful and the villa and pool were so beautiful with attention to detail within the very luxurious villa. The only unfortunate part of the holiday was the border crossing which affected our stay.
Dakoda
2016-08-08T00:00:00Z
We had the most fabulous holiday in Villa Anna, the villa is beautiful, equipped with the latest modern luxury fittings. The view is to die for and breakfast will never be the same again! The support from the management team was fantastic and they couldn't do enough to please or make us feel welcome. The location of the Villa is across the border in Bosnia, so necessary to time your journey carefully if staying in the summer months, however, this by no means would deter us from booking again. Thank you to Sara, and all the team for such a wonderful holiday.
Ann
2016-08-19T00:00:00Z
Type de logement
Logement entier
---
Type de propriété
Villa
---
Capacité d'accueil
6
---
Chambres
Ivanica, Fédération de Bosnie et Herzegovine, Bosnie-Herzégovine
House is on the sea so you can jump in to the sea just from your bed. I so love to do this...
Charming Mediterraneanstone Villa on the seashore in Mali Zaton, near Dubrovnik is ideal for families, in absolute silence and peace that ensure old Dubrovnik "peacewall" that villa Ivančević make special in its intimacy and beauty. The villa is fully equipped for your enjoyment on the holiday. Pets are welcome. Our villa is unique because it is on the seashore and because home "Villa Ivančević" is a authentic stone house with a Mediterranean garden and authenthentic wall aroud the yard with house. The house was built 500 years ago and was the sumerhouse of the famous Dubrovnik family Gundulić. Today house is under the protection of Dubrovnik Antiquities Society. The villa is located in a quiet bay, in Zaton Mali, 10 minutes from the Old Town of Dubrovnik, Dubrovnik Riviera. Near the house there is a restaurant, grocery store, post office and bus station. The house is ideal for families as it is located near the sea and the promenade along the sea, in absolute silence and peace that ensure old Dubrovnik "peacewall" that house Ivančević make special in its intimacy and beauty. House have mooring for boats, parking, two terraces with garden furniture and barbecue. Pets are welcome. Transport from the airport provided by appointment. The house inside has 4 fully furnished bedrooms 20m2 (fixtures, bedding, towels), kitchen with all appliances and utensils, electricity, water, living room with TV, a large bathroom with tub, toilet, sink and bidet and an additional,small, outside bathroom with shower, toilet and sink. Each room has a sea view. Our guests have the kayak or pedling board if they want a more active holiday. The price includes tourist tax. Price is per night of stay. Minimum is 3 nights to stay but we prefer longer. Additional Guests are not allowed because the villa can accommodate only allowed 8 guests. Smoking is not allowed in the house but is allowed in the yard and around the house. Smokers have to worry about cigarette butts because the risk of fire is vvery high in the summer . Opportunities to participate in active excursions such as fish picnic, kayak tours Elafiti, excursions by catamaran with Elafiti itditd ... Near Bay, except Dubrovnik, there is Trsteno and other natural and historic sites, as well as where they are located Orašac famous Sun Gardens Radisson Blue Dubrovnik which provide for nightlife lovers nightlife and other activities (swimming pool, gym, spa, tennis , excellent restaurants ..). Dubrovnik Riviera offers numerous hiking and biking trails in the Bay and in the area. Visiting tracks guests will be able to enjoy the beautiful view of Elafite, Mljet and Dubrovnik, and will be able to enjoy the ancient olive trees absorbing odors of Mediterranean. Come and enjoy the unique atmosphere of the Mediterranean house by the sea, and now "out of bed" jump into the azure sea and chase away all the accumulated stress ... Welcome! For any information please Contact Me with full confidence! The house is ideal for families with children.We also respect the family peace and quiet and respect for privacy. We want every one of our guests and their families fully enjoy the holiday.Guests have full access to the terraces with barbecue within the courtyard and free to use all the surrounding of the houses for swimming and sunbathing on the sunbeds or use a kajak or pedling board for free to enjoj.The owner of the house is located in an apartment near to a house Ivančević, and with the guests shared only entrance to the courtyard. Smoking is not allowed in the house but is allowed in the yard and around the house. Smokers have to worry about cigarette butts because the risk of fire high in the summer We are always available to our guests, but we tray to provide them maximum privacy.The owner of the house is located in an apartment near to a house Ivančević, and with the guests shared only entrance to the courtyard. Bus station is 5 minutes from the house, buses goes often and regular right to Dubrovnik. If you came by plane we can give you a drive with combi or van. And of course, you can always rent a car..... Parking is including. Time table for public transport have in the house and on link: (URL HIDDEN) If you want to go on a trip to one of the nearby islands, the ship departs from the port of Gruž- Dubrovnik, to which you can also arrive by bus. Timetable ships also have in the house and the link is : (URL HIDDEN) A trip to Koločep or Lopud warmly recommend... Our guests have the kayak or pedling board if they want a more active holiday - for free!
Our neighborhood is quit and sea is just in front of the house. Every moning you can sit, dring your coffe or tea and feel the sea in front of you or have a romantic diner with candels on seashore....
Emplacement fantastique au bord de l'eau dans un baie propre et beau et un accueil très chaleureux et adapté. Un cartier agréable et des possibilités d'activités sans problème. Merci pour tout et j'espère pouvoir revenir un jour !
Willem
2014-07-06T00:00:00Z
My experience with Natasa was amazing she was there for me at all time if i have question she will find the answer.. The house was clean and organized is exactly how look in the photo Dubrovnik was 15 min in car i have a really good time here probably one of the best..i hope be back soon.. Thanks for everything..
Luis
2015-06-15T00:00:00Z
Natasa has been a lovely and caretaking host. Allways making sure we had everything we needed.
Ewa
2014-06-01T00:00:00Z
Natasa and Pavica, the hosts and their family is really nice. They welcomed us warmly, and they helped if we had any questions. The house is like it is described and what the photos show. Natasa has some really nice homemade olive oil, it was a nice welcome gift in the kitchen. The property is a simple furnished, quite big house in Zaton bay. The location is really great, the house stands literally right beside the sea, where no cars are riding around fast. Very comfortable with children. We could use the hosts sea kayak also. Overall we really enjoyed staying there, and would recommend it to other families as well.
Gabriella
2014-07-13T00:00:00Z
Natasa was a really good host. She was waiting for us in the house when we arrived and showed us around. She have us some tips for eating and visiting. The situation of the house is amazing and you are allowed to use all they have there. We went kajaking and wanted a life vest, they got them for us in no time! We had a great time in the house!
Marina
2014-07-21T00:00:00Z
We had the best time in the villa. The location is great. The house is basic but very authentic. Any question we had was answerd very quickly. We definitely would like to come agien. Orly and co
orly
2016-09-07T00:00:00Z
Our host(s) Natasa and Pave were marvelous. Natasa waited for us at the house, despite us arriving close to midnight and about 3 hours later than expected. She helped us with directions, restaurant suggestions, pretty much anything and everything. Pave helped us gather supplies for octopus hunting and loaned us fishing gear. We could not have asked for better hosts. The house itself is perfectly situated for those who prefer relaxing in a quiet neighborhood. Its nestled at the end of a small road with essentially only foot traffic, so our dog was free to roam off leash and enjoy the beach which is directly by the house. The house has an 'old-world' charm and plenty of character. The bedrooms were roomy and comfortable (our party was 7 people and we still had plenty of space). The small private terrace was a great spot to take in some shade. Zaton Mali is about a 10 minute drive from Old Town Dubrovnik yet feels like a completely different world. No sunburnt, flip-flopped masses of cruise-ship patrons roaming around here. Just peace and quiet. We made good use of the kayak and paddle-board they had available and spent a great deal of time on the small beach outside the house. One note : the spot outside the house is a small pebble beach so don't expect sandy shores. However, if you don't mind walking an additional five minutes around the bay, you can find bigger stretches of beach, some with sand. Overall, it was an awesome experience!
Andras
2014-09-13T00:00:00Z
Прекрасное место,очень живописное! В доме есть все, что нужно для отличного отдыха. Мы провели незабываемый отпуск в надежде на продолжение в следующем году. Спасибо хозяевам за радушие и гостеприимство!
Кира
2016-07-31T00:00:00Z
Type de logement
Logement entier
---
Type de propriété
Villa
---
Capacité d'accueil
8
---
Chambres
Dubrovnik, Croatie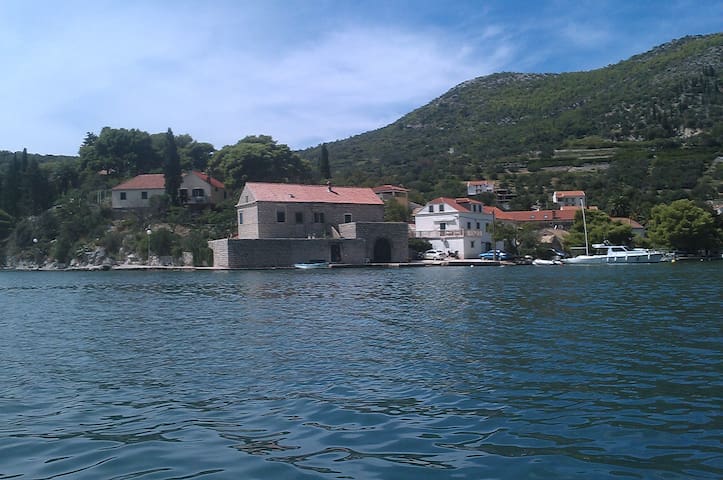 My place is close to great views, private beach. You'll love my place because of the location, the outdoors space, and the ambiance. My place is good for couples, solo adventurers, and business travelers.
At the western entrance of Dubrovnik lies this new 3-bedroom seaside hideaway offering comfort, tranquility and mesmerising sea views. The villa presents an extraordinary location right on sea front in charming village of Lozica within 10 minutes drive from Dubrovnik. An engaging inside with captivating exterior best descibes the villa where each detail is designed to please and grasp all visitors. The ground floor offers an open-plan stylish living/dining area with table for 6 and a comfortable lounge area. A short stairway leads on to the first floor that consists of 3 queen size bedrooms each with en-suite bathroom with shower, air-conditioning, wardrobe, and SAT TV. All rooms are offering spectecular sea views, the master bedroom connects to a balcony with comfortable lounge area. From the living room glass doors slide onto a charming terrace with private infinity swimming pool, dining area and electric awning that provides full relaxation either in shade or on sun. Furthermore the exterior offers BBQ , six loungers , a lower sun deck with solar shower. From the villa's entrance a long stairway (100 steps) leads down to a private concrete beach where ladder is provided for an easier access. Amenities include air-conditioning in all rooms, Wi-fi internet, washer, intercom, dishwasher, SAT-TV, alarm-system, safety box, iron/board, hair dryer, fully equipped kitchen, Hi-Fi sound-system and 2 parking places. Main entrance can be approached walking 30 steps down from parking level, however upper floor can be reached through the balcony (20 steps below parking level) to leave luggage conveniently in bedrooms. Lozica is a pretty village located along the coast line known for its natural beauties and most alluring seaside mansions. Distanced 7 kilometers from Dubrovnik, the landscape offers spectacular views to the nearby islands and Dubrovnik. A car is necessary for this property as shops, restaurants and bus stop are not within walking distance.
Lozica is a residential area of seaside villas where many famous people own their summer homes. Distanced 7 kilometers from Dubrovnik, the landscape offers spectacular views to the nearby islands and Dubrovnik. A car is necessary for this property as shops, restaurants and bus stop are not within walking distance.
5 star. this place is like from a movie. 180 steps from the entrance to sea level of your private beach. i'd make sure you have a car, as the villa is located far away from shops / dining. we didn't mind, as we had cars with us.
Jan
2016-09-18T00:00:00Z
Pros: great view, pool, fresh refurbishment of the house, clean and neat, private access to sea. Cons: out the 3 bedrooms, only 1 is with the see view.
Igor
2016-09-10T00:00:00Z
Wow... This place has a million dollar view. You can't believe it when you see how nice it is. This place perfectly fit what we wanted, which was away from Dubrovnik but an easy drive, enough rooms, a pool and a killer view. There are three good sized beds for couples, 3 showers and an extra bathroom. Our boys and I loved that there was a urinal in the downstairs extra bathroom. Every day i would wake up early, start a pot of coffee and open up the doors and sit on the pool area outside and watch ships go by so quietly and peaceful. The place is just right for a get away. You have to have a car and it is a tight parking space, so keep it on the smaller side. I would definitely stay there again. We had our family of 4 and made grilled cheese sandwiches, ate breakfasts and dinner once. You cannot walk to anything from this house, which was fine with us. We did not want a place in town as they are smaller with no pool or with a shared pool. This is your own pool and space which was really nice. I highly recommend this place for people with kids and a car. If you are a tree hugger hipster pair without a car and want to grab a bus you might want to look elsewhere.
Peter
2016-08-26T00:00:00Z
We arrived to a wonderfully clean, new, spectacular space. My kids were thrilled. We were thrilled.
Andrea
2016-07-19T00:00:00Z
Type de logement
Logement entier
---
Type de propriété
Villa
---
Capacité d'accueil
6
---
Chambres
Zaton, Dubrovačko-neretvanska županija, Croatie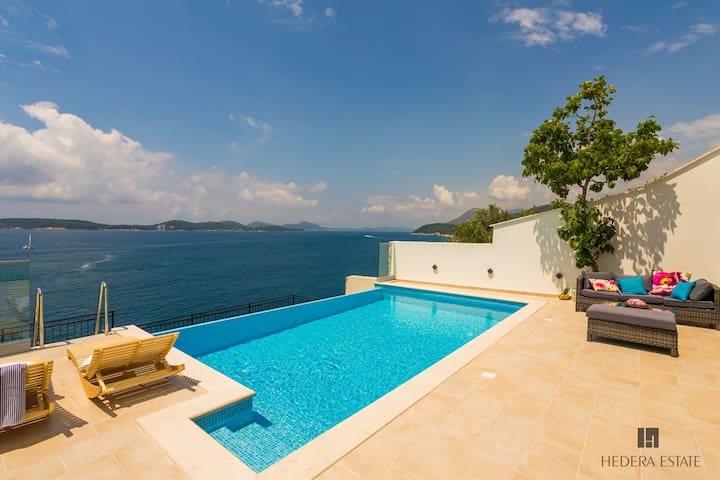 Villa Cruz surplombe la vallée vers la baie de Zupa Dubrovacka avec vue panoramique sur la mer. Il est 8 km du centre de Dubrovnik. La villa, avec de l'air conditionné, d'une connexion Wi-Fi, TV satellite, lecteur DVD, cuisine entièrement équipée, une vaste terrasse privée et la piscine, peut accueillir confortablement 8/10 personnes avec ses 310 mètres carrés de surface habitable. Il y a 4 chambres généreuses avec balcon.
Villa Cruz est unique en ce qu'il a un incroyable 310 mètres carrés d'espace de vie. Les chambres sont grandes, lumineuses et disposent d'un balcon donnant sur les vues incroyables!
Villa Cruz se trouve dans un petit village appelé Ivanica, juste à la frontière croate / bosniaque. Il y a deux magasins locaux à distance de marche pour les dispositions de base. Les plus grands supermarchés par exemple Lidl et Getro sont à 4 km. Il y a un marché alimentaire quotidien se trouve à Trebinje, ainsi qu'une pharmacie, des banques et un bureau de change. Il y a 2 restaurants / bars locaux à Ivanica qui offrent des plats simples mais fraîchement cuisinés. Aussi un nouveau restaurant à 5 minutes en voiture de la Villa. En outre, il y a un large choix de bars, de restaurants et de cafés à une courte distance, que ce soit en Croatie ou en Bosnie. Nous recommandons Trebinje, Cavtat ou Dubrovnik pour une nuit. Si vous êtes en visite en été, ne manquez pas le Dubrovnik Summer Music Festival renommé mondialement avec des spectacles de musique, théâtre et danse. Ou profiter de la Maraton Ladja (Course annuelle de bateau) en Août ou le Festival Mussel en Septembre. Les possibilités de voir de vue sont nombreux. Dans la ville historique de Dubrovnik, visiter l'église de St Blasius (18ème siècle) ou se promener dans les ruelles de la vieille ville et arrêter pour un café / déjeuner à Placa une promenade populaire. Le village de pêche branché 0f Cavtat vaut bien une visite ou prendre une excursion en bateau pour explorer l'une des nombreuses îles. Miljet a un parc national et Lopud a une belle plage de sable fin et ses eaux cristallines. Ou faire une excursion d'une journée à la belle ville de Mostar avec pont pittoresque. Voyage en outre au Monténégro et visiter le parc national Dumitor pour certains rafting, le ski ou même saut à l'élastique! Explorez Tivat et son état de la marina d'art. Visitez Sveti Stefan et explorer cette ville fascinante. De nombreuses activités sont disponibles pour tous les âges: pêche, voile, wakeboard, canotage, plongée sous-marine, plongée avec tuba, VTT, ski nautique, le kayak, le tennis et le golf pour ne citer que quelques-uns. Milli notre femme de ménage (parlant anglais), qui vous accueillera à la villa, peut aider à organiser des excursions / excursions et elle a une connaissance locale fantastique. Un séjour ici répond à tous les âges et peut être tranquille / détente ou actif / énergétique en fonction de choic individuelle
The villa is absolutely beautiful. Located on a hill just over the Bosnian border, it has a stunning view. It was very clean, and fully equipped. We got a perfect welcome from Milli, who had prepared a small meal for us. There was also complimentary wine and water. It was no problem however, to use the tap water for ice cubes and coffee etc. Milli was very helpful, and responded quick by phone or sms. There was a problem with the AC which was a little annoying, but I`m sure it is taken care of. There are two small shops in Ivanica, but we did our big shopping in Trebinje ( about 25 mins by car) where there is a big shopping center. The restaurant on the way there, Drijen, has excellent food for a very low price. The restaurant in Ivanica was also good. Crazy cheap beer:) I would also recommend renting a car to drive from the airport to Ivanica, and also IN Bosnia. Call a taxi if you are going to Dubrovnik. The lines at the border are crazy at times. Ask Milli for a taxi number, and it will pick you up at the Croatian border. Approx 15 minutes walk from the house. We highly recommend Villa Cruz in Ivanica, Bosnia. PS. If the internet is bad, DO NOT reset the router...
Øyvind
2016-07-28T00:00:00Z
Villa Cruz er et nydelig hus med god plass til 10 personer. Det er stille og fredelig med fantastisk utsikt. Huset er velutstyrt, delikat innredet og rent. Det har god beliggenhet for å utforske steder både i Bosnia, Koatia og Montenegro. Til tider var det lang kø ved grenseovergangen, så det er lurt å ha med i planene. Det praktiske ved leieforholdet fungerte utmerket med god informasjon på forhånd fra Jeanne. Milli tok oss imot ved ankomst og var tilgjengelig 24/7 under hele oppholdet.
Marianne
2016-07-14T00:00:00Z
Type de logement
Logement entier
---
Type de propriété
Villa
---
Capacité d'accueil
11
---
Chambres
Ivanica, Nr Dubrovnik, ,Bosnia and Herzegovina, Bosnie-Herzégovine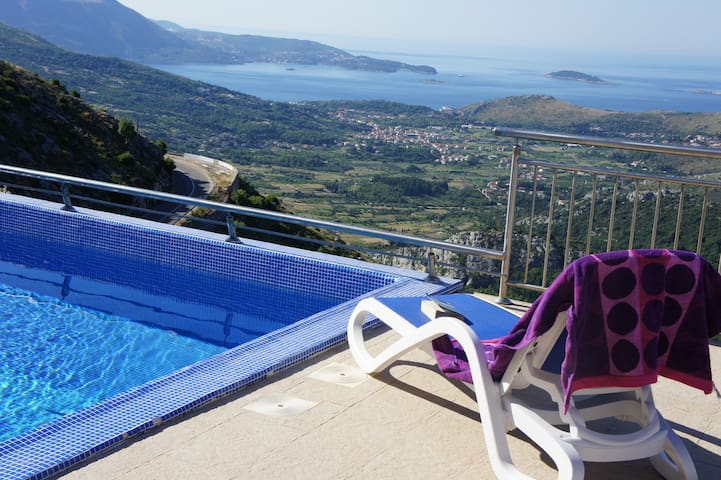 Stylish 5 bedrooms front-line Villa With Breathtaking Sea Views on the edge of the Adriatic sea Beautifully Designed And Newly Renovated.
A stunning waterfront position in the seaside town of Dubrovnik. Surrounded by a spacious terrace and shaded by mature trees. The accommodation offers superb sea views . The villa is divided into 2 Self Contained levels and would suit a family or group of friends looking for a beach side villa in Dubrovnik region with easy access to restaurants and bars beaches and more... The first feature of the villa that really strikes the guest is the large sea facing terrace at the front of the accommodation. This terrace is located on the first floor equipped with BBQ and another terrace on the 2nd floor.
Type de logement
Logement entier
---
Type de propriété
Villa
---
Capacité d'accueil
12
---
Chambres
Lozica, Dubrovačko-neretvanska županija, Croatie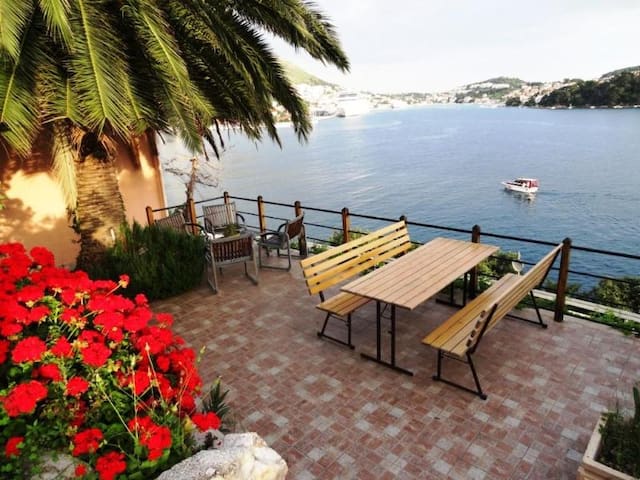 My place is close to the beach, restaurants and dining, Dubrovnik Old city.. You'll love my place because of the coziness, beautiful (URL HIDDEN) place is good for couples, business travelers, families (with kids) and big groups.
This beautiful house is hidden in small fisherman village Mali Zaton near Dubrovnik. House is located on the seaside 5m from private beach where you have your own BBQ, shower, sunbeds, ladder to the sea...and it is just 8km from Dubrovnik and 25km from airport. It is build in 2010 and owns three floors which are connected with internal elevator and external staircase. Each floor has 250 square meters where you can find one big flat (60 square meters living room, 2 bedrooms, 2 bathrooms, kitchen and balcony) , studio (bathroom, little kitchen and balcony) and laundry room. Each floor can accommodate 8-9 people, except first floor which is not for rent. House has stunning sea view, all the time you feel like you're floating on the water. It is perfect for big family or group of friends. While staying in the house you have assured parking space for six cars, but if you want be carefree we can arrange transfer, from and to the airport, for you. We can also offer you boat excursions,trips to Mostar and Pelješac, trips with private speedboat and much more. These are all the reasons why is this house just perfect for your next holiday.
Excellent host, always available. Villa is stunning, great pool and wonderful location just 15 minutes drive to Dubrovnik old town. I would definitely recommend this place to enjoy at ita max the beauty of Dalmatian coast and Dubrovnik. Top class!
Giammarco
2016-09-06T00:00:00Z
Type de logement
Logement entier
---
Type de propriété
Villa
---
Capacité d'accueil
12
---
Chambres
Zaton, Dubrovačko-neretvanska županija, Croatie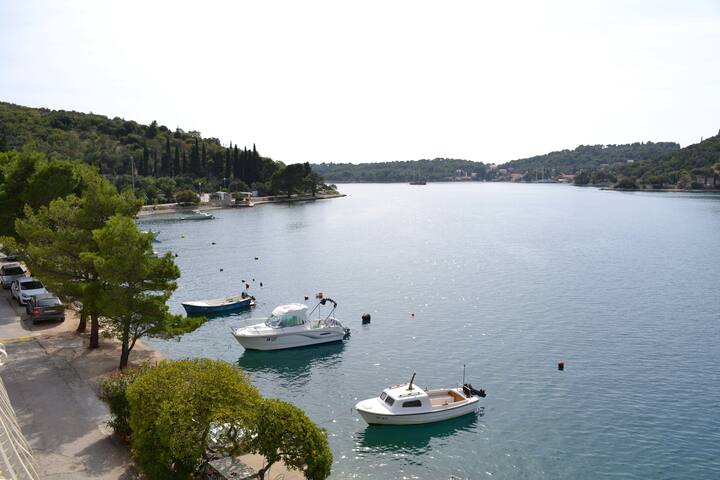 Beautiful villa with private swimming pool (heated) only 7km away from the Old town of Dubrovnik
We are offering you a beautiful villa only 7 km away from the Dubrovnik Old town, situated in the area of the Rijeka Dubrovačka, a bay which used to be the favorite resting-place of Dubrovnik patricians. A modern suburb has been built here in recent time, but you can still see the remnants of various summer houses, the real masterpieces of a refine taste and skilful architecture; the nearby marina is an excellent starting point for the excursions to attractive surroundings. If you decide to spend your holiday in our villa, we assure you that you will have everything that is needed for a great holiday. Vicinity of the town, great view of the sea and the beauty of the mouth of river Ombla, provided parking place and boat dock, vicinity of ACI marina tranquility and agreeable climate during hot summer days make just a small part of our offer. About the Villa The Villa is situated on a 422 m2 estate. Villa has a private plot of about 272 sqm and residential area of about 160 sqm on two floors. There is a summer kitchen in a back yard with a grill and a gazebo and private swimming pool (heated). In front of the house there is a garage with 2 parking spots. Villa is air conditioned, luxuriously furnished and completely equipped with following technical appliances TV, DVD, IPTV and access to WIFI Internet. There is a 4 rooms, total number of beds in rooms 8, total number of beds in lounge 2, total number of extra beds 2, kitchen is a separate room, air conditioning, smoking allowed in house, house pets allowed (must be arranged in advance), hedge or wire/stone fence around the garden, suite of garden furniture, fully-equipped place for meal preparation (grill; barbecue; fireplace; and the like). Kitchen equipment: kitchen utensils and tableware according to the number of persons, oven, refrigerator, deep freezer 50 l, microwave oven, coffee maker, dishwasher. Bathroom equipment: hairdryer in bathroom, washing machine, bidet, total number of bathrooms with shower : 2, open-air shower.
The area of the Rijeka Dubrovačka bay used to be the favourite resting-place of Dubrovnik patricians. A modern suburb has been built here in recent time, but you can still see the remnants of various summer houses, the real masterpieces of a refine taste and skilful architecture. The nearby ACI marina Dubrovnik is an excellent starting point for the excursions to attractive surroundings.
Although we did not have the pleasure of meeting him personally, Viktor was a great host. His family met us upon our arrival and in addition to getting us set-up, helped answer all our questions and provided lots of tips and information. Viktor was very prompt in all our communication and even solved an issue that arose during our stay in less than 24 hours. Everything was well organized and smooth. The house is gorgeous and in excellent condition. Everything was very comfortable and welcoming. Towels for the pool and the beach were provided and we definitely enjoyed using the BBQ several nights. Everything we needed (cups, glasses, plates, cooking pots, coffee makers etc) was available and plenty of it! There were 6 of us that stayed at the house but 9 people could stay easily. It is about a 10 min drive from Dubrovnik Port and about 12 min to old town. We rented a car and really enjoyed the fact that were just outside the town and able to explore not only Dubrovnik, but also Mljet, Peljesac peninsula, and many surrounding towns around Lozica. The restaurant just up the road was fantastic. A hidden gem with great food! The pictures of the property are accurate and our group was more than impressed with everything. Would definitely stay again! One piece of advice and this is nothing to do with the house but more with Dubrovnik/Croatia..The mosquitoes are very friendly! Come prepared with insect repellent!
Maia
2015-09-14T00:00:00Z
The house was very nice, clean, and spacious. Some of us wanted to stay and extra night and the hosts were very flexible. There were eight of us staying in the house and had plenty of room but any more would have been tight. The location is a 15 minute drive from the city and a 10 minute walk to the nearest cafe and convince store. Overall we had a great time and the hosts were nice!
Lauren
2015-06-06T00:00:00Z
Viktor ja hänen perheensä olivat hyvin avuliaita ja joustavia. Asunto oli luvatun kaltainen ja sijainti mukavan rauhallinen lapsiperheen kannalta. Makuuhuoneita oli riittävästi isommallekin porukalle, ja asunto oli kaiken kaikkiaan hyvässä kunnossa sekä viihtyisä. Matka kylän keskustaan ja kauppaan oli siedettävä, joskin jalkakäytävien puute vilkkaasti liikennöidyn tien varrella oli hiukan harmillista. Dubrovnikin keskustaan pääsi kylältä kätevästi bussilla n. 20 minuutissa.
Joel
2016-07-07T00:00:00Z
Fantastic villa! Nine of us (adults) stayed in the villa for 7 nights. The hosts were great at answering our questions rapidly, and helping us sort out airport transfers. The description is accurate, and the reviews left for Villa Frana on Airbnb and similar sites are deservingly glowing! The villa was spotlessly clean when we arrived. Downstairs there is a kitchen with small dining table, a bathroom w/shower, and 2 bedrooms, one of which had a double sofa-bed. Upstairs, there is a second kitchen with a dining table, a lounge area with a large TV, a second bathroom w/shower, and another 2 bedrooms. Both bathrooms have washing machines. Outside there is a pool and a BBQ area on the ground level, and a shaded dining area and patio seating area on the upper level. Outside the villa there is another(!) seating area, and gated driveway. Just across the road there are two docks. The villa is about a 10 minute walk west of the terminus for the 1A bus (to Pile Gate, Old Town), and about a 15 minute walk west of the supermarket, newsstand, bakery, and bars in Mokošica. Mosquitos are a bit of a nuisance, but the local shops stock a range of repellents to keep them at bay. The villa didn't feel crowded with nine people. Would strongly recommend!
Rakesh
2015-07-06T00:00:00Z
I have just spent 8 fantastic days in Villa Frana on a family holiday with my mother, sister and her three kids. The first thing that struck me was that the villa looked better when your within it's walls than in the profile pictures especially the inside. As arranged, Viktor's mother was there to greet us even though we were late held up at car rentals in the airport. Our welcome pack which we pre-orderd was already in the fridge and they did come in very handy when your travelling with 3 hungry kids. The location of the villa I found very peaceful, the views is breath taking and the local amenities very convenient especially with a super market located at the far end of the bay. I definitely will be going back to this villa, if not with family with friends. Villa Frana, thank you for having us.
Joe
2016-06-03T00:00:00Z
The place was fantastic and we all enjoyed our stay there. Victor was quick to respond to all our inquiries and did everything to arrange us a memorable holiday experience. The place is really nice and well equiped. Getting around is easy by bus or own car. There are grocery stores and restaurants nearby and the city itself isn't far away. It's a great base to explore the coast from the land or by the sea. There is nice boat rental just a few hundred meters away. Having own car makes getting around easier, but for visiting old town I'd recommend taking the bus which leaves about 700 meters from the villa (remeber to take 1A when coming back) as getting a parking spot in the city might be a bit tricky. As others have said the place looks even better live, specially from the indoors.
Janne
2016-07-24T00:00:00Z
We booked this villa for a family get-together in Croatia so we needed to house four couples. There was plenty of space for us all and a nice pool and access to the sea just across the road. The accommodation was clean and were made very welcome with a nice welcome pack including a big bunch of flowers for my wife's birthday.
Llew
2015-07-25T00:00:00Z
Viktor was beyond accommodating. He responded to messages instantly and his mums recommendation of Orsan made our trip. You need to rent a car to get to town as old town Dubrovnik is a solid 10 minute drive and taxis are expensive and must be called. the house was amazing. Very clean and quiet and right on the water.
Alexander
2015-07-12T00:00:00Z
Type de logement
Logement entier
---
Type de propriété
Villa
---
Capacité d'accueil
10
---
Chambres
Lozica, Dubrovnik-Comté de la Neretva, Croatie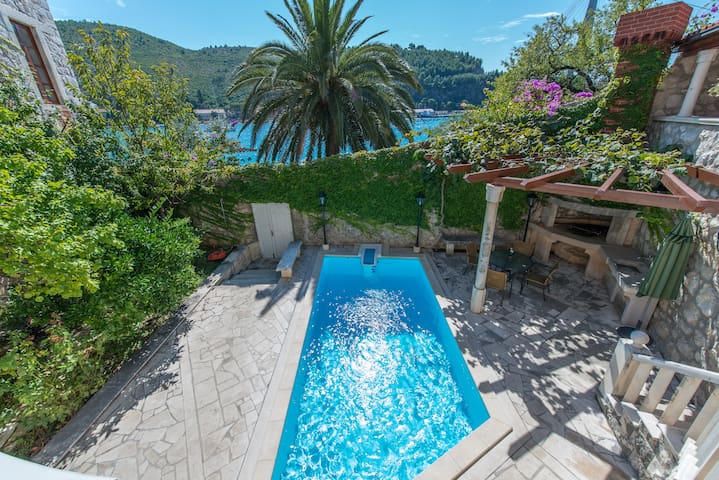 This beautiful modern villa is located in small place called Zaton. It is just 10- 15 minutes drive from historical centre of Dubrovnik, but then again far enough from the urban noise.
This beautiful five star villa is located in small place Zaton which is only 10 - 15 minutes drive from historical centre of Dubrovnik, but then again far enough from the urban noise. Zaton is a scenic bay situated north-west of Dubrovnik. Zaton has been a place for vacation since the early times of the Republic of Ragusa in the early 15th century. Almost every noble Dubrovnik family had their summerhouse built in Zaton. Also, in Zaton you can find beautiful beaches, nice trails near the sea and lot of charming restaurants where you can taste delicious local specialties. This luxury villa has 330 sq meters of modern decorated interior, divided into three floors. Living room, dining room, kitchen and one toilet are on the ground floor. On the same level there is a big terrace with swimming pool, jacuzzi, sun beds and shower. First floor consists of three bedroms and three bathrooms. On the second floor there are two bedroms and 2 bathrooms. Amenities include AC (in all rooms), free wireless internet access, SAT TV, DVD, fully equiped kitchen, 3 private parking places... This villa can accommodate up to 12 persons (10+2).
Fabulous villa with the most amazing views!! Perfectly situated, just 10 mins outside of the old town. Pedro our host was great and nothing was too much trouble. We were a party of 7 girls, celebrating a special birthday and wanted a special place to stay. The villa was everything and more. 4 days was just not long enough!
Beverley
2016-09-26T00:00:00Z
We were blown away from the moment we arrived to the moment we left. Stijepo was an incredible host, the villa was stunning, the location was out of this world and some of the local restaurants were the best we'd ever eaten in. It was the perfect combination from which to see Dubrovnik, especially if you organise a boat to take you there from the villa.
Angela
2016-05-03T00:00:00Z
The villa is far more stunning than the pictures and everything was neat and clean. Pero the Co owner was very friendly and a huge help to us. He even organised a lovely drink and snack to welcome us...really leaving the villa was awfully tough, it really was a five star luxury villa
Priyanka
2015-07-11T00:00:00Z
This was by far the best villa of our trip and fully lived up to the description and photos. Great views, very comfortable and fully air conditioned. We were a party of ten who were easily accommodated. It has a large outside bbq and jacuzzi and a gym and games room with ping pong table. The owner was very welcoming and helpful. We wished we had booked this for a week rather than just three days. We would love to come back. Our only minor suggestions are that it would be helpful to have more instructions for the equipment.
Thomas
2016-09-12T00:00:00Z
Our experience staying at the villa was incredible. From the moment we arrived to the moment we (URL HIDDEN) was outstanding! The villa's facilities were amazing and it was truly 5* luxury! The attention to detail was brilliant and we felt very much at home as soon as we arrived. The location was great and arranging taxis to Dubrovnik old town was simple and they arrived promptly. We will definatly be arranging to stay at this villa again in the future. I would highly reccomend this accomadation to make your stay in Dubrovnik.
Stephanie
2016-09-09T00:00:00Z
From start to finish we were treated so well! Stijepo and Pero arranged transfer for us and we were greeted very warmly. The whole stay was fantastic and really made our holiday staying in such a beautiful place. I literally cannot fault the villa at all, it was perfect. Thank you so much to all that made us have one of the best holidays to date. It's been amazing!
Carly
2015-09-19T00:00:00Z
We had a great stay in this fantastic villa. Wonderful views and top notch living. Everything went smooth with check-in and check-out. Choose this 5 star house.....you will be satisfied.
Anders
2016-10-03T00:00:00Z
This house was beyond our expectations. It had amazing views and was immaculate. Peter and Stijepo were such friendly, welcoming hosts and were so gracious. The location was perfect. It was close enough from Dubrovnik that we easily got into town each day but far enough away that we could explore local beaches and restaurants. My whole family agrees that we want to stay here on our next trip to Croatia. I can't say enough good things about our experience.
Kamden
2015-06-19T00:00:00Z
Type de logement
Logement entier
---
Type de propriété
Villa
---
Capacité d'accueil
12
---
Chambres
Zaton, Dubrovnik-Comté de la Neretva, Croatie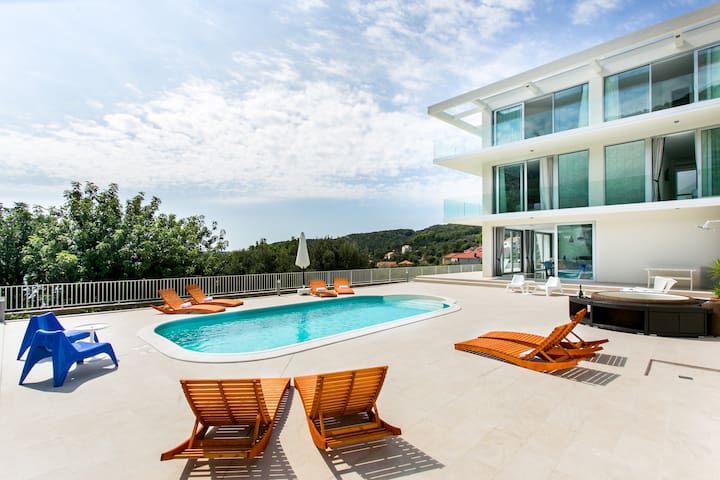 Beautiful, cozy villa with a million dollar view over Dubrovnik Riviera. You will feel like on the top of the world. Affordable luxury vacation for families and friends. Close to everything, but far enough to have a undisturbed, peaceful vacation.
Villa "Sellista", is located on the hills above Dubrovnik Riviera in a village called Ivanica, on the border between Croatia and Bosnia-Herzegovina, on the Herzegovinian side. The distance to Dubrovik is 8km, to Trebinje 15km. There is a spectacular view of Cavtat, Mlini and Kupari, as well as the open sea with islands Supetar, Mrkan i Bobara. Standing on the terrace with pool in front of the villa, one has the feeling like flying over Dubrovnik Riviera. Villa consists of three double-bed bedrooms with shower bathrooms en suite, large living/kitchen/dining space, entrance hall with guest WC, terraces all around the property, utility and storage rooms underneath the terraces and the house, and a parking space in front of the house. Property is fully fenced. It is built, furnished and decorated in the style of Tuscany stone houses. Olive trees, lavender, oleander and other plants complement the Mediterranean flair of the property. On the terrace there is a cozy BBQ place with a dining table and 8x4m heated swimming pool with salt water. There is AC in every room, 2 flat TV sets, Wi-Fi and burglar alarm.
This property is located in the village called Ivanica on the hills overlooking the Dubrovnik Riviera in the border region between Croatia and Bosnia-Herzegovina, on the Herzegovinian side, at a distance of 5 km from the sea and 8km from Dubrovnik. The distance to Trebinje, the nearest city in Bosnia-Herzegovina is 15 km. The village used to be a very popular vacation settlement for people from all over former Yugoslavia, but it was mostly favored by people from Dubrovnik who wanted to escape the summer crowds and the heat in Dubrovnik. It is a very quiet place with only one little shop and a modest restaurant, and no night life whatsoever, which makes Ivanica an ideal resting place. But on the other hand it is also very well located if you want to visit Dubrovnik or take a swim on the lovely beaches of Dubrovnik Riviera, or make exploring excursions to Croatia, Montenegro ad Bosnia-Herzegovina. Due to the ionized sea air, the hills above Dubrovnik are well known as an air-health-spa which is very beneficial for those with respiratory problems.
Type de logement
Logement entier
---
Type de propriété
Villa
---
Capacité d'accueil
7
---
Chambres
Dubrovnik, Dubrovnik-Comté de la Neretva, Croatie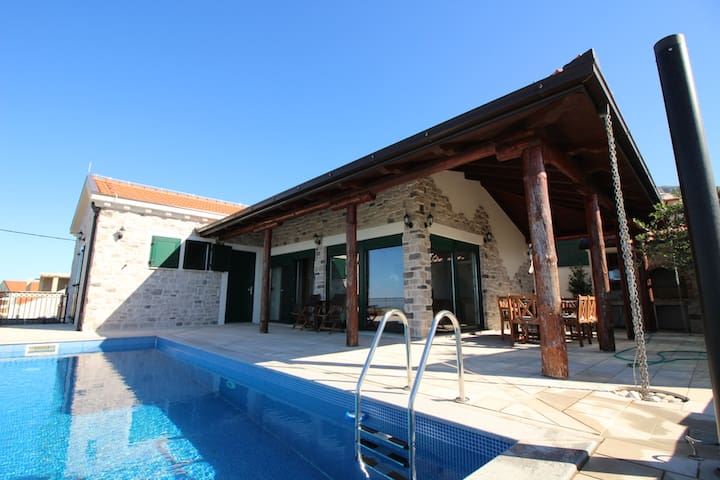 Saisissez les dates souhaitées pour connaître le prix total. Des frais supplémentaires s'appliquent et des taxes peuvent être ajoutées.