The host canceled this reservation 4 days before arrival. This is an automated posting.
William
2017-04-04T00:00:00Z
Type de logement
Chambre privée
---
Type de propriété
Maison
---
Capacité d'accueil
3
---
Chambres
Plainview, Texas, États-Unis
Type de logement
Logement entier
---
Type de propriété
Suite
---
Capacité d'accueil
8
---
Chambres
Plainview, Texas, États-Unis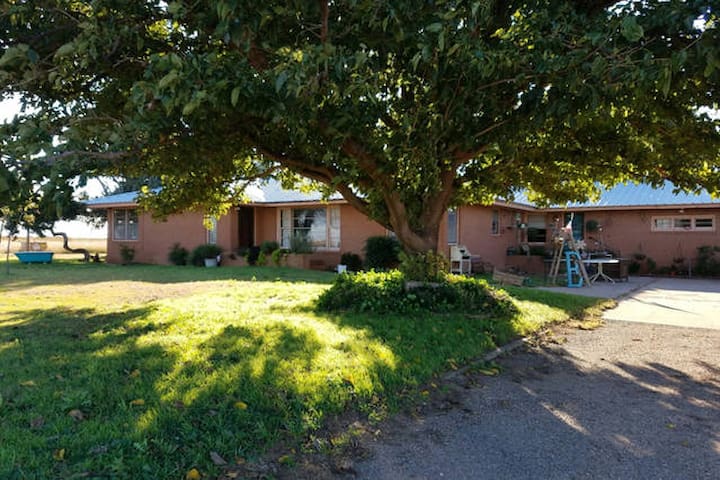 Accepted my request on short notice. Then, when I arrived, Dave greeted me at the door, introduced me to his daughter and their dog Gus. He and Miluska showed me their place and made me feel very welcome. Loved our conversation! Lovely and clean home, decorated for Christmas inside and outside. Spacious bedroom, excellent bed. Top quality sheets. Lovely quilt. Plenty of drawer space. Closet space with plenty of hangers. Heater is in the room if too cold (it was not though). Fan (in addition to ceiling fan) if one would need more air circulation. Inside Window shutters. Lots of light at night. In the morning, the southeast exposure brightens the room -- wonderful! TV in room. Nice selection of magazines and current day's newspaper too. Large bathroom with toiletries, plenty of towels and wash cloths. If I were flying with no carry-on, I would have had everything I needed, including a toothbrush, because it was all there in the bathroom. Large shower made it easy to step in and out of the water stream. Lovely fish aquarium added interest. Beautiful kitchen with plenty of refrigerator space. I got my needed dog therapy from Gus. I had traveled in from the west on U.S. 70 -- easy to find and I left going west on the same road -- easy to leave. Staying here was a pleasure and I hope to return again.
Joe
2014-12-21T00:00:00Z
Great! Lovely family, a cozy bed, excellent shower, all very clean, in a quiet neighborhood, and close to access roads. Thanks for the surprise chocolates too!!
Kimberly
2015-05-22T00:00:00Z
Dave and Miluska were very accommodating. They have a beautiful home and a wonderful daughter who told me so many amazing stories. It was a joy to have stayed with them.
Celeste
2015-05-13T00:00:00Z
Really enjoyed,the room is great!
Robin
2015-07-25T00:00:00Z
I drive between Denver and Austin frequently and this is hands down the best place I've come across to stay in the Lubbock/Amarillo/half-way point area. The neighborhood is quiet and conveniently located to the highway. Dave and Miluska were very nice and their daughter was adorably sweet. Had I not been driving the previous 9 hours I would have enjoyed chatting longer but they were also understanding to the fact that I really just wanted to relax. The room was very clean, comfortable and well-equipped as was the bathroom - I've actually never seen such a well-stocked AirBnb bath! Would recommend and hope to stay with them again the next time I make the drive.
Nichole
2015-03-29T00:00:00Z
Dave was a great host. He truly made me feel at home. He went above and beyond in terms of making amenities available, even giving me ideas for how I can become a better an AirBnB host. Thanks for your hospitality, Dave!
Krystal
2015-03-15T00:00:00Z
Awesome
Johnny
2015-07-02T00:00:00Z
Had a very relaxing stay with Dave! Dave was very friendly and kind (but not TOO friendly if you like your privacy). The room is very sweet and we felt very well rested sleeping there. Had a great time! I would definitely stay with Dave again.
Tessa
2015-08-01T00:00:00Z
Type de logement
Chambre privée
---
Type de propriété
Maison
---
Capacité d'accueil
1
---
Chambres
Plainview, Texas, États-Unis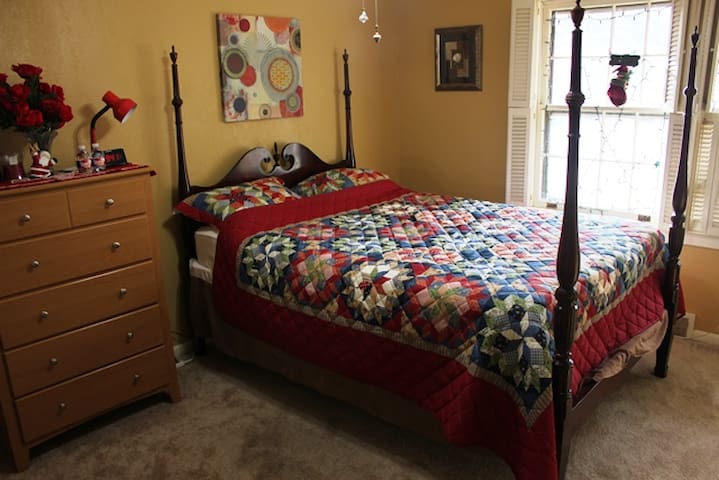 Cómoda zona 2Dorm home.Nice. Situado en el centro de la ciudad y cerca de Lubbock (45 millas), Amarillo (76 millas), y otros fuera de las ciudades. Tiendas y tiendas de antigüedades cerca. Palo Duro Canyon aproximadamente una hora a Wayland away.Close Bautista.
We enjoyed our stay. Everything we needed was available. The beds were very comfortable and the back yard was great.
Judy
2017-04-11T00:00:00Z
Everything was clean and the beds were comfortable! Shelby would communicate with me soon if I had any questions.
Angie
2017-04-02T00:00:00Z
Private house in a residential neighborhood located about an hour from Palo Duro Canyon. Grocery stores and restaurants located within a couple of miles. The beds were comfortable, the kitchen was fully equipped, the bathroom was a bit small and didn't have a lock, but was fine. The backyard was great - nice and spacious, fully fenced in, with a nice back porch for drinking your morning coffee. Shelby was a very responsive and helpful host. Great experience overall!
Elizabeth
2016-11-27T00:00:00Z
We really enjoyed your home and your hospitality. Couldn't have been better! You were our first Air B n B experience and we never want to stay in a hotel again. Air hugs and happy new year.
Gina
2015-12-14T00:00:00Z
Shelby was very accommodating and the house was very cozy and welcoming! Though be forewarned, the bathroom significantly lacks privacy. Regardless, I would recommend to others and would use again during another visit!
Michelle
2014-12-08T00:00:00Z
We stayed in Shelby's house for a business trip. It is very clean and convenient to Plainview and surrounding towns. Her backyard is amazing. we will stay here again when in the area!
Lynne
2017-03-08T00:00:00Z
Shelby's place was perfect for my visit to Plainview. I periodically work there and it was nice to have a home to relax in and make my own meals. Shelby's house was immaculate and the bed was comfortable. I will definitely return.
Melissa
2014-12-05T00:00:00Z
We definitely enjoyed our stay here. The house was very clean. Special mention goes out to the shower (floor and walls were made of stone) which was awesome! Bedrooms are good-sized and beds are comfy. Wifi available. Great place!
Christian
2016-04-18T00:00:00Z
Type de logement
Logement entier
---
Type de propriété
Maison
---
Capacité d'accueil
5
---
Chambres
Plainview, Texas, États-Unis
The host canceled this reservation 7 days before arrival. This is an automated posting.
Lauren
2017-01-29T00:00:00Z
Rebecca was very accommodating. The Rocking R Stables provided every thing we needed for an "at home" feel while we were away from home. Would definitely stay again.
Lauren
2017-03-08T00:00:00Z
The place was nicely setup...especially the heaters for the rooms. Those were fantastic! The beds were just right and available space was enough for all if us. The added comforts of home ( such as coffee and other items you would expect when staying at a hotel) were a treat...though we were not there long enough to use(but i so would of if we were there longer).
Jamie
2017-03-22T00:00:00Z
Quiet, cozy two bedroom house with all of the amenities. Rebecca was very helpful and flexible with check in and check out times. She was a phone call away and would check in to see if we needed anything regularly. Would definitely recommend to others
Marcus
2017-02-03T00:00:00Z
Rebecca's place is a cute little farm house very close to everything you need. The house itself is very comfortable and quiet. If you want to cook there is a great stove. Rebecca even got us some farm fresh eggs. If you're looking for a quiet place to stay, this is it. I'll be back.
Elise
2017-03-13T00:00:00Z
Type de logement
Logement entier
---
Type de propriété
Maison
---
Capacité d'accueil
4
---
Chambres
Hereford, Texas, États-Unis
Sleeps 6. Great for corporate events, graduations, weddings and special events. Unit has 2 bedrooms, two baths and a sleeper sofa
Type de logement
Logement entier
---
Type de propriété
Appartement
---
Capacité d'accueil
4
---
Chambres
Abernathy, Texas, États-Unis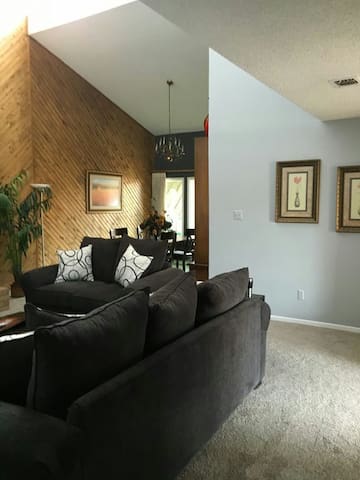 Saisissez les dates souhaitées pour connaître le prix total. Des frais supplémentaires s'appliquent et des taxes peuvent être ajoutées.