Nous sommes un couple canadien qui a déménagé au Nicaragua en 2016 et a acheté une maison sur une de nos plages préférées: El Transito! Maintenant, nous vivons au paradis et nous voulons partager avec les voyageurs du monde entier. Notre maison dispose de deux chambres à coucher, les deux avec leurs propres, en privé salles de bains propres avec salle de bains. Nous avons même wi-fi! Votre chambre dispose d'un lit super confortable queen, meubles de cèdre sur mesure et draps et serviettes de qualité supérieure. Votre chambre dispose de trois fenêtres avec des écrans de bugs, vous pouvez donc profiter de la brise de l'océan cool. Il y a aussi l'air conditionné disponible pour un supplément de 10US $ par nuit, mais nous trouvons nous avons rarement besoin. Nous serons ici quand vous visitez et les parties communes ne sont partagés avec nous. Réfrigérer dans le salon ou à l'extérieur sur nos chaises berçantes, chaises longues ou hamac. Le petit déjeuner est inclus! Pour une somme modique, vous pouvez également faire une brassée de lavage.
El Transito est un petit village traditionnel de pêcheurs. Vous verrez les bateaux de pêche qui vont et viennent toute la journée, ce qui signifie que nous avons souvent merveilleux fruits de mer frais. El Transito est aussi une destination de surf haut de gamme, avec un vent de terre uniformes et une bonne houle la majeure partie de l'année. Conseil locations et leçons sont disponibles à proximité. Les habitants sont amicaux, surtout les enfants espiègles et curieux. Il y a deux cafés locaux, servant des délicieux smoothies, des tacos et des bières glacées sur la plage! La plage est belle et incroyablement peu fréquentée. Il y a aussi de grandes possibilités de faire du bénévolat et avoir un impact positif sur la communauté.
WOW. Where to begin with just how lovely, fun and absolutely PERFECTO our 4 day stay was with these two. From their location a stone's throw to the beach, to their comfortable room and inviting property, to their STELLAR meals (and I mean SUPER delicious), our time with Jenelle, John and their sweet dog Lenny felt like much more than just an Airbnb experience. They treated us like we were old friends and our time in El Tránsito at their home felt like a true score. Stop reading this review and book this spot NOW or someone else will snag your ideal stay in this funky little beach town. Love you J, J and L! Thanks for TODO BUENO!
Gillian
2017-03-02T00:00:00Z
I booked this place and hoped for an amazing stay. It was even better than I imagined! The suite is cozy and super clean. The bed feels like you're at an upscale hotel. I had never been to Nicaragua before and had heard the food is sometimes bland - not here! The hosts pair local ingredients with international spices. Feels like a boutique eatery as you're treated to thoughtful, authentic dishes that taste divine. A two-minute walk gets you to the beach where soft volcanic sand, warm waves and a gradual grade made the few swims I had unforgettable. My only regret was not staying longer - suggest a decent stint so there's ample time to enjoy. The hosts seemed very knowledgeable about the area and had contacts for day trips that I wish I would have had the window to explore. Next time!
Nicole
2017-01-15T00:00:00Z
Pasamos unos días maravillosos en el Tránsito. Jenelle es una excelente anfitriona que te proporciona todo lo necesario para tener una estancia increíble. La casa es muy bonita y el cuarto muy cómodo. Los desayunos y la comida preparada por Jenelle es definitivamente deliciosa. Lo recomiendo totalmente :)...además tiene una perrita adorable. Si volvemos al Tránsito seguro nos volvemos a hospedar con ellos!
Claudia
2017-04-06T00:00:00Z
What I have discovered about Nicaragua is that the whole country is beautiful, but the very best places make you work for it. This rang true for El Transito. We arrived after four days of partying in San Juan Del Sur and as our taxi descended the dirt road we were questioning our decisions, it wasn't until we arrived at ... dirty, tired, thirsty and hungover that we realized we had made the best decision we could have ever made. We were greeted by Jenelle, John and of course the lovely Lenny with a cold drink and a clean shower. We enjoyed an evening sitting on their porch in rocking chairs, the quiet was an excellent change from the bustling SJDS. They made us a delicious dinner of shrimp and not soon after we were off to a peaceful sleep in a very spacious and comfortable bed. The next day we had eggs and toast and then Jenelle and John let us in on their favourite beach spots we spent most of the day lounging in the tide pools and enjoying a practically private beach. We got back to the house in time to watch the sun set with a cold beer and then we had another fantastic meal of fish tacos. The house is great, with a nice living space and the bedroom is large and comes with a private bathroom, a luxury we had not yet come across in our Nicaraguan travels. Jenelle and John were very helpful and made sure to provide us with all the bus schedules and everything we would need getting in and out of town. Even offering housing and dinner recommendations for our next stop in Leon. I could not recommend this spot more. It is perfect piece of paradise and an excellent break from dormitory life. You would be missing out if you do not stop here.
Elizabeth
2017-01-25T00:00:00Z
Jenelle and Jon's place was an amazing spot to spend a week and they were great company. The room was spotless, the bed was super comfortable and it was lovely to have my own en suite bathroom. The breakfasts featured homemade bread, fresh fruit and local eggs and were delicious. Better yet, I had dinner with Jon and Jenelle on several nights and they're incredible cooks! We had handmade pasta with meat sauce, pizza made from scratch, the best chicken caesar salad of my life and fresh fish. El Transito offers up great surf and Jon and Jenelle's place is on a beautiful, quiet beach with lots of tide pools nearby. If you're looking for a genuine Nicaraguan experience in a real neighbourhood (but with all the comforts of home), this is your place. I'll be back!
Emma
2016-12-10T00:00:00Z
Nine days of tranquility. Beautiful beaches. Great food. Friendly hosts. Difficult to get to but worth it. Help from the hosts in methods of travel. Would definitely return.
Sylvia
2017-02-09T00:00:00Z
Type de logement
Chambre privée
---
Type de propriété
Maison
---
Capacité d'accueil
2
---
Chambres
El Tránsito, Departamento de León, Nicaragua
La maison est agréable et simple, la chose la plus importan est d'être en face de la plage et avoir beaucoup d'arbres et un grand jardin, a quelques meubles (le nécessaire pour être à l'aise) et une cuisine pour préparer les repas, parfait se relaxer. aire de stationnement intérieur, une grande sécurité. Transito est un semi-plage privée à 1 heure de managua.
plage Tránsito est une maison semi-privée avec une vue unique sur l'océan Pacifique, nous avons un grand jardin avec beaucoup d'arbres qui donne à la maison un environnement étonnant
The host canceled this reservation 11 days before arrival. This is an automated posting.
Larissa
2016-12-12T00:00:00Z
The house was amazing. Would definitely book it again.
Diana
2016-12-11T00:00:00Z
La casa es súper linda, amplia y tiene varios ambientes. Las positas que están en frente hacen un jacuzzi natural espectacular. Súper recomendada.
Diana
2017-02-26T00:00:00Z
Type de logement
Logement entier
---
Type de propriété
Maison
---
Capacité d'accueil
11
---
Chambres
El Tránsito, León, Nicaragua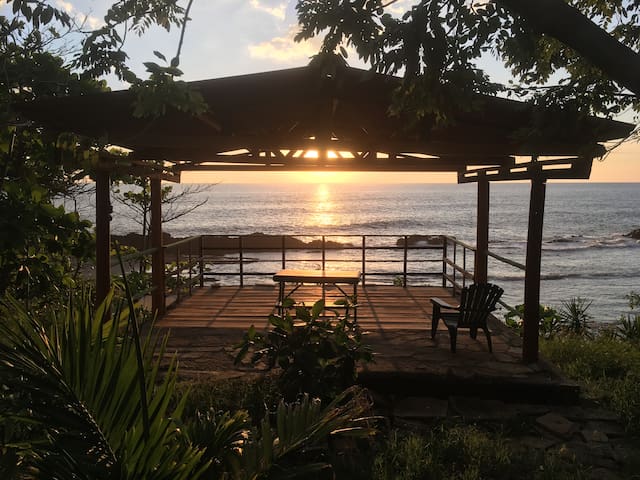 Excellent à côté de l'eau, cette maison est située dans une plage semi-privée au département « El Transito » de Leon
Mis à part la terrasse avec vue sur la mer, cette belle maison compte également avec 3 chambres, 2 salles de bains, une cuisine complète et un parking pour 3 véhicules. A propos des groupes, je demande de bien vouloir être jusqu'à 6 personnes, même si je suis flexible pour plus, mais s'il vous plaît aviser à l'avance afin que je puisse fournir des feuilles supplémentaires et matress
Type de logement
Logement entier
---
Type de propriété
Maison
---
Capacité d'accueil
6
---
Chambres
El Tránsito, Departamento de León, Nicaragua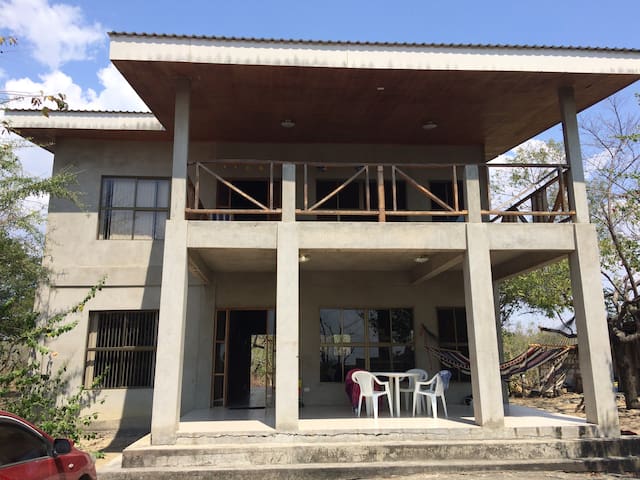 Semi-Privatstrand mit wunderschönen und sicheren Gezeiten-Pool. Offene Strandhaus auf 1.5-Morgen-Eigenschaft. Viel Platz. Zwei Geschichte Pfosten-Riegel-Struktur kann 4 oder mehr Personen. Loft hat ein Queen-Size-Bett und Kinderbett. LGBT freundlich. Hablamos español.
Beach hat natürliche Vulkangestein Barrieren bietet schöne Aussicht. Grau gefärbte Sand.
Benachbarte Eigenschaften ähnlich groß. Die meiste Zeit Nachbarn entfernt.
Loved the dog that hangs out at the residence! She was great with our dog as well.
Candy
2017-03-26T00:00:00Z
La playa es hermosa como ninguna otra ya que frente a la propiedad existe una especie de piscina natural donde las piedras amortiguan las olas lo que lo hace único... la casa súper limpia, baños espaciosos, cocina equipada, vista espectacular entre árboles, energía eléctrica y 2 duchas muy equipadas... en fin ir a esta propiedad es la mejor decisión que tuvimos para una celebración...excelente
Jara
2017-01-22T00:00:00Z
The place was awesome, it was in front of the beach and it had everything anyone needs plus some hammocks. He has some animals there 2 beautiful dogs and horse, so if you are missing your pet you'll have the chance to give those lots of love. Even thought we didn't meet he was really responsive and had the place for us in really short notice (like 3 hour notice). Would totally recommend it.
Manuel
2016-12-11T00:00:00Z
The host canceled this reservation the day before arrival. This is an automated posting.
Till
2016-12-30T00:00:00Z
Our experience here was mixed. The best part is the beach access, but unfortunately there are many downsides. The entire house is open plan - including the bedroom - so there is no privacy from neighbors or the groundskeeper (who lives basically in the same house). It was oppressively hot when we were there and without a fan, it was very difficult to sleep. The well water that supplies the shower is terrible. We "bathed" in the ocean instead. There are many animals around - a horse, a pig, chickens/roosters, 2 dogs, and 2 cats with kittens. The animals are friendly, but we were woken up by the cats in the night and by the roosters in the morning. When we tried to cook breakfast in the very basic kitchen, the gas tank was empty. But perhaps the most difficult part of this listing is that the road to get there is absolutely treacherous. We barely managed with our rental car. Unfortunately I would not recommend staying here!
Kelsey
2016-04-25T00:00:00Z
Type de logement
Logement entier
---
Type de propriété
Maison
---
Capacité d'accueil
4
---
Chambres
El Tránsito, León, Nicaragua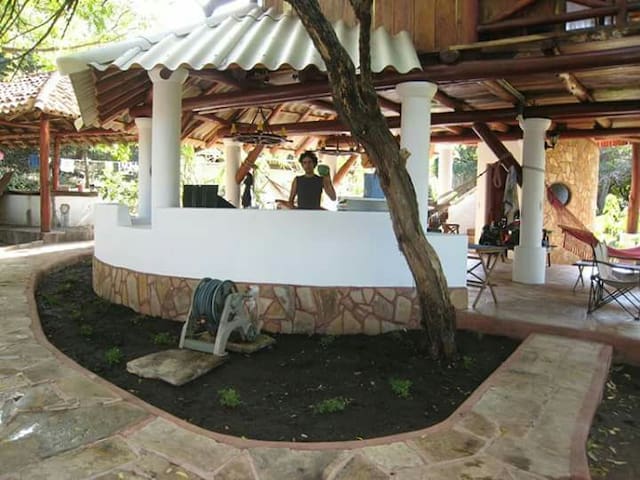 Erbaut als unser Traumurlaub befindet sich dieses abgelegene 5-Zimmer-Haus auf einer Klippe auf das Meer mit einem halbprivaten Strand mit Blick auf nur unten. 20 Minuten Fahrt zu epische Surf-Breaks. Live-in Personal zur Verfügung, um alle Mahlzeiten kochen (Mehrpreis)
Diese Immobilie befindet sich etwa auf halber Strecke zwischen Managua auf einem abgelegenen Teil der Küste versteckt und der Kolonialstadt León. Schritte über einem schönen malerischen Strand und stellen Sie auf einer Klippe mit perfekten Sonnenuntergänge jeden Abend.
Victor did an exceptional job communicating with us throughout the entire process! Our expectations were all met and some well exceeded. There is exceptional value with this property and we highly recommend it to anyone seeking a relaxed and somewhat remote vacation in Central America/Nicaragua. And, if you are a surfer, the house is also just 15-20 minutes from a world-class surf spot at Miramar beach. The house and staff were fantastic - Karla cooked some wonderful meals and always kept the house super clean. Our driver took us to the colonial town of Leon, which was a great experience, too. We are already talking about a 2nd trip - thanks again!
adam
2015-08-14T00:00:00Z
This house is incredible! Huge open layout and well appointed decorations. It's located in a very exclusive and safe community of only like 5 houses all perched up on a cliff overlooking a beautiful beach with tide pools to swim and snorkel in. The house had really nice rooms and good working AC and the pool was great for the kids. The kitchen has everything you need to cook and the staff helped us round up lobster, shrimp and fish from the local coop and helped us prepare the meals. Victor was very responsive and helpful throughout the whole process. We hope to stay again soon in the near future!
Jason
2015-12-20T00:00:00Z
Victor and Family It is very difficult to express how happy my family and I are with this beautiful house and our experience in it. It is everything it was advertised and many times more. The location is amazing, the house is immaculate and the people that work there (Jose and Carla) are so attentive and helpful. The house was great, with every creature comfort you could ask and then some, the views are gorgeous and you shall feel so relax and safe. I am originally from Nicaragua and have gone back many times to visit. I have taken my wife and son in most of my trips. They have always liked Nicaragua and have had lots of fun on those trips, but this trip, this house, and its location made our stay the most memorable. I was so excited when I saw the view. Then, I realized that the rock formations in front of the property were the same (exact) spot where my father and mother had always taken the family during my youth. The place is perfect, the water, the waves, the beach, the house and the people. It is a Gorgeous hidden retreat. Victor made the initial arrangements run very smooth, and he was always helpful with any questions or issues I had. I truly feel privileged to have had the opportunity to rent this house. I hope that I may once again have that opportunity in August of this year, only this time I plan to stay a few more days. Jose and Carla will help you with anything you need. These are humble, honest and hard working people. Please remember them as you leave. Thank You Luis B.
Luis
2015-05-26T00:00:00Z
Victor maintained timely communication with us from inquiry to check out. He was also very understanding and accommodating. The house was absolutely wonderful and very comfortable with amazing views. The beach and the tide pools made the place so so special for the kids. Jose and Carla were amazing, fun, and very helpful. We asked Carla to cook for us and for $25/day she wowed us every time. One thing I would like to emphasize is that you need to be aware that you MUST have a car there and don't opt to hire a driver. There is no drinking water at the house so we had to let Jose use our car to go and get water ever other day or so. The tap water is brackish so boiling it is not an option. It is good for cooking though. The place is very isolated so make sure you are well stocked. Thankfully, Jose ran several errands on a regular basis for beer, fresh fruit, ice, water and so on. He also got us fresh fish and lobster. I would advise Victor to update and maintain the appliances as most of them did not work but we managed. Overall everything was wonderful and we loved the house and its location. The experience would have been completely different without Jose and Carla.
Matthew and Guliz
2016-04-15T00:00:00Z
Our stay at the hidden retreat is indescribable. The house is gorgeous, clean and living in complete paradise. The beautiful beach with its rocky pools is steps away and perfect for relaxing. Karla & Jose, the amazing caretakers, were kind and caring and very patient with us as we knew little Spanish! Karla cooked us delicious meals in the traditional Nica way and Jose was always present if we needed anything at all in the house. I can't say enough how much we loved staying here! Will definitely look to be back soon!
Paige
2015-08-07T00:00:00Z
Type de logement
Logement entier
---
Type de propriété
Maison
---
Capacité d'accueil
8
---
Chambres
Playa Hermosa, León, Nicaragua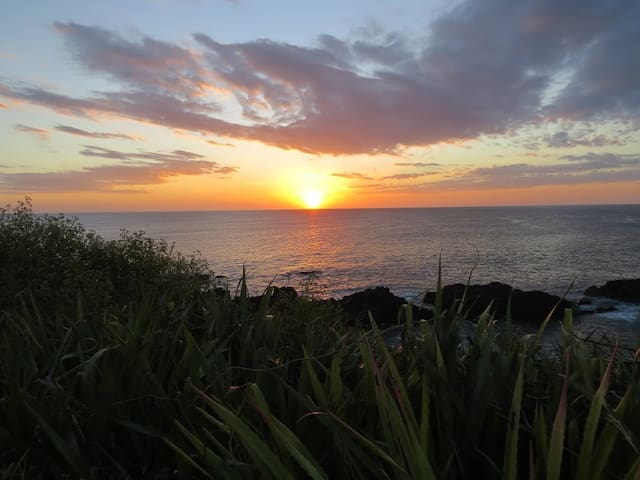 Nuestra casa en El Velero se encuentra a 59 kilómetros de Managua ya 45 kilómetros de León; que son dos las principales ciudades de Nicaragua. Es en una de las playas más cercanas a Managua en la costa del Pacífico. Tenemos de surf y tablas de surf, equipo de buceo para ir a nadar en el arrecife, y luego volver a una cómoda espaciosa casa, playa con una cocina totalmente equipada y una casa llena de juegos de mesa, hamacas y un jardín de permacultura.
Type de logement
Logement entier
---
Type de propriété
Maison
---
Capacité d'accueil
6
---
Chambres
León, Departamento de León, Nicaragua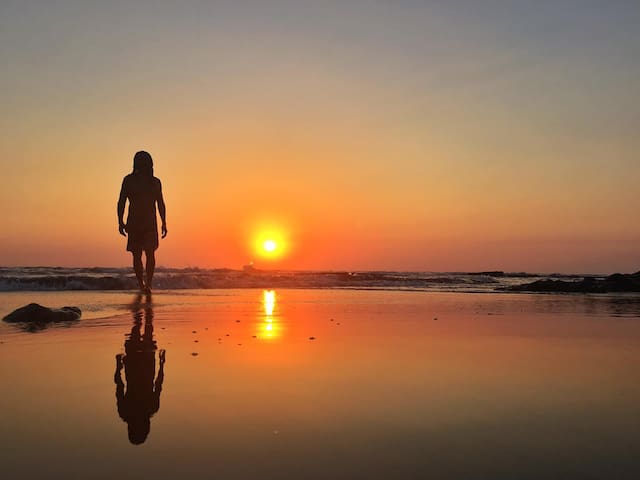 About 70 km from the city of Managua, this is a fine sandy beach, not very dark. It is a beach that has two areas where different environments are shown. These are separated by a ridge formed by a giant stone. From this rock you can have an excellent view.
Type de logement
Logement entier
---
Type de propriété
Maison
---
Capacité d'accueil
9
---
Chambres
Nagarote, León Department, Nicaragua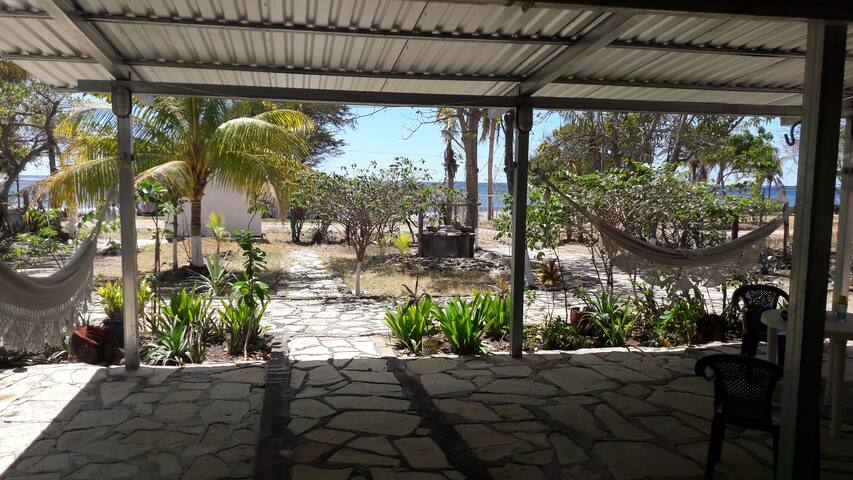 Spacious house with a front view of the sea. Our guests can enjoy a quiet, tranquil and homely place. Beautiful sunsets, calm sea, long walks on the beach, starry nights, a wide estuary 5 minutes walking distance by the shore. The house has capacity 3 rooms, 3 bathrooms, air conditioners, equipped kitchen, variety of environments and terraces. Decorated with beautiful tiled murals, ceramic decoration and paintings by the artist Nunzia Valenti, italian painter and ceramist.
Type de logement
Logement entier
---
Type de propriété
Maison
---
Capacité d'accueil
9
---
Chambres
El Velero, León Department, Nicaragua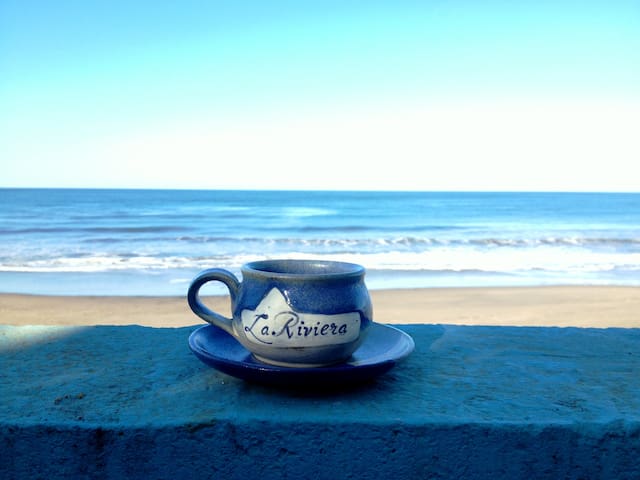 This is a beautiful beach house with ocean view in a private beach of fine sand, not too dark. It is located about 70 km from the capital, Managua, and about 40 from Leon, an important and historic city of the country. The sea at Velero is most of the time calm and with nice temperature so you can get into the water easily. There are a beautiful Estuary near the house where people can go into the water too. This is a perfect home with 5 rooms for family vacation and relax in front of a beach.
La carretera para viajar a El Velero esta en perfecta condiciones. Si se viaja desde Managua hay 2 carreteras: la vieja y la nueva hacia Leon (de hecho las dos estan en muy buen estado). Al llegar al balneario hay una aguja donde se debe informar mi nombre e indicar que soy la dueña. Desde alli inicia un camino de tierra que toma 5 minutos para llegar a la casa.
The home is very spacious and has a completely open floor plan in the living area (no walls) and easily accommodates large groups or families. The home is situated up on a hill overlooking the ocean and has the best setting to relax and enjoy the sunset and the sound of the ocean rolling in. This is a very small beach community with plenty of private beach area, however no stores or restaurants near by. Be aware you are expected to supply all your own linens including the pillows, dish towels and toiletry. It does come furnished but you will need to be cautious of its safety. The caretakers live on the property and are very attentive to your needs.
Maritza
2017-02-12T00:00:00Z
Type de logement
Logement entier
---
Type de propriété
Maison
---
Capacité d'accueil
10
---
Chambres
Puerto Sandino, León Department, Nicaragua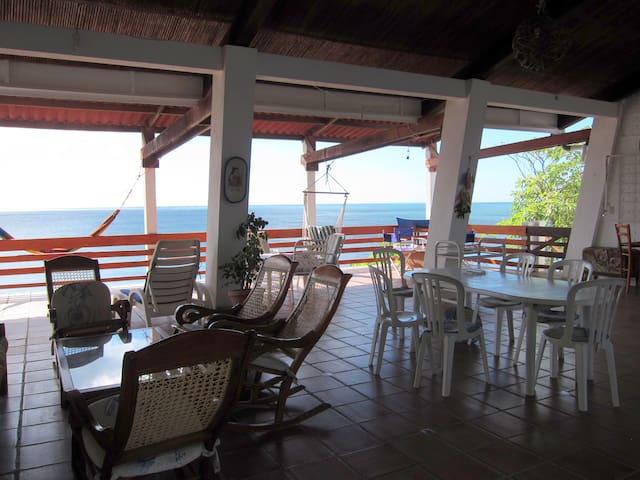 Casa de dos habitaciones y dos baños en primera linea de playa en Miramar, cerca de Puerto Sandino, con un ranchito perfecto para disfrutar de las vistas del mar y una puesta de sol espectacular.
La casa se encuentra en el balneario de Miramar, que es una playa tranquila donde se puede hacer surf
Type de logement
Logement entier
---
Type de propriété
Maison
---
Capacité d'accueil
6
---
Chambres
Miramar, Departamento de León, Nicaragua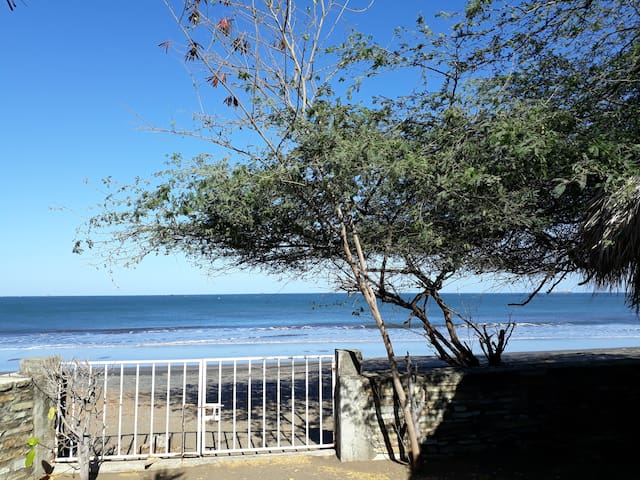 Casa con impresionante ubicación frente al mar, con 5 habitaciones.
Casa ubicada frente al mar y de FÁCIL acceso por calle asfaltada
La tranquilidad
Type de logement
Chambre privée
---
Type de propriété
Maison
---
Capacité d'accueil
12
---
Chambres
Miramar, Departamento de León, Nicaragua
Here is a beautiful luxury home located on the beach of Miramar. On the beach we have 4+ waves to surf. Points, reefs and beach breaks. Offshore winds year around. Home is equipped with A/C in all rooms and a full service kitchen. Property is Gated and secured. Don't miss out on this piece of Paradise with Sandino's Surf House. Property can sleep up to 10 guest. For the above price you are renting the house for one night. For more info and photos you can visit our webpage.
Type de logement
Logement entier
---
Type de propriété
Maison
---
Capacité d'accueil
8
---
Chambres
Miramar, Departamento de León, Nicaragua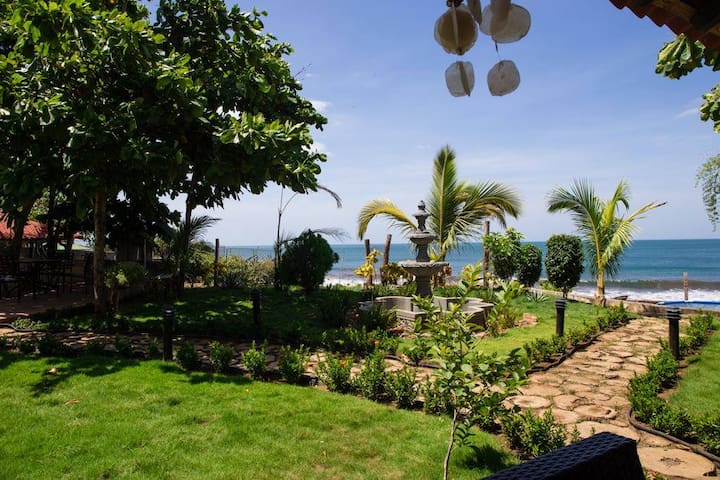 Hermosa casa de lujo frente a la playa ubicada en Miramar. Sobre mirada Punta Miramar. Aquí tenemos 5 realmente grandes saltos de surf y 3 son olas de clase mundial. Alquilar una bonita habitación co(URL HIDDEN)baño con nosotros aquí en Sandinos casa de surf y también un desayuno incluido! Este es el mejor alojamiento en la playa para parejas, familias o el viajero solitario en busca de un ambiente más relajado. Guía de surf y lecciones están disponibles bajo petición.
Type de logement
Chambre privée
---
Type de propriété
Maison
---
Capacité d'accueil
2
---
Chambres
La Villa de Operadoras, Departamento de León, Nicaragua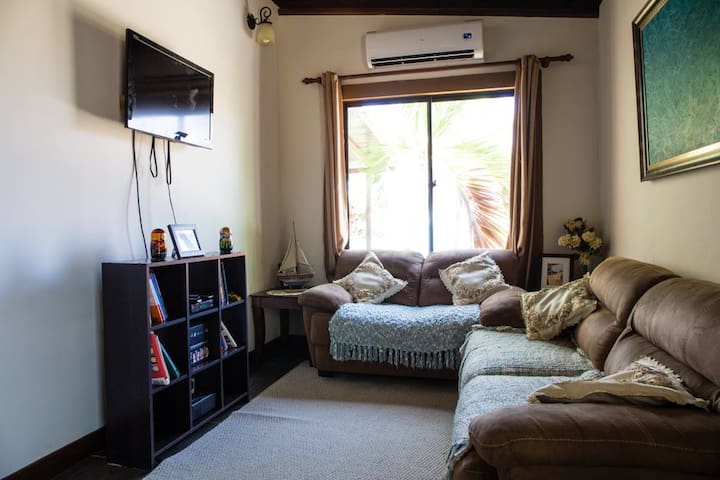 Nice 2 historias casa Ocean View, con una increíble terraza
Apacible y tranquilo, rodeado de hermosa naturaleza, justo en frente de una laguna de agua hermoso cristal
Type de logement
Logement entier
---
Type de propriété
Maison
---
Capacité d'accueil
10
---
Chambres
León, León, Nicaragua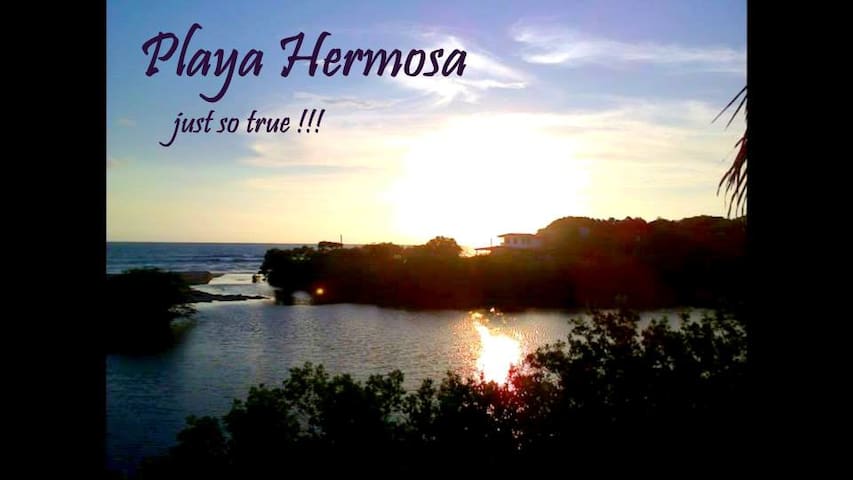 It's a super beautiful beach house, is located on the beach traffic in Nicaragua, this house has swimming pool, a ranch to watch the sunset, 4 bedrooms plus a private apartment within the property and the ability to park 6 cars. and for surfers is awesome for good waves there and that is off the coast.
Type de logement
Chambre privée
---
Type de propriété
Maison
---
Capacité d'accueil
1
---
Chambres
El Transito, Leon, Nicaragua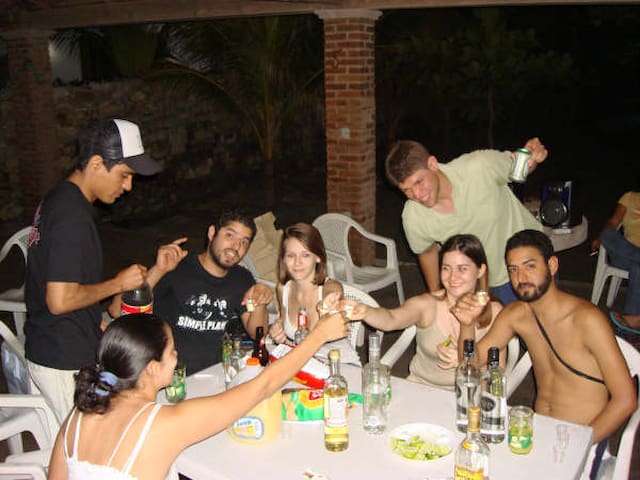 Das Hotel liegt auf der Klippe, die die Küste trifft. Schöne Privathaus. 4-Bett-Zimmer mit Betten, 3 Bäder mit Dusche und ein WC. Mit Blick auf die Brandung brechen von punta miramar. Kurz gesagt Fuß Sie haben mehr als 5 Surf-Pausen für alle Fähigkeiten Sätze von Surfer und großen Fischen. 2 Minuten zu Fuß von Restaurant und 35 Minuten Fahrt zur Geschichte der Stadt Leon!
alloggio bello e confortevole, accesso privato alla spiaggia, bel giardino, munito anche di cane da guardia, LION, un tenero gigante coccolone, il top, abbiamo lasciato un pezzetto di cuore la ;) Taryn
TARYN
2017-02-04T00:00:00Z
Type de logement
Logement entier
---
Type de propriété
Maison
---
Capacité d'accueil
8
---
Chambres
La Villa de Operadoras, Departamento de León, Nicaragua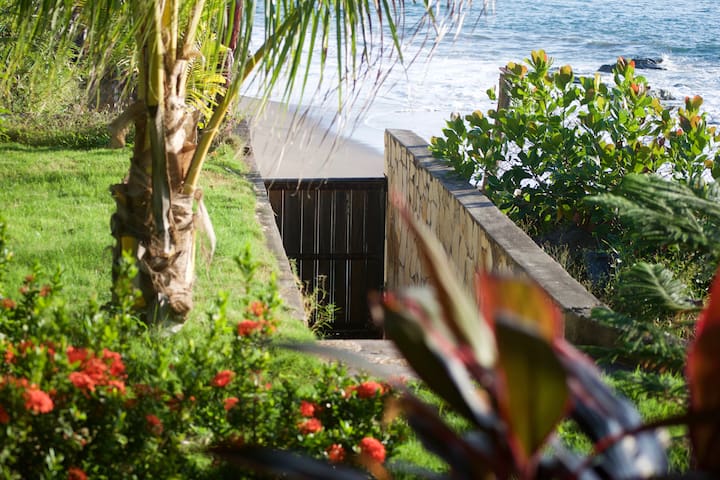 Mé místo je v blízkosti Leon, 45 minut na jih, 1,5 hodiny od letiště Managua, která se nachází mezi 2 populární surfovat po plážích. Zamilujete si své místo kvůli názorům, umístění, na atmosféru, odlehlé soukromé pláže. Mé místo je vhodné pro páry, sólové dobrodruhy, obchodní cestující, rodiny (s dětmi) a chlupatými kamarády (zvířata).
Type de logement
Logement entier
---
Type de propriété
Maison
---
Capacité d'accueil
8
---
Chambres
Playa Hermosa, Departamento de León, Nicaragua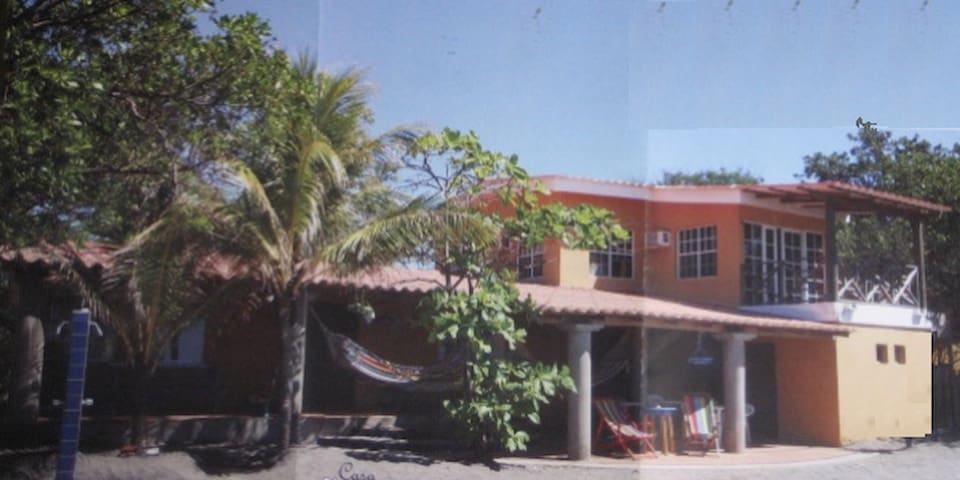 El Tránsito - Airbnb
:
Moyenne de

4.17

sur

5

étoiles sur les

27

commentaires des voyageurs
1

–

18

sur

18 locations de maisons
Saisissez les dates souhaitées pour connaître le prix total. Des frais supplémentaires s'appliquent et des taxes peuvent être ajoutées.