Saisissez la date d'arrivée au format jj/mm/aaaa
Saisissez la date de départ au format jj/mm/aaaa
Logements que vous pouvez réserver sans attendre l'approbation de l'hôte.
Saisissez les dates souhaitées pour connaître le prix total. Des frais supplémentaires s'appliquent et des taxes peuvent être ajoutées.
Cet été (juillet et août), vous pouvez essayer l'un de ces 100 logements les mieux notés, dans toutes les gammes de prix, pour découvrir Sonoma d'un point de vue local. Entrée dans les lieux 24h/24, réservation instantanée, mais aussi vin et petites spécialités locales à disposition… autant d'invitations à vous détendre et à profiter pleinement de votre voyage.
Nestled in the foothills, this beautiful property has it all. A perfect blend of outdoor play and total relaxation for your family. This property offers a spacious country home and pool house with all the amenities.
Close to Folsom Lake, wine country and an hour drive to the Sierras. This 4 bedroom 3 bathroom house is situated on 6 acres of private space. A million gallon pond stocked with fish sits as a water hazard to three tee offs and one golf green with large sand traps. An amazing pool with a gorgeous waterfall is the perfect place to splash around while BBQing your favorite foods. The pool house is 1100 sq ft equipped with a full kitchen and bathroom, and pool table. The main house is an entertainers delight with a very open floor plan boasting a gourmet kitchen and spacious great room decked out with home theater quality entertainment system. Expect 100% privacy, no in home interruptions. Just wild life and maybe a passing Gardner depending on the length of your stay.
We love this home simply for the tranquility and endless views any direction you look. Friendly neighbors ( when you see one ) and plenty of room to roam!! 1 hour to San Francisco and 1 hour to Lake Tahoe this is the perfect location to explore all that Northern Ca. has to offer. Uber and Lyft will come to the property no problem if you are looking for a relaxing night out. This Property is not to be used for events. Your reservation size needs to be the max amount of people staying at the property. Unfortunately we have had folks taking advantage of this so it needs to be said. The gardening Team will be around during Spring more frequently as this is when the property usually requires the most work....they are nice men and very approachable.
The house here is very cool, spacious and in a large open setup; very welcoming. Indeed the place is a good value and we quickly learned that likely nothing changed on the listing from the original time it was placed so we felt there were inconsistencies from what we signed up for and what we found upon arrival. A multitude of the creature comforts did not work or did not meet expectations; owner wouldn't allow us to use outdoor lighting (and it gets very dark at night), pool heater doesn't work, spa heat doesn't work (to be fair, it wasn't listed as an amenity to begin with, but it's there), audio system in the pool house was broken, and the golf course hole wasn't very clear or we couldn't find it. Also for a $300 cleaning fee, we expected a 100% top to bottom clean so we did not clean a thing. Brendan responded to this saying, "this was the worst shape the house has been left in by a large margin" so clearly our two expectations were not in line to begin with. Likely adding to the lack of picking up was that we had torrential rains the entire time and despite cleaning shoes and leaving them at the doors, I imagine we left the place dirty. Would recommend to potential renters.
Kevin
January 2016
Home was beautiful and so was the landscaping. Great place if you want to get away and have peace and quiet. Will definitely visit again.
Anthony
January 2016
Rural spot, perfect for a relaxed weekend away with friends! Beautiful grounds with great pool and pool house. Host was very responsive and friendly! Will definitely be back!
Becca
September 2016
If California Dreaming could be defined by a single place, it would be Brendan's hacienda. We diligently looked for a comfortable home in the Rocklin area on AirB&B to house multiple family members traveling there for a wedding. What we saw on the website regarding Brendan's place told only part of the story. As I arrived, the first of family to arrive, I was taken aback by the gentile country setting; well-groomed horse farms and old orchards surrounded the location, promising a quiet setting. We drove up a long, blacktop driveway, passing an inviting, postcard-like pond with a small boat beached near a bristle of cat tails ringing one corner. The landscape around and beyond was cultured, well maintained, planned, and mature, with plants flowering red and purple. The driveway turned past a sculptured fountain and patio and opened to a circle drive that ringed a raised landscape of trees and flowering shrubs, exposing a white, grand, wooden staircase climbing up to the deck that slung across the front of Brendan's large ranch house. Inside, the house is open, with lots of windows to enjoy the views, and is laid out so that the bedrooms are nicely separated from each other and from the public spaces, which are very spacious and richly furnished. Everything you need is there to use for a day or a week. The real surprise...a real (URL HIDDEN) the back "yard", if one could call it that. No, resort is a better term. The centerpiece is a free-form pool with a natural rock waterfall at the far end surrounded by some of the best landscaping I've seen. Raised walking areas near the pool deck ramp back and forth to several patios, each hidden from the next by strategically placed landscapes. The pool deck itself is a half acre, with fire pit, sauna, cushioned deck chairs around umbrella-shaded patio tables, cushioned chaise lounge chairs, dolphin sculptures springing out as if to jump into the pool, and a nearly 1,000 sf pool house with bathroom and shower, full kitchen, and a rec area with pool table and sectional couch. Day and night, this space draws you to it for meditation or small talk or plain old pool partying. Brendan was an excellent host who quickly responded to any questions or needs and didn't demand a lot other than enjoy yourself and leave it like you found it, which we always do! We will be back soon and often!!! Thanks Brendan! Rick
Laurel
September 2016
My family came from Ireland for my daughter's wedding and had a wonderful time at Brendan's house. We did not actually meet Brendan during our stay but the gentleman onsite was very helpful if we had questions. There were plenty of chairs around the pool for when the rest of the family came to visit. My 16 year old niece loves to ride and the next door neighbor allowed her to ride one of his horses on three occasions. This was the highlight of her trip. The two boys loved the pool house and made it their retreat. The house itself if very spacious but I would say my family spent most of their time outdoors. I would certainly recommend renting this home to anybody who is looking for somewhere to have a family get together.
Sharon
June 2016
We absolutely loved our stay at this beautiful property. It was the perfect vacation and we are already planning on going back! :)
Amy
December 2016
The house is so spacious and comfortable! We had out of town guests staying with us for our sons wedding and I couldn't have been more pleased with the accommodations! My son and his bride said they should have held the wedding there! The grounds are gorgeous! We've stayed at many airbnb's and this is the best one yet! The beds are very comfortable, the kitchen is very spacious, and the furnishings are beautiful! The grounds are meticulously cared for and so peaceful!
Pamela
September 2016
What an oasis! We reserved Brendan's home for a small group retreat and didn't want to leave the next morning! It was spacious enough for 12 of us with enough room to make a full breakfast, lounge about and who could forget the pool. The rooms were more than enough space for more than one inhabitant and we even had guests stay in the pool house. Wish we could have stayed longer and hopped into the jacuzzi. Would definitely reserve again!
Chelsey
November 2015
Type de logement
Logement entier
---
Type de propriété
---
Capacité d'accueil
10
---
Chambres
4
Loomis
Nestled in the historic Coloma Valley adjacent to the American River. The Balcony room provides a Luxurious queen bed, french doors that open up to a large balcony that overlooks the piazza and just adjacent to the beautiful shared tiled hall bathroom.
Guests have access to the upstairs common area where you can watch movies from our in home dvd library or play one of the many games. Our guests are free to come and go as they please.
We are located right in the valley. We are also close by to many restaurants, live music on the weekends, an early morning bakery nearby and during the summer at Marco's they have the best pizza and spinach salad with live music. A car is highly recommended.
Patsy welcomed us with Open arms and the biggest smile!!! She has energy and such a feeling of comfort!! Very friendly and helpful with tips and ideas on places to see and where to eat as well. We couldnt believe how beautiful the Villa is!! The decor and comfort of the entire house is amazing. Our favorite was at night, sitting outside with all the twinkle lights on, under the stars with the most peaceful setting. We cant wait to come back again and share this experience with friends!!
Kristina
May 2015
The Villa Florentina is a special & beautiful place, that pictures don't do justice. Patsy and Dave were incredibly welcoming and provided superb hospitality. We even got upgraded to the honeymoon suite, which is breathtaking, due to some unannounced guests. Every detail is extremely thoughtful, from the soaps in the restroom, to the delicious breakfast! Thanks for making this a very special stay--we will definitely be back for our next gold country getaway.
Erica
September 2015
Patsy was the perfect hostess-friendly and attentive.
julie
October 2015
Type de logement
Chambre privée
---
Type de propriété
---
Capacité d'accueil
2
---
Chambres
1
Coloma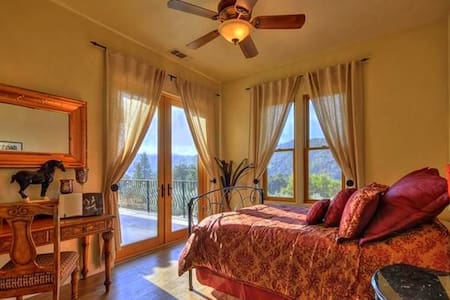 Nestled in the historic Coloma Valley adjacent to the American River, the luxurious Villa Florentina invites you to create memories that will last a lifetime. Walking distance to State park and walking paths.
Guests have access to the upstairs and downstairs common area, dining room and grounds. We also have two bikes our guests may use to ride down to the park or near the river. Our guests are free to come and go as they please. Some guests like privacy others enjoy visiting and getting a local insight in the area. Whichever you prefer we are happy to accommodate you.
We are located right in the valley, if you want quiet nights this is the place. We are also close to many restaurants, live music on the weekends, a early morning bakery with delectable freshly baked goods and during the summer the best pizza and spinach salad at Marco's and commiserating with rafters after a good run. A car is highly recommended.
Patsy and David were friendly, welcoming, and made us feel at home. Loved staying with them and would do it all over again. The room was beyond beautiful and the view only made it better. I hope to go back soon.
Faye
January 2016
Type de logement
Chambre privée
---
Type de propriété
---
Capacité d'accueil
2
---
Chambres
1
Coloma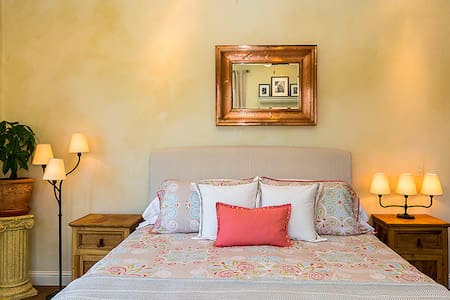 Located in the most beautiful area within the Sierra Foothills, our 35 acre property offers creekside walks, a taste of ranch life, a place to recover & relax, century old Oak trees, and is centrally located by many of Nevada County's best wineries.
Werewolf Ranch is a first year Ranch and Farm growing organic vegetables, and raising grass-fed lamb, dairy goats, laying hens, and ducks. Our primary focus is regenerating the land through sustainable agricultural practices (permaculture, if you're into that kind of thing). The guest area is a beautiful villa with a cozy queen-sized bed in each room, amazing natural lighting, breathtaking oak savannah views, with a clean and fresh feel. The third bed we offer is a top of the line queen air mattress, that may fit in either one of the bedrooms, or in the living room area. The villa has a 400 Sq. ft studio available for yoga, meditation, meetings, or small parties (equipped with yoga mats and blankets). The Villa also has it's own private deck overlooking a picturesque bucolic landscape, highly recommended for a glass of chilled white wine in the late afternoon. The quaint kitchenette has a water heater, tea & coffee, refrigerator, microwave, and toaster. Our 35 acre property lends itself to leisurely nature walks and creekside picnics. Other services offered: -Enjoy a farm breakfast- Werewolf Ranch eggs, greens, and whatever else is fresh! -Treat yourself to a massage during your stay! Jacqui is a certified massage therapist trained in Swedish and deep-tissue massage. 60 minute & 90 minute massages available. - Private yoga instruction. Jacqui has been practicing vinyasa and hatha yoga for over ten years. We have the perfect space to work on body mechanics, breath, and lengthening the spine. Yoga mats, blocks, and blankets already provided. - Farm tours available upon request. They are free if you schedule them before arrival. Please bring proper walking shoes and long pants if interested. Tours are approx. 30-45 minutes. If interested in any of these extra treats for your stay please inquire about pricing. Guests will have access to the entire two-bedroom, one bath + studio villa, and outdoor deck. They will also have access to our 35 acre property for recreation such as swimming in the creek, walking trails, birdwatching, picnicking, and checking out farm life. We are pretty busy on the Ranch, but we would love to give you a tour, cook you some breakfast, or have a glass of wine, just let us know (we don't want to infringe on your privacy)! We can recommend hiking trails, great restaurants, or wineries to visit in the area. Our house is separate from the villa, but adjacent, so you will have private access and as much privacy as you'd like.
Grass Valley is an iconic spot in the foothills of the Sierra Nevadas, Lake Tahoe. With a comfortable climate and diverse wildlife, this is an ideal setting for relaxation and recreation. This area has everything a vacation needs: great nature, excellent restaurants, friendly people, plenty of recreation (hiking, biking, inner-tubing, gold panning, birdwatching, fishing, white water rafting, skiiing, and wine tasting). In just a short drive you can find picturesque swimming holes along the Yuba, American, or Bear rivers! Additionally, there are 17 wineries in the Nevada County area offering unique varieties you won't find anywhere else. The 49 highway is a short drive away, which will take you to Grass Valley and Nevada City in 20 minutes, Auburn in 15 minutes, Sacramento in 45 minutes, Truckee in 60 minutes, and South Lake Tahoe in 2 hours. Dogs are welcome here, as long as they are well behaved. We have three of our own dogs as well as livestock, so if your pup is not good with other dogs, might kill a chicken, or chase a lamb, it might be better for them to either stay home or be on a leash for their stay. Also, a big WARNING: There is a presence of rattlesnakes and ticks on our property. We urge our guests to exercise caution and we do not take responsibility for wildlife mishaps. Also, this is a working ranch. There are inherent risks involved in walking around the property (uneven ground, spiny plants, etc.). Please take precautions by wearing proper shoes and walking mindfully.
From the moment we arrived we knew we would have a great time!! Our welcome note and chocolates made us feel very welcomed and of course Dylan and Jacqui were super nice and very welcoming. The Villa is just as described and had a very homey feel! We loved our stay!!
Mary
December 2015
Great space and great hosts!
Sep
December 2015
Very relaxing time. Walking the property was great! We saw otters playing in the creek. I chose the location for star gazing and while there were plenty to see, the property is just off a well traveled road. It made taking photos of the stars difficult. Jacqui was a great host and I loved the energy of the place!
Dede
April 2015
Jacqui and Dylan were super hospitable, welcoming, and made a relaxed bachelorette party a dream come true! We had access to their open studio and two nicely furnished rooms that made for a comfortable stay. Jacqui gave us a tour of the beautiful propriety, and what they are working toward and building is really neat. They gave us great recommendations for places to eat in the area, and even let us use their oven to reheat a pie we brought. Thank you, Jacqui and Dylan!
Joann
July 2015
We spent 4 days at Jacqui & Dylans' Werewolf Ranch while visiting family at Lake of the Pines. Their place worked out perfect for us. It was comfortable and roomy and our hosts were very welcoming and accommodating. They make you feel like you're friends that have come to visit. The two rooms upstairs were very large and the shared bathroom is everything you could need and more. You can come and go as you need to and you needn't worry about disturbing anyone because the you are detached from the main house. It is a very peaceful and serene setting and our dog Heidi loved running around on all that land. We hope to be able to stay there every time we visit our family down that way.
Gary
July 2015
We were all verry happy with our stay at warewolf ranch. Jacqui was extremely accommodating of our late arrival in the evening. She prepared a great breakfast and led us in a 60 min yoga class, which were both perfect the morning after a full day of climbing. Their land is great, they've already done a lot, raising chickens, ducks, goats & sheep, and it has so much potential! We'll definitively come back if we need lodging in the area, Auburn Quarry is very close and a great climbing crag. Thanks for everything!
Luke
November 2015
The hosts were very accomodating of our schedule, we arrived very late and they had no issues with our short-notice booking.
Jimmy
November 2015
Really pretty place, beautiful airy light filled rooms. Jacqui and Dylan are nice people doing good work on their land. They are welcoming and kind. They have three friendly dogs, a little herd of sheep and baby chicks. There is a beautiful creek which meanders through the property, there's a lovely deck to enjoy the moonlight.
Gila
June 2015
Type de logement
Logement entier
---
Type de propriété
---
Capacité d'accueil
7
---
Chambres
2
Grass Valley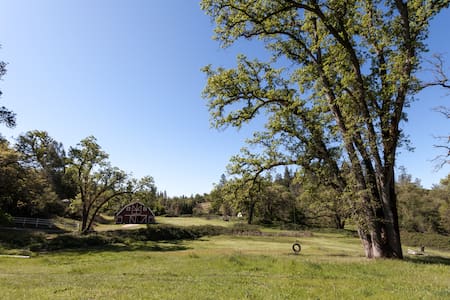 My place is close to highway 80 in Auburn California, parks, the airport. You'll love my place because of Breathtaking views in Winchester Country Club., the kitchen, the high ceilings, the views, the location, the coziness.. My place is good for couples, solo adventurers, business travelers. There are walking paths a swim club, tennis courts, hot tub and a wonderful golf course. You can either sleep in a private room with a Queen bed or the Master Bedroom that has a King Bed.
You can have your choice of the master bedroom or the second bedroom.
Beautiful country club with golf and tennis available. Walking and hiking trails.
Type de logement
Chambre privée
---
Type de propriété
---
Capacité d'accueil
3
---
Chambres
1
Meadow Vista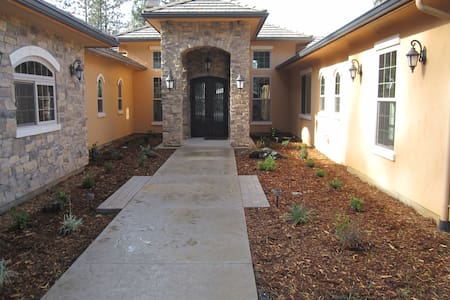 On top of the gold mountain encounter with the beauty of the nature. Chant resort has the power of healing energy. Great place to rest your body and enrich your spirit. 1200 sq ft floor with kitchen, dining and living room with an amazing mountain top view.
Type de logement
Chambre privée
---
Type de propriété
---
Capacité d'accueil
3
---
Chambres
1
Shingle Springs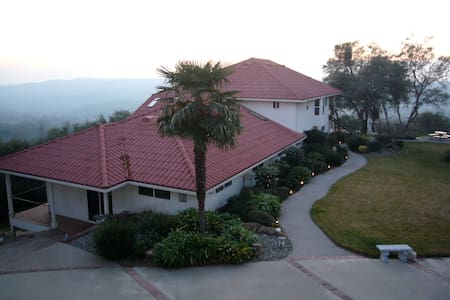 Enjoy nightly gorgeous sunsets from the comfy queen size bed with a view from your french doors. Just adjacent, is the Italian tiled hall bathroom. Our Florentina Suite has a fabulous ensuite bath if you prefer, please check it out.
Guests have access to the upstairs common room where you can watch movies from our in home dvd library or play games and just relax. Our guests are free to come and go as they please.
We are located right in the valley, if you want quiet nights, this is the place. A car is highly recommended.
Great setting and amazing hosts! Right at the heart of beautiful Coloma. Do not miss this location when planning for a wedding event. These rooms are perfect for both a couples get away or if flying solo.
Matthew
January 2016
Type de logement
Chambre privée
---
Type de propriété
---
Capacité d'accueil
2
---
Chambres
1
Coloma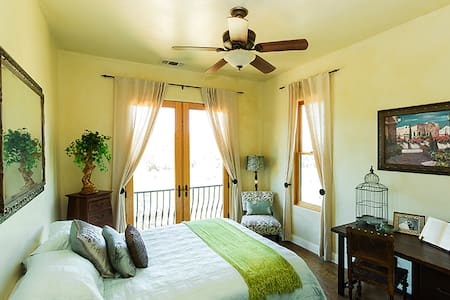 In the Sacramento Delta, just south of the Stone Lakes National Wildlife Refuge, and North of the Cosumnes Wildlife Preserve, surrounded by over 2,000 acres of wine grapes, this guest room adorned with Monkeys on the East Wing has a Private Bathroom, Closet, Mini Fridge and Room heater. A favorite place for celebrities, writers, bird watchers and those who just want to get away. Cows, birds, chickens/roosters, dogs, cats, children, small planes and tractors all make noise. Address is approximate. This location is not listed on online mapping services. Must book and contact for exact directions. Optional Chef, Massage Therapist, Bar/Poker Room, General and Car Services available at additional costs. Must make arrangements in advance.
Type de logement
Chambre privée
---
Type de propriété
---
Capacité d'accueil
2
---
Chambres
1
Elk Grove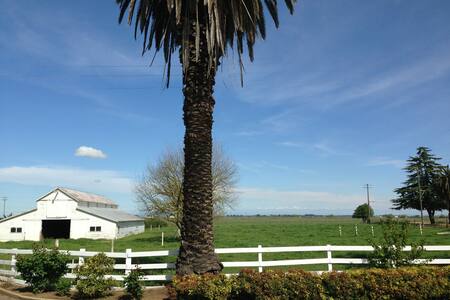 My place is close to wine country and wineries. You'll love my place because of the ambiance - located on a magnificent winery and estate!. My place is good for couples, solo adventurers, business travelers, families (with kids), and big groups.
Type de logement
Logement entier
---
Type de propriété
---
Capacité d'accueil
10
---
Chambres
4
Acampo