Saisissez les dates souhaitées pour connaître le prix total. Des frais supplémentaires s'appliquent et des taxes peuvent être ajoutées.
Cet été (juillet et août), vous pouvez essayer l'un de ces 100 logements les mieux notés, dans toutes les gammes de prix, pour découvrir Sonoma d'un point de vue local. Entrée dans les lieux 24h/24, réservation instantanée, mais aussi vin et petites spécialités locales à disposition… autant d'invitations à vous détendre et à profiter pleinement de votre voyage.
My place is close to Downtown. You'll love my place because of the coziness and the location. My place is good for couples, solo adventurers, business travelers, and families (with kids).
Great communication from host. Easy access to casita. Quiet neighborhood and felt safe .
Patrick
July 2016
Very clean and comfortable place. Christina is easy to talk to and willing to help. A perfect place for temporary stay in Alpine. Close to everything but having a car is recommended.
Suyu
November 2016
Alpine is one of our favorite sleepy Texas towns and this house was perfect for our weekend getaway. From your front porch you're able to walk to all the restaurants and bars and it's a short drive to the brewery. There's no tv but what do you need television for when you are on vacation!
Tim
July 2016
The Las Casitas Green Door was a comfortable stay. It is simple and cute. We loved that it was within walking distance of Main St and restaurants. Great value, and Christina was helpful when we had questions.
Bri
July 2016
I had a great stay!!! Was there for about a month for school. Casita is within walking distance of most of the restaurants in Alpine. Was clean and they were very responsive to any problems. Internet worked great also. Enjoyed getting to talk to my hosts also on the weekends. Great place to stay and visit the parks also.
Matt
September 2016
It was our first time to the area, and we loved it! The house was in the perfect location to walk around the cozy downtown area. We were driving to Marfa for a music festival, and it is only a 25min drive. Cristina was an excellent host, and very sweet!
Sophia
September 2016
Christina was an excellent host, very accommodating! Fun to get to know! The Casita was great - just what I needed, a clean and well organized place which was centrally located for my stay.
Lee
August 2016
We had a great two night stay .. !! Christina was fantastic about keeping us informed about our stay .. Everything in the unit was well thought out and comfortable .. We would definitely stay here again when we visit west TX
Sharon
November 2016
Type de logement
Logement entier
---
Type de propriété
---
Capacité d'accueil
2
---
Chambres
1
Alpine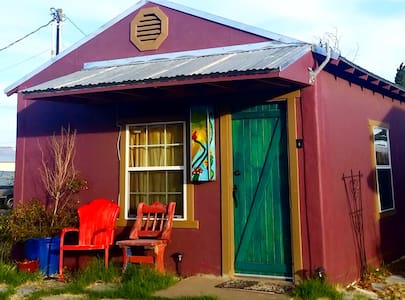 My place is close to the city center. You'll love my place because of the coziness and the location. My place is good for couples, solo adventurers, business travelers, and families (with kids).
We really liked the location. It was fun to explore Alpine and Fort Davis as well as Marfa. The ride to both destinations was pleasant and easy. The casita was lovely and very clean. Christina responded to questions quickly. If our travels include another trip to West Texas we would look to Las Casitas Guesthouse.
Corrine
October 2016
Lovely place. Walking distance to town center.
Leeanne
August 2016
It was wonderful staying in a tiny casita tucked into the neighborhood near Murphy street. If you get there after dark it can be hard to find the entrance, but it was a wonderful location. I walked to eat, go to the post office, and anywhere else I wanted to explore. It was the perfect, very short walk to Holland Avenue. Very comfortable and clean. Good air conditioning. Great shower. Clean white towels. Nice bed. It has a kitchenette with a small refrigerator, so next time I'll bring some wine to drink on the little front porch at night and look out at the hills. I'll be disappointed if it's not available next time I get to go to Alpine!
Pamela
October 2016
This was the cutiest little tiny house I have ever seen! Clean and very comfy! Will definitely stay here again!
Angela
October 2016
Had a great stay! Host was more than accommodating and made us feel right at home. Location was walking distance to most of our local destinations. Would recommend!
Este
September 2016
The Red Door Casita is perfectly appointed for one or two people to have a great stay in the "far out" town of Alpine, truly the gateway to the many wonders of the High Desert / Big Bend / Davis Mountains region. The space is comfortable and well layed out. The furniture and kitchenette are functional, durable, and attractive. The outdoor areas, shared by the three casitas, are lovely, ample, and natural. The only minor cautionary note I have is that as a fairly large man (6'2 200lbs) I just barely fit in the shower and would have been hard pressed to share the comfy bed with another person, had that person been my 5'11 wife it might have been just a bit too tight. Christina and her husband who manage the property are exemplary natives to the area. Friendly, warm, welcoming, and hard working I couldn't have asked for better hosts. They were extremely accommodating and flexible, responsive and attentive. I cannot recommend the Red Door Casita enough if you are looking for a true West Texas vacation.
Brian Eric
July 2016
As a whole the stay was very nice. The casita was very clean . Christina was there at the tip of the fingers. There was a slight problem with the towels, but Christina plans to alleviate that. There is no tv but it looks like plan to have one is in the works. Two Mexican restaurants, a pizza place , and a hotel bar are all at walking distance. Big plus. At first the casita seems hot, but once the AC gets going it gets COOL. Another big plus. I wish we lived closer to Alpine. We enjoyed the trip.
Andrew
July 2016
She was great in getting back to me about questions, would recommend her casita any day
Lynn
September 2016
Type de logement
Logement entier
---
Type de propriété
---
Capacité d'accueil
2
---
Chambres
1
Alpine