Beau bateau séjour au bord de la mer avec vue sur la ville de Portland et sa ligne d'horizon incroyable! Ce n'est pas un yacht mais un espace super confortable, paisible et unique pour vous lors de vos voyages! My Boat & Marina est livré avec tout ce dont vous avez besoin pour un séjour idéal! Pour un coût supplémentaire de carburant, vous pouvez profiter d'une croisière privée sur la baie Casco, voir (4) de renommée mondiale, Phares historiques, phoques forts et de nombreuses espèces d'oiseaux! Pas besoin de chercher ailleurs, rester directement sur l'océan! :)
Le bateau offre un petit quartier de vie décontracté où les canapés de salon peuvent aussi se transformer en un lit super confortable mais il y a aussi un lit de taille dans la zone arrière du bateau, parfait pour 2-4 personnes! J'ai un poêle, réfrigérateur, évier d'eau douce et salle de bain sur le bateau aussi! En raison de mon horaire de travail, l'enregistrement devra être de 17h30 et cependant, si vous reveniez plus tôt, s'il vous plaît laissez-moi savoir et je ferai de mon mieux pour que le bateau prêt pour vous à votre arrivée avec complète des instructions telles que les codes à l'entrée principale, Marina Clubhouse et salle de bain avant votre arrivée! Si vous êtes intéressé par une visite de la mer privée sur la baie Casco, explorer les forts historiques, célèbres du monde, Îles et Lighthouses Sceaux, laissez-moi savoir dès que possible et nous espérons pouvoir coordonner une croisière en bateau! Pour plus d'informations sur mes visites privées de la mer, s'il vous plaît consulter en ligne « Tours de sel et Sea Mist »!
Joe was very accommodating even took us for a water taxi across the bay. The boat was clean and comfortable. A real cool little adventure out of town for my wife and I.
Alex
2016-09-10T00:00:00Z
Type de logement
Logement entier
---
Type de propriété
Bateau
---
Capacité d'accueil
4
---
Chambres
South Portland, Maine, États-Unis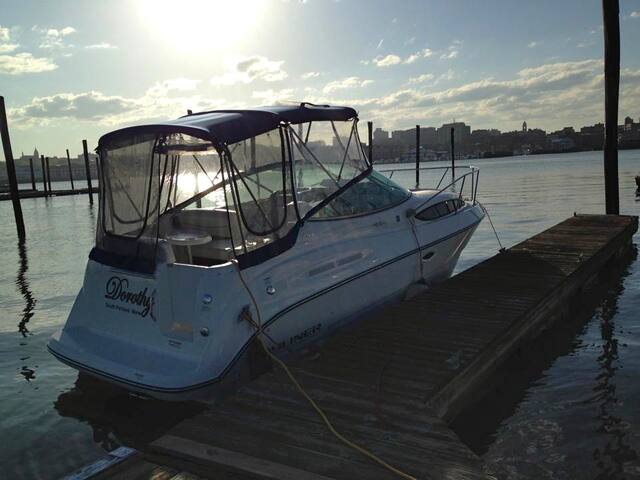 Here is your chance to stay on a gleaming classic '65 Chris Craft right in the heart of South Portland. Enjoy the most comfortable boat in Portland in the most protected area (none of the rocking and rolling that other spots in Portland are known for!). Enjoy all of Casco Bay right from the dock. Convenient water taxi on site will take you to any of Portland's outlying islands.
You will be staying on a perfectly maintained classic Chris Craft Sea Skiff. This boat turns heads wherever she goes, and she is a hoot to be on. Four guests can be stay comfortably on board, but there are comfortable beds for six adults, although that would be tight. The boat is berthed at a comfortable and safe marina that has clean bathrooms and shower facilities. While Portland harbor is known to be quite uncomfortable because of the waves caused by the constant comings and going of commercial boat traffic, this boat is located in one of the only spots that is well protected and therefore will ensure a great nights sleep.
South Portland is a great spot just outside of Portland proper. There is a terrific brewery literally next door to the boat, as well as other great spots to enjoy all manner of meals and entertainment. Also very close by are a couple of supermarkets, pharmacies, eclectic shops, salons etc. There is a nice park nearby that locals like to walk their dogs and go jogging in. If you're a runner or biker, going across the South Portland bridge into Portland is a great way to take in the local sights on the water.
Type de logement
Logement entier
---
Type de propriété
Bateau
---
Capacité d'accueil
6
---
Chambres
South Portland, Maine, États-Unis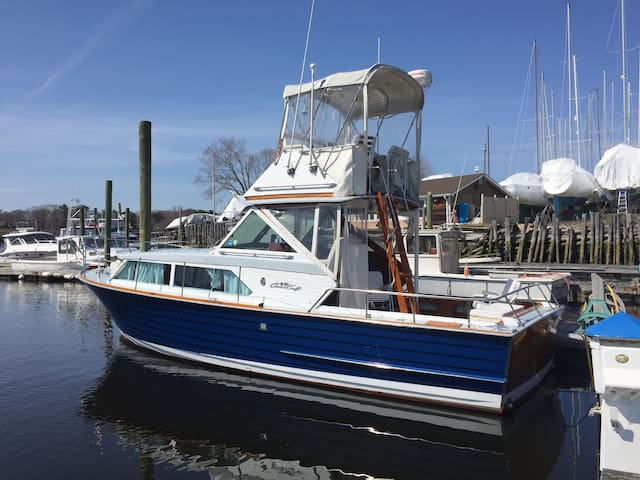 Docked in the heart of the city. Walk and enjoy what Forbes magazine called one of the top ten most livable cities in the United States. Portland offers you a menu of sites, restaurants to enjoy and music that will make you want to dance.
Flying Circus is a 39'ft by 20'ft sailing catamaran. She is very spacious and is located on a dock in the heart of Portland. The facility is Portland Yacht Services with gated access to the dock. Parking is at marina located at boat. Most guest walk into the city for convenience.
The neighborhood is an eclectic group of people that love living on the water during the summer months. We are located off of the Portland trails that winds through the waterfront and back bay. While the boat is docked at Portland Yacht Services, they only provide security and manage the docks. I am responsible for any accommodations you might need and I will direct you to parking in the permit area. The boat is on the ocean so it will move depending on wind direction and time of year. The fall is more unsettled so plan accordingly. Also Maine is very tidal so the dock can get steep twice a day. Most everyone find the boat and environment "amazing" but if you have limited mobility there will be more challenges and risk. Let me know if you have any concerns before you visit.
OMG what a view! The nighttime was good - but wait until you see the morning sun come up. It was so much fun staying on the Flying Circus, even for only one night. Michael was wonderful - showing us everything about the boat - even the "best bed" on the boat - that was Awesome! The marina was so relaxing - hearing the water lapping at the various boats. We did get to hear and see the Nova Scotia ship leave - the horns and lights were great. We had everything we needed - potty, frig, coffee maker. The showers are very close - 1/2 a minute walk. It did take us a few hours to get our "land legs" back but totally worth it. Portland is beautiful and people were very friendly. And make sure you eat at Gilberts!!!!!!!! Holy cow - delicious. We had already made reservations for a cruise before we booked the Flying Circus for the night and didn't know that Mike does cruises - I would have booked with him had I known. Well, there is always the "next time". And Mike - I have given your info to 3 people so far - cannot say enough good things about you and your boat.
Robin
2015-09-21T00:00:00Z
Another wonderful time on the Flying Circus! The catamaran is beautiful, perfect location, and Mike is the ultimate host. We also were able to sail this time around, which was such a treat. Thank you again, Mike, for such a great weekend!
Colleen
2015-09-07T00:00:00Z
We had such a great experience on Mikes boat in Portland, ME! Mike was a great host, giving us a thorough tour of the boat and facilities, as well as some excellent recommendations for Portland. We loved the opportunity to stay right on the water, and the weather, views and fresh air were perfect. Can't recommend Portland and this particular lodging enough!! Hope to be back!
Molly
2014-08-31T00:00:00Z
Great stay! Michael was very easy to keep in touch with and welcomed us with an informative orientation to the boat. The boat's an experience to spend the night on and Michael's kept all amenities in mind with the set up.
Matthew
2015-08-23T00:00:00Z
Staying on the Flying Circus was a fun and unique way to experience Portland. Mike was very helpful in showing us around the boat, and answering questions throughout the stay. Overall, a great trip!
Katherine
2016-07-11T00:00:00Z
Mike made the entire experience very easy. He was friendly, knowledgable, accomidating, fun to talk to PLUS the harbor was beautiful and the Flying Circus comfortable. Two couples stayed and we had plenty of room. There were several awesome restaurants close by along with a market, although we spent much of our time enjoying the boat and the scenery. We did the 2 hour cruise and it was a highlight! We would definately book again! Thanks Mike!!!
Haley
2015-07-26T00:00:00Z
We loved our stay on the Flying Circus. What a unique and memorable experience. We were warmly welcomed by our host. Everything was done to insure our comfort and enjoyment.
Cynthia
2016-07-09T00:00:00Z
Great stay, exactly as described such a beautiful place to stay in Portland!
Cheryl
2016-07-24T00:00:00Z
Type de logement
Logement entier
---
Type de propriété
Bateau
---
Capacité d'accueil
4
---
Chambres
Portland, Maine, États-Unis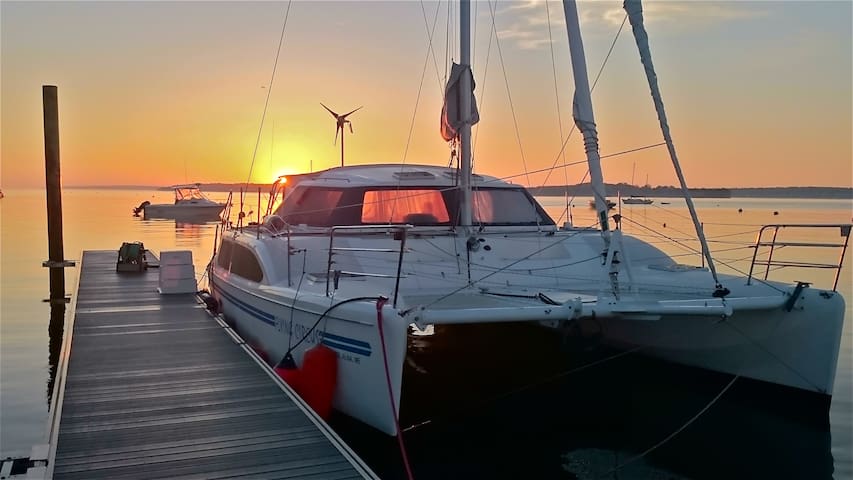 My 48' live aboard sailing yacht is moored in Falmouth, ME with private shuttle launch service to and from shore. Boat boasts full amenities, open concept and sleeps 5 comfortably. Plenty of above deck space for sunbathing or meals, and Captain service for venturing out on Casco Bay available too.
My sailboat is a very simple (read: not super fancy),with a wonderful open concept floor plan with 5 comfortable single beds/berth's and plenty of floor space for additional sleepers. There is a microwave, refrigerator and power inverter aboard in addition to the batteries to run lights, etc after dark. We bring fresh water on board for guests and do have seawater sinks for doing dishes, etc. You can generally catch the wifi signal from land which is free. We do not have hot water or a shower on board currently- but the yacht club has showers if you need to rinse after your swim or get ready for work or your day ashore. You can swim off the boat, watch birds and seals along with witness some of the most spectacular Maine sunsets around. The Launch service is available to take you to and from shore where you can Uber to downtown Portland (about a $12.00 ride) or have drinks and or dinner at the spectacular Dockside restaurant. You can also park at the club for free.
The boat is moored in gorgeous Falmouth Maine at Handy Boat Marina ( (URL HIDDEN) a few miles from Downtown Portland. The mooring is the last mooring in the field meaning you are not surrounded by other boats and it's quiet and peaceful. Handy Boat has a spectacular restaurant called The Dockside Grill that has great food and a huge bar.
Josh was very kind and made our stay enjoyable We got take out and brought it back to the boat to eat and enjoyed the Sunset from the water Sleeping on a sail boat is just amazing especially sleeping on deck Josh sail boat had everything you need from towels blankets dishware to wifi from the main land Showers and bathrooms at the marina was very clean He was easy going and easy to contact at anytime (e-mail or phone) A very good host We strongly recommend this place to stay and would love to go back
Josée-Anne
2016-09-18T00:00:00Z
Josh was a great help in my trip. Our conditions were special and yet he delivered all the heads up I needed. Everything was exactly like describe and his boat was very pretty and functional, he had clear instructions laid out for us and kept in touch if we had any questions. I would rent this again if the opportunity showed itseft again.
Maxime
2016-10-23T00:00:00Z
Josh Is a very handsome young man, he's very enthusiastic, we live in the ship can view the sunrise, sail out to sea, also can see the stars at night. We six adults living in the ship, the ship is small.
Weirong
2016-10-20T00:00:00Z
This trip was amazing! I've never stayed on a boat before so I had no idea what to expect. Josh was extremely helpful, there were more than enough blankets for everyone, and until you've fallen asleep on the deck of a boat looking up at the stars you've been missing out. There was fresh water for us to drink, detailed instructions to call a shore is we needed to and even some restaurant recommendations from Josh. I would definitely consider heading back to Maine to stay here again!
Kyle
2016-10-09T00:00:00Z
Josh was very easy to reach and flexible on timing
Marty
2016-10-24T00:00:00Z
Josh was right there to meet our group as we arrived, gave us a run down of the ship and was very accommodating! He was only a text/call away if we had any questions, will absolutely be back! Thanks Josh!
Dan
2016-10-02T00:00:00Z
Type de logement
Logement entier
---
Type de propriété
Bateau
---
Capacité d'accueil
7
---
Chambres
Falmouth, Maine, États-Unis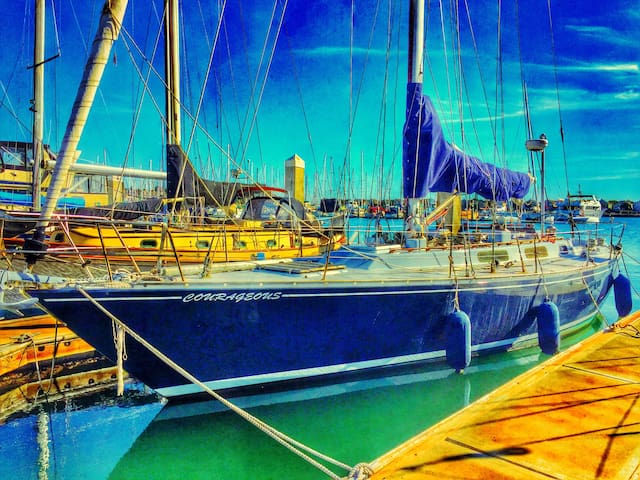 My place is good for couples, solo. My boat is close to restaurants and dining, nightlife, public transport, Portland, waterfront - just a 10 minute drive to downtown Portland. You'll enjoy Stunning views of Portland harbor. Watch ships & yachts arrive and depart from the harbor. Gorgeous sunsets.. NOTE the first pic is not my boat but a stock photo. Will be updated soon! The rest of the pics are of the actual location and marina from last year.
Cozy! The dinette can sleep at least 2 medium size people easily once converted to a bed (queen), the quarter cabin can sleep 1-2 (double size). Please note that the reviews left in 2016 were for a much smaller boat. This is a new listing! Guests have full access to restrooms, boaters lounge, Marina store, WIFI, showers, and laundry at the marina itself. Parking is free, safe and included with your stay. Boat amenities include AC, Heat, Sinks w/Hot & Cold water, refrigerator, microwave, and bathroom (head). Be sure to email and check for availability as it's not limited to what the calendar reflects in all cases so it's definitely worth checking with us! Boating is one of our favorite things in the world to do and the season is short. We try and use it as much as possible but every day is not an option so we enjoy sharing the wonderful experience with others. If the calendar is blocked, it's either booked or we're planning on using the boat that day. Plans change so be sure to check.
Type de logement
Logement entier
---
Type de propriété
Bateau
---
Capacité d'accueil
3
---
Chambres
South Portland, Maine, États-Unis
Ce 27 'Voilier deux couchages, a une cuisine, la tête et la douche d'habitacle Parfait pour un couple qui cherche à sortir et passer une nuit sur l'eau. Le bateau est sur un mouillage, reste ancré, crique privée avec un quai attenant et kayaks. service de navette pour n fro
Un voilier sur l'océan dans une crique isolée, grill barbecue, quai privé, l'utilisation gratuite des kayaks, Que dire de plus!
Dans quel quartier !!! Îles, Océan, Eagles ,,,
Wendy and Jeff were awesome! The sailboat was just as described. The only thing we needed to bring was our food and drinks for the night. There was a grill outside but it was so windy that we had trouble keeping it lit so we used the stove top inside. We really loved our stay here! It was a very relaxing getaway. We would definitely recommend it to anyone!
Molly
2016-08-24T00:00:00Z
Wendy and Jeff were fantastic hosts. This was a spontaneous trip with my 12 year old son and the experience did not disappoint. They were fantastic making sure we were happy and had what we needed. We stayed two days and had a very memorable time. They kayaking was great fun, dock was perfect for sunning, and amenities great for a simple approach (we considered it "camping"). The grill was tricky, but the pan in the kitchen worked just fine. We brought an extra cooler for libations and Wendy was great bringing extra ice for our second day. They were a wonderful couple and we really enjoyed ourselves and would do it again in a heartbeat.
Ann
2016-08-29T00:00:00Z
Wendy and Jeff were great hosts. They were very friendly and made sure we had everything we needed.
Kayla
2016-08-28T00:00:00Z
It was so much fun spending a night on Wendy's boat! We picnicked on the dock, went swimming, stayed up stargazing, and took the kayaks out to see the sunrise...seriously magical! Plus, Wendy was super sweet and accommodating (they even left us a bottle of wine). Definitely one of the best Airbnb stays to date!! We'll be coming back :).
erin
2016-07-31T00:00:00Z
Wendy and Jeff were perfect hosts. We missed our train on Friday, but Jeff drove down to Portland Saturday morning to pick us up on his boat, and after a nice boat ride to the cove, there was a bottle of wine waiting! The weather was perfect for kayaking and lounging, and the grill was perfect for grilling shrimp! We kayaked down to Paul's Marina, and everyone treated us like we had grown up there too. On our way back to the boat, we saw a group of harbor seals sunning, and it made the whole trip an altogether perfect one.
Michael
2016-08-21T00:00:00Z
Wendy was so easy to communicate with and so accommodating from the very first message. The boat is so perfect and what a fun experience. This boat is moored away from shore so once you are out there you can kayak or swim. If you need anything Wendy will be there on the spot with a glass of wine! If you are looking for an adventure this is the thing to do!
Kristen
2016-08-15T00:00:00Z
Wendy was a friendly and accommodating host. She provided a water shuttle ride to and from boat to meet our schedule. Unfortunately, the weather was damp the first day, but the next morning we awoke to calm waters and picturesque views of Casco bay. Fun kayaking, hiking, and relaxing on the deck. I would recommend this if you are looking for a causal on the water experience in a beautiful Maine setting.
John
2016-08-11T00:00:00Z
Its a sail boat on a private cove about a mile from the dock! Not much to not like. Great night paddleboarding and perfect weather.
Chris
2016-08-19T00:00:00Z
Type de logement
Logement entier
---
Type de propriété
Bateau
---
Capacité d'accueil
2
---
Chambres
Brunswick, Maine, États-Unis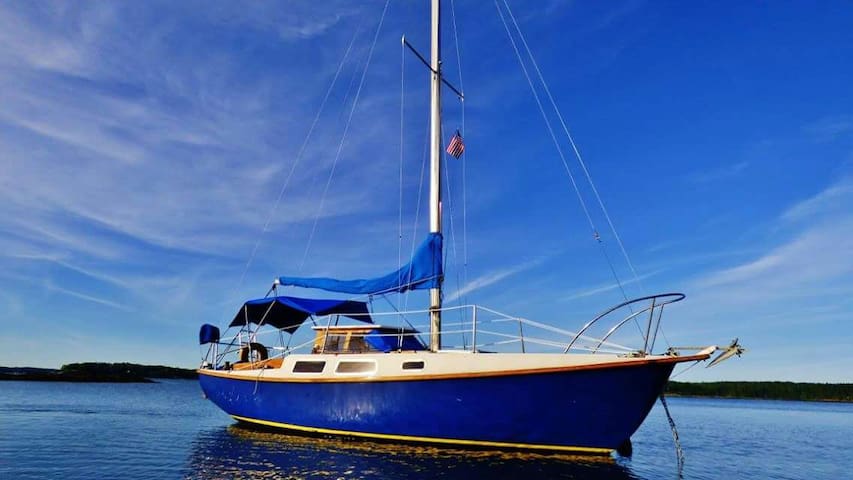 Fryeburg - Airbnb
:
Moyenne de

4.94

sur

5

étoiles sur les

90

commentaires des voyageurs
Saisissez les dates souhaitées pour connaître le prix total. Des frais supplémentaires s'appliquent et des taxes peuvent être ajoutées.