Saisissez la date d'arrivée au format jj/mm/aaaa
Saisissez la date de départ au format jj/mm/aaaa
Logements que vous pouvez réserver sans attendre l'approbation de l'hôte.
Saisissez les dates souhaitées pour connaître le prix total. Des frais supplémentaires s'appliquent et des taxes peuvent être ajoutées.
Cet été (juillet et août), vous pouvez essayer l'un de ces 100 logements les mieux notés, dans toutes les gammes de prix, pour découvrir Sonoma d'un point de vue local. Entrée dans les lieux 24h/24, réservation instantanée, mais aussi vin et petites spécialités locales à disposition… autant d'invitations à vous détendre et à profiter pleinement de votre voyage.
This is room split level with own stair entrance. has air condition, very private.. does not have balcony area, can sleep 4 people, breakfast included.. Gili Turtle Village is situated on the Beach Road Gili Trawangan opposite the Turtle Comservation area 300 meters towards the north (to the right ) of the island when arriving on the island
This attic room sleeps up to 4 people and is split level it has its own shower room , breakfast is included for 4 people which consists of a banana or pineapple pancake with honey and coffee or tea for guests Free WiFi.... discount on hired bicycle, around the 3 island trip discount price...laundry service...fresh food menu... We work like a family at Gili Turtle Village and ask our guests to join.. there is no BOSS in our project just Mum and the10 boys and we work as a team and make an effort to make your stay with us memorable...
On the beach front with turtle conservation area..a 15 minute walk from the busy night life area, local food market 300 meters open from 6pm-midnight we offer bicycles for rent at a reduced cost for our guests and there are horse cart taxi if required on the island We have wifi in all bungalows..free for our guests
La chambre est fidèle aux photos soient juste deux matelas dans une pièce peu lumineuse mais cependant très bien placée en centre ville. Helen est une hôte très charmante et sympathique. Bémol sur la propeté des serviettes et des draps.
lucie
August 2016
I would not recommend this place even If Helen was welcoming,. Extremely expensive, no windows in the room, no sink. We canceled our 2nd night.
David
August 2015
A good place to relax! It's quite and clean. And Halen gave us many help in Lombok!
志彬
January 2015
Hard to find the place and nobody to help you when you arrive, The name is Dino Bungalow that should be writing on the advertisement
Remi
September 2015
Type de logement
Chambre privée
---
Type de propriété
---
Capacité d'accueil
4
---
Chambres
1
mataram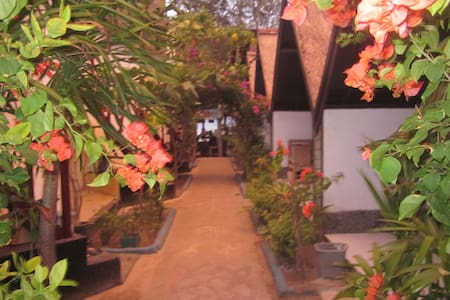 The Loft is a unique space. It is perched on the hillside so it offers some nice views of the valley and out to the bay. It is not completely enclosed (so no A/C) but it stays cool at night and mosquito nets keep away the pests. Guests have access to the pool and free wifi. We are happy to assist in arranging tours and transport. It is only 5-10 minute walk (0.2 km) to the beach and a 3 minute drive (0.8 km) to the center of Senggigi with plenty of cafes, shops, and clubs. There are 3 mini-markets, a few beachside restaurants/cafes, and several warung (food stalls) within walking distance. Taxis are often available at the entrance to the complex and also very cheap public bemos during the day. The owners also live on the premises. *The Villa is located about 3 stories above street level so there are a few stairs to get there. A bit of information about Senggigi Lombok. The Senggigi region is the main tourist destination on the island of Lombok in Indonesia. The main town is Senggigi itself, and the whole area is well known for its beautiful west facing beaches. There is a small Art Market in this area to satisfy your shopping needs and buy souvenirs. Many visitors use Senggigi as a home base and take day trips to the waterfalls, the Gili Islands, or just go exploring the still authentic villages, temples, and forest habitat found within a couple of hours drive. Guests have access to their own room, the pool and lounge area, and the garden. We live on the premises and are available to assist with any guest questions or requests.
The neighborhood, located a few minutes away from central Senggigi, is a mix of different types of housing. The houses are mainly single story bungalows, but there are also some very nice villas and a small local village. Taxis are available 24/7. We can arrange private car with driver as well for tours and transfers. There is a public minibus that runs up and down the main road in Senggigi during the day. And there is also an airport shuttle leaving on the hour.
Acceuil sympathique! Confort sommaire. Le loft est un peu petit pour 5 personnes
Agnes
July 2015
This tree house loft was an amazing find! It enhanced our trip in Senggigi greatly. The beds are comfortable, the staff are kind, the views from the infinity pool are sublime! Nothing but the highest recommendations
Whitney
March 2013
There was a very welcoming and kind staff. Pool was great and food and drinks were very delicious. Just a local geckos were everywhere and a little bit noisy:).
Ondřej
November 2014
John and his family were very willing to help and suport us in every regard . The room was very clean and tidy & the swimming pool too! They have been a wonderful host . We really enjoyed our time there . We can definetily recommend this host !!! Thx you John for everything!
Kerstin
May 2014
From the beginning to the end we had a great and relaxing stay at johns house. Everybody was very friendly and helped us with organising day trips, gave us tips about local foot and organised a pick up from the airport in Lombok. We just had cold water in the shower what wasn't a problem either a cool refresh in the morning and the evening. Also we really enjoyed the little drinks and foot that we got while sitting at the pool. Thank you very much for making our first stop a relaxing start.
Julia
September 2015
Our stay was only a day but John was accommodating to our requests especially booking for our boat ride to Nusa Lembongan. The loft was huge and nice, we had awesome complimentary breakfast. I will stay for a longer period next time!
Ikay
August 2014
The host canceled this reservation 12 days before arrival. This is an automated posting.
Saray
Nice facilities. Even no air conditioning but it not feel hot. The swimming pool is nice. But a bit far from beach.
Chu
November 2015
Type de logement
Chambre privée
---
Type de propriété
---
Capacité d'accueil
3
---
Chambres
1
Batu Layar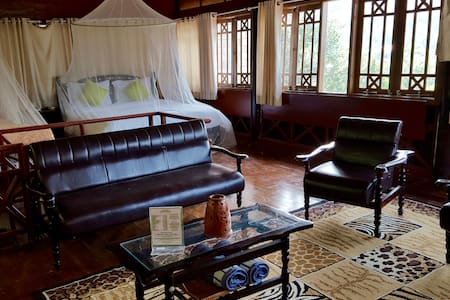 Located on the second floor of Villa Cantik with large private balcony. This luxury penthouse suite will make your dream-stay more than complete. Spend the magic moment with sunset view....
Located on the second floor of Villa Cantik is "The Loft". This luxury penthouse suite will make your dream-stay more than complete. In addition to the "en-suite" bathroom you will find a romantic four-poster canopied bed with almost transparent curtains which gently move in the tropical breeze. The large private balcony is the perfect place for sipping ice cold drinks or just relaxing on the deck chairs and loungers and enjoying the sun. An authentic handmade teak wooden "kaki-lima" is provided as your own house-bar. Surrounded by lots of Bougainvillea and wonderful tropical flowers, you will enjoy the never-ending amazing view. Private access to the Loft, wifi We will be able to serve you with all you need (dinner, lunch and trip)
Quiet place, you will enjoy to stay there Taxi is the easy transport in Lombok To get Villa Cantik, we can easily to arrange airport pick up or go with taxi. 1 hour from the airport to Villa Cantik Quiet place to stay
Type de logement
Chambre privée
---
Type de propriété
---
Capacité d'accueil
2
---
Chambres
1
Batu Layar