Saisissez les dates souhaitées pour connaître le prix total. Des frais supplémentaires s'appliquent et des taxes peuvent être ajoutées.
Cute loft in walking distance to downtown Hood River. Sleeps 2 on queen size loft bed, kitchenette with microwave, coffeemaker. toaster, blender and more essentials, bathroom with tub, WIFI, TV, radio, window AC unit. We just got a new leather sofa, which turns into a full size sleeper for those who prefer not to use the high loft bed which is accessible by a steep ladder and close to ceiling. Close to downtown, the Gorge, windsurfing, kiting, hiking, kayaking, biking and so much more.... We are pet-friendly, but require an additional $20 pet fee, payable at check-in. We provide lots of outdoor magazines, maps and reading material about Hood River and the Gorge for your convenience. The City of Hood River has a population 7,320 as of July 1, 2011, and is located in the heart of the Columbia River Gorge National Scenic Area between Mt. Hood and the Columbia River, approximately 60 miles east of Portland, Oregon. The Hood River toll bridge spans the Columbia River and connects the city with the communities of White Salmon and Bingen located in the state of Washington. Major local industries include orchards and fruit packing, healthcare, timber, software engineering and technology, tourism and recreation (particularly windsurfing, kiteboarding, cycling and mountain biking, hiking and skiing). Hood River is home to four breweries, a growing wine industry and a thriving food scene. garage for storage of sports equipment, back yard for grilling, driveway or street parking for car. as little or as much as they want. I am very active in many sports so guest are welcome to join me or I can point them in the right direction. windsurfing, kite boarding, mountain biking, road biking, hiking, white water rafting, beer pubs,... the list goes on.
the view is awesome, and the street is very quite with great access to downtown walking distance. Warning: we are on top of the hill from downtown. Walk down steps is easy, walk back is not so easy but a great way to work off that dinner or lunch or beer/wine :) walk or bike the loft does not have a closet but there are shelves for putting cloths on. There is a foldout sofa for those who don't want to climb the steep ladder to the loft bed. AC which is seldom needed - there are fans also. There is a coffee maker, small frig, and microwave, but no stove or hotplate. Bathroom has tub/shower and toilet but sink in kitchenette.
Nous avons été bien accueilli par Whit qui avait mis à disposition les clefs dans une boîte sécurisée l'appartement. Le quartier est très bien entretenu avec de belles maisons, calme et proche du centre ville pour tout faire soit en voiture à 2min soit à pied mais il va falloir descendre, puis remonter plusieurs centaines de marche. L'appartement est indépendant de la maison et séparé mar le garage, nous étions donc autonome sans se déranger. Nous n'avons pas utilisé le lit du haut car l'accessibilité avec l'échelle ne nous rassurait pas. Nous avons opté pour le clic clac au rdc, ce qui etait très bien. Hood river est une superbe ville, surtout si vous aimez faire du sport, bonnes brasseries et restos avec une ambiance cool et détendue. Une etape que nous avons adoré.
sinta & cyril
August 2015
Whit's loft was a fabulous place to stay in Hood River. It was close enough to walk to the downtown area, but it was located in such a quiet and peaceful neighborhood. The loft itself was quite cozy- a nice place to enjoy a glass of wine and watch a little Oregon Public Broadcasting before bed. I enjoyed being able to make myself a nice breakfast and a cup of coffee before heading out into the forest for the day. The back patio area was absolutely beautiful and I enjoyed watching the birds and squirrels hop around in the morning. I would certainly stay again without reservation.
Teri
September 2015
Nicole and Whit have a great little space for what was a quick stay for my wife and I. Great neighborhood near downtown, and just a great feel.
Brent
September 2012
Great little space. Hood River is a really cool, fun town- lots of restaurants, breweries and bars in town. We had a fun time just cruising around town. Didn't meet Whit, but the place was exactly as described. Lovely and clean! Thanks :)
Maggie
September 2016
The place was perfect for two people. Clean, cozy and quiet. And it was nice that it was so close to downtown.
Danielle
September 2014
The apartment was easily accessible. Whit left us a message to be sure to bring a flashlight so we could see the path to the door. The lodge is modern and attractive - and plenty warm with the wall heater. We were grateful for the extra bed so our toddler didn't have to navigate the ladder. The view was gorgeous. The neighborhood was quiet and safe. Thank you!
Laura
December 2014
Whit's place was exactly as described. It's clean, convenient location and nice neighborhood. We really appreciated being able to store our sports gear in the garage. Whit is very hospitable.
Kelly
August 2015
The loft is small and perfect for a place to stay after playing in the area. The bed upstairs is comfortable however I must warn there is a steep ladder that you must climb to get bed. Makes middle of the night potty breaks challenging... The walk to town is a very steep walk. Area is beautiful so maybe the walk to town is more enjoyable in the summer, not so much in the winter. Overall enjoyed our stay in Hood River.
Jessica
November 2015
Type de logement
Logement entier
---
Type de propriété
Loft
---
Capacité d'accueil
2
---
Chambres
1
Hood River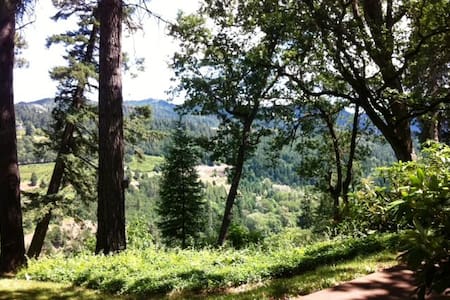 Find yourself at peace in this comfy and clean 1 bedroom loft. Fully equipped with all the amenities you could need. Quiet neighborhood space within walking distance to coffee shops, restaurants, pubs and many outdoor activities.
Unique craftsmanship throughout this space will make your stay one of a kind. A back deck will provide you with a slight view of Mt Adams while you enjoy a cup of coffee or glass of wine. A fully equipped kitchen will give you the comfort of your own home if you decide to dine in. Wi-Fi is provided along with satellite TV. You have your own private access to your space. The key combo will be emailed or sent via text the day of arrival. Street parking is available in front of the space. We are available and happy to offer any dinning or outdoor activity recommendations throughout your stay.
The loft is located on the heights of Hood River. There are several great restaurants and coffee shops with in a few minutes walk. A 10 min walk or short drive will bring you down town to an abundant amount of restaurants, shops, wineries, pubs and the waterfront. We just bought an ac unit so the loft will stay nice and cool during the summer months!
Melissa was very responsive and accommodating of my requests. The loft was quaint and cozy...the perfect space to unwind after a long day of skiing. My girlfriend and I will definitely look to stay here again the next time we find ourselves in Hood River!
Andrew
March 2016
This is the perfect loft space for a getaway in Hood River. Melissa takes excellent care of the loft and it is decorated very well. The fresh breeze coming through the windows feels amazing. It was just as advertised and we had everything we would expect (fresh towels, coffee, clean bed, etc). We would definitely stay here again if we ever return to the area.
Matt
July 2016
Perfect for a couple's getaway! I love the cozy blankets, kitchen had everything we needed, and we were able to securely store our outdoor gear (mtb bikes and snowboards) on back patio. Rarely do I hear my boyfriend say 'so cute', but those are the exact words he has been using to describe our stay at Melissa's loft.
Rebecca
January 2016
Melissa's place was great! Cozy and close to town which is exactly what we needed for a weekend in Hood River. The place was really clean, we would definitely stay again!
Hannah
November 2016
Beautiful peaceful space!
Brian
November 2016
The unit was just as described,Melissa was helpful and responsive. The neighborhood is older, but is safe and convenient to everything around town. We found the unit very clean.
Robert
September 2016
This is a cute little loft in "the Heights" of Hood River, which means it is up a very steep hill from downtown Hood River and the Columbia River. It was not walkable with my bad knee, but it was more centrally located for all the other great attractions in the area - Mt. Hood, the orchards, the vineyards, etc. It was within walking distance of a great bakery and coffee shop and a wonderful community pool, which we took advantage of every day. We were able to park our car right outside the front door. The loft has a view of Mt. Hood out the front window and Mt. Adams out the back window (if it's a clear day). It has a complete kitchen and a lot of custom work throughout. I especially loved the radiant heated floors, the big TV with surround sound, and the back patio. Melissa responded immediately to my texts, the only thing we needed was some salt in the salt shaker, and it was promptly delivered. She provided some excellent coffee and the kitchen had everything else we needed. This is a great place to explore the waterfalls and hike, especially if you aren't a camper and enjoy coming home to a nice, hot shower.
Penny
September 2016
Heights Loft was easy to find and easy to get to -- a short drive from downtown. It is immaculate and cozy. We'd stay there again in a heartbeat!
Sonnet
September 2016
Type de logement
Logement entier
---
Type de propriété
Loft
---
Capacité d'accueil
2
---
Chambres
1
Hood River
Spacious 1 bed, 1 bath loft above a private garage in the East hills of Hood River. Queen plus Queen Futon in living room. Mini-fridge, microwave, coffee maker, electric kettle. Air conditioner. One mile from downtown, Waterfront Park, event site, marina. Walking distance to hiking and biking trails.
Close to Downtown Hood River, Columbia River, Hood River, East Side trails. Loft apartment, patio area, grill, parking in driveway. Adjacent main house is home to the hosts, their infant son, and Border Collie. Main house is not shared with guests except patio area.
Hood River is such a beautiful area and Cory's loft is a great place to stay. Plenty of space, relatively quiet, with great views. I definitely recommend staying here for your Gorge getaway.
Michael
October 2016
Cory and Pippa were just great hosts. Although they were out of town the time we arrived they made sure that we had everything we needed and we had a really nice communication via e-mail. Before and during our stay Cory was always available for questions , responded promptly and checked in how we were doing at the time of our arrival. We really enjoyed staying at this very comfortable loft which was just perfect for exploring the Hood River area.
Ulrike
September 2015
Sweet and quiet spot up on the hill, very thoughtful and friendly hosts!
Andreas
July 2016
The loft is located in a upscale and quiet neighborhood. We slept well and felt very comfortable. Hood River is a good place to stay for visiting the Gorge, Fruit Loop, and Mt Hood. Thanks Cory!
Luqi
June 2016
Cory's place was very nice. Much roomier than a hotel room, with nice conveniences like a fridge with beers in it, coffee maker, etc. The bed was comfortable, and an air conditioner helped cut the afternoon heat. It is close to town, but out of the frenzy and made a good base for a weekend of windsurfing and exploring.
Bari
August 2016
The two of us had a great stay here. The neighborhood is beautiful and just far enough removed from downtown to be out of the range of traffic and train noise, but not so far as to make a spur-of-the-moment trip to town inconvenient. The loft is comfortably appointed and gets welcoming morning and evening light. Cory and Pippa are welcoming hosts. Our visit coincided with the middle of the work week, and I only regret that we didn't get to spend a little more time with them. I can recommend this spot as a place to stay without hesitation!
Don
March 2016
We had a great time staying in Hood River at Cory's Airbnb. It's very convieniently located to the highway and the little town, and as we discovered it's right by a beautiful lookout to Mt Hood! The place was sweet, clean and was everything we needed for our stay. Thanks for having us Cory!
Sari
October 2015
Had a great 3 day stay in Hood River @ Cory's loft. Well-appointed and comfortable, the loft is close to town and a great base of operations for exploring the Hood River area. Was extremely clean, and Cory was communicative and a great host. Be warned, the space is a little small for a family of four with two older kids (18 & 21 for us) but we made it work with relative ease. Overall, a great stay. Note: You'll need a bike or car if you plan on visiting town regularly. It's a VERY long and uphill walk.
Cameron
August 2015
Type de logement
Logement entier
---
Type de propriété
Loft
---
Capacité d'accueil
4
---
Chambres
1
Hood River