189 locations en résidence
My place is close to restaurants and dining, the beach, family-friendly activities, nightlife. You'll love my place because of The penthouse offers breath taking views of Lake George, free kayaks and canoes, close to town and all kinds of outdoor activities.
There is a 7% NYS sales tax and a 4% bed tax based upon our rate, which we collect upon arrival in cash, IE: Our rate $325 tax is $35.75 We also require a $500 hold on your credit card against damages. You must sign a waiver stating you will be liable for all damages incurred by you or members of your party, excluding normal wear and tear. The hold is fully refundable upon check out, without damage.
great views, very clean, modern
Charlene
2016-10-09T00:00:00Z
This place is too small for 6 people. Views are stunning and very beautiful. You will love this place if you are going as a couple or family of 4. But it is not enough for 6. Also wifi does not work. So make sure to have a good phone connection. You have to pay extra tax on top of airbnb fees. We have stayed at many airbnb's but this was not my best experience. Good thing about this stay was beautiful views. Other than that it was an average experience.
Manish
2016-10-16T00:00:00Z
Type de logement
Logement entier
---
Type de propriété
Appartement en résidence
---
Capacité d'accueil
6
---
Chambres
Bolton, New York, États-Unis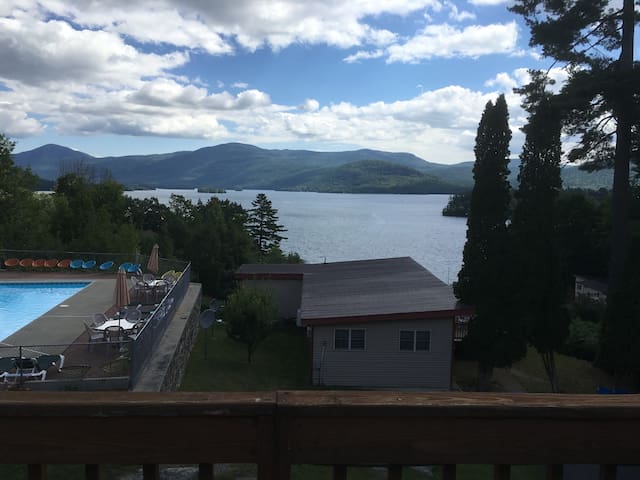 My place is close to parks, great views, and restaurants and dining. You'll love my place because of the ambiance, the neighborhood, the comfy bed, the outdoors space, and the light. My place is good for couples, solo adventurers, and business travelers. Ski home from snowshed three bedroom in trail creek real wood burning fireplace wood is provided as part of the rental. In unit Jacuzzi tub and sauna. I suggest this unit to 6-8 adults and up to two kids NOT 10 adults they would not be best
3 bedroom unit ski home from snowshed in unit sauna and jscuzzi I do not recommend the unit for 10 adults it is good for 6 adults and kids. But it is fire coded for 10 for occupancy
amenity building with sauna Jacuzzi small cardio area hot tub and locker rooms
Great location. Very nice and comfortable place.
Frankie
2017-01-30T00:00:00Z
Kim's place is fantastically located close to lot's of fun attractions and amenities. A beautiful, modern, and well equipped condo that was a pleasure to stay in. Communication with Kim was clear, simple and effective. Highly recommended. Thanks again Kim!
Daire
2016-07-03T00:00:00Z
The house is clean and cozy. Good for a group of friends stay for skiing trip. Facilities are great. Such as, jacuzee , pool and billiards. Land lady, Kim has a very easy going and straightforward personality. Will come back to here next time.
Francis
2016-12-26T00:00:00Z
The condo was well appointed, centrally located and just as described
Janelle
2017-02-26T00:00:00Z
Gorgeous unit (trail creek #10), walking distance from lifts (ski back all the way to front door), fireplace with woodpile right next door, overall warm, charming and very convenient and easy. We had a late check in that was handled smoothly. Only negative would be that the advertised "jacuzzi in unit" is not the hot tub advertised in the photos, but a much smaller bathtub only big enough for one or two people at a time. Overall a great stay!
JohnMichael
2017-01-09T00:00:00Z
100% recomendado... El mejor lugar para quedarse en Killington sin duda... Kim es la mejor anfitriona y muy atenta a que todo vaya bien!
Carlos
2017-01-04T00:00:00Z
Great location and perfect size for our 2 families. Fantastic experience and we would definitely stay again. Awesome proximity to the lodges, lifts and restaurants.
(EMAIL HIDDEN)
2016-12-28T00:00:00Z
We were 9 people and Kim's unit was big enough to accommodate us all. Very clean appartment. Everything was as described by the host and the instructions she sent before the trip. Kim replied to our questions on time and communication was easy. We enjoyed our stay! Followed all the instruction and we took pictures of the unit before we left.
Valbona
2016-07-11T00:00:00Z
Type de logement
Logement entier
---
Type de propriété
Appartement en résidence
---
Capacité d'accueil
10
---
Chambres
Killington, Vermont, États-Unis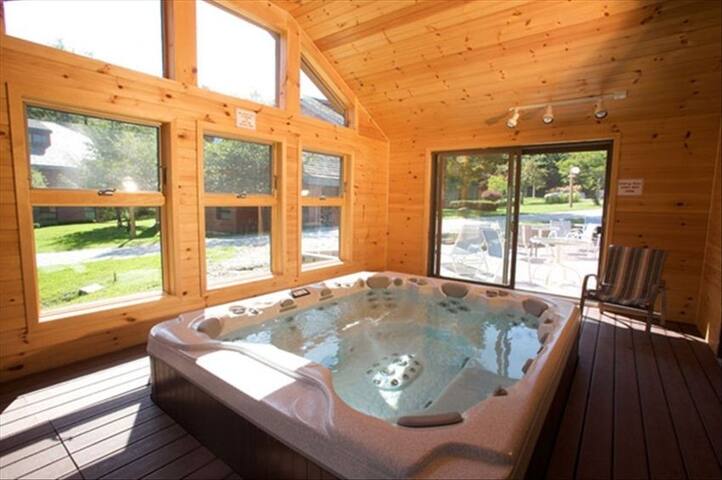 BETTER FOR ONE: book-lined upstairs bedroom with postcard views & Sealey Postupedic twin-sized mattress made up nicely on the floor. 2nd guest may use upholstered foam sofa pillow--76" by 26" by 4.5"--or use sofa in living room one storey below. Strongly prefer guests w/ reviews or references, but good communication can be enough. WRITERS SEEKING EDITORIAL IMMERSION TIME, please query: I run a good study hall & have helped make several writers wealthy and famous.
Though it's closest to accurate to list this as a condo, in fact it's a hippie-built three-storey L-shaped wood-paneled duplex with The Famous Fifteen-Sided Living Room. Your bedroom is a floor above, as far as possible from my neighbors' unit, who are in any case very quiet. Sugarbush is less than half an hour north, Killington is about 40 minutes south, and Snow Bowl is only 10 minutes away offering skiing/boarding for $5-55/day, off-trail Tree Skiing permitted.
A de facto cohousing neighborhood, born of the remnants of an old hippie commune. Hundreds of acres of wilderness and rural lanes are right out the door for you to stroll and enjoy.
David es une personne très amicale, abordable et qui a de l'entregens! La demeure est parfaite pour le détenteur, j'y retournerais!
Francis
2017-01-08T00:00:00Z
Le logement de David est tout à fait unique et son propriétaire l'est tout autant. Cette ancienne commune hippie a su garder son charme étrange. Loger chez David est une expérience extraordinaire en soi.
Jean-Christophe
2017-01-24T00:00:00Z
I arrived at the listing early. After check in time, but prior to the time I indicated. I caught David off guard, but that did not really matter. He was kind, instructive and open. We ended up talking for over an hour. It was real nice. It was cool how much we actually had in common. He is a very interesting person. I enjoyed his company and it made me feel more at home. Other than this, the place was clean, warm and comfortable. I was up for a ski trip which means, I was asleep by 8 and out of the house by 6:30. I did pass a few of his neighbors along the way, they were all helpful and nice. Always waving with a kind word. The location of this home is in an old commune. Davids house is in the back (private and quiet) with some good views. The area is very beautiful with close proximity to Killington, Pico and Okemo. There is also a great Breakfast/Cafe in town that serves exquisite food with a smile called the Rochester Cafe. I liked this home and David was a great host. I recommend this for anyone looking to break away from the hustle and bustle of life. If you are looking for a classic Vermont experience, I know of no better place.
Justin
2016-12-26T00:00:00Z
I really enjoyed staying at David's - it was a bit tricky to get there, but David's instructions were clear and accurate, I just had to stop and read them once or twice. Then I got a cheerful greeting when I parked my car. THe bed was comfy and clean, everything I needed was there, and it was interesting to chat and hear about the history of this unique back to the land community. The room is stocked with cool books.
Erik
2016-05-16T00:00:00Z
David was awesome! He was very engaging and a great conversationalist, and an overall incredible host. We felt immediately made at home. David's place was such a cozy spot to stay—freshly made tea, good conversation, and complimentary artisan Vermont soaps were a plus. Would definitely recommend.
Mathew
2017-01-15T00:00:00Z
The room is nice and interesting, albeit a little spidery. It wasn't very clean and driving to/finding the house was a bit challenging but David and the neighbors were helpful.
Dominika
2016-07-18T00:00:00Z
David was great. He provided me with excellent directions and was standing on the porch waiting to meet me when I arrived. The neighborhood is a wonder - a small community built a top a mountain. Getting there was an adventure, but well worth it for the views of the surrounding peaks shrouded in fog in the morning. The house was quiet, the mattress was comfortable and I had a good rest before heading back out early the next morning.
Andy
2016-09-05T00:00:00Z
Welcome to Hippieville! Very rustic bohemian home in the woods. Artsy and interesting (but there is no mountain view...waah), and David is a gracious host. My GPS found the road for me just fine, so no problems there. Comfy mattress is on the floor, that may be a problem for some, as well as it being bit of a bumpy uphill walk from where you have to park. But I didn't mind, & at night if you don't have a flashlight David will provide one. Bathroom on the second floor next to the room was convenient. Only a few miles to town where there are a few nice places to eat and shop. I was in Vermont to help with a wedding, so I was busy and didn't need to use the kitchen although you are free to do so. All in all it was a nice stay.
Mary
2016-09-11T00:00:00Z
Type de logement
Chambre privée
---
Type de propriété
Appartement en résidence
---
Capacité d'accueil
2
---
Chambres
Rochester, Vermont, États-Unis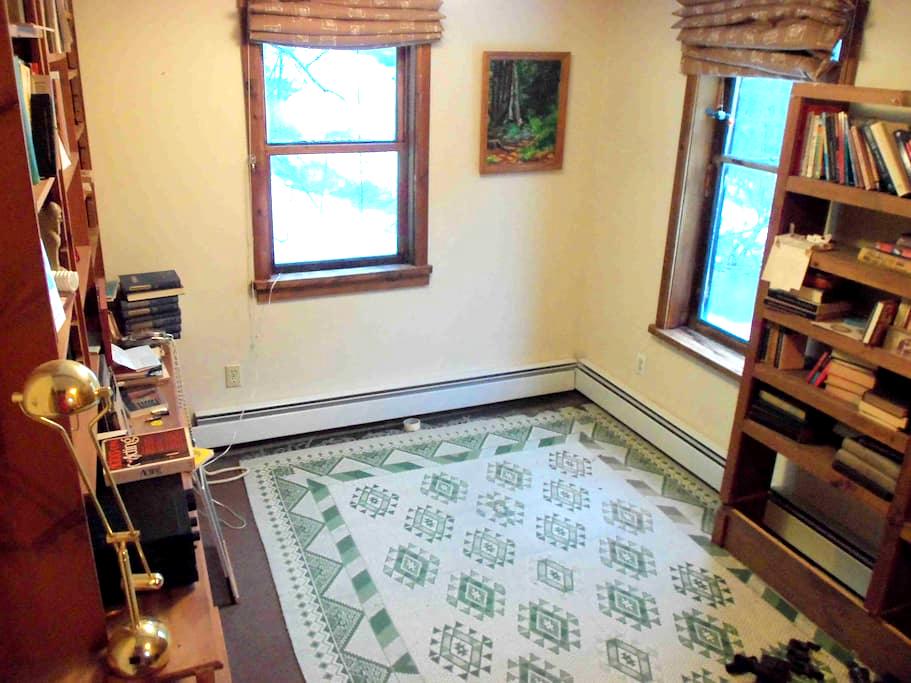 Updated for the 2016 ski season, our condo has just completed it's renovation offering comfortable setting to relax after a hard day on the slopes. There is a brand new pull out queen sofa bed in the Living Room and a queen bed in the bedroom area.
Our condo has been renovated top to bottom. We've updated the appliances and ripped out the musty carpet. The bathroom features tile flooring, a brand new vanity and new Kohler toilet. We've painted throughout and added our designer touch enhance the stunning views that our unit offers.
Very nice place. Smaller than it seems in the pictures, but still an excellent place to stay as long as you're not worried about space with the amount of people you bring. Shuttle takes you to the mountain in about a minute or two. Great location, great view, great time. Will be back sometime in the future.
Matt
2016-12-14T00:00:00Z
This was the perfect place for our long weekend in Killington. Just right for a couple.
David
2017-02-27T00:00:00Z
Katie's condo is in a great location. You can walk or take a free shuttle to the mountain and restaurants. There is also a fitness center (pool, sauna) in the complex. The complex also has a grocery store and bar/restaurant which made things very easy. Communication with Katie was very easy and she was quick to respond.
Kate
2017-01-23T00:00:00Z
Great location and there is a eucalyptus steam room in the pool area!
Lili
2017-04-10T00:00:00Z
This is an ideal location very close to the slopes. There is a shuttle but you could easily walk it if you wanted. We had a very nice stay. It was expensive, but that was expected during the holiday time. Communication with host was good, she responded promptly to questions/issues. If you are sensitive to smells, the fireplace might bother you. The apartment smelled like a campfire during our stay, even though we did not use the fireplace at all. Perhaps the visitors before us did not open the vent properly. It did not bother us but like I said, if you have a sensitive nose you may want to ask and see if this has been cleared up. Not a ton of options for restaurants nearby. We ate on the mountain for lunch every day ($$$) and at the Killington lodge for dinner one night, which wasn't great. I would not reccomend eating there. The pizza/Italian place further down the mountain ended up being our favorite, and was one of the most affordable options. The market in the 1st building of the resort is a great convenience. The breakfast sandwiches we got there were fantastic. Overall we had a great stay and I would recommend staying here if you are going to Killington during the winter.
Kelsie
2016-12-29T00:00:00Z
Katie Studio is a very nice, clean and full furnished studio with everything is needed for a great ski week or a few days. We was there for 4 days and everything was easy. Katie send to us the pass code for the entrance door and it works perfect in the first try. The apartment was totally clean, the bed was prepared and the heat on. We feel to be in a four star hotel, great ! ! The property is 10 minutes walking to the slopes or take the free bus that stops every 10 minutes. Nice place for couples, friends or family with 1-2 childrens.
Andre Ricardo
2017-03-16T00:00:00Z
My family and I had a wonderful stay here for our skiing vacation at Killington. Here are some of the amazing benefits we enjoyed. - A wonderful open layout, with dine-in kitchen are, living space, and a bedroom area. It's a large studio. Spacious beautiful balcony with a great view. Pull out couch that turns into a bed. Plenty of chairs, fully equipped kitchen. Fireplace, TV with basic cable, plenty of closet and storage spaces (in case you want to put your belongings away.) - The amenities of the resort was ecstatic. Ski shop with rental equipment, gym, pool, sauna, hot tub, locker room, free firewood, deli, small grocer, racquetball court, etc. etc. You do have to walk over to the main building across the parking lot, but it isn't bad. - Killington's Snowshe and Ramshead are walk-able and are across the parking lot. It's walk-able with ski boots on, so that's impressive. - If you do not want to walk, there is a shuttle every 15 or 30 minutes depending on the way. A friendly and reliable service and it stops directly in front of the entrance (on both ends). - The town is a 3 minute drive where all the restaurants, bars, ski shops, grocery stores, etc. are. Needless to say, we took full advantage and we had a tremendous week.
Ippei
2017-02-23T00:00:00Z
Condo was super cozy and clean! Directions and communication clear. Close walk or shuttle ride to all of that Killington has to offer. Perfect spot for a ski vacation. We are a family of four and had plenty of room.
Megan
2016-11-28T00:00:00Z
Type de logement
Logement entier
---
Type de propriété
Appartement en résidence
---
Capacité d'accueil
4
---
Chambres
Killington, Vermont, États-Unis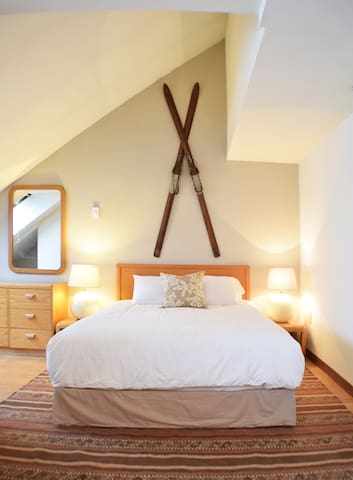 The Quarters at Lake George are perfectly situated Lake George vacation rentals that provide close proximity to attractions and events, while maintaining the feel of a secluded resort with beautiful lake views. Our resort offers fully furnished condominiums, private beach, sun deck, grills by each unit, and an outdoor heated pool that is seasonal. Each unit has at least one balcony and a Jacuzzi in all masters.
This condo has one master with a king, a second bedroom with two twins, and a loft with two twins. This condo sleeps a maximum of six people. If you should have additional guests you will need to rent an additional condo.
The Lake George Village is a 5 minute distance.
The location was beautiful. Everything was clean, the staff was great.
Kelly
2016-09-12T00:00:00Z
The host canceled this reservation 58 days before arrival. This is an automated posting.
Lori
2016-04-01T00:00:00Z
The space was perfect ! We were right on the lake . The pool was a perfect setting as well. Amazing views ! Thanks so much!
John
2016-06-17T00:00:00Z
Everything was great with our stay. My only complaint would be people parking in spots that are not marked for their unit but there is not much that the management could do about that. Overall a great location.
Alison
2016-08-20T00:00:00Z
Very nice apartment. Spacious and has beautiful views. Would definitely like to go back during the summer time especially!
Leena
2016-12-30T00:00:00Z
Good location, great views, decent service.
Pradyut
2016-10-19T00:00:00Z
Thanks so much for having us! We loved the Quarters- the property is so pretty, right on the lake with a beautiful view. The morning sun is absolutely awesome, the staff is lovely and we had everything we needed in our very clean unit. We loved our stay!
Cammy
2016-10-07T00:00:00Z
Good value.
Jared
2017-01-06T00:00:00Z
Type de logement
Logement entier
---
Type de propriété
Appartement en résidence
---
Capacité d'accueil
6
---
Chambres
Lake George, New York, États-Unis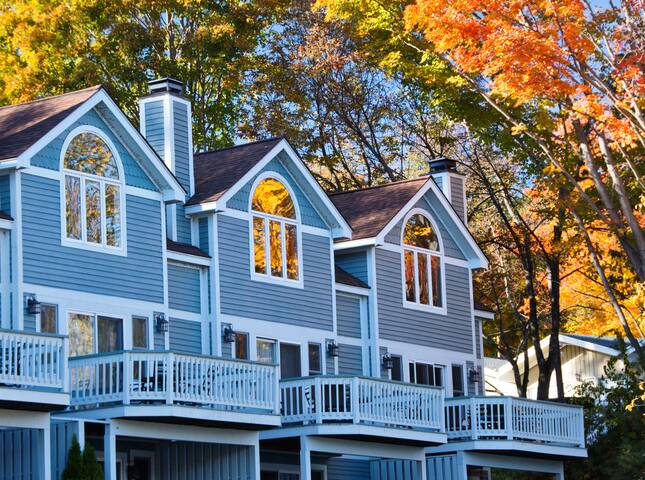 My place is close to restaurants and dining, the beach, family-friendly activities, nightlife, and public transport. You'll love my place because of Its a quiet location with amazing views of Lake George and surrounding mountains. July 1 to Labor Day four night minimum.
There is a 7% NYS sales tax and a 4% bed tax that we are required to collect. You will pay this upon arrival in cash based upon our rate IE: If our rate is $325 tax is $35.75. We also require guests to post a $500 hold on a credit card against damage. You must sign a waiver stating you will be liable for all damages incurred by you or members of your party, excluding normal wear and tear. The hold is fully refundable upon check out, without damage.
Type de logement
Logement entier
---
Type de propriété
Appartement en résidence
---
Capacité d'accueil
6
---
Chambres
Bolton, New York, États-Unis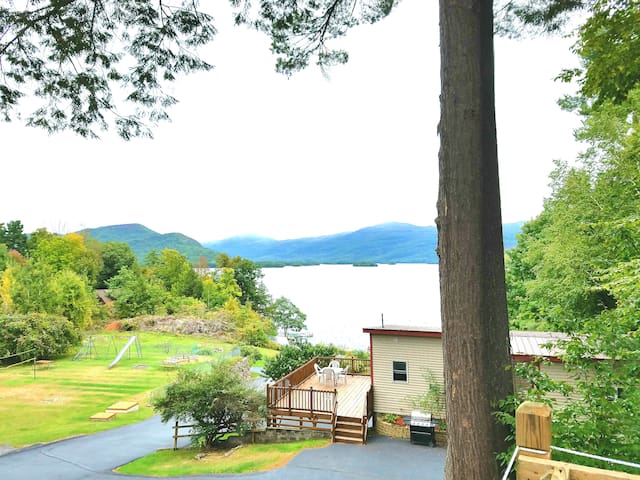 My place is minutes to Killington Resort. You'll love my place because of the coziness, the location, the people,free health club access with pool and hot tub, plenty of summer/winter outdoor activities. If you like mountain biking, a ropes course, a coaster ride, and many other challenging activities,they are just two miles away. This rental is good for couples, solo adventurers, and business (URL HIDDEN) also attending weddings in the area will find this a quiet place to relax.
The room matched the description and photos perfectly. Upon entering the space I found a personalized welcome note that our host, Patricia, left for us. She even left fresh pastries, a coffee maker with fresh coffee, extra fresh linen, and even instructions for how to get the most out of the local area.
Casey
2016-07-25T00:00:00Z
Patricia was a gracious, welcoming, friendly and thoughtful host. The room was perfect for our weekend ski trip at Killington. The room is private, minutes from the mountain and some of the best bars and restaurants, but also in a very quiet neighborhood. We didn't get a chance to use the spa that is included in the stay, but the breakfast and coffee were a delicious, lovely touch. The bed was comfortable and the room and bathroom were clean.
Ashley
2017-02-05T00:00:00Z
Great place to spend my birthday! Patricia's place is right on the access road to Killington ski area. The room was inviting and comfortable with a microwave and refridgerator. The coffee cake she prepared for our breakfast was delightful! We didn't get to interact with her too much because she was catering a wedding, but during our brief encounters she was a warm and genuine hostess. Th room was great! The blackout shades allowed us to sleep in until we felt like getting up. We ate our breakfast on her back deck overlooking a small pond with chipmunks, birds, cattails, wildflowers etc. The real treat was the use of the spa in her community with a pool, hot tub, steam room and sauna - great after hiking! All in all a wonderful stay. We would certainly return on our next trip to Vermont!
Stephen
2016-08-07T00:00:00Z
Patricia was a wonderful host. Very welcoming. The room was super clean and cozy.
Anna-Kasia
2016-12-30T00:00:00Z
PV the host was very nice and welcoming. The room is very clean has it's private entrance so you don't have to go through her house. The surrounding feel safe and there was ducks walking around on the lawn. The indoor pool is very clean and spacious. Many restaurants close by, one across the street that I wouldn't recommend. My husband and I really enjoy our time and would go back for sure.
Anne-Marie
2016-07-04T00:00:00Z
PV was a thoughtful and wonderful host. We arrived to a clean, beautiful room with homemade breakfast treats and a handwritten note. The room is perfect for a weekend away, and is both private and cozy. PV left my boyfriend and I local food recommendations which were delicious! I was sad to see the weekend end. Highly recommend -- we hope to be back in the future!
Maggie
2016-08-14T00:00:00Z
Patricia provided an absolutely lovely experience for us! We arrived quite late which wasn't a problem at all as we were able to let ourselves in. The place was extremely clean and nicely decorated. The little cakes were a delightful touch. Also, the access to the spa with lovely hot tub and pool was a huge bonus! Highly recommended! Wonderful host!
Aly
2016-10-02T00:00:00Z
Patricia was very welcoming (even made us a cake!) and the room was great.
Philip
2016-09-25T00:00:00Z
Type de logement
Chambre privée
---
Type de propriété
Appartement en résidence
---
Capacité d'accueil
2
---
Chambres
Killington, Vermont, États-Unis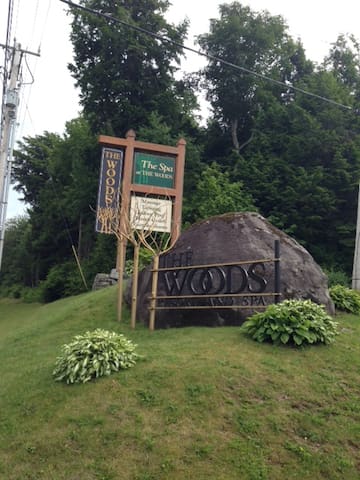 The main room has a Queen Bed, Double sized pull-out sofa, balcony and renovated tile bath with extra large tile shower. The newly renovated kitchen has a stainless stove, refrigerator, microwave, Kurig coffee maker (K-cups not included), toaster and basic utensils. The dining room table will seat six with three more at the kitchen island. The adjoining room has a king sized bed, large flat screen TV and its own private bath. There is also a full size stacked washer and dryer.
The location of my apartment is great for seeing Vermont. Just a couple minutes to the slopes, or golf courses. I am also close to Rutland, which has shopping and larger food stores. Woodstock is a wonderful small country town, well worth the visit. Hiking trails surround the area and beautiful views of our green mountains.
Love the (URL HIDDEN) has every things you need and very close to Killington resort. I feel like home.
Cuong
2017-04-11T00:00:00Z
The unit is clean, updated, and in a great location on the Killington Access Rd. There are a few spots to eat within walking distance and all of the other restaurants, shops, and mountain are only a few minutes away by car. The cleaning service was great to ensure things were clean and well-stocked each day. Check-in is as easy as picking up the key from the management office. Both Jacob and the management company were responsive and accommodating to all of my needs. Great value in the Killington area!
Nika
2017-03-21T00:00:00Z
Perfect condo for a ski weekend. Easy check-in and fabulous shower.
Alyssa
2017-03-19T00:00:00Z
Very nice place to stay.
Bob
2017-03-16T00:00:00Z
Very clean, would definitely consider renting again.
James
2017-04-05T00:00:00Z
What you see in the pictures is exactly what you get. Well equipped kitchen accessories (i.e. pots, pans, dishes, flatware, etc...). The adjoining bedroom with the King-size bed is connected to the efficiency with back-to-back doors like connecting rooms in a hotel. Would definitely stay again!
Wesley
2017-04-02T00:00:00Z
Jacob's condo is in a great location, just a couple of minutes from the Killington base lodges. It was clean, comfortable and modern, the perfect place to relax after a long day on the slopes.
Price
2017-03-31T00:00:00Z
Type de logement
Logement entier
---
Type de propriété
Appartement en résidence
---
Capacité d'accueil
6
---
Chambres
Killington, Vermont, États-Unis
Ski home on the trail from Showshed! Or take the free shuttle to and from the lodge, dining and entertainment. This 2 bedroom unit in Edgemont has it all!
2 Bedroom Edgemont Condo (sleeps 8) with Ski Home Trail! Ski right home when you stay at at the end of a trail coming from Snowshed. Or take advantage of the complimentary shuttle service to and from the lodge as well as for the nearby dining and entertainment, so you can leave your car parked. This unit is located on two levels. Each unit has their own ski locker for skis, boots and poles in the building entry. Summer guests will enjoy being close to the Killington Golf Course & Club House. Edgemont is a terrific lodging value right in the heart of Killington. Main Level Living room w/Queen sofa bed, 35" TV/DVD/CD/MP3 Player, Wood Burning Fireplace Half Bath Dining area seats 8 Wi Fi Kitchen - Electric Stove - Microwave - Dishwasher - Fully Equipped Upper Level Full bath Bedroom King bed, 46" Flat Screen TV, with attached shower only bathroom Bedroom 4 Twins NO SMOKING | NO PETS No of people can fit in is 8
Type de logement
Logement entier
---
Type de propriété
Appartement en résidence
---
Capacité d'accueil
8
---
Chambres
Killington, Vermont, États-Unis
Location & comfort,"Family Friendly",Mt Green Resort at affordable prices: spacious living, sleeps 6, select comfort adjustable bed, wood burning fireplace, 5th floor elevator side, the quiet building, breathtaking views, walk/shuttle to base lodge, ski, bike, hike, foliage, swim. Perks: 120+ Comcast cable, HBO, keyless access entry, welcome package- pancake mix and 100% Vermont maple syrup, pasta and sauce, snacks, beverages, full kitchen, luxury towels/linens, gym, pool, it's our "home".
The same family has rented this unit for eight years for the entire ski season, hence only a few winter reviews. We are starting short term rentals starting in May 2016. Special rates for customers staying 7 nights or longer, email/call. 24 hour access to our unit. No need to check-in, or find the security guard, go right to our entrance door. We will provide your access code prior to you arrival. At Killington enjoy the four seasons, best downhill skiing in the East, spring skiing, excellent golf courses nearby, such as Green Mt National, enjoy the many summer activities, and of course Fall Foliage at it's best. Must do: Killington's new Adventure Center, Summer 2015 brought brand new adventures to Killington with ten new attractions and a whole new level of energy. Learn about all of our attractions and check out individual prices for each, or buy an Adventure Center Day Pass for the best value. Resort amenities, shuttle or walk to nearby Snowshed, K1 or Ramshead runs - you can unwind and relax with a refreshing dip in the resorts indoor pool or outdoor pool depending on the season, or soak in the Jacuzzi. You'll find plenty to do on site, as well, as you explore the resorts health spa, modern gym, ski shop, convenience store and newly renovated, upscale restaurant. You can take an easy walk to a base lodge, or ride the free shuttle bus. Our unit is on the fifth floor, on the elevator side of the building. From the outdoor patio, and all windows, enjoy breath-taking views of Killington's mountains, not the parking lot. "Family Friendly", as grandparents we truly appreciate, the need of families with babies/small children, to also get away. So we have available, pack and play, high chair, toys, great gliding-rocking chair, plates etc. for families that appreciate the ability to travel without having to move their entire house with them. Relax in the wood burning fire placed living room, enjoy the the reclining chair, or in the glider/rocker, or sit very comfortably in the new queen size sleep sofa, and table that sits six comfortably (more chairs in the closet if needed). Free fire wood Sleeping arrangements: up to six, we can comfortably house up to two couples, or a moderate sized family. In addition to the queen sized pull out sofa in the living room, you'll find a queen-sized "Luxury Sleep Number" bed in the master bedroom, adjust your side, or both sides, (this bed allows the sleepers to set their own side) for a great nights sleep. A set of bunk beds in the 2nd bedroom, full size on the bottom and single on the top. Plus an additional single bed. We use quality linens, towels and pillows. Kitchen is complete, new granite counter tops, full-size refrigerator, oven/stove, microwave, dishwasher, Coffee maker, four slice toaster and a full complement of utensils, pots/pans for your cooking pleasure. Arrive to an array of starter spices, condiments, and even supplies for your first breakfast. Free Cable, 50" ULTRA HD 4K Samsung TV in living room, outstanding picture to enjoy sports, movies or your favorite shows. Free WIFI, stay connected, check your email. Flat screen TV's in each private bedroom included in your stay. Three HDTV sets in all. Included are over 150 blu-rays/dvd's. a Blu-ray player, jvc cd/radio player with separate speakers, and many books, plenty of board games, even lego's for the children at heart, all for your entertainment pleasure. Free firewood located at the front of the building. One full mirrored bathroom with a tub shower and 1 mirrored half bath with a sink and vanity. Everything you need to enjoy a great vacation in the mountains. Enjoy the air in Vermont's mountains, relax or go racing down the trails, on skis, boards or bikes, there is something for all ages.
We had a great time staying at Keven's condo. It was very clean and comfortable with a great view of the mountain. You walk into a very generous gift basket and many suggestions about fun things to do in the area. We were in town for a mountain bike race so most of the days were spent on the mountain but we did make it to the Ben & Jerry's factory only an hour away. So more about the condo... it was very cozy place with recently remodeled bedrooms. The beds were great and the master had a sleep number bed which is a great idea because it allows guests to be as comfortable as possible. There's a full bath and half bath which is always convenient. The kitchen was fully stocked (pots, pans, utensils) so it was nice to cook some meals while we were there. Keven really goes the distance to make sure that you feel welcome and that you are comfortable and I'd definitely stay there again whenever I'm in town.
Jason
2016-08-01T00:00:00Z
Kevin is a great host who provides kind and thorough help throughout the whole process. He always responds to your question in a timely manner. The welcome guide/instruction is very helpful and covers any single detail that you could possibly think of as a first-time visitor in the area. The room is tidy and comfy as we arrived. Many things are available at the place, from cookware in the kitchen to the entertainments in the living room. The location is also great as it is within walking distance to the Killington Snowshed lodge. Definitely would recommend the place to my friends.
Xiaofeng
2016-12-26T00:00:00Z
Very clean area, very close to slopes. Host was responsive by phone and email throughout the weekend. Overall great stay!
Rui
2016-12-18T00:00:00Z
Kevin and Charlotte's condo was very well stocked and was great for a fall colors trip. The comfy towels and the sleep number bed were definitely something to write home about. Kevin was very prompt in his responses to questions I had and recommended some good places to see. The condo seems to have easy access to the slopes too. The area had a good number of restaurants. Might have to check that out in winter.
Rajeev
2015-10-04T00:00:00Z
Enjoyed our stay here. Place was clean and the welcome basket was great! Unfortunately the pools were closed (indoor and outdoor) because of the time of year. And there were construction crews there doing repairs to the roof. So during the day there was some banging along with having the lift directly outside our patio. Besides that it was a great stay :)
Jason
2016-10-02T00:00:00Z
Our stay at Kevin's condo was great! It's a great location, and everything is 3-5 minutes away. The shuttle service runs all day which is very convenient. Kevin was available to chat when needed and very communicative regarding check in and directions. Would definitely stay here again!
Roksana
2017-03-19T00:00:00Z
Kevin was a great host. He was very communicative, and made the check in process very easy. He provided a bunch of welcome information, had a bunch of toiletries and towels, making our packing much lighter. The location of the condo was only 5 minutes away from the slopes, so it was very convenient. We also had access to the clubhouse where we were able to soak in the hotub, use the pool, and steamroom. I will definitely be coming back!
Amelia
2017-01-23T00:00:00Z
Wonderful experience! Super clean condo...Fully equipped kitchen...Luxurious sheets and towels...Wood burning fireplace...Large screen HD televisions...Great selection of dvd's, books and games...Set up so you will feel at home the minute you walk through the door! (Laundry room in the building so we could have packed lighter) Highly recommend!
John
2017-02-11T00:00:00Z
Type de logement
Logement entier
---
Type de propriété
Appartement en résidence
---
Capacité d'accueil
6
---
Chambres
Killington, Vermont, États-Unis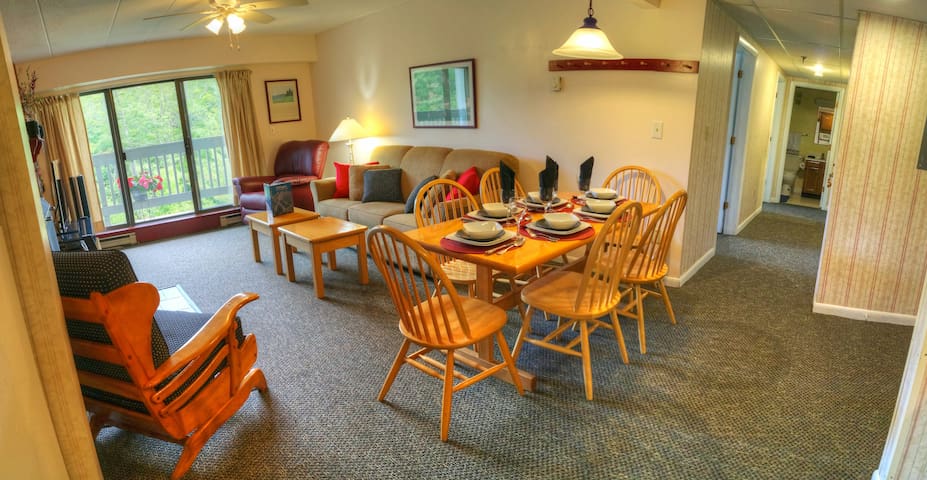 Our completely and thoughtfully renovated Killington trailside condo is perfect for a family or couples getaway! Easy ski on and off access via gravity fed trail to Sundog trail & Sunrise lift. Ski home for lunch and skip the shuttles, base lodges and parking! Enjoy 4 seasons of Killington activities and adventure from this condo with 2 master suites, fireplace, steam shower, HDTV, WiFi.
Our completely and thoughtfully renovated Killington trailside condo is perfect for a family or couples getaway! Easy ski on and off access via gravity fed trail to Sundog trail & Sunrise lift. Ski home for lunch and skip the shuttles, base lodges and parking! Featuring 2 en-suite bedrooms with full private baths including steam shower and heated floor, living room with fireplace & queen sleeper, remodeled & fully appointed kitchen, high speed WIFI internet, dining area, laundry and balcony with views, you'll find ideal accommodations for a relaxing or adventurous retreat to the Green Mountains! Located in the Sunrise Mountain Village, Killington's only true ski on ski off community, you'll enjoy an abundance of resort amenities and activities. Ski out the back of the condo to the easy green Sundog trail and down to the Sunrise triple chair (free access - no lift ticket required!), then up to Bear Mountain and access to Killington's six peaks. Ski home at lunch or the end of the day for a unique on-mountain experience, no vehicles, parking lots and hassle! Visit the commons for indoor & outdoor pools, hot tub, steam room, gym or swing by Sunrise Cafe for lunch or dinner. Additional Amenities: HDTV, Cable Internet, iPod Player Master Bedroom: The master has a queen bed, television w/DVD, dresser, skylight. Full bath located within bedroom. Steam shower and heated floor. 2nd Bedroom: 2 Twin beds, dressers, cable television, views. Full bath located within bedroom. Living Room: Brick fireplace, flat panel LCD w/ Blu-Ray, stereo, queen sleeper sofa & chairs Kitchen: Upscale renovations, and fully appointed with utensils, dishes, toaster, microwave, stove, refrigerator, coffee maker, spices Full laundry closet is located within the condo. Free firewood is available outside the condo. Parking is free and convenient. Extensive free XC ski trails, snowshoeing and an ice skating pond are also available within Sunrise. Summer & Fall at Sunrise Sunrise Village at Killington is also a great place for a summer or fall foliage vacation! You can find many activities for all ages such as golfing at Green Mountain National or Killington's golf course; hiking at Pico, Killington, Deer's Leap, or the Long Trail; biking at Killington or Pico; swimming a short drive to either the Chittenden Dam, or Echo Lake; fishing in our nearby rivers such as the White River or Ottaquechee River; or have a fun day at the new Adventure Center with all season mountain coaster, lift served biking, ropes course, zip line and more! Private amenities such as an outdoor pool, tennis courts and the Falls Brook Common Clubhouse which offers an indoor pool, hot tub, steam room, fitness center and wi-fi internet. Killington also operates the K1 gondola for great sight seeing or downhill mountain biking! Please reach out with any questions!
Home away from home; this condo has anything you could possibly need for your visit and the upgrades are gorgeous. We felt very comfortable and cozy during our stay over New Years Eve. Unfortunately, there wasn't enough snow for the free lift to be running, but that is a huge benefit to this condo community. Ryan was a great host and we would definitely book again!
Amanda
2016-01-03T00:00:00Z
This place was perfect. Very clean. Great location close to main killington area. Ryan was very responsive to all our questions/needs I highly recommend staying here for a killington trip.
Donato
2016-09-19T00:00:00Z
The condo was as described. Very nicely appointed and clean. Great place!
William
2016-02-28T00:00:00Z
The place was exactly as described. Ryan was more than accommodating
Alex
2017-01-22T00:00:00Z
Ryan's home was in an excellent location, with the ski-on/off being a huge help. The house was clean as a whistle and had everything you could possibly need for your stay. He was also very responsive, responding to texts within minutes. Will stay again!
Michael
2016-12-11T00:00:00Z
We had a great stay this past weekend. We fit 5 comfortably and loved the space. The updated kitchen and bathroom are great. It was nice to be able to make breakfast and coffee in the morning. The location has pros and cons depending where your interests are. We used both the back trail to the sundog lift as well as walked through the parking lot to the trail to the lift and loved being as close as possible. The condo is about a ten minute drive from the main strip of restaurants and stores. We found it very convenient for what we were looking for! Cons: (1) Ryan's response rate after booking, right before the trip, and during the stay wasn't very fast. Which leads to (2) we had extremely poor heating the first night. Ryan didn't seem to believe us about the heat situation but did end up sending two men to check it out. They called Ryan while we were there and explained that the water tank needed to be changed. They made the change and luckily that made a huge difference. I expected a message from Ryan thanking us for pointing out the problem and making sure everything was okay in the -25 degree weather... no word from Ryan. Having said that, I would stay in the condo again! Great for those looking for a relaxing, ski weekend in Killington!
Jennifer
2016-02-15T00:00:00Z
Great ski-in/ski-out location. Everything was exactly as it appears in the photos and the check-in was very easy. Nothing fancy, but it fit our needs. The fireplace was perfect for relaxing after a day of skiing. Our only complaint was that the wifi internet was extremely slow. That coupled with the lack of cell service was an annoyance. Overall, it was a good experience, and we would recommend it to others.
Christopher
2017-02-27T00:00:00Z
We had a great ski weekend staying at Ryan's condo. It was very easy to strap on skis after walking out the door and heading around to the back of the property. After a quick ride down a groomed community ski path we were on a trail and quickly on a lift. Skiing back at the end of the day was equally easy, the trail sundog is marked with signs for the condos. We just had to locate the sign for timberline and we were a short walk from the front door. The main bedroom has an excellent shower and the washer and dryer were great to have as well. Fireplace worked great and the kitchen was well-suited for apres cooking. Recommend this property for small groups or families looking for a ski weekend.
Ben
2017-02-12T00:00:00Z
Type de logement
Logement entier
---
Type de propriété
Appartement en résidence
---
Capacité d'accueil
6
---
Chambres
Killington, Vermont, États-Unis
Lake George - Adirondack Region Condominium residential community in Bolton Landing surrounded by trees and mountains with a gorgeous scenic view of the lake from the deck. The lake is a few hundred yards down a beautiful landscaped path with an outdoor deck on the docks The outdoor amenities include a recently renovated heated swimming pool, tennis and basketball court, hiking trails and a large outdoor deck next to the docks with a sandy beach area for sunning or swimming. -
The unit is approximately 2,000 sq. ft. contemporary architecture with 3 bedrooms and 2½ baths. Living space is on the 3rd and 4th floors includes a large open space with a kitchen living and dining room area and a large loft area that double as an office and bedroom (two sofa beds) with modern furnishings. Other amenities include a full kitchen for cooking or baking, central air conditioning, fireplace, large deck for outdoor grilling washing/dryer and garage for one car. Ground floor is washer and dryer and garage
Area Information 5 minutes from Sagamore Spa and Resort Hotel and downtown Bolton landing and to the Memorial Park beach area. You can walk to all three of these places 15 - 25 minutes to Lake George Village, Glen Fall Outlets and Six Flagg Amusement Park 30 minutes for skiing at Gore Mountain 1 1/2 to Lake Placid and 2 hours to Montreal Canada
Type de logement
Logement entier
---
Type de propriété
Appartement en résidence
---
Capacité d'accueil
6
---
Chambres
Bolton, New York, États-Unis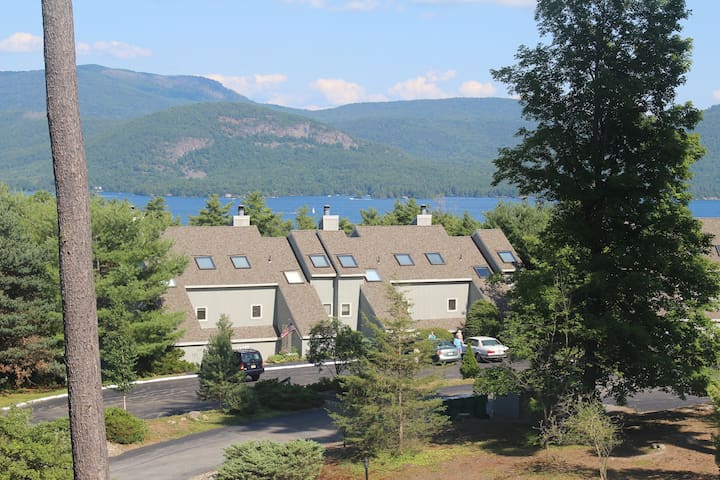 This humble abode is smack dab in the center of the action!! Walking distance to Killington Mountain Resort and all that comes with it. A quick jaunt to the access road drops you in the Mecca of dining, entertainment and FUN! The location is arguably the best! Close to the hot spots, walking distance to most everything you could want, and cozy enough to lay low and snuggle in front of the wood burning fireplace. Bring what you need, open the door and unwind!
New carpets, bed and blinds! Walking distance to snowshed and Ramshead base lodges, bars, restaurants and an on site health club! Parking is free to guests as is firewood. We have a ski locker to keep your gear locked up safely outside.
Place was perfect for a ski week for two adults and 2 kids. 10 minute walk to Snowshed or grab the shuttle that comes often. Laundry, pool and town easily accessible. There were great touches that were appreciated but you'll have to go to find out what they were. The fireplace was fantastic. The heat lamp in the bathroom was awesome in the mornings. Great communication too. We had a wonderful stay.
Shawn
2016-12-29T00:00:00Z
We spent a great couple days in Palace's place. Cozy, well furnished and perfectly located close to the slopes. Palace was very helpful in communicating with us and making sure we had everything we needed. I recommend to anyone wanting to spend a relaxing few days in Killington.
Marcel
2016-12-23T00:00:00Z
Great location with easy access to the mountain. Only downfall is it takes the condo a long time to warm up once you get the fireplace on. Very clean! A must stay if you're visiting Killington!
Dianna
2017-02-05T00:00:00Z
Palaces place was the perfect snowboarding getaway! Clean & located right next to the mountain.
Melissa
2017-03-17T00:00:00Z
Palace is amazing. Kate is an awesome host! out of any other places including Killington Grand and many other hotels and places for rent this was by far the best! The spa facilities and underground parking are outstanding. And, the place itself is amazing. Wood burning fireplace with tons of extra wood stocked by Kate before we arrived made or ski trip super cozy. The pullout couch had a meneory foam mattress and was super comfortable. Five stars across the board.
Ari
2017-04-01T00:00:00Z
Great place. Convenience to Killington and local spots literally around the corner. Shuttles take you everywhere you'd want to go. Close as you can get to mountain without being ski in/out.
Josh
2017-03-12T00:00:00Z
Right across from the street from the slopes. Walkable or take free shuttle. Great fireplace with unlimited wood. Very clean. Very spacious.
Andrew
2017-01-23T00:00:00Z
My wife and I stayed here recently for a week long ski trip. We had a great time. The condo is more spacious and comfortable than it looks in the pictures. Everything in the condo worked well and is up to date. The host was very responsive with all my questions and all the employees in the condo were very friendly. The condo is a 30 second shuttle bus ride away from the entrance to the main mountain for skiiing and the shuttle buses come very frequently. For beginners like me, the retail shop in the building was very informative, helpful and cheaper than renting equipment at the mountain. If you are unable or don't to drive, there was a shuttle service that took us to some of the restaurants/bars in town at night. Overall, we were very happy with our experience and recommend this unit for a couple or small family.
Ira
2017-02-12T00:00:00Z
Type de logement
Logement entier
---
Type de propriété
Appartement en résidence
---
Capacité d'accueil
4
---
Chambres
Killington, Vermont, États-Unis

Type de logement
Logement entier
---
Type de propriété
Appartement en résidence
---
Capacité d'accueil
4
---
Chambres
Wells, Vermont, États-Unis
Steps from Killington Skiing/ Mountain Biking/ Adventure Center, pristine refurbished condo with full hotel-style services, great amenities (pool/ jacuzzi/ etc) in idyllic central Vermont, most glorious East Coast region (see detailed section tips or House Manual after booking!!)
Luxury 1-bedroom refurbished condo at Trail Creek Condominiums, deeply discounted compared to (URL HIDDEN) prices, pristine granite bar opposite brand new kitchen, brand new Simmons Beautyrest mattress, very comfortable "thick" sofa-bed mattress. Classed by Killington Resort as "Class A" and one of the nicest units in the resort (many are "B" or "C" in the complex). The resort includes an indoor pool, two hot tubs, pool table, treadmills, and is nestled at the base of the mountain with its own ski-home trail (mountain bike-home in the summer). Huge discount compared to Trail Creek rental prices elsewhere on the internet, (even BEFORE adding taxes, resort fees, booking fees). NOTE: See "Neighborhood Overview" below or "House Manual" for tips, tricks, and things to see or do in the area. Long weekends please try to request 3-day stays, not 2-day, or I may have to reject. In-Room Amenities: * Free wireless internet * Wood burning fireplace * Ski-home/ bike-home trail directly from mountain to condo * Gas heating (only a small number of units in the resort have gas -- will heat the condo in seconds) * Sleeps four comfortably (new Simmons Beautyrest plus a thick queen sleeper sofa mattress in living room); all sheets, bedding, soaps, shampoo, towels provided (amenities of a hotel) * Refurbished "class A" unit next door to Pool/ Common Area (many units require a trek through the snow) * Patio doors to landscaped courtyard with barbecue grill * Fully equipped refurbished kitchen with new gas stove, dishwater, granite bar for eating or computer work. * Refurbished bathroom with washer, dryer, hair dryer * Two TVs/ DVD player * CD/ MP3 player Pool/ Common Area Amenities * Two hot tubs * Swimming pool * Sauna * Pool table * Arcade games * Showers/ Changing Rooms with towels/ soap provided * Table tennis next door * Patio accessible barbecue in back garden
WINTER: * Considered the best nightlife among East Coast ski resorts, area has multiple restaurants, bars and clubs. * Six-mountain complex includes diverse terrain across 140 ski trails, including beginner trails that can take you all way from Killington peak to base lodge or condo. * Nice restaurants include The Garlic, Sushi Yoshi, Charities, Choices ($$), Preston's ($$, in The Grand), but many others to explore. Nice breakfast/ brunch place is Wallys (next to Outback Pizza, which is a popular brick oven bar/ club/ pizza place). * Slightly off the "Killington Access Road" is best ribs place conceivable, The Back Behind Restaurant and BBQ (their carrot cake is crazy good too) * Popular after ski happy hour is at The Lookout. Popular bar is Jax (also very good bar food; has all sports channels). Popular night spot (normally after 930pm; mainly winter) are The Pickle Barrel and The Wobbly Barn, which normally have bands on weekends (Pickle also has a great happy hour). * Excellent ski/bike shop for tunes and boot fitting experts at Basin Ski Shop (also check out (URL HIDDEN) for their conditions update in winter). Also consider Aspen East on Route 4. * Free ski shuttle bus runs every 20 minutes from driveway entrance to Snowshed, but I like to walk to chair lifts via far corner of upper parking lot, take walking trail up behind The Grand by the frozen lake, then across the bridge over the lake. Just 5 minutes' walk, and you ski home later of course (ski home trail entrance just above base of Snowshed Slope; see trail guide). * To open fireplace flue be sure to turn 10 times counterclockwise (it's a bit stiff). Adjust gas fire thermostat to your liking using the arrows (shows current temp first, then press again to adjust). Please set to "L" for low when you leave also the bedroom thermostat to low please. * Light switch behind the TV controls both living room lamps for convenience. * Coming from New York, I like to buy groceries on drive up in Rutland (Hannaford grocery store best, but there is also Grand Union or CVS, and there is also a small supermarket in Killington during your stay if you forget anything (on the so-called "Access Road"). * Good ski shops open until midnight on Friday to allow rentals on the night of your drive. Makes a huge difference instead of running around the next morning! * Downloading Ski Trax, a $1 app, to track your skiing including top speed etc. I managed 65 mph on the steep part of Skyeburst, and 55 mph on Cruise Control. :) * Taxi services on the mountain: Liam:(PHONE NUMBER HIDDEN)wheel: (PHONE NUMBER HIDDEN). The popular bars/ clubs have free shuttle vans (Pickle Barrel, Lookout) that you can call during winter. SUMMER/ AUTUMN: Not just a winter ski resort. Central Vermont is glorious in the summer & fall: * New summer adventure center just 5 minutes scenic walk from the Trail Creek resort. See (URL HIDDEN) especially the "Things To Do" menu! * Summer adventure located at Killington "Snowshed" base "next door" to Trail Creek, with Beast Coaster, paddleboarding, skyerope, skyeride, skyejump, terramaze, disc golf, ATV rides, and more. See (URL HIDDEN) * Free tennis and outdoor swimming pool at Killington township down River Rd near Thundering Brook Rd which also has a nice waterfall of the same name to visit; bike on to Kent Pond, swimmable * Stand-Up Paddleboarding (SUP), Kayaking & beaches at Killington or further afield at various lakes, including the superb Lake Dunmoore, one of the cleanest and most scenic in VT (call Jordan or Erin on (PHONE NUMBER HIDDEN) for SUP rentals at Dunmoore -- must book ahead of time) * Also a nice bike ride around Lake Dunmore (find the ice cream place) and hiking right alongside up the overlooking mtn ridge (a definite "fall in love with VT" moment); * Lovely Silver Lake and walking trails just 40 minutes drive away, and coupled with picturesque Woodstock, VT visit makes for two easy 20-minute drives * Lake Saint Catherine or Bomoseen to break up the drive home; beach on the north side of Bomoseen and motorized boat rentals on the South whereby you can dock at the restaurant on the East shore * Nearby beach at Chittenham Reservoir * Multiple hikes including the famous short but rewarding hike to Deer Leap overlook, trail head by the famous Long Trail Inn (also see below for Mt Tom hike) * Plus a Geoffrey Cornish designed 6,000 yard golf course across the street from Trail Creek * Spa at The Grand next door (discounts available); table tennis there also * Downhill mountain biking at Killington, among the best on the entire East Coast! (check (URL HIDDEN) for details) * When not enjoying the biking or summer adventure center, Gondola rides for a less hectic way to enjoy the mountain, picnic and hike back down or just ride the gondola back again. * Cross country mtn biking at various locations including SuPeRB trails at Pine Hill Park (at Rutland) with a small lake for cooling off if you're adventurous, also offering cheap bike rentals if your want to try cross country for size before buying; and the best bike mechanic for a $10 tune-up anywhere you will find, Doug. * Scenic road or dirt road biking between Killington and historic Woodstock and on to Quechee following a gorgeous river for cooling off; keep an eye out for a tree rope swing between Woodstock and Quechee on the dirt road that runs parallel & north of the main road; return to Woodstock for homemade ice cream at Mountain Creamery by the town stream; * Great restaurants, fairs, antiques, etc at Woodstock; visit Rockefeller Museum and Nat. Historical Park across from Billings Farm & Museum open year long * Hike Mt Tom (Faulkner/ Lower Link trails) to Pogue Lake also at scenic Woodstock (call (PHONE NUMBER HIDDEN) to confirm trails open) * Stroll the streets visiting galleries & artists' studios; have lunch/ dinner at Melazza, Bentleys, or The Prince & Pauper * 4 more miles along Rt 4 East of Woodstock come to idyllic Quechee, famous for its gorge * Catch a game of horse polo every Saturday throughout the summer at Quechee town field * Nearby Simon Pearce restaurant & watermill with factory store plus on-site glass blowing & pottery-making year long ((URL HIDDEN) * Scenic steeper/ demanding bike ride along Wheelerville (dirt) road with streams for cooling off or picnicing along the way (near Mendon off Rt 4) - a challenging loop if you decide to go all the way around * More scenic road biking North-South along Rt 100, with rivers & waterfalls to cool off, check out warren falls and sink holes like natural baths near Warren town, dare to swim in Texas falls off Rt 125 * Fall foliage later in the year, including one of the best views right outside the condo * Multiple Octoberfest / Brewfest events both at Killington and Woodstock when it becomes time to sample the beers * Hot air balloon festival mid June at Woodstock/ Clearwater pond ((SENSITIVE CONTENTS HIDDEN) it)
What a great condo! We had such a nice time, thank you for allowing us to stay in your home. Everything was so clean, orderly, and well kept. The fireplace was a great addition, which was perfect for that cold night we had. Would love to come back
Jimmy
2016-10-10T00:00:00Z
Place is awesome. Right next to the grand Killington hotel. Right on the bus route and about a 10 minute or less walk to snowshed lodge. Alexandros is super fast and great at communicating. Absolutely no problems. Will definitely stay here again.
Michael
2017-01-04T00:00:00Z
Great condo in a perfect location! Alexandros was very easy to communicate with and check in was easy! Can't beat the location, 5 minute walk to the lift and then ski right to the backyard when we were done. Clean and homey, we had a great time!
Daniel
2017-01-29T00:00:00Z
Great overall experience.
Alex
2017-01-06T00:00:00Z
The condo was modern and had all the amenities, including a fireplace, a fully stocked modern kitchen and two flat screen TVs. There are plenty of good restaurants close by, even in the off- season.
marie
2016-09-30T00:00:00Z
Great place for a weekend ski trip!
Annelise
2017-03-19T00:00:00Z
I highly recommend Alexandros' place! It is the perfect location for a ski weekend! It was great. Also excellent communication!
Sab
2017-01-16T00:00:00Z
This was a great condo for skiing at killington. The condo was clean and there were various amenities available for us upon arrival. Great for a weekend getaway at killington!
Hillary
2017-01-02T00:00:00Z
Type de logement
Logement entier
---
Type de propriété
Appartement en résidence
---
Capacité d'accueil
4
---
Chambres
Killington, Vermont, États-Unis
This condo is centrally located in the heart of Killington's main basin area. Ski back to the condo for lunch. Free Shuttle to the mountain. Two floors condo. Minutes from downtown Killington for restaurants and entertainment.
The views are great and this ideal location gives you the opportunity to enjoy everything Killington has to offer! This beautifully updated 3 bedroom/2 bath Whiffletree Condo (2 levels, sleeps 8) is located only 1/2 mile away from the Snowshed Base Lodge, free shuttle out and ski home provided when there is natural snow. This property has everything you need in a ski vacation property, featuring a completely renovated kitchen that is fully equipped with an 8 person dining area. This condo also features a living room with a gas fireplace, 42" flat screen tv, queen size sleeper sofa, and sliding doors to a deck with beautiful mountain views. High Speed Wireless Internet and cable TV throughout. But it's all about the location, location, location! Not only are you close to the mountain, you're right in the middle of the action for Killington's world class apres ski nightlife. In season, the shuttle runs a night schedule. The tubing park is located next to the complex for loads of family fun! Come enjoy the outdoor adventure of Killington with the longest on snow season in the East. Come enjoy all the splendor Vermont has to offer during the summer months. Vermont's summer weather is famed for our warm days, cool nights, low humidity and glorious colors as summer moves to autumn. Hiking to the top of Killington Peak or on the nearby Long and Appalachian Trails, mountain biking, swimming in clear blue lakes, fishing, boating, antiquing and touring are moments away. If golf is your game, Killington's Geoffrey Cornish designed golf course is out your back door, as well as numerous public golf courses located minutes away. The Killington Resort offers a new summer epicenter for outdoor activities, which includes a 4,800' alpine mountain coaster experience, a four-story ropes course with 42 obstacles above a 5,000 square foot maze, a 1200' long Skyeride that seats two guests at a time and rises over 200' in the air, Segway tours, ATV/UTV mountain tours, and expanded beginner and intermediate mountain bike trails. 1st Level: Renovated KITCHEN- Refrigerator, microwave, dishwasher, electric stove, 4 slot toaster, 1 coffee makers, Kurig DINING AREA- Dining table with 8 chairs. LIVING AREA- Queen sleeper sofa, gas fireplace, 42" TV, DVD, stereo, small porch with 2 chairs. BEDROOM- King bed. Bathroom - Full Floor 2: BEDROOM- 2 twin beds BEDROOM- 2 twin beds. Bathroom- Full bath. Living Room: Pullout Queen Bed No smoking Not suitable for pets No parties or events Please respect my home as you would your own and enjoy all that Killington has to offer! check in time: 4:00 p.m. check out time: 11:00 a.m. These times are flexible, please inquire if interested in booking. -$150 Cleaning fee required for all stays -A refundable security desposit of $700 is required -No smoking/No pets -Long term rentals are available. Please inquire about special rates.
Host always responsive to our questions and needs. Great location in quiet neighborhood. We stayed a month in the summer and we were pleased with the condos being so quiet and well maintained outside with landscaping/flowers. Killington Golf course 3 minutes away and though pricey we got a GREAT deal on Groupon 4 times to make it a great deal!! In the summer lots of good restaurants to eat at and off course Woodstock and Rutland are close for shopping and things to do.
gwen
2016-08-21T00:00:00Z
My host was very nice and open to questions we have. He/She doesn't have many "rules" or "obligations" for use while we stay in his/her place. After checking out, my host remains courteous and generous. I think this means a lot for our guests. I definitely recommend others to stay at this place. It's very clean, warm, comfortable. The actual place is exactly the same as the picture posted on the website.
Huancheng
2016-11-25T00:00:00Z
The condo is spacious, conveniently located about a 2 minute drive from the mountain and Killington town center, i.e. bars, restaurants, etc. Dray was a flexible, accommodating host, and genuinely motivated to ensure we had a good experience. A related side note: it was super easy to get to and from bars at night, as most of the main bars have a free shuttle service and are only a couple minutes away.
Jordan
2016-01-25T00:00:00Z
This home is located very close to the main road with all of the restaurants and bars which is great. On top of that you are right next to the mountain and can quickly get on the mountain. The home is very cozy and has a nice fireplace. The only downfall is the complex only has limited parking. With that being said, I would definitely stay here again.
Douglas
2017-03-19T00:00:00Z
Excellent
Mike
2017-02-26T00:00:00Z
Great location and the fireplace is a nice touch. Parking can be a bit difficult on a busy weekend since it is shared with a number of other condos but we were always able to find a spot. The kitchen is well equipped but is a bit more outdated than the description. We were still able to cook for 8 without an issue. I'd bring your own towels as the ones provided are small and thin - However, to Dray's credit, when we asked her about the towels, she arranged for someone to quickly bring us more. Overall this is a solid rental and I would recommend it.
Adam
2017-02-20T00:00:00Z
Great place to stay! Stayed with a group of 7 other people and there was plenty of space. The ski-in feature was great, and the shuttle service, to the mountain and near-by restaurants and bars, was very convenient! Dray was a very accommodating host.
Jennifer
2017-01-02T00:00:00Z
My friends and I enjoyed another great ski trip to Vermont. We love Dray's place and the location doesn't get any better!
Mike
2017-01-16T00:00:00Z
Type de logement
Logement entier
---
Type de propriété
Appartement en résidence
---
Capacité d'accueil
8
---
Chambres
Killington, Vermont, États-Unis
Come enjoy Lake George at The Quarters in this 2 bed/2 bath condo with a large porch and lake views from almost every room. Fully equipped with tons of amenities including pool, hot tub, boat slip, beach, pool and coin laundry.
The host canceled this reservation 7 days before arrival. This is an automated posting.
Vicki
2016-06-10T00:00:00Z
The place was roomy, GREAT View, clean and was in an awesome location. We were very happy staying here. We have been visiting Lake George for 20 years and this is definitely the best place we have ever stayed. We are a family of 5 and had plenty of room. We also always cook our meals - this was the perfect place to cook and sit and enjoy while looking at the lake. I am looking forward to next year. Thank you again Kelseg.
Laura
2016-08-21T00:00:00Z
Type de logement
Logement entier
---
Type de propriété
Appartement en résidence
---
Capacité d'accueil
6
---
Chambres
Lake George, New York, États-Unis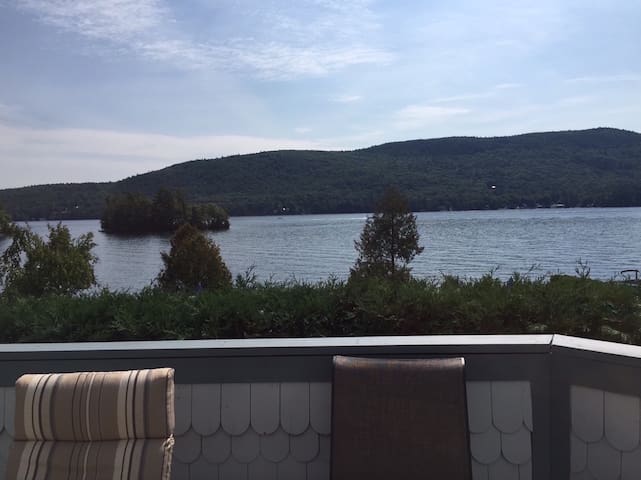 Just finished renovating my condo. The space is centrally located in the main base area of Killington. There is a free Shuttle that takes you the 1/2 Mile to snowshed/ramshead base lodges, and a ski home trail that allows you to ski right back to the condo at the end of the day. Close to all restaurants and nightlife.
Located right in the base area of Killington, about a 1/2 mile to snowshed and ramshead base lodges. My 3 Bedroom/2Bathroom condo has new floors, new carpets, new appliances, and a gut renovated bathroom. There is high speed fiber optic Wifi throughout, and an easy to use gas fireplace. Full Kitchen with everything you need to cook meals, comfortable living room with a 42 inch flat screen TV and a small balcony with forest and mountain views. TV's are equipped with apple TV's so you can access Netflix, HBOGO, and DirectTV now apps for watching cable TV and Movies. Sleeping Arrangements; Bedroom 1: King Size Bed Bedroom 2: Queen Size Bed Bedroom 3: Twin over Full Bunk Bed (no one over 150lbs in top bunk) Plus a twin mattress on the floor under the bunk bed for additional sleeping space. In the Summertime, there is an outdoor pool and tennis courts on the property, free to use. The complex sits adjacent to the Golf Course as well. Take advantage of the Mountain Biking on Killington, great hiking trails, waterfalls, and lakes nearby.
Great condo located close to the slopes! Gabe was extremely helpful throughout. Would love to visit again!
Joshua
2017-03-24T00:00:00Z
We loved this awesome condo! It's on the bus route and you can ski home. It's so close to all the major lodges and the bars/restaurants on the access road. Gabe is a great host and we can't wait to go back.
Richard
2017-04-09T00:00:00Z
Beautiful condo, great location on the shuttle lines, great host. Will visit again.
Matthew
2017-03-09T00:00:00Z
The pictures and description were accurate. This is a condo unit on the 2nd floor. It is very clean, and the décor is very nice. There's 3 bedrooms, 2 bedrooms are upstairs, which includes a loft type bedroom with shutters to close for more quiet/ privacy. I would def stay here again, in fact, I would love to buy a unit like this for myself. The living room/ kitchen are attached and since its a condo unit are not huge but Gabe did a great job making it feel a lot bigger. My friends wife even commented that how much she loved that the pantry is built into the kitchen. The bathrooms were done beautifully. Gabe was quick to respond, and for proximity to Killington you cant beat this location. Although we didn't use it, I'm pretty sure this unit is on the loop for the bus to the bus to the mountain.
Jason
2017-02-12T00:00:00Z
Well maintained, centrally located condo at Killington. The place is exactly as pictured, with a living area to eat or relax and bedrooms with very comfy beds. You could walk to the mountain in 10-15 minutes if you had to, but the shuttle bus will pick you up right in front. Checkin/checkout was easy and Gabe was very attentive during out stay. Highly recommended for small groups heading to Killington.
Eric
2017-03-19T00:00:00Z
This is a super cozy condo and very close to the beast of east. The decoration is very unique and you can feel that the host put a lot of effort to make this place comfortable. Gabe also show his hospitality through the whole time. He answer all my questions regarding my trip. It feels that you are visiting a friend's place at Killington. I also had a lot of fun skiing, since it's very close to the lift. I drove to K1-base around 8:50am, and I was number 46 to take the lift that day. Then I skied for the morning and came back to the condo to take a lunch break. Afternoon, I went skiing again until 4pm. My car is not AWD car, so I got stuck at the entrance a few time when there was heavy snow. Later, I found the trick to go out is making a left first at the whiffletree entrance and then make a u turn back to the killington rd. So book this condon when it's available, you won't be disappointed.
Mark
2017-02-16T00:00:00Z
Cool renovated place perfectly located to the slopes.
Erin
2017-02-23T00:00:00Z
Type de logement
Logement entier
---
Type de propriété
Appartement en résidence
---
Capacité d'accueil
8
---
Chambres
Killington, Vermont, États-Unis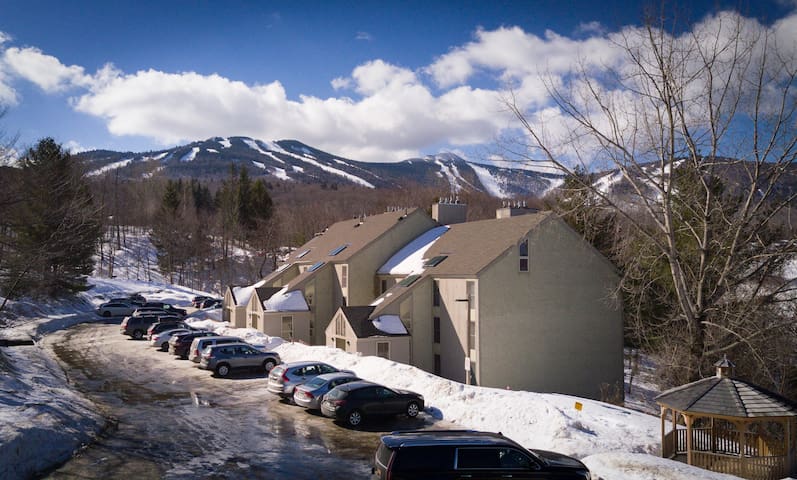 Hague - Airbnb
:
Moyenne de

4.74

sur

5

étoiles sur les

254

commentaires des voyageurs
1

–

18

sur

189 locations en résidence
Saisissez les dates souhaitées pour connaître le prix total. Des frais supplémentaires s'appliquent et des taxes peuvent être ajoutées.