"Monet Suite", elegant furnished 2 room spacious master suite with original oil paintings; private balcony. Magnificent Blue Ridge Mountain views in artist villa located in the heart of Loudoun's wine and burgeoning craft beer breweries and Virginia hunt and horse country; bathroom suite with jacuzzi and Roman shower for two. Luxurious towels and bathrobes provided in suite.
Microwave, fridge, coffeemaker in Suite. Second kitchen is available upon special request for lite cooking, at an additional charge. Washer n dryer are available on request. Castro convertible couch can convert to full size bed for third person. Deck and grounds are available.
Philomont is a charming hidden jewel in Loudoun County, which sits up on a ridge, so the villa has spectacular views of the Blue Ridge Mountains, yet only an hour from Washington, D.C.
Great!
Weifeng
2016-08-01T00:00:00Z
Beautiful room, beautiful scenery and a beautiful hide away. Also Had a blast checking out the local breweries, vineyards and distillery. We will definitely be returning!
Austin
2016-05-26T00:00:00Z
small room nice with hall bathroom. good view. pleasant host. helpful when you catch her. private home- but share her entry hall. flexible if you want breakfast, she will make it for a fee. provides coffee. lovely grounds. close to town and very near country store.
nanci
2016-12-27T00:00:00Z
This was a nice place to get away.
Jennifer
2016-12-11T00:00:00Z
We go to Middleburg each year for the annual Christmas parade and decided this year that we wanted to stay in the area so that we could spend more time exploring the area. Maud was great! She was easy to communicate with and was able to accommodate our early arrival. She also provided chauffeur services for a fee, which was great because we didn't have to worry about parking or drinking while we were in town. Maud was great to talk to. She has so much information about the area and recommendations for wineries and the various towns nearby. The house was so charming and full of paintings! The room we stayed in was really nice. It was huge with a large shower and Jacuzzi tub. It didn't have a private entrance but we didn't mind that at all! Great views from the windows and small balcony attached to the room. Maud was so attentive and made sure we had everything we needed. I would recommend staying here if you are going to be in the area.
Susan
2016-12-04T00:00:00Z
Maud was an incredible host, and the Monet Suite was exactly as expected. Highly recommended for a countryside getaway.
Michael
2017-03-13T00:00:00Z
The Monet Suite is beautiful, unique, clean and spacious. We spent a beautiful evening in this elegant and relaxing spot. I would highly recommend this Airbnb for anyone looking for a romantic getaway or restful stay in scenic Va.
Nicolas
2017-01-21T00:00:00Z
Maud made my boyfriend and I feel very welcome, even though we only stayed for one night! We were attending a wedding at a nearby hotel, and decided to stay at Maud's beautiful place rather than at the hotel. The room was spacious, had gorgeous views, an incredibly large bathroom (jacuzzi and double shower), and a very pleasant living room area. Maud thoughtfully left out k-cups for the keurig machine, coffee mugs, tea, cocoa, wine glasses, water glasses, etc.–that plus the microwave and mini-fridge had us feeling right at home! The room is a wing of a larger house, but it is still very private. We hope to go back in the future when we can stay longer.
Lara
2016-11-28T00:00:00Z
Type de logement
Logement entier
---
Type de propriété
Villa
---
Capacité d'accueil
3
---
Chambres
Purcellville, Virginie, États-Unis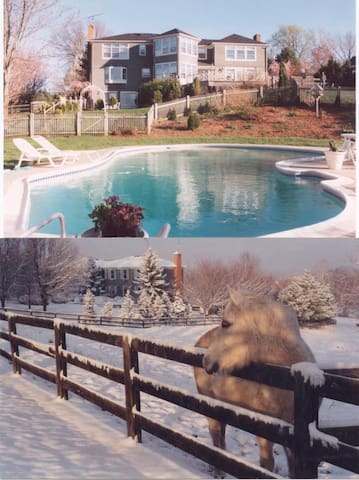 Our place is close to Madison Fields Farm and Washington DC. You'll love our place because of gorgeous views and quiet country atmosphere within a short distance of a cultural and historical hub. Our place is good for couples, solo adventurers, business travelers, families (with kids), and big groups.
Awesome place
Matthew
2016-11-06T00:00:00Z
This is a great place. Great owners. Very welcoming and flexible. Looking forward to coming back next year.
Dyllis
2017-03-12T00:00:00Z
The host canceled this reservation the day before arrival. This is an automated posting.
Antonio
2017-03-29T00:00:00Z
The place is immaculate and pictures do not do it justice. Diane was a great host and I would definitely stay at her place again. For anyone traveling in a large group, there is more than enough space to accommodate a large group. Would highly recommend.
Zach
2017-01-01T00:00:00Z
Diane was terrific! Would definitely stay again. We used it for our company retreat (10 people total) and there was AMPLE room for more. A great living room for everyone to talk in, great hiking, and two kitchens!! Highly recommend for family reunions, company retreats, and more.
Evan
2017-01-10T00:00:00Z
This home is amazing! We used the Shiloh estate to host a small wedding (25 guests), and the property did not disappoint. Not only did we have 12 people staying in the house with us, but nearby hotels are about 20 min away so all of our other guests were able to be close by. There is a full commercial kitchen with a desperate entrance adjacent to the already large "regular" kitchen so our caterer was able to come in and feel right at home. The number one thing guests were talking about was how beautiful a location we had for our wedding and we would not hesitate to recommend this location for events of a similar nature. Diane was a wonderful host as well, extremely communicative and when there was an issue with one of the furnaces in the house not only did she come out on a Saturday to fix it, she ended up getting the HVAC company out on a Saturday afternoon to make certain it was done before the ceremony started. Thank you so much Diane we will always remember how beautiful our location was when we look back at this special day!
Daniel and Jesus
2017-01-08T00:00:00Z
The house is a fantastic location for groups of friends looking for a weekend retreat. The house Stands by itself on a large beautiful terrain with scenic views on sugar mountain. It is very spacious and has a unique charming character, with beautiful common areas out- and inside including a well separated leisure room. The management is very friendly and flexible, run by a charity for autism so any proceeds go to a good cause. We are already planning our return!
Tobias
2016-12-11T00:00:00Z
Beautiful area, large house. Don't expect to use the bedroom in basement or basement because of horrible musty smell.
Page
2017-01-22T00:00:00Z
Type de logement
Logement entier
---
Type de propriété
Villa
---
Capacité d'accueil
16
---
Chambres
Dickerson, Maryland, États-Unis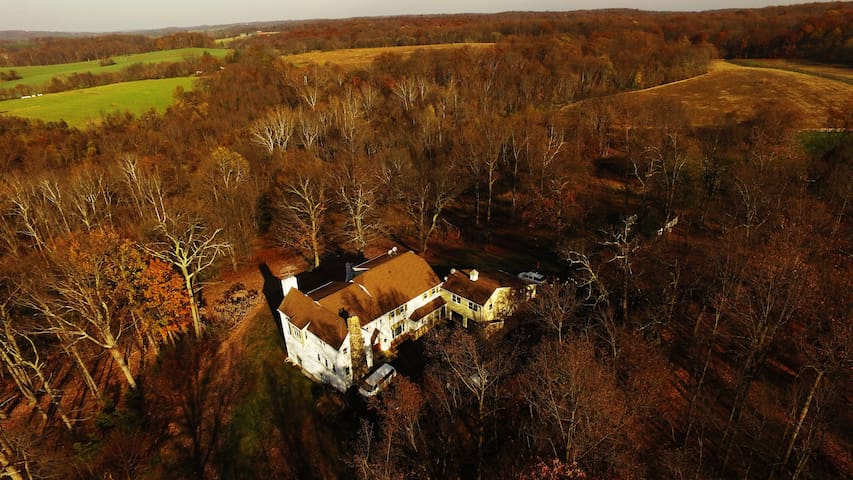 Our 6500 square foot fully furnished executive mansion offers expansive views of our vineyards, horses, and winery as well as the Piedmont ridge line to the west. Breathtaking sunsets, horses, and alpacas are yours with Washington DC less than an hour away. This is the complete getaway package and we can accommodate wedding parties up to 50.
This is a 6500 s.f. executive home. I live in a separate wing. You have an amazing kitchen, huge gathering room that fits 20 seated, a gigantic enclosed yard for your dogs (with doggie door to come and go), four large bedrooms, and 4.5 bathrooms. Come and go as you please.
Absolute privacy and beauty everywhere you look.
We had a fantastic stay at Brian's house. The house was stunning, the view was incredible, and the winery and local activities were exactly what we needed for an escape from the city. We spent a lot of time at the winery, which was a friendly and beautiful place to spend afternoons and evenings. We took up an offer to do horseback riding on the property, which was a lot of fun. We also enjoyed the view of the sunset from the house itself, which was particularly special. Brian was friendly, helpful, accommodating and made us feel at home. I would highly recommend staying here for a relaxing weekend away, and would stay again in a heartbeat!
Vidhya
2016-09-12T00:00:00Z
Great house with incredible views. The pictures don't do it justice. Comfortable beds and lots of space for our group of 10. Was so nice to be on the vineyard property. Really a great getaway - and even llamas and horses on the property. Brian welcomed us at the house and showed us around. He was very accommodating for our large group.
Sara
2017-03-12T00:00:00Z
Fantastic house in a truly beautiful setting. Easy walk, amid horses, puppies and alpacas, to Barrel Oak Winery. Very comfortable beds, large gourmet kitchen and perfectly set up for your dog too.
Clay
2016-10-16T00:00:00Z
Brian communicated very well before our arrival. The house and location are magnificent. We had plenty of room for a party of 8. The views of the surrounding farms and wineries are fantastic. I left with three concerns, however. First, the kitchen was fully stocked with the owner's food. We reserved the house for almost a week over the Christmas holiday. Naturally, we wanted to cook holiday meals and we had to feed ourselves for a week. It took several hours to rearrange the food and find space for everything. Second, during our last day a realtor showed up without warning to show the house (which is on sale) to a family who had no idea there would be people staying there. It was uncomfortable for everyone. Third, there was a large tray of what appeared to be soap (in process of formation) in the oven and several other similar issues in the house. Overall, we had a great time and the location was wonderful. But, those things could be improved.
Bradley
2016-12-29T00:00:00Z
We stayed at Brian's place over the NYE holiday and loved it. Fantastic house and perfect communication. Couldn't have been better. Highly recommend. We'll be back!
Kim
2017-01-02T00:00:00Z
Pretty house that has a great layout in a very scenic location. We had a great time overall -- we cooked breakfast at the house and hung out in the beautiful backyard. The winery is walking distance. Our dogs may have had an even better time running around the large fenced backyard. Towels and linens were great. I stayed in the master bathroom, which was nice. However, my guests that stayed in the room with two beds complained about a strong odor and the shower in that room did not work. Otherwise, the house was great.
Jarrod
2017-02-26T00:00:00Z
Beautiful views looking down on Barrel Oak Winery and the local scenery. Easy drive from DC. The house was well equipped with everything we needed and then some. Our dogs loved the property and enjoyed running the fence with Brian's dog, and barking at the local animals. We had young kids with us and it worked well for us, but note it's not "kid proofed" nor is it advertised as such. Our 15 month old and 2.5 year old did great despite this. Brian was there during our stay, but we only saw him at check-in, and it otherwise had no impact on our stay. We'd recommend it and would consider it again.
Eric
2017-02-19T00:00:00Z
Where do we start? Brian was very thoughtful and welcoming, giving us a personalized welcome packet. We brought three dogs and they absolutely loved the 4 acre fenced backyard. The view from every room of the house overlooks pastures, valley, and mountains. Combine that with all the walking trails, horse pastures and alpacas, the giant fireplace at the absolutely gorgeous (and delicious) winery on the property, the easy drive to unique restaurants and historic sites - and you've got a real gem. We are already planning our return.
Agata
2016-12-17T00:00:00Z
Type de logement
Logement entier
---
Type de propriété
Villa
---
Capacité d'accueil
14
---
Chambres
Delaplane, Virginie, États-Unis
Enjoy a true B&B experience with your own private floor. Beautiful master bedroom with adjoining bath. Separate bedroom. Large sitting area & breakfast cart. Access to large kitchen, pool table, and washer & dryer. Clean. Quiet. Serene. Tons of amenities. Less than a mile to 81. Perfect for getting to Shepherdstown, Antietam National Park, Winchester, Hagerstown, and an easy drive to DC and Baltimore. Great for couples, solo adventurers, and business travelers.
Type de logement
Chambre privée
---
Type de propriété
Villa
---
Capacité d'accueil
3
---
Chambres
Martinsburg, Virginie-Occidentale, États-Unis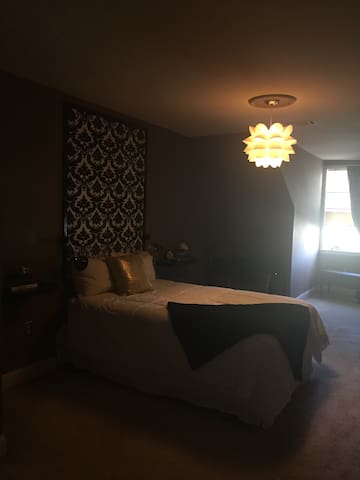 Saisissez les dates souhaitées pour connaître le prix total. Des frais supplémentaires s'appliquent et des taxes peuvent être ajoutées.