Dieses Gebäude war einst der Schmiede. Wir haben es in eine mit der ursprünglichen Decke und einem rustikalen Ambiente eines Raumkabine renoviert. Die Kabine ist im Barnyard unserer Bauerngut mit West-Blick auf die Rocky Mountains.
Der Bauernhof: Unser Familienbetrieb liegt nur 5 Minuten westlich von High River, AB. Wir sind eine gemischte Farm, ca. 2000 qm, mit Getreide, Rinder, Pferde und ein paar Hunde. Unser Hof wurde von dem legendären Rancher gebaut, Pat Burns, der auch die Bar U Ranch (nationales Kulturdenkmal) gehört. Der Hof ist seit 1946 in unserer Familie. Die Kajüte: Die Kabine war der ursprüngliche Schmiede auf dem Bauernhof. Wir haben vor kurzem in ein offenes Atelier mit einem Queen-Size-Bett und eine Ausziehcouch, Bad mit Dusche, Sitzecke, Kamin und Küchentisch renoviert. Küche ist mit einem großen Kühlschrank, Spüle und Herd / Ofen.
Es gibt viele einzigartige, lokale Sehenswürdigkeiten wie Head- Smashed- In Buffalo Jump (First Nations Informationszentrum), Eau Clair Distillery und der Longview Steakhouse. Wir haben eine Liste von Empfehlungen für Orte zu besuchen und zu essen sowie in der Nähe Wanderungen in den Rocky Mountains.
Thanks so much for such a great stay. We absolutely loved your cabin and hope that we can make it back again soon. The kitchen is well stocked, the bed is comfy and the whole cabin is well appointed.
Charis
2016-08-08T00:00:00Z
What a wonderful and peaceful place! The accommodations were well equipped, comfortable and just what was needed. If you are looking for peace and quiet in a tranquil setting, with the odd cow walking past... This is the place for you!
Ivan
2015-09-07T00:00:00Z
The cabin was even more wonderful than expected. Actually a completely renovated blacksmith's shop with the beams still visible. With a few horses and cattle close (but not too close) by. Nancy helped us get settled in and was available (directly or via text message) for any questions we had. She even provided suggestions for things to do in the High River area and beyond. We picked up a few items at a local grocery store and prepared a nice breakfast in the modern kitchen. good chance we will be back!
Jim
2016-07-21T00:00:00Z
What a a great place to stay! My family and I had a wonderful time exploring the area and being able to come back to the cabin to relax. I would recommend this place to anyone who wants a great vacation. The hosts were amazing and able to guide us to area attractions that fit our interests.
Robert
2015-10-02T00:00:00Z
We had the best time ever. Cosy cabin, lovely ranch and wonderful hosts. Highly recommend. (Thank you Nancy, Lloyd and Renee for the hospitality!) X
Sasha
2016-07-29T00:00:00Z
I can't recommend this experience highly enough! Nancy went out of her way to make us feel welcome - she contacted me in advance, gave me her cell number and great directions, and then drove out to meet us when we turned out to be arriving late in the dark. The house was beautiful (the pictures don't even do it justice!) and thoughtfully equipped with everything you could need, including coffee and a container of half and half in the fridge. The property was beautiful, and there was lots of great stuff to do in the area (Nancy was a wealth of information in this regard as well). Far exceeded our expectations - I hope we can return someday! Thanks Nancy!
Julie
2016-09-06T00:00:00Z
We spent an amazing 2 nights at the cabin and would highly recommended it to everybody. It is a cozy cabin with modern amenities and it was beautifully decorated. The farm is enchanting with an old 1-room school with a windmill (in beautiful condition) still on the property that you can visit just to take you back in time... Nancy and Lloyd (Renee's parents) are amazing hosts leaving us privacy but being available at any time if we needed it. TIP: listen to Nancy's restaurant recommendations, they are top notch (especially Chuckwagon and Spices!) The area (especially towards the dirt roads) is lovely. We also visited Sheep's Falls (approx. 1 hour away) which is not to be missed! Overall, amazing stay. Thank you Nancy and Lloyd! Nora
Nora
2016-07-10T00:00:00Z
What an amazing place!
Jack
2015-07-23T00:00:00Z
Type de logement
Logement entier
---
Type de propriété
Cabane
---
Capacité d'accueil
4
---
Chambres
High River, Alberta, Canada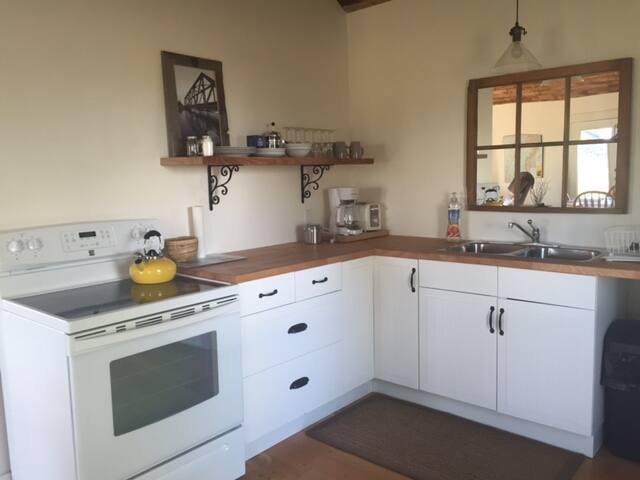 Come to relax and experience a taste of the country with our newly renovated 450 sq/ft 1905 bunkhouse featuring a living room, bedroom and en suite with clawfoot tub and modern shower. Cuddle up in front of the fireplace or on the porch swing gazing at the stars. After a good nights sleep enjoy a homemade breakfast featuring fresh free range eggs that you can even gather yourself.
Just minutes north is Aspen Crossing which features an excursion train, dining car, greenhouse and gift shop. A little further down the road is the Bow River and Spear Grass golf course. Head south to Vulcan and visit their Trek Station. Southwest you come to the small town of Nanton with it's many antique shops for those looking for a rare treasure or visit the Bomber Command Museum of Canada which features a restored Lancaster bomber. Another day trip is the Royal Tyrrell Museum in Drumheller. For anyone who has ever wanted to visit a Hutterite Colony we have one just a few miles away. If you are interested in a tour please inquire upon booking.
We had an amazing weekend at the Bunkhouse. We were able to enjoy some farm life, my kids were able to feed chickens, and have a few garden treats. We also had forgotten extra blankets and sheets for the kids and Dianne kindly brought us some over. Very relaxing.
Stephanie
2016-07-24T00:00:00Z
It seemed Dianne though of everything. From pop in the fridge to popcorn buy the microwave and chocolates on the night stand the cabin was well supplied. It was very clean extremely cozy and beautify decorated. It is a good place if you want to get away from the noise for a bit(URL HIDDEN)Dianne and her husband Tim were very friendly. They treated us well and even gave us a tour around their farm(URL HIDDEN)
Timothy
2015-08-29T00:00:00Z
Dianne & Tim were the most amazing hosts! The Bunkhouse was better than we could have imagined - it was perfect! Our son was having his 7th birthday on the day that we arrived at the bunkhouse. Dianne offered to have come in time for a birthday supper BBQ of my son's choosing. It was delightful and they wonderfully topped it off with a surprise homemade birthday cake and candles! Awaiting inside the bunkhouse was a birthday card and a few gifts (suited to pre-asked questions!) Also there was a lovely welcome letter & birthday wishes on a paper coming out of an antique typewriter! Dianne spent probably an hour pushing my son on the swing set and the tire swing after supper. My son accidently spilled on his clothing and Dianne went again above and beyond the call of duty and offered to wash the clothes so we wouldn't have to pack them around for a week - she washed, dried, folded and returned to us the next morning! What a gem she is! Afterwards they gave us a stack of children's movies to pick from. The Bunkhouse had drinks and popcorn ready for our evening. I had a relaxing bath in their beautifully decorated bathroom. Dianne had asked us, ahead of time, what birthday breakfast he would like. He said Bacon & Eggs OR Pancakes. She delivered the most wonderful breakfast of Bacon & Fresh home grown eggs AND pancakes AND at least 6 different kinds of cut up fresh fruit, berries and even whipped cream! We stayed eating for 1 1/2 hours straight. We were so full! It was delicious and great conversation! After breakfast he got to collect eggs with her and see her chickens. They gave us the hiking info we asked for and discussed places we should see. We ended up staying much later in the day than intended and found ourselves not wanting to leave at all! My son said that it was his best birthday EVER! Thank you so much Dianne & Tim for giving him such a wonderful birthday! It was perfect!
ColourFast
2016-06-04T00:00:00Z
A wonderful place and warm welcoming hosts-from the fresh produce to the comfortable setting- lots of extras
Kathleen
2016-08-15T00:00:00Z
My boyfriend and I stayed here for a little break in the midst if a 21 day camping trip from Ontario. Dianne went above and beyond welcoming us into her home, which included a fantastic and informative tour of the bunkhouse and an absolutely fabulous breakfast. I would plan a trip to Calgary solely to stay here again, it was wonderful. Last but not least, the view from the porch swing as the sun went down was one of the most beautiful things I had ever seen!
Candice
2016-06-08T00:00:00Z
Dianne texted ahead to ensure we new how to get there. She was out on the driveway to welcome us, having heard the car coming down the road, and was very thorough at describing all the amenities. The bunkhouse is immaculately set up and very privately situated - it's obvious they've put a lot of work and thoughtfulness into it. The highlight was breakfast with Dianne and her husband "up at the big house". Outstanding hospitality, conversation and food. It was a feast for the mind and the belly. It was a great experience to kick off our vacation.
Julia
2016-07-11T00:00:00Z
What a wonderful place to stay. Dianne not only accommodated our family with very short notice, she also made our stay as warm and enjoyable as one could imagine. The bunk house is gorgeous. But the experience of picking fresh eggs from her chickens, eating carrots straight from the ground, and eating a farm fresh breakfast was brilliant. Dianne's property is serene, quiet, and beautiful. A perfect place to gather your thoughts, finish a dissertation, or catch a break from the speed of urban life. Five stars!!
Maria
2015-08-25T00:00:00Z
Diane was a very warm and gracious host, she was able to accommodate our fluctuating check in time due to out schedule. We had such a wonderful night at the cozy bunkhouse. Don't forget to have a fire at the fire pit or just enjoy the picturesque scenery of the prarie. Thank you Diane for the experience, the breakfast, and the great conversation! Definitely coming back! :)
Kalista
2016-09-26T00:00:00Z
Type de logement
Logement entier
---
Type de propriété
Cabane
---
Capacité d'accueil
2
---
Chambres
Mossleigh, Alberta, Canada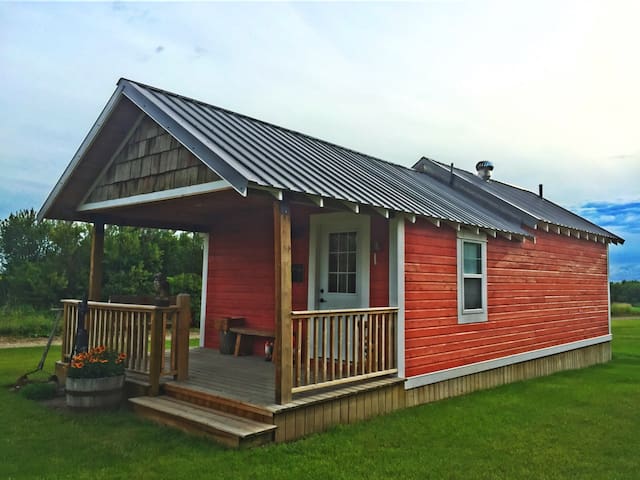 Type de logement
Logement entier
---
Type de propriété
Cabane
---
Capacité d'accueil
6
---
Chambres
Turner Valley, Alberta, Canada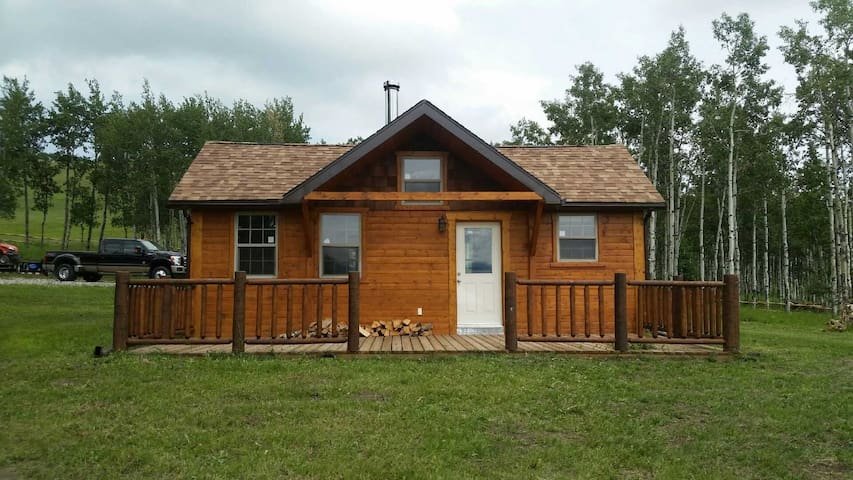 Saisissez les dates souhaitées pour connaître le prix total. Des frais supplémentaires s'appliquent et des taxes peuvent être ajoutées.