Saisissez les dates souhaitées pour connaître le prix total. Des frais supplémentaires s'appliquent et des taxes peuvent être ajoutées.
3 Bed & Breakfasts
· Idaho Falls
3 Bed & Breakfasts
· Idaho Falls
Cet été (juillet et août), vous pouvez essayer l'un de ces 100 logements les mieux notés, dans toutes les gammes de prix, pour découvrir Sonoma d'un point de vue local. Entrée dans les lieux 24h/24, réservation instantanée, mais aussi vin et petites spécialités locales à disposition… autant d'invitations à vous détendre et à profiter pleinement de votre voyage.
Large sunny room with a queen bed. Shared bath with one other bedroom. However, bathroom includes 2 private shower stalls, a private toilet area and a three-sink vanity area. Eggs, homemade bread, and orange juice are provided for guests to cook their own breakfast whenever they arise.
We live in a separate cottage on the property so are readily available when needed.
Virginia and Craig were the consummate hosts. The place was clean, the location was quiet, and they were so friendly & communicative. All of the various household amenities were made available and they were even accommodating to my late arrival due to flight schedules. Would definitely stay again. Thanks for a wonderful experience!
Bill
August 2016
Craig and Virginia are awesome! They are so warm and considerate, and so fun to talk to. The room is comfy, right right for me. You have to try Virginia's home made bread and oj, yummy! I will definitely recommend porter house to my friends.
Charlotte
June 2016
It was Great! (See our other feedback ... stayed 2 consecutive 2 day periods.)
Lucretia
July 2016
Quiet neighborhood, friendly host, yummy homemade bread.
Janan
September 2016
Was a great first experience, nice people
priscilla
August 2016
Great, peaceful stay! Hosts were so friendly. The homemade bread was delish.
Laura
August 2016
Es una casa preciosa en una zona muy bonita. En nuestro caso, tuvimos una habitación en la planta superior, pero toda la casa es alquilada por habitaciones, tiene unas normas estrictas aunque lógicas. Los dueños son muy amables y formales, no viven en la casa con los huéspedes. Esta bien pero es mas parecido a un hotel.
Lina
August 2016
Warmly recommended, friendly and good communication
Allen
July 2016
Type de logement
Chambre privée
---
Type de propriété
---
Capacité d'accueil
2
---
Chambres
1
Rexburg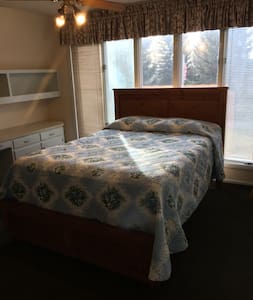 Large bedroom with two queen beds and a single bed. Private bathroom is adjacent to the bedroom. Eggs, homemade bread, and orange juice are provided for guests to cook their own breakfast whenever they arise.
We live in a separate cottage on the property so are readily available when needed.
Virginia and Craig are the best. Such great hosts. The place is really clean and they provide home baked bread in the morning. I would stay there again.
David
September 2016
We arrived at the Porter House after spending the day in Yellowstone. The host did a nice job making us feel welcome. The host provided us with a slip of paper that included steps to sign on the wireless. My teenagers LOVED the wireless access!!! The community space in the home was large and spacious. We felt the beds were very clean and comfortable. We loved the eggs, orange juice, homemade bread, jam, and local honey!!!
Zona
June 2016
We were exhausted when we pulled into this country driveway. The hospitality was excellent. The listing was spot on. Virginia and Craig are top notch people!
Dori
June 2016
We did not have high expectations for Rexburg, but when we came to Virginia and Craig's residence it was spotless and reminded us of our home away from home. Not to mention that communication was always excellent. We arrived on our first day very late, but owners came to open the doors for us and showed us their place. Absolutely adorable surrounding area. Every morning we had fresh eggs and home baked bread for toasts. Guests are informed about rules of the house and after 9:00 pm it is pleasantly quite. We are definitely will book room for our family as soon as we decide to visit Rexburg again and recommend to everyone we know to stay only at this Bed & Breakfast. We left Rexburg with warm feelings. Can't thank you enough for your warm hospitality. Yellowstone is just 2,5 hours away. We wished we could stay longer. BYU Idaho is really blooming young university, with great campus, amazing students and highly knowledgeable faculties. Warmest wishes to all future travelers, you will never regret if you choose The Porter's House.
Ilona
September 2016
Great hospitality. Beautiful house very big and comfortable rooms. Hosts were really nice and cared that everything is ok . Great price.
Yair
September 2016
The Porter house is a wonderful place to stay in Rexburg, Idaho. The owners, The Porter's, are exceptionally nice, wholesome people. Their home is clean and the surrounding area is peaceful and beautiful. We stayed three nights and will definitely stay at the Porter House Bed and Breakfast again.
Rebecca
July 2016
We loved our stay at this darling traditional B&B! The rooms are cute and the house smells like the fresh bread that Virginia treated us with every morning. Virginia is a wonderful and helpful host! We enjoyed the gameroom with toys and a pool table. We stayed here while visiting the Grand Teton and Yellowstone Parks.
Sara
June 2016
It's a great place, nice and clean. We all enjoy staying there. Virginia and Craig are very nice.
Eileen
June 2016
Type de logement
Chambre privée
---
Type de propriété
---
Capacité d'accueil
5
---
Chambres
1
Rexburg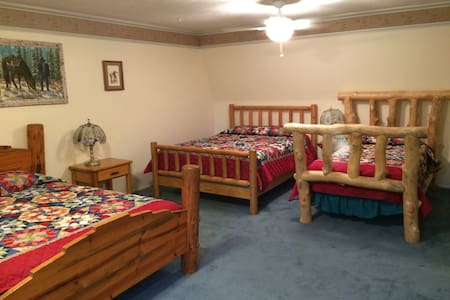 The family suite is a two bedroom suite with a private bath. One room has three beds: queen, full, and twin. The second room has a queen bed. The family suite is part of a larger home with other rooms listed on Airbnb.
We live in a separate cottage on the property so are readily available when needed.
Virginia & Craig house is awesome big. Comfortable. Safe. Virginia is very kind and hospital. 房子挺大的,有二個房間,一個房間三張床(two queen, one standard),另一間房間一張床(queen),房東太太人挺和善的,住過青島二年多,離黃石比West Yellowstone遠不少,但比Idaho Falls近
Ke-Hung
August 2016
Virginia and Craig are absolutely delightful hosts. It was incredibly relaxing and peaceful to stay at their home. The property is gorgeous, the night sky is spectacular, and we all slept very well. Highly recommend!
Cali
August 2016
Great place to live. Very clean, beautiful and unique. Virginia & Craig are kind and friendly. Fresh Ingredients are in the refrigerator. Water are from their own well, taset really good and sweet. Feel guilty to use this kind great water to take a shower...lol Thank you very much.
WenBin
August 2016
非常棒的house,地方很大,很干净,客厅的设计超级棒,而且(SENSITIVE CONTENTS HIDDEN)定位很容易找。host很热情的接待了我们,并做了详细的介绍,绝对值得推荐。
NORA
September 2016
We had a terrific stay at Craig and Virginia's place. They were so warm and welcoming! This is the perfect place to stay for kids, with a outdoor trampoline and plenty of space to explore for the little ones, including a neighboring goat farm!
Michael
July 2016
Craig & Virginia were so nice and accommodating. We loved their 20 acre ranch house. We stayed in the family suite and it was perfect for us and our 4 kids. Our kids loved the play room and the trampoline. It was so nice to be out in the quiet countryside. There were 2 other guests in the house and we barely noticed they were there....they probably heard our kids more than we heard them. Thank you!
Ryan
July 2016
We enjoyed the piano and game rooms, the rooms were clean and the house spacious and welcoming. The homemade bread was a treat. When coming again to Rexburg we will staying here again. Also a great place for family gatherings. Nancy from Oregon
Nancy
November 2016
Virginia and Craig were the perfect hosts! They made us feel welcome from arrival to departure and all the while I felt like I was staying with a dear friend. The home is well cared for and older but that was a bonus. Also, it has beautiful views and portrayed what we thought was an accurate perspective of the Idaho farm life. It's surrounded by farm fields with homes near by, but far enough to feel secluded, especially with so many trees. It's easy to see they've turned this business into an art and we hope to stay there again. Oh, and don't forget to try Virginia's homemade bread.
Jared
June 2016
Type de logement
Logement entier
---
Type de propriété
---
Capacité d'accueil
7
---
Chambres
2
Rexburg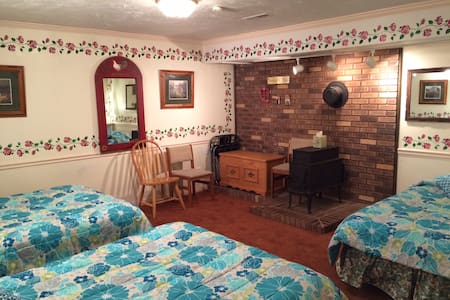 1

–

3

sur

3 Bed & Breakfasts