Large room with private bathroom and shower and a beautiful views of Iqaluit and Frobisher Bay. Located in a quiet area, walking distance from downtown. A great place for couples, solo adventurers, and business travellers looking to experience Iqaluit.
The large room at Kristine's has a killer view, private bathroom and is very private and cozy. There's a little fridge stocked with some food, juice, a kettle, coffee maker, lots of storage and really comfy bed. Internet access is provided. Plus access to living/dining room and kitchen. Kristine and her kids are very friendly and welcoming. The house is a bit of a hike from town but walkable or cabs are easy. It's worth it for the views!
susan
2016-11-24T00:00:00Z
Kristine's home, and family, were beautiful. The home is spotless and ideally located for getting around Iqaluit on foot or by taxi. Kristine was so very accommodating and helpful - an essential part of making our Arctic trip amazing. I would recommend Kristine's home to anyone who is traveling to Iqaluit.
Heidi
2016-11-25T00:00:00Z
Great place! Great view! Great people! I will definitely stay there again whenever I am in Iqaluit.
Scott
2017-04-06T00:00:00Z
We enjoyed the beautiful view at Kristine's place. Very comfortable and homey room. Fridge stocked full of snacks with coffee and tea in the room. 15 min walk into main area and beautiful view up from the hill. Highly recommend. Was a bit noisy at times as it is a daycare on the other side during the day but we weren't too bothered. Highly recommend.
Rox
2017-01-28T00:00:00Z
I had a lovely stay at Kristine's place. The rental area had a beautiful view of Iqaluit, and they were very welcoming while allowing for privacy.
Laura
2017-03-23T00:00:00Z
Kristine was extremely welcoming and went out of her way to make me feel at home and like part of her family. I could not have imagined a better way to discover Iqaluit for the first time. The house is lovely and welcoming, with beautiful views on the bay. The room is very cosy and has a desk and a long chair; the room is nicer and larger than it appears in the pictures on Airbnb, I was pleasantly surprised. I would strongly recommend Kristine's place to anyone traveling to Iqaluit, it was a wonderful experience and one that I am sure to repeat on my next trip to Nunavut. Thank you!
Audra
2016-09-30T00:00:00Z
Kristine and her family were really friendly and lovely to talk to. The room is clean and very nice, with a breathtaking view. It's in a suite to the side of the house, with its own bathroom, so it's pretty private. I really loved staying here and would recommend it to anyone visiting Iqaluit!
Melody
2016-10-06T00:00:00Z
Highly recommended place to stay. Kristine's place is wonderful, clean and comfortable. Great host, Kristine quickly answered any questions that we had. The views are awesome and easily offset the additional distance to downtown, we walked it most of the time even though the cabs are all fixed price of 7$ in town. The day care next door was generally quiet, it added some wonderful life and character to the house that no commercial accommodation could beat.
Scott
2017-03-31T00:00:00Z
Type de logement
Chambre privée
---
Type de propriété
Maison
---
Capacité d'accueil
2
---
Chambres
Iqaluit, Nunavut, Canada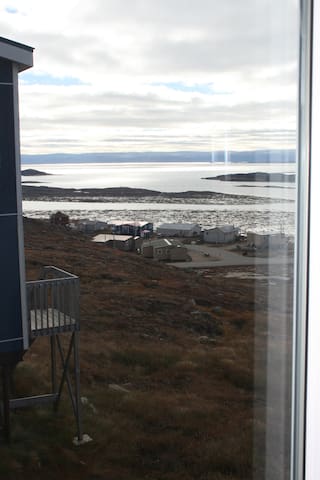 Private bedrooms for rent in a fully renovated appartment. Up to 4 rooms available. Located in Apex (same cab price than anywhere in town), very traditional community and very quiet. Lots of walking trails, beach, and water view. See photos.
Joelle is amazing. I spent a week at her lovely home in March. Apex is a bit of a drive from town, but I never regretted it. She made me feel welcome from the minute I touched down in Iqaluit, and showed me around town. I'm so glad I ended up staying with Joelle instead of the overpriced hotels in town.
Mark
2014-03-31T00:00:00Z
We loved Joelle's place! The bedrooms are very confortable, the rooms are large et really nice. Joelle was very flexible , and attentive. I can't recommend this place enough!
Maéva
2017-03-10T00:00:00Z
I'm so glad I stayed with Joelle, she is a friendly and cheerful person and an accommodating and welcoming host. Joelle picked me up at the airport and showed me around town. I spent most of my time in Iqaluit working but when I had free time Joelle invited me to different events and activities so I got to experience the local life as well. Thr house is well-maintained. The room is in an excellent condition, clean and with nice artwork. I was glad to have access to the kitchen and be able to cook once in a while.
Alina
2017-02-24T00:00:00Z
Type de logement
Chambre privée
---
Type de propriété
Maison
---
Capacité d'accueil
4
---
Chambres
Iqaluit, Nunavut, Canada
A lovely, contemporary home with a spectacular view overlooking the Arctic Ocean and Frobisher Bay in exotic Iqaluit, Nunavut. We are happy to provide you with information on sightseeing and an entry to Inuit cultural events. Full kitchen you are welcome to use, clean linens, ensuite washroom, healthy and gluten-free breakfast options, washing machine, WIFI and more. 1 bedoom with Queen Bed and adjoining full, private washroom. Free Wifi. Within walking distance to downtown Iqaluit and the sea. A few minutes from the territorial park.
Ellen and Chris are lovely, kind and generous hosts, who go out of their way to make sure that you're comfortable and to help you navigate Iqaluit. Their home is beautiful, and the room provided is spacious with great facilities. The home is walking distance to downtown Iqaluit, so it's very easy to get around.
Kareena
2014-10-10T00:00:00Z
Ellen and Chris were the best hosts I've had on Airbnb so far. They made all facilities available to me while at the house (kitchen, food in the kitchen, laundry, etc.; Ellen even made their car available to me!). Both are great individuals and have lots of interesting storied to share. If you're visiting Iqaluit, and it's your first time in the North, I suggest staying with them. They'll give you some bearings (Chris even took me around town to various points, to give me a good feel for the city) while in Iqaluit and make you feel right at home.
Tapan
2014-04-13T00:00:00Z
The reservation was canceled 69 days before arrival. This is an automated posting.
Andrew
2015-01-24T00:00:00Z
Ellen met me at the Iqaluit airport, brought me back to her lovely home, showed me the drill, gave me a quick and good orientation to the city, and dropped me off at my first destination. A great start! She and her husband were helpful with their advice and generous in every sense. The Alianait Festival of the Arts was on and they gave me good background on the performing artists and useful information on many of the current cultural and social issues in Nunavut. I was very comfortable in my private suite, and also enjoyed chatting with them.
Ann
2014-07-03T00:00:00Z
Unfortunately we did not get to meet Ellen and Chris but Ellen was still a lovely hostess. She had everything ready for our arrival and was available via phone for any of our questions. She was so welcoming when we spoke. The house was beautiful and clean with an incredible view. Ellen's decorating was so homey with so many lovely touches and art pieces local to the area. The house was about a 10 min walk to downtown.
Erin
2016-10-01T00:00:00Z
I had an incredible time with Chris and Ellen. They made my trip to Iqaluit very special. They have a beautiful house and were incredibly warm and welcoming. They provided insightful information about the community, showed me around and gave me space to enjoy my time up North. They are incredible hosts and people. Such a pleasure and joy to have met them and spent some time with these two great hosts. Thank you again, Ellen and Chris!!
Anne
2013-11-18T00:00:00Z
What a beautiful home and a wonderful experience! The place was very clean, spacious, and with an atmosphere that made us feel -- as soon as we walked in -- that we could not have found a better place in Iqaluit. Ellen and Chris are both very generous and interesting people. Always willing to help and do their best to make you feel comfortable. They shared meals and great conversations with us and showed us incredible nature spots! We are forever grateful for having met Ellen and Chris and would love to come back again! Thank you very much for having us and for being so kind. Hope we will meet again soon. All the best to you and your family.
Maricruz
2016-07-28T00:00:00Z
Raven's Nest is a modern house set on a ridge overlooking the central area of Iqaluit. The room is spacious and comfortable (single or couple) with a full ensuite. The bedroom and open-plan main living area of the house have great views west to the town below and out to Frobisher Bay. Ellen and Chris are welcoming hosts, helpful and friendly. They are intelligent and interesting artistic people you would like to have as friends. As they are long time Northernphiles, you benefit from their experience and knowledge; you feel as if you really know life in Iqaluit. In summary, a wonderful place to stay!
Evan
2013-12-12T00:00:00Z
Type de logement
Chambre privée
---
Type de propriété
Maison
---
Capacité d'accueil
2
---
Chambres
Iqaluit, Nunavut, Canada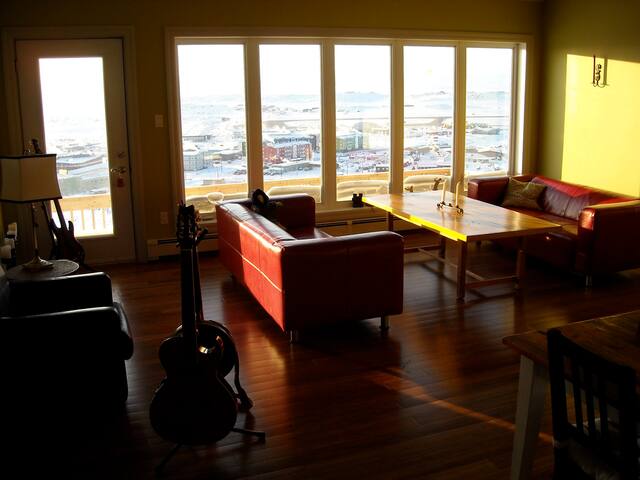 Nous avons quatre chambres à louer situé sur la magnifique baie de Frobisher. Chaque chambre dispose d'un lit double ou lits jumeaux. région et un accès à la cuisine séparée pour les invités manger. Chaque chambre dispose d'une connexion Wi-Fi, des articles de toilette, TV, petite machine à café et des serviettes ensembles.
Propre, confortables lits de qualité de l'hôtel.
Sur l'eau juste à côté des meilleures pizzas de la ville. Vue magnifique avec un accès facile à d'autres équipements. Cartes et brochures disponibles. Jack partage tout au sujet de sa culture et les traditions inuites. visites séparées disponibles à travers la ville 50.00 $ par personne.
Caroline made me feel welcome even before we arrived. She warmly greeted our group on arrival and showed us the ample amenities and nice rooms. She was always available to answer questions and offer suggestions. When our original plans fell through, she and her wonderful Inuit husband Jack helped organize a marvellous alternative for us. We felt like part of the family while still having privacy in the house. Caroline and Jack shared their insights and knowledge about Nunavut and the area and really worked to make our experience there a memorable one. We couldn't have dreamed of a better situation.
janet
2016-07-23T00:00:00Z
It is a very beautiful house and the hosts were very nice. They answered to my questions and they helped me by giving me some advice. It's very convenient for those who walk as it's close to downtown. The views are spectacular.
Irena
2016-10-18T00:00:00Z
Type de logement
Logement entier
---
Type de propriété
Bed & Breakfast
---
Capacité d'accueil
7
---
Chambres
Iqaluit, Nunavut, Canada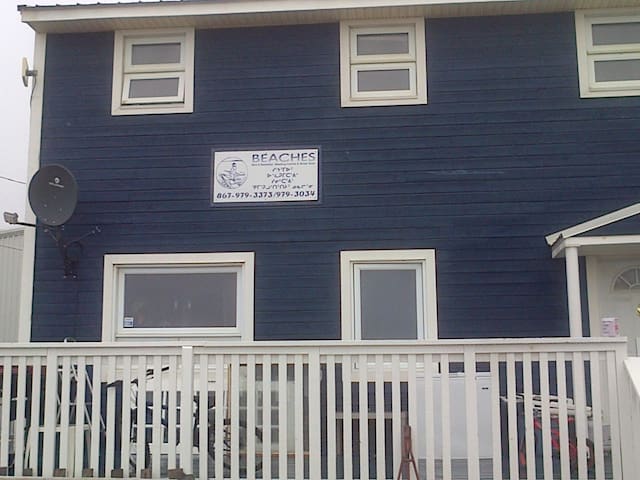 Ma place est Downtown, à proximité de: Vie nocturne, Restaurants, Water Front, Shopping, Centre de loisirs, et la salle de gym. Vous allez adorer ma place à cause de l'emplacement et de son ambiance. Il est un endroit assez de fantaisie et est bien entretenu. Ma place est bonne pour les couples, les aventuriers en solo, et les voyageurs d'affaires.
John's place was very nice and clean. John is friendly and knows thing happening in town so you may participate. He has a nice tourist booklet to get information from. I sure would go there again if I go back to Iqaluit.
Cynthia
2017-03-30T00:00:00Z
John was very friendly and prompt to return emails. The place was clean and close to amenities. Will stay again.
Ryan
2017-03-08T00:00:00Z
Type de logement
Chambre privée
---
Type de propriété
Appartement
---
Capacité d'accueil
2
---
Chambres
Iqaluit, Nunavut, Canada
Superbe vue sur la baie de Frobisher. Il peut accueillir jusqu'à 5 personnes, 2 chambres avec lits doubles et un canapé-lit dans le salon. Toutefois, s'il vous plaît noter et assurez-vous de nous demander si nous sommes là: si oui seulement 1 wa chambre double est disponible.
Nous pouvons louer toute notre maison quand nous sommes loin pour les vacances ou le travail OU 1 chambre et un canapé-lit quand nous sommes à la maison. faire S'il vous plaît assurez-vous de nous demander quand vous demandiez pour voir si nous sommes à la maison ou non. Notre maison est dans une grande partie de la ville et offre une vue directement sur la baie de Frobisher. Son une maison de style bungalow avec 2 chambres et un bureau et une salle de séjour et cuisine ouverte. Entièrement meublé avec espace pour garer 3 voitures si nécessaire. Notre maison est située dans Tundra Ridge, qui est à environ 10-15 min à pied de "centre-ville". Il est un moyen rapide de commodité d'arrêt magasin juste autour du coin pour l'épicerie rapide, le café (Tim Hortons) ou de gaz.
crête Tundra est situé à proximité de l'école intermédiaire et l'école primaire, notre maison est située dans une rue assez calme avec une vue magnifique. Accès facile à la toundra arctique, hiver arène de jeux et arrêt rapide. Non loin du centre-ville, vous pouvez marcher à prendre un taxi très facilement.
Our host was nice and welcoming. The house was beautiful and the view was great. I would for sure recommend future travelers to stay here when they get a chance to come to Iqaluit.
Tina
2016-03-05T00:00:00Z
After unexpectedly finding an airBnB in Iqaluit we were pleasantly surprised by the accommodations when we arrived. The place was very spacious, clean, and had a very warm feel! Rosanne and Vincent were always available to answer any of our questions and went out of their way to supply us with tourism information and point out the ins and outs of Iqaluit. We would definitely stay there again! Thanks for the accommodations!
Matt
2016-02-21T00:00:00Z
Very clean, easy to contact the host with any questions and concerns, wonderful view of the bay, the accommodation was exactly as described by the host. We had a HOO-t!
Andrew
2015-12-21T00:00:00Z
Rosanne and Vincent made me feel very welcome. They made feel as if I was home from home. They gave me full access to the kitchen and and gave me rides around town. They also provided me with more appropriate warm cold weather gear. (Without this I would have been confined to indoors all the time)
David
2016-04-08T00:00:00Z
Type de logement
Logement entier
---
Type de propriété
Maison
---
Capacité d'accueil
5
---
Chambres
Iqaluit, Nunavut, Canada
Appartement comprend: 2 canapés, télévision par câble, lave-vaisselle, cuisinière, 3 réfrigérateurs, micro-ondes, cafetière, grille-pain, casseroles et poêles, couverts, assiettes et verres. Wifi est inclus. Salle de bains: 2 cabines de douche, 1 WC, 1 urinoir, 1 lavabo 5 chambres: chacune avec lit
Juste en bas de la route fédérale.
A clean and comfortable spot - good value! Our host was great and made sure we had everything that we needed during our stay.
Matthew
2017-04-06T00:00:00Z
Mark welcomed us ver well. He showed us around where our rooms were and our personal living area. We were a group of three and it was perfect for us. We had all of the amenities that we needed and Mark provided with everything we needed i.e extra keys, batteries, etc. The other tenants there were very quiet and respectful and I would recommend this spot to anyone who staying in Iqaluit. Thanks Mark and Mike!
Guillaume
2016-04-15T00:00:00Z
Type de logement
Logement entier
---
Type de propriété
Appartement
---
Capacité d'accueil
5
---
Chambres
Iqaluit, Nunavut, Canada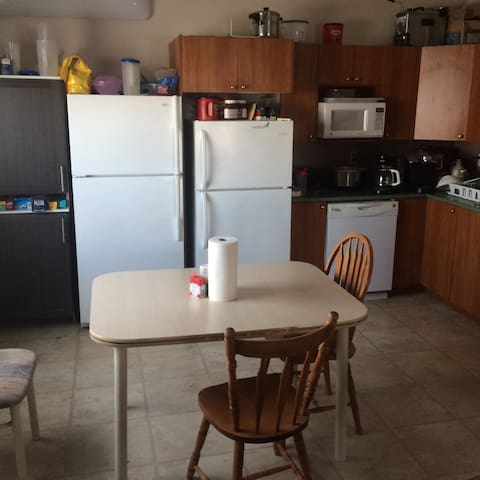 Appartement comprend: 2 canapés, télévision par câble, lave-vaisselle, cuisinière, 3 réfrigérateurs, micro-ondes, cafetière, grille-pain, casseroles et poêles, couverts, assiettes et verres. Wifi est inclus. Salle de bains: 2 cabines de douche, 1 WC, 1 urinoir, 1 lavabo 3 chambres: chacune avec lit
Mike was very helpful with communicating with me, he would always reply in a timely fashion. The bedding could do with a bit of updating. Good location.
Shannon
2017-03-08T00:00:00Z
Type de logement
Logement entier
---
Type de propriété
Appartement
---
Capacité d'accueil
3
---
Chambres
Iqaluit, Nunavut, Canada