Enter through the driveway towards the casita at the back, washer/dryer located at a separate room. Close to Eaton Canyon Park for hiking, quiet neighborhood. Close to Pasadena Rose Bowl, Cafes, Shopping and Museum.
Surrounded by tree lined neighborhood and the San Gabriel Mountain. Five minutes from Eaton Canyon Park, minutes from Café's and shopping Center, original hardwood floor. This home is ready to welcome you.
This home is located in a very quiet neighborhood surrounded by the son Gabriel Mountains. Walking distance to the Eaton Canyon reservoir.
I really enjoyed my stay at Mt. View Studio. The street that brings you to the unit indeed has a beautiful mountain view. The neighborhood is very nice, green, and safe. There is also a cute backyard with an orange tree in front of the unit. The unit, although not very big, is very cozy and comfortable. Dorothy was very nice and responsive to any of our requests. We would love to stay here again when we visit LA next time(URL HIDDEN) Inga and Alex
inga
2016-05-16T00:00:00Z
There are nice things to say – it was clean, there was breakfast cereal, milk, oranges from the tree outside, coffee maker, microwave, plus the kitchen is well equipped – hard to say whose frozen food was in the freezer – previous tenants? The bed was comfortable and there were enough blankets. It is a quiet location and probably quite nice in in warmer weather. And it is very near my daughter's home. We booked a week's stay over New Year's. Now the nitty-gritty: Text messages were the only way to communicate with Dorothy Yu. We never met her or anyone else from the real estate company that owns this property. The adjacent house has two rental apartments in it. Our apartment is a converted garage at the rear of the property. There is a 5" threshold between the bedroom and the room leading to the bathroom. I complained about the threshold and Dorothy disavowed any knowledge of it: "This is the first time I heard about this issue." This plus other problems prompted an offer of one night's credit to make up for this. It took almost 2 weeks for the check to be processed. The apartment is not centrally heated and it was cold outside. A space heater with an exposed element was the only source of heat and it made such ominous buzzing and fizzling noises when plugged in that I unplugged it. After informing Dorothy about this, a new space heater was delivered the next day. Also, the first day there was no hot water. The bathroom sink plug does not work – it's bent out of shape. The hot water faucet in the tub works backwards! On January 2 – the day of the Rose Bowl Parade - Dorothy Yu offered to let us move to one of the units in the main house for the next 2 nights, but since our stay was almost over, we decided to stay put. Although we did not have a car, parking could be a problem. Street parking seemed the norm for the neighborhood. Sharing a driveway with the other Airbnb folks could be problematic.
Cynthia
2017-01-04T00:00:00Z
Dorothy is a great host and her studio was awesome. We had a great time during our stay in Pasadena/Altadena. Dorothy promptly responded to our questions. The neighborhood is fantastic. I would recommend the place to anyone visiting Pasadena. Thanks!
Tiago & Patricia
2016-09-23T00:00:00Z
Dorothy was a very accommodating and responsive host. She had stocked the house with snacks and fruit and provided everything we requested. We needed to extend our stay and she quickly responded and accommodated our request. We would definitely stay here again!!
Cheri
2016-05-27T00:00:00Z
Ms Dorothy was super great at my trip. She was pending at all times there was very good communication. The house is quite spacious, clean and easy to get to it. Thank you very much Ms Dorothy. Also thanks for the food.
Ted
2016-10-29T00:00:00Z
Thank you for a wonderful stay.
Raymond
2016-02-07T00:00:00Z
The studio is large, open and full of light (2 skylights). Because it is so near the mountains, the cell phone reception is not reliable and frequently cuts off while you are having a conversation. Because it was winter while I stayed there, the space was quite chilly in the mornings and I needed to use a portable heater. It was sometimes very cold in the bathroom while taking a shower, since the fan would go on automatically when you turned on the light. Occasionally I would bring the heater into the bathroom to stay warm!
wendy
2016-12-28T00:00:00Z
It was a pretty good house with a lot of amenities
Michael
2016-07-24T00:00:00Z
Type de logement
Logement entier
---
Type de propriété
Loft
---
Capacité d'accueil
3
---
Chambres
Altadena, Californie, États-Unis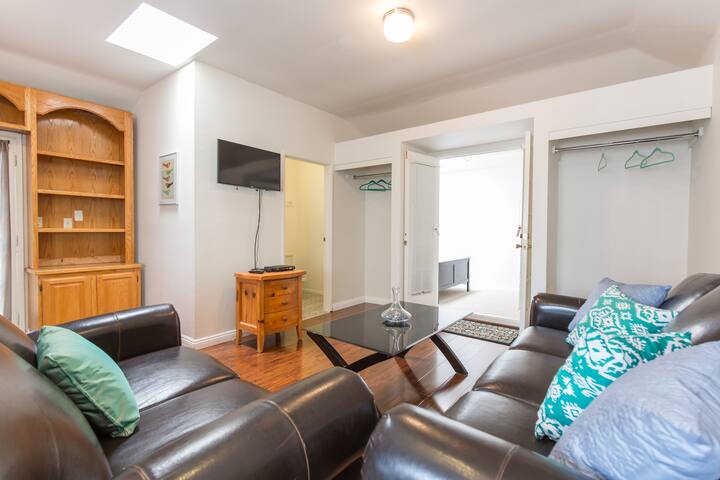 Notre maison d'hôtes est parfait pour une personne seule ou un couple. Il est l'endroit idéal pour séjourner si vous êtes en visite à Los Angeles et que vous voulez un endroit loin de l'agitation de la ville. Ce sera votre espace privé avec sa propre entrée, séparée de la maison principale. Le quartier est calme et sûr. Entièrement meublé, maison d'hôtes privée. Cuisine complète avec réfrigérateur, micro-ondes, cuisinière / four. lit Queen dans le grenier. Wi-Fi activé, 40 pouces télévision et câble. Climatisation / chauffage de sorte que vous serez à l'aise, peu importe comment anormalement chaud ou froid, il est! La maison d'hôtes récemment rénovée a une nouvelle plomberie et nouvelle douche et WC. A également un hamac et un canapé en cuir avec 2 sièges d'amour. Très propre! frais de nettoyage ponctuel de 75,00 $. Un dépôt de garantie de 250 $ applicable à des séjours de plus de 2 mois. Il sera restitué dans son intégralité si l'espace a été maintenu et que rien n'a été endommagé. Il y a un bouledogue anglais sur la propriété et il est un membre précieux de notre famille. Il n'a jamais été dans la maison d'hôtes, mais si vous êtes très allergique, vous devriez être au courant. Bien situé à; - Centres Commerciaux & Autoroutes & Grocery Stores (1-3 milles), - California State University LA (3 miles), - Centre-ville de Los Angeles, China Town, Little Tokyo, Walt Disney Concert Hall (8-10 miles, 15 minutes). - Hollywood (16 miles, 30 minutes) - Disneyland (34 miles, 45 minutes) - Santa Monica (23 milles, 40 minutes) - Venice Beach (27 miles, 45 minutes) - Malibu (47 miles, 60 minutes) À distance de marche des transports en commun. Merci et nous aimerions vous voir bientôt :)
Our stay in the guest house was great! My family and I spent Christmas weekend there and everything was exactly as we expected and more. The guest house is very nicely remodeled with conveniences such as a stove to cook with, heater that kept us warm as the weather wasn't the best during our stay, and a spacious bathroom. Felt very welcomed with the little snacks that Alex and Patty left for us. Alex and Patty were great hosts and we felt right at home throughout our stay. Thanks, would love to stay with you guys again! We grew found of your dog Nut by the end :-)
Wenjie
2012-12-27T00:00:00Z
Alex & Patty were wonderful host, so welcoming and they help us overtime we add a question ! The house is really beautiful and cute, we had everything we needed. We spend 6 weeks of happiness in that place, it was really hard to leave it. The area is really nice and calm, Alex gave us a lot of advice, it was so cool. I recommend this place to everyone ! We'll come back with a great pleasure the next time we'll come to LA. Merci beaucoup ! (Thank you so much)
Meryl
2016-05-01T00:00:00Z
This was my wife and I first experience with Airbnb. I do not process enough superlatives to praise the two months that was our pleasure and honor to be the guests of Alex and Patty. They could not have made us more welcome. Always respectful of our privacy and yet always available when needed. For example, my automobile's tire picked up a nail and needed to be patched. I asked Alex and he recommended a neighborhood establishment, that I would never have been able to find on my own, that did quality work at an extremely reasonable rate. Patty was always available with helpful suggestions as to the location of various establishments such as supermarkets and laundromats. As my wife and I were strangers to the area, these kind of things are most appreciated. My birthday happen to fall during our stay. My wife happen to mention it to them in passing but they took the time to buy a cake to celebrate. It was terribly unnecessary which made the kindness all the more special. Many of the reviewers have made reference to Nut, the English Bulldog. I will not break with that tradition. He is just a delight. He could be found roaming or lounging in the yard nearly every day. He is very polite, well mannered and a joy to behold. My wife and I looked forward to seeing him everyday and now that we've retuned home...we miss him. In short, Alex & Patty's guest house is absolutely charming. It was a thorough pleasure to be their guest. I would highly recommend the experience to anyone visiting the area. My wife and I would not think of staying anywhere else in Alhambra and look forward to our next visit. Alex and Patty really made us feel that this was our California home.
Maurice
2016-03-11T00:00:00Z
First of all we`re very thankful that we had such great hosts as Alex and Patty! My girlfriend and I stayed at Patty's and Alex´s home for four months, from September 2015 to January 2016. Their place was amazing! Everything was clean and you have everything you need at the apartment. The area around the house is really nice, quiet and safe. We felt really comfortable there. here is a bus station only 4 minutes away where you can take a bus to Downtown LA or different places. There are also some supermarkets and good restaurants near by. This house was the perfect location for us! Alex and Patty such as their whole family were always friendly and helpful. We really appreciated the time we had with this amazing family. We look forward to see them again soon! Best regards, Lara & Uli
Uli
2016-01-10T00:00:00Z
Both Alex and Patty were the nicest hosts. They were accommodating to our needs and always were genuine in helping us out. Also, coming home to Nut (bulldog) is always a plus :)
Blake
2016-08-08T00:00:00Z
I had never done AirBnB before and was a bit apprhensive. Alex and Patty, however, were a pleasure to deal with and have made me want to deal with AirBnB bookings in the future. I booked last minute and Alex and Patty were very gracious in getting the guesthouse cleaned for me ASAP. They were also exceptionally quick to respond to my inquiry and booking. The listing was exactly as described and is well-located in Alhambra. I needed to commute to both downtown LA and to Pasadena, and the guesthouse was only about 20 minutes away from both. Beyond that, Alex and Patty were very conscientious about texting me to see if I needed anything, but to also give me my space so that the guesthouse truly felt like my own. Alex and Patty responded quickly to my texts and were the perfect hosts. Their dog, Nut, was a side-benefit -- super cute and friendly!
Melissa
2014-06-16T00:00:00Z
We got the best sleep we've had in a long time at this hideaway guest house in Alhambra. Very cozy and QUIET! Lots of toys in the backyard for our daughter to play with. Thank you Alejandro and Patty!
Jay
2012-10-15T00:00:00Z
I stayed at Alex and Patty's home with my dad for a month. The place was great, it is very modern and has everything you need. In addition, the area is very nice and we always felt safe. Alex and Patty are also great hosts! They were extremely friendly and helpful. They made us feel extremely comfortable. On top of that, they own the cutest, most loving little dog! I absolutely fell in love with Nut. I would definitely recommend Alex and Patty's apartment to anyone.
Damaris
2015-01-27T00:00:00Z
Type de logement
Logement entier
---
Type de propriété
Loft
---
Capacité d'accueil
2
---
Chambres
Alhambra, Californie, États-Unis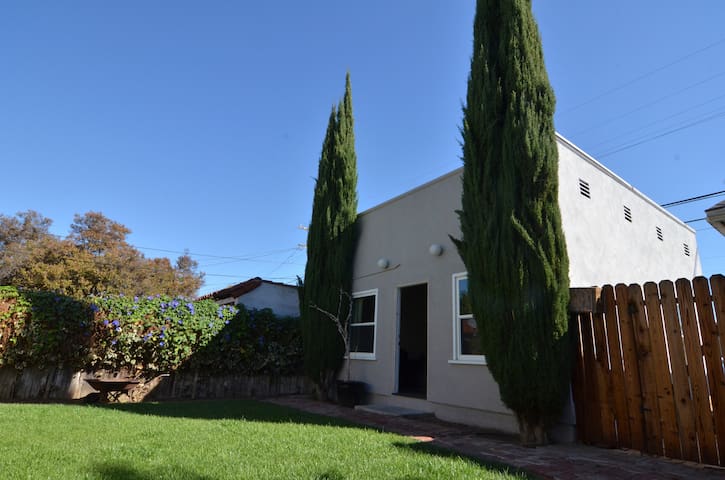 Walk to everything from this sparkling 2-story top-floor Old Town loft - Pasadena Convention Center, restaurants, bars, cafés, shopping, theaters, museums, groceries and more! Metro Gold Line 'Del Mar' station across the street, next to Stone Brewery. 1.5 blocks to the Colorado for the Rose Parade. Local shuttle to the Rose Bowl. King bed & full bath upstairs, 2nd full bath downstairs. Additional single bed in living room. Parking included.
This 1360 ft² (126 m²) modern top-floor loft is flooded with natural light from 2-story windows. Upstairs features a king bed and bathroom. Downstairs features polished concrete floors, a fully-loaded kitchen, dining room, living room and full bathroom. There is also a twin bed in the living room for additional guest. The loft also features instant hot water, keyless entry, and a washer and dryer. An assigned parking space is located in the gated underground garage. PLEASE NOTE: This is an open *loft*; the upstairs bedroom is surrounded by a short wall, but is not fully enclosed. Consequently, this space is not suitable for young children.
Old Pasadena, or "Old Town," is a charming town with a long history and a strong sense of community. The neighborhood is clean and safe, with lush trees and mountain views. Colorado Blvd and the surrounding streets are filled with an eclectic collection of establishments, from darkened gastropubs and hipster cafés to dusty music stores and colorful quilting shops, all tucked into vintage and quirky old storefronts. The Levitt Pavilion hosts free, daily live music events throughout the summer. Performers and musicians are also tucked down the alleys around Colorado Blvd. Farmers Market is held every Sunday from 9 AM - 2 PM. The museums, Rose Parade, Rose Bowl and surrounding state parks make Pasadena a perfect place to stay visit, and an even better place to live. ☺️
I visited Pasadena for the Rose Bowl. The apartment is just superb and was an ideal place to stay. The decor and furnishings are quite beautiful. It felt like something out of a magazine. The location is great also. Maybe 4-5 minutes walk to Colorado St. and probably 40-45 minutes to the stadium itself. Much easier and more fun to walk there and back rather than bothering with the shuttle. It was also impressively quiet at night, considering how close to everything the apartment was. The wifi is fast and the upstairs shower is amazing. Wonderful experience all round!
Craig
2017-01-04T00:00:00Z
We spend three weeks here and it was a fantastic experience here. The apartment is super clean and organized. We really love the decoration here as well, the place is just the same as the picture. The environment here is quiet and very convenient. Decent restaurants and whole foods market is right down the street. The host is very friendly and patient, loving to help us solve problems.
Sherry
2017-03-11T00:00:00Z
We stayed at this beautifull place and it was great! This place offers private parking, that directly leads to a elevator. We were greeted as planned and got a personal explanation. This place offers everything privacy, comfort and more. Even the little things were thought off;-)
Antoine
2017-02-05T00:00:00Z
All that's advertised is delivered, here. Great hosts too.
Ike
2017-02-20T00:00:00Z
What you see in the photos and what is written by Tate is totally accurate. Communication was very easy and having a inside parking spot very handy.
Jeffrey
2017-03-21T00:00:00Z
Exactly as described and as shown in pictures. Centrally located, nicely appointed, and hosts were very helpful and communicative. Would highly recommend!
Alex
2017-04-04T00:00:00Z
Type de logement
Logement entier
---
Type de propriété
Loft
---
Capacité d'accueil
3
---
Chambres
Pasadena, Californie, États-Unis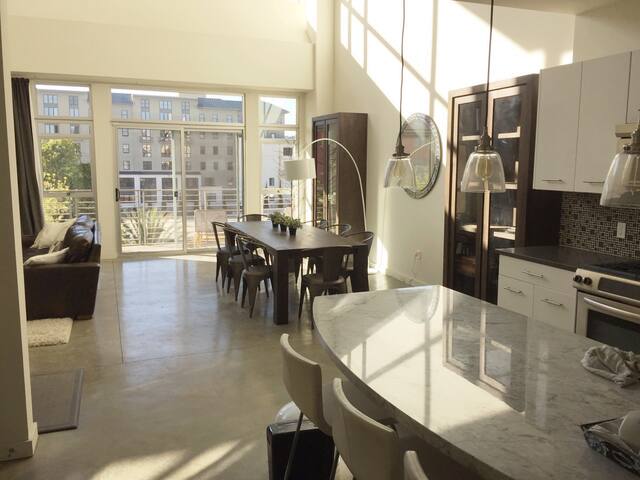 Big Beautiful Modern Loft. In the heart of Pasadena; near Historic Old Town, Dining, Shopping, Night Life. Very close to the Rose bowl parade and stadium. 2 balconies, 2 bars, 9ft pool table, BBQ grill, en suite laundry. secure underground parking.
I stayed at Shawn's loft Dec 31-Jan 2 for the Rose Bowl. This was the first time Shawn had rented out his loft. Upon check-in, the place had not been cleaned. This was a major issue, as the bathrooms were filthy. Hopefully Shawn learned his lesson from this experience and has the place ready to go for check-in. He was able to get a cleaning crew there on the 2nd day of my stay and I did receive a credit from Airbnb for the inconvenience. The loft itself was very nice and quite spacious. It is within walking distance to both the parade route (0.9 miles) and stadium (1.7 miles). Please note that there are no private bedrooms. One of the beds is upstairs in the loft and the other is downstairs in the corner of the main living area. It would be great for a group of guys/girls or a family, but not necessarily for two couples as there is little privacy. The cleanliness at check-in is the only reason for my 3 star review. If the place had been cleaned prior to my arrival, I would have given it 5 stars.
Brandon
2016-01-03T00:00:00Z
Type de logement
Logement entier
---
Type de propriété
Loft
---
Capacité d'accueil
4
---
Chambres
Pasadena, Californie, États-Unis
My place is heavenly. It is in Old Town Pasadena and close to The Rose Bowl, South Pasadena Farmer's Market, The Park and Trader Joes. Walk to the parade or view from outside on the balcony of your own home. You'll love my place because of the light, the kitchen, the outdoors space, and the neighborhood. My place is good for couples, solo adventurers, business travelers, and families (with kids).
The host canceled this reservation 3 days before arrival. This is an automated posting.
Steve
2016-12-23T00:00:00Z
Type de logement
Logement entier
---
Type de propriété
Loft
---
Capacité d'accueil
2
---
Chambres
Pasadena, Californie, États-Unis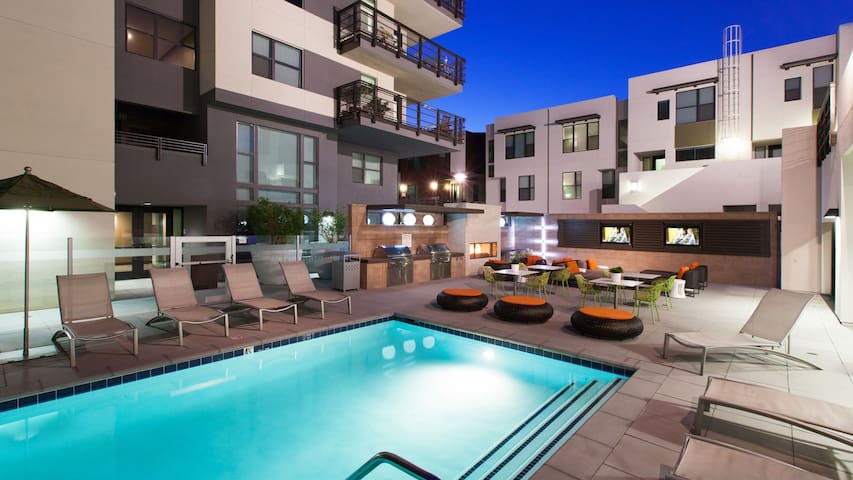 Incredibly well located in an urban oasis minutes away from the city, you will love this peaceful and spacious loft with its great fully equipped contemporary kitchen, the comfortable king size bed, the terrasses and the amazing organic garden with more than 140 trees. the kitchen comes with all the spices you may need. Master bedroom with private terrace is 20x30 feet, and the kitchen is 20 x 25 feet. View all of our listings https://www.airbnb.com/s?host_id=23820061&s_tag=hY7CIbqX
It is a perfect loft for up to 4 with a comfortable king size bed in the huge master bedroom and a full sofa in a spacious nook , one full bathroom. The wide and bright kitchen fully equipped has a oven, a dishwasher, a duality toaster, advance cookware, coffee and tea along with essentials as olive oil, vinegar, salt and pepper and multitude of spices, a great place to cook while enjoying guests company! you will have enough to make yourself a meal if you arrive late your first night and cannot shop.You will find either a couple beers in the fridge or a bottle of wine for you , complimentary of course. We provide linens and towels for all guests. If you are staying longer than 10 days there is a mandatory maid service , including housekeeping, sheets, towels, cleaning and supplies ,we are providing these services for an additional charge of $120.00 per intervention ( twice a month ) . However, this additional service is payable in CASH, directly to the technician. The great outdoor space has 2 private dining areas, seats six easily. Plenty of yoga space indoors or outdoors. Parking is in front of house , 2 spaces . A. loves to garden and grows fruits and vegetables maybe because we are french we love to cook and you may have the chance to enjoy some of our jams or soups if season allows!
This is Highland Park, we are in the very quiet and safe part of the neighborhood, with a tennis and racket club, Arroyo Secco golf course, San Pascual stables, soccer and base ball fields at walking distance. San Pascual park is literaly across the street, as well as the lower Arroyo secco park great for running and hiking ( also archery range ) Minutes away from South Pasadena's local shops and restaurants, close to downtown L.A and very accessible to surrounding areas. Perfect place to stay to enjoy the January 1st Rose Parade (walking distance to Orange grove and Madeline at the beginning of the float). Our location is also minutes away to the Art Center College of Design, Caltec, Occidental College,Nasa- Jpl, the Huntington gardens, Glendale and Burbank. The Hip spots of Figueroa, York and 51st, are both minutes away .
This is a beautiful, serene property in a lovely setting, yet close to everything. We stayed for 10 days and were sad to leave. The kitchen and dining area is fabulous and great for entertaining our local family members. The bedroom with sitting area is very comfortable and clean, and we loved having breakfast in the private garden area off the bedroom. The hosts are charming and welcoming, answering all questions promptly and even leaving us oranges and grapefruit from their own extensive gardens. The location is close to public transportation, the freeway and Pasadena shopping and farmer's markets, yet is very quiet. We hope to return many times in the future.
Marianna
2017-03-11T00:00:00Z
Wonderful modern loft, decorated with great taste, and with an exquisitely well equipped kitchen. We felt super comfortable during our five days while I was working in Pasadena. Alain was a great host, very friendly, with very clear communication. We will certainly be back!
Markus
2016-11-08T00:00:00Z
Alain was a great host, very helpful and communicative! The space was comfortable, charming, airy, and restful. We would love to stay there again.
Morris
2017-03-20T00:00:00Z
After staying a few days at the smaller (but totally enchanting) place tucked in the hillside garden, we moved down to the larger space (the Loft) located toward the front of the property. Here one could even more fully appreciate the extent of Alain's artistry, evident in everything from the enormous clock that he built himself to the beautiful, mottled concrete floors. The kitchen and dining area are simply magnificent, with a large stainless steel countertop with a punched sink. And as with the other space, his creative talents are particularly evident in the management of the natural light, which bathes the place so magically. In the morning, one could pull back the sail-like shades over the skylights and look straight up at the palm trees while lying in bed. The space was still very quiet and peaceful, with plenty of birds and butterflies, and we were thrilled to meet the famous "Scruffy," who really did fly down at the sound of the bell to grab a peanut from our daughter's hand. Our host gave us some of the best limes that we have ever tasted, and also treated us to a tour of his workshop--a workshop that covers both woodworking and metalworking. A million little details make this place perfectly magical; creative thought seems to have gone into absolutely everything, and one could spend an entire vacation just admiring and learning from the house. The host knows an enormous amount about recycling, restoring, and repurposing. And everything was comfortable, spotless and allergen free, as well as eco-friendly. The detailed but clear instructions (both written and available on the website) are important for an appreciation of just how much loving and creative care has gone into this space, which needs to be respected as a work of art in itself. My family and I fell in love with this space, which is truly special and throughout breathes intelligence and artistry. There is a lovely park across the street, and we often took walks up the hillside by the Arroyo to look at the San Gabriel Mountains in the distance. We hope to return to South Pasadena often, and whenever we do we will try to stay at this wonderful, magical place.
(EMAIL HIDDEN)
2017-03-23T00:00:00Z
This is the second time I've stayed on the property. The first time I stayed in the cottage and this time the loft. Both properties are amazing but the loft was well suited for entertaining. My niece, her husband, and their 3-month-old daughter visited on Sunday for dinner and my son and I prepared a delicious meal in the gourmet kitchen and dined at the family size table. It was perfect since the new parents could see to their baby's needs in the bedroom and join us afterwards. My son and I took advantage of the proximity to the metro and enjoyed visiting the city. We also explored Pasadena and had an amazing lunch at Good Girl. A Vietnamese "inspired" restaurant with the best Bon Mei I've ever had. Florence and Alain sent a helpful welcome package which we referred to often. Not only to read up on the property but to find places to shop and great information about things to do. We hiked to a beautiful waterfall in the San Gabriel mountains which we found on a website recommended by our hosts. We were sad to go but this is where I'll surely stay the next time I'm visiting Los Angeles. Susan
Susan
2017-01-17T00:00:00Z
We loved this Airbnb property! The loft itself is beautiful, comfortable, and spacious, with a wonderful kitchen/eating area as it's core. Add to that a huge bedroom with a lovely king-sized bed plus fab bathroom! Then, the sun/window-filled modern/artistic/hand-made space surrounded by extraordinary outdoor spaces = a delight! There are several Airbnb options which share the spectacular garden area within the confines of Alain's property, which reduces privacy slightly but at the same time makes it a magical place. We found the loft to be very clean and well-equipped, and Alain to be both responsive to queries as well as a delightful host in person. Would love to stay again!
Lynne
2017-03-14T00:00:00Z
This place is great perfect for 2, modern clean, and has a great European vibe aswell.
Tyler
2017-01-08T00:00:00Z
I only wish I could have stayed longer at such a wonderful, peaceful and unique property. It was initially exactly what I was looking for but from when I arrived, stayed and left, the property, location and hosts utterly exceeded my already high expectations. If you are from out of town and looking for a special place to call home for a few days or a LA local in need of a little rest and relaxation, then this lovely property is exactly where you should end your search. Perfect. Thank you. Already thinking of another excuse to come back for a stay!
Guy
2017-01-23T00:00:00Z
Type de logement
Logement entier
---
Type de propriété
Loft
---
Capacité d'accueil
4
---
Chambres
Los Angeles, Californie, États-Unis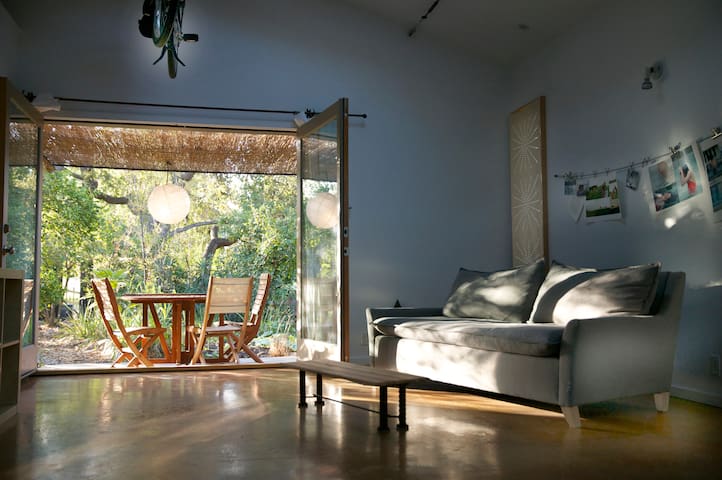 Welcome to your home away from home at our charming & comfortable Victorian Walkup! You'll love it because the house is furnished with antiques, real artwork, luxury fabrics & rugs, and high-end fixtures. The soaring ceilings exhibit original beams from the 1895 construction and have a dormer window that floods the space with light. The heart pine floors are also original. My place is good for couples, solo adventurers, business travelers, families (with kids), & furry friends (pets @ $50/day).
The structure is one of the oldest in Los Angeles, it was built just before the turn of the century and has been many things over the years, however it is now a newly remodeled, luxury 3 bedrooms townhouse style unit with every feature needed for a relaxing and easy stay. Nothing here is from Ikea, like you will find in many low-end rentals- the house is furnished with antiques, real artwork, luxury fabrics & rugs, and high-end fixtures. There is highspeed internet and a big screen TV. The kitchen features commercial built-in appliances and is fully equipped for a chef or simple take out. There is dining seating for 8 either at the 4-top dining table or the quartz bar in the kitchen. The house features three bedrooms with new mattresses and luxury bedding. Bedroom 1 is a queen size with an antique bed and built-in bench, Bedroom 2 is also an antique bed with a dresser and a large closet, and Bedroom 3 features a twin over full bunkbed decorated in Americana with another large closet. There is a new family size washer and dryer as well as a luxurious spa bath done in a variety of European marble & limestone with a teak bench and luxury fixtures. The soaring ceilings exhibit the original beams from the 1895 construction and have a dormer window that floods the space with light all day. The heart pine floors are also original to the space, as well as the charming windows and front door. We have a secure gated parking lot and the unit is on the second floor with a small terrace with seating for two.
Our neighborhood is quite walkable, and has many more great locals within a short drive. Within walking distance is holistic breakfast & lunch spot Amara Kitchen, the hipster Offbeat Bar, Starbucks, fast casual My Taco, and the Highland Park Goldline metro station which can take you all over Los Angeles with no traffic delays! No wonder why LAWEEKLY has called Highland Park "LA's Greatest Neighborhood" We have some great restaurant, bar, and activity recommendations upon request and we highly recommend the OpenTable app for the best dining around town. There is also a year-round open-air farmer's market, open 4-8 PM on Thursdays, featuring fruit, vegetables & local vendors only 1.5 miles away- The South Pasadena Farmer's Market on El Centro Street. If you're in the mood for a great craft beer, head over to Highland Park Brewery about 1.5 miles west of the house on York- there are several great little spots around it to try also like Donut Friend, Cafe De Leche, and the York to name a few! Our neighborhood is one of the oldest in Los Angeles; for more LA History visit the Heritage Square Museum to see structures from the Victorian era and exhibits that highlight life in the first 100 years of California's statehood, located only 2.5 miles away on Homer Street. Or for even deeper history visit the Lummis Home, a 4,000-square-foot Rustic American Craftsman stone house built in the late 19th century, which is on the National Register of Historical Places and is designated as Los Angeles Historic-Cultural Monument. Lummis is also only 2.5 miles away off of Avenue 43.
This was a great find! The townhouse had a lot of character and was nicely decorated. We had 6 guests and it was perfect. There are lots of restaurants and cafes nearby that we were able to walk and drive to. Joshua always responded quickly to any questions I had. I highly recommend his place!
Hope
2016-11-04T00:00:00Z
My family and I had an amazing stay at Joshua's place. The picture represented the place perfectly. The interior was beautifully and thoughtfully designed. The location was central for our needs and close to the metro line to both downtown and Pasadena. Joshua gave us clear and easy directions to follow to get into the apartment for our stay. I highly recommend!
Vanessa
2017-01-03T00:00:00Z
The host canceled this reservation 8 days before arrival. This is an automated posting.
Anna
2016-08-15T00:00:00Z
Joshua was very responsive and made our check in very easy with detailed instructions. All the amenities you could think of and ask for was included for our stay which made us very comfortable! The place is charming and beds are comfortable and the 7 of us enjoyed our reunion weekend. Don't sleep on this place! It's a gem
Christina
2016-10-30T00:00:00Z
Joshua's place was beautiful. Everything is exactly as it looks in the pictures. There kitchen is huge and the décor is a nice mix of modern and antique. Location is next to 110 freeway. There are some good cafes about a 10 min walk away including café Jane on York and Mr Holmes Bakehouse.
Kevin
2016-11-20T00:00:00Z
This unit was really lovely and tastefully decorated. The beds were very comfortable and the apartment is stocked with whatever you could need. The kitchen in particular was impressively stocked. Joshua was very easy to communicate with and provided all the details we would need.
Andrea
2016-11-13T00:00:00Z
Josh was very quick about returning my questions. The home was lovely and spacious and comfortable for our family. We felt safe and secure.
Stephanie
2016-10-02T00:00:00Z
Joshua's house is great.
Ringo
2016-10-01T00:00:00Z
Type de logement
Logement entier
---
Type de propriété
Loft
---
Capacité d'accueil
7
---
Chambres
Los Angeles, Californie, États-Unis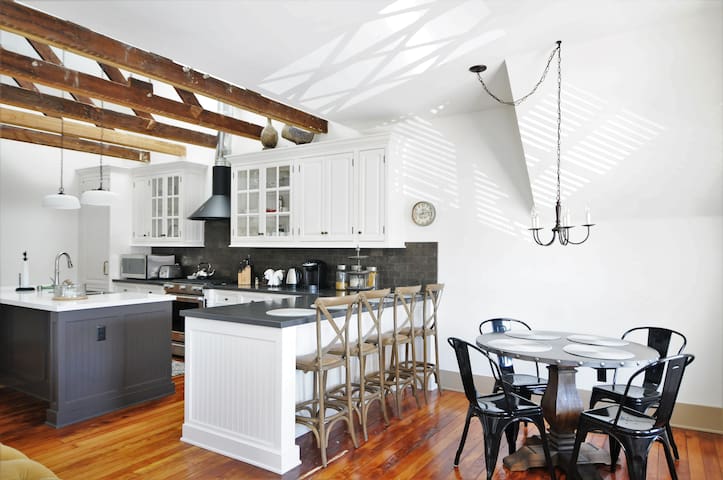 Hello Everyone, This is my beautiful and cozy yet very creative loft space. Spacious and grand with over 2100+ sq ft full production studio space. The location is central. 10minutes north of dtla and 10 minutes south from the highland. Great place to be offering a tranquil place with restaurants and cafe's all around it. Amazing neighborhood filled all people. Also very close to the 110 freeway 5 minutes away! If your a creative or a traveler who wants to get the best of both worlds this is it!
El estudio es muy amplio y confortable. Cerca de la casa hay diferentes lugares de comida y un Starbucks. Si vas por trabajo es un lugar muy practico. La comunicacion con Alexander fue muy rapida y facil. El es muy amable y me dio todas las indicaciones que necesitaba acerca de las utilidades de la casa. Me encantaria poder repetir.
Fatima
2017-02-28T00:00:00Z
The host canceled this reservation 2 days before arrival. This is an automated posting.
Raven
2017-03-31T00:00:00Z
Alexander was lovely and super accommodating!! We used his space for a private photoshoot and it could not have been more perfect.
carla
2017-02-26T00:00:00Z
I wish I lived here!! My boyfriend and I came into L.A. for the women's march. We really hit the jackpot with Alexander's loft. It's HUGE, creative, has wonderful energy, and great lighting. The loft is located in a very quiet and peaceful area. My favorite feature of the loft is the huge white wall which is great for photography. Of course my boyfriend and I took full advantage by running around like silly children taking pictures of each other. The loft is only 10-15 mins from downtown L.A. and Pasadena. There are tons of local bars and restaurants you can easily access and a really cool dive bar only two blocks away. Alexander was very gracious and kind and even accommodated a near midnight check in. I'd highly recommend staying here if you're in L.A.
Crystal
2017-01-22T00:00:00Z
This was my first Airbnb experience!! I am a photographer and chose this location specifically for its curved cyc wall and studio setup. The location is great. It has very high ceilings in the main area, it has a full kitchen and bathroom as well as makeup area downstairs and a nice loft bedroom upstairs. Alexander was on time and very friendly, explained all the details of the house and gave me his cell # in case I had any questions. The house came equipped with wifi, a TV (no cable) and sound bar. I was able to stream amazon prime and netflix on the TV so that was no issues. This is cool space, neighbors in the building were very quiet and I didn't see anyone the entire time I was there, very private. There is a security gate prior to getting to the front door which was great. The bed was very comfortable, I think its a memory foam bed! I'd stay at Alexander's place again for sure!
Thomas
2017-01-08T00:00:00Z
Loved this space! It was perfect for my little weekend stay. I would definitely book again :)
Lacy
2017-02-19T00:00:00Z
This is an awesome space. No doubt I will be back. If you are a photographer, this can't be beat!
Todd
2017-03-30T00:00:00Z
Perfect place! If you're any kind of photographer or just like to have a creative space this place is perfect. A must stay.
Dana
2017-03-14T00:00:00Z
Type de logement
Logement entier
---
Type de propriété
Loft
---
Capacité d'accueil
3
---
Chambres
Los Angeles, Californie, États-Unis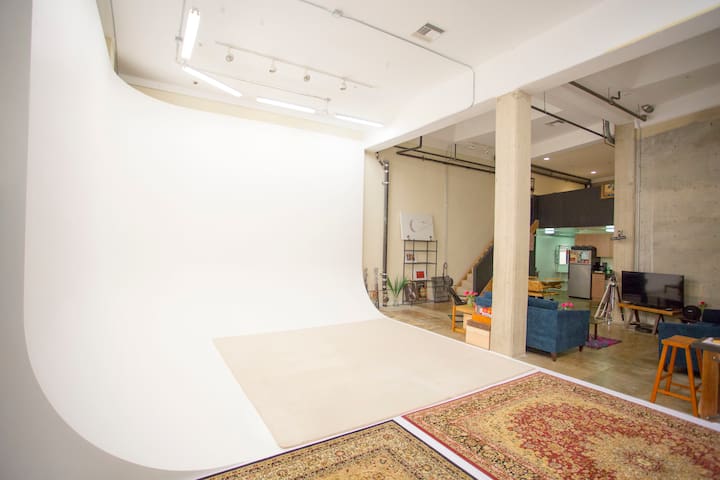 I am opening the doors to my studio for you to live as an artist. over 12 years i have built, composed an inspiring space with love. Complete with multiple roof tops, fire pit, urban garden,paintings,flower garden, both romantic and inspiring.
I built this space over the past 12 years with love and inspiration. you can hang in the garden and have a small fire from a fire pit i built from car rims or read from any of the books in the library. its a very peaceful place even though there is industry all around. once you walk in your delivered from everything, Dove live on the window sill, mountain views and an outdoor shower house. when the moon is up, it rises in perfect view from the steel windows. small wind chimes, urban garden, plants, motorcycles, art, books, peace.
there are no neighbors
Type de logement
Logement entier
---
Type de propriété
Loft
---
Capacité d'accueil
2
---
Chambres
Los Angeles, Californie, États-Unis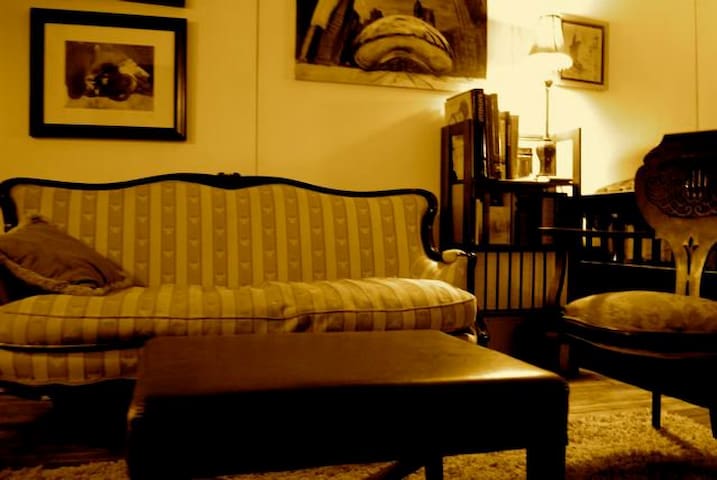 Irwindale - Airbnb
:
Moyenne de

4.86

sur

5

étoiles sur les

96

commentaires des voyageurs
Saisissez les dates souhaitées pour connaître le prix total. Des frais supplémentaires s'appliquent et des taxes peuvent être ajoutées.