Saisissez la date d'arrivée au format jj/mm/aaaa
Saisissez la date de départ au format jj/mm/aaaa
Logements que vous pouvez réserver sans attendre l'approbation de l'hôte.
Saisissez les dates souhaitées pour connaître le prix total. Des frais supplémentaires s'appliquent et des taxes peuvent être ajoutées.
Cet été (juillet et août), vous pouvez essayer l'un de ces 100 logements les mieux notés, dans toutes les gammes de prix, pour découvrir Sonoma d'un point de vue local. Entrée dans les lieux 24h/24, réservation instantanée, mais aussi vin et petites spécialités locales à disposition… autant d'invitations à vous détendre et à profiter pleinement de votre voyage.
Ministry of tourism approved. valley view offers furnished accommodation with spacious rooms, fully furnished kitchen & covered parking. open garden, barbecue and bon fire place. we have 3 independent rooms and can accommodate 12 ppl at a time.
Independent house. east facing. parking. terrace. barbecue point. garden we stay at same place
no neighbours. its an independent house surrounded by nature and NH 22 Chandigarh airport 70 km. solan bus stop n railway station 3 km. Property right on NH 22.
One of the best views from your room. This is a perfect homestay one can ask for. Very friendly hosts. I would recommend you choose this place.
Gaurav
January 2017
The property was very much as described on airbnb with a serene neighbourhood and beautiful view of the mountains. The house is at a very good location with some good restaurants at a walking distance. It is easily accessible. The rooms are big and very well maintained with friendly and helpful host. There was easy access to hot water. The stay was very comfortable and we are glad we booked this house !
Nikita
October 2015
Beautiful Place Fully Equipped Kitchen Amazing view from balcony 2MBPS Internet Beautiful Garden Covered Parking Well Connected Right on the main road Easy to Reach Good for families Highly recommended
Jiten
July 2016
We had a pleasant stay at this property. Tanvir's parents are very humble, welcoming and hospitable. They made our stay comfortable and gave us freedom to use the place like its ours. Food: The lunch was great, served with tasty homemade pickles. We liked the welcome drink(guava juice) on arrival. Rooms: The rooms were clean and swanky. Towels, slippers, novels, hot water in bathrooms - everything was in place. Everything looked new. We had enough furniture (chairs, stools, sofas) and space for a group of 8 to chill anywhere on property. The fireplace room was icing on the cake. Location: Its conveniently located on the main road and one can take autos to Solan town for Rs. 10 per seat. The area is really quiet with not much traffic on the road(I think it was bypass road). The place does get dark and felt isolated in night(hosts left in night) but we didn't feel unsafe at any point. We enjoyed pleasant views of Solan city's landscapes during the day. Uncle guided us to nearby trails (Barog tunnel) and helped us book decent taxis for Shimla tour. Overall- highly recommended if you are looking for an offbeat location for big group in Shimla-Kalka region.
Aakash
December 2015
Tanvir is a patient mediator and his parents are just fantastic hosts :) He guided us all along and on leaving the vicinity his father was in constant touch with us , guiding way to his lovely house. On reaching we were mesmerized with the view, the rooms- clean and huge! I wish I could stay longer , I instantly told uncle. We cooked our meals in the functional kitchen that has everything on requires, you can get your groceries from EasyDay if needed which is close by. Aunty served us yummy tea and cookies on arrival and helped us understand the surroundings and gave us anything that we required. We can also trek to Barog station from his terrace and end up at the most cutest station. Their are 2 studio room sets, with a double bed and 1 double & single bed in another room, with humongous and clean bathrooms and kitchen in both with sit out area. With friends you can relax on the terrace and have barbeque and tandoor that uncle has ready :) for everyone. Overall I would love to come back, esp when Tanvir is around we are told him and his friends cook amazing chicken meals :D Thank you Tanvir for scintillating views, amazing stay and great value.
S
June 2016
We reached the house a bit late (10 pm) but were immediately made comfortable. Tanvir's dad ensured that we are comfortably placed for the night. The house is in a lovely location and we realised the beauty of surroundings in the morning. Finding good food nearby is the only pain point.
Rahul
August 2016
A beautiful property in Solan with a fantastic view of the valley. We were very well guided by Tanvir's father about the directions and places to eat nearby. Rooms are spacious and so are the washrooms, neat and big. We had great time enjoying the property which is safe and beautiful. Recommended for couples, groups, families ...
Dilavar
August 2016
From beginning to end, it was one of the smoothest experiences I've ever had when it comes to accommodation-reservations. I rented the entire home (3 separate bedrooms) for a company team event. ** Tanvir was extremely responsive to any queries I had; he went above and beyond (even from Mumbai). He sent me additional photos and gave me recommendations for nearby attractions. ** Tanvir's father/family & maid allowed us to be independent, but when he was around, it was very chill and comfortable :) ** I requested a chef a day before our stay and it was koi baat nahi! All the meals were delicioussssss out of one of the bedrooms. ** I had left my hotspot-dongle device in one of the rooms. Tanvir contacted me within an hour of my departure and simply asked for my address to mail it to me. It was delivered within a 2-3 days. #thankful #GreatEverything #BombFood #OversizedBathrooms #BeautifulViews #HumbleOwners
Amy
October 2016
Type de logement
Logement entier
---
Type de propriété
---
Capacité d'accueil
12
---
Chambres
3
Solan
In the center of the city beautiful. Main shopping center sector 17, just 10 minutes walk. Lake 15 minutes walk. Rose garden and other main garden at 15 to 20 minutes walking distance. Market place and medical facilities at just 5 minutes walk. places of worship for hindu and sikhs for just 2 min. walk.
We had two separate bedrooms and one common bathroom with shower. Everything was clean and worked properly. Calm neighbourhood with easy access to busy road, small market with restaurants nearby.
Egon
December 2016
Myself and my son had such a lovely time staying with Ravi and his wife. We ended up extending our stay to ten days whilst we caught up with friends in Chandigarh. Ravi and Neena were so kind, making tea, playing with my son, helping us wherever they could. The accommodation was comfortable and clean and provided everything we needed. I would stay again without hesitation and recommend warmly to anyone.
Victoria
November 2016
Ravi and his wife are very friendly. They received us with tea and sweets even late in the evening because our flight was delayed. Their place is conveniently located for the major sites to see. Closeby are small shopping centers with nice small stores for breakfast, dinner, indian sweets, indian fashion, pharmacy and alike. The rooms (one small with just double bed and the other a bit larger with table and chairs) are in Ravi's garden and via the garden you can go to the rooms and bathroom. You entrance is via the side door so you come and go as you want. We really enjoyed the stay and the talks with our hosts.
Reinier
October 2016
Technically it is not the whole house but an out house that one stays in. It has two small rooms and one shared washroom. The location is great and the hosts are very helpful. We stayed for one night but the rooms felt a little cramped. The rooms are not well ventilated and in the larger room the air conditioner was making quite a bit a noise as a result the next day traveling was not as fruitful. For a single or two occupants it may suit ones needs however for travellers who are in groups of or more this setup may not work for the best.
Ishan
June 2016
It was one of the best trips of my life.I loved Chandigarh, there is a temple walking distance from the house and there are eating places all over.The hosts were people that I would like to meet even after I go back to Delhi and I couldn't get a better host.They were very helpful and very proactive to help me out in anything I wanted.I would love to come again. Thank You Vir Malhotra
Vir
May 2016
In the loverly area of sector 8c, Ravi's home was a pleasure to stay at. He and his family were very welcoming and made us feel at ease and were helpful and considerate throughout all communications and our stay. It's clear that Ravi is happy meeting new people and we would highly recommend him.
lucy
July 2016
Excellent location. Walking distance to nearly all the major attractions in chandigarh. Ravi is a great host. Although he was not in chandigarh when I visited, he made this sure that me and my family stay at his house was comfortable. All the major eating joints are near too. All in all, a great vacation.
Jainish
June 2016
Great place to stay. Lovely hosts very accomodating for check in time. Hot shower!
Louise
December 2016
Type de logement
Logement entier
---
Type de propriété
---
Capacité d'accueil
5
---
Chambres
2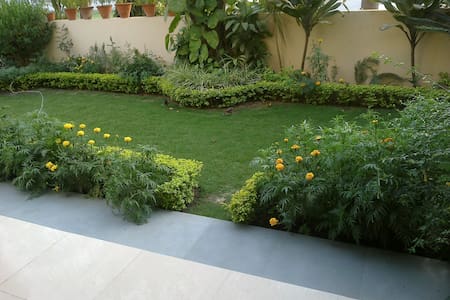 A beautiful Cottage set amongst whistling pines. Located in the heart of the city, on the heritage walk of the forest road. The annex comprises of two suites. It can accommodate four people plus four more on additional beds.
The entire Annex. Help in the form of a caretaker is available on demand. Meals can be provided on demand.
You would need to climb a few stairs and walk a short path to get to the Cottage from the road where the car is parked.
Amit was very prompt. Harish was helpful with my friend who was not feeling well. Good trip!
Nikhil
July 2016
What a fantastic place to live. Colonel's retreat Annex is away from the hustle bustle of The Mall and yet within walking range. The caretaker Harish is quite friendly and looks after the guests very well. All the rooms are quite spacious. Overall a much better experience than a hotel room.
S
May 2016
Cottage is located in a peaceful and tranquil area,hardly twenty five minutes walk from Ridge. Cottage was very good and all facilities were provided. Our experience was wonderful.
Tavneet
August 2016
The host canceled this reservation 4 days before arrival. This is an automated posting.
Pawandeep
Type de logement
Logement entier
---
Type de propriété
---
Capacité d'accueil
6
---
Chambres
2
Shimla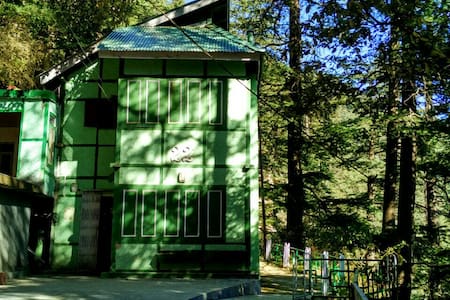 A place away from the crowd of city where you have time for yourself to intract with nature. Our cottage is made in a very typical traditional way...by using mud , wood and slate roof.
The host canceled this reservation 2 days before arrival. This is an automated posting.
Ravi
Type de logement
Chambre privée
---
Type de propriété
---
Capacité d'accueil
2
---
Chambres
1
Kotli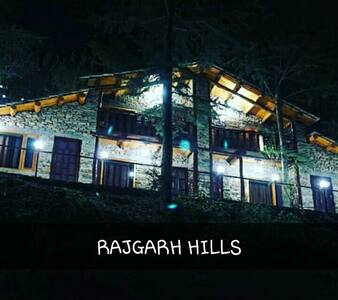 Come visit us in our quaint little village called Talai, where time stops as clouds descend into our home every morning. Here, the sunsets are almost spiritual. Good for couples, solo adventurers, families, big groups, and pets.
Wake up looking at sunrise from your room and think about life while the sun sets. Feel one with nature looking at hundreds of red apples hanging from our own apple orchids. Trek in the jungles amongst the sweet chirping of birds and feel alive in fresh air while saying hello to passing villagers. fresh towels, fresh fruits from our orchids, pure himachali khana made with fresh vegetables from our garden and lots of nature walks, and you can actually milk a cow!! Besides these, hot water, attached kitchens (if you'd like to cook) television (although Icon bet you would't need it), and lots of warm village hospitality. If all that is not enough, touch the clouds drifting into your window or look at snowpeaked mountains as you do a perfect yoga pose amidst the mountains Everyday. Accessible 24 hours since our himachali home is right next door
The neighbourhood is surrounded by Asia's largest forest, with quaint trails, which offer breathtaking view of mountains and valleys. Serenity, calmness & hope identifies this place. Cars and taxis can be arranged on order. Nearby places include shimla, FAGU, kufri, chahal and hatu peak. If you are more adventurous, try driving from here to leh ladakh
Aastha is simply WOW. Wonderful place to stay for 2/3/4 nights or more. Only 20 km from Shimla and believe me the view is outstanding. Nishaji and Nareshji are wonderful hosts and take care of any and everything. Great communication, Wonderful view, spacious bedrooms, well equipped kitchen, organic food, and nice people. My family just fell in love with this place. If i get another chance to visit Shimla there is no second choice; i would love to stay here. Thank you very much Nishaji and Nareshji. Highly highly recommended.
Mandar
November 2016
Type de logement
Chambre privée
---
Type de propriété
---
Capacité d'accueil
8
---
Chambres
1
fagu