Saisissez la date d'arrivée au format jj/mm/aaaa
Saisissez la date de départ au format jj/mm/aaaa
Logements que vous pouvez réserver sans attendre l'approbation de l'hôte.
Saisissez les dates souhaitées pour connaître le prix total. Des frais supplémentaires s'appliquent et des taxes peuvent être ajoutées.
Cet été (juillet et août), vous pouvez essayer l'un de ces 100 logements les mieux notés, dans toutes les gammes de prix, pour découvrir Sonoma d'un point de vue local. Entrée dans les lieux 24h/24, réservation instantanée, mais aussi vin et petites spécialités locales à disposition… autant d'invitations à vous détendre et à profiter pleinement de votre voyage.
Our cool and comfortable cottage has a truly relaxed feeling! It comfortably fits two and is centrally located between hot beaches and cool mountain hikes. You're just miles from popular downtown Kailua-Kona, food, shopping & ocean sunsets.
We are only about five miles from town up Hualalai Mountain. Our guests tell us they enjoy the cooler elevation after a long day exploring the beach or shopping in the heat of town. One of our greatest joys is meeting new people & discovering new cultures. We own a successful photography business which means "choke" or many opportunities to see the beauty of our island & offer you a guided experience when desired. The more we know about your interests the better we can serve you. As a bonus, our guest will receive a discount on a beach portrait session or a photo day.
We love our Hawaiian lush neighborhood. Our street has been nicknamed 'Avocado Ave.' because there are so many lush trees and often there is plenty to pick up as you walk. Just up the street is: one of our favorite hikes on Hao Street, Kona Mountain Thunder for coffee, 'A Walk in the Clouds' and much more to explore. The best way to get around is to rent a car or 4 wheel drive. (We have off street private parking for your convenience) We will provide coffee & tea. Also, we have avocado, lemon, banana & allspice trees that we offer our guest when in season.
Naomi was there to greet us when we arrived, and even left us a bottle of champagne to celebrate our honeymoon trip. She was very responsive. The space was very clean and the washer/dryer and BBQ were a huge plus. There were also beach and sports gear available for our use. This is a great place to stay and we would highly recommend to anyone.
Christine
March 2016
This place was just great! The location is ideal if you plan to hang out in the Kona side of the island. It was a quick 10 minute trip from the airport. It also is conveniently located close to Mountain Thunder coffee (check it out, even if you aren't a coffee nut). Naomi and Bob were super welcoming and the place had EVERYTHING you need in a home-away-from-home. They even left us a breakfast for our first morning on the island (since we arrived late evening). It was also great having a washer/dryer as you can pack lighter and wash as you go. All that said... you should definitely stay here while visiting Kona! Mahalo!
Megan
December 2016
We stayed 4 days at this little gem. If we come back... It will be our first choice again ! Naomi and Bob are really sympatic family. It was nice to meet them and they enjoyed our stay. We definitely recommend it !!!
Philippe
August 2014
WE HAD A GREAT TIME AT THE MOUNTAINSIDE STUDIO, 10 DAYS OF IT. NAOMI HAD THE STUDIO NICELY DECORATED WITH EVERYTHING YOU COULD NEED ON YOUR TRIP. WE LOVED THE OUTSIDE PATIO AREA AND USED IT EVERYDAY TO BBQ AND DINE AT. THE BROWNS ARE A VERY NICE FAMILY THAT GAVE US PRIVACY WHILE BEING THERE IF WE NEEDED ANYTHING. PLENTY OF INFORMATION WITH BOOKS AND MORE ABOUT THE ISLAND. GOOD WI-FI AND A STACKED LAUNDRY CENTER AND ALL THE BEACH GEAR. WE LOADED OUR JEEP WRANGLER FROM COSTCO EVERYDAY AND WENT OUT ON ADVENTURES. THEY GAVE US SOME AVOCADO AND PAPAYA THAT WAS SO DELICIOUS.
Dan
February 2015
This is the first time my girlfriend and I visited Hawaii and also our first time using Airbnb, and Naomi made both experiences wonderful. We were greeted with hugs, a big avocado, and a couple bottles of local beer from Kona brewery. The studio is about 5 minutes from town, but right off one of the main highways. If you're driving back from the north coast from a hike, you can catch a very beautiful sunset between 5:30-6PM. We went on a few hikes around the island, and it felt really good coming back to the comfortable bed and pillows Naomi provided. She also provided many other things including beach towels which we neglected to pack on our trip. The studio was small, but I enjoyed it since I live in a small studio myself - a comfy place for 1 or 2 people for sure.
Dominick
September 2014
We had a wonderful time at Naomi's Hawaiian Mountain Cottage! It was our home base for 5 days of adventures on the Kona side of the island. It's a very cute studio. The washer/dryer was a nice plus, as we often came back with wet salty clothes from our excursions. I also appreciated the coffee maker and plug-in water heater for morning coffee and tea. We didn't use the grill because we were too tired from our adventures each day to make dinner, but we enjoyed the outdoor patio for breakfast most mornings. The place was also well-stocked with helpful things, including Aloe Vera which came in handy after I got a bit of sunburn. It's a bit up the hill from Kona, which some might be worried about but it worked out great for us. It meant it was a bit secluded from the busy touristy town and we were already renting a car so driving was no problem. It was almost as short a drive to the boat yard for whale watching and snorkeling/scuba as it would have been from in the main town. It was also just off the main road on the way to Mauna Kea (for looking at the stars, constellations, and other galaxies) and northern valleys/shore. Even going south was pretty convenient as our main road connected with south-bound road out of Kona just a bit south of Kona. Naomi was friendly, and quite responsive by email. Check-in was easy. They left us fresh fruit several times too!
Zan
February 2016
The best ever! Naomi and Bob really are amazing hosts and their place is like a little paradise.
Karin
April 2016
We arrived very late at the studio, coming directly from Denmark. Naomi and Bob greeted us even though it was late and they made us feel very much at home. The place is very nice and clean. Also there are pretty much all the stuff you need for a small getaway (including fantastic avocados from the tree outside). Unfortunately we did not explore the area too much, since we were occupied by the ironman competition (and getting over the jetlag). We can however only recommend the studio highly. Thank you Naomi and Bob :-)
Jacob kragh
October 2014
Type de logement
Logement entier
---
Type de propriété
---
Capacité d'accueil
2
---
Chambres
0
Kailua/Kona, Kailua-Kona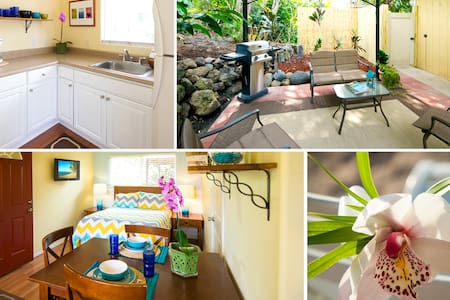 Spacious loft apartment in a forest canopy surrounded with Ohia trees and wildlife and with ocean views. Close to beaches, forests and hiking trails, the loft is perfect for families or groups who love nature or who want a fun or restful holiday.
Our spacious loft apartment offers ample space for a family or group of up to four, with a huge open plan living area and terrace, two bedrooms, two bathrooms and plentiful storage space. In the heart of a forest, and surrounded only by trees and nature, the apartment is very peaceful and quiet. With large windows throughout the apartment, guests can enjoy stunning views of the forest and ocean and be close to nature at all times. The light and airy living and dining area offers a great space for socializing, playing or relaxing, with a dining table and chairs for up to four and lounge area with comfy sofa and antique chairs. Large sliding glass doors lead to a huge terrace where guests can relax on outdoor furniture and listen to the sounds of nature and take in the ocean views. The fully-equipped kitchen offers everything needed for cooking and dining, with a microwave, hob cooker, blender and all cutlery and cooking utensils. The two bedrooms are warm and comfortable with wooden furniture and double beds. We are happy for guests to bring pets. Climatisation is only in one bedroom, the one with the full bed. The futon on the Lanai can be used for additional visitors. Mahalo
Close to nature reserves, beaches, forests and hiking trails, our loft apartment is ideal for nature lovers or fans of the outdoors!. With many fun and interesting activities and sights close by, all ages are certain to be entertained. You can drive easily to see an active volcano, visit a coffee farm and learn about the area's history of coffee making, or snorkel in the crystal-clear waters of Kealakekua Bay and see dolphins, turtles and tropical fish
Nicholas nous a accueillis de façon très chaleureuse et sympathique. Sa maison est très belle, spacieuse et très propre. Sa terrasse donnant vue sur la mer et sur les arbres est magique. Nous serions bien restés chez lui plus longtemps. Un très bon rapport qualité/prix. Je conseille vivement ce logement. Merci encore à lui. Delphine
DELPHINE
August 2015
Nicholas was very nice and helpful in every messages we shared. The appartement was very nice, clean, with everything we needed, full equiped kitchen, washing machin and two bathroom, very nice when you are 4 adultes. The wiev from the house was wonderfull. It was perfect and we hightly recommand this loft. Thank you Nicholas
Tania
January 2016
地理位置在离kona机场1个半小时的地方,注意导航不对,具体要看黄绿色的邮箱盒子,不要弄错哦,房子很好.但是是租的二楼楼下住的是对当地的小情侣,人很好会介绍附近的浮潜位置,也很热情! The rental location is near the kona airport about one and half hours, GPS will lead you to the wrong way.Please notes about yellow and green mail box in front of door.
Weijia
June 2016
If you're looking for a place to crash for a few nights, this is a great place. Communication was prompt and effective. There is an ocean view beyond trees, but it does not mean that you can walk easily to the beach from here. There are a couple great eating spots nearby driving distance. If you're visiting the big island for the first time, rent a car because it is essential, especially for getting to this location. Overall, my friends and I enjoyed our stay in the apartment. We mainly used it to sleep and shower after day long adventures and that was enough for us. Thank you, Nicholas!
Elsie
August 2016
I was happy to see that Nicolas had cancelled the upcoming reservations as the property is in serious need of TLC. It is always hard to be an absentee landlord, and that problem clearly is exacerbated by the isolation and climate of this location. The home is spacious and fairly well equipped, but it needs deep cleaning, electrical work and a new front slider, at the very least.
Mandy
May 2016
When we arrived, the host mixed up our reservation dates and so the house was not accessible. We had to wait about 20 minutes for someone to come and unlock the doors (it was already about 10pm when we arrived) and then I felt horrible having to contact the host who was 3 hours behind in time difference. The house is tucked in a short way from the highway, and so it can be hard to find. It is between highway markers 96 and 97 (and a little more difficult to find since the host did not know the exact address and had a hard time giving us directions). The loft is very spacious and has a great ocean view! Although it was clean, I personally had a hard time due to all of the dust being collected. The house can benefit from a deep cleaning since there are a lot of bugs flying around and dust everywhere. Everything was provided (kitchen stocked, toilet paper, etc.) and we were also able to use the washer and dryer. We helped ourselves to everything but it would have been nice to hear from the host. We were there for 7 nights and did not speak with him after our initial contact.
Korlany
April 2016
Nicholas was friendly, hospitable, and responsive. Great location to access all beauties of the island, with a lovely view. Good price.
Renee
May 2016
Very basic but clean, wifi but no tv or hairdryer. Be sure and get your groceries before getting to the house approximately an hour from a store due to traffic. The driveway is somewhat hidden by foliage and look for yellow mailbox on other side of entrance. Our family had a nice time at the tree house.
kathleen
February 2016
Type de logement
Logement entier
---
Type de propriété
---
Capacité d'accueil
6
---
Chambres
2
Captain Cook