Experience Lake Coeurdalene! Our 30 foot boat can be rented by the night to stay sleeps up to 6. No running water and limited electricity. Come have fun on the lake this summer! Downtown Coeurdalene. Comes with 2 kayaks.
Staying the night? 3 beds one bath, outdoor seating with mini bar. Right downtown Coeurdalene. 3 blocks from Sherman avenue, nightlife, restaurants and shopping. It's at a public dock, so it can be pretty lively, teenagers are jumping off rocks on tubbs hill, if your looking for a lively scene, this is it. There is no running water, there is a pump toilet. Cooler, propane BBQ, which can be used on a table on the dock. No shore power, so you have to run the generator for use of outlets. Basically like being in an RV. Jump in the lake with shampoo for your shower in the morning, refreshing!! :-) This facility is located between Tubb's Hill and the Coeur d'Alene Resort south of the 3rd street parking lot on the lake at 208 S 3rd Street. Directions:From I-90 take NW Boulevard south, continue on as the road curves left and turns into Sherman Avenue. Turn right on Second Street, which again curves left and hang a right into the 3rd Street Parking Lot.
Tips to staying on the boat: It's a great time you will never forget! What to Pack: Swimsuit, towel Bag of ice for cooler Bikes Longboards Drinking water Cups Food: There's a propane BBQ for cooking outside I provide paper and plastic silverware and dishes. There's a cutting board knives aluminum foil (I like to roast veggies on the BBQ) Salt and pepper. Transportation: Paid Parking is available
Wow! Location Location Location!!! We were very pleased with not only the fact that we were on the Lake...the slip location is a 10!!! Views of not only beautiful scenery...lots of lake, marina, resort and park activities as well. We enjoyed relaxing on deck listening to live music and people watching. Our visit was during a very busy season so there was a lot of activity although peaceful and quiet by the time we turned in. We also had very nice neighbors. Our host Haley was very generous and gracious and answered to our every need...especially due to the fact that our reservation was made last minute. Actually we felt treated like family or great friends as Haley gave us a personal accommodation that we are very grateful for!!! Thank you Haley, we can't wait to have the same great experience sometime in the near future.
Dianna
2016-08-14T00:00:00Z
Type de logement
Logement entier
---
Type de propriété
Bateau
---
Capacité d'accueil
6
---
Chambres
Coeur d'Alene, Idaho, États-Unis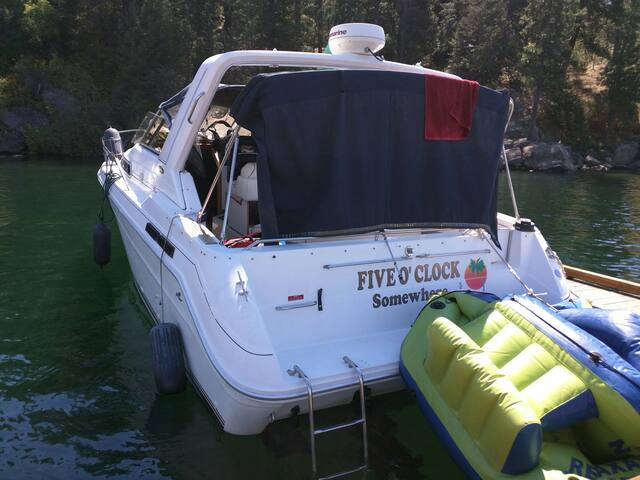 Double decker houseboat complete with kitchen, living room, fireplace, bathroom, private bedroom, a set of bunk beds, water slide, flate screen tv's, outdoor bbq and seating area. This boat cannot be driven and is used as a float home only.
The boat has everything you could ask for out of a lake cabin except you are on the water instead of 50 ft from it.
This is a community of people that enjoy relaxing and having fun. This is a great place to get away and relax or bring friends and do a little partying. In the summer the neighbors all stay up late and hang out with one another.
Loved, loved, loved this houseboat! The kids had a blast in the paddle boat and sliding into the water. We were only there for two short nights, but wished we had stayed longer. Joel met us at the boat, gave us a tour and showed us how everything worked. It was very helpful. We will definitely be back!
Molly
2015-08-28T00:00:00Z
Thanks so much, Joel, for a wonderful stay. You met us at the houseboat and enthusiastically showed us around so that we knew where to find everything. It's great that you allowed us to use all items on the boat including sweatshirts during the night and cards for Crazy 8's. My son spent a good potion of his time going down the slide and doing flips off the dock. Both of my kids loved the bunk beds and commented that they were comfy. My daughter enjoyed the Chromecast system and caught up on some of her favorite shows while my husband and I took out the kyak and the paddle board to have some alone time on the lake and get some exercise. We all watched the meteor shower from the rooftop deck on the houseboat, wrapped in blankets. Stunning. Personally, my favorite experience was when your neighbors played taps and took down the American flag at night. This was a great time for us to reconnect as a family.
Tia
2016-08-14T00:00:00Z
Seriously the best deal I've booked on Air BnB!!! It was me and my boys ages 12 & 14. We were cozy but not cramped. The paddle board, kayak and paddle boat were worth the price alone. Because there's no wake allowed for a mile, my boys were able to goof around on the kayak and such alone without any worries. And the views! Incredible top deck is the full footprint of the craft. We were there mid week so the community was quiet, felt like we had the place to ourselves. The boat is better than the pictures as the kitchen is totally accommodating. Microwave was our go to cookery, but the grill and stove worked great. We steered clear of the oven on Joel's advice! We didn't venture to the bars or restaurants but the cute mercantile was an easy walk for wine and ice cream. Depending on where you're coming from, consider getting groceries at least 10-15 miles before you get to the marina. And touch base with Joel before you lose cell service, You may need a code to get onto the dock. The wifi worked great so as iPhone users we could text and stay in touch with the world. And we streamed movies straight to the tv no problem. I'm already planning a return trip. No need to hit Silverwood next time, it'll be all about the boat!
Jen
2016-09-02T00:00:00Z
Joellen was very responsive and good to deal with.
Ben
2016-07-25T00:00:00Z
Great weekend get away on the lake. All the needed items were there and the place met our expectations!
Carol
2015-07-22T00:00:00Z
Joel was a fantastic host! The weather was perfect for our visit, and there was plenty to do on the water. Great place to relax. Will definitely be back.
Eric
2016-08-05T00:00:00Z
Unfortunately I had to cancel my reservation here due to a wildfire in Bayview, but still wanted to leave a review for the host. Joel was excellent! He was responsive in communication beforehand and leading up to my reservation, flexible in meeting, and offered to show me around the town. He was very understanding when I had to cancel and contacted Airbnb himself about the extenuating circumstance to help me get a full refund last minute. He even suggested backup plans and nearby lakes to stay at. I will definitely be looking to book here again down the road.
Jon
2015-07-10T00:00:00Z
Best stay ever! We stayed the night with Joel and his brother did a tour on the lake and had an awesome time. The landscape is amazing as well!
Konstantin
2015-08-18T00:00:00Z
Type de logement
Logement entier
---
Type de propriété
Bateau
---
Capacité d'accueil
8
---
Chambres
Bayview, Idaho, États-Unis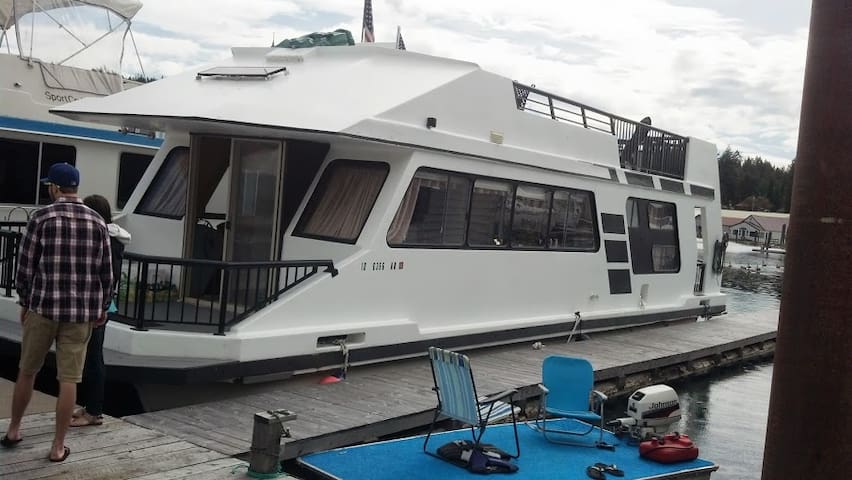 Enjoy the serene beauty of Kootenay Lake on a 60' well equipped houseboat. Our captain will pick you up and moor you to a tranquil bay where you will enjoy privacy in quiet comfort. Crystal clear waters, fresh mountain air, and wild nature. (Nominal captain's fee based on location) We are LBGTQ and MMJ friendly. Your medicinal cannabis card will give you access to several esteemed dispensaries.
Bonjour. Nous avons une maison flottante ou penache parfait pour un voyage de famille ou un reunion. Le lac Kootenay est très tranquil et la region est énormément magnifique avec de des montagnes incroyable et des beaux villages. Le bateau peut dormir 8-10 avec trois chambres avec de lit queen et deux sofa futons double. La cuisine est bien équipé avec un microonde, four, BBQ, frigo et congélateur. Le salon a une grosse television et jouer DVD.
Kootenay Lake is peaceful. There are few power boats and partiers. Please respect this way of life. It's a wonderful opportunity to soak in the local culture and vibe.
Rocky was incredibly helpful throughout the booking process and in the weeks prior - he really made us feel like friends and was available with tons of helpful tips and answers to all of our questions. The boat was wonderful and really well equipped - you can tell that they've put thought into outfitting the boat & we were right at home - it was clean & organized, but not pristine so we felt comfortable immediately. We had some minor issues with the anchoring of the boat by our captain and unfortunately as a result our neighbours in the bay area we were in were not too pleased. That said, Captain Grant was quick to respond to the crisis and came to our aid to fix the issues with the boat. As a bunch of city folk, we appreciated having an expert handle those aspects of the trip. It's a great area and a great boat so I hope that the minor issues that we encountered can be worked out and that the houseboat becomes a successful venture for Rocky, Captain Grant & Stephanie. Kootenay Lake is beautiful and the boat is well equipped, gorgeous, super fun & the customer service we experienced was great.
Kendra
2016-07-04T00:00:00Z
Rocky and Steph are great people and the community is fabulous. They made us feel very welcome, and made sure they were available for anything we needed, or might have needed. Everything on the boat worked as it should. Lots of hot water, the main bedroom is very spacious and the extra towels, comfy linens and fully stocked kitchen (even oil, spices and goodies), were very much appreciated. We didn't take the boat out on the water, as we were there for the festival, but they had two great kayaks for our use, and the parking spot couldn't have been better. It's a new standard for attending the Kaslo Music Festival!!
Leah
2016-08-02T00:00:00Z
Type de logement
Logement entier
---
Type de propriété
Bateau
---
Capacité d'accueil
10
---
Chambres
Nelson, Colombie Britannique, Canada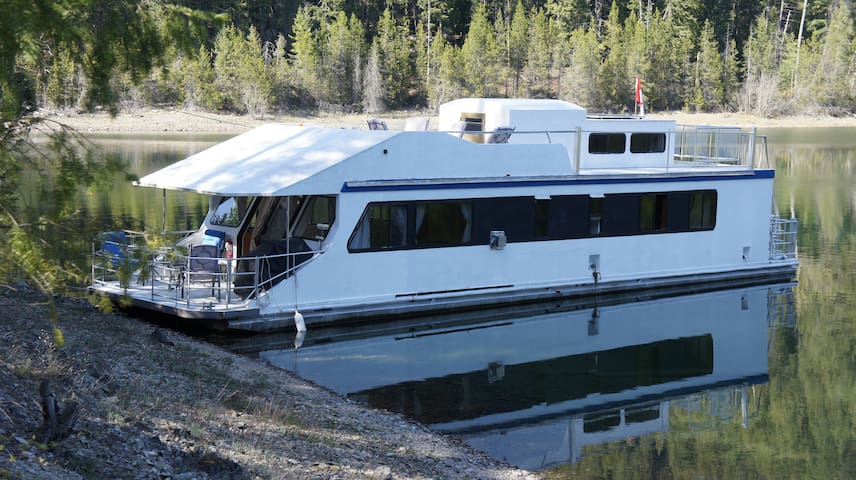 Saisissez les dates souhaitées pour connaître le prix total. Des frais supplémentaires s'appliquent et des taxes peuvent être ajoutées.