Saisissez les dates souhaitées pour connaître le prix total. Des frais supplémentaires s'appliquent et des taxes peuvent être ajoutées.
Log cabin, close to Lime Rock Race Park (1 mile). Sleeps 6 easily. Two full-length porches; two bedrooms; modern kitchen. 6 acres of woods; access to Appalachian Trail a 5-minute walk away. Close to Berkshires attractions; 2 hours from NYC. Parking.
This is my home, but I'm happy to share it. It is simple, but comfortable, and has what you need for a relaxing vacation in the country. There are two bedrooms, a finished basement, a living room in the upstairs loft and the porches are 3-season living spaces - with rocking chairs and a full dining table. There is off-street parking for several cars. No smoking anywhere on the premises, please. Guests have access to the whole house and yard and woods behind. The property is safe for children since the yard is back from the street. There are books, board games, cable TV and ping pong for rainy days; a fire pit and sleeping balcony for starry nights. Fully-equipped kitchen and a gas grill on the porch. You'll bring your own food, of course; but help yourself to coffee, tea, spices, oil, flour, sugar, etc. A small office with wifi and a basement laundry room for your convenience. Hiking and mountain biking trails nearby; steep, rocky hills out back for the adventurous. The owner can be reached by cell phone during your stay. If it is not possible for him to come and deal with any issues that may arise, arrangements have been made for somebody to do so.
This property is in the middle of one of Litchfield County's most beautiful valleys, bounded by the Housatonic State Forest and the Appalachian Trail on the east and by Red Rocks Mountain, protected by the Sharon Land Trust, on the west. Lime Rock Park* is at the lower end of the valley; an Audubon nature preserve is at the top. Small farms, historic homes and long views to distant hills fill the spaces in between. *If you're not a race car fan, please check the www.limerock.com for schedules; it can get loud here when the cars are running. But they do not run after 6pm nor on Sundays. MetroNorth railroad, Wassaic station: 20 minutes Taconic State Parkway: 25 minutes I-90: about 50 minutes Harlem Valley Rail Trail: 15 minutes by car; about 8 miles away Hotchkiss, Salisbury and Indian Mountain Schools: within 15 minutes Great Barrington, MA: 30 minutes (shops, restaurants, movies, performing arts venues) Millerton, NY: 15 minutes (coffee shops, cinema, shopping, bike trail) LItchfield Jazz Festival: 20 minutes (in Goshen, CT) Music Mountain: 15 minutes Tanglewood, Shakespeare & Co., Berkshire Theater Festival - all about 1 hr Jacob's Pillow: 1:15 Sharon Hospital: 5 miles On arrival you will find a binder of information about local attractions, stores and restaurants; maps; tips on how to find things in the house; etc. You will also receive directions about how to find the key to get in. And, of course, the WiFi password.
Beautiful getaway. Douglas was very accomadating, and the house was clean and stocked with essentials. If you are looking for an outdoor getaway in the Northeast you won't find better.
Mark
July 2015
Our stay this second year at Red Rock Cabin was even better than last year! Our grandsons, 5 & 7, were with us this year and they think Doug is so lucky to get to live in his cabin! They did not want to leave, especially after making the s'mores Doug left for them. We will definitely be back!!
Sandra
July 2016
Douglas' correspondence with me was always cordial, making us feel his warmth. He was accommodating in that he encouraged our use of whatever was in the cupboards and/or refrigerator, with instructions that it was not necessary to replace any of it. He left us without restrictions of any kind.
Gary
September 2015
Douglas couldn't have made us feel more welcome and comfortable at the Red Rocks Cabin! The home was beautiful, clean and had everything we needed. He even had an extra AC unit installed just for our stay during a particularly hot weekend! Thanks so much Douglas!
Brinton
August 2015
We just came back from a wonderful long weekend at Red Rocks Cabin. The cabin itself is warm and welcoming. There's a great, modernized kitchen. Two large rooms, a loft (for sleeping or lounging), a basement (for sleeping or playing ping pong!) and two porches that extend the living area. We grilled every night and ate dinner outside. The only regret is that it rained the night we were going to sit around the firepit to make s'mores (with the marshmallows that Douglas left for us!). The area is beautiful and there are many activities. We went to several different local lakes and a pick your own farm. Douglas was an impeccable host and great communicator. He provided tons of information and went out of his way to make us feel welcome. We would come back any time!
Rachel
August 2015
We loved our stay at the Red Rocks Cabin. The House was great, clean and comfortable. We also loved the area around it and hope to visit again.
Agassi
August 2015
Douglas is a great host. Very accommodating and helpful! We had a wonderful and comfortable time staying at his place. It is in a beautiful area with lots of historic value. I would stay here again in a heart beat. Thanks Douglas!
Jacob
October 2016
Our host Douglas was fantastic! Douglas communicated continuously with us throughout our stay, and made sure we had everything we needed, and Douglas made our getaway feel safe, secure and more importantly, right at home! It was definitely a great getaway from our past-paced lifestyle, and was just what my family and I needed. Douglas' cabin was quiet, comfy and away from everything, and we loved it. There were mosquitoes, but nothing a little bug spray can fix. The dinning table on the porch was used for both nights we stayed, and was just lovely. I will definitely be making plans to come back again!
Amanda
August 2016
Type de logement
Logement entier
---
Type de propriété
---
Capacité d'accueil
6
---
Chambres
2
Sharon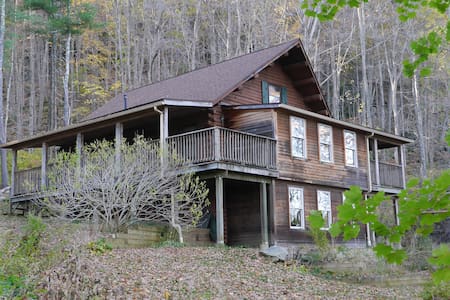 Rent a furnished 4 room cottage on 2 wooded acres with 200 foot frontage on the Housatonic River by the trophy stocked trout fishing area, in Sharon, Ct, but closer to the West Cornwall "center"(a covered one lane bridge, one restaurant, antiques, P O, etc). Beautiful private river view from within the cottage.Canoe/raft rentals available nearby. Hike at Appalachian Trail, waterfalls, dam.
Have your own private access to 200 feet of prime trout stocked river. See an occasional deer at dawn or blue heron fishing in the river. Enjoy the outdoors. Watch people in canoes and/or rafts float down the river...or join them for the ~10+ mile trip with canoes/rafts rentals and pick up available nearby.. Or just cool off with a dip in the river. There are two twins in the bedroom with an ac unit. There is a twin day bed on the side sun porch, not for use on cold Fall nights. A full bed and couch is set up in the living room.. All rooms have fantastic river views. total cottage available for your use except attic. If need the rental in less than 3 days, write me to see if place has been cleaned and ready. I live in Florida, but fly up frequently. There are two cottages on the property, this 4 room and a 2 room,also available for rent. that I usually use. If I am not there, a phone call to me or the local house keeper will answer any questions.
The cabin is on a tree lined dead end road with most neighborhood homes only secondary tranquil retreats. Only two additional properties exist past mine so road use is minimal. The location is very rural yet only 1&1/2 mile from West Cornwall, a quaint village with its one lane covered bridge crossing the river, post office, restaurant and a few shops. Falls Village is about 5 miles north off Route 7- has a nice walk under the river dam, library and restaurant. Canaan is about 11 miles North off Route 7- more stores, supermarket, dollar store, even a McDonalds, Torrington is about 20 mile in an East direction (Route 128 through West Cornwall).then Route 4. A filtration and uv system insures high quality drinking well water. A "set" of golf clubs, bag and balls are available to use if you care to play golf at one of the nearby courses. Various games ( bocce, croquet, putting, volley ball, indoor board and cards) are also available. Cultural activities nearby include The Sharon Playhouse, Hotchkiss private high school presentations, Norman Rockwell museum, Music Mountain( chamber music), Tanglewood (orchestral).
Het is een geweldige plek. Vanuit het huisje kun je picknicken aan de rivier. Het huis is knus en authentiek. Het is simpel maar doelmatig. Bil heeft ons goed verzorgt. De omgeving is historisch, cultureel en qua natuur geweldig.
Aadje
July 2016
Host made sure everything was really prior to my arrival and have clear instructions on how to get in and where to park
Yisroel
August 2016
Everything was as promised! Amazing location to relax and get back to nature. Absolutely would stay here again.
Robin
August 2016
Bill was great. He was very accommodating getting us in with little notice. He was very helpful with some tips about things to do in the area. However, we never needed to leave his cabin area...the fishing was too good to leave. Caught many fish!! One piece of advice for anyone who plans to stay (not related to Bill) is to plan ahead with food, etc. There is a restaurant close by but no real food shopping.
Michele
October 2016
William was a gracious and thoughtful host. Prompt to reply and eager to make things work for me. The house is right by the Housatoni and it was lovely to sit stream side and listen to the water.
LiZ
June 2016
Great location. The place is basic but well stocked in terms of all needed amenities. Gas range works great. There's no dishwasher but that isn't too much of a problem for anyone from NYC! The bedrooms - twin beds and another full bed in the living room was comfy. We never turned the ac on as the fan worked well .. Location - great place right by the river with access - great for fishing or tubing. Can't kayak it's too rocky. The Appalachian trails are really the nicest ones.. Mostly covered n so great. Super recommended. They are all around access from Kent or further up in Pawling. The pine bridge loop trail the closest - 4 miles away - do that as it connects to the Appalachian (in case u don't want to drive much to the hiking trails)
Nagashree
July 2016
Everything was great. The river was beautiful and peaceful.
Nick
July 2016
I loved that there were little treats for us to eat while we stayed there. He supplied us with a lot of the little necessities that can sometimes be overlooked. My family and I really enjoyed our stay. Was the perfect get away. Also, so beautiful!
Hannah
September 2016
Type de logement
Logement entier
---
Type de propriété
---
Capacité d'accueil
5
---
Chambres
3
Sharon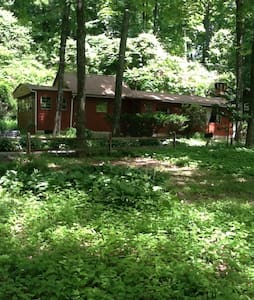 A warm & welcoming antique New England cottage for both a couple or small family. Enjoy the gardens from your private patio, take a dip in the pool, read a book surrounded by fall foliage. Call The Benedict Barn Cottage home while exploring the area.
Escape to a 5-acre estate in scenic and pristine Bethel, CT just 70 miles from NYC. This exquisite piece of New England history: The Oliver Benedict House on Codfish Hill. was built in 1796 and has had an incredible list of owners, including the one of the first families in Bethel (The Benedict Family), The (P.T.) Barnum Family and Helmsley/Spear Families. Your stay on Codfish Hill will be in the 200 year old converted milk barn with private entrance, beautiful loft, exposed barnwood beams, tons of natural light, Jacuzzi tub, and full bath with wilderness and wildlife all around you. The barn cottage (where you'll be staying) is flanked by beautiful gardens and adjacent open space. Codfish Hill is a great place for a relaxing getaway approximately 1hr from NYC. We are situated for day trips to state parks, ski hills, beaches, museums in Hartford and New Haven and several wineries on the CT Wine Trail. Note: A 2nd bathroom will be opened up for you to access if you have booked a stay, utilizing the 2nd bedroom, meaning you have additional guests in your party beyond 2. ________ Enjoy the seasonal swimming pool located in the main yard, coffee or tea on your own private patio surrounded by gardens, high speed WiFi internet and close proximity to Fairfield/Litchfield County attractions including state parks, amusement parks, ski resorts, apple orchards. Note: seasonal swimming pool is shared with main house. We will be here when you arrive to greet you and show you around (if desired). We love our little farm property and can't wait to share it (and its stories) with you!
Bethel, CT is a charming town nestled in southwestern Fairfield County and is part of the Danbury metropolitan area. Bethel offers a rich colonial history, local flair and breathtaking rolling landscapes. The town is mostly residential and its main thoroughfare Greenwood Avenue has been designated as a Historic District. You can visit the other historic homes of Rev. John Ely and Seth Seelye - both on the National Register of Historic Places – The town is home to the Blue Jay Orchards for apple picking, Putnam Memorial State Park, Bennett Memorial Park and Taunton Pond. Also, for those who like to go antiquing, we have a variety of antique stores within 25 minutes in nearby Southbury and Woodbury. The Codfish Hill area of Bethel is among the most historic, rural and beautiful areas in New England. Located just north of Huntington State Park in Redding, hiking, biking, kayaking, snowshoeing and a host of other outdoor activities are right in our backyard. As we are in the country, you will need a car. Some guests from NYC take Metro North to Bethel on the New Haven Line or Southeast on the Harlem Line and have Enterprise Car Rental meet them. If you need help figuring this out, we're happy to assist! There are also lots of car shares in the area. If desired guests can also rent our electric car (on site) through Turo (previously relay rides) at a discounted rate. In 1976 the Bethel Historical Society and Bicentennial Commission published a book entitled "A History of Bethel, A Commemorative Book". There is a chapter of the book highlighting Bethel's eighteenth-century houses, one of which is our home. Because all early records were destroyed in the British Burning of Danbury not all historical data for our home has been readily available. So we have done some digging of our own. :) Oliver Benedict (the original owner of the farm at our address) and the Benedict family were one of the first families to have settled in Bethel, CT. In fact, Oliver's father, Benjamin was one of the original seventy-one members of the First Congregational Church in Bethel which was established in 1759. We know that Oliver's first child, Ira was born on June 3, 1772, and that he was paid 5 pounds In 1792 for his losses from the British as aresult of their march towards Danbury. This would confirm that he was living in Bethel in 1777 when 2,000 British troops led by General Tryon marched through Bethel on their way to burn the Revolutionary stores at Danbury. There are stories that tell of local patriots warning the Bethel citizens of the British advance. One such story tells of a lone rider seeing the British approaching from the top of Hoyts Hill and rode not unlike Paul Revere to alert their neighbors. The British, as the story is told, thinking they were being met by a considerable army, halted their forces and sent scouts ahead to see if they would be met by rebel forces. A descendant of Thomas Taylor (one of the early Bethel settlers and friend of the Benedict family) told a story that her grandmother was riding home when she sighted the British and dashed into Bethel shouting, "The British are coming! The British are coming!" We know in the coming days of 1977 some type of damage (likely to the house and outbuildings) was inflicted upon our home, our home also likely played a role in the British Invasion/plan. Codfish Hill Road was an established foraging camp during the invasion (for crops or animals for food), and many homes in the area were damaged at that time.
We had a wonderful New Years Weekend in Bethel! The cottage is beautiful! Clean, cozy, and inviting! It was the perfect place to cook dinner in a well stocked kitchen and enjoy a warm fire! It was short drive in from Danbury where there are great grocery stores and good restaurant options! Sally was a wonder host and always immediately responded to messages! Highly recommend!
Dylan
January 2017
Sally was an excellent host. We have a fabulous time at the red barn house. Everything was just as described! The compound is beautiful! She provided us with towels, toiletries, snacks, access to movies! We are looking forward to coming back!
Jennifer
September 2016
Our stay was wonderful. Sally was great at making sure we had all of the information we needed. What a gem of a place to stay. Our teenage daughters loved swimming in the pool. We even took some family photos by the barn. Sally and Tom have an amazing place.
Paula
September 2016
Fantastic across the board! Sally and Tom and their entire family were terrific hosts and the barn cottage was more beautiful and comfortable than we could have imagined. The pool is stunning, the grounds are amazing and the accommodations are first class. Perfectly charming and gracious. I would highly recommend to anyone looking for a country escape...we just LOVED it!
Tara
August 2016
My family and I enjoyed our stay at the Barn Cottage very much. The pictures are quite accurate but don't convey how spacious and comfortable the cottage is. Everything is tastefully decorated, lots of little touches, from the superb linens to the snacks she left for us. You could sink into the sofa and bedding. or into the generously sized jacuzzi, and let your cares float away. Everything we needed to cook a meal was provided, the grocery store was nearby, and the back porch and the dining table were both picteresque areas to eat in. The family's yard is immaculately landscaped - but in no way pretentious, just soft and lovely. We had come up to participate in freshman orientation at a college in Fairfield. Our GPS system gave us differing ways to get back and forth on our multiple-day ventures to Fairfield, which was a wonderful surprise, as we got to see rolling hills, historical homes, unique farmsteads, an orchard and farms and antique places all nestled along curving roads. We will return during the four years are son is attending school here - and look forward to cozying up on the couch in front of wood stove. (The only note I would make is that the bed is very high, as this may be an issue for some. I had a bit of difficulty get in it due to some orthpedic issues I am experiencing.
lisa
June 2016
We are a family of 5 from Amsterdam travelling the east coast and the cottage was a true find! It is like walking into a homechannel episode: everything matches and fits the place! We loved the space, the pool and all amenities. There are lots of treats, coffee etc. The home comes with a full guide with placed to go etc. Sally was super easy to communicate with and it was nice to meet the family. Our kids got to play together. We got a free late check out and the place is well worth the money. I would highly recommend going here.
Lieke
August 2016
We had such a marvelous stay at this magical cottage. The owners have thought of every detail to make this the perfect getaway for you to rejuvenate. From the spacious floor plan to the comfy King-sized bed and pool overlooking the serene landscaping, everything was perfect. We felt quite welcome and the owners were available & easy to contact while giving us complete privacy. This is a place we definitely want to stay again!
Summer
August 2016
The cottage is fantastic and Sally and Tom are great hosts. The place is cozy and has all the amenities you'll ever need. Loved the king size bed, the rustic touches and the modern appliances. Truly a home away from home.
Elizabeth
November 2016
Type de logement
Logement entier
---
Type de propriété
---
Capacité d'accueil
5
---
Chambres
2
Bethel