2nd floor loft in 2 story house w/ shared 1st floor. No separate entrance. 3 furnished rooms, 2 private baths, living room & media room. Easy access to highways & MetroRail station. Keyless entry. Breakfast snacks provided. Perfect for 6-8 people!
**PLEASE NOTE: This is not a separate house or apartment, and it doesn't have its own separate entrance. This listing is for our entire upstairs loft area. These 3 bedrooms, 2 baths, 1 living room, and 1 large media room are located on the 2nd floor of our home. Unless out of town, we live on the first floor of this home. Guests are always welcomed to use our kitchen, dining area, and first floor!** This listing can comfortably accommodate 6-8 guests! Check out our other listings: • Modern Retreat with private bath: https://www.airbnb.com/rooms/1929377 • Modern Retreat #2 with private bath: https://www.airbnb.com/rooms/2138690 • Huge, Modern, Luxurious Home (Can easily fit 10+): https://www.airbnb.com/rooms/5272399 We provide all of the little things that are often left behind when hurriedly packing for a trip (toiletries), and strive to leave our guests with little treats to jump-start your busy days (Fresh fruit, bagels, coffee). There is also a mini-fridge upstairs dedicated to our guests for their convenience. We strive to be your home away from home! Our home was built in 2012 with green building standards in mind. As a result, it is extremely energy efficient. We have separate heating/cooling systems for the upstairs and downstairs with Nest thermostats allowing for personalized control. We also have two tankless water heaters, which can provide an unlimited amount of hot water, even if everyone is showering at the same time. Here is the breakdown of upstairs bedrooms & beds: Upstairs bedroom #1 - Queen Bed (sleeps 2) Upstairs bedroom #2 - Queen Bed (sleeps 2) Upstairs bedroom #3 - Queen Bed (sleeps 2) Upstairs living room - Couch (sleeps 1) Media Room - Couches/ Queen Airbed (sleep 2) We also have an additional Twin Air Mattress (sleeps 1).
The neighborhood is very quiet, safe, and cozy. We have wonderful neighbors. We are very close to major tech employers such as Apple, Dell, 3M, Ebay, Oracle, the UT Research campus. We are a short drive from the Domain and a 5 minute drive away from the Lakeline metro rail station.
Diana and Paul have set their place up incredibly well. Of all the airbnb places we have stayed, this by far, easily the best. It's clean, comfortable, and every little detail has been thought of. If every airbnb was like this - hotels would go out of business. The location had easy access to the main highway and it was easy for us to get around.
Jackson
2015-08-23T00:00:00Z
Diana and Paul are a lovely friendly couple. Me and my friends enjoyed our time at their beautiful house. It was beyond our expectations. Everywhere was very clean and there were lables everywhere and made it easy for us. Lots of clean towels and shampoo and clean sheets and blankets. Having Breakfast was very good and helped us save time for our day. We enjoyed the media room a lot. The house is located in a very good and safe neighborhood and it was only 20 mins drive to downtown.
Yasmin
2016-04-26T00:00:00Z
It was a great place to stay. My friends and I were very glad to be able to share a space together, since there were 8 of us. It was also a great neighborhood. Diana and Paul were sure to confirm I didn't have any questions, which was very nice of them. My friends and I were very appreciate of our stay there.
Caitlin
2017-02-19T00:00:00Z
Diana and Paul were excellent hosts. Their home was spacious, clean and well decorated. Each room had a theme and the supreme cleanliness made it very easy to quickly relax and get comfortable. The mini fridge was full of water which we really appreciated and having some snacks on hand really made it feel like a bnb. The house manual and instructions for tv, etc also really helped. We couldn't have asked for a better experience.
Adria
2015-11-08T00:00:00Z
Type de logement
Logement entier
---
Type de propriété
Loft
---
Capacité d'accueil
8
---
Chambres
Austin, Texas, États-Unis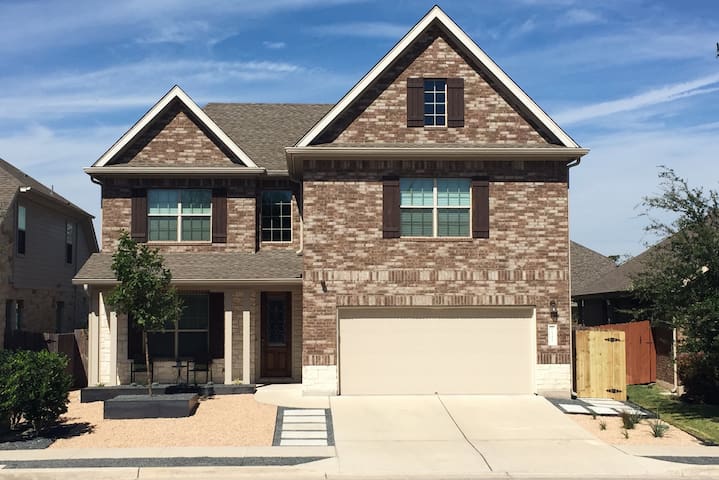 Loft in the Hill country 12-15 minutes directly west of downtown Austin. It has a private deck that has a spectacular view of the surrounding hills. Equipped with Queen Bed, Refrigerator, microwave, TV w/Cable, Microwave, Wifi, A/C,Coffee Maker, etc
This loft has a spectacular view of the hills in the West Austin Area. It is located 12 minutes from Austin City Limits Festival, 15 minutes from SXSW festival, and less then 20 minutes from Circuit of the Americas in East Austin. The loft is equipped with Wifi as well as Cable TV. The Bedroom has wooden floors and the bathroom is tiled. The loft has cedar base boards, cedar crown molding, and the windows are also framed with cedar for a very western feel. This is a perfect place for long term guests planning to be in town on business for a few months or more.
This neighborhood is located in the hills west of downtown Austin with spectacular views both on the property as well as driving to it. The property is blocks away from Lake Austin.
John was very welcoming and reached out prior to my arrival to ensure I knew how to get into the unit. Given the hours I was there we didn't have much direct contact but we kept in touch with text which was perfect. I would definitely recommend staying there if you'd like a private unit. Thanks John
Keith
2016-09-02T00:00:00Z
Great experience
Rubi
2016-09-20T00:00:00Z
John was a great host. All the reviews were accurate. If ever I'm back in Austin I will stay there again. It was home away from home.
Silvana
2016-06-12T00:00:00Z
Great quiet place with beautiful scenery!
Courtney
2016-08-15T00:00:00Z
Our stay at the loft was fantastic. The room is accommodating and the bed is so comfortable, but what really makes it special is the secluded and peaceful nature enviroment. The deck is fabulous and we spent a great deal of time relaxing there and watching the bluebonnets bloom and the deer wandering through the property. We will definitely be back! John is a kind and friendly host. Thanks so much!
Trisha
2017-03-10T00:00:00Z
Great location!!! Great host! John made sure we knew everything from how to work the TV to where the switch was to light our pathway at night (very helpful). As for the Loft, you are far enough to have views that take your breath away and close enough (20 mins) to enjoy all that Austin offers. The loft was clean, cozy and private. I highly recommend staying here and hope we can again soon.
Michelle
2016-11-13T00:00:00Z
The LOFT was clean, comfy, and very quiet, with the exception of the howling coyotes!!! AWESOME!!! Be prepared for microwave cooking. I will DEFINITELY be staying here again. Johnny is so kind, I was lucky to find such a gem!!!
Shannon M
2017-02-02T00:00:00Z
This place is great! I'd definitely recommend staying here; we will certainly be back!
Katie
2017-04-07T00:00:00Z
Type de logement
Logement entier
---
Type de propriété
Loft
---
Capacité d'accueil
2
---
Chambres
Austin, Texas, États-Unis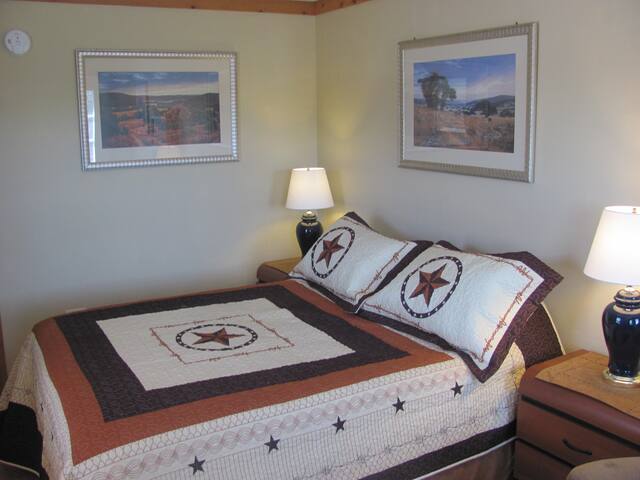 It's a secluded Studio on a cull desack Next to a marina and Sundancer's Bar and Grill. There is inside and outside space to enjoy . There are many nearby amenities ; Golf, amazing nature areas to hike and swim , wineries , parks yet were only 22 min from downtown Austin .
A secluded , Charming ,Stand alone cottage on the waterfront next to Sundancers Restaurant and Sail& Ski Yacth harbor Marina . Possibly pet friendly. Depending on the pet and there health records. There are decks and a large dock for fishing Our location is nearby anything you may need Shopping , medical , wine tours And it's very peaceful and private. Call with any questions. We look forward to meeting you soon
Located on a peninsula of lake Travis We're renovated charming fishing cottages close to the lake but surrounded by multimillion dollar homes. It's quiet except when Sundancer's bar and grill has live music . The Oasis and Steiner Ranch steakhouse offer live music. It's just under 30 min to Krause Springs or Hamilton Pool Less time to funky Austin downtown
Type de logement
Chambre privée
---
Type de propriété
Loft
---
Capacité d'accueil
2
---
Chambres
Austin, Texas, États-Unis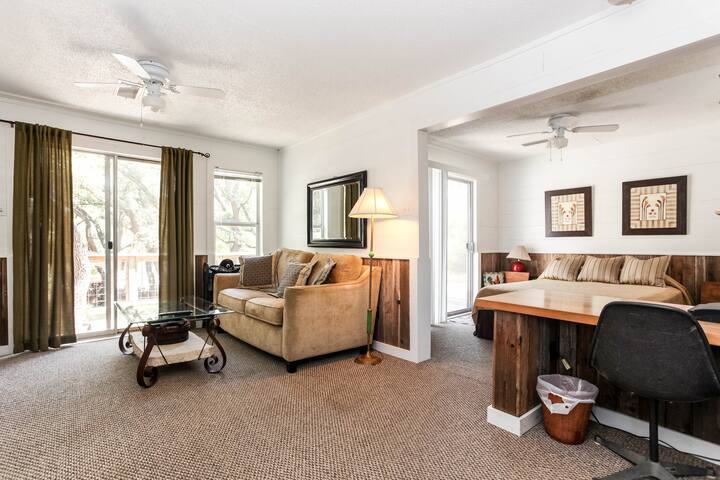 Min plats är nära till köpcentrum med en mängd olika restauranger och barer. Rummet jag erbjuder är avsedd för köpet jägare eller resenärer på en budget .... Det består av en dubbel säng ligger på vinden i mitt hem och ligger i anslutning till badrummet. Gratis WiFi ingår och ett stort land frukost serveras dagligen. Rum för en person endast @ $ 45,00 per natt. Mitt hem är bokstavligen bara några minuter från Austin och berömda 6th Street. FYI, om det behövs mer utrymme, se min andra listor.
STAY HERE if you're coming through Cedar Park. Maryann is the epitome of the perfect Airbnb host. She was very sociable, respectful of boundaries, and fun to converse with! Even though I live here now I might just reserve a night to come hang. Plus the food was really good too.
Enzo
2016-08-01T00:00:00Z
Can't recommend this host enough! Maryann is warm and welcoming, and her spacious home is lovely and immaculate. Rooms are well appointed, comfy beds, everything clean and quiet. (She very generously upgraded us at no charge to the bigger room because it wasn't booked.) And she will spoil you!- an amazing breakfast awaits you at whatever time you ask for. Maryann truly embodies the best spirit of hospitality. You'll feel like family. Thank you *so* much for a lovely stay!
Julius and Amy
2016-11-05T00:00:00Z
Maryann is very welcoming and happy to invite you into her home.
Dana
2016-08-05T00:00:00Z
Staying with Maryann was an absolute joy! 10/10 would stay again! (& I plan to if I ever need to go to Cedar Park again!) Not only is she the nicest person ever; she is really knowledgable about the area & has great suggestions. She is truly all about the B&B experience! Her rooms are cozy & she makes sure you're 100% comfortable! Her breakfast is wonderful & she is so accommodating! I could not talk her up enough! I definitely recommended staying with her!
Taryn
2016-09-25T00:00:00Z
Type de logement
Chambre privée
---
Type de propriété
Loft
---
Capacité d'accueil
1
---
Chambres
Cedar Park, Texas, États-Unis
Suzy was very friendly and her loft was great. The area is very pretty and quiet with a ton of families of deer.
Julissa
2016-08-30T00:00:00Z
What an awesome place to stay along with awesome hosts.
Jimmy
2016-12-18T00:00:00Z
Very cute loft, super nice host! Would definitely stay here again!
Tami
2016-11-12T00:00:00Z
Great stay for the husband and I. This was my second stay with Suzy. Everything was perfect. Always has some snacks, fruit, and juice for our stay. Hosts are easily assessible for any needs. Room is very cozy and comfortable and equipped with basic necessities. Neighborhood is beautiful with plenty of wildlife. I found time to enjoy a great run during this stay. Very relaxing. Suzy's loft is definitely our "go to" place when we are in the area.
Nicole
2017-03-19T00:00:00Z
Suzy's place was exactly as described. Very peaceful neighborhood and cozy apartment above the garage. Suzy was very accommodating with anything we needed. And even checked with us before mowing to make sure we weren't resting. Above and beyond courteous. On arrival, she gave us a quick tour of the place, and then we were off. Suzy provided snacks, fruit, and plenty of coffee during our stay. We will definitely look her up the next time we are in the area.
Nicole
2016-10-23T00:00:00Z
Wow, what a great place to stay. Suzy and Hank's beautiful home is on 2.5 acres out in the country among large trees and grazing deer and yet there is a Costco two miles away with easy access to Freeway 183 and a 30 minute drive to Austin. Suzy is a delightful lady, very welcoming and friendly. The loft/studio above the detached garage was private, very clean, well equipped, nicely furnished with a wide flat screen TV. I arrived at 1:00 AM and hit the rack immediately and found an ample supply of breakfast food to get me started in the morning. I was very comfortable and I plan to stay at Suzy's place every time I visit Austin. It is definitely a five star place.
Jerry
2016-10-21T00:00:00Z
I'm so glad we stayed at Suzy's place. The loft was exactly as she described it, even better. The pictures couldn't really do it justice. It was in excellent condition and very clean. The yard surrounding the loft was so beautiful and peaceful. She had everything she promised and more. I wish we had more time to just relax there. We will definitely stay there again when we are in the area.
Melissa
2016-10-09T00:00:00Z
Great location, Big, open, clean, bright, airy room, with a comfy bed and good internet. Loved everything. Hosts met us in the driveway and were very friendly and easy to access as needed.
Grace Marie
2017-03-11T00:00:00Z
Type de logement
Chambre privée
---
Type de propriété
Loft
---
Capacité d'accueil
3
---
Chambres
Leander, Texas, États-Unis
Volente - Airbnb
:
Moyenne de

5

sur

5

étoiles sur les

72

commentaires des voyageurs
Saisissez les dates souhaitées pour connaître le prix total. Des frais supplémentaires s'appliquent et des taxes peuvent être ajoutées.