Beautiful, spacious apartment in a great location. Had a very homely feel. The hosts were thoughtful and accommodating.
Rebecca
2016-08-17T00:00:00Z
The Loft was quite simply perfect. The overall space was large and well set out. The kitchen facilities were all new and everything you could think of was there. Great touches of snacks and treats in both the fridge and cupboards. The hosts couldn't be more helpful but also kept there distance unless you fancied having a few wines with them in the down stairs garden area ( which I did a lot!) Their two kids, Hugh and Paris were very friendly, respectful and helpful also. i couldn't recommend this apartment enough to anyone interested in the Geelong and Surf Coast area. Thanks Guys
bryan
2017-01-30T00:00:00Z
Yvonne was a very flexible and accommodating host for my stay. The loft was exactly as described and I enjoyed my stay. The only thing I would add is that the loft is above their family garage so when they are coming and going you hear it all from the apartment. Her place was very close to the South Geelong train station and a bit further to the waterfront but still doable. The only thing I didn't expect was how dark the street was when coming home alone at night, but the neighborhood was generally quiet and safe. I would definitely stay with Yvonne and her family again!
Nicole
2016-10-01T00:00:00Z
Highly recommend Yvonne's place. Hers was the fourth Airbnb place we stayed on our 2week road trip. We stayed 25-27Dec. It was clean, cosy, comfortable, large and quiet. Everything was as pictured. Toilet was extremely modern and new. Kitchen was very well equipped and plenty of breakfast options (the best of all the Airbnb places we've stayed!). As we travelled with two toddlers (2.5 and 1yo), Yvonne included toys, high chair and an extra inflatable bed for the kids which was a very sweet surprise. Our kids enjoyed their stay. There's ample free parking right outside the house, check-in was very easy, and communication was prompt. As it was the holiday season, we also had the pleasure of getting to know Yvonne and her family who were very hospitable people. Her place is very central and near to main attractions in Geelong like the Eastern Beach, Carousel, Bollards, Little Creatures Brewery, Stadium, etc. We'lol be back to stay again should we visit Geelong.
Mel
2016-12-27T00:00:00Z
Type de logement
Logement entier
---
Type de propriété
Loft
---
Capacité d'accueil
2
---
Chambres
Geelong, Victoria, Australie
Välkommen till vår nyrenoverade Loft lägenhet, en perfekt tillflyktsort för par. Vi ligger i ett utmärkt läge, bara 400 meter från den vackra vita stranden och gångavstånd till många av de fantastiska attraktionerna.
På Golden Beach Retreat strävar vi efter att ge total komfort och avskildhet. Denna underbara ett sovrum loft, bekvämt kan sova 2 - 5 personer. Det stora sovrummet har egen toalett och kläder, med en dubbelsäng och enkelsäng. De ljusa, rymliga vardagsrummet är det perfekta stället att luta sig tillbaka och koppla av, med två stora bekväma soffor, en dubbelsäng och matbord. Pentryt har allt du behöver, med en fyra brännare gasspis, ugn, litet kylskåp, vattenkokare, brödrost och köksutrustning. Det nyligen renoverade badrum och andra toalett ligger ner trappan. The Loft är en fantastisk bas för att utforska allt detta fantastiska område har att erbjuda.
Detta är en fantastisk plats och området, med så mycket att erbjuda: - Ligger på en lugn gata bara 400 meter från den vackra vita stranden. - 400 meter till The Sands golfklubb och Peppers restaurang. - 1.2km till Wyndham, där du kan njuta av en spa-behandling eller äta på Ocean View Restaurant. -Njut En 2 km promenad längs den vackra stranden vandringsled till hjärtat av Torquay, där det finns ett överflöd av vackra kaféer, restauranger, barer och modebutiker. - Eller ta en kort 10 minuters bilresa till den berömda Bells Beach.
My friends and I were very impressed by the spaciousness and interior design of the loft. Our hosts, Jodie and family, we very kind and even called us up when we embarrassingly left behind some of our belongings at the loft!
Mihi
2017-01-10T00:00:00Z
I had organised a working weekend stay in Torquay for my wife and I at the Wyndham, unfortunately that accomodation did not suit our requirements so Jodie came to the rescue for the second night! Prompt response and friendly communication saw us move 1 km up the road to this lovely beachside neighbourhood. The loft was super quiet and spacious with a great table and internet connection plus a very warm heater. The elevation provides a lovely feel. The beach was a short walk away to where the locals frequent :)
Michael
2016-09-12T00:00:00Z
Super schöne Unterkunft und nette Gastgeber! Wonderfull flat und hosts!
antje
2015-02-01T00:00:00Z
We loved this place with its fantastic loft style arrangement. It was clean, neat and we would highly recommend this accommodation. As we only stayed one night, we unfortunately did not get to meet Jodie.
Leanne
2014-12-15T00:00:00Z
Jodie's apartment is absolutely lovely. Spotlessly clean and thoughtfully furnished. It was such a great place to begin our Great Ocean Road trip. Many thanks, Jodie.
Katie
2015-10-16T00:00:00Z
Nice clean and cozy place to stay. Beach was close and there were some great restaurants suggested by Jodie. Would definitely recommend and stay again! Thanks
Carly
2014-12-06T00:00:00Z
We had a great weekend escape. Jodie is an excellent host.Instructions were clear, entry easy and the property is very cozy. Full marks for how clean everything was, we would happily stay there again.
Daniel
2015-09-18T00:00:00Z
Just amazing, I think this is the only way to describe our experience at Golden Beach Retreat. The place was incredible, I think the photos don't tell the complete truth because the apartment is much better once you go in. Very clean and equipped with more than the essential thing to make your beach escaped really comfortable. Jodi the host was very helpful every time we ask her something and I can say she really is into details because there is a package of cookies waiting for you in the kitchen as part of the service, the decoration was really nice and beach relax style, and every detailed was carefully planed to make you feel home. The location is good if you are looking to stay away from the town (but not too far, 30 min walking) in a calm and relaxed area that is 5 min away from the beach. As I said at the begging jus amazing and definitely will be the place to go every time we go to Torquay.
Sebastian
2016-01-24T00:00:00Z
Type de logement
Logement entier
---
Type de propriété
Loft
---
Capacité d'accueil
5
---
Chambres
Torquay, Victoria, Australie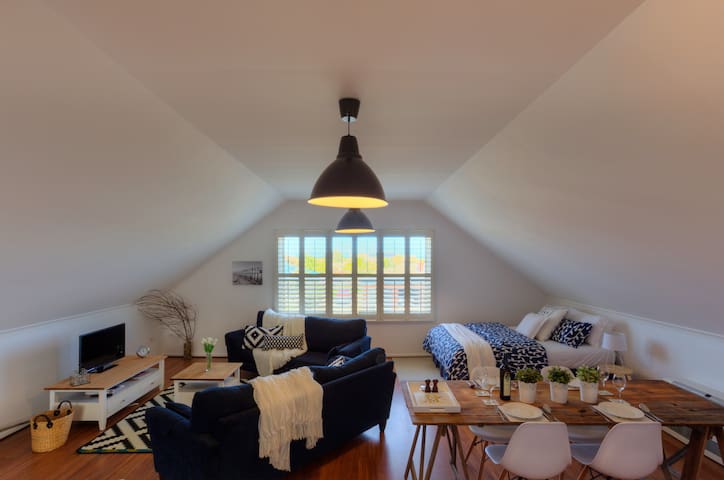 Fantastic location just a few minutes walk to central Barwon. The room is great with a beach theme, comfy beds and great for a weekend get away. We will be back and I can highly recommend for location, comfort and convenience (and the Malteaser's in the Fridge!)
Daniel
2016-02-29T00:00:00Z
We had a wonderful stay. The place was beautiful, and the setting was picturesque. So close to the beach!
Antonio
2016-10-06T00:00:00Z
We loved our stay in Ange's loft. It is beautifully designed, private, and with everything we needed for a quiet night away. It's 2 minute walk from the beach and Barwon Heads' cafes, reataurants and shops. Our one night wasn't enough, we'll definitely be back!
Phillip
2017-02-04T00:00:00Z
The loft is a lovely private space and has a very relaxing feel. Ange is a great host who always made us feel welcome. Really enjoyed our stay!
James
2016-12-23T00:00:00Z
The accommodation was in an awesome location and the apartment was set out beautifully to accommodate everything we needed. Everything was very clean and comfortable perfect for a getaway. Barton heads is in a great location with great beaches, cafes ,restaurants and golf courses within a stone throw. Highly recommend this AirBnB
Gareth
2016-01-06T00:00:00Z
Beautiful space for a beach getaway and the place was immaculately presented. Check in and out was easy and made for a great trip. Will hopefully be back and will definitely recommend to friends. Thanks Ange!
David
2015-12-14T00:00:00Z
Ange is the perfect host there enough to make you comfortable and welcome but also the set up gives total privacy. It was so lovely to encounter Ange and Peggy (the pug) occasionally on her walk back from the beach. The loft is within walking distance to everything..the boathouse, the pub, the main road with its cafes and shops. The internal space is comfortable and allows a sense of privacy and light due to the clever placement of skylights. It is so comfortable that even though there is no stove we still got takeaways and ate at home in front of the adequate TV (which is a bit hard to operate). I would prefer a stove and oven, but this is such a minor thing, I hesitate to mention it. There are so many cheap eat out options. This little self-contained place is a real find and we will go back. Thanks Ange
Melanie
2016-04-26T00:00:00Z
The apartment was beautiful and fresh. It had pretty much everything you needed in it. Tea, coffee, fruit and chocolate was also provided. It felt like we were staying in a top quality hotel. The only thing my husband said that it needed was a coffee press. Thank you! We would definitely recommend this accommodation.
Natalie
2015-12-07T00:00:00Z
Type de logement
Logement entier
---
Type de propriété
Loft
---
Capacité d'accueil
3
---
Chambres
Barwon Heads, Victoria, Australie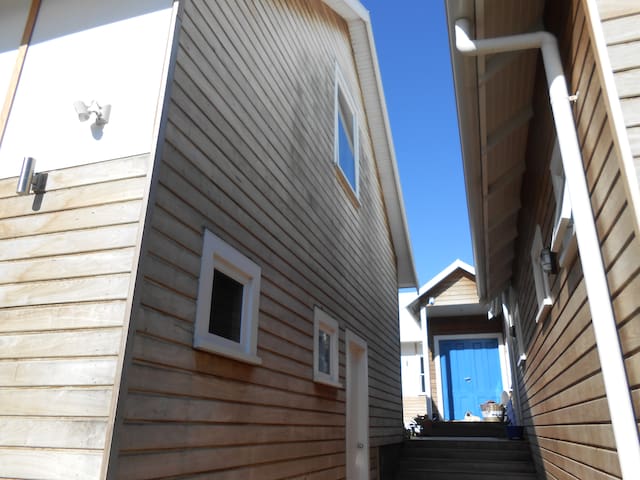 6 Bleiben Gesamt King Size Memory-Foam-Bett & 2 Etagenbetten bis 4 vom weiten Blick auf das Meer auf die handwerkliche Qualität überall zu teilen, und das seltene 2 Morgen Land, 3 separate Balkon des für die vollständige Privatsphäre Bad Doppel-Dusche 2 Toiletten Wohn Bar Lounge-Bereich Aspik
Im Obergeschoss Etage Penthouse 3 separate private Balkone und gemeinsamen Raum im Erdgeschoss Lounge Küche mit Dauergäste
It's awesome place.
Chloe
2016-11-25T00:00:00Z
Perfect place and a great host
Nathan
2017-02-26T00:00:00Z
Jason was so kind and place is easy to find it.
Kyung Hee
2016-11-12T00:00:00Z
Amazing stay at this place. The best part was the view of the stars in the clear sky. It was absolutely break taking! Jason is very accommodating, he left the keys for us as we reached really late. The house is beautiful with modern furniture and an electric fire place and three balconies. The upstairs penthouse is spacious.
Shivangi
2016-11-19T00:00:00Z
Good & Friendly.! Very good spa.! Had good time.!
Danya
2016-12-03T00:00:00Z
Staying at the listing was slightly disappointing if I am completely honest.. While the listing was as advertised I feel as though the penthouse/upstairs area should be self contained as to make things more comfortable. With no door at the end of the stairs I tended to feel quite uncomfortable and could hear every person coming and going which isn't ideal if you are looking for a decent sleep, which i feel like 99% of the visitors will be as it will be a break/getaway for visitors. I tried to use BBQ which didn't work (the host did message me a few hours later instructing me there was a trick to try get it working but it should be self explanatory TBH). We had a small kid come upstairs while we were sitting watching TV which was extremely unprofessional to be in a position to let this happen. While the 2 permanent guests are lovely and made us feel comfortable it brings me back to my point of closing off the upstairs with a door rather than just having it as an open area of the house than anybody can wander up and around whenever they like... The room itself (upstairs) had heaps of Mosquitoes and we received several bites each which was extremely annoying considering this wouldn't be an issue with a $20 plug in repellent.For $300 a night I expected something a little more professional to be fair and I think Jason needs to improve the set up a bit to avoid reviews which border on the negative like this one. Him and his wife were lovely and welcoming but when we arrived himself and family were there having lunch, which is fine because i understand it could be the family house but if it's going to be advertised as a guest house on this site i don't think that's acceptable, we felt very out of place/uncomfortable walking around. As I said the overall stay wasn't great.
Peter
2016-01-11T00:00:00Z
Had a great experience Jason was very attentive setting up the spa with a boom box for the kids,asking us if we had towels, etc. lovely spacious home with plenty for the kids to keep occupied.( volleyball, wet tramp,beach close by). Thanks Jason we look forward to coming back again. Deb&Matt
Debbie
2016-11-11T00:00:00Z
La casa es preciosa, todas las camas eran comodisimas. Nos ha encantado todo, altamente recomendable. Si volvemos a la zona nos quedaremos aquí seguro!
Marta
2017-03-30T00:00:00Z
Type de logement
Chambre privée
---
Type de propriété
Loft
---
Capacité d'accueil
4
---
Chambres
Torquay, Victoria, Australie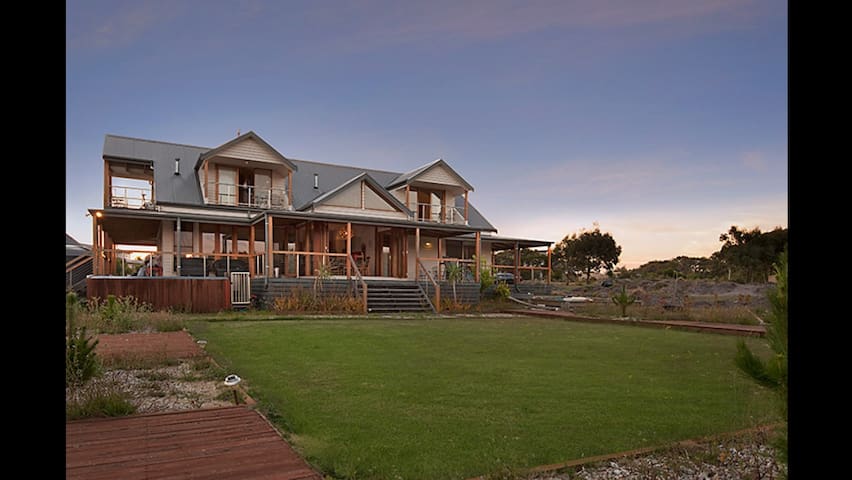 This is a large room with large double shower, toilet and kitchen. The room is comfortable and private and perfect for a quiet get away. Only a short walk to the beach and other attractions in a peaceful quiet little town.
The self contained room is in a quiet suburban neighborhood within easy walking distance to town, nature reserves and beach. It is intended as a quiet romantic getaway or medium term accommodation for those seeking a temporary base on the Bellarine Peninsular. Whilst celebrations of all kinds are encouraged and supported, is not a loud or raucous party house.
The neighborhood is quiet and suburban, only a short walk to reserves, a small but comprehensive shopping street, cafes, take away and eat in eateries, a pub, beach, boat ramp, fishing wharf. Plenty of room to park a boat trailer on or off road.
Clive and Sandy were great hosts. Communication was clear and timely. The room was as described and was clean, comfortable and spacious. A great option for those on a tight budget.
Jane
2016-05-14T00:00:00Z
Thanks Clive for having us on short notice and right on Xmas day. Clive was very friendly and also recommended some surf beaches to go too. We stayed for one night and the studio was very comfortable and clean. It was equipped with everything you needed. Only down side was no aircon but had fans.
Marjorie
2016-12-26T00:00:00Z
The host canceled this reservation the day before arrival. This is an automated posting.
Siddharth
2016-09-29T00:00:00Z
Big thanks to Clive for a wonderful time! A great clean little space that is perfect for that beach get away on a budget. The single trundle bed for our little man was nice and sturdy and felt very comfortable. The place was very clean and had all the things you need for a quick getaway. Clive was very easy to deal with and a genuinely nice host. Wifi was a really pleasant surprise and helped out heaps. Will stay again when in St Leonard's.
Aaron
2016-12-04T00:00:00Z
Clive & his partner made us feel most welcome & checked via txt that everything was up to standard once we'd arrived. Their directions were very clear & concise. The apartment was exactly as described in the listing and was neat, clean, tidy and well stocked with linen, crockery & cutlery, plus a good firm mattress well suited for a bad back. We will definitely keep them in mind for future trips to the Bellerine Peninsular.
Trevor
2016-06-14T00:00:00Z
Clive's studio apartment was perfect for our weekend away in St Leonards/Queenscliff. It was fully self contained and in a great quiet position, bed was very comfortable, the kitchen is perfect for self catering and had some breakfast provisions. Clive was very welcoming, contacted me to arrange our check in and was very flexible with check out time. He was more than happy for our son Billy (well behaved small terrier) to join us which was a great bonus. We can't wait to return to St Leonards and return to Clive's apartment.
Craig
2016-11-26T00:00:00Z
Clive was awesome and really accommodating. We came down for a wedding and we were in and out all weekend. Lots of our plans were last minute and clive allowed us to check in late which was awsome. He also has an adorable greyhound called Bazil who is very friendly. Would recommend staying at Clives. Cheers!
Chris
2017-03-25T00:00:00Z
I had a lovely stay in Clive's loft apartment with my 2 children. The communication was excellent and a box of toys was even provided to keep the kids amused. The space is just as described and was cosy and comfortable for our 2 night stay.
Tanya
2016-04-02T00:00:00Z
Type de logement
Chambre privée
---
Type de propriété
Loft
---
Capacité d'accueil
3
---
Chambres
Saint Leonards, Victoria, Australie
Saisissez les dates souhaitées pour connaître le prix total. Des frais supplémentaires s'appliquent et des taxes peuvent être ajoutées.