La cabine est une chambre cabane isolée et romantique avec vue sur l'océan. La combustion du poêle à bois et un bain à remous en font l'endroit le week-end escapade confortable parfait. Assez proche de la ville mais se sent un million de miles!
Privé, Calme vue sur l'océan cabine sur le cheval ranch / domaine viticole. Entouré par le National Parkland cette cabane romantique est spacieuse mais confortable. Il dispose d'une salle de bains complète avec baignoire, une cuisine bien équipée, lit queen size et canapé-lit. La cabine est simplement mais confortablement meublée Il y a un poêle à bois et un bain à remous avec vue sur Catalina. À l'arrivée, vous trouverez une bouteille de notre propre vin - Syrah ou Sauvignon Blanc, du fromage, des craquelins et des fruits. Il y aura aussi des œufs des poules de ranch, muffins etc pour le petit déjeuner. Nous offrons des cours de surf, yoga, massage et bien sûr dégustation de vin! Nous pouvons organiser des leçons cheval ou des randonnées sur place. Il y a des sentiers de randonnée à droite sur la porte de la cabine qui accèdent au Backbone Trail & Malibu Creek State Park. VTT peuvent être loués sur place. Nous avons normalement un séjour de 2 nuits minimum, mais pendant les vacances de Thanksgiving et de Noël, nous avons un séjour de 4 nuits minimum.
Confidentialité, calme, espace ouvert, parc, vue sur l'océan, la paix et la tranquillité!
A beautiful place - we really enjoyed the quiet and the hikes near the property. Hope to go back one day.
Kenley
2016-08-08T00:00:00Z
The listing was referred to me by a friend who already has stayed twice and I quickly learning why. Gabrielle and the neighbors were all delightful. The cabin itself is totally private, so you can feel alone in the canyon total tucked away, but then you're a short walk to a pool and neighbors to meet and chat with really kind people. Gabrielle was an absolute pleasure to deal with. I was planning a nice getaway at her cabin after surprising my gf with a proposal in malibu (now fiance--she said yes!). Gabrielle went above and beyond to help set up flowers and get the right wine and make sure we had champagne and more. It was tremendous. All I needed to do was show up and a beautiful set-up was waiting for us. While at the cabin, Gabrielle was helpful throughout. We needed advil one night, and she responded quickly and gave us a small travel pack. She even invited us to have massages in the nice air conditioning of her home (just a FYI for hot months the cabin currently has no AC). There is a nice pool to use and cool off w/ if it's hot outside. The list of positives goes on and on--I give the cabin and Gabrielle my strongest endorsement.
Zach
2014-09-15T00:00:00Z
Unglaubliche Ruhe, der Natur zuhören, dem Wind, den Vögeln lauschen, Sonnenaufgang und Sonnenuntergang bestaunen. Dann die hübsche cabin bewohnen, alles gut eìngerichtet. Gabrielle so hilfsbereit, mit einem warmen welcome. Unvergessliches Erlebnis. Aus Zürich, Switzerland, Doris und Jürg.
Jurg
2016-11-12T00:00:00Z
Gabrielle's cabin was the absolute perfect getaway. The cabin sits high up in the mountains with a beautiful view of the ocean. The garden in front is filled with lavender and lovely little places to sit and relax in the sun. The cabin itself is adorable - there's an antique wood-burning stove to keep you toasty, the decor is beautiful and the bed is super comfy. Lots of candles for ambiance. Also loved the very special touches -- a vase with lavender and rose, the fresh eggs from the property's chickens, etc. I really loved meeting the beautiful chickens and horses too. We went on a hike -- the views were insane. I could go on and on. Definitely coming back!
Moni
2017-01-09T00:00:00Z
Wow! Gabrielle's place is enchanted, secluded, quiet beautiful cabin in Malibu mountains, a fairy tale spot. Perfect for a couple romantic gate away or a small family, (Gabrielle has another guest house for six). Image waking up to a beautiful morning, birds singing, bees and butterflies busy with the gorgeous Lavender and Jasmine flower. You and your loved one cozying us in the private hot tub under the skies, moving back into the house infront of the fire place.... You get my point. Awesome for writers or anyone who wishes to get away, and be somewhere where it is quiet, full of beauty and peace. You will recharge and return with a peace of mind and body. Try Gabrielle's wine and fresh eggs, they are excellent. Gabrielle is a wonderful and thoughtful host. She prepared wine, cheese and crackers and us as well as fruits and eggs. She communicates clearly and timely, attentive to your needs, yet leaves you undisturbed. We loved the place and will be back !
hagai
2017-04-04T00:00:00Z
Fantastic place and extremely comfortable. I would definitely stay again! Only thing is that it's about a 15-20 minute ride up the mountain and the streets could be a little scary!! Very peaceful and Gabrielle is so sweet and helpful! Absolutely wonderful stay!
Taylor
2017-03-29T00:00:00Z
Lovely, quiet, peaceful retreat - we had a great time relaxing and getting away from it all at Gabrielle's place.
Rich
2017-03-20T00:00:00Z
We stayed in the cabin the first two nights of our honeymoon and loved it!! Very clean and uncluttered. Small and quaint, perfect for a weekend getaway or a few nights. The view is beautiful!! We found the jacuzzi to be in working order and clean. All appliances working and everything in order. The cabin is nicely secluded on the property for privacy. This place gets highs recommendation for anyone looking for a cozy get away!!! Cory & Tatum
Gina
2017-03-13T00:00:00Z
Type de logement
Logement entier
---
Type de propriété
Cabane
---
Capacité d'accueil
3
---
Chambres
Malibu, Californie, États-Unis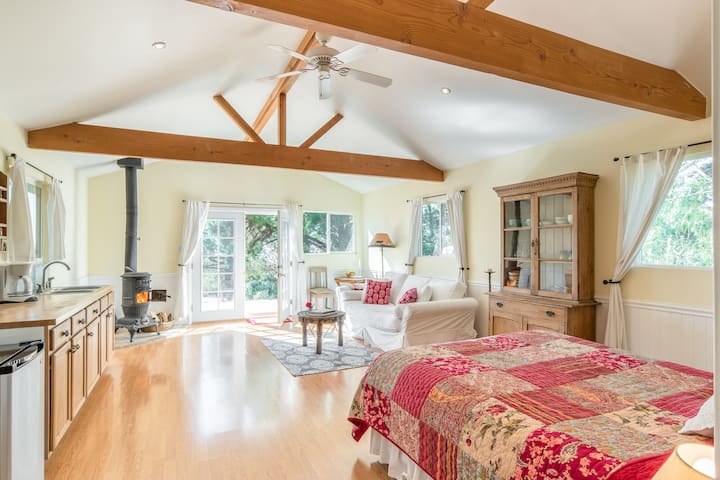 Ma place est proche de superbes vues, restaurants et salle à manger, la plage, et les activités de la famille. Vous allez adorer ma place à cause de l'emplacement, l'ambiance, et l'espace extérieur. Ma place est bonne pour les couples, les aventuriers en solo, les voyageurs d'affaires, les familles (avec enfants) et amis à fourrure (animaux de compagnie).
STAY HERE IF YOU EVER GET THE CHANCE!!! Jill's cottage is truly one of the best Airbnb's I've ever had the pleasure of staying in. We had a party of 4 celebrating a very relaxing bachelorette party, and the views are truly breathtaking. The pictures don't do the space justice. Everything, including the hot tub, was ready for us when we got there, and a bottle of wine and cheese were waiting for us as well (which were both delicious). We took advantage of the hot tub and outdoor fireplace each night as well as used the hot outdoor showers in the morning (HIGHLY recommend). It couldn't have been a more perfect location for a secluded getaway. Our bride to be took the bed in the bedroom, and the rest of us slept on the day beds in the main room, which were very cozy. We weren't able to take advantage of the trails nearby, but we did walk down about 10 min to grab an Uber (we wanted the walk and thought it would be easier to grab an Uber closer to the main road), which in itself provided gorgeous views. Jill and Sparky were very communicative and always reachable by phone or text, too. We surely hope we'll be able to come back soon!
Julia
2017-03-09T00:00:00Z
Jill's place is a magical spot where you truly can feel away from it all. Wake up to the most incredible birdsong, take hikes, or just sit in one of the daybeds and read and stare out at the hills and ocean below. If you are looking for a rustic cottage, love an outdoor shower covered in roses, and think an evening by the outdoor fireplace and hot tub sound great, this is your spot. Sparky and Jill could not have been nicer hosts- it was really special. Thank you!
noria
2017-03-19T00:00:00Z
Type de logement
Logement entier
---
Type de propriété
Cabane
---
Capacité d'accueil
5
---
Chambres
Malibu, Californie, États-Unis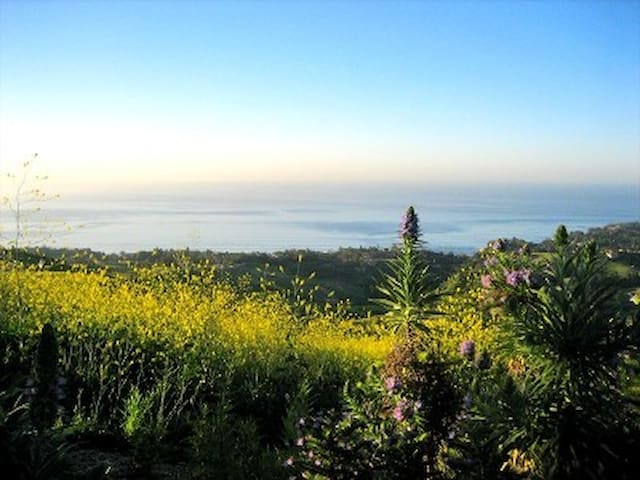 We rescue animals and bring Autistic kids to interact with our rescues and nature. Every time you stay it's a win-win for all, the $ help feed the animals and you have a blast supporting our cause! The beauty of an old school life is a dying breed
Great Spirits Ranch, very funky and feel good vibe, bunk house. Eco and recycled. Cool rock fireplace / wood stove. Separate kitchen, bathroom and bedroom. Second bath house has a washer and dryer. Bedroom has a lower single bed and a upper double bunk. Beds are comfy cozy. Extremely clean and organized. The Bunkhouse is a separate building. You feel like you entered your own private oasis. Waterfall at your dining area, horses and donkeys abound. A huge granite table outside with twinkling lights. The smell of the air entices your every sense. At your doorstep, you can see the wineries hike, bike, ride, go to the beach or head down to shop. No public Transportation. Rural, Amazing views, gorgeous and very private. Pull right up with your car truck, or trailer. Horses welcome, extra charge. Approx. 4.8 miles down a rural road to beautiful night life, gourmet restaurants, theater, shopping. Approx. 7 miles the opposite drive to the Beach and more restaurants. The setting of the Ranch is one of a kind. rest, write, read, hang out in a Yurt or Tipi, do a sweat. Interact with the rescue animals.
We love the quiet and beauty of our surroundings, Looking out to the Ojai mountains to the ocean from the other side. Birds, animals and peace. It feels good, it smells good, it's just good!
Incredibly welcoming and the most amazing place to land! Debbie made sure I was comfortable and all set from the get go and left wonderful eggs and dairy from the ranch. The space was super sweet and so thoughtfully built and cared for, that it became my cozy hideaway for a few extras nights. If you like a ranch experience where the land and animals are treated in utmost respect, then I highly recommend it.
Alicia
2015-07-06T00:00:00Z
Quiet, clean, serene! Such a wonderful retreat! I had everything I needed: French press, hotplate, toaster oven, microwave, 2 refrigerators, clean linen, clean everything.... Beautiful sweet animals, nice & accommodating hosts.... Loved this place. Just a short drive to the beach but could have easily stayed on the property the entire time. Will definitely be returning. Thank you Debbie!!!
Han
2014-07-08T00:00:00Z
We stayed in the bunkhouse, which was cute, clean, and cozy. The outdoor toilet across the way was also very clean. The many outdoor sitting areas are all very nice, though it rained while we were there, so we did not get to fully enjoy the great deck and granite table areas. The wood stove worked well and kept us warm. The ranch is beautiful with wonderful views and Debbie is very welcoming and easy to communicate with. She brought us eggs, cream, and butter, all made on the farm, as well as homemade pastries. This property is perfect for people who are looking for a quiet getaway and who like animals. It's about 10 minutes from Westlake Village and about 20 minutes to Zuma beach. We would stay there again, as well as recommend it.
Suzanne
2017-02-20T00:00:00Z
Debbie was a great host, she made sure we had everything we needed for a very relaxing stay at the Bunk House on her lovely ranch: from home made butter and olive oil to fresh eggs and grapefruits. This place is amazing, so close to the city and yet so far away. Great hiking nearby. Stargazing at night is a must. Thank you Debbie for a great time on your ranch that has so many special places to enjoy. We will be back as promised! Andreas & Melanie
Andreas
2016-01-04T00:00:00Z
My bf, myself and our tiny dog arrived on Thanksgiving and stayed 2 nights in the bunkhouse. The property is so nice, you can tell so much care and personal effort have gone into making it what it is. The views are beautiful. The animals are friendly and in general, it was just so nice to be surrounded by nature. The bunkhouse sleeps 2 perfectly, we enjoyed having a microwave, hot plate and shower since we were staying 3 days. We got our fresh eggs and had coffee every morning with amazing pastries. Debbie cooked Thanksgiving dinner that was to die for. We gathered with the other guests around the evening fire in the amazing multiple outdoor living areas. During the day we relaxed alone, never leaving the property. It was a restful, peaceful wonderful retreat. I would be comfortable coming alone and also think children would enjoy it as well. Coming in it's lovely to take PCH to see Malibu, leaving going down into Westlake Village to shop and eat is nice. Great Spirits is a great glamping spot and retreat for folks who maybe aren't great at "roughing it" but want to enjoy nature. Will def be back! Thank you Debbie!
Anna
2016-11-26T00:00:00Z
Type de logement
Logement entier
---
Type de propriété
Cabane
---
Capacité d'accueil
2
---
Chambres
Malibu, Californie, États-Unis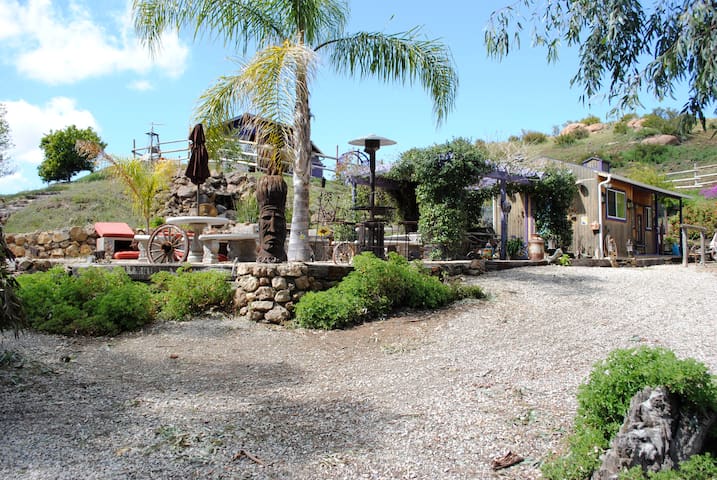 Gorgeous, quaint, clean & calm Malibu Cottage. Urban farm house inspired by design. Our cottage has ocean views and is 5 minutes drive to Zuma Beach. One bathroom, one bedroom (open plan living) Two twin size beds A toddler bed available on request. Fresh, clean, cosy, comfortable and feels like home.
We enjoyed staying here so much we came back a few weeks later! Everything was lovely!
Thomas
2016-08-29T00:00:00Z
Just like the pictures! Felt like a local in Malibu. The cottage is well appointed with lovely beds and Blue left a gift basket stocked with local goodies.
Thomas
2016-07-30T00:00:00Z
Type de logement
Logement entier
---
Type de propriété
Cabane
---
Capacité d'accueil
4
---
Chambres
Malibu, Californie, États-Unis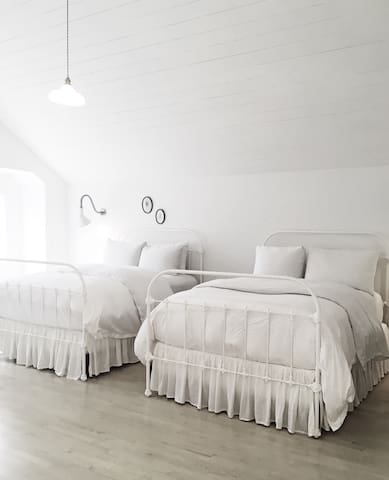 Ceci est une cabine adorable parmi 12 acres de chalets et de terrains intrinsèque. Attendez-vous à la simplicité avec une vue imprenable sur les montagnes et à proximité de la randonnée et les ruisseaux.
Ce minuscule cabine est au milieu d'une communauté intentionnelle. Ceci est une location mignon mais modeste. Il y a un plancher de chêne en bois massif dans la chambre principale et de feuillus de la cerise dans la chambre à coucher. Il y a un bureau, parfait pour un écrivain ou d'obtenir un peu de travail. Il y a aussi un petit patio avec une chaise qui donne sur les montagnes. Il y a un petit lavabo à l'intérieur. Il y a une salle de bains commune avec douche séparée environ vingt pieds de distance. Juste en dessous de la cabine est la maison principale avec une cuisine complète et cheminée, vous avez accès. S'il vous plaît essayer d'être consciencieux des personnes séjournant à proximité. Nous avons un tout nouveau routeur sans fil avec accès Internet sans fil extrêmement rapide à 85MB par seconde. Nous avons aussi un nouveau chauffe-eau, très fiable tankless chaud qui ne manque jamais d'eau chaude pour le bain / douche .. Vous serez niché dans un village de montagne de 13 acres avec d'autres chalets, les forêts et les montagnes. Il y a une laverie, un espace cuisine / salon commun avec une cheminée ancienne de 100 ans. Vous ne savez jamais où vous étiez près d'une ville! À la découverte de cette propriété est une expérience unique, certains décrivent comme "camping glamour". Aucun photoshoots, les partis ou les chats autorisés sans accord préalable. S'il vous plaît lire les pleins description, avertissement, et les commentaires, pour vous assurer que cela est ce que vous recherchez. ************************************************** ************************** AVERTISSEMENT: Ceci est tout à fait différent de séjourner dans un hôtel ordinaire. Nous sommes vraiment dans la nature ici - ce sont des cottages plus âgés à la main par des artistes construits dans la forêt. Ils sont très rustique! Il est comme vivant dans un village de montagne, avec d'autres chambres d'hôtes à proximité. Alors que nous travaillons très dur pour garder nos lieux vierges et impeccable - si quelqu'un dans votre parti défaillir s'ils voient un bug ou lézard ou petite grenouille à l'intérieur - c'est probablement pas l'endroit pour vous. S'il vous plaît être très prudent réservation chalets à quelqu'un d'autre - comme vos parents juste d'arriver d'un autre continent - ils pourraient préférer quelque chose de plus classique. Certaines personnes décrivent nos lieux comme une forme luxueuse de camping. Nous faisons nos chalets très confortables - ils ont toutes les bases - électricité - wifi - la plupart disposent d'une cuisine, salle de bain ou douche et lits propres confortables. Mais ils ne sont pas comme un hôtel avec des murs parfaits et une atmosphère stérile. S'il vous plaît regarder toutes les photos et lire tous les commentaires. Nous ne pouvons pas offrir des remboursements simplement parce que nous ne respectons pas les normes d'un hôtel normal. La plupart des gens sont charmés par ce mode de vie idyllique et bohème - mais il est pas pour tout le monde. ************************************************** ******************* FILM ET PHOTOS Shoots: Ceci est une propriété étonnante pour la photographie et le cinéma, avec 13 acres de chalets rustiques, forêts de chênes et ruisseaux sculptés. Mais s'il vous plaît noter que nous avons des tarifs spéciaux, et tout à fait raisonnables pour le tournage, en plus des frais de location normaux. S'il vous plaît laissez-nous savoir à l'avance afin que nous puissions travailler sur les détails. le tournage commercial est interdite sans autorisation. ************************************************** *************************
Le monde célèbre Inn of the Seventh Ray est juste en bas de la rue, avec un bon repas à côté d'un ruisseau qui coule. Ils ont un merveilleux brunch du dimanche. ************************************************** ********************** Recommandé Attractions locales: Restaurants à quelques minutes en voiture: Mimosa Café - café local et de la pâtisserie - Topanga hangout Waterlily Café - sandwiches et expresso Fish Market Froggy - super ambiance Topanga intérieur et extérieur, large assortiment de nourriture. Malheureusement, seulement ouvrir rarement le week-end. Abuelitas - cuisine mexicaine, des groupes locaux. Inn of the Seventh Ray - gourmet nouveau brunch d'âge - cher mais belle salle à manger extérieure Creekside. Canyon Bistro - cuisine gastronomique française Californie Italien Rocco - bonne pizza à emporter ou vous asseoir un restaurant A quelques miles au nord sur Topanga Canyon Blvd: Topanga Table - petit-déjeuner et le déjeuner - manger à l'extérieur avec votre chien à votre table! Topanga Living Café Vers le bas à la plage à 10 minutes: Reel Inn (poisson), The Chart House, Gladstone, Thai Beach Cafe Cholada Marchés Farmers 'Market - vendredi matin Topanga General Store - Je recommande la "saucisse chaude" frais Pays Natural Food- Santé et snacking marché Canyon Gourmet taches fraîches également à une courte distance en voiture: Yoga Desa - studio de yoga local avec de nombreuses classes, y compris la danse et kirtan. Voir notre livret avec le calendrier. Hidden Treasures - magasin amusant - vêtements vintage et des bijoux Jalan Jalan - importations étonnantes avec une belle cascade dans le dos. Theatricum Botanicum - belle ampitheater extérieure avec sa propre compagnie de théâtre. Topanga Beach - moins de 10 minutes. Plus loin The Old Place - salle Wild West - bon pour le brunch Saddle Peak Lodge - wapiti, bison, autruche - super ambiance - $$$$$ El Matador Beach - magnifique plage avec des arches naturelles Leo Carrillo - une autre belle plage avec des coins et recoins naturels Ville de Malibu - consultez centre commercial local - de grands jeux pour enfants - boutiques de luxe - restaurant cubain. LA Westside (15-20 minutes en voiture) Santa Monica Pier 3rd St. Promenade - rue piétonne - magasins phares - cinémas - restaurants Venice Beach "Boardwalk" - les vendeurs de rue amusants, funky, grands achats.
The cabin was fantastic and incredibly convenient— check in was self-serve (though hosts available if needed), which always makes things easier when you're traveling and dealing with uncertain schedules. But what was really amazing was the location. Topanga is so unique, you're in LA but feel a million miles away. And the cabin itself is just a few minutes to the beach, amazing hiking, and Malibu (which REALLY feels like a different world). Such a great getaway for someone looking to escape the city.
Danielle
2015-12-06T00:00:00Z
I had a great time staying here! It was everything I wanted. Really great price and loved everything about the place in general. Looking forward to coming back.
Julia
2017-03-19T00:00:00Z
Had a great stay. Very nice, small place in the canyon with great views!!
steve
2016-01-18T00:00:00Z
I stayed in the cabin for 2 nights and had a great time! The cabin is tucked in the hills above the hustle and bustle of the city and it was a perfect place to get away. The kitchen and bathroom are shared but it was still very comfortable.
Maria
2015-09-03T00:00:00Z
Great place! Dont go to LA . Go to Topanga and relax in this cosy hut :)
Aske
2015-07-25T00:00:00Z
Great place
Ole
2016-05-20T00:00:00Z
First, this place is amazing! But I'll come back to that. The second thing is you need to be aware of what you're getting yourself into. This place is a beautiful hippie Hideaway. If You're expecting a common hotel-like setting, this is not for you. This would be more like very comfortable glamping. The bathroom is not connected to this Casita. There are multiple Casitas on this site, but still very private. It's easy to find, the common kitchen of the Main house is the biggest marker, just follow the directions. That being said going back to the first part, the cabin is a small living space and a bed room. This place was definitely for people like us, those wanting to get out of the city to be very close to Nature. Place is beautiful, wonderful for reading, meditating, and just talking if someone comes along. There is pretty good Wi-Fi if you wanted to Netflix but we didn't have time. The common areas are also a good place to meet people passing through if you feel like starting up a conversation. I know for myself and my partner, we will be returning. Thank you very much, Peace and Love.
Eileen
2016-04-06T00:00:00Z
I absolutely loved it here! Very quaint and private. I would happily stay here again!
Lisa
2016-04-03T00:00:00Z
Type de logement
Logement entier
---
Type de propriété
Cabane
---
Capacité d'accueil
2
---
Chambres
Topanga, Californie, États-Unis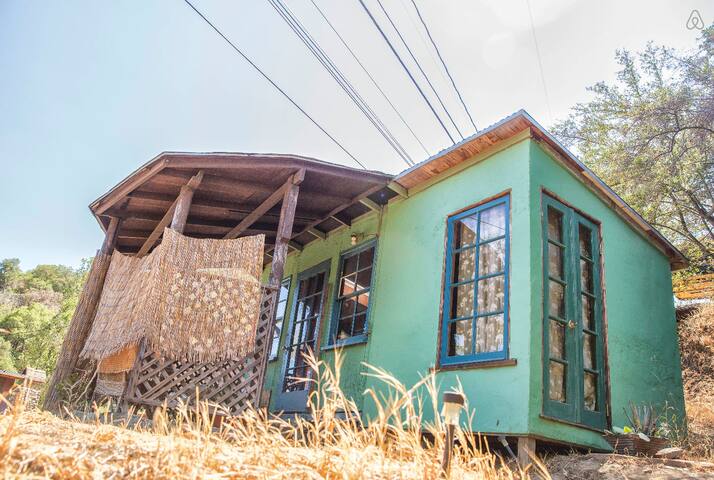 Cabine privée avec douche, kitchenette, réfrigérateur, four grille-pain, tout ce que vous avez besoin pour la cuisson courte d'un barbecue que nous offrons avec trois Airstream. 22 Miles à vol d'oiseau de la ville vers le bas LA, 17 miles de LAX, se sent comme 100 miles de la civilisation, à 15 minutes à Pour la plage, 30 minutes à Santa Monica, 15 à Calabasas. Parking privé, lits pour 2 adultes et 1 enfant. Frontières sur l'espace ouvert avec des centaines de miles de randonnée ou de VTT à travers les parcs d'État et les terres sauvages adjacentes.
The Cabin Guest est le plus petit espace habitable sur la propriété, mais ne manque pas de commodités pour le court séjour par une ou deux personnes (peut-être un bébé que nous avons un pack et le jeu pour les nouveaux parents). Une douche, une kitchenette, salle de bains avec un lavabo, une commode, un bureau et un lit construit à flanc de colline, encadrée par des puits de lumière, lumière abondante et une mosaïque de tuiles.
Nous sommes hors d'un chemin privé dans une partie sauvage de Topanga. Les voisins sont sympathiques et il y a beaucoup des mêmes personnes qui marchent la boucle Topanga Skyline tous les jours, ainsi que la crête derrière nous. Il est un court trajet en voiture à Red Rock Canyon Park, ou si vous êtes en forme, vous pouvez randonnée 7,5 mile boucle de crête qui vous emmène autour du haut et vers le bas dans le Red Rock Canyon et sauvegarder sur Topanga Skyline Drive.
Fabuleux accueil de la part de Gordon et sa famille. Endroit calme, ressourçant et très propre avec superbe vue sur le canyon. Région de toute beauté oú la nature est omniprésente alliant mer, montagne et forêt.
yasmine
2016-02-21T00:00:00Z
We had a wonderful stay at Gordon's cabin in May. The property was easy to find per the descriptive directions Gordon provided for us. While we didn't interact much once we arrived, Gordon was helpful and invited us to get a hold of him if we needed anything. The cabin was very well-equipped with a hot shower, able kitchenette (stove, refrigerator, toaster oven, table setting for two), and a neat bed with a skylight above it! Overall, we loved this location and would look forward to another opportunity to stay!
Adam
2016-06-01T00:00:00Z
This place was beautiful! Really easy to hike up to trails with amazing mountain views. Gordon was very kind and accommodating, he even let me borrow a hat! I had a great time and would definitely stay here again.
Mollie
2015-12-11T00:00:00Z
Great little spot. Matched listing description to a T. Gordon was welcoming and very responsive to questions by text. Cabin is on the grounds of his residence, but we had plenty of privacy and quiet. No complaints!
Emily
2016-03-06T00:00:00Z
Gordon's place is really something else. The cabin is relatively small, but don't let that stand in the way of booking though. My girlfriend and I were really only there to sleep and enjoy the stars at night. We spent three days in late December and it got really chilly at night, but fortunately there's plenty equipment/blankets around to keep you warm. Gordon's responses very accurate and prompt. We only met briefly and had spoken to his wife upon checking in and they were both really friendly and helpful.
Jeroen
2016-01-02T00:00:00Z
Super cute cabin- loved it! Totally perfect for a romantic getaway. As described, but I think pictures don't do it justice! The oaks surrounding the cabin, and views from the cabin were beautiful. The bed under the stars was amazing. No problem finding it in daylight. Gordon was a warm and interesting host. Stores and restaurants just 8 minutes down the hill. I really hope to be back!
Wendy
2016-04-11T00:00:00Z
We had an absolutely wonderful stay at Gordon's cabin! The surroundings are so peaceful, and the rustic cabin and the overal solitude made our little getaway unforgettable. The cabin has everything you need to be comfortable (the shower's amazing!) and Gordon's hospitality made our stay complete. He's such a friendly and helpful guy, and made sure we had everything we needed. The Waze app proved to be very helpful on our way up to the cabin. As long as you don't deviate from the path, it'll perfectly guide you to the cabin, even after losing service. It truly was a wonderful experience. Thank you Gordon for sharing this little gem!
Amy
2016-09-28T00:00:00Z
We loved everything about this place and wish we would have stayed longer! Gordon was a great host - very welcoming and knowledgeable about the area. The cabin was incredible - very comfortable, clean, and had everything we needed. We loved having the windows open to let in fresh air during the day, and the heater provided us with plenty of warmth at night. The skylight was incredible and we loved being able to see the stars from the bed. The location was awesome - quiet, peaceful, and relaxing. It was also great to walk just up the road to go on a really nice hike (Gordon gave us directions). We would definitely stay here again!
Angelica
2016-05-10T00:00:00Z
Type de logement
Logement entier
---
Type de propriété
Cabane
---
Capacité d'accueil
2
---
Chambres
Topanga, Californie, États-Unis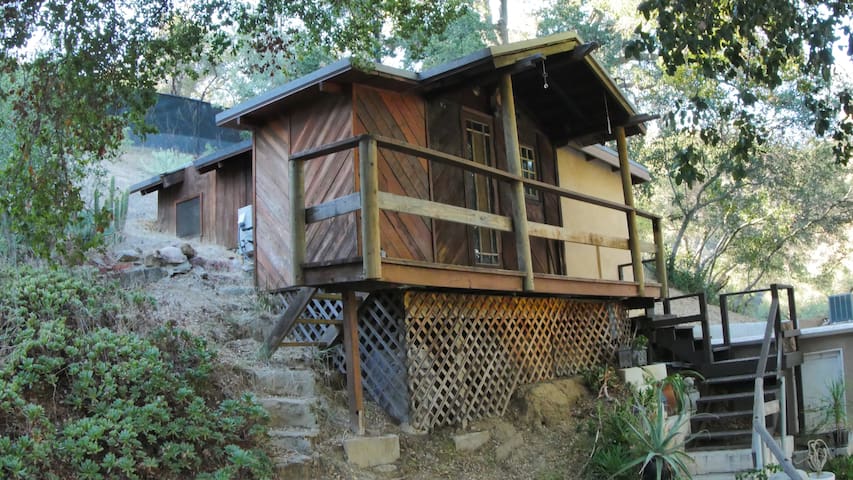 Freestanding tiny house in town, on the creek. Croaking frogs, hooting owls, howling coyotes. Private fenced yard. Walking distance to hiking trails, shops, restaurants, coffee shop, yoga, library, bars. 240 sq ft additional 240 sq ft loft. Goats, chickens, and ducks. Please see my other listing on the same property but more space!!
Detached Creekside Topanga Cabin with fenced yard. Spend a few days in this great little rustic cabin while enjoying Hi-Speed FIOS Internet. Great Get-A-Way for a couple or a Writer/Artist who needs some time alone. Walk to the Shops - So Close - Yet So Far - Trails and Beach within 5 minutes - upstairs Sleeping Loft accessible by built in wood ladder. 240 square feet downstairs and the same upstairs. Although upstairs ceiling is lofted and 6 feet only in the center of the room. There is a mini farm on site with a chickens, crowing rooster, quacking ducks, and dairy goats. Farm fresh eggs and goat milk and cheese is a possibility. There is a futon downstairs and a queen size bed upstairs. Well behaved pet is a possibility, please ask. I generally don't interact with guests unless they initiate. I like to give my guests privacy. The space is not fancy, so if you are looking for a pristine hotel like environment, or are a high maintenance city slicker, this may not be the place for you. We are surrounded by nature and all that entails. You may be greeted by a tree frog, coyote, bobcat, woodpecker, lizard, snake or spiders. There are 2 dogs on the property as well as my 2 wild children. Topanga is full of micro climates. We are in the cooler area which is wonderful in the summer and a little chillier in the winter. We now have a portable air conditioner in the unit for those unpredictable 2 weeks a year it is needed. There is also a very efficient heater. The property is centrally located and easily accessible. There are no street lights in Topanga, and the roads in and out of the canyon are curvy and dark, so keep that in mind if arriving late. We are walking distance to most restaurants, coffee shops, yoga, library, and vintage shops. There are no sidewalks however and traffic moves fast. Update: We had tremendous rain and now the creek is flowing beautifully!
Nature! Trees and creek but restaurants and shops accessible. Walk to the most romantic restaurant in Los Angeles "Inn of the Seventh Ray". Or enjoy mexican food and a full bar at "Abuelitas Mexican Restaurant". For a romantic Italian Experience or delivery try "Rocco's Pizza". Lastly, if gourmet faire is your thing try Topanga's newest restaurant, "Canyon Bistro". Coffee and a croissant? "Waterlily Cafe" it is. If you are in the mood for vintage shopping we are very near "Hidden Treasures", and "Hillbilly Hip". There is also a library, yoga studio and dance studio. All of these are walking distance from the cabin. 4 miles to the beach!
Lovely cabin in a great location in Topanga Canyon. Accurate listing and a friendly and unobtrusive host. Easy access to Malibu's beaches and to the canyons and state parks inland. Cute and friendly goats, chickens, and ducks just next door. Great value.
Jesse P.
2016-05-18T00:00:00Z
Jennifer's cabin is a little haven tucked in Topanga Canyon, easy walking distance to great little stores, near the state park and a short drive down to PCH. The place was spick and span with wonderful little touches to make one relax - and a French press coffee maker! She was wonderfully accommodating and let me know she was around to help if needed while giving complete privacy. Thanks Jennifer!
Beth
2015-12-30T00:00:00Z
Wow! What a cool place! Its a secluded cabin that's right off the main drag through Topanga. The ladder to the bed just adds to the coolness of this place. Being like 4 mins from Malibu is a selling point on its own. The only time I ever heard Jennifer say the word no was when I asked her if she ever says the word no? I really hated to leave. Thanks Miss Jennifer !!
Kip
2016-02-21T00:00:00Z
The pictures and description were true the listing and the property was inviting. However, it wasn't necessarily my style. The spiders and bugs throughout the property became quite annoying, as well as the emergency water repair that left us with no water for roughly 5+ hours. Communication with the host was also spotty. I will not be staying there again, but I do know some friends that wouldn't mind.
Timothy
2015-07-11T00:00:00Z
My two little boys (8&4) and I had a fantastic adventure at the little 'Farmhouse Cottage', as they liked to call it! Upon arrival we explored our cozy yet clean new surroundings and noticed the fridge stocked with fresh goat's milk, cheese and eggs. My children were thrilled to induldge in such special homegrown gifts! We had made arrangements to have a lesson with Jennifer to milk the goats. My 8yr.old was enthralled with the process and wanted to continue milking well after the time had passed. Jennifer was patient and very open to allowing him to try and create his own 'technique'. My 4 yr. old attempted to milk but was more interested in the little hand-raised goat, Pandora, that took affection to him. This was a perfect rugged little piece of heaven for myself and children to escape the bustling concrete jungle we live in and we hope to return soon! I highly recommend this Farmhouse Cottage to any-one (or small family) looking to be closer to nature, meet amazing people, enjoy calm surroundings, pet loving farm animals and embrace life in a little dust. Jennifer and her family are a delight and I applaud them for creating such a wonderful space for myself and family to enjoy!
Kellee
2015-09-05T00:00:00Z
Best Airbnb experience I've had. Jennifer is talented and clearly passionate about creating a memorable and comfortable experience for her guests. She pays attention to all necessities that most hosts overlook: fresh coffee (fully stocked quality whole beans, grinder, french press), the ability to cook real food (oil/vinegar, salt/pepper, knives/cutting board, etc), beautiful handmade ceramics, iPhone stereo speaker, chilled spring water, quality organic hair & skin care, air conditioning, the list goes on....She checks on you and provides anything you need right away. It's really nice to have someone engaged in hospitality to this level. The fresh goat milk and eggs off the farm really make the experience - I'm a health nut and love to cook having grown up on a farm, so I appreciated the ability to cook with quality ingredients. In addition, you get a fully fenced private yard - quite the best thing to wake up to. Thanks Jennifer, I'll be back.
Jasmine
2015-09-28T00:00:00Z
A wonderful place, so quiet and romantic .
Romuald
2016-11-13T00:00:00Z
Everything was absolutely lovely, from the fresh eggs and goat cheese, to the comfortable beds!
Rebecca
2016-10-09T00:00:00Z
Type de logement
Logement entier
---
Type de propriété
Cabane
---
Capacité d'accueil
4
---
Chambres
Topanga Canyon, Californie, États-Unis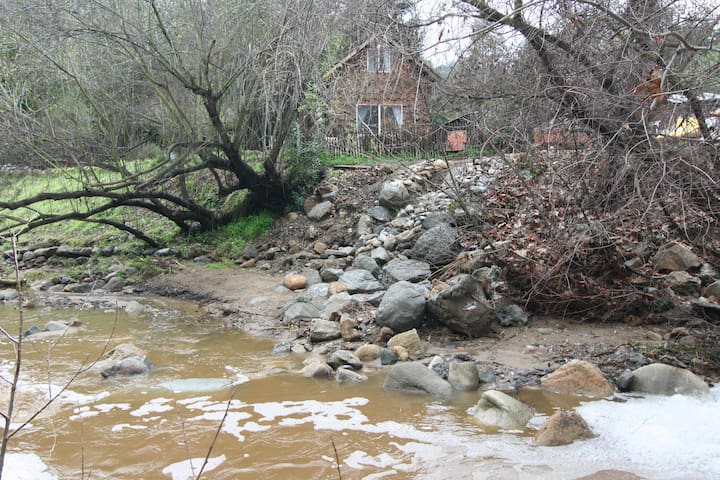 style européen Cozy et délicieux détaché Casita (petite maison en espagnol) avec lit et douche en taille réelle. Topanga se sent comme vous êtes miles de distance, mais une partie minutes. A proximité des sentiers, des plages et des établissements vinicoles. Coucher de soleil, étoiles et abondent calme.
La Casita signifie petite maison en espagnol. détaché chambre et salle de bain chalet de couchage confortable et agréable style européen dans les montagnes de Old Topanga. cuisson Limited. S'il vous plaît lire Description complète. Une vue imprenable, des sentiers de randonnée à proximité et aux plages, parcs, Malibu, Santa Monica et Calabasas. Un grand lit, parfait pour spooning les matins froids, est faite avec des draps 100% coton égyptien et des oreillers en duvet, idéal pour la détente. Si vous êtes plus de taille en longueur ou la largeur, vous serez plus à l'aise à venir en solo :) mélange éclectique de vintage 'trouve' encore wifi & TV HD sont inclus. Profitez d'un bain dans le bain à remous après la plage. Il y a environ 21 étapes à votre jardin privé et extérieur coin salon avec foyer. Enveloppez-vous dans des couvertures de style serape à l'étoile regard en face du feu. Plusieurs hanche et café kitsch boutiques pour votre infusion et le petit déjeuner le matin sont où vous trouverez les «locaux. Ou brasser votre propre et siroter sur le pont supérieur en regardant le soleil illuminer les formations rocheuses. Je vais vous aider à vous orienter vers des restaurants et des points d'intérêt. Nous aimons Topanga et ne serait pas vivre ailleurs. Laissez-nous vous tourner à son unicité. La blanchisserie est partagée avec la maison principale. Ne pas fumer ou d'animaux, je suis désolé. Sauf si vous êtes avec Sprint ou Verizon pas de service cellulaire. Mais nous avons wifi. CONSEILS DES CLIENTS POUR LA CASITA, TOPANGA Merci d'avoir réservé avec nous. Nous nous réjouissons de votre visite bientôt. Je vous suggère de lire notre site n'êtes Air BnB. Il permettra d'améliorer votre visite à Topanga. Consultez également le (URL HIDDEN) Ils ont 27 choses à faire à Topanga sur l'amusement de l'autoroute 27. Il à vous familiariser avec la région. Topanga est une petite ville de montagne. Ce qui le rend unique et pourquoi les gens l'aiment parce qu'il est à quelques minutes de LA, mais se sent mondes en dehors d'elle. Il y a des trucs de restaurant, des réseaux de sentiers, etc. ** LIVRE UN MASSAGE? Nous avons réduit les prix avec les thérapeutes locaux si vous voulez un massage. Laissez nous savoir* Nous programmons notre ménage autour de votre heure d'arrivée et de départ. Veuillez nous faire savoir. CALIFORNIE EST DANS UN SÉCHERESSE. S'IL VOUS PLAÎT LIMITER VOTRE DOUCHE À 5 MINUTES. PROFITEZ DE LA HOT TUB POUR PLUS prélassant DANS L'EAU. 1) NAVIGATION SYSTEM: Si vous allez utiliser votre nav sur votre téléphone cellulaire, vous devez d'abord charger les directions avant de vous rendre hors de portée. Ne pas toucher l'écran pour répondre à un appel, texte ou tout simplement par votre doigt glisse. Vous avez environ 10 minutes de l'extérieur du territoire de la plage, vous serez conduisez. Il devient délicat dans la nuit. Ainsi, le nav est bon d'avoir. 2) PARKING: Votre espace de stationnement est par le woodpile au-delà de notre maison. S'il vous plaît essayer de tirer dans la rue, autant que possible. S'il vous plaît ne pas stationner dans l'allée. Elle est réservée à nos voitures. 3) LIGHT CUISSON: Il y a un micro-ondes, grill George Foreman, cafetière Keurig, Réfrigérateur pour la lumière et facile la préparation des aliments. Si vous voulez un barbecue ou besoin d'espace pour impliquer davantage la préparation des aliments, laissez-moi savoir afin que nous puissions essayer de répondre à vos besoins. Apportez vos assiettes et ustensiles sales à la porte d'entrée et nous allons le remplacer par des propres. S'IL VOUS PLAÎT NO MANGER ou BOIRE LE VIN ROUGE EN BED. Nous pouvons apporter des tables pliantes, si le temps est bon de profiter de la terrasse de vie en plein air. Ou manger sur l'un des ponts pour des vues magnifiques. Nous avons des couvertures pour vous d'obtenir snuggly si elle est froid dehors. 4) BED: Le grand lit est parfait pour un ou pour ceux qui aiment faire des câlins. Il est poussé contre le mur alors attendez de frotter votre corps sur votre partenaire pour quitter. 5) WIFI: La connexion est sur la table à votre chevet. Il est capricieux, donc si est important d'avoir accès, laissez-nous savoir afin que nous puissions vous montrer comment réinitialiser le routeur si vous avez besoin et nous ne sommes pas à la maison. Login # K8YLC xt, Passcode (PHONE NUMBER HIDDEN). Il y a un Wifi ouvert sur le pont supérieur nommé CurtisC. Si le mot de passe ci-dessus échoue ou il se désactive de façon inattendue et vous avez besoin de se connecter dès que possible. 6) Decks: Vous êtes invités à utiliser les ponts supérieurs et inférieurs pour profiter de la vue. 7) HOT TUB: Faites-nous savoir si vous allez utiliser le bain à remous. Nous passons la chaleur éteint pour économiser du carburant. Le bain à remous est situé sur l'entrée pont supérieur dans les escaliers de votre jardin et à environ 30 pieds de notre porte. Il est une baignoire, pas de jets. Vous apprécierez le calme, les étoiles et le noir. 8) LIGHTS: Nous demandons à toutes les lumières extérieures sont éteintes pour aider garder Skies Dark Topanga. Il y a une lampe de poche à l'intérieur du chalet si vous voulez vous aventurer au bain à remous dans la nuit. Ou vous pouvez utiliser votre téléphone intelligent aussi. Nous avons des minuteries sur les lumières extérieures. Ils éteignent environ 11 h. 9) AC est derrière l'image florale 10) COUVERTURES & fournitures dans un panier sous le lit 11) FIRE PIT: Est dans votre salon en plein air. Il est pour le spectacle et ne met pas beaucoup de chaleur. 12) Café, thé et FRIG & GEORGE: Il y a un Keurig, micro-ondes et grill George Foreman à l'intérieur et le frigo est à l'extérieur. Il est de la poudre crémier dans le chalet. Vous pouvez également utiliser le grand barbecue sur le pont supérieur. Laissez-nous savoir comment nous pouvons vous aider. Le Keurig peut également fournir de l'eau chaude pour les sachets de thé. Il est non seulement pour le café. Si vous avez besoin d'aide-nous. 13) CHECKOUT: 12 heures est l'heure de départ. Si vous partez plus tôt, nous savons qu'il est un invité d'arriver à 15 heures 14) TOUCHES: Sont dans la poignée de porte de la maison. 15) LIEU du chalet: Si personne n'est la maison, à partir de la porte d'entrée, marcher vers la gauche par le bain à remous, vous verrez des escaliers aller au jardin. Le chalet est à travers le jardin, 16) PLATS & COUVERTS: Regardez dans les tiroirs ou les armoires, ils sont là. Quand ils sont sales, porter à notre porte et nous allons les échanger contre des propres et de laisser ceux propres au même endroit pour vous de ramasser. 17) SELF CHECK-IN: Plusieurs fois, nous ne sommes pas à la maison quand les invités arrivent. S'il n'y a pas de voitures dans l'allée, alors les chances sont que nous ne sommes pas là. Donc, faites une gauche à la porte d'entrée, Aller au bain à remous et tournez à droite en bas des escaliers. Vous verrez le jardin et chalet. Les clés seront dans la porte knob.We se réunira plus tard. 18) SECHE BLOW ou FER: Laissez-nous savoir si vous avez besoin d'un sèche-cheveux ou du fer ou autre chose. 19) SALLE DE BAINS: Nous avons appris au sujet de rester dans les petits endroits en Chine et régions d'Europe. La douche et les toilettes sont dans une pièce sans séparation, tout comme une maison mobile ou un véhicule récréatif. Vous devrez retirer votre papier de toilette avant de vous doucher et placer les serviettes sur la chaise à l'extérieur de la salle de bain porte. La table en teck aime l'eau de manière à laisser où il est et placez vos articles de toilette sur elle. 20) RANDONNEES, RESTAURANTS et choses à faire: S'il vous plaît demander le scoop. Rien de semblable pour la sensation de Topanga des initiés. Nous aimons tourner d'autres à la petite ville folklorique de Topanga qui est une zone de loisirs de Los Angeles. Merci et profitez
Winding à travers les rues de montagne vous élever au-dessus du fond du canyon à une arête supérieure .Les 500 derniers pieds dans notre maison est raide et sinueuse. Le stationnement est presque toujours disponible à moins que quelqu'un est d'avoir un parti. Recherchez le tas de bois il y a habituellement un parking à côté de lui. Les vues donnent sur une énorme formation rocheuse appelée Big Rock. Les gens sont sympathiques mais gardent pour eux. Respect et embrasser l'obscurité. Topanga est l'un des seuls endroits à Los Angeles où l'on peut voir les étoiles. Alors éteignez vos lumières et aider à maintenir la pollution lumineuse sur le canyon.
Topanga canyon est un endroit magnifique calme et plein de chemins tortueux. Nos hôtes nous ont accueilli avec gentillesse et délicatesse. Nous avons passe 2 jours au calme. Leur casita est un endroit délicieux que nous recommandons
Sylvie
2014-08-11T00:00:00Z
Cette petite maison est un endroit magique et tellement calme. Nos hôtes ont été très accueillants et nous avons passe un délicieux moment en leur compagnie. Leur maison est située dans un endroit magnifique. C'était un grand plaisir.
Sylvie
2014-08-12T00:00:00Z
Chryssa was a very friendly and accommodating host. She made us feel right at home almost immediately and was happy to provide us with clean towels and sheets, as well as a knife and cutting board so we could make sandwiches. The casita was small but had everything we needed, like a bathroom, shower, tv, bedside table, as well as a particularly comfy bed. There was a mini fridge right outside the casita where we could keep our drinks and food cold and safe from ants. Chryssa welcomed us to use either level of her deck which had a phenomenal view of the sunset behind the mountains. The jacuzzi was warm and ready to use when we got there and Chryssa explained everything we needed to know to operate it. In the morning, there was coffee and hot water for tea ready for us in the main house's kitchen. Overall a very pleasant stay, lots of privacy and a great price. Would recommend, especially to any couples.
Udo
2014-09-06T00:00:00Z
I loved my visit to Topanga. The casita is just as described. While it is simply a bedroom and a bathroom, it truly does feel like a little home. I arrived after dark and the bed was so clean and inviting, I slept great and woke to the chirping birds. The charming deck is the perfect spot to have a cup of tea or coffee - the view is fantastic. The description is completely accurate, it only leaves out the beauty and serenity that can't be described.
Mary
2016-05-25T00:00:00Z
I had a fantastic time at the Casita, it was in a beautiful, quiet location up in the mountains. I was welcomed to the property and given maps of the area along with plenty of tea and coffee rations! There is complete privacy and a peaceful garden area with great views. The hosts were welcoming and unobtrusive but available if needed. Thanks I had a great time!
David
2016-05-14T00:00:00Z
I have such mixed feelings about my stay. They definitely eloquently word the description to be both honest, yet tantalizing in a way that I maybe didn't read it as closely as I should of. Topanga Canyon will without a doubt take your breath away but if staying here more than just a couple days, the drive to civilization to grab breakfast or a coffee is a bit tiring. You really have to be prepared to leave for the entire day because trips back and forth aren't exactly practical. Parking is a bit daunting and definitely not for the faint of heart. I would say it's perfect if you plan on staying on the property, but with how small the room is, this isn't exactly practical either. The bed takes up almost the whole space to the point where I could not move if I had my suitcase open on the floor. The bathroom was basically a toilet inside of a shower, which has its charm, but when traveling with a significant other, keep in mind that nothing is left to the imagination. all in all, Chryssa and Curtis were wonderful hosts. I acknowledge that what I didn't enjoy about the space is entirely my fault for not reading the description more closely. I would advise all future guests to read closely and take thre description very literally.
Aaron
2015-12-28T00:00:00Z
La Casita is secluded near the top of a hill in the heart of Topanga. It was fun to drive up to it, and relaxing to listen to all the night's sounds in the wee, cozy space. As others have noted, I wouldn't want to stay here with anyone I wasn't in an intimate relationship with - on the flip side, it is cozy, quiet, and romantic. The bed is quite soft and squishy, and has both a tall foot and headboard, so the wall-side sleeper crawls over the other if mid-night errands are necessary. Chryssa was busy while we visited, but so were we, and everything was perfect. We had fun scurrying up to the hot tub at sunset. This Topanga option is a great value!
Sheryl
2016-02-09T00:00:00Z
Chryssa and Curtis are fantastic hosts! After having a bit of trouble with communication via airbnb, we finally arrived and were greeted by Curtis and soon after, Chryssa. They are both lovely people and made our first Airbnb experience a great one. It was great talking to them and seeing how much pride they have in their community and town. They ended up recommending a few great local restaurants and we couldn't have been happier. The casita was small and incredibly cozy, with a great view. I'm looking forward to going back and actually being able to enjoy all that they have to offer, we only had a night before heading back into the city for work.
Marlon
2014-11-24T00:00:00Z
Type de logement
Logement entier
---
Type de propriété
Cabane
---
Capacité d'accueil
2
---
Chambres
Topanga, Californie, États-Unis
Niché sous le chêne dans la belle de Santa Monica et à seulement 4 miles de l'océan, ce charme d'un lieu d'escapade offre une cuisine complète, douche / salle de bain, coin salon et un centre informatique personnalisé. patio Barbecue avec salle à manger région et feu de camp
Everything is as described, a lovely little cabin nestled amongst trees just off the main road through Topanga. We had dinner at the Topanga Fish market, which is only steps away and it was an incredibly charming experience. Jayne is lovely and has made a lot of effort to ensure guests are comfortable, we appreciate it!
Scott
2014-10-13T00:00:00Z
I am a frequent and often long-term guest at the cabin and I absolutely love it. To give you some background, I am from New York City and while I'm definitely well-traveled, I'm not used to settling down in the woods (which Topanga is a bit, if not completely). Well, if you're anything like me, don't let that deter you. Yes, you might see a bug here and there, yes, the steps to the bed are a touch steep if you're not used to such things, but the magical setting really makes up for anything that could surprise the city mouse in you. The feeling here is private and serene and Jayne is a wonderful host. I have dreams about hanging out in the outdoor space here!
Davie
2014-09-29T00:00:00Z
It was exactly what we needed! A vacay away from LA. I used to live in the canyon and know first hand what a special place it is. Jane did a fabulous job with the cabin, her work in interior design shines through! The oak and outdoor bbq was so peaceful and perfect. Bed cozy, towels plush, kitchen well equipped, all clean and inspired plus she allowed me to have my small dog with us which was so great. The beach is just a hop away along with the amazing canyon bistro and inn or the 7th ray all of which we visited - not to mention hidden treasures for great vintage! Can't wait to go back and stay again:)
Aydra
2015-07-06T00:00:00Z
Perfect place lost in the beautiful Topanga nature. The host was really nice and helpful!
Olivier
2015-10-06T00:00:00Z
This is lovely, CLEAN space decorated like a luxury hotel suite while still retaining that Topanga country charm. Huge bathroom with a great tub you won't want to leave, comfy bed, tons of storage space, and I really enjoyed the outdoor table and chairs for eating, reading or just relaxing. Laundry right there. As always Jayne is the most easy going and helpful host so don't worry about sharing her (huge!) kitchen :) Highly recommended.
Davie
2014-03-06T00:00:00Z
Jayne's lovely cabin is an exquisite, retreat-like experience, private, impeccable, comfortable and serene! It's tranquility and proximity to urban Los Angeles or immense assets. Jayne, herself, is the most hospitable and sensitive host, with extraordinary talent for design and landscape.
John
2014-06-26T00:00:00Z
We loved our stay and would recommend to anyone. Cabin was clean, private and exactly as advertised. Jayne was a great host.
Michael
2015-04-03T00:00:00Z
Jayne was very sweet and met us at the house for a quick tour. She asked whether we wanted to see her around or not, which I thought was great. As a family, we like our privacy and she accommodated. The cabin itself is functional and cute. We brought our 10mo baby, and that was an adventure in itself!
Kristie
2016-07-10T00:00:00Z
Type de logement
Logement entier
---
Type de propriété
Cabane
---
Capacité d'accueil
2
---
Chambres
Topanga, Californie, États-Unis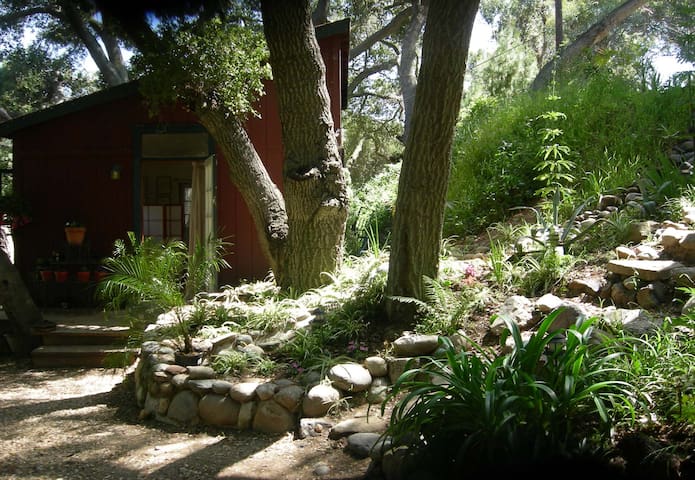 Mignon Cottage Topanga À côté de State Park, la randonnée et des pistes cyclables. 5 min à pied de Musch Camp. A proximité des restaurants et des magasins.
Si vous aimez la randonnée ou le vélo c'est un espace de rêve pour vous! chalet troène droit dans le parc d'état Topanga! Tant de beauté et de la vie sauvage, apportez votre appareil photo :-)
Type de logement
Logement entier
---
Type de propriété
Cabane
---
Capacité d'accueil
4
---
Chambres
Topanga, Californie, États-Unis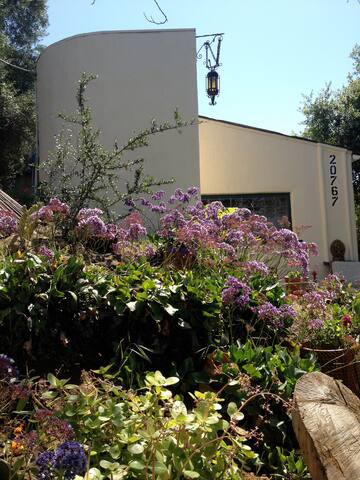 Private studio located in beautiful Topanga Canyon. 10 min from Topanga State Beach and across the street from Topanga State Park.
Cozy and clean studio in the heart of beautiful Topanga Canyon. Kitchenette with small fridge/freezer, portable double burner, toaster oven, microwave, blender etc. Not suitable if you're planning on cooking a "Thanksgiving style" dinner, but good enough for lighter cooking. Bathroom w/shower, sink and toilet. The bathroom is small (boat style?), but you can definitely get the job done. If you're someone that likes to take hour-long, cozy showers with your partner, then perhaps this is not the place for you. If you're just looking to clean up after a day of hiking - then you'll be just fine! Comfortable full size bed w/memory foam topper, cable TV, high speed internet, AC/Heat and private fenced in yard (ideal for pet owners). Completely separate from the main house with your own private entrance.
Topanga est connu comme une enclave bohème attirant des artistes, des musiciens, des cinéastes, des amoureux de la nature, etc.
This is a true escape. Quiet. Peaceful. Remote but not too from something quaint to do like boutique shopping or a small corner cafe. We were never bothered by anyone and the dogs were well behaved ;). Highly recommend this cottage for a restful recovery for any one or couple. Loved it!
Tessa
2017-02-13T00:00:00Z
The cottage is lovely and great that my dog was very safe and welcome. I attended an event at the Topanga Community Center and it was so close by. The parking is tucked right off the road and there are some rustic stairs to navigate in order to reach the cottage. I was happy with my visit and Sophie was in touch to offer any needed support. Thanks !
Lisa
2015-11-22T00:00:00Z
I LOVED, LOVED, LOVED staying in Sophie's studio. She was communicative and accommodating in every way. Topanga Canyon is SO very lovely and this studio is located in such a beautiful setting. Quiet and well equipped with all you need to be comfortable.
Julie
2016-04-15T00:00:00Z
Sophie was very accommodating and the cottage was clean and convenient. I would stay again
Peter
2016-01-26T00:00:00Z
We stayed at Sophie's place for three nights. The cottage is spacious enough for two people. It was very lovely for Sophie to provide coffee, breakfast cereal and other amenities for us to use. Our compact car was parked on the street, the property is easy to find using GPS. Topanga State Park walking track is near by, which is perfect for a stroll.
danijela
2015-11-18T00:00:00Z
We spent the most wonderful week at Sofie's studio in Topanga Park. This was certainly the best Airbnb experience we have had. The studio is comfortable with both heat and AC as well as extra blankets, wifi and kitchenette. The area is just stunning with amazing view of the mountains and just a short walk to the park. It was great to have a quiet getaway so close to Santa Monica and the rest of LA. We would highly recommend this studio and intend to come back.
Kenneth
2016-04-05T00:00:00Z
Sophie did make me feel welcome. And was very good about communicating any small snags in the plans.
Kally
2015-07-04T00:00:00Z
My host Sophie made me feel very welcome and the cabin was adorable and clean, very private, accurate to the description . A little issue with the electricity came up, totally unplanned, (the town was fixing something) Sophie immediately alerted me and offered me a refund for the night as the electricity was not going to be working during the day. She was extremely generous and accommodating and contacted me throughout the day when all was back and running. She could not have been more caring and a better host. I would recommend the cabin to anyone looking for a clean space that is very comfortable and in a great location in Topanga.
heidi
2015-08-19T00:00:00Z
Type de logement
Logement entier
---
Type de propriété
Cabane
---
Capacité d'accueil
2
---
Chambres
Topanga, Californie, États-Unis
Niché dans Topanga (à quelques minutes seulement de la ville) se repose Chandler Farms, 500 sq ft cabine. Récemment rénové, l'habitacle est un mélange parfait de rustique et de luxe disposant d'une terrasse privée avec vue à couper le souffle et une promenade énorme dans la douche.
Niché dans Topanga (à quelques minutes seulement de la ville) se repose Chandler Farms, 500 sq ft cabine. Récemment rénové, l'habitacle est un mélange parfait de rustique et de luxe disposant d'une terrasse privée avec un hamac face à une vue à couper le souffle et une promenade énorme dans la douche. Une cabine d'hôtes récemment rénovée avec cour privée et une grande terrasse privée avec vue sur le canyon. Une superbe 2 personnes salle de bains avec lavabo double et une douche de style spa avec un banc et puits de lumière. plafonds en bois dur avec des touches rustiques premières en fait un espace pourtant confortable unique. À seulement 2 minutes de Topanga rustique et à 10 minutes des plages de Santa Monica et Malibu, nous sommes juste en face du parc d'état Topanga, la plus grande étendue de terre du parc à Los Angeles. Point de départ est à distance de marche avec accès à des miles de sentiers de difficulté variable. Red Rock Canyon est également 5 minutes en voiture. Sur la crête de la vallée se trouve à 12 minutes en voiture avec accès à toutes les commodités commerciaux modernes et restaurants. Son vraiment vous. Nous sommes un couple super froid avec des années d'expérience airbnb que les deux hôtes et les invités. Votre espace est votre propre espace privé qui est relié à la maison principale par un court sentier. Nous sommes toujours disponibles pour vous donner des conseils sur la région ou tout simplement se détendre et récits de voyage du commerce. Topanga est un endroit spécial qui a été occupée par les Amérindiens depuis des centaines d'années. Ils ont choisi cette région pour ses végétations luxuriantes, des vents calmes et le climat sec et tempéré. L'humidité est le canyon chaque matin et soir pour nourrir la végétation. Il est vraiment un paradis de montagne au proximité de tous LA a à offrir. Les gens sont un mélange décontracté des musiciens, des artistes et des cinéastes de partout dans le monde. Vous pouvez littéralement se perdre dans le dédale des routes et des sentiers sinueux qui donnent la vue à l'architecture éclectique et paysages naturels. Tous les jours le temps est presque parfait - vous devez vous-même l'expérience pour comprendre pleinement. Une voiture de location est un must à Los Angeles. Vous pouvez utiliser UBER pour aller et de la ville, mais il est pas aussi pratique que d'avoir vos propres roues. Un taxi peut être pris des aéroports LAX ou Burbank à la cabine. VTT et la randonnée sont d'excellents moyens pour explorer la région. Plusieurs sentiers proviennent près de notre maison et peuvent être prises tout le long de la côte. Vélos Topanga Creek est juste en bas de la rue et est l'un des plus cool des magasins de vélo sur la côte ouest. Ils proposent des offres sur les locations de vélo de montagne et peut vous donner des conseils sur ce que vous les sentiers devraient explorer pour votre niveau de compétence. La cabine est une maison d'hôtes sur notre propriété avec son propre espace de stationnement. Nous avons 2 voies d'accès si le stationnement est jamais un problème. La cabine dispose d'une cuisine avec un réfrigérateur, 2 gamme de brûleurs et un micro-ondes. La terrasse privée dispose d'une table de pique-nique, un hamac, deux chaises longues et un petit propane Weber grill.
Topanga est un endroit spécial qui a été occupée par les Amérindiens depuis des centaines d'années. Ils ont choisi cette région pour ses végétations luxuriantes, des vents calmes et le climat sec et tempéré. L'humidité est le canyon chaque matin et soir pour nourrir la végétation. Il est vraiment un paradis de montagne au proximité de tous LA a à offrir. Les gens sont un mélange décontracté des musiciens, des artistes et des cinéastes de partout dans le monde. Vous pouvez littéralement se perdre dans le dédale des routes et des sentiers sinueux qui donnent la vue à l'architecture éclectique et paysages naturels .. Tous les jours le temps est presque parfait .. Vous devez faire l'expérience pour comprendre.
I booked the property for my mom and sisters for a family wedding. Chad was a wonderful host.
Suzi
2016-04-23T00:00:00Z
We loved the cabin. The view from balcony was beautiful, we appreciated the decor and comfy bed. Staying in Topanga made a great change to our usual LA experience. We enjoyed coffee with locals down in the town and some wonderful hikes up the road from the cabin. Chad was very responsive and happy to offer guidance.
Polly
2016-10-03T00:00:00Z
I put someone from work up here and they loved it.
K
2016-11-01T00:00:00Z
Chad was easy to reach and very helpful. His cabin is just as pictured and described (great!), it was thoughtfully equipped and the views are amazing. I hope to be back the next time I'm working in LA.. Thanks for making such a great available for curious travelers!
tony
2016-05-12T00:00:00Z
My sister and I spent a weekend at Chad's guest cabin. We loved it so much we didn't want to leave. It's such a special place, from its spectacular views to its excellent location near Topanga State Park and Malibu. We loved the sense of tranquility that this place gave us. Chad and Lara were great hosts - so kind and chill. Even though they were not around it was very easy to get in touch with them during our stay.
Myra
2016-08-01T00:00:00Z
This cabin was exactly what we needed during our trip to LA. Chad and Lara made sure that we had everything we needed. The location was perfect and very private. You are very close to town and all the great Topanga restaurants. We really enjoyed spending our mornings out on the deck and laying on the hammock. We would definitely recommend this place to anyone visiting LA (all surrounding areas were easy to get to). This places is definitely a gem. THANK YOU CHAD and LARA!
Courtney
2016-11-25T00:00:00Z
Chad's place was beautiful and exactly like pictures. The canyon view from the balcony was beautiful. The apartment was decorated to perfection. Wonderful taste in decor, and it added a lot to the trip. Topanga is an interesting, quiet city that doesn't feel like LA at all! Chads place was so quiet and serene. The power went out a few times, and Chad fixed it promptly. My boyfriend and I had a wonderful experience at chads, especially waking up, having coffee on the hammock!
Evelyn
2016-01-12T00:00:00Z
This was a very nice, quiet place for a retreat. The hosts were extremely gracious and all of the products were organic, which I very much appreciated. A truly stunning view from the deck and just a short walk to gorgeous hikes in Topanga. Very clean. Very well kept. If you are on the fence, go for it!
Andrea
2016-01-23T00:00:00Z
Type de logement
Logement entier
---
Type de propriété
Cabane
---
Capacité d'accueil
2
---
Chambres
Topanga, Californie, États-Unis
Notre maison d'hôtes / cabine était à l'origine une grange de foin et de sellerie pour notre les chevaux. Il a été transformé en un très privé, 450sq. espace pour les pieds avec une cuisine et salle de bain séparée. La plate-forme face à l'océan qui envoie jusqu'à refroidissement, brise douce nuit et jour.
Nous appelons encore l'espace "The Barn", et il a prouvé être un espace inspirant, très créative pour les écrivains et musiciens. Il est situé loin de la maison et la piscine principale zone et possède sa propre aire de stationnement. Nous sommes certainement au milieu des montagnes de Santa Monica avec une abondance de la faune et des oiseaux. Nos 10 acres ranch est à la fin d'un chemin privé (très peu de trafic) et donne à Topanga State Park, plus il est à côté de nombreuses possibilités de randonnées étonnantes. vues Jaw-dropping à l'océan niché au milieu des montagnes. Ces photos ne peuvent pas capturer les environs spectaculaires. La cuisine est équipée d'un 2-brûleur plaque de cuisson, un petit réfrigérateur, un grille-pain sur, ustensiles de cuisine en acier inoxydable et tous les plats et les ustensiles une ou deux personnes ont besoin pour la cuisine simple. Il n'y a pas micro-ondes que nous visons à réduire l'exposition de tout le monde rayons inutiles (DME). La douche a la demande d'eau chaude et beaucoup de pression. Nous avons converti et plumbed un cheval auge galvanisé - c'est une beaut d'une douche. Les draps sont 100% coton, souvent bio et sont toujours séchés à l'air dans notre presque non-stop soleil pour un maximum de fraîcheur. Vos draps et serviettes seront être changé chaque semaine.
Il est sauvage avec beaucoup de terrains non aménagés tout autour. Toutes les propriétés sur le chemin privé sont un minimum de 10 acres, beaucoup avec des chevaux. Une route vers la maison est sur l'une des dernières routes de terre de la région. Il y a aussi une route nouvellement pavée qui est celui que nous envoyons directions. voisins aimables randonnée et monter par. Nous sommes tous conscients de notre environnement fragile et aller aux extrêmes pour le protéger.
Staying at "The Barn" in Topanga Canyon was one the most inspiring holidays I ever had. I've been to many countries and had been particurlarly in Los Angeles for eight times, but this was exceptional! First of all, this place gives you everything that Randi's text and the fotos promised: It's a place to cool down, to stay in a very quiet part in this huge and vibrant Los Angeles area. The house has two rooms with a lovely rustic flair and wooden floors and walls that are manufactured very artful. The porch overlooking the caynon was the most relaxing and creative place for me. You could meditate, write, take a sunbath or just enjoy the great sight which includes the pacific ocean and even the lights of the long beach bay. Inside there's everything you need for one or two persons, including a very good working Wifi. Considering other comments of an immenent danger from small animals or a slippery bathtub: neither this nor that encountered me - the bathtub manufactured of a horses trough was functional and a beautiful detail. During my 13-nights-long stay there was really not a single spider or s.th. in the room, I just once saw a little rabbit and a little gecko outside (not very much in a rural landscape;-) . And the "street" were the barn is located is a private way which is passed by only three or four cars - not per minute like in other so-called quiet parts of LA, but per whole day. There's a nice community that spreads from the village of Topanga to the mountains up here. Important for me because two of Randis closer neighbours helped me very much by making great efforts together to pull my car out from a stone I've hooked up. You can spend your days around the barn or join the fresh (and clean) pool at the other house on the property which is only 250 feet away. Always inspiring and helpful conversations with the hosts included. And if someone don't want to stay at the pool or at the barn - this place in Topanga is around 10 miles away from the beaches of Santa Monica or Malibu. I experienced the barn as a very relaxed retreat, but it was also a great starting point for visiting cultural places ("Villa Aurora" and the "Eames House" in Pacific Palisades nearby) and doing also an unforgettable surf lesson in malibu. Conclusion: A very good vacation spot with caring hosts, at a reasonable price and for many needs in a wide variety – relaxing, sightseeing and fun.
Rudi
2015-10-08T00:00:00Z
Randi's airbnb was a perfect cottage escape only a quick drive away from shops, the beach and great restaurants. The pool was beautifully situated at the top of a mountain with great views of the ocean. Jennifer and her husband greeted us and were terrific hosts throughout our entire stay (even saved us when uber failed). There are other guests on the 10 acres but you don't notice due to the amount of space and quiet surroundings. I would definitely stay at this place again when visiting Los Angeles in the future. As a note follow the directions they provide as the mountain roads can be confusing for both drivers and the GPS! I would also recommend following their advice to arrive before dark, there aren't any street lights and the windy roads take a little getting used to.
Jason
2015-10-15T00:00:00Z
What a lovely, peaceful place. On top of a mountain 20 minutes from Santa Monica. Hosts seemed very nice - only ran into them a couple times. "Rustic" is an accurate description, but the place was very comfortable. Wonderful sunshine and light in the morning through the early afternoon and lots of great lighting.
Gregry
2016-02-14T00:00:00Z
Wonderful place! Really special. Hope to be back very soon.
Annie
2016-02-21T00:00:00Z
The host canceled this reservation 29 days before arrival. This is an automated posting.
Daniela
2016-05-03T00:00:00Z
Randi was kind enough to confirm my accommodations last minute. While I understand I was the first guest at the barn, I would like to mention some issues to help future potential guests and Randi as a host. Firstly, DO NOT follow your GPS. Make sure to get directions from Mulholland unless you have a 4WD. The roads are remote and rustic as is the barn, which has many open exposures to elements. Expect spiders, insects, and lizards (startling buggers!) inside the barn. The bathtub/shower had 2 mins of hot water before cutting cold and then back to nuclear hot after another few minutes. The shower floor made of a recovered horse trough is not pitched correctly and slippery, so be careful not to fall as I did a few times. Not having a proper shower made the long stay difficult. Though Randi is kind, there is not really privacy one would expect in a rural setting. Her compound has multiple guests (trailers spread through property, etc.), and the barn sits right on the street and currently has no ability to be locked. I felt this was a serious security issue with the mountain folk lingering in Topanga. Although the ad touts Ocean View, there is no Ocean View even on a clear day. The view of the mountains is however gorgeous. The pool/Jacuzzi set up is a bit removed from the barn and were not clean enough for my use or taste, and the cabin space itself also was full of cobwebs and had not been cleaned in probably months. The sheets and towel provided were fresh, and the bed comfortable. The value of the price did not at all make up for the drawbacks experienced, which I pointed out to Randi during my stay on one of her (too many) check ins on me. I am sure, having been the first guest at the barn, these issues will be addressed.
Safa Ryan
2015-08-27T00:00:00Z
I absolutely LOVED my stay (2 months). Nothing compares to the experience of living in the mountains, detached from civilization, waking up to million dollar views right out your window! This one-of-a-kind unit is exactly as it's described. It's super rustic and the wood burning fireplace was one of my favorite amenities. The first couple days I enjoyed the beautiful pool, but the cold weather rolled in fast (Oct/Nov) so that was short lived. Plus, the hot tub is not an amenity offered with this listing, which would have been amazing. I got to meet Randi on my last day. She was super kind and loving - as was Jennifer who was also very accommodating during my stay. Thank you both for sharing this magical space with me!! If you're looking for a peaceful getaway, this place is absolutely amazing!
Jacob
2015-11-22T00:00:00Z
Randi and her place are both incredible. Rare gems. The space itself and the views that surround, extraordinary. Randi was a great communicator and my visit went beautifully.
shane
2016-03-25T00:00:00Z
Type de logement
Logement entier
---
Type de propriété
Cabane
---
Capacité d'accueil
2
---
Chambres
Topanga, Californie, États-Unis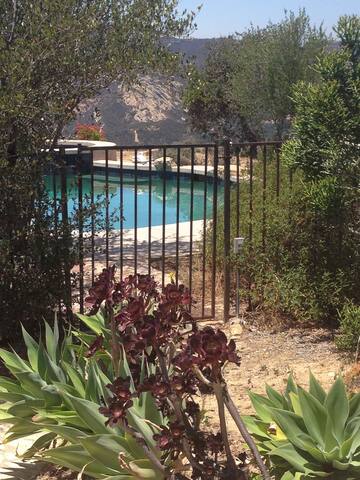 Located in the heart of Topanga, we welcome you to our small, private & secluded guest house known as Cabbott's Cabin. Perched on a hillside with breathtaking views of the surrounding Santa Monica Mountains/Topanga State Park, Cabbott's Cabin is truly a one of a kind experience. Hike to Eagle Rock, enjoy the sounds of nature morning, noon, and night, or catch up on some R&R on one of your two private decks. Only 15 min to the beach, 20 min to Santa Monica, or 35 min to Hollywood/Downtown.
Cabbott's Cabin is our little (350 sqft), fully self-contained guest house. Recently remodeled and updated, you will find unparalleled views of the Santa Monica mountains, as well as totally privacy. Cabbott's Cabin offers a kitchen with range, oven, coffee maker (including organic ground coffee), Clearly Filtered water pitcher, tea kettle (with tea), and basic cooking oils and cookery, bedroom with queen bed and plenty of storage, two private decks, and detached bathroom with shower. The Cabin is cleaned only with completely natural cleaners (no chemicals or fake scents) and we only allow all natural soaps and shampoos in the Cabin (provided by us). Laundry (washer and dryer) is also available on site for longer stays. *We do have a fold out sofa bed and will consider up to 4 guests depending upon the circumstances. Please inquire via message* Considerations: Being perched on a hillside provides for spectacular views, however, it does make our property somewhat strenuous to walk around. Along with a steep driveway, there are 26 stairs taking you down to the cabin, which is two levels itself. Please take your physical shape into account when considering your stay at Cabbott's Cabin.
Topanga is located in the center of the Santa Monica Mountains between Woodland Hills and the Pacific Ocean. Topanga has several restaurants and cafes, two of the best (Topanga Table & Topanga Living Cafe) being minutes away! Topanga also has a lovely farmers market every Friday where you can find locally grown organic produce, naturally raised meats/fish, raw milk, and some tasty food stalls (try the curry from Jah Lion)! There are several restaurants and grocery stores located directly down the hill in Woodland Hills (10 minute drive), including a Whole Foods, Sprouts, and Trader Joe's. Headed down toward the beach you will hit PCH. Head north on PCH to the Malibu coastline and enjoy beautiful beaches, great surf, and top notch restaurants. Head south on PCH to Santa Monica where there is no shortage of activities, restaurants, bars, nightlife, and shops.
What you should know: the cabin is wonderful, but it definitely isn't handicapped friendly. There are a number of stairs, so if you have limited mobility, this isn't the place for you. (However, if you have normal mobility, book away!) What we loved: the fully stocked kitchen. If you want to spend your vacation cooking and eating out on one of the back patios (gorgeous view) while listening to the neighbor's peacocks sound off (in the distance-- it's not going to trouble your sleep), this is definitely where you want to be. The bed was super comfy and the interior decortion made us feel far more like we were staying in a botique hotel than a rustic cabin.
Allison
2017-04-02T00:00:00Z
This place is FANTASTIC! I chose to book this cabin for a business trip requiring meetings in Santa Barbara, Ventura, and LA, and wanted a scenic and secluded place to stay. You get the view and the comfy setting that you see in the pictures, plus a crazy comfortable bed and well equipped kitchen. The steep stairs/steps/hill are also for real so take them seriously when they say make sure you're able to walk up and down! This wasn't an issue for me, but it could be for some. I loved how close this place was to gorgeous hikes and how quiet and beautiful it was. Despite the seclusion, it was still only 10-20 minutes from the beach, highways, groceries, etc. so not at all too far away. Definitely stay here if you can, you'll be happy you did.
Rachel
2017-03-15T00:00:00Z
Hands down the best air bnb experience I've ever had. This place is stunning!
jonathan
2017-03-07T00:00:00Z
We had the best time in their cute cabin. It has gorgeous view. They were super nice and helpful. I totally recommend and we will go there again for sure.
kourosh
2017-03-11T00:00:00Z
We had a great stay at Cabbott's Cabin! The area was absolutely stunning, it was great to get out of the city and be a little bit closer to nature. Everything went smooth, we had a great amount of privacy, and we even saw a peacock as we left! Definitely recommended if you want a more outdoorsy experience.
Sedrick
2017-03-19T00:00:00Z
My husband and I were looking for a simple but cozy, private and close to nature hideaway for a weekend alone. Cabbot's cabin was all that and more; just as depicted in the pictures it is like an intimate eagle's nest secluded in beautiful Topanga canyon and tastefully furnished with everything one needs. The kitchen is equipped with all the essentials, including pretty ceramics, a Dutch oven and sharp knives (which is great if like us you like to cook), the bedroom down a steep stairway (as described) is very inviting with its gas fireplace, awesome view of the mountains and super comfortable bed. And the quiet... all you hear are the sounds of frogs, peacocks and other wildlife. It was too cold to take advantage of the two decks but they were very appealing as well. And the detached bathroom gave us even more of a sense of adventure in nature, with the shower windows offering wide open views over the canyon. Kevin was very prompt to reply, flexible and friendly. We have found our getaway and will be back.
Veronique
2017-03-05T00:00:00Z
Type de logement
Logement entier
---
Type de propriété
Cabane
---
Capacité d'accueil
2
---
Chambres
Topanga, Californie, États-Unis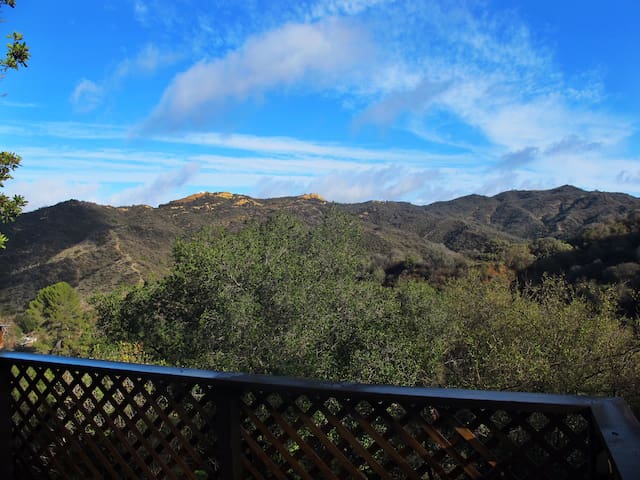 Come stay in our cozy bungalow, a separate and private stand alone, only a short walk to Venice Beach and the ultra trendy Abbot Kinney Boulevard. Whether you enjoy star watching, art galleries, shopping, or delicious food, this block has something for everyone. As Venice residents for over 20 years we constantly take advantage of this great neighborhood and love walking to the local coffee shop to grab a bagel or a piece of the yummy pizza or listen to live music just down the block. The bungalow's location truly can't be beat for the traveler coming for either fun or business. The bungalow has all the amenities for a comfy stay- a brand new queen bed, TV, refrigerator, microwave, and coffee maker. Sunlight streams into the space and there are wonderful ocean breezes in the afternoon making this a real gem of a place to stay. Our newly landscaped backyard garden designed with native California plants that attract butterflies hopefully enhances your stay if you have time to relax outside on the Adirondack chairs or the bistro table. The main room also provides a desk, sitting chair, dresser, suitcase holder, plus a simple cooking area and nicely suits two. The private bathroom has a closet to store additional suitcases and hang clothes as well as a nice size mirror. Internet is free and all linens and towels are provided. You can access the bungalow located behind our house from a private back entrance. We're on one of the most desirable streets in Venice in what is known as the "walk street" area where you can meander the neighborhood on sidewalks and see great architecture and gardens. Ample street parking is available. In addition to Abbot Kinney Boulevard (named the trendiest street in America by Esquire Magazine), it's wonderful to stroll the Venice Canals modeled after those in Venice Italy. World-renowned Venice beach is always a main attraction with sidewalk entertainers and vendors you surely won't see elsewhere and the infamous Muscle Beach (where Arnold Schwarzenegger trained). There is an incredible bike path along the ocean with a number of convenient places to rent bikes nearby. Santa Monica Pier is only a short 10-minute drive away and we're only 15 minutes from the Los Angeles International Airport. A number of buses stop just blocks away if you don't have a car. We are a smoke-free environment and respect the privacy of all our guests. We encourage all potential guests to complete a profile before booking. Hope to see you soon!!
Très bel endroit, tranquille. Merci !
André
2016-04-02T00:00:00Z
Chambre propre avec accès sur jardin dans quartier résidentiel bien situé à Venice Beach. Julia nous a bien accueilli et a été disponible. Séjour très agréable !
Sophie
2016-08-09T00:00:00Z
Excellent séjour dans le Bungalow de Julie et Tod. Il est parfaitement situé dans une rue calme et charmante dans laquelle il est aisé de se garer. Le logement était très clean et bien aménagé. Julie et Tod sont des hôtes super sympas sans être envahissants. Nous recommandons fortement si vous êtes de passage à LA!
Marc
2015-06-29T00:00:00Z
Our experience with Julia was absolutely wonderful ! We would return in a heartbeat. Julia was a wonderful host. The bed was comfy , the bungalow very clean, perfect location , I can't say enough good things about this accomodation and host .. Thank you Julia and I hope next time we are in Los Angelea, your sweet place is available again !!
Deborah
2015-05-06T00:00:00Z
Julia was a great host! Very informative and friendly. We talked for a little only to find out how small the world is and how we shared a similar connection with New England and the Boston area. I've never expected to find this kind of hospitality in a city like LA! He place was immaculate and absolutely the cutest. And the price was such a bargain! The area was wonderful and even though it was raining (which never happens in SoCal) we had an amazing experience. We felt at home and with complete privacy and enjoyed our time very very much. Thank you Julia!
Lucas
2014-11-01T00:00:00Z
Julia's back bungalo was cute and inviting. Little extra things like filtered water, snacks, and coffee were a sweet added touch that made this place special. The location is close enough to all the action, but having a car/bike is necessary.
Selena
2015-03-23T00:00:00Z
Julia was great! She said I could check in anytime, the bungalow was open. It was light and bright. The cold water in the fridge was great! The neighborhood was cute and great for walking! The bungalow had A/C, a heater and a fan, anything you need for comfort. The bathroom is tight, but useable. It was great for 1 person.
Kristin
2016-12-04T00:00:00Z
Great little shack, totally accommodated our needs and would definitely stay again!
Adrian
2014-01-22T00:00:00Z
Type de logement
Logement entier
---
Type de propriété
Cabane
---
Capacité d'accueil
2
---
Chambres
Los Angeles, Californie, États-Unis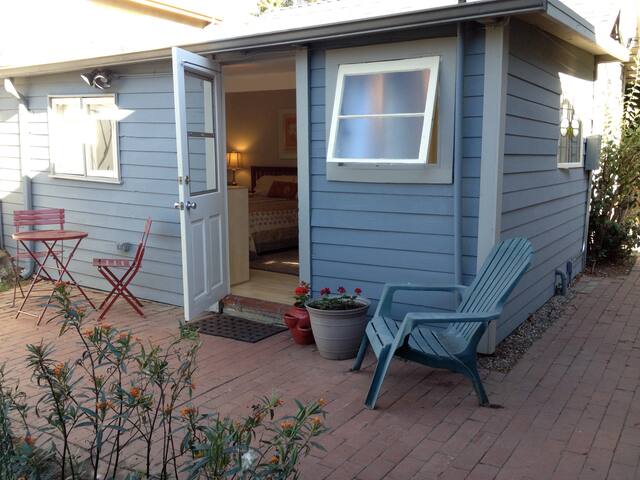 This unique 1400 sq. ft. post and beam guesthouse sits on a quiet, gated, 2 acre property. The interior is knotty pine on the few walls that are not glass. It is surrounded by greenery and very quiet. The main house is not visible from the guesthouse. The pool is not usually heated but has a solar blanket, which brings the temperature up to the mid 80s in the summer. It can be heated in the winter for a fee. The neighborhood is an historic mid-century community and very walk-able and safe.
Cory was very personable, helpful, generous, flexible and easy to communicate with via text. Her guesthouse became a 'destination' for us as well as a relaxing retreat (you are surrounded by green.) I had (SENSITIVE CONTENTS HIDDEN)d her and bought her book about her neighborhood Crestwood Hills and was pretty excited to check it out. Her super cool main house is a historic landmark, and there are others in the neighborhood as well. We were happy to be allowed access to such a property. There were hills and trails behind the house that you could explore.
Stardust
2016-05-12T00:00:00Z
Cory is a wonderful host. Her guest house is charming. Photos don't make justice to her place. Kitchen is well appointed and if you like mid century furniture, you'll love this house. The house is incredibly quiet and conveniently located to reach all the westside.
Marco
2016-10-08T00:00:00Z
We had a great time in Cory's amazing place! Waking up in the lush greenery to birds serenade and squirrels playing in the nearby trees was a bliss. The quest house sits on a private part of the property so you have all the privacy you want. The pool area is lovely with sun almost all the day and our kids loved the generous size of the pool! The house it's self, a lovely modernist cottage is well equipped and has large windows facing the garden so it's feels like you're living in the trees! Cory was the perfect host, always attentive and friendly. The nearby area, Brentwood is nice and safe with lot's of stores and restaurants. In all this is our best Airbnb experience so far. Thanks Cory for a memorable stay, we will surely come back!
Nina
2016-07-05T00:00:00Z
Type de logement
Logement entier
---
Type de propriété
Cabane
---
Capacité d'accueil
4
---
Chambres
Los Angeles, Californie, États-Unis
We feel lucky to live on a compound of cottages in the middle of the best part of Venice Beach. It feels like community and we cannot think of a better place to live.
The compound itself is made up of seven units, four of them 40's cottages and two of those are now offered as vacation rentals. The owners, Allan, a Canadian film-maker and Chiyoko, a Japanese writer, live on the site and have created a way of living they are happy to share. Each unit overlooks a small private sitting garden and larger communal gardens are nearby. Various tables and fire pits invite intimate or expansive al fresco dining. A Balinese daybed is for chilling or outdoor sleeping. The compound was recently on the famous Venice House & Garden Tour and the local newspaper called it 'most enticing'. Also it was used as a location for several films. Vaulted ceilings and hardwood floors. Fully furnished for elegant living, the kitchen is equipped with an espresso machine, filtered water, martini glasses, etc. A queen sized bed, linens and towels are provided, free do-it-yourself laundry, free high speed internet and cable, free loan of bicycles, free fully enclosed parking for one car, DVD and book library and a breakfast bar. Friendly and arty neighbors. Well behaved animals are welcomed and can free safely. The property is in the center of Venice's semi-secret Oakwood area which has the highest number of artists per capita outside of NYC's Soho area. It is a neighborhood where locals have pride of place and greet each other as they walk, skate and bike around. Local attractions are Gold's flagship gym and across the street is (SENSITIVE CONTENTS HIDDEN). Dozens of yoga and Pilates studios are within stretching distance. Don't miss what's left of the canals which gave Venice its name. The brand new skateboarding park is next to the original Muscle Beach. Some say the biggest local attraction is the beach others say it's the swarming bikini boardwalk next to it. Both are five blocks away. Oakwood is anchored by Abbot Kinney Boulevard (named after the visionary who built Venice as a summer get-away from Los Angeles.) This strip was recently called 'the hippest street in America' by GQ. The 'next big thing' is nearby Rose Avenue where healthy food and drink is the agenda. Neighborhoods to the north are trendy Santa Monica, laid-back Malibu and rustic Topanga. To the east is Lincoln Boulevard with 'the sexiest Whole Foods on planet earth" sez the LA Times. Also a plethora of pot shops and tattoo emporiums. To the south are Marina Del Ray for sailing and Culver City for galleries. The Santa Monica Freeway takes you downtown in 25 minutes and the Pacific Coast Highway can drop you at the airport in 15 minutes. What else? Venice Love is a certain relaxed funkiness, it's ten kinds of fruit trees, nine chimes, seven kinds of bamboo, six fountains, three fire pits, two BBQ grills and a brown hen who lays eggs. It's all very Venice Beach so it's not for everybody but it may be perfect for the right person. Chat through Airbnb or call us directly with any questions. Allan or Chiyoko 310 and 581 and 7951
I cannot recommend this place enough. Charming colorful clean space, perfect location, gracious and fun hosts and puppies everywhere! We will definitely be staying here again.
Chrissy
2017-04-04T00:00:00Z
Allen was a great host. The place is so cozy. The bed is very comfortable and everything was just as described. There are numerous other neighbours and pets in the compound which made it fun. I would book again in an instant.
Jackson
2017-03-03T00:00:00Z
Staying with Allan and Chiyoko was great! Very fun couple, beautiful cottage and garden, helpfull friends. They are openminded, dynamic people, easy to talk and hang out with. We had a great time in Venice, but Allan and Chiyoko made it special!
Inge
2016-09-16T00:00:00Z
Allan and Chiyoko were very welcoming and easily available by phone. The cottage was cozy and cute and the neighbors were friendly and helpful. Locked access to the compound sets a tone of safety. Easy walk to Venice beach, and if you feel like continuing your walk, Santa Monica is right down the road!
Jackie
2016-08-03T00:00:00Z
We had a great time at Allan and Chiyoko's place. We loved the cosy cottage and the compound was very charming and full with cute dogs. We had breakfast out in the sun every morning - amazing! We wished we could have stayed longer. Thanks for hosting us!
Hanna
2016-11-17T00:00:00Z
Allan was an excellent host. My friend and I felt welcome the second we arrived. Our cottage had everything we needed and the beach was within walking distance. If you want to experience authentic Venice, this is the place to stay. We will be back!
Kelsey
2016-08-08T00:00:00Z
Allan and Chiyoko are the greatest hosts. They are charming, considering and working so hard for us. The room is sooo clean and have everything you need. I cooked there my Japanese plates so many time. Whole Foods is only 10 min walk and it looks a very safe neighborhood. I was walking outside alone all the time. Everything was nice. I will recommend their cute place for anyone.
Tomoko
2016-08-14T00:00:00Z
The host canceled this reservation 3 days before arrival. This is an automated posting.
Bianca
2016-03-17T00:00:00Z
Type de logement
Logement entier
---
Type de propriété
Cabane
---
Capacité d'accueil
2
---
Chambres
Los Angeles, Californie, États-Unis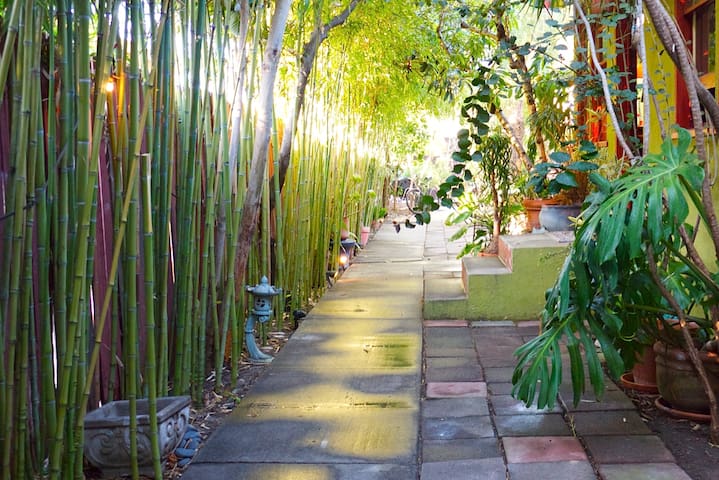 GLAMPING CABIN in LA -Nature! Private Cozy Rustic Cabin under the trees. The Space is part of our Artist Community & has 2 beds ( Bunk) & is just steps away from main house with 3 bathrooms & Community Kitchen and our huge outdoor community space with tons of cool amenities like TIKI-BAR, POOL TABLE, Ping Pong, Outdoor Theater space, Fireside benches around a fire pit and tons of seating areas under huge (URL HIDDEN) place is good for fun couples, solo adventurers, and cool families with kids.
This Cabin is part of our family style Artist Community and is part of our Glamping experience ( Glamping= Glamour - Camping) Its a rustic , cute, and cozy cabin with a bunk bed ( queen bed bottom, twin bed upstairs) and basic essentials like large pine clothes dresser, mini fridge, storage cabinets and a huge rustic pine desk. The Cabin is situated under big trees and just steps away from the main house, where you have access to our community amenities like 3 full bathrooms and Community Kitchen space with 2 large fridges, freezer , washer/ dryer and cozy living room/ breakfast area. The outside has many lovely seating areas and couches, a large puffy red couch with big screen TV to watch movies under the stars and several tables and seating areas to work or relax . There is also a Tiki Bar, garden swing, Hammock, Billiard table/ Ping Pong Table, Small little pond, Fireside benches around awesome Fire-pit and outdoor lounge bed to hang out at and watch the stars or socialize. The people here are all very accommodating and friendly and positive and we like sharing stories, games, food and fun experiences with each other. We call this home, so we should be classified as "in the middle of the spectrum" of things.... we are not slobs, but we also are no clean-freaks, we are fun and pretty cool , but not crazy, we respect privacy and value community, and we do our best to make you feel welcome and at home. This place is best suited for those who enjoy different adventures and experiences and are exited to live in a community style environment . If you are a big clean freak, this is probably not the best place for you, and we suggest a town home,room in a nice modern apartment or any other more sterile place . We love our place to be clean and do our best to keep it beautiful and livable, but we also know that this place is a bit funky, artsy and "different" and we like it this way, since we dont want to stress out over every small thing and handle things a bit like family around here. so please keep this in mind when you book with us. If there is ever a problem, please let us know and we will do our best to correct it and accommodate your needs, but please dont expect us to change our lifestyle just because you are here. We live in harmony with nature and the whole place is really more to be seen like a great luxurious camping trip with super fun people and amenities, so please dont expect a sterile hotel or condo experience, or you will be disappointed. We have a strict cancellation policy which we enforce for those who end up complaining about our lifestyle, as we are trying to be honest and upfront about what we are proud of. If you have an legitimate reason to cancel we will work with you and be more than fair, but please dont come here complaining that our huge 17,000 sqft property is shared with a bunch of awesome artist folks , or the kitchen was busy with people cooking yummy food or you dont have a private bathroom, or the poor little cricket which accidentally got lost in your dwellings. Again, this is a glamping cabin in an artist community with awesome family style feel and super nice people, and we are happy to host you and make you feel welcome and do all we can to have you have a great stay, so please dont come insulting, complaining and trying to change us! :) we say this with love and respect, and just want to make sure that people are clear about who we are and where they are booking~!
This place feels like your camoing way out in nature, yet you have all the convenience of city life, as we are just a short walk to metro link, 20 + restaurants and lots of stores and Reseda parks wonderful lake where you can feed the ducks and relax by the water or enjoy the public pool and recreation places. Also there are 3 great Thai restaurants within walking distance, 2 Persian food buffets which are amazing, a Peruvian restaurant and tons of fast food places and many more international restaurants we have not tried yet ,and crazy good PHO places and a vegetarian chinese restaurant all withing walking distance. . ..and Subway is open 24 hours and we have a drive-in starbucks which opens at 4:30am just 1 block away . . ..and we also have way to many fast food/ restaurants and 7/11's right within just a couple blocks of our beautiful campground kind of haven ! Also, a big bonus, we live half a block from the very dried up LA river and Reseda park and rec center where you can find ducks and awesome late night Taco trucks and for those who fear, we live 2 blocks away from police station , we are also only 8 minutes away from Balboa park, the Archery range, 2 golf courses, basket ball and tennis courts and all the more upscale stuff Encino ,Tarzana and Northridge has to offer we also have the metro link right down a couple blocks where you can hop on the train and end up in NoHo / studio city in no time. . .. Many of us moved here from Santa Monica and never realized how much more cool stuff there is and how many good places there are to shop and eat . . .. Our Park-like setting feels like a remote area , but rest assured your right in the middle of everything . Its the perfect place to be relaxing in the middle of everything in your nature retreat with huge trees and fun people and a good creative vibe.
The ultimate glamping experience. We both had a blast here.
Eric
2017-03-27T00:00:00Z
Die Gastgeber waren so herzlich und hilfreich, es war richtig familiär. Ein sehr individueller Platz. Die einzelnen Übernachtungsplätze sind sehr liebevoll hergerichtet. Auch erwartet einen ein Korb mit Obst und anderen Dingen. Mit unseren Teenagern war es ein idealer Platz um LA zu besuchen. Natürlich ist es ein Glamping und kein 5 Sterne Hotel aber gerade das war für uns perfekt. Wir kommen wieder! Thank you, we loved it!
B.
2016-08-08T00:00:00Z
Type de logement
Logement entier
---
Type de propriété
Cabane
---
Capacité d'accueil
3
---
Chambres
Los Angeles, Californie, États-Unis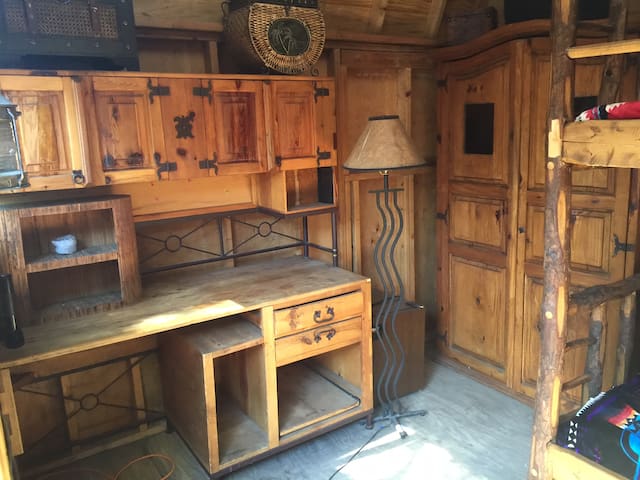 Malibu - Airbnb
:
Moyenne de

4.86

sur

5

étoiles sur les

1489

commentaires des voyageurs
Saisissez les dates souhaitées pour connaître le prix total. Des frais supplémentaires s'appliquent et des taxes peuvent être ajoutées.