Nestled on the North end of the Borough, our place is close to art and culture in Lancaster County and Lebanon County. Within minutes great views, hiking, and rail trails. You'll love our place because of the clean sheets, fluffy blankets, and unique coziness. Our place is wonderful for solo adventurers looking to escape from reality and terrific for business travelers seeking privacy to tend to work.
Wifi is available. However, we do not have cable.
Our neighborhood is a blend of single family homes, townhouses, and apartments. You will also see, and hear, horse-in-buggies coming and going from the area.
Catherine and Luke are a delightful couple! The place is clean, inviting, easy to find and quite adequate for someone on a business trip. Catherine went out of her way to make me feel welcome and comfortable. Great find!
Marlena
2017-04-08T00:00:00Z
Catherine and her husband have a great home. They were extremely welcoming and the room was exactly what I was looking for. I especially appreciated the pillows on the bed. I'll have to find out where they came from. Perfection.
Johnny
2017-03-24T00:00:00Z
Lovely hosts, a comfortable room and wonderful hospitality. Everything you want in a good AirBnB! The value was fantastic, and I couldn't recommend it highly enough!
Cameron
2017-04-02T00:00:00Z
Catherine and her husband were so welcoming and friendly! They were accommodating to my schedule and gave me great tips about local food and people. I stayed here so I could attend a friend's wedding at a The Booking House and it was the perfect house and location. I was so thankful to have such great hosts!
Marne
2017-03-19T00:00:00Z
Lovely home and great hospitality!
James
2017-02-24T00:00:00Z
Type de logement
Chambre privée
---
Type de propriété
Maison
---
Capacité d'accueil
1
---
Chambres
Manheim, Pennsylvanie, États-Unis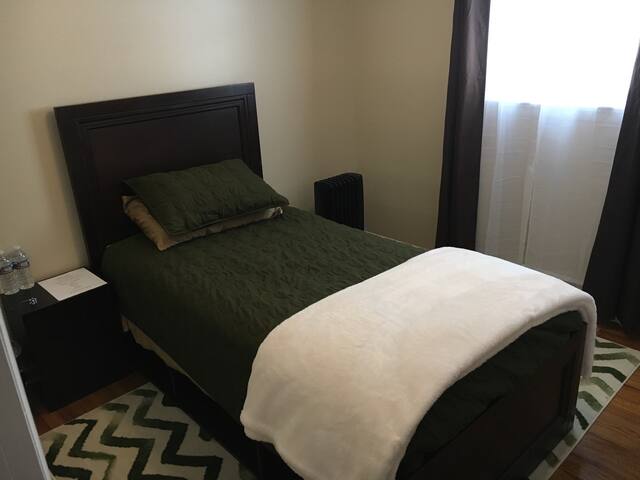 My place is good for couples, solo adventurers, business travelers, and families (with kids).
Our vacation home is located on the outskirts of Manheim, surrounded by beautiful, Lancaster county farmland. Landisville Getaway is located only 3 miles away from the Spooky Nook Sports complex and the Roots Country Farm Market, and only 30 minutes away from Lititz, Lancaster City, and Hershey. A few miles north of the Getaway, you can access the Lancaster Junction Trail which travels along Chickies Creek through meadows and Lancaster farmland. The Getaway has a cozy atmosphere, with a large backyard for outdoor activities. In addition, the kitchen is fully furnished. Feel free to contact us, we'd love to make the Getaway a "home away from home" for you!
Fantastic place to stay!
Stephen
2017-01-07T00:00:00Z
This home is cozy, clean, and very welcoming. I loved the country seen. Next time where in town I hope this place is available. Thank to for the snacks and delicious Cinnabon you left for us Mary! Happy New year and God Bless You and your family.
Florine
2017-01-02T00:00:00Z
Clean and cozy!
Chanbin
2017-02-26T00:00:00Z
The morning view of expansive open farm fields should be included. The pictures do this property no justice. Mary was a fantastic and communicative host. The house was spotless and next to godliness. Also, the tray of fresh cinnamon buns waiting for us was an very welcoming touch. Highly recommend as a great, quiet location conveniently between Lancaster and Harrisburg. Great value too.
Joshua
2017-02-13T00:00:00Z
Wonderful place to stay. House is furnished very well. Location is close to Lancaster,Hershey,Manheim. Owners are very easy to communicate with and go the extra mile to make sure your stay is enjoyable. What a nice selection of snacks and extras left by the owners! We would stay here again.
Carl
2016-12-11T00:00:00Z
Beautiful home in Manheim. Extremely clean. Lovely furnishings/decor. Very comfortable. Huge backyard - that my toddler loved. Very family friendly - all one level, so no stairs to trip up little ones. Lots of yummy treats left by the hostess. Best AirBNB we've ever stayed in! We hope to come back soon!
Annie
2017-04-01T00:00:00Z
Perfect place and great value. Accurate description and very warm place to come home to away from home.
Zee
2017-03-25T00:00:00Z
Marys home was exactly what we were looking for . My family and I have stayed at several Airbnb properties and Thai is by far one of our fav . Mary was so accommodating on check in and letting us checkout even later on our checkout day . The house was spotless and filled with little treats in the kitchen and fridge and enough blankets and pillows . The beds were very comfortable . The scenery perfect . Marys home is in a great location right near Hershey renaissance fair local shops farmers market and a real feel for the Amish lifestyle . We hope to visit again and would stay in marys home if she will have us :)
Kristin
2016-11-27T00:00:00Z
Type de logement
Logement entier
---
Type de propriété
Maison
---
Capacité d'accueil
6
---
Chambres
Manheim, Pennsylvanie, États-Unis
Le 1er étage comprend une cuisine personnalisée cerise w / île, 2 salles à manger pour assurer suffisamment d'espace pour les repas, des jeux ou des activités diverses, salle familiale, salle de séjour, salle de bain complète, demi-bain, et une grande saison 4 salle de soleil avec vue paisible pâturages. Après une journée bien remplie site de voir le magnifique comté de Lancaster, en appréciant Hershey Park ou visiter le pays Amish, revenir et se détendre par le récemment rénové piscine creusée avec un espace pour prendre le soleil et un belvédère avec table pour traîner dans l'ombre.
Cette belle 100+ année ancienne ferme restaurée située sur 92 acres de terres agricoles vallonné qui permet beaucoup d'espace pour courir et beaucoup d'intimité tout en étant minutes de nombreuses attractions du comté de Lancaster. Il comprend également un récemment rénové piscine creusée (ouverte de mai-début septembre) qui permet beaucoup d'espace de vie en plein air, complet avec gazebo, chaises longues et une table et des chaises. Le 1er étage comprend une cuisine personnalisée cerise w / île, 2 salles à manger pour assurer suffisamment d'espace pour les repas, des jeux ou des activités diverses, salle familiale, salle de séjour, 2 salles de bains et demi, et une grande 4 saisons salle de soleil donnant sur de paisibles pâturages. Le deuxième étage dispose de 2 salles de bains et 5 chambres dont une grande chambre 2 suite chambre des maîtres. L'établissement propose également un garage attenant 2 voitures, climatisation centrale, télévision par câble, Internet et beaucoup d'espace pour le stationnement bateau / rv. Après une journée d'éprouver les nombreux sites et attractions de la région, revenir et vous détendre dans le grand espace de vie en plein air et profiter de la sérénité de cette propriété du comté de Lancaster. Cette maison a beaucoup à offrir et nous sommes impatients de rendre votre visite dans le comté de Lancaster un moment agréable et mémorable pour vous et vos amis ou en famille.
La ferme est nichée sur 92 acres de ferme-sol à Manheim et se trouve à une demi-heure de Amish Country, Hershey Park, Dutch Wonderland et à quelques minutes du complexe Spooky Nook Sports.
Shari was a great host and we very much enjoyed our stay. The rental was clean, spacious, and well furnished.
Tim
2017-01-16T00:00:00Z
We had a great time in Shari's beautiful farmhouse. Huge house, very clean, with comfy rooms and a lot of space. The kitchen is well equipped. The area is very quite and peaceful. Great location: 5 min drive away there's a shopping center, 30 min drive to all Amish villages. Shari responded promptly to every question we had.
onna
2016-05-02T00:00:00Z
We had a wonderful, great, amazing time staying at the farmhouse!! Shari and Doug went above and beyond to accommodate our needs and make our stay a seamless one. Highly recommend staying here!
Laura
2016-05-16T00:00:00Z
Perfect! We had a mini family reunion at Sharis place and it was exactly what we needed and wanted. Next time we are visiting family in Lancaster we will use Sharis hone
Ashley
2017-03-05T00:00:00Z
We arrived early evening to find candlelights glowing in the windows. It was beautiful and welcoming. This property was peaceful and truly a wonderful place for our extended family. The house was extremely clean and very functional for a large group of various ages. Beds were comfortable and we loved being able to cook meals and eat as a family. The extended family would highly recommend this property! Thank you for a wonderful time.
Tammi
2016-07-02T00:00:00Z
Nice, big, comfortable house, exactly as advertised. We had a lovely weekend staying with a group of friends. We had planned to visit nearby Hershey Park but the weather did not cooperate--instead we visited Lancaster Central Market (20 minutes away) and spend the rest of the time hanging out in the cozy living room(s). Shari was very responsive to all my messages. I would definitely recommend!
Matt
2016-04-11T00:00:00Z
Our staff of 11 stayed at the farmhouse for 3 days for a leadership conference nearby and the place accommodated us well. Plenty of room for all of us and for our meetings. What a beautiful place with lots of rooms to hang out and relax. It was a good place to reflect because it was nice and quiet. We loved the beautiful scenery and seeing the cows from the kitchen. We liked that you can walk/run to downtown Manheim. We were very impressed and it was truly a great place for us to bond as a staff. Thank you Shari for your hospitality and your quick responses.
John
2016-04-21T00:00:00Z
Great place! Highly recommended
Michael
2016-01-15T00:00:00Z
Type de logement
Logement entier
---
Type de propriété
Maison
---
Capacité d'accueil
12
---
Chambres
Manheim, Pennsylvanie, États-Unis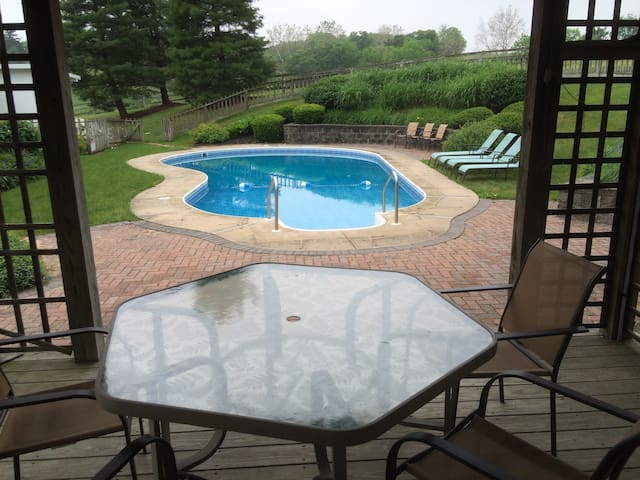 Our old farmhouse has been newly renovated and is clean and minimalistic. Chickens, goats, gardens, a stream and porches make our home inviting and calm. Spare bedroom is quiet and trundle bed soft and cozy. 2 hrs to Philadelphia, NYC and Baltimore by car.
Calm, whites, country serenity
A great vineyard just up the road. (Waltz Vineyards). Brickhouse coffee shop for breakfast, lunch or dinner.
Check-in was super easy and cookies were waiting just inside! Julie's place is a wonderfully old brick farmhouse that has been updated for beauty and comfort but still retaining its amazing charm. Although our schedules only allowed for a brief meeting, Julie was super pleasant and nice to speak with. Communication and instructions were great. I visited the chickens and goats, walked the neighborhood, heard cloppity-clop of horses but missed our chances at seeing the Amish buggies. I was there to visit the PA Renaissance Faire which is truly minutes away and you are coming in from the direction of almost no traffic. A great experience, location, and hosts.
Rich
2016-09-19T00:00:00Z
Our host made us feel very welcome.
Scarlett
2016-10-25T00:00:00Z
Julie and Jeremy were excellent hosts, they made me feel very welcome from the moment I showed up, they had even left some treats in the room, which is a really nice detail. They even went so far as to procure me a bike when they learned I was into mountain biking. In general I had an excellent stay, the house is very nice and I enjoyed our conversations. 10/10 recommend.
Fernando
2015-11-04T00:00:00Z
This is the second time I've spend with Julie and Jeremy. They're very personable, fun to chat with and their place is quite cozy, I even got to pet some goats!
Fernando
2016-11-16T00:00:00Z
Julie and Jeremy were terrific hosts. You really felt like you were in nice warm country setting. Great house, great people, great dog and excellent coffee.
Ryan
2016-06-01T00:00:00Z
The hosts were incredibly nice and helpful. They were super flexible with checkin time( we ended up arriving later than expected). The house was extremely nice and so was the room. I would stay here again and recommend it to others.
Samantha
2016-08-08T00:00:00Z
This was a wonderful experience and the Farm House definitely complimented our weekend getaway. Julie went out of her way to make sure our accommodations were to our liking and even recommended a great restaurant which we really enjoyed. The room was very clean. Highly recommend to anyone looking for a nice getaway.
Tony
2015-09-14T00:00:00Z
Our stay at Julie's place was great. The whole family was really welcoming and gave us very helpful tips about the best places to eat and visit. Their house is beautifully situated, designed, and decorated, we fell in love with it! It is a great place to stay for visiting Lancaster county, and we also made it to Gettysburg, which is only 1.5 hours away. We wholeheartedly recommend staying there, and next time we visit the area we will certainly try to stay with them again!
Bartomeu
2016-05-31T00:00:00Z
Type de logement
Chambre privée
---
Type de propriété
Maison
---
Capacité d'accueil
2
---
Chambres
Manheim, Pennsylvanie, États-Unis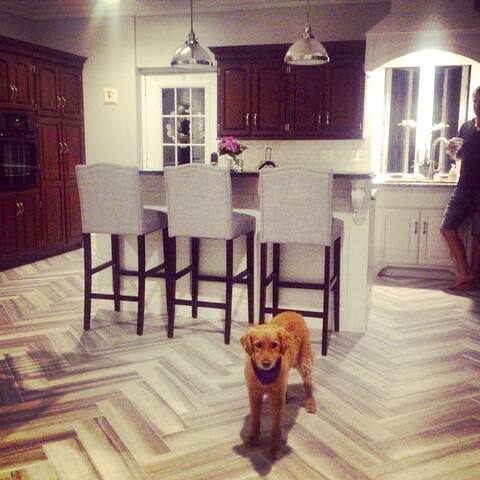 Country Setting just minutes to all ameinities, only 2 blocks from the renowned Manheim Auto Auction. Midway to all tourist and amish locations in Lancaster, Lititz, Mount Joy, Paradise, Bird-in-hand, and more. Several Amish working farms close by.
Type de logement
Chambre privée
---
Type de propriété
Maison
---
Capacité d'accueil
1
---
Chambres
Manheim, Pennsylvanie, États-Unis
Manheim - Airbnb
:
Moyenne de

5

sur

5

étoiles sur les

68

commentaires des voyageurs
1

–

5

sur

5 locations de maisons
Saisissez les dates souhaitées pour connaître le prix total. Des frais supplémentaires s'appliquent et des taxes peuvent être ajoutées.