Saisissez la date d'arrivée au format jj/mm/aaaa
Saisissez la date de départ au format jj/mm/aaaa
Logements que vous pouvez réserver sans attendre l'approbation de l'hôte.
5 Bed & Breakfasts
· Mapleton
5 Bed & Breakfasts
· Mapleton
Saisissez les dates souhaitées pour connaître le prix total. Des frais supplémentaires s'appliquent et des taxes peuvent être ajoutées.
Cet été (juillet et août), vous pouvez essayer l'un de ces 100 logements les mieux notés, dans toutes les gammes de prix, pour découvrir Sonoma d'un point de vue local. Entrée dans les lieux 24h/24, réservation instantanée, mais aussi vin et petites spécialités locales à disposition… autant d'invitations à vous détendre et à profiter pleinement de votre voyage.
Beautiful log home on a 17 acre ranch with second story for rent. Two bedrooms, 1 bathroom + family room. Beds for 6 but space for many more. Horses, batting cage, trampolines, sand volleyball, rope swing, fire pit - ALL on site! Adventure awaits! Check out our backyard swing by going to the following website: https://www.youtube.com/watch?v=KI7b6DnNODs
The area for rent is the beautiful second story of our log home. It is a private area with a keyed door. Even though we are living below, you won't feel like we are in your space and vice-versa (although we really love the company). Each of the bedrooms have keyed doors so you can come and go as you like and feel secure. You'll enter the home through our front door and the stairs to your space are immediately in front of you. The kitchen is on our main level but we are happy to accommodate requests for kitchen use as well as fridge/freezer space. We also have a music room on the main level with a baby grand piano that we encourage guests to make good use of. Our friends call us Mama K and Papa K. We will be here to help you any way we can. Brent speaks fluent Mandarin Chinese and loves to have the opportunity to host Chinese and speak with them.
Our neighborhood is very quiet. It is a farm community with lots of open space. Directly across the street is a 450 acre hay farm. There are animals of many varieties in our area which gives you an opportunity to enjoy nature. There is plenty of parking space around the home for your vehicles. If you need or would like space to park a trailer, we have the room for that too! You may wake up to the crowing of a rooster named Bob. Even though he has 50 hens just across the field to the south, he has chosen to hang around our home and keep crowing to the hens in hopes one of them will come and visit him! Horse riding and horse lessons are $25/hour/horse. Split the time if you would like.
Brent and Kayleen are wonderful hosts. The rental unit is spacious with interesting details. The outdoor area is beautiful and perfect for kids. We had an unforgettable stay. Thank you!
Laura
November 2016
We chose this place due to the proximity to our daughter's house. We could not have been more pleased! The hosts were extremely friendly, eager to assist in any way, and so flexible!! Our visit was for the birth of a granddaughter, and not only did we need to come a day early, we also extended our stay 3 more nights! The rooms were spacious, clean, and had everything we needed to entertain 3 small grandsons when needed. Between the popcorn machine, arcade game, air hockey, movies, books, trampolines, playground equipment, and toys, it was a child's paradise. The king bed was very comfortable, and we had the choice to socialize with the hosts or retreat to the peaceful rooms upstairs to rest. Brent and Kayleen became our friends over the 8 days we were there, sharing stories, home movies, and even orange juice/vit. C when our grandsons shared their colds with us! Overall, we had a great visit and hope to return again when visiting family in the area!
Kris
April 2016
We have stayed at a lot of Airbnb places and these hosts were definitely our favorite. They are a sweet and kind family and absolutely the most welcoming people I think I have ever met in my life. As soon as we entered their home we felt very warmly greeted by their big smiles and boisterous personalities. The farm itself is amazing as a space and there is so much to do just on their property. If I am ever back in town I would love to stay there again and spend some more time with the hosts and on the land as it is truly a special place. I highly recommend booking this immediately if you are even considering staying here. You will not regret it. It is super great for families with kids.
Sarah and Russ
August 2016
Second time visiting Brent and Kayleen, this time as good as the first! Welcoming hosts and comfortable rooms! We appreciate the proximity to our kids in Salem and the host's flexibility with our unpredictable schedules.
Kris
July 2016
Gracious hosts, wonderful accommodations, a relaxing and full-of-life atmosphere. . . it all adds up to a perfect stay. Highly recommended!!
David
September 2016
Brent and Kayleen are super host. My little family and I forgot we weren't at our own home. Had we wanted complete privacy, it is certainly available. We quickly realized it was much more pleasurable to 'hang out' with our host. We had the good fortune to meet several members of their family - just great people. Beds are very comfortable. Rooms stay super dark if you want to sleep in. Plenty of living space upstairs to relax in. No noise from downstairs. The pets are well behaved. Beautiful horses. Great backyard. Peaches and nectarines straight from the tree-delicious. My daughter and that swing - inseparable. Easy access to outdoor activities in the surrounding areas. The biggest recommendation though comes from my daughter (13 years) she insist that this is where we stay for future trips. And. We will. Thank you Mamma K and Papa K. You made us feel so welcomed and I really enjoyed our conversations. You guys were a fantastic part of a wonderful weekend. Best wishes to you and your family, George
Shawn
September 2016
Brent and Kayleen were such gracious hosts and go out of their way to make you feel like it is their privilege to host you! Plenty of space and comfortable beds. My husband enjoyed the arcade game! The last night of our stay, Brent and Kayleen gave us the "around the campfire" experience we absolutely loved! Our kids enjoyed the backyard as we enjoyed the fire pit. Brent was even catering enough to get us some fire wood all laid out. We will definitely recommend to all those looking for a great stay and hope to return again in the future!
Lauren
May 2016
Brent and Kayleen are the best. Not only are the accommodations excellent, but the company is, too. We found Brent and Kayleen through a unique situation. We were originally coming up to Utah to adopt a baby. We knew we had to stay in the state for a few weeks, so we were looking for a spacious place where we could care for a newborn and entertain our 7 and 9 year old boys. When we first contacted the Kidmans about our stay, they were so welcoming and generous, offering to have baby items and meals for us. When we arrived, we were pleasantly surprised at how spacious the accommodation is. We had a bedroom with a king-sized bed plus adorable bunkbeds for our boys. There is an additional queen-sized bedroom as well. The upstairs of the cabin was clean, spacious and very well-lit. We had a private family room with a fireplace, pool table, arcade games and popcorn machines. Our boys enjoyed everything on the farm, from seeing the animals to playing with the grandkids! We had a setback when our adoption disrupted and we never brought the baby home. The entire Kidman family were so incredibly kind to us. They adopted us right into their family and community, providing meal support and help with entertaining our boys while we grieved. The cabin is set-up with the perfect balance of seclusion and family integration. On the days that I just wanted to be alone and not see anybody, the accomodations provided everything I needed for perfect privacy. The upstairs has s separate locking door, there is a private bathroom and a fridge/microwave so you can keep to yourself if you want. But my very social little boys and husband didn't want to keep to themselves for long, and Brent and Kayleen provided us with meals, ideas for activities in the area (the skiing is great!) , and quality family interaction. We were made to feel like family, not just guests. After spending a Sunday evening spaghetti dinner with everyone, we felt like we had become part of their family and it was hard to leave to come back to AZ. We are planning to come back and see them this summer!
Bethany
February 2016
Type de logement
Logement entier
---
Type de propriété
---
Capacité d'accueil
8
---
Chambres
3
Spanish Fork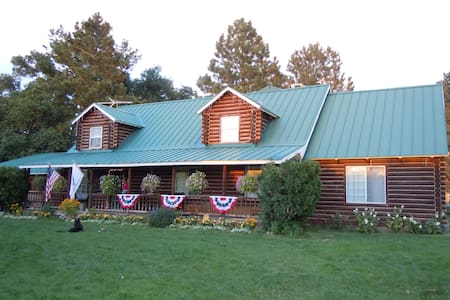 Close to everything you need in Utah and Salt Lake City.
Clean private safe location Central location to events and locations North & Sourh on I-15 As needed.
Whatever you need....info. and/or guidance wise we'll provide. Excellent public transit trains close by....takes you almost anywhere including airport. Non-Smoking room
Type de logement
Chambre privée
---
Type de propriété
---
Capacité d'accueil
2
---
Chambres
1
Springville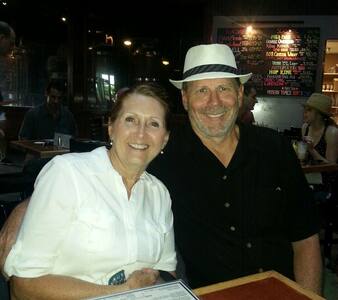 Private Bed & Breakfast Suite for short term and long term stays. Special requests honored when possible.
Type de logement
Chambre privée
---
Type de propriété
---
Capacité d'accueil
2
---
Chambres
1
Payson
This great space is above the garage in a private apartment . You'll have your own private entrance. Granite countertops in your full bath and your own kitchenette! The view of Timpanogas is stunning as the sun rises in the morning. The "A" frame log cabin is such a cozy feel with your very own gas fire stove. The Queen size bed hangs from custom metal forged chains and the couch pulls out to fit 2 more friends if needed.
Completely private, kitchenette, perfect "Sundance " experience. Close to resort, restaurants, skiing, hiking, fishing and film festival! The space is quite lovely and has a pull out couch for an additional 2 people Breakfast, indoor and outdoor living spaces , parking, hot tub, pool table, ping pong I live on location in the main house and will be available 24/7
Privacy and the glorious outdoors, conveniently located to resort, skiing, hiking, etc The resort is walking distance with a well maintained path. It will have public transit. Be aware that winter conditions in the mountains require 4 wheel drive in the winter
Type de logement
Chambre privée
---
Type de propriété
---
Capacité d'accueil
2
---
Chambres
1
Sundance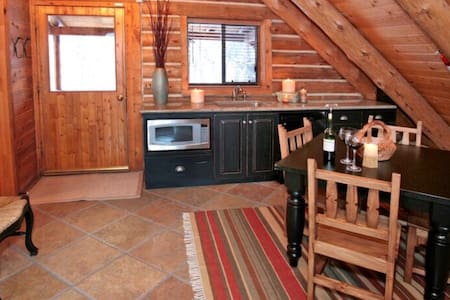 gorgeous room private/shower/bathtub loft with t,v, cable/internet. hiking biking ,walking trails,golfing, fishing forestry 2 min . 5 min from flash corporate a few to Adobe, Restaurants, shopping is ten min, and salt lake 40min , Provo 20 min. caves 5 min away, tibble lake close by as well
the space is very clean the home is welcoming and coming and going is always as it would be in a hotel your own entrance key and parking at door steps. the top floor is is where your living space is and it is away from host and always private. coffee or tea always available in the morning with bagels and cream cheese at your request. Washer dryer, microwave, refrigerator free use and soap provided. Their choice
The trails the walking the access to lakes and stores, quiet and clean as well as very safe. Breakfast coffee is provided for as long as client lets host know he/she wants that. Also every 5 days linens are changed room vacuumed, bathroom cleaned for your comfort. Host will remind client night before via text for clients privacy. Soap, shampoo, cream rinse, tooth brushes etc made available at clients request no charge.
Lanette was so kind and accommodating! When my sister-in-law brought her fiancé in town, Lanette was happy to welcome him and provide a comfortable, friendly home away from home. Thank you so much!!
Karen
January 2016
My host was absolutely wonderful and worked very hard to make the entire experience as pleasant as possible. She went out of her way to make me breakfast, coffee, and snacks. She was always extremely kind and courteous. I couldn't have asked for a better experience with a host.
Jordan
January 2016
Lanette was so welcoming and lovely. Here home is beautiful and so well furnished. I had the entire upper floor to myself. I hope to stay there again on another trip.
pamela
May 2016
This was my first stay in a Airbnb and it was the most enjoyable 3 days I have spent anywhere. Lanette was incredible and it felt like a home away from home and I will keep her in my address book for all future stays. I give her the highest rating. Her place was immaculate and the food was excellent.
Mark
June 2016
I had just moved to Utah, so the novelty of seeing mountains so close was in full effect as I pulled up to Lanette's little house nestled at the foot. From our elevation the entirety of Provo was visible, down to the Utah Lake below. "I'm like a mom to all my guests" says Lanette, and she means it. A mother's only as good as her cooking is a somewhat reductive quote I just made up, but it's hard not to feel mothered when the first thing you see is homemade chicken noodle soup simmering on the stove. Later that week Lanette would serve grilled salmon and steamed vegetables with rice. "You know you don't have to feed me" I say, but when has that ever stopped a mother. In terms of giving warm receptions, dogs are undisputed champions. Lanette shares her home with a tiny yorkie, ten pounds of enthusiasm, who aggressively seeks a belly rub down every time you enter the house. Despite his age, Edwin is always up for a stroll around the lakes and parks nearby. Most of my interactions with Lanette consisted of simple conversation in which Lanette gave her input on a variety of topics from her life and her family's. I'd say she's pretty interesting to listen to. We may have disagreed on some things, but thankfully no amount of negativity surfaced. If you like meeting new people and living close to mountain ranges, be sure to book a spot at Lanette's.
Roy
October 2016
This was a fantastic experience! I stayed in Lannet's home in Cedar Hills to visit my daughter. Actually this was my second stay in this home. My first time of staying here was very comfortable and unforgettable. So without any hesitation, I called Lannet and booked my room. Lannet is a very knowledgable person. She is a good cook too. My daughter and me enjoyed the home and the food, and particularly the hospitality in the very clean home. Thank you Lannet. Hope to see you soon in near future.
Zhigang
June 2016
It was all great
Debbi
August 2016
Airbnb means bed and breakfast. But I hadn't had my breakfast till I lived in this home. Lanette would wake up early and prepare breakfast. I felt so warm by living here. She had a wide knowledge and I learnt a lot about social and religious aspect of American life. The home was very clean and I had very good privacy on second floor. I love this home and start to miss the warmth. Hope to revisit it again soon.
Zhigang
March 2016
Type de logement
Chambre privée
---
Type de propriété
---
Capacité d'accueil
1
---
Chambres
1
Cedar Hills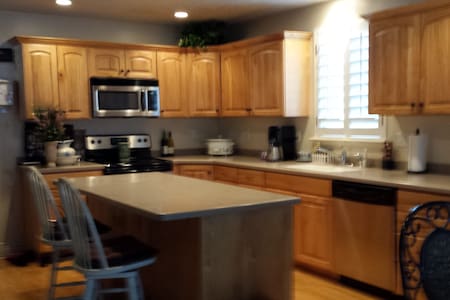 1

–

5

sur

5 Bed & Breakfasts