We are near the capital city but far from city noises.5 minutes to the mall, disco live music club and cinema and the city center, 10 -15 minutes to pier and airport. 10 minutes to the white beach. 1 our to chocolate hills. 20 to 25 minutes to alona beach.. you will like our place we have the best view and the fresh breeze. you can relax and feel good. nice neighbors... our place is good for couple , single and business travelers.
OWN ENTRANCE, 14 SQM TERRACE, BIG LIVING ROOM WITH SEA VIEW. AND CITY VIEW.
WE HAVE ONLY NICE NEIGHBOR .BETWEEN 600 meter and 1000 meter WE HAVE MANY LITTLE SHOPS TO BUY FRUIT FISH VEGETABLE AND THE SPECIAL FISH (URL HIDDEN) THE CITY 5-10 MINUTS YOU CAN FOUND FILIPINO FOOD (GERARDA"S) (10:31). iTAL. FOOD MASSIMO, AND ALSO STREET FOOD. CAFE SHOP LIKE GELATERIA, OR BUZZ CAFE. DISCO ATMO. LIVE MUSIC MARTINS BAR .....
This apartment is perfect bieutiful view ,bed is confortable ,hot water shower ,kitchen is perfect for cooking ,swimming pool is clean I will defenitly go back the host is nice and communication is fast they were there to help with any request
Myrko
2017-01-24T00:00:00Z
Fabulous view! The floor to ceiling windows in the living and bed rooms showcased the amazing view of Tagbilaran across the water. I never got tired of it. The host greeted me warmly when I arrived and checked frquently during my stay to make sure I had everything I needed. The road from the highway s very bumpy but in my experience that is normal in the Phillipines. I had no trouble getting a mototcycle taxi or tricucle at the highway. In fact, I booked with one motocycle driver to take me all around Bohol, including the Chocolate Hills, the Tarsier conservatory, and Alona Beach. I did walk into town one day but it took me a half hour. After a long hot day of touring, the infinity pool is cool and refreshing. Suggestion: get up early to witness the stunning sunrise--you will be glad you did.
Lorna
2017-02-09T00:00:00Z
Really like my stay here! Great view! Great host! Mario and Fatima were very friendly and helpful! Location is great for relaxing but when you want to eat or do something you have to take tricycle. To go to town, can cost you between 20 to 40 if you don't go too far and depending on the driver. Would definitely stay there again! Thanks!
Sylvain
2016-12-29T00:00:00Z
My partner and I had a lovely time at Fatima's place. Truly enjoyed the scenic view. We would recommend it to other couples or solo travellers looking for a peaceful place to stay that is also just fifteen minutes walk to the city. The walk in is pretty rough and not well lit. Would not recommend to people who are afraid of dogs as there are many in the area. Will bark as it is along residential area. Would definitely come back to this place
Adlina
2017-01-05T00:00:00Z
房东照顾相当周到,回复信息也很迅速房子很漂亮,也很干净,但是离alona海滩很远,定了三天不得已只好退订后面的几天搬去alona附近的酒店
Vega
2017-01-28T00:00:00Z
Beautiful home by the sea. Great view. Helpful and nice host.
Bjørn
2017-01-11T00:00:00Z
Great place... No awesome place! Really nice room and the view is even better. Really good value for your money! Stay here, its the best you will find oq and rent a scooter, its the best way to see the island!
Johan
2017-03-07T00:00:00Z
Highly recommend
Thomas Christian
2017-01-31T00:00:00Z
Type de logement
Logement entier
---
Type de propriété
Appartement en résidence
---
Capacité d'accueil
2
---
Chambres
Bohol, Visayas centrales, Philippines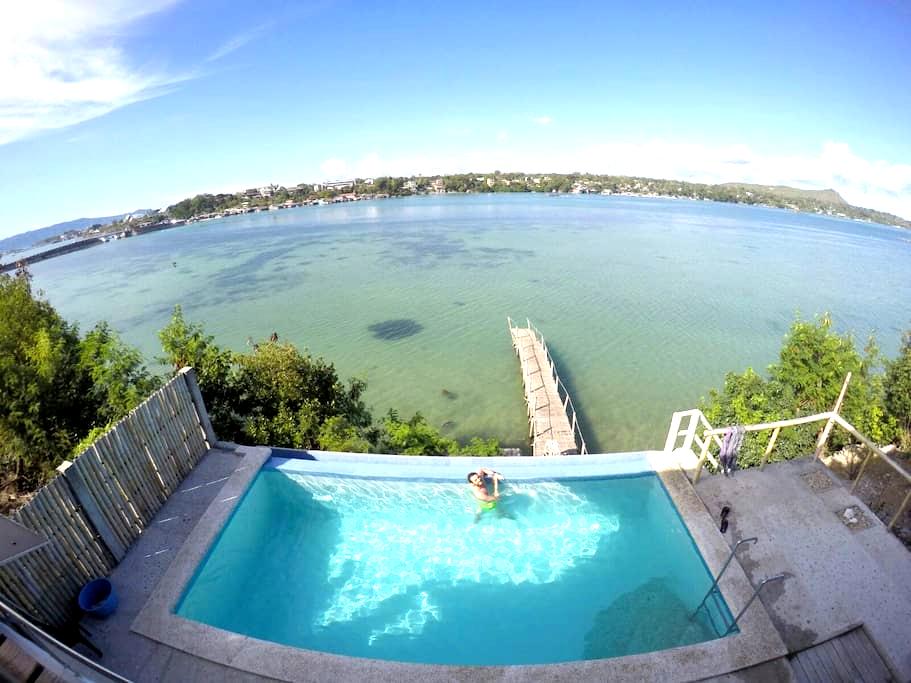 Das traumhafte 50m2 apartment mit grossem balkon, kuechenzeile liegt direkt am wasser mit blick auf tagbilaran. kurze wege zur stadt zu den straenden und zum hafen. This wonderful 50m2 apartment with a large balcony is right on the water, overlooking tagbilaran short distances to the white beaches, the city, the harbor and the airport. . market is 5 minutes from here. alonabeach is 20 km away.
its a very nice 60sqm apartment for two person. near the city and near the white beach (10 minutes) near the port ,marina and airport. 20-25 minuts to alona. Dear guest we have a good strong DSL INTERNET. Sometimes the operator PLDT (there is only one) problems and the internet can be punctual fail, we have no influence on it. This can happen all over the philippines. Please do not leave any food around the ants enjoy !!
alle beneiden uns fuer den tollen ausblick und die frische briese. die lage und das haus ist besonders . wir leben auf den ph. und es gibt hier in der umgebung huehner, hunde , katzen ziegen. bitte lassen sie kein muell rumstehen die ameisen freuen sich.
Super séjour dans un studio tout moderne avec une magnifique terrasse où il est agréable de prendre son petit déjeuner face à la mer . La piscine permet de se rafraîchir . Mario et Fatima ont été charmants ,sympathiques et toujours prêts à nous aider . La situation est top entre les deux îles á 5 min de la ville et 10 min du port. Encore merci pour tout Anne et Olivier les tourdumondistes belges
olivier
2016-05-24T00:00:00Z
Julian and I very much enjoyed our stay at the La Vela apartmenthouse. Amazing views and I loved the open concept. If you want to relax and keep away from the craziness this is the place to go! It is however quite far from Alona Beach and Dumaluan Beach (About a 30 minute tricycle ride) Nonetheless Fatima and Mario were GREAT hosts, always there when we needed something. Thanks for the stay!
Kaitlin
2016-12-23T00:00:00Z
Fatime and Mario were great hosts! They helped us out with everything we needed! Apartment is nice, but it does not have air con which was a problem. There was also quiet a few ants in the apartment. It was also quiet hard to find the apartment originally, as it is located about 250m off the main road, the road is rough gravel which meant we had to carry our suitcases to and from the apartment in high heat! The shower is poor also! Did not work on the first night, and when it did, well we refereed back to using the bucket and cup to wash like we did the first night as the shower pressure was quiet low. However, overall we enjoyed our stay! Thanks for having us!
Pauric
2016-05-10T00:00:00Z
Fatima was a great host. She was very responsive throughout the entire exchange. The location was a little hard to find at first but it was exactly what we were looking for - somewhere close by to the city but away from the hustle and bustle. Best thing - The place was beautiful, modern,and had a great view - exactly like the pictures. The pool was also a huge plus. Worst thing - AC is extra every day and it is very hot without it. If you want an authentic bohol experience with a modern twist, I would definitely recommend this location!
Jerome
2016-10-17T00:00:00Z
Amazing view. We love it. Very clean and quite
lingyun
2016-08-04T00:00:00Z
A great place to stay with cool views, very clean and the hostess very friendly and helpful. Any time
Patrick
2017-03-15T00:00:00Z
Fatima and Mario are friendly and hospitable hosts:) And it's a very nice place! Spacious, light and with a stunning view! And those glass doors to the terrace.. my dream :) But be careful - mind the doors when they're closed (because the glass is transparent :)) ;) There's everything you need for living (and it's very suitable for long-term rent) - BUT you definitely need a bike for getting to somewhere else on the island - it'll be more convenient :) Although you can pick a tricycle up on the highway and be driven both to the beaches and different places in Panglao and Tagbilaran (there you can buy some food in the shopping malls).
Elvira
2016-12-02T00:00:00Z
Fatima's place is really amazing - silent, nice view over Tagbilaran and perfect to explore Bohol as well as Panglao! Mario and Fatime are very kind and easy to reach for any case or help, appreciate it! So we had a really god time there and can recommand Fatima's flat!
Stefan
2017-01-02T00:00:00Z
Type de logement
Logement entier
---
Type de propriété
Appartement en résidence
---
Capacité d'accueil
2
---
Chambres
Panglao, Visayas centrales, Philippines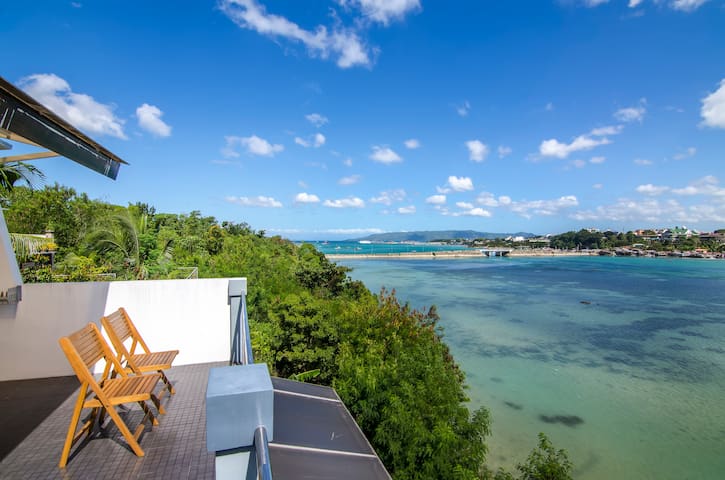 1

–

2

sur

2 locations en résidence
Saisissez les dates souhaitées pour connaître le prix total. Des frais supplémentaires s'appliquent et des taxes peuvent être ajoutées.