Appartement dans la vieille ville, au pied de Melk, au beau Danube bleu. Juste une minute de la piste cyclable et du centre. Un bon point de départ pour le cyclisme, la randonnée et. Voyage ferroviaire dans le paysage culturel unique de la Wachau. Un parking gratuit est à environ 5 minutes à pied de la maison! Avertissement de l'appartement est un Pub Café. Il peut parfois être bruyant!
The apartment is located 50 meters from the pedestrian area next to the road directly leads to the pin. The bright, sunny apartment has its own entrance and has 156m² of living space. The apartment is located on the 1st floor of a monument-protected house. The apartment in the center of Melk has its own entrance on the first floor. The open interior design makes the rooms bright and appear friendly. There are two separate bedrooms, large entrance area and a separate kitchen. The living room has 60m² and is furnished in English style (Chesterfield) The dining room is decorated in Art Nouveau style. The great infrastructure and the location under the Melk Abbey and the old town make this apartment ideal for a holiday destination. The Wachau, with its famous vineyards is a world heritage site. Towels and linens are included! Respect for our house is no parking available but are parking spaces available on the street! Please note that the apartment is above a coffee house like this you can at the weekend lead to lower Lärmvelästigung!
Revivez la vie des gens de la Wachau sur place. Melk est situé directement sur le Danube, vous pourrez donc profiter le long du Danube à travers la Wachau la plus belle piste cyclable, ou faites-vous avec le DDSG une excursion en bateau à Krems ou Melk. Expérience Mariandl, abricot, navigation, le cyclisme, la natation, la culture, la randonnée, les châteaux, la bonne nourriture, le meilleur vin Ci-joint vous trouverez des liens pour la tournée des destinations nord: (URL HIDDEN) (URL HIDDEN) (URL HIDDEN) Doit vu: Dürnstein (patrimoine mondial) Krems Wachau DDSG Blue Danube Schiffahrt Wine Experience "Sandgrube 13 wein.sinn" Winzer Krems Schloss Artstetten
Casa spaziosa ed accogliente, molto vicino all'abbazia (anche se Melk non è molto grande). Cucina un po piccola, ma comuqnue dotata di tutto! Stuff sempre disponibile ;) Ah.. dotata di wifi!!
Martina
2016-02-18T00:00:00Z
The Location is Great as it is Directly in the Center of Melk & in Front of the Melk Stift. The Apartement itself offers a Lot of Space and we experienced it very clean.
Birger
2016-07-27T00:00:00Z
While we did not meet Dean, he had a representative to show us in. Although we had a language barrier, we figured it out. The apartment looks exactly like it did in the pictures and was a fine representation of the architecture that you find in this old and charming city. The Abbey is just a small walk up a few flights of stairs behind the apartment. The apartment is bright and open and airy. If you are looking to cook a full meal, you would do best to not plan to use more than 2 burners on the stove and the oven at the same time as the wiring is a bit grumpy (expected in an older home). Perfect for a light breakfast.
Debrah
2016-07-15T00:00:00Z
Very good location, 5 min walk from the main attraction of Melk - the Abbey. All essentials present. Kitchen rather small. A lot of space but not all of it is of use for us - it is former office re-designed as living apartment. The bedroom needs new furniture - bedside tables and lamps for reading. It also should not be separated from living room by glass wall. Also the mattress could be better. The host was very helpful, easy to arrange key exchange and the like.
Constantin
2015-05-10T00:00:00Z
after work and a long jouney we arrived at 22:00 but there was noone who would have meet or host us. the whole apartment was mute and dark. we tried to call the given phone no., but there was an unknown one. we had to look for an other place to stay in the middle of the night in a small city. there was only one room for double price, so we will claim this amount.
Viktoria
2016-08-06T00:00:00Z
We keeped a fluid contact in order to assure the arrival to the apartment. Dean was very helpful in providing the right information to arrive to the place. He was very kind and extremely corteous, attentive and friendly. The appartement is beautiful and very wel placed in downtown Melk just a few steps from the Abbey and few meters from the Gasthaus and shops.
Juan
2016-06-20T00:00:00Z
Dean很友好,很乐意回答我们所有的问题。我们到达时,Dean不在,他让他的爸爸接待我们,为我们提供帮助。由于谷歌的导航错误,指示我们到中国酒家附近,好在中国酒家老板的儿子帮我们联系上(异国他乡遇到祖国的人,很亲切。酒家老板一家人好,饭菜实惠味道好,极力推荐!)。其实房子在古城进入梅尔克修道院的路径旁,是城镇的中心地带,可是可爱可亲的Dean爸爸不懂英文,无法给我们指路,第一天也无法使用WiFi,好在后面他女儿回来,问题得以解决。房子正对修道院,空间很大,主人对里面的摆设很用心,房子有几百年历史加上里面古典怀旧且有点华丽的摆设,让我们顿时有住在古堡的感觉!
Yanhuan
2016-08-03T00:00:00Z
Wir wurden wirklich nett empfangen. Alles super sauber. Ruhige Innenstadtlage.
Dany
2016-07-03T00:00:00Z
Type de logement
Logement entier
---
Type de propriété
Appartement en résidence
---
Capacité d'accueil
4
---
Chambres
Melk, Niederösterreich, Autriche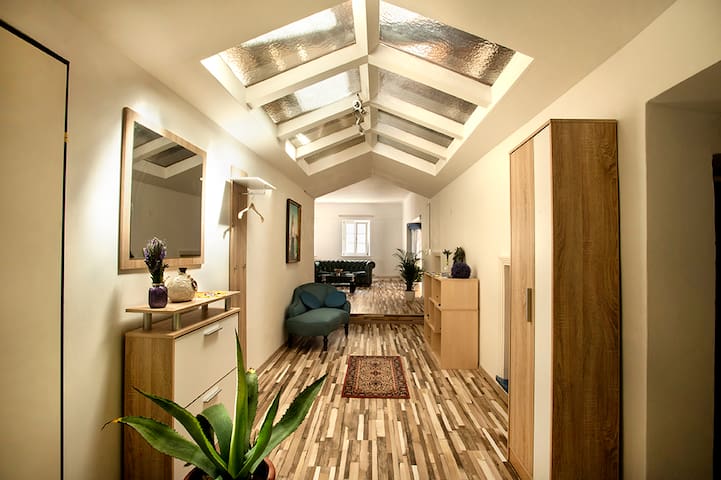 In einem neuen Haus über den Weinbergen von Krems und mit Blick auf das herrliche Stift Göttweig findest Du eine großzügige Wohnung mit viel Komfort. Ideal für 2 Personen, zu Viert aber möglich.
Die Wohnung hat eine riesige Terrasse und einen Garten mit einem herrlichen Blick über die Weinberge. In der neuen Küche mit allen modernsten Geräten könnt Ihr Euch ein leckeres Essen zubereiten und dann mit Rosenthalgeschirr fein dinieren. Selbtverständlich könnt Ihr gemütlich auf dem Sofa sitzen, Fernsehen, Musik hören oder lesen. Sogar aus der Badewanne könnt Ihr in die Ferne sehen (lasst Euch dazu überraschen!). Solltet Ihr zu Viert sein, steht ein aufblasbares Doppelbett zur Verfügung. Bitte vorher Bescheid geben. Aufpreis pro Person: 10,00 €
Man kann zu Fuß in die Stadt Krems (eine der beliebtesten Städte Österreichs) gehen oder aber auch gleich in den Weinbergen einen herrlichen Spaziergang machen. Die Wachau lädt mit ihrer herrlichen Landschaft zum Wandern, Radln oder Bootfahren ein. Besonders beliebt sind natürlich auch die wunderbaren Restaurants in der Gegend. Gerne kann ich dazu Tipps geben (ich esse nämlich gerne).
Un superbe appartement avec une hôte très agréable et gentille. L'appartement est incroyable et tout neuf c'était un plaisir de loger chez cornelia. A refaire avec plaisir.
Juju
2016-05-31T00:00:00Z
Die Wohnung war genauso wie bei Airbnb beschrieben, sehr modern, aber dennoch gemütlich. Sie war mit allem ausgestattet, was man braucht. Wir haben uns die Woche sehr wohl gefühlt! Auch der Kontakt zur Gastgeberin war sehr herzlich, es klappte alles reibungslos.
Gerlinde
2016-10-10T00:00:00Z
Highly recommend! I really enjoy staying in Cornelia's apartment. Apartment is situated in a very nice place on the hill, with beautiful panorama. Apartment is very modern, extremely well equipped. Host is very flexible when it comes to arrival hours. Very well communication with host. I can only say good things about this apartment. And I'm planing to be back in couple of months :-)
Katarzyna
2016-08-18T00:00:00Z
Ja, was mochte ich? Einfach alles. Jederzeit wieder, nochmals ein Danke für die Gastfreundlichkeit und das Ambiente. Danke Cornelia.
Michael
2017-03-26T00:00:00Z
Great place to stay! Big and clean Design-appartment with all kind of luxurious things in it, like a tv in the bathroom, a wine-fridge and an automatic lawn-mowing-machine. Contact with Cornelia was good: she picked us from the trainstation, was easy to reach and brought us fresh Marillen, the specialty of the region. Krems is a nice place to spend your Holidays. Since we didn't have a car, we used public transport: Next-bike, bus and train. It costs a little planning, but very easy to use.
Bas
2016-07-30T00:00:00Z
Cornelia ist eine sehr sympathische Gastgeberin, das Apartment ist traumhaft, sehr groß und der Ausblick auf Krems ist fantastisch!
Daniel
2016-10-15T00:00:00Z
Cornelia und ihr Mann sind sehr nett, spitzen Berater und geben wertvolle Tipps. Die Wohnung ist perfekt ausgestattet, super Lage und sehr geschmackvoll eingerichtet. Alles auf dem neuesten Stand. sehr schöner Blick über die Weinberge auch auf das Kloster Göttweig. Parkplätze direkt vor dem Haus. Zu Fuß kann man Krems in wenigen Minuten erreichen. Vielen Dank! Wir kommen bestimmt wieder.
Tom
2016-11-05T00:00:00Z
Wow! This place is immaculate and lovely. Cornelia and husband met us as the station and gave us a lift up the hill to the flat in their van which was really nice. It is an OK walk but with luggage it would have been a struggle. The place is in a great location, just outside of Krems across the canal and up two nice sets of steps. The view over the vineyards is a lovely sight after a day walking in the valley. Renting bikes from NextBike worked well for us and there is a station just at the bottom of the steps which is nice too. The flat is lovely. Modern, clean, nicely furnished and excellently stocked with good quality items. The bathroom fittings also clean and modern and the whole place just lovely. It was also really quiet and peaceful and dark at night for a good nights sleep. There is no air conditioning but leave the shutters down when you go out in the day to block the sun and inside is reasonable. We were there in 30 degree plus weather and felt comfortable inside despite this. The garden and outside area is nice too and just sitting, watching the view and the robot mower do its work is a nice treat itself. The wifi is excellent, the TV great, the sofa comfortable. Perfect. It all sounds a bit gushing I suppose but we liked it a lot. I suppose the only thing I can think of is that the garden, and therefore the large glass windows, are not super private. The neighbours doing their garden can see in but they were very nice and smiled and said hello so that didn't bother us either. The area, Krems and the Wachau valley are lovely too. We loved renting the Next Bike scheme for a euro an hour and cycling out for a look at another village or a walk. You can train or boat though if you are in need of rest, can do without a car if you are adventurous and walkey.
Douglas
2016-07-11T00:00:00Z
Type de logement
Logement entier
---
Type de propriété
Appartement en résidence
---
Capacité d'accueil
4
---
Chambres
Krems an der Donau, Niederösterreich, Autriche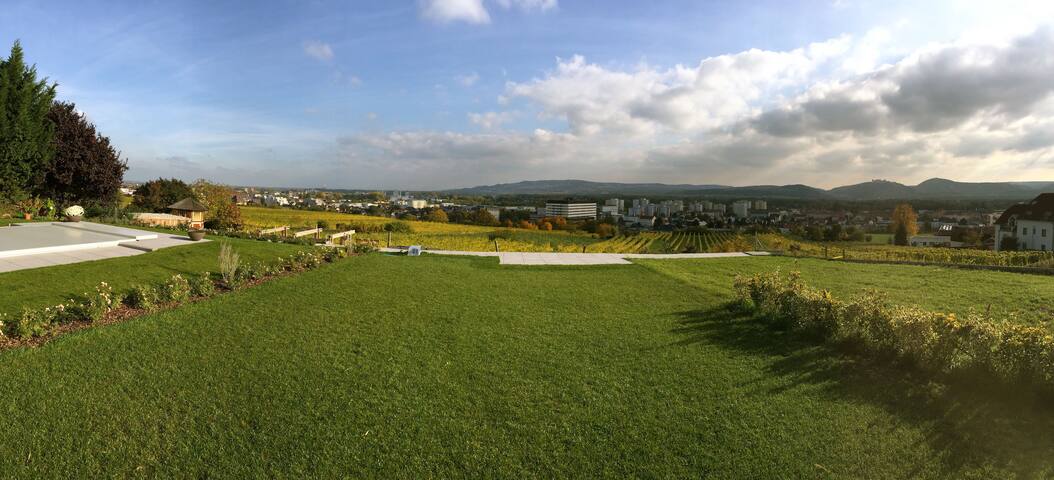 The Renaissance castle Walpersdorf located in northeast, near Krems and Herzogenburg. The exclusively furnished rooms are located in the castle. The latest design trends can be found in Lederleitner Home STORE in another section of the palace. Enjoy the unique atmosphere and let you dine at our castle kitchen of DO SO.
Wir fühlten uns sehr wohl in der Wohnung, wunderschön eingerichtet und toll eingebettet ins Schloss Walpersdorf. Kommen sicher wieder!
Irmi
2016-09-09T00:00:00Z
Everything was fantastic! Nice service, nice people! Very nice flat! Very recommended!
Alex
2016-09-24T00:00:00Z
It was special to stay in the castle. The apartment was new and well appointed. There is a delicious restaurant on the grounds, and a design house. Just make sure that there is not a wedding party at the castle for the time of your arrival because there was for us and our first night was restless from the loud. Other nights were peaceful though, and we enjoyed the quiet country. Recommended place to stay near Krems.
Vincent
2016-09-06T00:00:00Z
Die Location ist beeindruckend und die angebotene Wohnung welche ganz im Lederleiter Stil eingerichtet ist bietet sich als Ausgangspunkt für zahlreiche Trips zu den vielen tollen Weingütern und Sehenswürdigkeiten des Traisentals perfekt an. Alles in Allem eine sehr zu empfehlende Übernachtungsmöglichkeit.
Wolfgang
2016-08-01T00:00:00Z
Type de logement
Chambre privée
---
Type de propriété
Appartement en résidence
---
Capacité d'accueil
4
---
Chambres
Walpersdorf, Niederösterreich, Autriche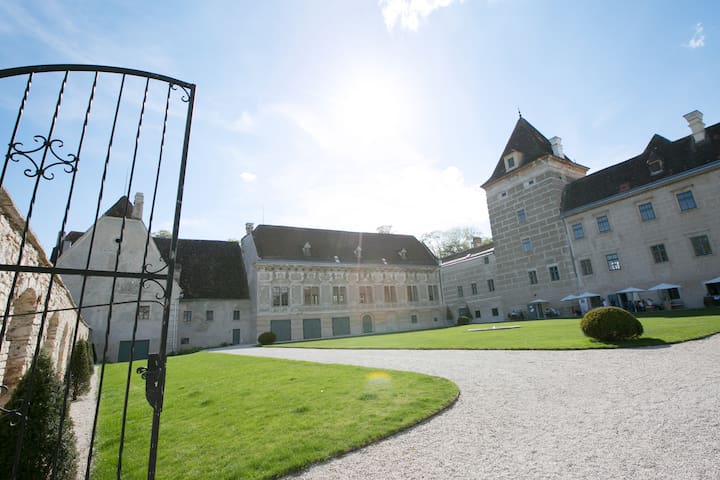 The apartment consists of a kitchen with own dining area and a cozy TV corner (satellite TV) with sofa. Another room is directed as a bedroom and of course bathroom and WC. In our garden there is a cozy sunny seating to relax, perhaps with a glass of wine, a. From our house many beautiful hiking and cycling are possible. The idyllic town of Krems is 10 km away and Vienna 80 km away.
Do you want to spend relaxing days in one of the most beautiful landscapes in Austria?
We are surrounded by vineyards and orchards, and are characterized by a quiet location.
Type de logement
Logement entier
---
Type de propriété
Appartement en résidence
---
Capacité d'accueil
2
---
Chambres
Gemeinde Rossatz-Arnsdorf, Niederösterreich, Autriche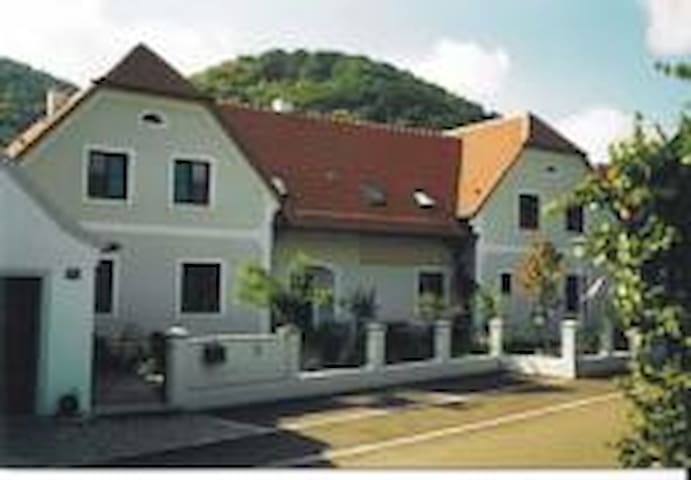 My house is near public transport (bus at your doorstep, train 5 minutes walk) you will be my guest love because it is nicely furnished and is ideal for short and long stays perfectly equipped. Cozy, the view and the location are top. Just 15 minutes walk to the City / Train Station / nightlife / shops ... My accommodation is ideal for couples, Sporties (hikers, mountain biking, ...) Solo travelers, business travelers, small families, students.
St.Pölten Süd / Nadelbach
Quiet
Conny und ihre Mutter sind super Hosts :) Die Wohnung ist total bequem.
M
2017-01-07T00:00:00Z
Sehr angenehm und unkompliziert!
Susan
2017-03-19T00:00:00Z
Sehr nette Gastgeberin. Freundlich, zuvorkommend, einfach perfekt. Herzlichen Dank Conny für die wunderschönen Tage in St.Pölten
Simone
2016-10-28T00:00:00Z
Type de logement
Logement entier
---
Type de propriété
Appartement en résidence
---
Capacité d'accueil
4
---
Chambres
Sankt Pölten, Niederösterreich, Autriche
1

–

5

sur

5 locations en résidence
Saisissez les dates souhaitées pour connaître le prix total. Des frais supplémentaires s'appliquent et des taxes peuvent être ajoutées.