Saisissez la date d'arrivée au format jj/mm/aaaa
Saisissez la date de départ au format jj/mm/aaaa
Logements que vous pouvez réserver sans attendre l'approbation de l'hôte.
Saisissez les dates souhaitées pour connaître le prix total. Des frais supplémentaires s'appliquent et des taxes peuvent être ajoutées.
Cet été (juillet et août), vous pouvez essayer l'un de ces 100 logements les mieux notés, dans toutes les gammes de prix, pour découvrir Sonoma d'un point de vue local. Entrée dans les lieux 24h/24, réservation instantanée, mais aussi vin et petites spécialités locales à disposition… autant d'invitations à vous détendre et à profiter pleinement de votre voyage.
If you are looking for a tranquil place and get away from the urban life and connect with nature, this 2600 sf true log cabin is the perfect place for you and your family. Located in Mariposa county just 45 miles from Yosemite national park.
The log cabin is situated on 130 acres with gentle rolling hills. Two story 2600 sf 3 bedrooms 4.5 bathrooms, and wrap around porch. It sets in a hill top with beautiful views of the valley. The main floor has a great open floor with 25 foot high vaulted ceilings, kitchen with all the amenities, 3 bedrooms all with its on private bathroom and fire place. A game room with a bran new pool table and games. The wrap around porch with a BBQ grill and a bar for entertaining over looks the beautiful views of the property and valley. Hike trough out the property and appreciate nature, bird watching, nature oak trees, and grassy hills. For those who like the outdoors there is a good size pond stocked with bass fish (catch and release only, please bring your own fishing gear). Second floor is used only for laundry, but can accommodate a few more beds if necessary. The guess will have access to entire log cabin, 130 acres of property, the pond, laundry room and game room. You will be greeted at the log cabin by the property manager, show you around the cabin and property. If any questions arouse during your stay the property manager is on the adjacent property for any questions or concerns.
The town of Mariposa you will find great restaurants, bars, museum and plenty of historic memorabilia. The log cabin is located in Catheys Valley a small town along hwy 140, 15 minutes from Mariposa. In which you will find a good size grocery store, gas, good restaurants and bars. The cabin is only 45 miles from Yosemite National Park.
Norma was proactive and was available all the time on Airbnb messages. The place is exactly how it is advertised. It is spacious, clean and very comfortable. It is in a quite location away from the highway. The caretaker Carlos was also very helpful and was quick in responding to messages.
Pavan
June 2016
We had an amazing stay in this beautiful log cabin. We were made to feel very welcome by our host, Norma and we had everything we needed and more. It was a good base for going to and from Yosemite. I would recommend it to anyone and wish we had longer there!
Imogen
July 2016
Norma and Carlos were gracious hosts - answering numerous of our questions prior to arrival. Though the service was spotty - we were able to get a hold of the host at midnight to check in. The cabin is wonderful - great room sizes - we comfortably fit our group of 11. All the necessities were covered (kitchen utensils, coffee, salt pepper, soap, shampoo...etc.). It was better than staying at a hotel! We were in Yosemite most of the time - which approximately took about 1.5 hours on a good day...but the day we stayed at the cabin - we went fishing and the hosts were so great they even brought us fishing poles and showed us how to use them (since not even 1 out of 11 of us have gone fishing before). This was a great experience - if we ever go to Yosemite again we will be sure to stay there! Thank you!
narmin
July 2016
Our experience was amazing!! The log cabin is beautiful, tucked back on a quiet dirt road and the 200 acres sorrounding the house are very pretty. Carlos the house manager was very nice and helpful too. He checked in several times with us to make sure we had everything we needed. I would recommend this property to anyone!
Brittany
May 2016
What a beautiful cabin in the foot hills. I spent a wonderful 28th birthday with friends grilling and enjoying to scenery. The house has all the amenities you could need, towels, blankets, cooking supplies, even some board games! The Cabin was clean and Issac & Norma were incredibly helpful and answered all questions quickly.
Renata
October 2016
We enjoyed our stay here very much. It is a lovely log cabin on a beautiful piece of property. It is very clean with a nice kitchen and comfortable beds. We especially enjoyed the porch. The host greeted us upon arrival and was very kind to check on us during our stay.
Burchie
August 2016
Superb stay! Really nice log cabin that spacious, remote and privacy. Would come back anytime anyday. Thanks Norma for hosting such a wonderful place!
Ridzuan
September 2016
House was great, huge, and private. Internet was NOT stable, and we couldn't use the promised online TV. But when we told Norma, she got us endless DVD's. House is not 45m from Yosemite, it's more like 1:15 and 1:45 on the weekend, and that is only to gate, you have another 15-45min in the park depending on where going, and Traffic. Pond does have fish, I wasn't able to catch anything, but it has lots of green algae, and isn't very welcoming.
Shai
July 2016
Type de logement
Logement entier
---
Type de propriété
---
Capacité d'accueil
10
---
Chambres
3
Mariposa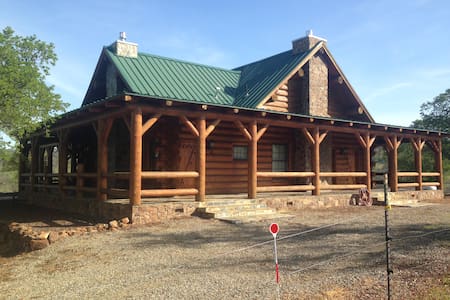 If you want to detach from your everyday life and/or the crowds in Yosemite, a respite, a retreat to recharge at RoundHat Ranch is a 'natural' remedy with animals, views, trails, wildlife, serenity, and night sky, in a Ranch atmosphere immersion.
RoundHat Ranch has a full-time owner/manager living at the Ranch Headquarters and can answer any questions you might have when you arrive. RoundHat Ranch has a no pets, no children, 1-2 ADULTS ONLY (21 and over) rental policy due to liability issues concerning the horses and other animals on the Ranch. The policy does allow us to not charge a Security Deposit. From RoundHat Ranch, it is 3.3 miles to restaurant, gas, and convenience store at the Catheys Valley crossroads at Highway 140 and Hornitos Rd., then it is 10 scenic miles to the historic mining town of Mariposa, another 12 scenic miles later, you enter the spectacular Merced River Gorge (this is the beginning of your Yosemite experience) traveling along the river (Hwy 140) straight into Yosemite Valley. The Arch, West Yosemite Park Entrance (beginning of the Valley), is 45 miles from the ranch, but be advised the scenic beauty may cause you to stop, observe, or linger along the way, so, time to Yosemite Valley varies. RoundHat Ranch Cottage is 1 bedroom with queen-size bed, 1 bath with shower, and additional outside shower, and is for 1-2 ADULT guests only,(21 and over). A RoundHat Ranch stay is a great addition to your Yosemite vacation experience. Located in the pastoral Catheys Valley, an area of large and small ranches, 2.7 miles off State Hwy 140 (the only all-weather route to Yosemite, and parallels the route of discovery of the Yosemite Valley along the Merced River Gorge by Indians, explorers, and miners). The 'Cottage' is nestled within the ranch, having its own private fenced area. You can move about the ranch along the many tree-lined trails, seeing the animals, and taking in the sights, sounds, and feel of the ranch. The Cottage has been designed, both inside and out, for an intimate and serene experience for its guests. There is outside the cottage, within the private fenced area, shade-cloth covered arbor patios, a roof covered all weather patio with double chair swing, cement table with inlaid chess/checker board, fountain, outdoor shower with stall and dressing area, propane BBQ, Chaise lounges, patio furniture all shaded by large mature Oak trees. Inside the Cottage the 1 bedroom is appointed with things related to the ranch and Yosemite, and a Queen size bed w/ linens, blankets, comforter, futon chair/bed and ceiling fans. The Cottage has Satellite TV, WiFi internet access, full bath w/shower with large multi-setting shower head, soap, towels. The kitchen has microwave, refrigerator, 2 burner electric stove top, large kitchen sink, peninsula island cabinet, coffeemaker, some seasonings, cookware, utensils, plates, bowls, cups, and dining table. Living room has sofa, love seat, captains chair w/footstool in Mission-style furniture, and ceiling fan. The heating and air conditioning is a Fujitsu split system that both heats or cools to the set temperature and is very quiet. There is some reading material and games. The utility room has a washer and dryer, extra bathroom and kitchen supplies, and an ironing board, iron, and hair dryer. ARRIVAL AND CHECK OUT Check-In: Front door will be unlocked and Keys will be left on the kitchen counter for your use during your stay. Check–In time is after 3:00 pm. In those cases, where there is not a guest leaving on the day of your arrival, an arrangement can be made for an early check-in. Or, in the event of an early arrival, it should be possible to drop off baggage while the Cottage is being cleaned, after 11:00 am. If you are expecting a late arrival after dark, let us know, and we will leave outside and inside lights on for you. Check-Out time is before 11:00 am. In those cases, where there is not a guest arriving on the day of your departure and you would like to check-out later, please let us know and we will try to accommodate you. Check out: When leaving, please leave dirty linens and towels in the utility room. Wash, dry, and put away the pots, pans, and dishes that you use. Close all windows and Doors. Check out: Leave Front door unlocked and Keys on the kitchen counter. -If you lose the keys or fail to leave them in the Cottage when you leave, you are agreeing to pay a $50.00 charge. -If you lose the keys while still at the property, you are agreeing to pay a $50.00 dollar charge. The 'Cottage' is nestled within the ranch, having its own private fenced area. You can move about the ranch along the many tree-lined trails, seeing the animals, and taking in the sights, sounds, and feel of the ranch. The Cottage has been designed, both inside and out, for an intimate and serene experience for its guests. There is outside the cottage, within the private fenced area, shade-cloth covered arbor patios, a roof covered all weather patio with dou...
RoundHat Ranch Cottage sets on several knolls overlooking Valley and Meadow views at the foot of Guadalupe Mt. in the pastoral Catheys Valley along State Highway 140, the Western entrance to Yosemite. It is a pastoral valley of small and large ranches. Auto transportation is the only way access the Ranch and into Yosemite. Within the Ranch the seasons at RoundHat Ranch are distinct and each has its own attractive elements, there are no weather related access problems to the ranch or to Yosemite Valley along Highway 140. To move about the entire property easily, the many pastures have tree-lined trails between. This allows guests to observe all the area and animals up close and in an almost parklike experience. For those who like photography, there is ample inspiration. Varied wildlife can be seen daily. The 'Cottage' is set within and yet apart from the ranch by its own privately fenced area, encompassing large mature Oak trees, shade-cloth arbor covered patios, fountain, all-weather covered patio, double chair swing, and outdoor shower. All with an intimate view of the ranch and distant mountain, valley and meadow views. Catheys Valley is in Mariposa County along State Highway 140 to Yosemite. It is an area of Oak Woodlands, Knolls, Hills, and Meadows, with the Sierra Mountains and Yosemite bordering to the east. Many old Chinese rock walls define old boundaries and are now historical preservation sites. Catheys Valley has a rural ranching lifestyle of small and large ranches, the kind you see while traveling, and wonder how you can experience it for yourself. RoundHat Ranch puts you into that experience, where you can get the sights, sounds, and feel of ranch living. Nature is the attraction and the main activity with quiet,space, and privacy as amenities. The sights can give inspiration to the photographer and nature lover, like it did to Ansel Adams and John Muir. Less than one mile from RoundHat Ranch is 'The StoneHouse', where naturalist John Muir and President Theodore Roosevelt stayed while making Yosemite a National Park. During that time, a certain Hiram Walker was granted an original land patent for 40 acres, signed by then President, Theodore Roosevelt, and today, is RoundHat Ranch. The seasons at RoundHat ranch are distinct, and each bring their own special experiences and views. There are many boating and fishing lakes, streams, and rivers in the Yosemite foothills and mountains. River rafting in the Merced River Gorge, a designated wild and scenic river, along Highway 140 into Yosemite, is popular late Spring to early Fall. Of course, all things Yosemite are on the menu, and the Ranch affords a great respite after a day in the Park, away from the crowd.
The cottage was an absolute blessing. Would strongly recommend, and we plan to stay with Stephen again on our next Yosemite. Stephen is very friendly and welcoming, the place was both rustic and pristinely maintained, and we were impressed by the spaciousness. My only regret is not getting to the property soon enough, as we wish we could have spent more time on the ranch.
Arthur
August 2016
Type de logement
Logement entier
---
Type de propriété
---
Capacité d'accueil
2
---
Chambres
1
Catheys Valley, Mariposa County, Yosemite Area