Saisissez les dates souhaitées pour connaître le prix total. Des frais supplémentaires s'appliquent et des taxes peuvent être ajoutées.
Mökki oli viihtyisä, siisti ja maisemat olivat hienot. Majoittaja oli todella ystävällinen ja avulias. Hyvä hinta-laatusuhde. Voisimme yöpyä toistekin.
Riina
August 2016
nice cottage at the end of a little path, right a by the sea. two bedrooms, bathroom, fireplace and a well equipped kitchen. very quiet with an amazing view. everything was tidy and clean. we didn't meet the host, but she answered our questions via internet / phone.
Rieke
July 2016
The location is awesome, just a few steps to the fjord and beautiful views from the terrace. An ideal place for relaxing. The cabin is cosy and has a good kitchen, which is nice for preparing the fish that has been caught in the fjord :-)
Miro
August 2016
The place is a clean a nice cabin, with a full equipped kitchen and two comfortable rooms. The view is really peaceful and there is a space outside to seat and enjoy the view. You can enjoy the quiet of the place and your privacy. Ann was ready to reply to all our questions.
daniele
July 2016
A simple but confortable and quiet cabin, with all the things you need and directly by tge side of the water. The contact with Ann-Maritt was very easy-going.
Gonzalo
August 2016
Ann Marit's cabin is absolutely perfect for a vacation near the fjord. Private access to the water, a beautiful deck/patio, and plenty of cooking amenities. My husband and I stayed with another couple and had a great internet-free night of stargazing (it gets very dark!), a home-cooked meal, and then in the morning jumped in the fjord (which was very cold!). The second room is tiny with bunk beds, but the mattresses were so comfortable that we didn't mind. Just about a 15 minute drive from the city for supplies and such. We left wishing we had planned to stay longer!
Ellen
September 2016
Det var en fin lille, autentisk hytte lige ned til fjorden... Der var det man skulle bruge.. Værten var meget opmærksom på at der ikke manglede noget... Vil helt klart anbefale andre at leje hytten..
Lisette Risbøl
June 2016
The cabin and the environment was amazing! We spend there two nights but it was hard to leave. If I will be next time in the area I definitely would go back! :D
Csongor Márk
August 2016
Type de logement
Logement entier
---
Type de propriété
Cabane
---
Capacité d'accueil
4
---
Chambres
2
Rana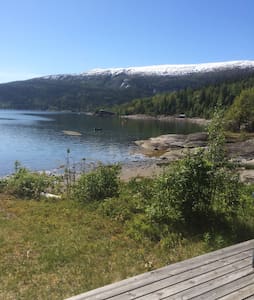 The location was lovely and peaceful by the river, and the camping facility was well equipped.
Yu-Hua
July 2016
When we have problems with the apartment in Mo i Rana, Gry at the request airbnb took us very quickly. Camping in nature - a perfect place to celebrate Christmas. Now I want to come here in the summer.
Vitalii
January 2016
Amazing cabin and best landlord
ziping
October 2016
Nice cosy and quiet place located next to a fishing area.
Jérémie
June 2016
Type de logement
Logement entier
---
Type de propriété
Cabane
---
Capacité d'accueil
5
---
Chambres
2
Hemnes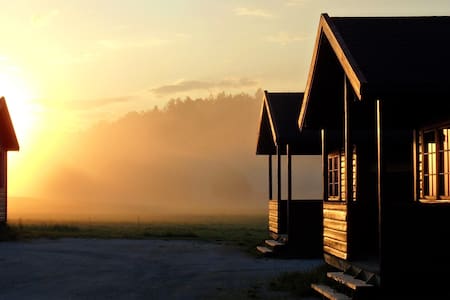 Koselig velholdt hytte på Brattland, Aldersundet. Gåavstand til flere vatn og sjø, nærmeste Vassvatnet. Båtutleie (sjø) og butikk i gåavstand. 3-4 min å gå til hytta fra parkeringsplassen.
Type de logement
Logement entier
---
Type de propriété
Cabane
---
Capacité d'accueil
7
---
Chambres
3