Built in 1892, this is a gorgeous mansion to create unforgettable memories. The perfect place to record a short film, music video, commercial, or photoshoots, also a celebration, dinner party, event, etc. I can make available for you rugs, statues, sculptures, high end furniture, chandeliers, expensive dinnerware and glassware, old books, lamps, furs, gorgeous beds, grand piano, different type of antiques.
A gorgeous villa next to the river with restaurants near by that will make your time splendid or for you to surprise that person you love with a great and unique dinner celebration.
Type de logement
Chambre privée
---
Type de propriété
Villa
---
Capacité d'accueil
5
---
Chambres
Riegelsville, Pennsylvanie, États-Unis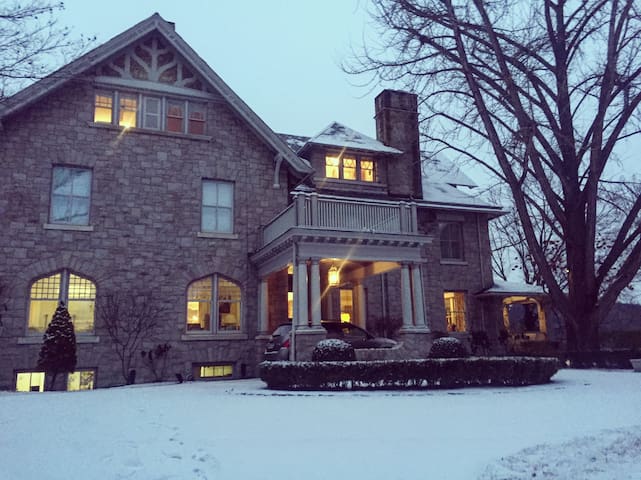 Exclusive & convenient - 5 minute drive to the entrance of Camelback skiing slope / Camelbeach Waterpark. 3 minutes away from the Crossing Premium Outlet. A cozy property in the heart of the Poconos close to everything you need!
House sits on a large lot. Lots of outdoor space and lots of parking. This is a newly renovated private house (wint(PHONE NUMBER HIDDEN)) with brand new carpet and bathroom! It has 5 bedrooms, 2 full baths, 1 half bath, living area, dining area, kitchen, den, wood burning fireplace and exterior decks. House is equipped with 11 beds and it's set up to sleep 17+ people. Bedrooms are set up as followed: Room 1. One Queen, Room 2. Two Full, Room 3. One Queen, One Bunk on top of One Full (Full & Twin), Room 4. One Queen, Two set of Twin Bunks (Four Twin). There is a Sofa in bedroom 5 that can be used for sleeping purposes if necessary, or this space can be used as an additional living area. Below are what you will find in the house: - Kitchen: Dishes and bowls, cups and glasses, silverwares, chopsticks, pots and pans, coffee maker, water kettle, toaster, blender, etc - Bathroom and Bedroom: Pillows, blankets, toilet paper, towels, hand soap, hair dryer and ironing board - TV - DVD player - Internet access with wireless router (speed is limited due to location) - Wood burning fireplace - Keyless entry - Board games (Chess/Checker/Backgammon set, The Game of Life, Jenga, Scrabble, Uno, Chutes and Ladders, Monopoly and Connect Four...) - Poker chips and playing cards Outside of the house: - Deck - Outside table & chairs - Charcoal grill and tools (you will need to supply your own charcoal and clean the grill prior to using it as it isn't cleaned by the cleaning crew) Nearby: - 3 minutes away from Mountain View Public Park where it has 2 tennis courts, 2 basketball courts, soccer field, football field, baseball field, multiple kid's playgrounds, 4 pavilions with grills and nature trails. The park is open in May (weather permitting) and closes on Labor Day, but is open on weekends after Labor Day through Columbus Day - 5 minutes drive to The Crossings Premium Outlets - 8 minutes to Big Pocono State Park, downtown Tannersville and Great Wolf Lodge - 10 minutes from Mount Airy Casino and Golf Club - 16 minutes away from Pocono Mountains Municipal Airport - Horseback riding, Sky Diving, Rodeo shows, Shooting range, Go-Cart track, Paintball, Rafting, Hiking and many other activities are all within a reasonable driving distance - Many great restaurants, fast food chains and convenient stores are nearby: Barley Creek, Hickory Valley Farm Restaurant, Desaki, LongHorn SteakHouse, Dunkin Donuts, Starbucks, DQ's, Red Lobster, CVS, Wei's, etc **Feel free to inquire about discounted pricing if you are looking to stay for more than 2 nights. I am also flexible on check in and check out time as long as there isn't back to back bookings**
Location! I bought the property because it has a great location. It's literally in the heart of the Poconos within minutes from everything!
I would say the experience at this home was okay. The house was fairly cleaned and maintained. We got locked outside for 2 hours due to John not giving us a code an earlier time. My best suggestion is if you are renting this home quick reminder to inform John about the lock code a day before or any questions. I would say John is a very busy person he won't answer really quick but definitely as soon as possible. The central AC unit wasn't working for us as well as we thought so many of the guest who slept in central rooms were sweating. Throughout these problems we still managed to enjoy the stay because of the fact it has everything provided for you. This location of the house is perfect for every season and everyone. It is all really close to outdoor activities and parks for families and churches to enjoy. We had a great time neither or less we are looking forward to renting this home again hopefully with the improvements.
Lijie
2016-07-06T00:00:00Z
House exactly looked as in pictures and is very good. Had a great time. Only problem we had was with kitchen sink drain and John was very good and got that resolved very quickly within moments as soon as reported that. Place is really well connected to shops and water park and other locations. We had all we need in quick 5 mins drive. Overall we had a nice time and John provided a great support. Thanks John.
SITARAMAKRISHNA
2016-09-06T00:00:00Z
The location of the property is wonderful.. Close to major attractions like Camelbeach Water park, half an hour away from Bushkill falls. I think the location has made the host not to worry about anything else around the house. We went here for the memorial weekend, start of summer and what we saw was one of the terrible air conditioning system. The settings thus far the worst I have seen. Result: We slept sweating in the house throughout our entire stay, scary to think what would be the case if we come here on a peak summer time. The second worst thing is the bathroom where there is no option to change the water from tap to the shower and we ended up buying buckets and using it for the stay. We called the host quite a few times who was very busy to even pick up the phone and asked to text and to which all his responses were tentative and careless. He never minded to show up or send someone for fixing the shower or the AC. Third thing there were rats running around the kitchen and with four kids in our group we had to be very careful with our food items. Then on the utensils provided, the spoons were all of cheap plastic and cannot be used for heavy cooking. Overall a terrible stay in a wonderful location. There were good things as well. The property is on a prime location and maintained well except for the above complaints. Beds, sheets, comforters, towels were abundant and neat.
Vignesh
2016-05-31T00:00:00Z
Wonderful stay. House is exactly as listed and comfortably sleeps 12 people with plenty of room for more. John is very quick with responses and communication
Colleen
2016-08-08T00:00:00Z
The location is great, anything you might need is about a 5 minute drive but there is a lot of traffic on the weekend. John was a great host. He responded promptly to any questions I had and allowed us to check in early. There was a group of 11 of us, all men around 30 years old just to have one last weekend together before my friend got married. The house was a perfect size for our group and we had plenty of room for a few more. When I arrived the house itself was clean but reminded me of the house I shared in college, there are some marks on the wall from moving furniture I'm guessing, the deck wasn't completely painted, there are stains around the drains in the upstairs bathroom, nothing that would really bother anyone, just things I noticed. The weekend we stayed was one of the hottest of the summer. The living room has a large AC until and the 2 largest bedrooms have window units. No one complained that it was too hot, but unless you were in one of the 3 rooms with the an AC it was never really cool, I would suggest bringing a fan or two. John provides the essentials and anything you might need is only a short drive away. You really can't beat the value. Overall we had a great time.
Joe
2016-07-25T00:00:00Z
The host was welcoming and did a good job answering our questions.
Rupi
2016-02-21T00:00:00Z
This house is in the best location! We used it for a ski weekend and it was in a perfect location from the mountain. It's also close to the shops and restaurants. John did a great job getting back to me with any questions I may have. House was reasonably clean when I came in. The house does have cheap furniture and some structural damage to it but for the value you get, you can't beat it.
Jeff
2017-01-08T00:00:00Z
John was a great host. I bombarded him tons of questions and he always answered within the hour, making sure that I felt comfortable and welcomed. John was very lenient with check in times and check out times. The house and the property was very spacious and clean when we arrived. With a group of 15, I thought we would have a hard time finding a house that can accommodate all of us and our needs but this house definitely did not seem to have this issue. This was my first experience with airbnb, and John set the bar extremely high.
Chun
2016-01-10T00:00:00Z
Type de logement
Logement entier
---
Type de propriété
Villa
---
Capacité d'accueil
16
---
Chambres
Tannersville, Pennsylvanie, États-Unis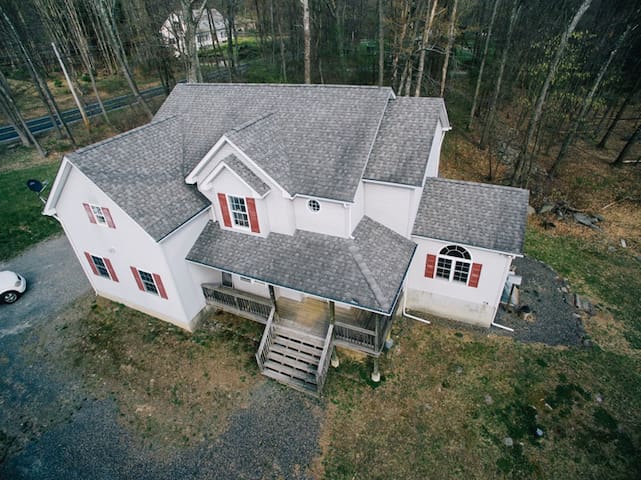 I have several units available throughout the year so family reunions and multi-families can all enjoy the area together. Location is PRIME as I border Camelback Mt. Resort Ski area and Aquatopia Water Park and Camelbeach Waterpark and Camelback Mt Adventures ZipLine Park. I also have on-site maintenance personnel if needed. ** Email me for additional DISCOUNTS and up to the minute availability.
I am located adjacent ( within walking )to Camelback Mt. Ski Area , Aquatopia Indoor Water Park , Camelbeach Water Park, Camelback Mt. Adventures Zip Line and The Crossings Factory Stores are a short drive away. The Mt Airy Casino is also very close.
LOCATION , LOCATION , LOCATION !!! STAY WHERE YOU PLAY !
Type de logement
Logement entier
---
Type de propriété
Villa
---
Capacité d'accueil
8
---
Chambres
Tannersville, Pennsylvanie, États-Unis
This listing is for the 14th interval of a timeshare unit tucked in the woods above the Delaware River. It is located on the edge of a small cluster of villas that are part of one of the "villages" of timeshare units that are Shawnee. Ours adjoins a walking parth that is a scenic 10 minute walk from the Shawnee Inn. We have been enjoying an annual early spring trip here for almost 3 decades. The two story villa with a fireplace, a round soaking tub, complete (but for food) kitchen, two and a half bathrooms, and a screened porch flexibly adapts to couple and family use. Cable TV and a DVD player await use, and, if you are an AT&T customer, free WiFi (otherwise it is available for a fee, or for free if one walks to the Inn). The coffee shop at the Inn makes a good cup of coffee, and the rockers on its front porch over looking the River: a great place to enjoy the same while checking email. The trails of the Delaware National Recreation Area, and the Appalachian Trail constitute walks we enjoy. Spotted trout lilies, dutchman britches and an occasional wood columbine are out this time of year to be discovered and enjoyed. Outdoor tennis and basketball are located within the "village", and a recreation center with an indoor pool, sauna, hot tub, gym, arcade and a miniature golf course are a ten minute walk up the hill, or there is a free shuttle bus to and from it. An activities program offers organized events and activities throughout the week. Forsythia, flowering cherries and daffodils are usually out to greet you on walks in the community. In the immediate area (walking distance) are a number of good places to eat. A short drive expands that number such that choosing which one to eat at becomes a problem.
Greg was an excellent host. He provided prompt responses to all my questions and the house was more spacious than I expected.
Jessica
2015-04-06T00:00:00Z
Type de logement
Logement entier
---
Type de propriété
Villa
---
Capacité d'accueil
6
---
Chambres
Shawnee, Pennsylvanie, États-Unis

Saisissez les dates souhaitées pour connaître le prix total. Des frais supplémentaires s'appliquent et des taxes peuvent être ajoutées.