Our house is a Victorian villa dating from 1861, with a large terraced garden. The perfect place to relax, be it for a short stopover, or a longer stay, to explore south Devon, Dartmoor and beyond.
The accommodation, on the first floor, consists of a cosy double bedroom with king-size bed, washbasin, mirror and chest-of-drawers, plus a smaller separate sitting-room/dressing room with wardrobe, sofa-bed and washbasin. There is a designated shower-room with toilet for the guest(s). The accommodation has its own (lockable) access door to guarantee your privacy.
We are in the Ellacombe area of Torquay, halfway between the magnificent Babbacombe Downs which overlook Lyme Bay and Torquay harbour and seafront - a mere fifteen minutes walk in either direction. Torquay's main shopping area is less than ten minutes away. A doctors' surgery is two streets away.
Accueil très chaleureux, parking ds la maison, Gentille proposition d'un rafraîchissement en arrivant, détente dans le jardin après la route
Arnaud
2016-07-29T00:00:00Z
We really enjoyed our stay with Martin, Pieter and Galley, right from our initial journey to Devon, when we were kept in constant touch via text to ensure we found the property quickly and easily. When we arrived, we had a lovely welcoming drink and chat in the beautiful gardens. The room was spotless, and we even had use of a second room which made it feel like we were in a little apartment all of our own. Breakfast was really nice, and was served at a time convenient to us, which made it feel like we were at home and not confined to deadlines. Martin & Pieter are such friendly hosts and we highly recommend their home, which is in a fantastic location close to the centre of town and not far from the sea front - we certainly hope to return in the future...!
VERONICA
2016-07-24T00:00:00Z
Martin and Pieter are wonderful hosts and we loved out stay at their house. We were made feel very welcome from the start. We only stayed one night but wished it was for longer. The house is beautiful, spacious and comfortable, the guest rooms are a suite of two, plus a bathroom off the landing for the guests' use. There is a lovely sitting room with a sofa, wardrobe, table and chairs, a side table with tea and coffee making facilities, and a washbasin; the bedroom also has a washbasin. Both rooms are very pleasantly decorated and cosy. Both rooms face a quiet street and the neighbourhood is very peaceful. The garden is just lovely, we enjoyed a little tour of it with Pieter after breakfast. The breakfast was superb, the setting beautiful in Pieter and Martin's lovely dining room. We enjoyed the food and our chat with Pieter very much. There is a parking space available in the yard which takes the stress out of finding a place to park the car. This is easily the most pleasant place we have stayed at in Torquay and the value is just incredible. We would love to return to stay again soon. Highly recommended. Many thanks to Pieter and Martin for looking after us so well.
Oksana
2016-09-11T00:00:00Z
Martin & Pieter were extremely friendly and helpful hosts, but also quite laid back and happy to leave you to your own devices. We felt very relaxed in the house like it was our home and could go in and out as we please. It is a beautiful house and garden, with lots of interesting touches (pictures on the wall and so on). The dog was very friendly too! Breakfast was excellent (better than a lot of hotels I've stayed in) with freshly baked bread that morning and some unusual Dutch features. In that sense it was very much a traditional bed & breakfast (compared to some airbnb's where you feel like you're crashing in someone's spare room). The house is a short walk into town where we headed both evenings and found some nice places for dinner with friendly people.
Francesca
2016-09-17T00:00:00Z
We had an amazing day in here. We absolutely loved it. So far the best accommodation what we ever seen on airbnb
Alex
2016-08-12T00:00:00Z
We stayed with Martin and Pieter for one night on our way down to Cornwall for a weeks holiday. It was a great way to start the trip, the house is beautiful and the room clean and very private with its own bathroom and separate living room. The bed was extremely comfortable, so much so we were asleep as soon as our heads hit the pillow! The highlight of our stay was the breakfast in the morning. It is the best Airbnb breakfast we have had, plenty of selection and made when we were ready for it in the morning. We can not give this enough stars. We had a fantastic stay and will definitely be back when travelling to Torquay in the future.
charlotte
2016-08-14T00:00:00Z
Myself and my girlfriend had a wonderful one night stay at Martin and Pieters beautiful home. We were welcomed by Cali their friendly dog and served tea in their beautiful garden when we arrived. They are pet friendly which was great for us as Lupo our little dog travels everywhere with us. It was lovely to stay in a lovely big old house with a homely feeling and two warm and welcoming hosts. We had a spacious room with big comfy double bed and we had our own separate living room if we wanted to use it and our own bathroom with great shower. The house is situated about a 20 minute walk from the Torquay sea front, which was great for us allowing exploration of the seaside streets and for walking off our dinner on the way home. We had beautiful weather the day we left and Pieter served us a lovely simple breakfast (which we were not expecting) in their garden bathed in the morning sunshine, it felt like we were in the Mediterranean! Thanks to you both, glad we found you and we'll be planning to stay next time we are down in Devon.
Adam
2016-07-19T00:00:00Z
We had a lovely stay and Martin and Pieter were extremely helpful and charming. We are relocating to Torquay and they were full of useful information about the area. It was a bonus to have a separate lounge area and the bed was very comfortable. Breakfast was delicious with some unexpected Dutch treats!
Alison
2016-08-31T00:00:00Z
Type de logement
Chambre privée
---
Type de propriété
Villa
---
Capacité d'accueil
2
---
Chambres
Torquay, Angleterre, Royaume-Uni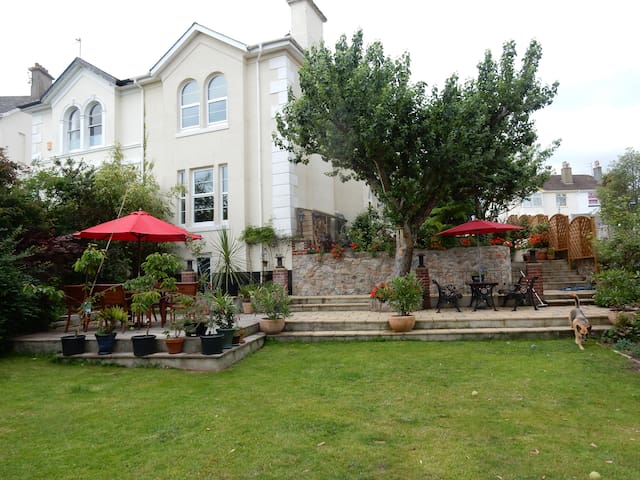 This beautiful period building has been extensively and lovingly restored and successfully marries the features and character of yester-year, with all the essential conveniences of today.
Type de logement
Logement entier
---
Type de propriété
Villa
---
Capacité d'accueil
10
---
Chambres
Torquay, Angleterre, Royaume-Uni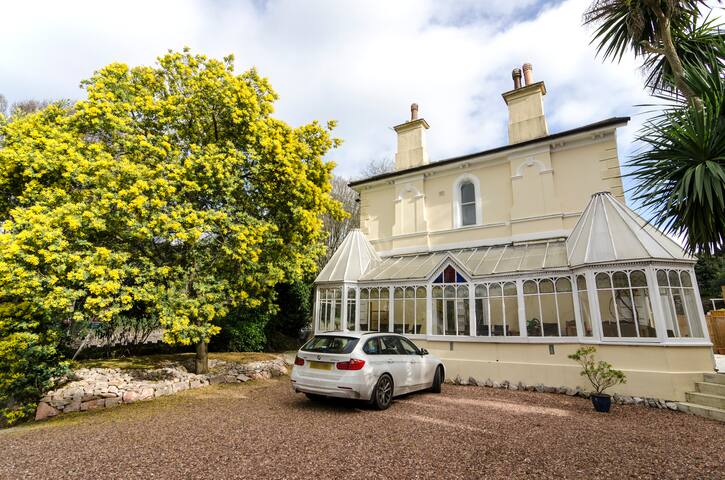 Our architect designed holiday cottage is the perfect place to unwind. Furnished to an exceptional standard, this luxurious accommodation is light and airy and benefits from 4.5m ceilings, bifold doors to the garden and underfloor heating. Pamper yourself after walking/cycling on Dartmoor in our boutique spa next door.
Luxury accommodation and adjoining boutique Spa. Perfect for romantic getaways and active couples who want to relax after enjoying the Dartmoor countryside
Set in 1.5 acres, the accommodation is both remote yet also well connected. Okehampton is just 2 miles away with easy access to the A30. Local highlights include a pub at the bottom of the drive and close links to the West Devon Way (walking) and the Granite Way (cycling)
This place is perfect for short stopovers enroute to/ from Cornwall, a cozy long weekend away, or as a base for a longer stay exploring Dartmoor + North Devon/ Cornwall coast. e.g. go horseriding on Dartmoor in the morning (10 min drive), have lunch in Bude, surf glorious Widemouth Bay in the afternoon. The property is newly converted, immaculately presented, extremely warm and comfortable and with all mod cons. Russell and Amanda are extremely friendly, responsive and strike the right balance between helpful without being intrusive. The SPA is fab - can't think of many properties like this with a SPA attached. I had excellent holistic therapy and shiatsu massage treatments from a local therapist Zoe who has been recruited to Amanda's high standards. Finally I would add that the local countryside is truely stunning - especially right now with the Autumn blush. A gem of a place to stay
Tim
2016-10-28T00:00:00Z
Would wholly recommend staying here. Russell and Amanda were very welcoming, offering information and help with local amenities and places to go. The apartment was beautifully located, clean and comfortable. Ideal location for access to Dartmoor - we spent the week walking. We had a great week and would happily visit again.
Rossalyn
2016-08-22T00:00:00Z
Amanda and Russel were perfect hosts, they made us very welcome from the start. The accommodation had everything that we needed and was beautifully fitted out with a great shower room, a kitchen with just about everything you would need and the bifold doors were perfect on sunny days to bring the countryside even closer. We also booked into the spa while we were there and found the hot tub top class and we slept very well after a massage by Amanda. Highly recommended for a quiet break that is within easy driving distance from lovely Devonshire beaches and attractions.
Lydia
2016-08-09T00:00:00Z
We were greeted with a warm and pleasant welcome. Made to feel at ease and settled right in. It was a relaxing and peaceful stay! Thank you!
Emily
2016-10-02T00:00:00Z
This location is great for exploring Devon and Cornwall. Owl cottage is five star luxury in a stunning rural location. No expense has been spared from the under floor heating to the fantastic shower and fluffy towels. The hosts have created something quite special and we defiantly will return and have already recommended to two of our friends. We didn't have the time but the spa that Amanda runs is stunning and a bonus if you are looking for some pampering right on the doorstep.
Jayne
2016-09-15T00:00:00Z
The host was very helpful at all times with our enquiries and on arrival we found tea and coffee in the kitchen and a jug of milk in the fridge, next to a cold beer. Well done. Beautiful scenery from the windows with sheep and cows wandering around. I went for a morning run and was assaulted with many great fresh smells as I ran through morning mist and fern through woods and up onto the moorland. Both the trail start and the pub are five minutes away so depending on what you need you don't need to go far. My favorites thing! The shower. It was amazing. Just what you need after a long hot day sight seeing in Cornwall. This really is a fantastic, clean, refreshing comfortable place and we all enjoyed our stay. My 9 month old loved the clean floor that was great for crawling on. We used this place as a base to push out into Cornwall and found it ideally positioned for trips both close and far. I believe the owners have got the balance right and I would stay here again and definitely recommend. There is also a small spa run by the same couple but you simply need to visit and find out for your self.....enjoy.
Alan
2016-08-25T00:00:00Z
This is a gem of a place. beautifully designed and equipped, it ha high light rooms, deep warmth from the underfloor heating and stunning vies through the big picture window. We were given a warm and friendly welcome, complete with scones, jam and cream, and made to feel completely at home. Everything about this place worked, from description to first contact and the stay itself. A big thank you to our hosts, a wonderful experience that I couldn't recommend more highly.
John
2016-10-05T00:00:00Z
Russell and Amanda's place is a great spot to stop on a trip to take in Dartmoor. You will need a vehicle. The place is brand new and lots of time has clearly gone into its production - with beautiful views over the hills. Russell's communication was great and gave some tips for dinner and walks in the surrounding area.
Edward
2016-12-04T00:00:00Z
Type de logement
Logement entier
---
Type de propriété
Villa
---
Capacité d'accueil
3
---
Chambres
Okehampton, Devon, Royaume-Uni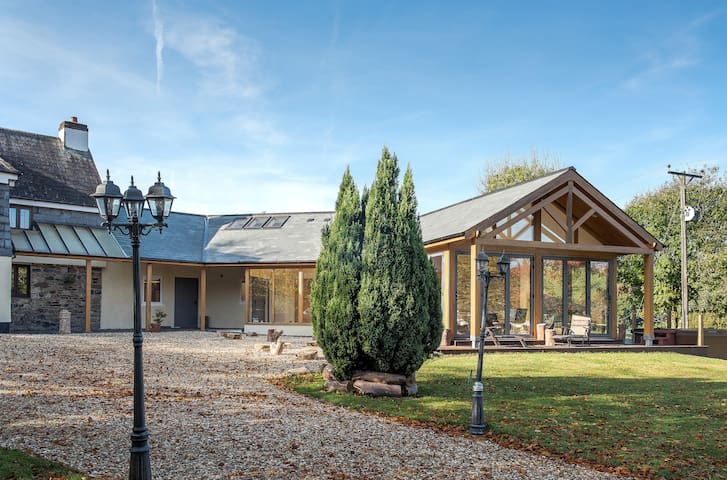 If you're looking for somewhere special for your holiday - look no further. At Greenway Barn position, perched up high overlooking the romantic and Majestic River Dart, close to Kingswear and Da
Greenway Barn consist the Main house (about 4000sqf feet) for 8 people and the Annex where can stay 2 adults and 2 children.
Where to start... We had such an amazing stay at Greenway Barn, that words will be missing to describe our experience. Charlie and Elena are extremely welcoming people, and they made my family and I feel like at home in their stunning house, which has all the necessary equipment -and much more- for one to have a great stay (the hot tub under the stars is a must that we would certainly recommend to the lucky guests who end up at Greenway Barn). The view on the Dart river from the house will definitely make your day, and the surroundings are very beautiful as well, offering a number of great outdoor activities, such as nice walks, crabbing at the nearby little village of Dittisham, visit of Agatha Christie's holiday house, steam railway experience, ferry on the river, Coleton Fishacre property (absolutely amazing gardens!), beaches, nice pubs and the list could go on and on. In a word: don't hesitate and book the place!
William
2015-04-15T00:00:00Z
The reservation was canceled 31 days before arrival. This is an automated posting.
Adele
2015-04-14T00:00:00Z
Type de logement
Logement entier
---
Type de propriété
Villa
---
Capacité d'accueil
12
---
Chambres
Galmpton, Devon, Royaume-Uni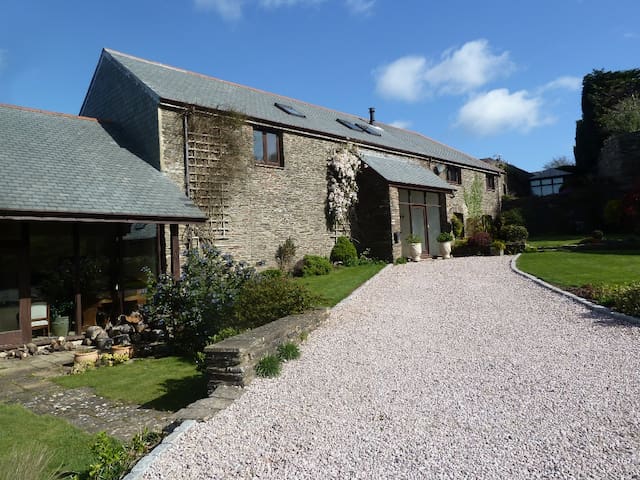 Newton Abbot - Airbnb
:
Moyenne de

4.74

sur

5

étoiles sur les

39

commentaires des voyageurs
Saisissez les dates souhaitées pour connaître le prix total. Des frais supplémentaires s'appliquent et des taxes peuvent être ajoutées.