5 BR, 3 BA home that borders the James River. Trails, Fishing, Putt Putt Golf. Whether you are looking to vacation in Branson, MO and visit the local attractions such as Silver Dollar City, the Branson Landing, or a large variety of Family Shows... or you would just like a private place to retreat that is surrounded by nature, this is the home for you. This beautiful, Rustic Riverfront home is nested right in the heart of the Ozarks and borders the James River...
Great home for our group of 7. Everyone had their own bedroom and it worked out nicely. Quiet location. Zach was great to work with for our needs.
John
2017-03-03T00:00:00Z
Type de logement
Logement entier
---
Type de propriété
Maison
---
Capacité d'accueil
14
---
Chambres
Nixa, Missouri, États-Unis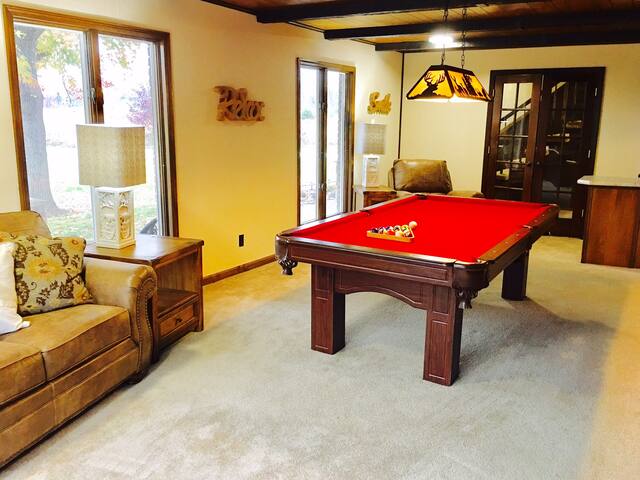 My place is close to parks. You'll love my place because of the location, the outdoors space, and the neighborhood. My place is good for couples, families (with kids), and big groups.
The host canceled this reservation 2 days before arrival. This is an automated posting.
Scott
2016-09-28T00:00:00Z
Wonderful house! Big living area! Two of the rooms have kids beds, but the house is late and very well kept! Herb was so easy to work with on check in and check out! Would definitely recommend!
Lea
2016-10-09T00:00:00Z
Type de logement
Logement entier
---
Type de propriété
Maison
---
Capacité d'accueil
6
---
Chambres
Nixa, Missouri, États-Unis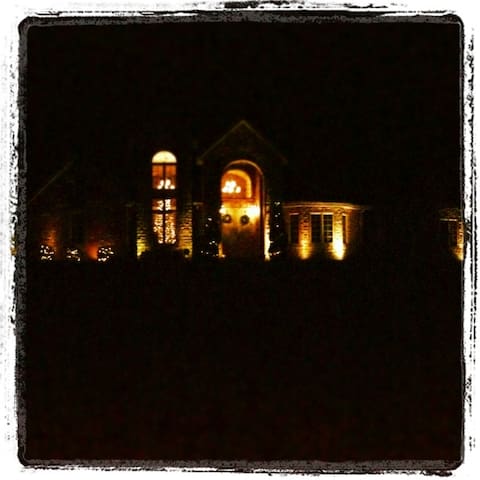 Retreat to serenity in this beautifully maintained Mansion on the south side of Springfield. In the heart of the city, with quick access to Branson and Table Rock Lake area. Enjoy the day or evening outside on the large back yard deck overlooking the immaculately maintained backyard,garden,hot-tub and pool. Outdoor/indoor fireplace and WiFi available. For a fee, we offer a Mediterranean style meal paired with wine. Private suite with private entry, living area and kitchenette available.
3-story Mansion (7k/sq) offers luxurious accommodation, nestled in the private Rivendale estate ,150 acres of wooded wilderness, park like. Private road, Peaceful, relaxing,swimming pool surrounded by rose-vegetable garden,and hot-tube area with kitchenette &fridge. Fish fountain, outdoor fireplace and lounging area.Private neighborhood perfect for day/evening walks. Several large living areas for meeting, gathering and entertainment. All necessary business amenities (WiFi, printer,fax,on line) Meals/Drinks can be provided for a price .
Our Mansion is situated in the heart of the city of Springfield yet on a private estate with 150-acres of wooded wilderness, private road, peaceful, safe and well maintained landscape. Private area for walking, hiking down to James River.Easy access to Branson and Table Rock area.(less than 1/Hr drive). All business, shopping and recreation area are just a few minutes away.
Aly's home in Springfield was very nice. The outdoor decks and the pool are very wonderful if you are looking to stay at his home during a warmer season. The home was spacious and well kept. Being right off of Campbell Avenue, it is also central to much of what Springfield has to offer. It is also convenient if you are looking to travel back and forth from Branson. Aly left us clear instructions on how to take care of the home and they all made sense. He was kind and responsive. I would highly recommend this location for a large group, a retreat, a family reunion, or a place to do an extended stay in the Springfield area.
Steve
2017-03-22T00:00:00Z
Aly was a great host, he is very informative on all amnesties of his home. Aly makes sure your comfortable before he leaves for your stay. The home is exactly as described, the weather put a damper on the use of pool and hot tub so if your plan is to enjoy the outdoors and his backyard you may want to go during summer months. My family and I enjoyed relaxing out back on the huge deck with portable fireplace and great view. The home is so spacious with three levels, we had 7 of us and never once felt cramped in common living space! It was a great vacation with my family, Aly and his beautiful home. Thank you Aly!!!!
Nanette
2017-01-16T00:00:00Z
The place was great. Very cozy and spacious. The hot tub and kitchen were great. Fit all of our needs.
Gary
2016-12-26T00:00:00Z
Beautiful home and excellent host.
Adam
2016-12-11T00:00:00Z
He met us at the home at the agreed upon time and gave us a thorough tour of his home. It was then that it became clear that we only had access to 5 bedrooms and 2.5 baths. Because 2 bedrooms and 1 full bath were reserved for himself. We negotiated for one of the 10 of us to use one of his bedrooms and bath. Although he explained that he'd be leaving for dinner in the evening, the weather made going out unwise. He remained with us during our entire stay and through poor communication on our part, included himself in our meals and conversations. It felt very intrusive to me. We were also told we'd have 2 garage parking spaces -- we only had access to 1.
Connie
2016-12-18T00:00:00Z
This is definitely the best place to stay in Springfield. Aly is a wonderful host! Great place for business trips or just to have some rest and relaxation. When I booked my stay with Aly it was because the home and location looked just wonderful. I have already booked my next trip with Aly and I am booking because I can't wait to spend some time with him again. The beautiful home and location is just an added bonus. The real gem of the property is Aly. Thank you Aly and can't wait to come back.
Dalene
2016-12-08T00:00:00Z
We arrived early and we where greeted with a small breakfast. He walked us thru the house and explained where everything was. Over all he was very helpful.
Tammy
2016-11-27T00:00:00Z
Beautiful house, amazing host! This location is perfect close enough to anything you would want to enjoy but separate enough to allow ti.e to unwind. I would highly recommend staying here of you get the opportunity
Alex
2016-10-09T00:00:00Z
Type de logement
Logement entier
---
Type de propriété
Maison
---
Capacité d'accueil
12
---
Chambres
Springfield, Missouri, États-Unis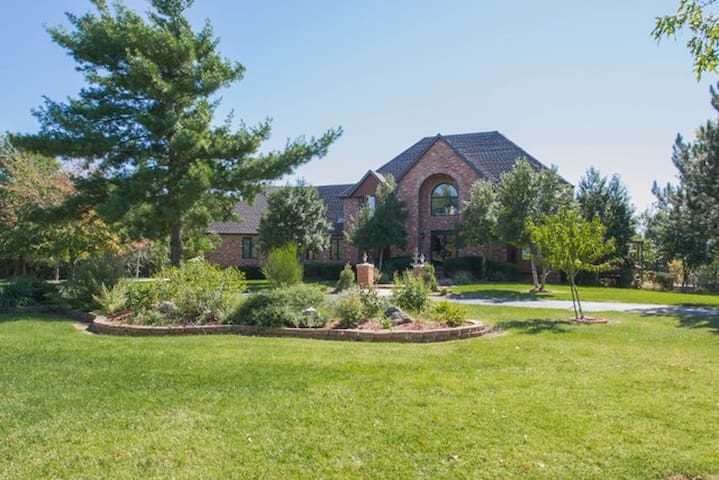 Hello, One of our favorite things in life is extending our hospitality to others who enjoy our home. You will feel very relaxed when come home to. our place. It is tastefully decorated and fully furnished to make you feel comfortable. Our home is fully stocked with linens and kitchen supplies and even paper goods. We are located in a peaceful neighborhood very close to shopping and restaurants . We are just 2 minutes to Cox, 5 minutes to Mercy and 15 minutes to Missouri State.
Type de logement
Logement entier
---
Type de propriété
Maison
---
Capacité d'accueil
4
---
Chambres
Springfield, Missouri, États-Unis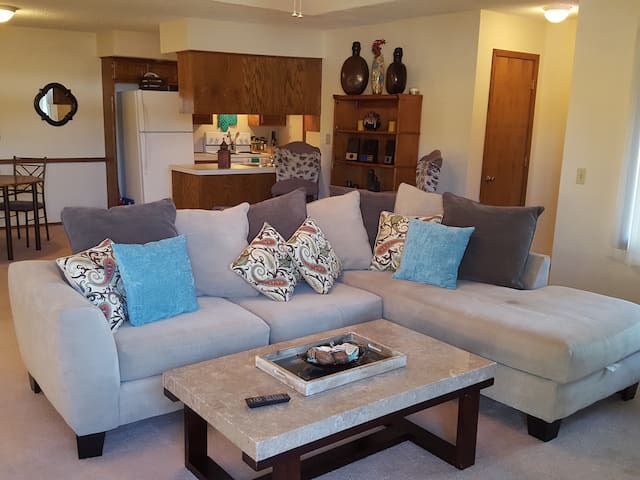 You will love the "country like" feel of our home. It sits on a hill overlooking a large yard. The perfect location for people who enjoy walking, running, or cycling with access to a Greenway Trail. Great outdoor space for entertaining family and friends. Conveniently located to anything in Springfield! If you are here for a special occasion, it is the perfect place for pictures! Great for Wedding guests coming in from out of town!
Galloway Place is conveniently located in Southeast Springfield near the very popular Sequiota Park. Access to one of Springfields Greenway Trails is directly across the street and leads to the Springfield Conservation Nature Center. This 4 bedroom home is settled in a park like setting that feels like you are in the country but centrally located to everything in town. It offers easy access to Hwy 65 and Branson. It is only minutes from a wide variety of restaurants, The Battlefield Mall, and IMax Theatre. This home is walking distance, via the trail, to Sequiota Park, local shopping, and eateries. Also, just a few short miles to JQH, Bass Pro Shop, The Springfield Convention Center, and the Fairgrounds. Galloway Place has 4 bedrooms and 2 bathrooms and is eclectically decorated to suit a variety of tastes. The ground level is a large master bedroom with a King size bed and its own private bathroom. A full size laundry room is also located on this level. The main level of this home incorporates a living/dining area that leads to a beautiful porch overlooking a park like yard. Also on this level, is a bedroom with a full size bed, the main bathroom, and kitchen. Upstairs boasts two quaint little bedrooms. One with two twin size beds and the other with full size antique iron bed. These two rooms are simply separated by a doorway with a curtain. This home has original wood floors, french doors, and beautiful original windows throughout that given it a special charm. It is comfortable and cozy with the feel of your own person B & B. Perfect for a family gathering, girls shopping trip, or a romantic weekend away. It has a fully stocked kitchen and the dining area allows seating for 6. This home has three 40" smart TVs and a smaller one upstairs. Also, a blue ray player, blue tooth stereo, board games, cable, and wifi. There is plenty of outdoor space with furniture for entertaining. We are looking forward to making your stay here as comfortable as it can be. If there is anything that you would like for us to stock before your arrival, just let us know and we can accommodate you. We can also help if it is a special occasion! See you soon!
The best part of this home is that it isn't in a neighborhood. It feels private and sits in a country like setting nestled on a hill. Yet, it is only minutes from any place in town you would like to go!
We needed a space to house six adults and three children under the age of 4 on a recent trip to visit family in Springfield. This house had enough space and was centrally located to both our family's home and downtown fun activities. The hosts were lovely: we needed to check in a bit early due to my husband's work, and they were very accommodating. Darren, Deborah's husband, popped over to introduce himself and let us know he was around if we needed anything. Not to worry, we didn't need a thing on our stay. We walked in to an immaculately cleaned home with fresh baked cookies in the kitchen and perfect little touches every way we turned. Deborah and Darren take so much pride on this home, you can tell with every locally-themed throw pillow and piece of artwork. The house was extraordinarily well-equipped. The kitchen had every utensil and kitchen item you'd need (even for our family St. Patrick's Day dinner we hosted), there were plenty of linens and towels, toiletries if we'd forgotten anything, and even snacks should we get hungry. (Thank you!) We had three families staying in the house, and we each had our own space to spread out and relax when we needed quiet time. The shower pressure was great, the hot water was plentiful, and my daughter particularly loved her little "loft room" with the TV. (Not to mention, we all were enthralled when we noticed the pony in the back.) All in all, we wouldn't hestitate to stay here again (and in fact are trying to figure out when to come next year for a family visit, but probably during warmer weather! We missed out on dining al fresco on the gorgeous patio due to some bad weather. Thanks to Deborah and Darren for being such lovely hosts, and for giving us a wonderful home away from home for our weekend.
Amanda
2017-03-13T00:00:00Z
What an amazing place! From the cultured driveway up to the property, to the covered entry and side porch. Everything about this house left us saying, "I wonder what is behind this door?" The hosts did everything they could to make our stay a memorable one - even bought cupcakes, decorations and a small gift for my son who turned 7! They also stocked the frig with a few items and had snacks we could enjoy. We would highly recommend staying here over a hotel any day!
Scott
2017-03-26T00:00:00Z
Why was this the greatest Airbnb stay I ever had? Was it the over the top amenities? Maybe. The very comfortable beds? Maybe. The warm and fun decor that made me feel special? Maybe. The surprise goodies in the kitchen? Maybe(URL HIDDEN)stayed here for 6 nights with my team of artisans while we worked in a near by residence. We were all blown away by how lovely and comfortable Deborah has made this place. At the end of the day we all crawled in exhausted and could't have felt more special or have been more comfortable. If I get more work in Springfield, I wouldn't consider staying anywhere else. This is a gem!
Ayn
2016-11-16T00:00:00Z
Type de logement
Logement entier
---
Type de propriété
Maison
---
Capacité d'accueil
8
---
Chambres
Springfield, Missouri, États-Unis
You are sure to enjoy this 78 old charming home, built by our relatives in 1937. The original detail of its character is still in tact. It provides easy access to restaurants, shopping and car rentals. We hope to provide our guests with comfortable living and warm ambiance. We are in walking distance to Avis car rental or Enterprise, Ozarks founded Mexican Villa since 1951, and Bass Pro Shops a few blocks down the road.
My family has built and owned this charming house since 1937 and now we would like to share it with you. Hardwood floors throughout the home, with carpet in the bedrooms for extra comfort. It boasts a unique stained glass window in the kitchen, and a depression glass chandelier in the dining room, original to the home. The downstairs was hand dug and fully finished allowing a lot more space to better accommodate. Come and enjoy!
Easy access to everything the City has to offer and the privacy of a good, established neighborhood.
We had a great time at "The Lively Cottage". Everything was exactly as advertised, except there is no children's equipment in the back yard. We would rent again anytime we are in Springfield, MO. Everything was clean, and we were surprised at all the little conveniences, including shampoo and conditioner. Thanks for the lovely stay, Lively's.
Pam
2016-04-18T00:00:00Z
Johnny was a wonderful host for our family's stay at the Lively Cottage: he was always available and wanted to make sure we had everything we needed and were comfortable. We have small children and it was great to have a gate in front of the stairs. We were very happy with the accommodations, and would stay there again!
Amber
2016-07-06T00:00:00Z
I had a good time in the Lively Cottage. All stuff works well, they have a new and good fridge, wash and dry machine. We cooked everyday and we didn't have any problem. The bedding is new and clean. The climate system works ok, to cool and to heat. They have a nice tv and the internet is very good. Johnny was so nice, always acessible! Thanks for everything.
Augusto
2016-05-01T00:00:00Z
We've stayed here twice, we're so charmed by the house. It's quiet, quaint, and very pleasant. Lots of room, plus a cozy basement and a yard. I like the piles and piles of soft towels, and the selection of shampoos.
Jessica
2017-03-19T00:00:00Z
The house is adorable. We liked it very much. It would sleep 6 comfortably, and was also great for just 2 of us. The bathroom closet is full of fluffy towels. There's a cute yard and a porch swing. It's right next to a commercial area, but still quiet.
Jessica
2016-07-18T00:00:00Z
My husband actually booked this for a family emergency the day of his visit and Johnny graciously accepted just hours before my husband's arrival. He reports that the place was clean, spacious, and a great deal for the price. I know it was last minute, but thank you, Johnny!
Melanie
2016-06-13T00:00:00Z
I loved the house! Actually, I owned a house very much like this in St. Louis! I loved that you could hear each step that you took through the floor. That is the beauty of an old house. I also loved the retro décor. Thank you! Richard
Richard
2016-05-09T00:00:00Z
I stayed at the Lively Cottage for just a little under 2 months. Johnny was a wonderful host, he would check in from time to time to make sure everything was going well and to see if we needed anything. The cottage pretty big and is well equipped even for my long stay, I felt right home. Thank you Johnny for a great stay!
L
2016-09-13T00:00:00Z
Type de logement
Logement entier
---
Type de propriété
Maison
---
Capacité d'accueil
6
---
Chambres
Springfield, Missouri, États-Unis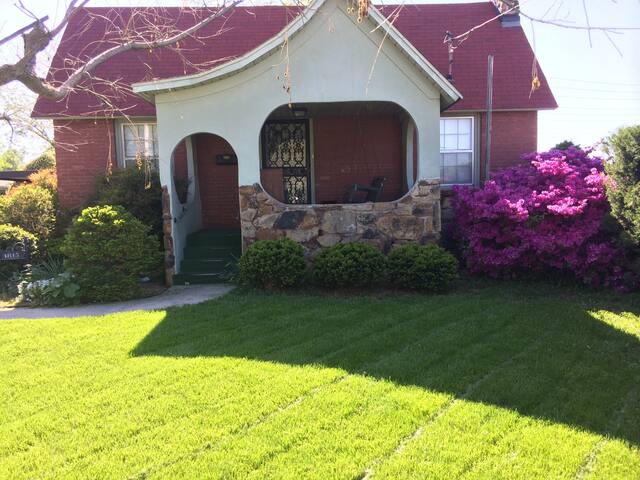 3 bedroom ranch home in wonderful neighborhood. Lots of good restaurants nearby. 3 min drive to James River Expressway. Can reach anywhere in the city in 25 min. All new appliances and furniture. Nice yard and you can use the garage for your car.
150 channels with HBO on demand provided and 50meg download speed internet provided. Use the kitchen, cook, even entertain. A wonderful dining room fully prepared for guests is ready if you want to use it.
It's a quiet neighborhood, little traffic. Close to everything you could need
Nice place to stay
Sarah
2017-03-17T00:00:00Z
Mark was really good with communicating with us. All his responses were prompt. The neighborhood was nice.
Sadia
2016-09-06T00:00:00Z
Very nice area, easy to find, nice home and very quick with response with any and all questions we had. Thank you
Georgie
2016-05-31T00:00:00Z
We enjoyed are short stay at Mark's house. The neighborhood was quiet and in a very nice area. Stores and restaurants were close by and easy to access. The house was cozy and had everything we needed. Mark was quick to respond to questions. I would recommend this house to anyone.
Millie
2016-12-03T00:00:00Z
Quiet and cozy place to stay. Within minutes to everything you'd need in Springfield. We plan on staying there again when the need arises.
Vincent
2016-11-27T00:00:00Z
It was all great. Would highly recommend.
malek
2016-08-26T00:00:00Z
Nice, quiet neighborhood. Very smooth transition in and out. Great communication. Absolutely perfect for what we needed. Thanks Mark.
Geralyn
2016-10-17T00:00:00Z
Everything thing was just what we were promised. We will be back.
Vicki
2016-10-12T00:00:00Z
Type de logement
Logement entier
---
Type de propriété
Maison
---
Capacité d'accueil
6
---
Chambres
Springfield, Missouri, États-Unis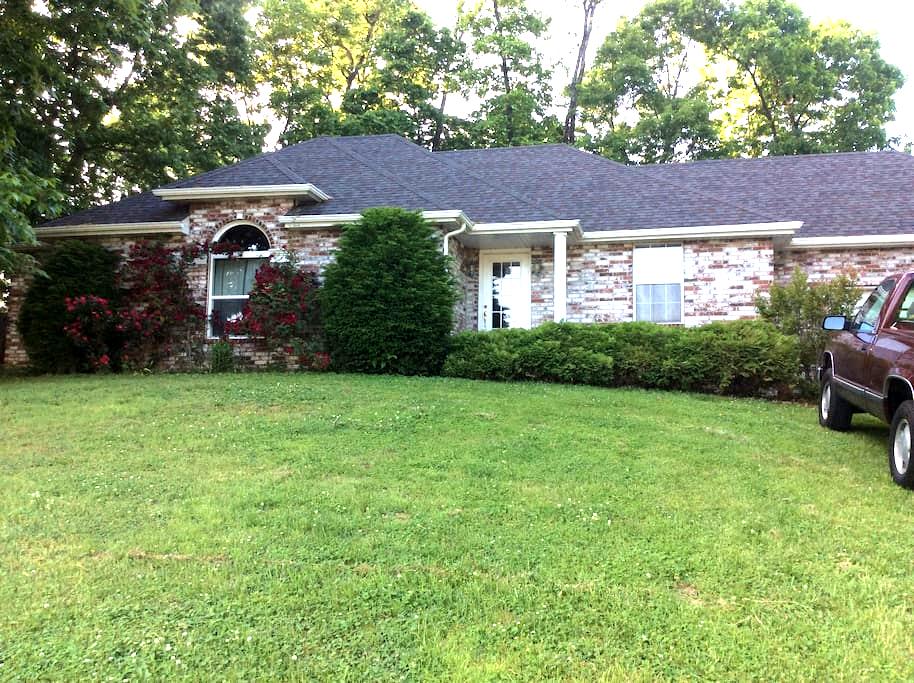 The neighborhood is nestled amongst the trees next to Springfield Lake. This room is a mother-in-law's suite in our home. Located in our walkout basement, you will have your own king-sized bed with new mattress, full bath with tub and shower, and a kitchenette. Due to the fact that there are some stairs, or if you come in from the side you have to walk in the grass which does have a slope (since the house it built on a hill) our space may not be conducive to people with mobility issues.
The room is a studio - the room has a king sized bed, a love seat and arm chair, full bath with tub and shower, a closet, and a kitchenette with sink, refrigerator, microwave and coffee maker. A TV w/Roku is also provided. For your privacy, we have added a lock to the door that accesses the rest of the house.
Our home is located next to Springfield Lake in a hilly, wooded area. You have access to hiking, fishing, kayaks, parks, etc.
Fantastic hosts and a lovely place to stay! We were in the pool whenever possible, and enjoyed the privacy of the mother-in-law suite. The family is friendly and very helpful. Highly recommended!
Anita
2016-08-20T00:00:00Z
Good hosts. Great place.
Tyler
2016-07-16T00:00:00Z
Donovan and his family were great hosts. When I arrived on my new motorcycle, he quickly understood I needed some time with my new toy and even offered for me to park in the garage in case it rained. The suite was great, private and everything you could need. As a coffee drinker he insured I had a supply of coffee-making items for the morning. My stay was brief but I will definitely stay with them in the future whenever I find myself in Springfield. They have really set the bar for hosts, just great all-around.
Jen
2016-05-29T00:00:00Z
Donovan had an amazing house in a great neighborhood. We took a walk one morning just to admire all of the great houses. They were completely accommodating providing a key for us as well as even supplying little disposable bath products and a USB plug! We had a great time and would definitely stay with them again!
Jessica
2016-05-31T00:00:00Z
It's a great neighborhood. I got up in the morning and took a walk around the area. Lots of people doing the same. Very safe and picturesque. The space offered is everything you would need and perfectly maintained with private sitting area, kitchen, bed and bathroom. We used the front door but there is a side entrance into the rental area that is in a lower section off of and below the main living quarters. I would recommend this rental to everyone.
Mark
2016-04-25T00:00:00Z
The location was amazing if you liked seeing owls and deer running around. It's close to Springfield lake, and I loved walking in the neighborhood. Room was better than my current Hilton I stay at when traveling.
Renee
2016-11-14T00:00:00Z
The room, which has a sitting area, king size bed, large bathroom and kitchen area with a full size refrigerator, and also has a private entrance, was spotless! Decor very comfortable and pleasing. The king size bed was very comfortable and Donovan and is wife, were both very welcoming and very friendly. They welcomed us into their side of the home and unfortunately our weekend time was filled with graduation and gatherings, so we were not able to take them up on the fire pit, but if we are ever plan another trip to Springfield, we will definitely check to see if they have availability at their place!
Amy
2016-05-17T00:00:00Z
The Donovan's are exactly the way they represent themselves! Super nice, with a clean private area that has it's own kitchen, sitting area, entrance, and bathroom. It's perfect for a private feel and a better than hotel price! Plus they were great about allowing us to come during the holidays so that we could see our family! I would absolutely recommend them!
Jessica
2016-11-27T00:00:00Z
Type de logement
Chambre privée
---
Type de propriété
Maison
---
Capacité d'accueil
2
---
Chambres
Springfield, Missouri, États-Unis
Two cozy bedrooms in quaint 50s era home in a quiet neighborhood, each have a queen bed, the additional bedroom available is also my crafting / yarn room. Two blocks away from the South Creek Greenway Trail. Centrally located in Springfield, so very close to Bass Pro Shops and other shopping.
My house has been dubbed the "Jelly Bean House" because of my excessive use of color. I like to think of it as bright and cheery. You'll have access to your bedroom, and all living space. Note that it is shared with two cats, who love to sit in the open windows and stare longingly out at the birds. I have a large back yard and some garden space, anything that is in season, I will share.
I'm in a quiet residential area in Springfield. Very centrally located, easy access to Bass Pro Shops and other shopping.
The location is great, quiet and comfortable. The house is clean, happy to stay here. Katherine is very friendly, thank you for the stay in your house.
Christian
2016-05-18T00:00:00Z
Katherine was super nice and welcoming, she was hosting a game night when we arrived and her friends were all really nice as well. My boyfriend and I were only passing through, so we didn't get to stick around and see too much, but we'd definitely come back
Katelyn
2016-06-17T00:00:00Z
Great host. Everything was ready for us and with good communication. Terrific breakfast which was unexpected. Would stay here again. Very hospitable!
Dale
2016-08-28T00:00:00Z
Katherine was very welcoming when we stayed in Springfield. Her home is adorable, clean, and cozy. The neighborhood was quiet and a cheap cab ride from downtown. We also enjoyed her cats! :)Thanks for being so great, Katherine!
Jeromy
2016-05-30T00:00:00Z
We had a great stay with Katherine. She was very kind and accommodating. The house is so cute and comfortable. We will be using her again!
Amanda
2016-06-08T00:00:00Z
Katherine was warm and inviting. The room and bed was very comfortable. I am looking forward to staying with her again.
Kathy
2016-06-21T00:00:00Z
Very comfortable. And good conversation.
Eric
2017-01-02T00:00:00Z
My sister and I had a great experience at Katherine's. We booked on short notice as we were making a cross-country trip and were in late and out early but in the short amount of time there, she made us feel welcome and was very accommodating. The place is large, clean, organized and she had nice touches to each of the bedrooms available for rent. Would definitely stay here again!
HISHAM
2016-12-19T00:00:00Z
Type de logement
Chambre privée
---
Type de propriété
Maison
---
Capacité d'accueil
4
---
Chambres
Springfield, Missouri, États-Unis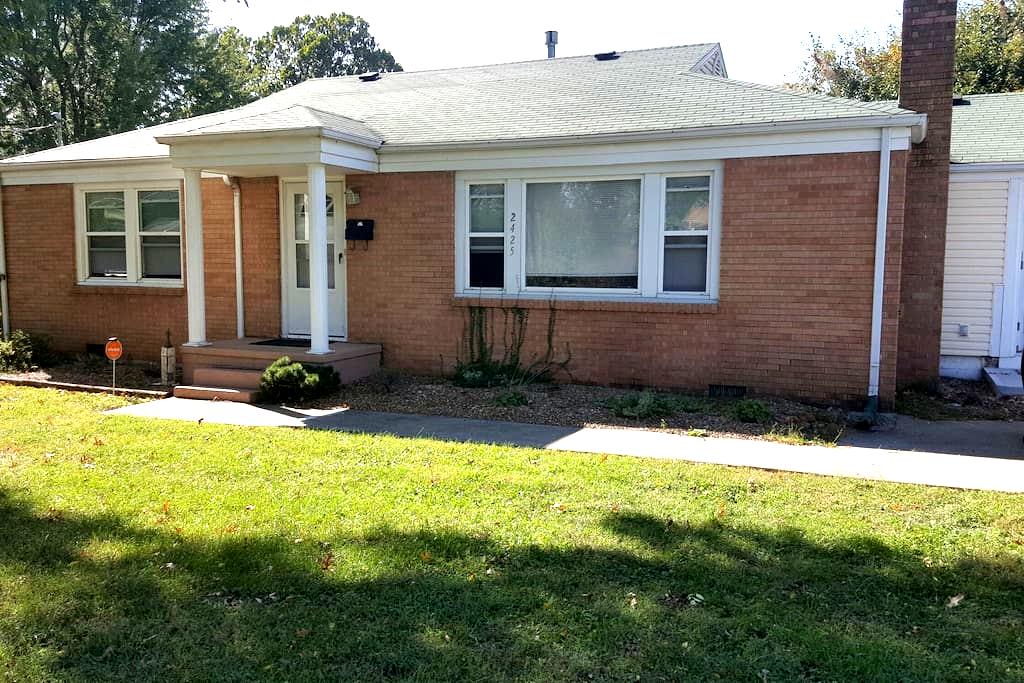 Our three bedroom home will have you and your company feeling comfortable, right at home and cared for during your stay. We are located on the West Side of Springfield. We are near to many fast-food restaurants. The Battlefield Mall is about 3 miles away. Nobody lives in the home so you have all the privacy that you'll need. My home will provide anything that a home should have.
My house is a three (3) bedroom house with two (2) full bathrooms with a fireplace & lots of closet space. The whole house is furnished for our guests and we expect for our whole house to be taken care of. The living room has two couches w/ a coffee table & lots of board games as well as a TV. Cable 250+ channels and fast unlimited Internet. The kitchen has a variety of morning beverages as well as a coffee maker. It includes kitchen utensils, pots and pans, mixing bowls, dinner set and so much more. If anything is needed, we are quick to answer, co-host lives right next door!
Our neighborhood is very quiet and friendly. We are located on the west side of Springfield which is near to downtown, BassPro Shops, Sunshine Bowling Lanes, Nathaniel Greene Park, Classic Rock Coffee & much more!
The house is every bit as lovely as it showed in the pictures. Even more, the family who own the house are wonderful! The neighborhood is friendly, very near Bass Pro, very near Missouri State, and very near downtown Springfield.
Scott
2016-10-02T00:00:00Z
It was a fantastic place to stay! We felt right at home, in a quiet neighborhood, and the host was always there to communicate with. Recommended to anyone!!
Mallory
2016-10-09T00:00:00Z
Diana met us as soon as we arrived. They actually live right next door and were always available if there was a need. The house was good and well kept and in a nice, quiet neighborhood. Entrance to the house is through an electronic code system, so there is no need to keep track of a key, just remember the code. We would stay here again.
David
2016-11-23T00:00:00Z
We had a wonderful stay and Thanksgiving holiday at this home. The host met us at the home upon our arrival and explained all of the details and access information. This home was very clean, had everything we could ever need and was well equipped for cooking. The neighborhood was very quiet and it was nice to be able to pull our vehicle into the garage during our stay. Thank you for sharing your home.
Krissy
2016-11-26T00:00:00Z
We had a great experience and will definitely try to stay here again when we are in town! Hosts were very acceptable, helpful, and the home if everything we could need and more!
Jocelyn
2016-10-30T00:00:00Z
This was a great place for a weekend with our kids in college. Plenty of room, well stocked and furnished, and everything was clean. Nice out of the way neighborhood, but not far from downtown, campus, or shopping. The hosts were very helpful, and very responsive to requests.
Chris
2016-11-06T00:00:00Z
My husband and I were in Springfield for his father's funeral. We had a couple of family members that were coming in at different times and the house seemed to be the best option for all of us to stay together and also provide a neutral location for local family members to come and visit. Diana was very easy to work with and extremely hospitable with our family needs at this difficult time. The house was extremely clean, secluded enough to be quiet, but close enough to major roads that it was easy to get around. We would stay there again.
Jennifer
2016-12-11T00:00:00Z
If I could give 5+ stars I would. Everything was perfect and a beautiful home.
Karen
2016-12-17T00:00:00Z
Type de logement
Logement entier
---
Type de propriété
Maison
---
Capacité d'accueil
7
---
Chambres
Springfield, Missouri, États-Unis
Comfortable duplex in southwest Springfield, close to main streets around town. Fenced yard for your pet, and third bedroom is playroom for your little one. Large deck for listening to the birds or watching the fireflies. Driveway parking.
• The master suite is upstairs and has a queen bed. The nursery nook is adjacent, and the little bed can easily be moved into the master bedroom. • The second bedroom is downstairs and has a double bed. • The playroom, also downstairs, is large enough for a roll-away bed (available upon request).
This is a quiet residential neighborhood. Traffic is minimal, making it a safe and pleasant area for jogging or dog-walking. Nathanel Greene park is a few blocks away.
Linda's home was clean, quiet, and comfortable. She has a nice fenced in backyard where our dogs could play. Her home has unique and nice decor and we enjoyed the comfortable bed, hot showers, and coffee in the morning. Thank you Linda!
Stephanie
2016-04-05T00:00:00Z
The owner made us feel welcomed and secure. She was always available to answer questions. The location was ideal for access to major roads, grocery stores, pharmacies, and gas stations. The home was perfect for our two families (4 adults + 3 toddlers). Plenty of space to spread out, play, eat, and sleep. Very clean. The neighborhood and neighbors were nice. We will definitely book again for future trips, if available.
Greta
2016-07-06T00:00:00Z
Wow! What a great place to stay, very clean and tidy, pictures do not do it justice! Top shelf welcome and nothing too much problem, highly recommend!.
Michael
2015-05-06T00:00:00Z
Great house. Clean and comfy. The kitchen was great for visiting, cooking and bird watching! Nice neighborhood. Linda was there to greet us and show us around the house. Would definitely stay there again!
Cindy
2016-04-11T00:00:00Z
This listing was by far and away our favorite! We came to visit family in Missouri and this listing was very centrally located to everything and everyone. It was even big enough to host meals for the whole family of 15. We had fun catching up with family on the beautiful back patio and then watched the fireflies. The mattresses were so incredibly comfortable I wish I could take them home with us! The jacuzzi tub and seperate shower were wonderful as well! And most importantly this listing was very kid friendly! There were kid plates, table, utensils, cups, nightlight, toys, etc. He loved having his own room in the nursery nook/office and his own playroom! I have severe allergies including pet allergies and Linda made sure the listing was cleaned top to bottom so the pet dander was gone. I was not affected whatsoever by my allergies while staying at this listing!
Taylor
2016-06-10T00:00:00Z
Great for dogs, quiet neighborhood. Worked really well to visit family.
Doug
2016-11-27T00:00:00Z
We had a wonderful stay. Our fur babies were able to travel with us. Linda's hospitality was great. Will stay here again and highly recommend it to others. The location is convenient to many restaurants, parks and shopping.
Reneilia
2017-01-01T00:00:00Z
Linda was a great host! She was very accommodating with our arrival time and was easily reachable by email and txt. Here home was perfect for our family and our kids really enjoyed the playroom. We will definitely consider staying again for our next visit to Springfield!
Linda
2015-10-19T00:00:00Z
Type de logement
Logement entier
---
Type de propriété
Maison
---
Capacité d'accueil
4
---
Chambres
Springfield, Missouri, États-Unis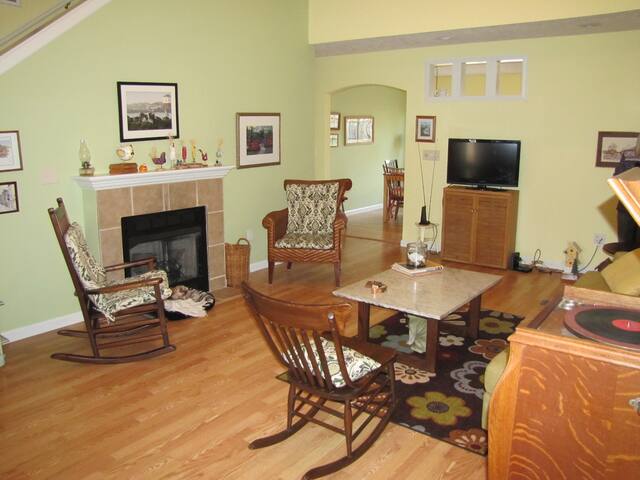 Newly renovated Galloway Cottage in Southeast Springfield consists of light wood ceilings, barn doors, original hardwood floors and simplicity throughout reflecting the 1940's with all the touches of modern day conveniences.
The house offers 700 sq. ft., two bedrooms and a futon, bathroom with tub/shower combo. Kitchen is full sized with granite countertops and is stocked with all cooking utensils and supplies you would need! The living room has a TV/DVD player, various books and games. WiFi is provided. A second TV/DVD is found in the second bedroom as well. French doors open from the master bedroom to a relaxing furnished porch with plenty of green space to relax and have a morning cup of coffee or tea.
This house is so lovely inside that I wanted to ask the hosts where they got many of the individual decor pieces. It appears as a Tiny House on the outside, and inside the common areas feel open and spacious. The kitchen was so thoroughly equipped, and the hosts have added sweet, welcoming touches. Everything is clean and comfortable. The hosts were available, easy to contact, and helpful. If you are not familiar with the Galloway area of Springfield, it is considered to be a charming, respected neighborhood. We look forward to staying here again!
Jenny
2016-02-10T00:00:00Z
This was our first stay at any airbnb and we couldn't have had a better first experience. Amy's place was clean, very cute, and great to relax in. Amy was easy to work with, clear in her communication, and I would definitely recommend the cottage if you're going to be in Springfield.
Josh
2016-07-11T00:00:00Z
Amy's Galloway Cottage was awesome! Very cozy and comfortable. Very clean and unique decor! It was a perfect location for my needs. I loved the little touches like, packages of cookies to bake, I appreciated there being laundry detergent and the comfy porch. The neighborhood was safe and the local park, running trails and restaurants were great! Amy was easy to reach when I had questions and she was very accommodating. I would very much recommend this Airbnb!!!
Melanie
2016-04-21T00:00:00Z
I would definitely stay here again. The place was gorgeous and homie
Sidney
2016-08-09T00:00:00Z
Amy's cottage is beautifully refurbished and the layout accommodates 4 adults nicely. Amy was an amazing host and checked in with us to ensure we had everything we needed and even accommodated our early check in :) We will definitely stay here again when visiting Springfield!
Alex
2016-10-30T00:00:00Z
Thank you for the nice experience. Very clean and plenty of room for my family to spread out.
Joe
2016-08-29T00:00:00Z
Amy is a great host! She immediately responded to my inquiries, sent me direction info before I asked, checked in us to ensure we had everything we needed. And left a very helpful folder with restaurant, local amenities, and other very helpful resources. She is an wonderful host, and the cottage was better then the pics showed! We LOVED our first night so much, we immediately booked the night for our return trip. Our stay was the perfect start and end to our family vacation! We hope to make the Galloway Cottage a family tradition!
Erica
2016-07-24T00:00:00Z
The host canceled this reservation 16 days before arrival. This is an automated posting.
Dalton
2016-09-15T00:00:00Z
Type de logement
Logement entier
---
Type de propriété
Maison
---
Capacité d'accueil
5
---
Chambres
Springfield, Missouri, États-Unis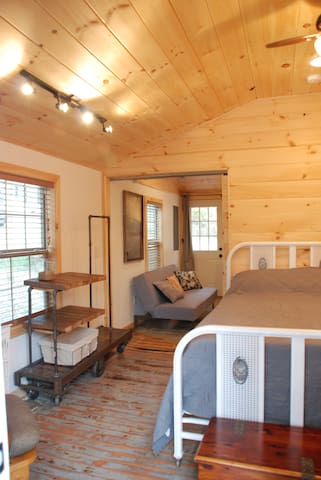 We are located right across the road from Mercy Hospital and close to the headquarters of Bass Pro shops in the center of Springfield, MO. We are close to lots of restaurants/dining, downtown route 66 square, Missouri State University, Mercy hospital, Bass Pro Shops, Planet Fitness, Battlefield Mall, Several walking parks. We are friendly hosts who welcome couples, solo adventurers, and business travelers. We have two young ratties named Renji and Hachiko who are the sweetest pets ever.
We live within running or walking distance by two parks. We are adjacent on the street National to Mercy Hospital and right next to Town Place Marriot Suites. We are centrally located between Bass Pro shop (Nation headquarters) and shopping amenities, (Battlefield Mall). There are 3 Wal-Mart's within a 10 minutes of driving and we live 10 minutes from downtown square Route 66 Springfield MO.
Josh was a great host! I'm grateful for his flexibility with my late arrival time. Thank you!!
DeWayne
2016-10-16T00:00:00Z
Everything was as expected. The bed was comfortable, the WiFi was strong, the towels soft, the shower had good pressure and the place was clean/orderly. All is good!
Kevin
2016-08-28T00:00:00Z
Great experience! Josh and his girlfriend are very helpful and friendly. I got assistance with anything I needed
Marina
2016-10-27T00:00:00Z
Great stay for the price. Place was very clean and centrally located.
Jeremy
2016-10-30T00:00:00Z
Terrific.... lovely and very accommodating...Very helpful and friendly.
Sorabh
2016-10-29T00:00:00Z
Josh was very friendly and gave a great tour of the place as well as some tips on places to check out around town.
Christian
2016-09-24T00:00:00Z
Clean, quiet apartment with a comfy bed. Friendly hosts. Good value.
Catherine
2016-10-24T00:00:00Z
Great people, perfect room, would stay again
Cory
2017-03-25T00:00:00Z
Type de logement
Chambre privée
---
Type de propriété
Appartement
---
Capacité d'accueil
2
---
Chambres
Springfield, Missouri, États-Unis
If you are traveling to the Springfield, MO area with your family, for a corporate event or even if you are in between selling and buying a home, this cute bungalow is a great place to stay. It's close to Bass Pro, Mercy Hospital, Missouri State University and Fun Downtown Springfield. It's fully furnished, kitchen (including dishes and utensils) has a coffee maker with supplies and microwave, a deck (patio furniture), a hot tub and a propane grill. Includes Wifi, a TV, cable and a DVD player.
This space is incredibly clean and comfortable. The location is really key with this property as well. It's located in the center of Springfield within two minutes of major shopping, downtown Springfield, Cox South, Mercy Hospital and Bass Pro.
Nice place to stay in, Zach is very easy to communicate with. Smooth process
Jesse
2016-08-28T00:00:00Z
This is delightful cottage in a quiet mature neighborhood that gives you all the extra amenities a hotel does not. Outfitted for comfort with a great kitchen and backyard deck perfect for coffee in the morning and happy hour in the evening. Very attentive host. We will be back! Liz and Jim
Jim
2016-09-04T00:00:00Z
A cute little house in a great area of Springfield! The location is really key, especially since Springfield is riddled with sidewalks. You can easily walk downtown if you're up for a longer stroll. The hot tub is the cherry on top, especially this time of year. Thanks for sharing your space with us, we thoroughly enjoyed it!
Mallory
2016-10-02T00:00:00Z
Loved this house! Super close to everything , clean and cozy. House was so cute:) Zach was great to communicate with !! Super informative and helpful.
Emily
2016-12-18T00:00:00Z
This house is great and we really enjoyed our stay. The furnishings are nice and everything was perfectly clean. The beds are great and have very comfortable sheets/blankets/pillows. The hot tub is fantastic and extremely well-maintained; we were very impressed with how clean it was. A couple tips if you stay here: there is no sound system of any kind so if you want some background music bring your own small speakers. There were no bathroom soaps and the kitchen did not have any cooking supplies like spices or oils, etc... That's not a complaint, those things weren't promised, but if you've experienced finding things like this in your previous rentals -- they're often left behind by previous renters -- maybe don't count on it here. Just bring everything you'll need and you'll be happy (the kitchen has all the basics like pots, pans, knives, can opener, silverware, etc... of course). If you're looking for a nice 2 bedroom house that's super clean and comfortable, with an excellent hot tub and easy check in/out, I highly recommend Zach's place. We'll definitely book it again when we're back in town.
Jeff
2017-01-01T00:00:00Z
Beautiful house, great location -- close to the university, easy access to shopping and restaurants. Zach was very easy to work with, the house was well-appointed and very comfortable.
Jennifer
2016-12-31T00:00:00Z
a great place to get to know Springfield.
Bj
2017-02-17T00:00:00Z
This is a great place to be located in the heart of it all. Close to everything. Very clean and inviting and the hot tub is a great bonus. Good size back yard for the kids to play within a fenced area. I would recommend this home to everyone (except during the times we want to come back-haha). We will be back in the future.
Erica
2016-09-12T00:00:00Z
Type de logement
Logement entier
---
Type de propriété
Maison
---
Capacité d'accueil
6
---
Chambres
Springfield, Missouri, États-Unis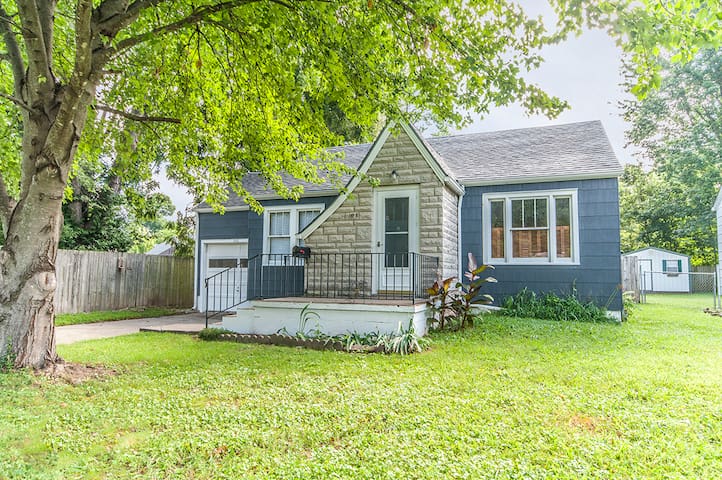 This peaceful setting offers a spacious home with over 1700 square feet to accommodate you and your guests. The three bedroom, two bath layout includes flat screen TV's in every bedroom and a 46" TV and Blue-Ray player in the luxurious family room with high-speed internet and cable included. Enjoy the in-ground pool tucked in your own backyard featuring a diving board, small rock waterfall, shallow end for the little ones and new stainless steel gas grill for pool-side grilling.
This comfortable home is situated in a quiet neighborhood in southern Springfield. At 1700 square feet, the home sleeps 6-8 individuals and offers two bathrooms. With two queen beds, two twin beds, a trundle bed and futon style couch, this location will accommodate you and your family with room to spare. The hardwood and tile floors are well maintained and compliment this home's many modern features, including flat screen TV's in each bedroom, wireless high-speed internet, 46" TV in the family room, upgraded cable, front-loading washer and dryer and tasteful kitchen appliances. Lounge in carpeted comfort in the 340 square foot family room on one of the multiple couches or seating options as you enjoy a show or movie on cable or via the Blue-Ray player all connected to the surround sound. Choose to step out back and enjoy your secluded in-ground pool featuring a diving board, small rock waterfall, and pool-side grilling. Dabble in the 2.5 foot shallows or dive into the 10' waters at the far end. Throw some steaks or burgers on the new stainless steel gas grill to enjoy after your swim. Your friends and family will enjoy evenings by the illuminated waters or roasting marshmallows by the glow of the chiminea. Yard games are provided to satisfy the need for some friendly competition.
A quiet neighborhood located in the heart of Springfield. This is not a street that connects to any main roads directly, greatly reducing the amount of traffic passing by.
Loved the space of this home and cleanliness. Well equipped for family vaca or long business travel. Nice and quiet.
Kelly
2016-11-23T00:00:00Z
Great place!
Myranda
2017-02-05T00:00:00Z
Our stay at the house was perfect. No complaints at all.
Tobiah
2016-06-27T00:00:00Z
Two adult friends and 18-year-old twins spent five days here over Christmas. We all had a great time and felt the place was perfect. We plan to stay here again, in fact. The bedrooms are roomy, the kitchen is nice and well-stocked with basics, and the den is most comfortable. The only less-than-ideal room is the second bathroom, which really isn't a bathroom. It is carved out of laundry room space, with a sink next to the washer-dryer, and a door that opens to a tiny, narrow room with a toilet and a shower facing each other. The house is in a nicely-tended, quiet neighborhood, convenient to all parts of Springfield. It has a keypad entry, so we didn't have to keep track of keys. Nicholas checked on us a couple times by text messaging, but otherwise did not disturb us. We all can highly recommend The Berkeley Getaway. Thanks, Nicholas!
Cheri
2016-12-27T00:00:00Z
This home was awesome. It's in a perfect area. Very comfortable.
Carol
2016-09-28T00:00:00Z
The house worked very well for our corporate strategic planning session. Plenty of space. Kitchen was well equipped. Beautiful pool in the back yard. Very comfortable and clean. Would definitely re-visit this property in the future. Nicholas was great to work with as well!
Stacy
2016-09-01T00:00:00Z
Was just as the pictures portrayed and was perfect for the size of the group that stayed.
Ann
2016-10-16T00:00:00Z
Type de logement
Logement entier
---
Type de propriété
Maison
---
Capacité d'accueil
8
---
Chambres
Springfield, Missouri, États-Unis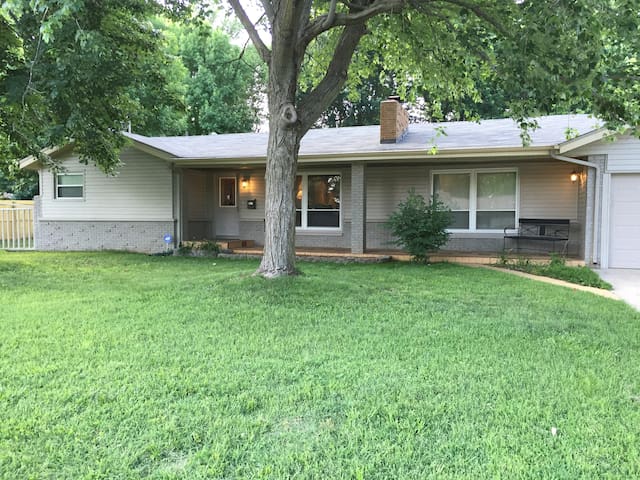 This charming brick home offers a private room, queen size bed, private bathroom, kitchen, shared living room and back deck. This home is located just 1 minute from Bass Pro shops and just a short drive from downtown Springfield. Near, public transport, the city center, and parks. You'll love my place because of the location and the ambiance. My place is good for couples, solo adventurers, and business travelers.
House is awesome! In a great location, very close to downtown, the room was perfect.
Mikhail
2017-01-31T00:00:00Z
Accurately matches description, very good value, everything clean and comfortable and great location in Springfield. I would highly recommend this stay!
John
2017-02-28T00:00:00Z
This place was great and Kurtis and his wife were very accommodating. It was clean and comfortable. I will absolutely stay here again.
Jackie
2017-03-19T00:00:00Z
The price was perfect for the accommodations. Kurtis was easy to work with and very pleasant to talk to. The private bathroom was roomy but bring a robe because it is across the hall from the bedroom.
Ellen
2017-03-23T00:00:00Z
Kurtis and Marcella were very welcoming. It is nice to have a private bathroom, even if it is across the hall. Springfield is easy to navigate and Andy's Custard is highly recommended. I would not hesitate to stay again. Thanks for your hospitality.
Tamara
2017-01-28T00:00:00Z
Kurtis and Marcela welcomed us with open arms and open hearts. Their home was lovely. We had the perfect amount of privacy. Yet, we had the delicious opportunity for conversation. They are a wonderful couple. Their home was clean and neat and they provided for every possible need.
Sue
2016-11-12T00:00:00Z
Both Kurtis and his wife were very friendly and accommodating. I didn't stay long, but everything went very smoothly
Austin
2017-03-27T00:00:00Z
Very nice and it was very clean and comfortable. I will stay again.
Angela
2017-02-25T00:00:00Z
Type de logement
Chambre privée
---
Type de propriété
Maison
---
Capacité d'accueil
2
---
Chambres
Springfield, Missouri, États-Unis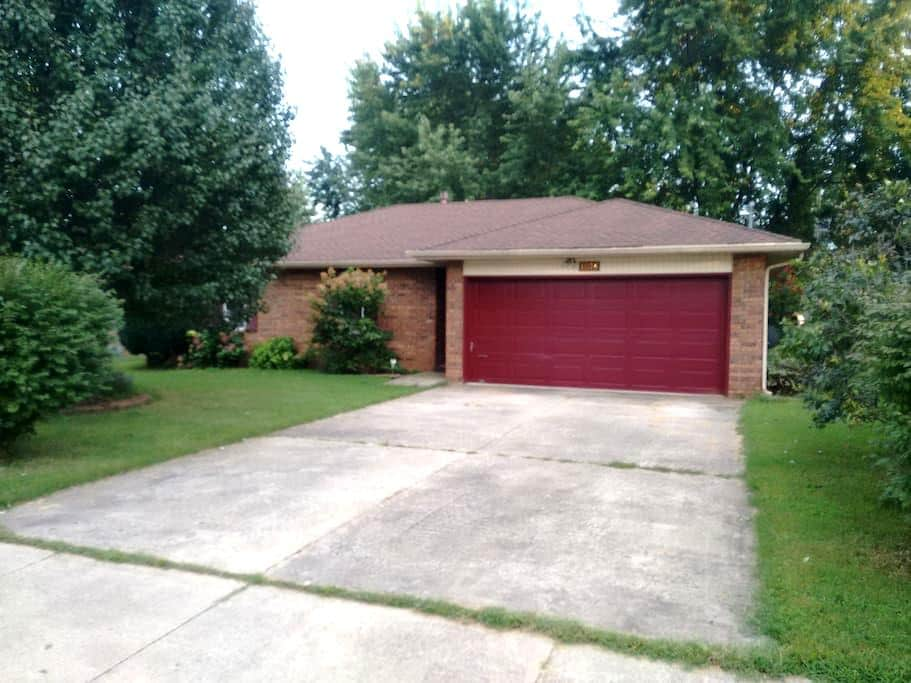 Nice place to stay with friendly neighbors and just about 10 minutes from anything you want to do in Springfield. Medical mile, Bass Pro, Downtown, and plenty of nice parks.
This was great. The bed was comfortable and the room was perfect for what I needed. I would recommend this.
Robert
2017-01-25T00:00:00Z
My first time using airbnb, the whole process was smooth. Room was clean and I had plenty of space for myself. Will surely be using this service more
Carlos
2016-12-24T00:00:00Z
Keith was so nice! He made our stay really comfortable and he made sure we had everything we needed. Very clean place.
Julianna
2017-02-25T00:00:00Z
Room as described. Great hosts and value!
Tyrone
2017-03-12T00:00:00Z
This is the second time staying here and everything was still great. Highly recommend!
Ashton
2016-11-26T00:00:00Z
I just like Keith's place, it's clean spacious and very quiet.
Elie
2016-12-29T00:00:00Z
I really liked staying at Keith's place. He is a great communicator. The room was nice and clean and was there for me. Thanks keith.
Elie
2016-12-16T00:00:00Z
Cozy, private loft for a great price right off of route 40. Keith was very friendly and welcoming, offering me food and anything else I needed. The house was very clean and well taken care of.
Daniella
2017-02-24T00:00:00Z
Type de logement
Chambre privée
---
Type de propriété
Maison
---
Capacité d'accueil
1
---
Chambres
Springfield, Missouri, États-Unis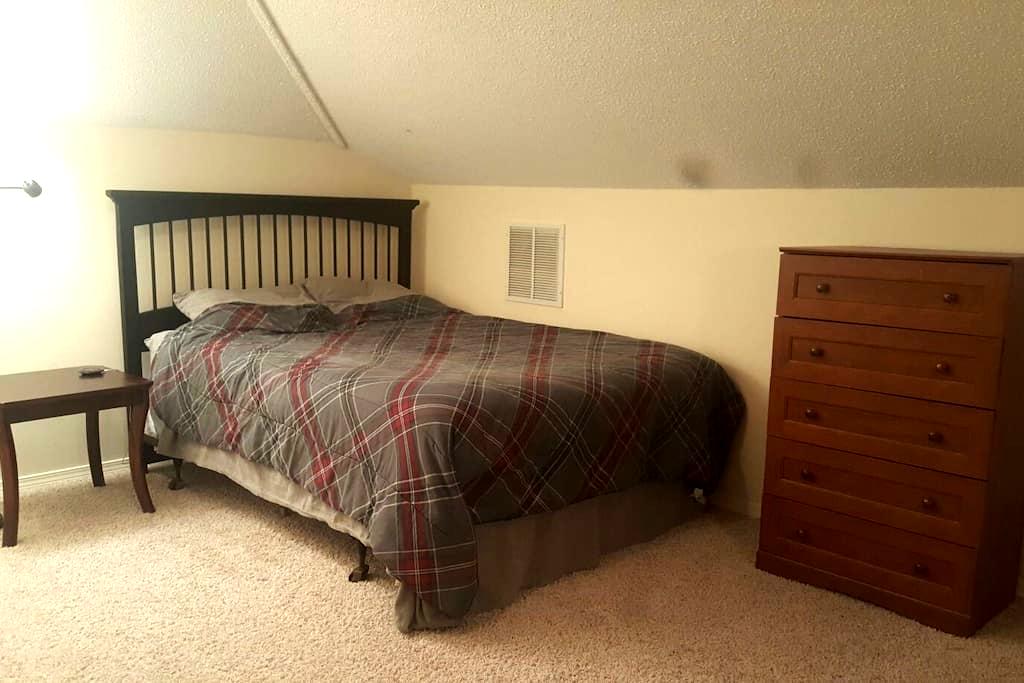 My house is located in mid/west Springfield close to Kansas Expressway with quick access to interstates and highways, about 10 minutes to downtown. Easy access to the airport, Hy-vee market, gas stations and several restaurants. In the summer, you can enjoy our in-ground pool and relaxing backyard. I am an artist and will often have my work displayed in your bedroom, as well as throughout the house. We are friendly and happy to help with any questions or requests you may have.
The room is very comfortable and has a view of the backyard and pool (in the summer). The bed is very comfortable memory foam with lots of different types of pillows to choose from. Extra blankets are provided and towels are provided. Baskets of personal items you may have forgotten are provided in the room. There are two bathrooms in the house. Yours will be shared with my roommate, however he is not always here. He is easy to get along with and the bathroom isn't tied up for long. I do not foresee it being a problem. We keep the bathroom very clean.
Our neighborhood is well established with tall, beautiful trees in a quiet area, but very close access to Hyvee, gas stations, bowling alley, restaurants, movie theater, downtown (10 minutes), expressway, etc. We live in close proximity to Nathaniel Greene park. I have run and biked there from my house several times.
I enjoyed my stay at Jessica. She's very nice and communicated well with me. He house is beautiful and very clean.
Angela
2017-04-04T00:00:00Z
Jessica was a great host. She has a beautiful home , I felt very comfortable there. Bed was super comfy. She had snacks and coffee , great banana muffins she offered for breakfast. She communicated very well. I will stay again.
Angela
2017-03-27T00:00:00Z
Jessica's place was very clean and quiet.... she showed us great hospitality and I would highly recommend her place to anyone traveling to Springfield ... Jessica did many extras to make our stay wonderful... great muffins, nice snacks, tea & coffee.... all of this for a very reasonable price.... Keep up the great hosting Jessica!!!
Mark
2017-04-01T00:00:00Z
Type de logement
Chambre privée
---
Type de propriété
Maison
---
Capacité d'accueil
2
---
Chambres
Springfield, Missouri, États-Unis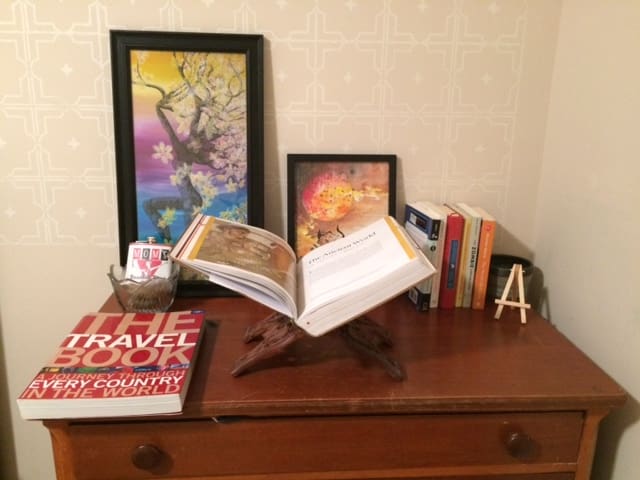 Saisissez les dates souhaitées pour connaître le prix total. Des frais supplémentaires s'appliquent et des taxes peuvent être ajoutées.