Saisissez la date d'arrivée au format jj/mm/aaaa
Saisissez la date de départ au format jj/mm/aaaa
Logements que vous pouvez réserver sans attendre l'approbation de l'hôte.
7 cabanes
· North Fort Myers
7 cabanes
· North Fort Myers
Saisissez les dates souhaitées pour connaître le prix total. Des frais supplémentaires s'appliquent et des taxes peuvent être ajoutées.
Cet été (juillet et août), vous pouvez essayer l'un de ces 100 logements les mieux notés, dans toutes les gammes de prix, pour découvrir Sonoma d'un point de vue local. Entrée dans les lieux 24h/24, réservation instantanée, mais aussi vin et petites spécialités locales à disposition… autant d'invitations à vous détendre et à profiter pleinement de votre voyage.
Our charming open-plan cabana has all the amenities, including kitchenette, WiFi, limited cable TV, solar-heated pool privileges and gourmet Full Breakfasts prepared by our certified Personal Chef. Lots of tropical bird life in the immediate area. We are experienced world-travelers who love to share, and enjoy sharing our town with you. No Children, no Pets, and no more than two guests, please. We do not accept Text Messages. Please call, or email through AirBnb only.
Decorated "island style", our open-plan cabana is just waiting for you to come and relax poolside. Brand new queen size bed with a memory foam topper. Kitchenette features half-sized refrigerator/freezer, microwave, and coffeemaker (with regular and decaf coffees and teas on hand). Bathroom features a two-head shower, with an assortment of soaps and toiletries, and a hairdryer. The walk-in closet offers a bureau to store your belongings, luggage rack, blankets for those "chilly" Florida nights (!), and a stack of beach towels. Sand chairs and other beach items also available. Follow the solar-lighted path along the east side of the main house to the private entrance to pool area and cabana. Parking is 'off the street' but parallel to it. Our solar-heated pool is your 'front yard' and waiting for you to take a dip day or night. There is an FPL right-of-way and lots of shady sidewalks for walking or jogging. The main house, fenced lanai and hot tub are off limits. Gourmet full hot breakfasts are brought to your door each morning by our Personal Chef. Choose from our international menu once you book. Lunch and dinner meals are available at extra cost, if you choose. We'll share our expertise with the attractions in the area, and help anyway we can, when asked; otherwise we stay out of your way.
The neighborhood is one of Fort Myers' oldest, mature developments with plenty of large shade trees, should you choose to take a walk or go for a run. Shops, restaurants, cinemas etc. are approximately one mile away in The Bell Towers Shopping Center. There are well over a hundred restaurants within a two mile radius of the cabana. Public transport does not come into the neighborhood -- the nearest stop is an easy 1 mile walk from the house. Public transport to the beaches is -- just barely -- possible, but will take 2-3 hours each way. The Villas is a quiet, safe, walk-able neighborhood with lots of trees and shade. Walk/bike one mile to shops, cinemas and restaurants. Close to Boston Red Sox and Minnesota Twins Spring Training ballparks, the SWFL Regional Airport, hospitals/VA Clinic/Cancer Treatment Centers and other medical facilities. Minutes from parks, beaches, theaters and downtown activities.
Un petit oasis de calme et de repos près Fort Myers. La chambre, séparée de la maison principale, contient tout le nécessaire pour un séjour reposant. Ken et Sally aiment prodiguer des conseils sur la région et nous ont accueilli à bras ouverts. Nous avons particulièrement apprécié la piscine, le cadeau de bienvenue, les délicieux petits déjeuners ainsi que les fruits du jardin. Une pause au milieu des motels fades.
Damien
August 2016
Cozy cabana with a fabulous breakfast on the lanai every morning! Enjoyed swimming in the pool. So quite and private. Excellent location, close to everything. Ken and Sally were excellent hosts! We look forward to staying with them again!
Terry
July 2016
Our Host was extremely friendly and made us feel very welcomed. They spoke to us and gave us their input on everything around the area since we were new to Fort Myers. We will definitely consider coming back to visit!
Brianna
July 2016
The room was as described; the hosts were very welcoming and friendly. We had an enjoyable stay.
Ben
February 2016
Perfect, private and welcoming home away from home. Everything is as described! Ken and Sally are warm and enthusiastic hosts. Nice touches include full size coffee pot with everything you need including half and half! A bottle of wine, just enough silver and dishes along with a microwave and fridge. Nice quiet neighborhood a few minutes from all the restaurants and shopping you desire. We highly recommend this place. Kens gourmet breakfasts are amazing!
Dawn
February 2016
We have just returned from spending 8 days at Ken and Sally's poolside cabana. Completely enjoyable: quiet, attractive space enhanced by the daily treat of a freshly prepared breakfast. Our hosts extended themselves for us in numerous little ways which made our stay all the better. Their restaurant recommendations proved to be spot on. We would be delighted to return and are pleased to recommend their lodging without qualification.
Alan
March 2016
Our stay at Ken was only a day but we immediately regretted not booking longer. The pool was clean, warm and in an enclosed space (no bugs!!). The bedroom was beautifully decorated and was outfitted with all the essentials one would find necessary (even a bottle of wine!). The bed is amazing comfortable. They provided many towels which was very considerate since you would probably want one separate for showering and the pool. Breakfast was icing on the cake, Ken is an amazing cook! Will look to stay again if we are ever in town!
Nay
March 2016
We stayed by Sally and Ken in March and had a really great time. Welcome was very kindly, Ken and Sally are so friendly and help you each time. Our room was very nicely arranged and the pool was so warm, we didn't want to go out :) If we plan our next trip to Fort Myers we will come again. So all in all we can only recommend this apartment, we enjoyed the time there. Thanks a lot !
Irina
March 2016
Type de logement
Logement entier
---
Type de propriété
---
Capacité d'accueil
2
---
Chambres
1
Fort Myers
Welcome to The Palms of Sanibel Green Cottage. This 1 bed/1 bath cottage has a queen bed off the living room which may be separated by a folding door for privacy. The cottage features a full kitchen and bathroom as well. Community pool and BBQ.
Great location and the place was just as described ! great commodities and excellent neighborhood I would definitely go back!
Jenny
July 2016
This is the perfect place to stay on Sanibel! Literally a 5 minute walk to the beach. Dog friendly with fantastic space. The grounds are well-mannered and inside there isn't much more you could ask for! Internet TV is excellent, bed is ridiculously comfortavke, and you have all the utensils and appliances needed. We are looking forward to coming back soon - and for a longer stay!
Daniel
December 2016
My stay was great. The location was near the beach and the weather was perfect for a winter getaway.
JC
December 2016
Simple but comfortable! Having bikes included with our rental was a bonus, made it much easier to get to the beach and cafes.
JURGITA
May 2016
Very responsive, made sure that I was well taken care of the entire time. I look forward in booking again in a future stay on Sanibel.
Ervin
October 2016
Type de logement
Logement entier
---
Type de propriété
---
Capacité d'accueil
4
---
Chambres
1
Sanibel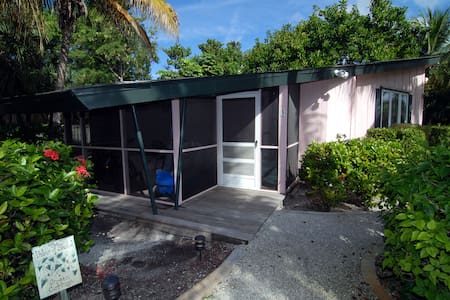 Adorable waterfront Island Cabin located on beautiful Little Gasparilla Island. Bring your boat and dock right at your front door. No need to lug your stuff across island!!! Enjoy the sunrise over the Inter-coastal Waterway from your moon deck and walk 3 minutes to 7 miles of isolated beach to watch the sunset. This is a perfect spot for a romantic getaway or a fishing adventure. During your stay, you will have access to our kayaks to explore the beautiful island coast.
Call about bringing dogs for pet fee. You all will have the whole cabin. Call me and we will help you make plans for an awesome island get-a-way.
Island get away. Boat or water-taxi access only Walk, swim, boat No roads, stores or commotion on the island.
The host canceled this reservation 29 days before arrival. This is an automated posting.
Grace
Type de logement
Logement entier
---
Type de propriété
---
Capacité d'accueil
4
---
Chambres
1
Placida
Welcome to The Palms of Sanibel Blue Cottage. This 1 bed/1 bath cottage has a queen bed located off the living room that can be private by using a folding door to pull across. The cottage features a full kitchen and bathroom, screened porch and bikes
Everything was ready on time and the place was as described. It was a perfect setup for us---a couple in their 60's. The neighborhood was quiet even though it was located on one of the main roads of the island with the lighthouse beach being only 1/2 a mile away. We liked being able to do some cooking in the cottage and some grilling on the large community patio area. The pool was very nice and very clean. The stay was very comfortable with everything available even bikes for riding to the beach or touring the island.
Denise
May 2016
Very small quarters in a campsite environment. For lovers of nature.
Brent
December 2016
We thoroughly enjoyed our stay at the The Palms. Cute little place that welcomes you right into the island mentality. Close to the main part of town, you're only a short bike ride away from some quality establishments. We will definitely be back again to see this wonderful island.
Bobby
July 2016
Type de logement
Logement entier
---
Type de propriété
---
Capacité d'accueil
4
---
Chambres
1
Sanibel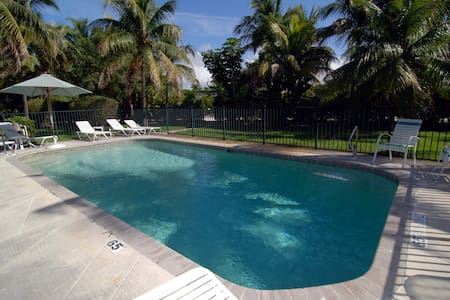 Welcome to Palms of Sanibel Lavender Cottage. This 1 bed/1 bath cottage has a queen bed off the living room which may be separated by a folding door for privacy. The cottage features a full kitchen and bathroom as well. Pool and BBQ available.
Our stay was close to the beach and restaurants. Nicely landscaped spot. We enjoyed the patio and the pool. The cottage was comfortable and clean.
Judy
May 2016
It was a great trip. Everything was as expected and I would definitely visit again. Loved it!
Christina
July 2016
Great location and very cute cottage!
Cindy
June 2016
Ryan was very responsive to all of my inquiries and made us feel very welcomed. The Lavender cottage is cozy, well shaded and convenient. The bathroom is small and the kitchen appliances could use some upgrades. There is peeling paint and the air conditioner barely worked. Fortunately it was a cool spring weekend. The bikes provided were a nice touch. I've stayed on the island since childhood days so thought the accommodations would be of a higher quality for the price.
Carol
May 2016
We really enjoyed our stay in the lavender cottage. It was the perfect amount of space for two. The cottage was neat and clean, and stocked with all the basics, including towels for the pool. The built in AC unit along with the ceiling fans were more than enough to keep the unit cool & comfortable. The pool was really nice and clean. Having laundry onsite was a huge plus!
Stacey
August 2016
We had a good time at the lavender cottage. Ryan was a nice and friendly host. The cottage was very clean and cosy. There was everything we needed. Only one negative thing: the sound of the A/C was a little bit annoying.
Yvonne
September 2016
Wonderful location walking distance to great breakfast spot and beach. We enjoyed the provided bikes and beach chairs which store conveniently in the LARGE screened in porch. We loved the privacy and quietness of The Palms and hope to come back again soon!
Graham
October 2016
The Lavender Cottage was adorable, clean, well appointed and private. We were greatly discouraged that there was no beach access.
Sherry
August 2016
Type de logement
Logement entier
---
Type de propriété
---
Capacité d'accueil
4
---
Chambres
1
Sanibel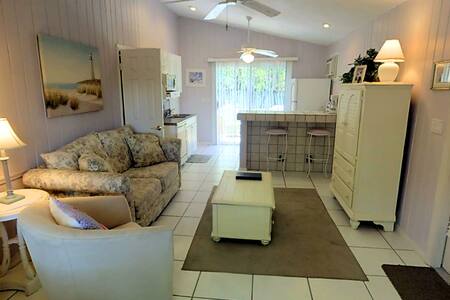 this is a cute small cottage, separate from the main 4 unit apt. building we have here, cozy with a beautiful water view out the kitchen window. 2 night minimum, two people max
Type de logement
Logement entier
---
Type de propriété
---
Capacité d'accueil
2
---
Chambres
1
Bokeelia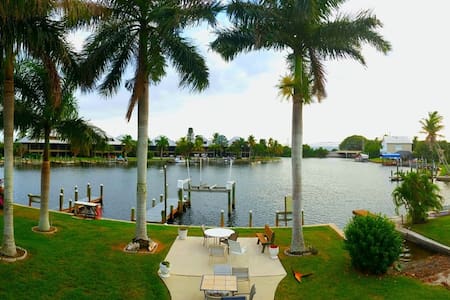 My place is close to Bike path, restaurants, and shops, beach, parks, art and culture. You'll love my place because of the location, the outdoors space, the neighborhood, and the people. My place is good for couples, solo adventurers, business travelers, families (with kids), and furry friends (pets). Here at The Anchor Inn we want your vacation to be the best it can be, we offer complimentary beach chairs, beach towels, umbrellas, and also have access to bike rentals at a fee.
It was exactly what we were looking for and imagined. Relatively close to the beach, clean, quaint, in the vicinity of everything, it felt like being home. Our stay was perfect.
Francesca
August 2016
Type de logement
Logement entier
---
Type de propriété
---
Capacité d'accueil
6
---
Chambres
2
Sanibel