26 locations en résidence
My condo is conveniently located 5 minutes from The metro station, NIH, NIST, lots restaurants, nightlife, public transport, movies and much more. It is perfect for a person, couple, or families.
Location, location, location. This condo is in prime location- anything that might be needed is no more than 5 minutes away. Wether is the metro, shopping, restaurants, fine dining, or the NIH.
It's conveniently located 5 minutes from NIST, Attractions such as restaurants, movies, and beautiful walking trails, and the metro.
Comfortable stay - Our family (two parents, two kids) had everything we needed. Maria was very helpful and noce enough to leave cold cuts and bread and butter, as well as a stocked larder for other things. Thanks!
Megan
2017-01-02T00:00:00Z
My sister, our two children, and I stayed in Maria's home for a month while renovations were being made to our home. Our stay was excellent. It surpassed all my expectations. The house manual was very helpful and Maria was quick to respond to questions. I highly recommend Maria's place.
Jennifer
2016-12-03T00:00:00Z
Maria is very easy to deal with and the house manual itself provides a lot of information. The place is very spacious, the neighborhood quiet and place very well equipped.
Marlon
2016-10-26T00:00:00Z
My family and I attended the Women's March in DC and this was the perfect place for the four of us. It's only 25 miles away to DC and traffic wasn't a problem. There's lots of parking spaces in the complex. The place is very clean and amenities were great. Maria provided breakfast fixings like coffee, sugar, creamer, bread, and cereal. The coffee was the best! There's a small shopping area that's a half-mile away and they have a grocery store and restaurants. Maria was very prompt in replying to my messages, which we really appreciated. Well'll definitely stay at this place next time we visit DC.
Michelle
2017-01-22T00:00:00Z
We really enjoyed our stay at Maria's. The place is very clean, spacious, well organized and equipped. The location is perfect, right by NIST and a strip mall with restaurants and grocery stores. Maria is a wonderful host, very quick to respond to any questions we had. Checking in and out was a breeze. We will definitely stay there again next time we come to do our work at NIST.
thuy
2016-12-21T00:00:00Z
Maria's condo was perfect for the 4 of us, roomy and clean. Communication with her was easy leading up to and throughout our stay. She went above and beyond with a fully stocked fridge and pantry and there are stores withing walking distance in any case. She'll be the first we'll look up again when we visit family in the area.
emmanuel
2016-12-11T00:00:00Z
Type de logement
Logement entier
---
Type de propriété
Appartement en résidence
---
Capacité d'accueil
4
---
Chambres
Gaithersburg, Maryland, États-Unis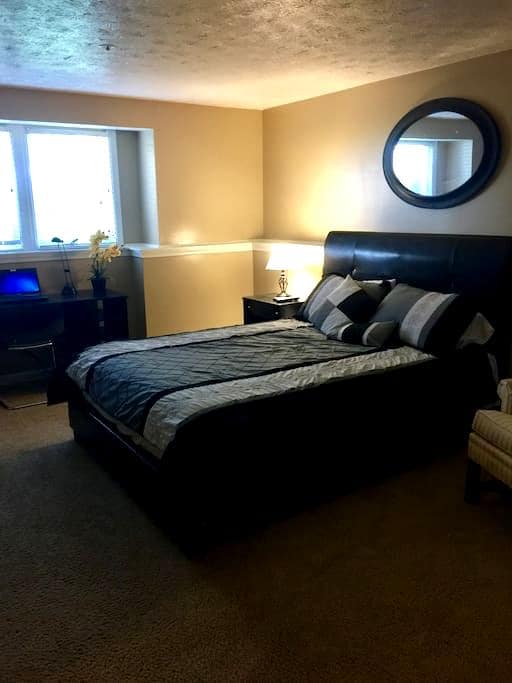 Ma place est proche de Shady Grove Metro (10 min), l'Interstate 270 (5 min) Épicerie (2 min) Costco (2 min) Club de Sam (5 min) Restaurants (5 à 10 min) DC (40 min) Baltimore ( 40 min). Ma place est bonne pour les couples, les aventuriers en solo, et les voyageurs d'affaires.
Type de logement
Logement entier
---
Type de propriété
Appartement en résidence
---
Capacité d'accueil
4
---
Chambres
Gaithersburg, Maryland, États-Unis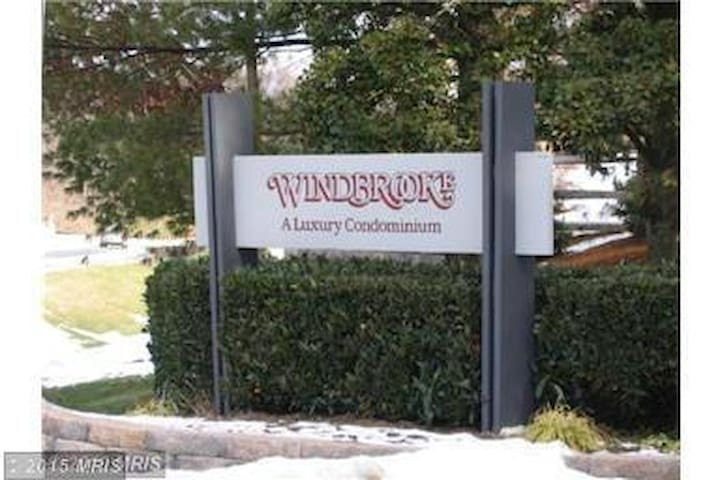 The condo-townhouse is located in a quiet and safe neighborhood. 5 minutes walk to weekday commuter train to DC and 5 Minutes drive to I-270. Plenty of street parking. Access to kitchen and living/dining rooms.
Clean and pleasant
Tis is the place to stay in Gaithersburg. Nice clean place, centrally located and superb hospitality by a fascinating host.
Hank
2016-12-10T00:00:00Z
Shufen is a very nice lady. Her house is extremely clean which makes me feel very comfortable. I will definitely stay her house next time when I travel this area.
JONES
2016-11-13T00:00:00Z
Highly recommended!
Robert
2016-11-10T00:00:00Z
It was a great place to live, within walkable distance to NIST and Shufen is a great host!
Manisha
2016-11-18T00:00:00Z
I really liked the area. Would love to stay here again.
varun
2016-12-02T00:00:00Z
Type de logement
Chambre privée
---
Type de propriété
Appartement en résidence
---
Capacité d'accueil
1
---
Chambres
Gaithersburg, Maryland, États-Unis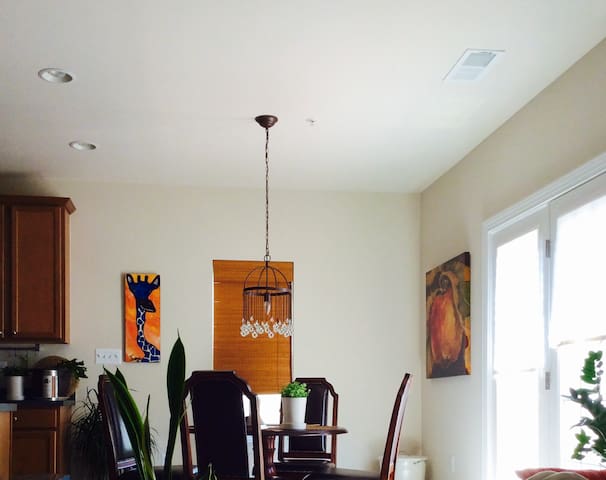 Cozy bedroom with king bed in quiet neighborhood within walking distance to shops and bus stop. Close to metro station and walking distance to NIST. Close to NIH and only 19 miles toWASHINGTON DC. Lots to do in the area as far as entertainment, good restaurants, shopping and public transportation.
Lower level condo backs up to private and government protected wooded area. You have your own bathroom and laundry privileges. Shared kitchen with owner. Wifi in room, king bed, TV, a lot of closet space and work area. Bicycle provided for those not having a car. Towels, air dryer, steam floor cleaner, area heater, and iron provided in room. Condo is surrounded by tall trees, quiet and peaceful neighbourhood. Ample free private parking. Dog friendly neighbourhood.
Quiet dog friendly neighborhood, mature trees and private cul-de-sac with free parking. Close drive to metro. Public transportation available, close to shops, health clubs, and restaurants. Busy area.
Neighborhood had sufficient parking in my opinion but I didn't need it.
Thomas M
2016-04-27T00:00:00Z
Nice bedroom with a small work desk, plenty of shelf and a big private washroom, very clean. The place in conveniently located just at the rear of NIST, about 5-10 min walking from the side Gate. Also located about 5 min from a small mall with Grocery store, restaurants, etc. In a quiet road (une impasse, for those of us french speakers), with a small forest behind. AC is much appreciated as even May is warm and heavy near Washington. Bus stop just on the other side of Muddy Branch (less then 5 min walk) leads to Rockville metro station. The host was very welcoming, showed me the surrounding area, and helpful with the bus schedule and metro map. Also borrowed me a bike for the duration of the stay. I would definitely recommend her house.
Erwan
2016-06-01T00:00:00Z
Type de logement
Chambre privée
---
Type de propriété
Appartement en résidence
---
Capacité d'accueil
2
---
Chambres
Gaithersburg, Maryland, États-Unis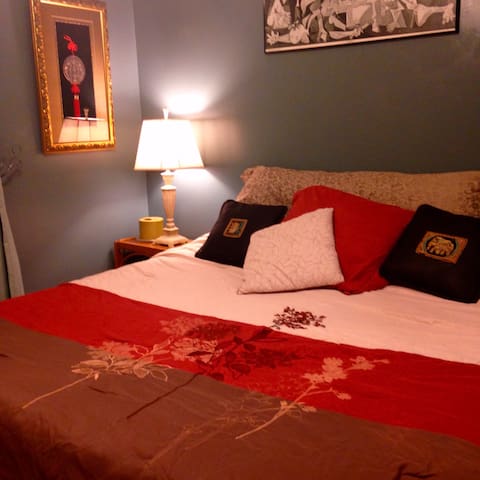 This immaculate 2 level model condo was built in 2011 and features a gourmet island kitchen, gas fireplace, 75/75 FIOS internet, and a 75" TV. One of the three bedrooms is a gym with limited equipment (check photos). Perfect for business travel. You can see MedImmune from the windows! Half a mile to NIST, and 1.5 miles until you are on I-270.
The main level features a very open layout with a family room, dining room, gourmet island kitchen, and a fireplace. On a good day it is a very bright and sunny space as this is an end unit and there are 16 large windows on the main level. There is also a balcony with a couple of blueberry bushes and a small table with two surprisingly comfortable chairs for you to enjoy. The condo occupies the top 2 levels of a town house type structure (piggyback), so you have to go up 2 flights worth of stairs to access the living area.
Very quiet and green neighborhood.
The property is better than described. The two-level layout is spacious, lovely, and luxurious. We found the location ideal for our needs (we had to make many trips to various downtown Gaithersburg locations).
Thomas
2016-11-20T00:00:00Z
We highly recommend staying at Leo's home for an extended stay in the DC area. The unit is very clean, and comfortable with a modern decor. The photos show the unit accurately. The neighborhood is quiet and feels very safe. There is a nice jogging loop around the community. Its a 10-15 min drive to the metro (or Uber) for getting into DC with ease. Leo was quick to respond to all communications and he went out of his way to accommodate. We were working in Rockville for two months and having a home away from home made all the difference. We even extended our stay with no problems. Thank you again, Leo.
Oceana
2016-07-30T00:00:00Z
This condo was perfect for everything I needed. Beautiful, convenient, great value!
Shawna
2016-12-22T00:00:00Z
Type de logement
Logement entier
---
Type de propriété
Appartement en résidence
---
Capacité d'accueil
2
---
Chambres
Gaithersburg, Maryland, États-Unis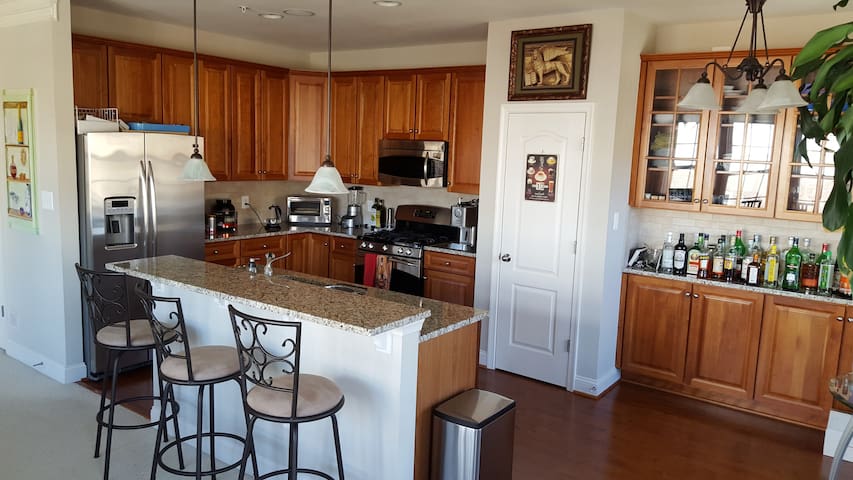 Bright and beautiful condo w/master bedroom, walk in closet and private bathroom. Bedroom has a desk, TV, hi-speed WIFI. Shared kitchen, living room, and laundry room. Close to Shady Grove Metro, Johns Hopkins, NIST, NIH, UMD Shady Grove Campus, and Lockheed Martin. 30 minutes from Washington DC. Walking distance to shopping, restaurants and bars at the wonderful new Crown Farm community, The Rio, Harris Teeter and Lifetime Fitness. GREAT LOCATION!
Dina is SUPER SWEET, she is there to please she is willing to accommodate you and make your trip as pleasurable as possible and made me feel quite at home. The condo is beautifully furnished and tons of sitting areas. The room and private bath were perfect and very private. Lots of space with a desk to sit at and do some work, a huge closet brand new bed. Her kitchen is spacious and she always had something available for me to snack on if I was ever in need of breakfast or snacks. Parking is super easy near some great restaurants and grosary stores. WIFI was very fast. Everything was very clean, the towels she provided were top 4 star soft!! If you have business in the area or just don't want to stay in DC, rather save $$ have 4 star experience and Metro in...This is the place for you!!
Gary
2017-03-10T00:00:00Z
Type de logement
Chambre privée
---
Type de propriété
Appartement en résidence
---
Capacité d'accueil
2
---
Chambres
Rockville, Maryland, États-Unis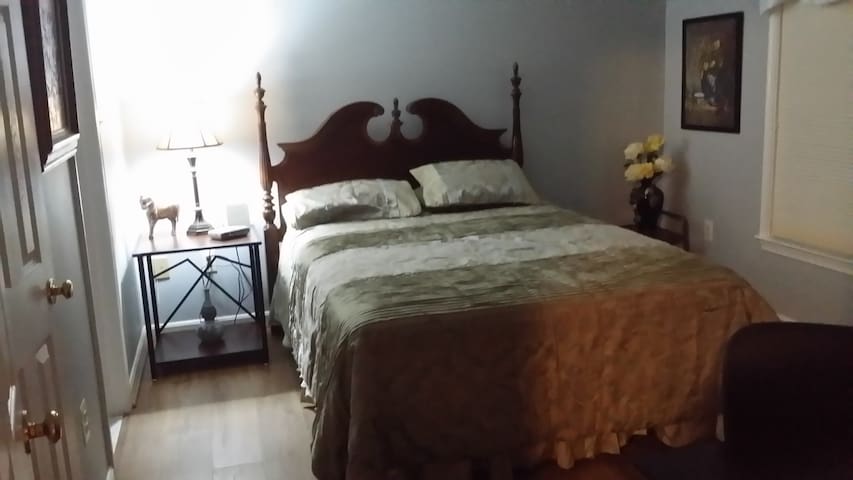 Marcher accès au magasin d'alimentation, pharmacie, banques, shopping et de divertissement, et à distance de marche (un bloc) à Rockville Town Square. Rockville est très pratique pour la ville à vélo. 3 min à pied de la station de métro Rockville (ligne rouge).
Vladimir was great, very responsive and met us on arrival. Place was sparsely furnished but very clean. Ideal place to sleep and very convenient for the metro. We would stay again.
Ian
2016-09-12T00:00:00Z
Incredible, clean, quiet location across the street from the metro in a safe neighborhood with everything you need in walking distance! Amazingly well-maintained, and wonderfully minimalist. Not a speck of dirt in the corners or a sliver of dust on the shelves. Even under the faucets were free of lime scale. Perfect for one to two adults who need to stay right by the metro. We came back very late every night and the walk from the metro was well-lit, short, and felt very safe. We could see the apartment building as soon as we exited the metro. Vladimir is a fantastic host! He is very thoughtful and detail-oriented. We could tell he has thought of most everything while still keeping the apartment simple. He even offered to drive us to the airport at 4am when we told him about our early flight because he knew the metro wouldn't be running yet, and he wanted to be sure we had a dependable way to get to the airport. We already had a shuttle arranged, but we were stunned by his generosity. He showed us even the littlest details like where light switches were, and how to work the shower while still keeping it simple and brief. He is very welcoming, a great communicator, I always received a text back very quickly, and he answered all of our questions. Comfortable bed and quiet neighbors. I wouldn't call this place "homey", but it was urban, comfortable, and had everything we needed and more.
Liz
2016-06-27T00:00:00Z
The apt. is located in a quite suburban location next to Rockville Metro Station, restaurants and coffee shops are located steps away, the apt. has a nice view and it is big for a couple. It is basically equipped, it does not have a TV and we had some problems in getting in the apt. Overall, we had good time and the apt. was clean.
Michalis
2016-11-29T00:00:00Z
I booked Vladimir's place for my parents who were visiting DC. The location is definitely far from the center of DC but his place was very near the metro and buses. My parents preferred taking the bus because it was a lot cheaper than taking the metro into the central part of DC. The apartment was like in the pictures in that it is very basic but the town was safe. What I liked best about this place was the host. Vladimir is a great guy and made me feel assured that my parents were in safe hands for their first time in DC. He was extremely responsive and did everything to accommodate my parents' schedule. I was really glad to have a great host like him!
Delisa
2016-05-29T00:00:00Z
I arrived a few minutes early and Vladimir met me ahead of schedule. This place is clean and in a nice building (not the one pictured on the home page of the ad) and neighborhood, however it is very bare-bones (small table 2 chairs and a bed) as advertised. The price is fair for the area, I stayed there because I could not find a hotel commutable by metro to DC for less than $300/night. Across the street from the Rockville Metro station, easy in and out of DC. I would stay again under the same circumstances.
Jerry
2016-06-10T00:00:00Z
Great place, great location. Clean and convenient. Vladimir was easy to deal with. Thanks
Mark
2016-06-21T00:00:00Z
Vladimir is kind and helpful and very responsive. Location was great - easy access to public transportation, shops, restaurants in a cute area. The apartment faces busy streets, but surprisingly quiet. What you see in the pictures is what you get. The apartment is bare-bones, so for me it was a perfect home base (rather than a spot to hangout).
Melissa
2016-05-17T00:00:00Z
Loved staying at Vladimir's place. Very convenient to the metro (across the street) and there are great restaurants and a movie theater nearby. The place was clean, very comfy bed. He was great at communicating, didn't hover...all in all, very easy stay. I would absolutely stay here again.
Sharece
2016-10-03T00:00:00Z
Type de logement
Logement entier
---
Type de propriété
Appartement en résidence
---
Capacité d'accueil
2
---
Chambres
Rockville, Maryland, États-Unis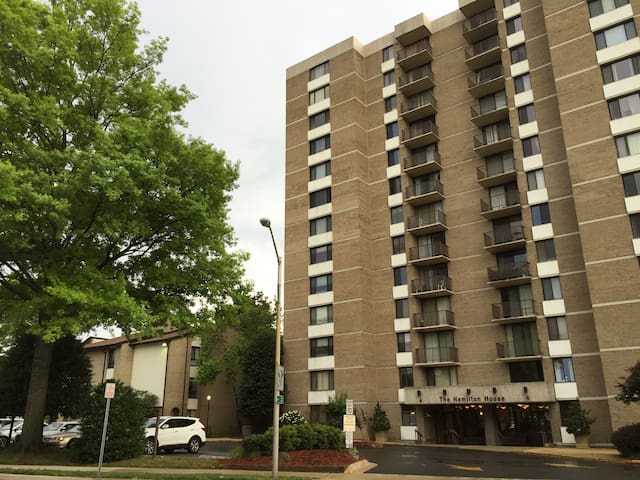 This cozy 2 befrom/1 bath row house has all the charms and modern convenience you are looking for. One bedroom has a full size bed with access to the fenced backyard, the other has a twin size bed. The kitchen has a breakfast area and a stacked washer and dryer in the utility area. Walk to Rockville Towncenter where you can find great shops, exciting restaurants, grocery stores, movie theater, Library and best of all, access to busses and Rockville Metro station that gives you the freedom not needing a car. Cable and wifi are available.
Great location that you are able to walk to everything from busses, subway to the whole Rockville Towncenter!
The convenience is the most wonderful thing! Able to walk to the whole Towncenter, Metro busses and subway!
This was a very comfortable place to stay with plenty of room and a host who was very responsive. It is clean and well-kept with everything you need to cook a meal, do your laundry or just hang out. I will definitely keep it on my list the next time I need a place to stay in or near D.C.
ESTHER
2017-03-05T00:00:00Z
Very nice, clean, spacious home in convenient location
Lauren
2017-03-12T00:00:00Z
Very nice house, in a quiet street. The place is super clean and well furnished. Audrey had coffee and snacks waiting, the place has a homey touch to it. Will definitely come back and highly recommend it!
Zaid
2017-03-14T00:00:00Z
Audrey is the best host you will ever meet! She will provide everything you need! Her place is the best for people who is looking for Chinese food! Anyone should definitely book this place if you want save some money and live in a great neighborhood with Chinese grocery store in walking distance! The only thing which need to be improved is internet. Sometime you will lost internet connection.
Zac
2017-03-24T00:00:00Z
Type de logement
Logement entier
---
Type de propriété
Appartement en résidence
---
Capacité d'accueil
3
---
Chambres
Rockville, Maryland, États-Unis
Comfy, safe, artsy and sunny open space with helpful bohemian traveler native DC Host and Public School teacher, yoga, dance and tennis enthusiast. Bus, bike, or easy drop off, two km to metro/ subway. Queen Spring-Futon, shoji doored 'designer sized but cozy bedroom. Wi-Fi, smart TV, water filter on the kitchen sink, Coffee, Tea, cerial, spices, milk, fruit, popcorn and Pool free to use.
'Earthy Designer Garden Condo, Cozy bed, clean, comfy large well-natural lit commons, in totally safe and forest-surrounded neighborhood.
Very safe middle class neighborhood, surrounded by parks. Nice Town center with restaurants, movies, shops within 1 bus/1.5 miles, and subway within 3 blocks of town center or 10 min bus ride from condo.. I recommend the First Watch there for breakfast of lunch--healthy, delicious and reasonable. There also very good Asian, Middle Eastern, Irish, and American selections, and free validated parking for two hours. There are Giant, Dawson's Health Foods, and New York/Asian grocery stores nearby.
As always a nice place to stay. Tim is always flexible and does his best to be accommodating.
Bethany
2017-02-28T00:00:00Z
Tim is a very relaxed friendly guy, and we had a great time staying at his place.
Paul
2016-12-22T00:00:00Z
My sister and I throughly enjoyed staying at this cozy reservation! It is in a great part of town, near several options on food and things to do. Tim was a fantastic host, gracious and very easy to talk to and ready to help us with whatever we needed. I would highly recommend staying with Tim!
Stephanie
2017-01-23T00:00:00Z
The room is nice for the cheap price, it is close to the center and to the college and the neighborhood is very nice.
Tsafi
2016-10-15T00:00:00Z
The host canceled this reservation 3 days before arrival. This is an automated posting.
Hiroshi
2016-05-25T00:00:00Z
Tim's apartment is very nice and clean, it's located in a quite neighborhood. Tim was helpful during the check-in process. I'd recommend this place for any travelers.
Siyu
2016-10-23T00:00:00Z
Tim was a great host and the place was in a safe location! I would suggest this place for two people any day.
Niki
2017-01-15T00:00:00Z
Tim was a wonderful host. Was kind enough to share his food and other supplies. I am new to the east coast, and he took the time to explain the area and offered restaurants and hiking recommendations.
Van
2017-03-09T00:00:00Z
Type de logement
Chambre privée
---
Type de propriété
Appartement en résidence
---
Capacité d'accueil
2
---
Chambres
Rockville, Maryland, États-Unis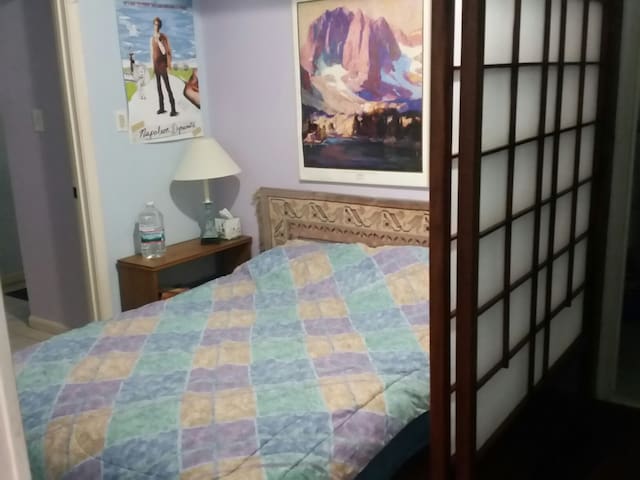 1Bed/1Bath avail in a 2/2 right across from Fine Dining and Shopping, Right by Marriott Headquarters, Lockheed Martin, Choice Hotels offices, and close to the National Institute of Health (NIH). Free parking in complex. Pool opens 05/25/15.
Welcome to my 2bed/2bath condo and am offering a room and bath in relaxing and upscale Bethesda. Located accross from Montgomery Mall. Quick ride to Bethesda or Grosvernor/Strathmore metros (15-20 min metro to downtown DC). Close to National Institutes of Health, Marriott Headquarters, Lockheed Martin offices. Very clean home. Whether on vacation or work trip you will feel inspired here to enjoy everything the Washington DC metro area has to offer. ASK ABOUT Monthly rate.
Across from Corner Bakery café, restaurants, and fine shopping. Very quaint, inspiring setting. Pool. Huge landscapes of green parks. Across from Apple Store, Nordstrom, Macy's , Urban Outfitters, t-Mobile store, and many more (100+) stores. Four (4) Italian restaurants, several Asian restaurants, cafés, and many more food options. New movie theater, new bowling alley is being built. Perfect spot for professional, vacationers, tourists and interns.
Ray was reliable in communcation and follow through. Location was perfect for me and as described. Accomodations were as expected given description and price. Thanks Ray!
Bob
2017-02-06T00:00:00Z
Communication was excellent. Very helpful and easy to come and go and get checked in etc. Ray's place worked well for my short trip to DC.
Alison
2017-01-23T00:00:00Z
The host canceled this reservation 13 days before arrival. This is an automated posting.
Keyvan
2015-08-28T00:00:00Z
Ray's place is perfectly situated for those attending NIH events. Ray is a well traveled, friendly host.
Karen
2017-02-17T00:00:00Z
Honest and clean place to stay. Friendliest host ever. Very close to shopping, movies, restaurant
Ronaldo
2016-06-01T00:00:00Z
Awesome experience, there is not enough words to say Thanks to Ray during this 117 Days ( 3 months & 25 days ) I really appreciate your hospitality , such a nice clean space comfy room, clean sheets, towels, the whole experience was quite nice. Ray offered help during check in and check out that really is priceless my friend. I would definitely recommend long term stay with Ray specially if you going to be working nearby, or if you going through any internship, really nice place to stay, within walking distance of everything, the Westfield Montgomery mall, Arclight cinemas, bus station.
Serg
2016-11-30T00:00:00Z
Ray was an excellent host, and offered help on any needs.
Guilherme
2016-03-13T00:00:00Z
I had a wonderful time in Ray's apartment. Great location. Exactly as described in pictures. Very clean. Very professional. Spotless. Incredible kitchenware and cookware. Spotless fridge. Great host. I would like to come back again.
Giorgio
2017-02-01T00:00:00Z
Type de logement
Chambre privée
---
Type de propriété
Appartement en résidence
---
Capacité d'accueil
2
---
Chambres
Bethesda, Maryland, États-Unis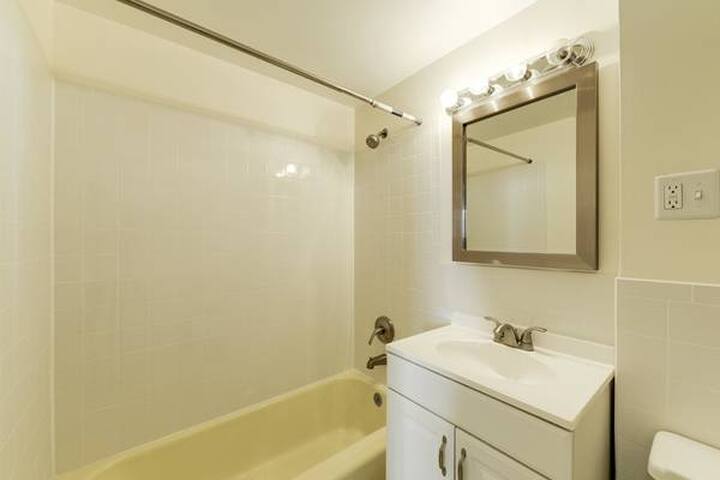 My place is close to public transport and within walking distance to Harris Teeter and several restaurants. You'll love my place because of the location and the people. My place is good for solo adventurers.
Type de logement
Chambre privée
---
Type de propriété
Appartement en résidence
---
Capacité d'accueil
1
---
Chambres
Rockville, Maryland, États-Unis
Ma place est à proximité des activités pour les familles et les transports en commun À distance de marche du lac forêt centre commercial, shopping, manger et bibliothèque, excellent quartier dans le coeur de Rockville Vous aimez ma place à cause de la lumière, la cuisine et le confort. Ma place est bonne pour les couples et les voyageurs d'affaires.
Chaque choses dans mon appartement est tout neuf.
I had an enjoyable 7 night stay at Nour's condo. I found the place very clean and fully equipped. It is near an expressway and about a 40 minute drive to DC.
Slavko
2017-01-24T00:00:00Z
Spotless, well decorated, comfortable, convenient condo. Nour is very welcoming and responds quickly. The bed is super comfortable and the condo is quiet and peaceful and beautifully landscaped. Everything is exactly as it appears in the photographs. It is clear that Nour put a lot of thought into the presentation of her place. I walked to the shopping mall and the bus stop (which goes to the Red Line metro to downtown D.C.) in less than five minutes. Nour left shampoo, toothpaste, coffee, cream, candies, even a bottle of wine, all of which was deeply appreciated by this weary traveler. As an example of her kindness and willingness to go the "extra yard", I mentioned to her that I didn't have a hairdryer and she arranged for it to be delivered immediately, and even included a styling brush! Nour is clearly an intelligent, well-spoken, responsible individual and I plan on renting from her again for the upcoming holidays.
Liese
2016-09-28T00:00:00Z
Sweet indeed. Nour's place is tastefully decorated, well stocked with amenities (fully functional kitchen, very fast internet connection,...), conveniently located and unbeatably priced. Check-in was a breeze. As a hostess Nour is attentive to detail and responsive.
Clyde
2017-02-18T00:00:00Z
This 2nd floor condo (out door steps) is well furnished, clean, and tidy. It has all that we expected. Each room is small, but so much better than a hotel room. It's very close to a large mall and to the freeway heading into D.C. We would surely rent here again.
Richard
2017-03-14T00:00:00Z
Noir's place was lovely and the perfect home away from home.
Carrie
2016-11-20T00:00:00Z
Type de logement
Logement entier
---
Type de propriété
Appartement en résidence
---
Capacité d'accueil
2
---
Chambres
Montgomery Village, Maryland, États-Unis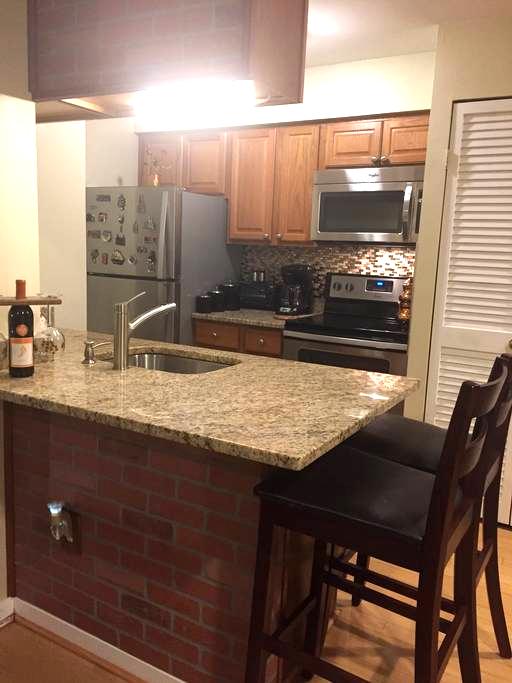 One large master bedroom with private bathroom available in a high end condo. Conveniently located next to Safeway, shops and restaurants. Metro station , Gym, pool, parks, tennis & basketball courts are all within 5-10 minutes walking distance. Located right off highway 270. Minutes to DC.
Beautiful community called King Farm. Very safe.
Type de logement
Chambre privée
---
Type de propriété
Appartement en résidence
---
Capacité d'accueil
2
---
Chambres
Rockville, Maryland, États-Unis
This is a room with it's private bathroom. Very clean and comfortable. The neighborhood is quite and nice. Metro accessible (Wite Flint and Twinbrook red line). Gay friendly :)
Had a great stay! Will be back for sure! The guys are super nice!
Gary
2017-03-17T00:00:00Z
Samad is super nice! I was really glad to be back at his place! THANK YOU
Gary
2017-04-06T00:00:00Z
Samad was a very helpful host. He was responsive to my inquiries, and his place fit well into my needs.
Evan
2017-03-24T00:00:00Z
Type de logement
Chambre privée
---
Type de propriété
Appartement en résidence
---
Capacité d'accueil
2
---
Chambres
Rockville, Maryland, États-Unis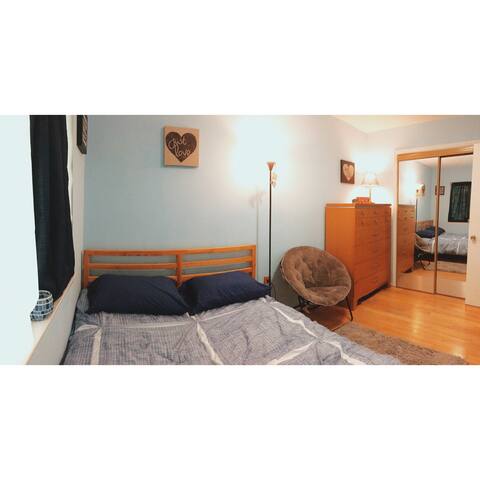 Spacious and affordable one bedroom apartment in White Flint with balcony, one mile away from metro, near shops and restaurants. Please note: Air conditioning does not work when the outside temperature is above 85F and the apartment can get warm during hot summer afternoons/evenings.
It had everything I needed. Very convenient.
Karis
2016-11-07T00:00:00Z
David is a great host! The apartment is super spacious, well equipped with the basics for cooking, easy to hop on and off the main highways, and close to a grocery store. If you are a light sleeper, there is an occasional train passing that you will hear. It is also advisable to have a car or be prepared to Uber/Lyft to metro. Great place to stay(URL HIDDEN)
Laura
2016-12-11T00:00:00Z
We had to cancel our long term stay due to a roach problem. David was communicative and easily reachable throughout the ordeal,and has promised to take care of the problem. The apartment wasn't cleaned properly. Location is good, lots of parking available. Better for short stays than longterm. In bathroom(and stairwell) there is smell of smoke, you can turn on vent in bathroom and close door to help with that.
Serena
2017-01-22T00:00:00Z
He welcomed us very well, check-in and check-out time was very convenient and flexible, the neighborhood was great, the pictures were exactly like the place, he was quick to respond to texts, he had fruits and other great welcome amenities for us :)
Atem
2016-08-21T00:00:00Z
Nuestra estadía en el apartamento de David fue muy buena. David es una persona cumplida, muy amable y educada. Siempre estaba dispuesto a respondernos preguntas sobre sitios o cualquier inquietud que tuviésemos. El apartamento estaba acondicionado con todo lo que necesitábamos en la alcoba, baño y cocina. Podíamos cocinar con tranquilidad, ver TV y la temperatura muy bien. Lo recomiendo para cualquier persona o familia.
Roberto enrique
2016-08-11T00:00:00Z
The place was wonderful and the host was amazing. I just wanted a small getaway for a few days and my stay far surpassed my expectations. The apartment is in the DC-Metropolitan area. Right within walking distance there is a bus stop which you can use to get to the closeby metro station and downtown DC. There is also a huge parking lot in case you plan on driving there. There is a small strip mall next door with a Subway for meals on the go and a Dollar Tree for small toiletries, food items, or whatever other essentials you may have forgotten. The place is clean and has plenty of sunlight in the living room. There was cable television and WiFi included. There is also a washer for clothes during long stays and a full kitchen with tableware if you're preparing to cook frequently during your stay. There was a Queen bed as well as a twin bed mattress (if requested), and a couch in the bedroom, as well as a couch and beanbag in the main room. There are some items that David left for guests including tea, a couple of frozen meals, and some cereal for breakfast. However I believe the best part of my stay was how friendly and helpful David was. He was quick to respond to any questions I had and we were able to exchange phone numbers so that I could call or text any issues.
James
2016-08-16T00:00:00Z
Type de logement
Logement entier
---
Type de propriété
Appartement en résidence
---
Capacité d'accueil
2
---
Chambres
North Bethesda, Maryland, États-Unis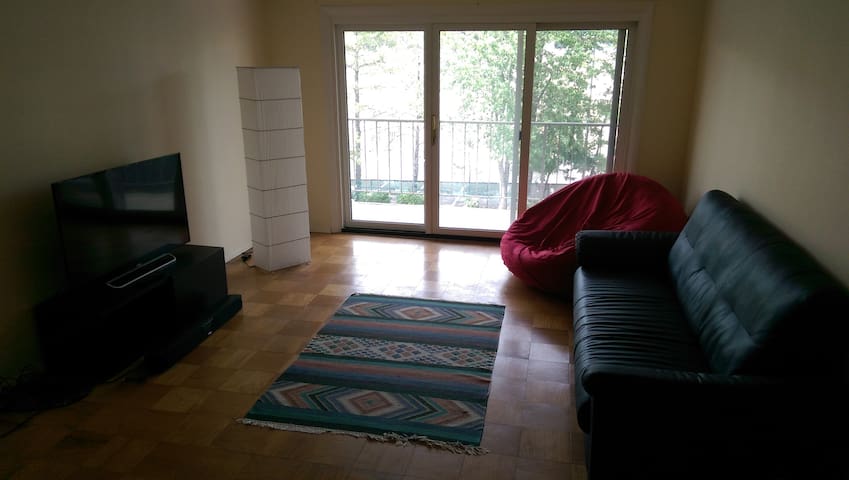 Available April 23, 2017 The Gallery is a luxury condominium located in the heart of North Bethesda, right at the intersection of Rockville Pike and Old Georgetown Road. The complex is in one block walking distance to the White Flint Metro station. -Balcony with great view of pool and courtyard -One block to White Flint Metro and the most beautiful and accessible metro stop. (Red Line) -25 minutes to Washington DC.
Type de logement
Logement entier
---
Type de propriété
Appartement en résidence
---
Capacité d'accueil
2
---
Chambres
North Bethesda, Maryland, États-Unis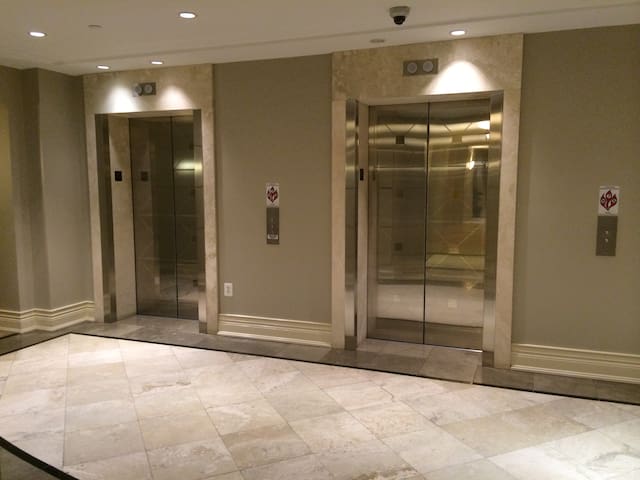 Want a spacious room, private bath, and walk in closet! Lovely place to stay for a quick getaway or month long stay ... it's your home away from home
We have a fun home that we allow our guests to use. We have a pool table, dart board, fire place, gym in our community and pool during the summer season.
Quiet and safe. Lovely places to take walks but close enough to the metro or drive to DC
The room in Kris and Harris' place was very spacious and clean. I really liked having the private bath as well as a walk in closet attached to the room. It is in a condo so I did feel like I was taking up a big chunk of their living space, but they seemed perfectly content having me occupy it. On first look it seems like parking is tight in the condo complex, but you just need to go a little bit further down to find a space. The place is also very close to I-270 making it easy to get to-from DC, the metro, etc. There are also several shopping centers and restaurants within a short driving distance. They were very hospitable hosts and I would definitely be willing to stay there again.
David
2017-02-23T00:00:00Z
Type de logement
Chambre privée
---
Type de propriété
Appartement en résidence
---
Capacité d'accueil
2
---
Chambres
Germantown, Maryland, États-Unis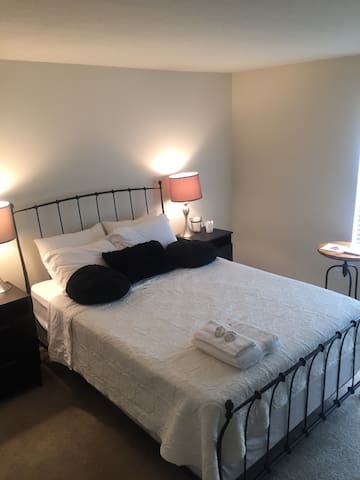 Offering full use of a beautiful split-level ground unit condo with large private patio. Master bedroom, plus den. Kitchen with all updated stainless steel appliances and gas stove. Right next to trails/stores/restaurants, 20 minutes to DC.
Type de logement
Logement entier
---
Type de propriété
Appartement en résidence
---
Capacité d'accueil
2
---
Chambres
Rockville, Maryland, États-Unis
1

–

18

sur

26 locations en résidence
Saisissez les dates souhaitées pour connaître le prix total. Des frais supplémentaires s'appliquent et des taxes peuvent être ajoutées.