Saisissez la date d'arrivée au format jj/mm/aaaa
Saisissez la date de départ au format jj/mm/aaaa
Logements que vous pouvez réserver sans attendre l'approbation de l'hôte.
11 villas
· North Sumatra
11 villas
· North Sumatra
Saisissez les dates souhaitées pour connaître le prix total. Des frais supplémentaires s'appliquent et des taxes peuvent être ajoutées.
Cet été (juillet et août), vous pouvez essayer l'un de ces 100 logements les mieux notés, dans toutes les gammes de prix, pour découvrir Sonoma d'un point de vue local. Entrée dans les lieux 24h/24, réservation instantanée, mais aussi vin et petites spécialités locales à disposition… autant d'invitations à vous détendre et à profiter pleinement de votre voyage.
Direct lake access with amazing views. One large bedroom and bath w/ king size bed upstairs. Hardwood French doors open to wrap around balcony/veranda, a full kitchen and living room area downstairs can double as a second bedroom with futon and second WC.
The villa was custom designed with a large balcony (2.5m wide on lake side) that wraps around to the rear giving incredible views of Lake Toba. We had hardwood French style doors custom built so that the upstairs bedroom and living room downstairs can completely open to the balcony and veranda on two sides to get maximum lake breeze and views. If you have a larger group, we can arrange to use newly built rooms at the adjoining guesthouse. You can access the entire villa as well as the area in front for swimming, fishing or kayaking in the lake. We live in another part of Indonesia. If there are maintenance issues or other questions please contact Romal at Aman's restaurant just above the house on the road.
The villa is in a quiet area of TukTuk tourist village on Samosir island situated in the center of Lake Toba. However, it is still easy walking distance to other restaurants and pubs. In my opinion, the house has one of the best views and the best area for swimming in Tuk Tuk right in front of the house. Kayaking and lake fishing is also possible. You can walk anywhere in Tuk Tuk easily from the house. Passenger lake boats to Parapat or charter boats to Sibisa waterfall available to pick up right in front of the villa. This house is located in a rural village in Indonesia. Therefore, there are increased challenges with achieving the level of quality you would expect at an Airbnb villa in Europe or America. However, this level of quality is what we hope to achieve and maintain. Villa Amora has electricity; hot water; all new furniture and appliances including a Simmons king size bed upstairs; a fully equipped kitchen with stove, oven and everything you need for cooking. There is also a gas grill imported from America that you can use. As the house is new we are taking measures to improve the experience based on feedback from our guests. There are several guest houses and restaurants next to Villa Amora if you need someone to wash your clothes (for a fee) or want to order meals (delivered to the villa) or food to cook on the barbeque. There are a couple of convenience stores in Tuk Tuk for basic dry food items such as rice. Fresh fruit, vegetables and meat can be bought at the Thursday market in Ambarita, the Saturday market in Tomok or from locals as they are available. Fish and crayfish can be bought from local fishermen to cook on the barbeque. If you ask a day in advance, a suckling pig barbeque can be arranged at the villa. Also a two person inflatable kayak is available to use free for villa guests. There is also a fishing rod you can use.
Awesome place to stay. Definitely will come back again. Thanks Aron.
Vincent
September 2016
This villa is recommended for those who enjoy quiet side of tuk tuk. Great view and environment. However we had several problem with electricity, water and cleaness of the premise. We had several blackout, water shortage and spot several spider web in the ceiling and inside kitchen cupboard but the good thing is housekeeper is being helpful. Thank Frank
Frank
July 2016
Good location in Tuktuk. The design of the house was wonderful. We had to ask for help to open the doors but totally worth it. What a unique space! The floating kitchen design was really nice and unique too.
Delisma
April 2016
Type de logement
Logement entier
---
Type de propriété
---
Capacité d'accueil
4
---
Chambres
2
Tuk Tuk Pandan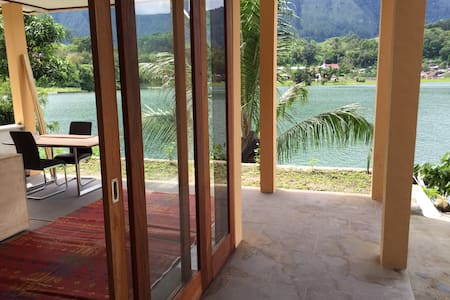 Feel the true Sumatera where you can reach canyon, hills, waterfalls, lakes, mountains around. Wake up in the morning with a view of Sumateran native and tradition.. By uniting the elements, we serve Rumah Pakankamih for you. Gives a wonderful experience for you and your family by provides a great view and wonderful atmosphere with rice plants which stretches vast all the way to downtown. Let yourself be pampered by our fabulous facilities. Book now! Because our room is limited!
Walk for 5 minutes to reach Traditional Market selling so many things, with the cheapest price, 6 km from famous beautiful river, Tarusan River.
penginapan yg nyaman, family friendly, sarapan ok, pegawai ramah jg
lisi
December 2016
Type de logement
Logement entier
---
Type de propriété
---
Capacité d'accueil
10
---
Chambres
5
Tilatang Kamang
My place is a two bedroom, two bathroom villa, just 5 mins walk to the luxurious 18 hole golf course, and just 20 mins drive from Medan city center. You'll love my place because of the luxurious gated residence. it's clean, quiet, cozy, home bali-style villa, private pool and garden. you can swim or jog around the villa, or even play golf at nearby golf course. My place is good for couples, solo adventurers, business travelers, and families (with kids).
imagine waking up with a nice view of lush garden with swimming pool just right outside your cozy bedroom, and listen to the sound of birds chirping & peacocks flaunting their beautiful feathers. Room facilities: - wooden floor - air-conditioned rooms - comfy bed & comforter - TV - hot / cold Shower - workspace for laptop The villa is at the backyard of our house. Guest has full access in the villa. the pool is semi-private. Housekeeper (helper) tends the garden and clean rooms daily from morning - afternoon (speaks no english). Host speaks English and Mandarin
our villa is located at Komplek Graha Metropolitan Helvetia, a secluded exclusive gated residence 20 mins away from city center. the complex has 18-hole golf course nearby. if you love peaceful place with less noise, away from the hustle bustle of city, this is the place for you to enjoy. because it's an exclusive gated residence, public transport like bus / taxi don't go by the area often. But, we can help you make calls to taxi company to fetch you. it usually takes 15 mins for the taxi to arrive. to get around medan city, we recommend private car rental (usually costs around IDR 600,000 / day all-in, for full day service) ** we also organize indonesian cuisine cooking class by professional restaurant chef, (with a fee). classes available for booking for 4 participants and above. * traditional market tour * learn how to cook 3 course indonesian meal with professional chef * free flow passion fruit juice during class.
Host was very helpful. Picked us up at train station and took us to a place to eat on the way home. Beautiful location next to huge properties on a golf course. Maid room service and daily Landscapers. Gorgeous rooms . Certain inconveniences - power goes out a few times a day only briefly (common throughout Medan). Generator is quite noisy by the pool lounge chairs. Towels are not full body size. Our hot water and air con had some issues the first day but everything we requested tho the maids were very fast in remedying for us. overall a stunning location if you can be flexible with minor adjustments. Staff other than host have no English so be prepared to use (SENSITIVE CONTENTS HIDDEN) translate.
Jennifer
December 2016
Type de logement
Logement entier
---
Type de propriété
---
Capacité d'accueil
2
---
Chambres
3
Medan Helvetia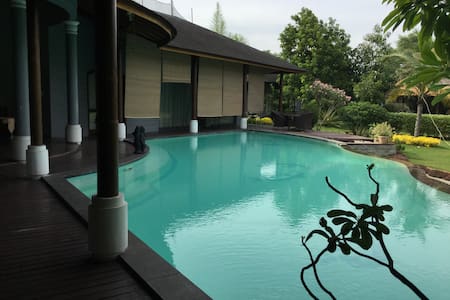 My place is in Bukit Lawang North Sumatera and located in the middle of rice field that surrounded by mountains. Really cool place to relax and enjoying the nature.
Type de logement
Logement entier
---
Type de propriété
---
Capacité d'accueil
4
---
Chambres
4
Bohorok
Villa Durian is a 3 star cottage for having a nice vacation at Samosir Island. Enjoy Living room - Kitchen with dining area - 2 Bath rooms - 2 Bed rooms with balcony. TV with 71 channels.
The rate of Villa Durian is charged for 5 person. It is possible to book up to 4 extra beds, each for Rp 160.000/person and day. Children under 3 years don't have to pay, if they don't use an extra bed. Max. occupancy 9 person. The front of Villa Durian is located on the quiet local road. The back is surrounded by durian orchard with a beautiful view of Lake Toba. At any time.
From Villa Durian you can easily explore the nearby attractions. The island of Samosir and Lake Toba are natural beauties and offer plenty of activities. It is possible to use public buses and boats, but we also have boats, bicycles, motorcycles and cars for rent. Book of durian Villa offers guests a pleasant stay on the Tuktuk Timbul Peninsula. Private road - Parking - Hotel with 15 Bungalows, 4 original Batak houses and 2 families Bungalows - 200m Jetty - Restaurant - Fish pond - Tropical garden - Kids pool - large and small tour boat.
It was for the whole family a great experience. Siallagan and Chris are really a unique couple with distinct character, for us always people does matter. Villa Dorian location in TukTuk Timpul is magnificent it is on edge of the island slope looking over magical Toba Lake through natural array of Dorian trees. When sunny, trees divide sun-rays to twinkle adding original beauty to the scene, and when raining, water particles filter the scene eliminating details and show you an abstract monochrome painting. Leaves, birds, nature sounds gently loosens the tension of work and cleans your soul. Villa Dorian is very comfortable, clean and built with care inspired by the extended Batak roof in contemporary and simple design of Chris who is a great builder. Service is professional and TukTuk Timpul restaurant serve good food on the shore of the lake. Do not miss a swim in the lake fresh water, it is naturally clean and affects immediately your energy. Ten minutes walk from Villa Dorian, a Batak Village emerges to tell you how Batak people lives, builds and do crafts. For Architects of vernacular architecture enthusiasts, traditional Batak house is a living document for one of the most subtle house concept and building techniques in Asia. For artists, authentic wood carving and Batak textile weaving touches your soul. Mountain Hot Spring was our last destination before leaving Samosir Island two submerges in 36 degree Sulfuric natural water get you newly born. Four days are not enough, we left with hope to come again and again. All thanks for Siellagan, Chris and the whole nice family for your kind, generous hospitality and thoughtful talks. Wael, Nashwa, Maryam and Nour
Wael
December 2015
Type de logement
Logement entier
---
Type de propriété
---
Capacité d'accueil
5
---
Chambres
2
Samosir Island - Lake Toba - Indonesia
The villa is a 5 minute walking distance to Jam Gadang, Pasar Atas, Fort de Kock, and the local zoo. In 10 minutes you will be able to reach Panorama Ngarai Sianok to see the canyon, the site of the WWII Japanese bunkers, and the Great Wall of Koto Gadang. The villa is unique because of the privacy, the central location within Bukittinggi, all in a new villa. The place is good for rent to more-than-one tenants including couples, business travelers, families with children, and big groups.
As a modern villa, it sits privately behind the zoo grounds through a small alleyway, giving a private, quiet feeling right inside the city centre. The villa sits on top of a hill, giving guests a cool weather temperature with fair winds. On clear days, the backyard has a great view of Gunung Singgalang as its background. The villa features up-to-date infrastructure, a unique design with architecture deriving from the colonial period combined with modern colours and features. The spacious dining room can attract a full group of guests to be together, making the ambience a sociable place. Guests will have access to all rooms and areas of the villa, including the kitchen, internet access, backyard, and car park fit for a couple of vehicles. There will be two persons to assist you in your stay, speaking in Bahasa Indonesia. For any English assistance, please message me (the host) for inquiries.
There are microbuses and horse carriages to take you around the city, but the city core is good enough to walk everywhere by foot. If you would like to arrange private transportation for areas outside of the city centre including airport pickup and drop-off at Padang, please refer to our guest interaction information. If you'd like to arrange transportation to pick up from Minangkabau International Airpot (PDG) in Padang, and for transportation throughout Bukittinggi and the neighbouring areas and sights, we will be able to do this for an additional charge. You can request transportation through me (the host).
Type de logement
Logement entier
---
Type de propriété
---
Capacité d'accueil
8
---
Chambres
4
Guguk Panjang
My place is good for couples, families (with kids), and big groups.
for any inquiry, kindly contact to our office 0617321190 or Mobile Phone : 08121008162
Type de logement
Logement entier
---
Type de propriété
---
Capacité d'accueil
8
---
Chambres
4
Berastagi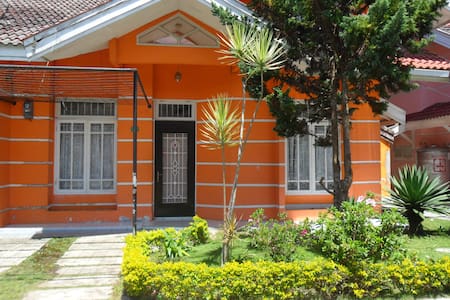 Hi Everyone. My house is in P.Siantar city which is 1 hour driving to Lake Toba . I am very sure that people would love to stay in our hometown before going straight to Lake Toba. We have unique culture here. Spacious room, clean, friendly owner .
-Spacious Private Room fully air-conditioned -Peace environment -MInimalis Decor -Blankets, Towels, Pillows Included -2 Comfort Single Beds + 1 Sofa bed - Internet provided - 2 Single beds available -Free laundry Feel the jungle sensation!! can hear Roars of tigers or Chirping birds sound! Our location is near Siantar Zoo. 1 hour driving to Lake Toba by car 2 minutes walk to P.Siantar zoo . 2 minutes walk to the most popular coffee shop in P.Siantar 10 minutes walk to coffeeshops around town ( main road) I am a woman with 2 kids who loves travelling and sharing ideas with people. I would like to become your local tour guide if i have spare time.Any questions will answered.
1 hour driving to Lake Toba by car 2 minutes walk to P.Siantar zoo . 2 minutes walk to the most popular coffee shop in P.Siantar 10 minutes walk to coffeeshops around town ( main road) parking space available willing to be your local travel guide if i have time
Type de logement
Chambre privée
---
Type de propriété
---
Capacité d'accueil
5
---
Chambres
1
Pematang Siantar City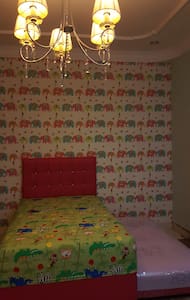 My place is close to Parks, Hillpark Theme Park, the Hill, Brastagi. You'll love my place because of the location, the views, and the ambiance. My place is good for families (with kids) and big groups.
Type de logement
Logement entier
---
Type de propriété
---
Capacité d'accueil
6
---
Chambres
3
Medan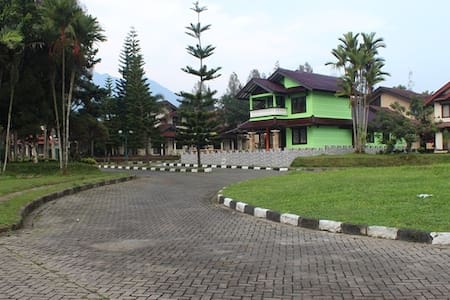 Tempat saya berdekatan dengan pusat kotanya atau dekat dengan Rumah Gadang Andi, di Jorong Induriang Kapau. Tempat saya cocok untuk keluarga (dengan anak), rombongan besar.
Type de logement
Logement entier
---
Type de propriété
---
Capacité d'accueil
9
---
Chambres
6
Agam Regency