Bienvenue à l'Organisation des Nations Unies de Redfern, juste à côté du centre-ville de Sydney! Les clients du monde entier ont fait cette immense, confortable, centralement situé à la maison leur propre - pour les vacances, les réunions, le travail, les escapades romantiques - et lunes de miel! L'Opéra et le Harbour Bridge sont un facile 40 minutes à pied, ou à seulement dix minutes sur le train City Circle de Redfern.
Au cours des quatre dernières années, je l'ai accueilli des gens de la Suède, l'Arabie Saoudite, Trinité-et-Tobago, le Sri Lanka, l'Iran, la Finlande, le Canada, la Corée du Sud, Singapour, États-Unis, la Russie, la Malaisie, les Pays-Bas, l'Inde, la Norvège, la Nouvelle-Zélande , Les Emirats arabes Unis, le Vietnam, l'Espagne, l'Indonésie, l'Allemagne, l'Irlande, l'Angleterre, l'Ecosse, Pays de Galles, le Brésil, l'Egypte, le Danemark, Hong Kong et la Chine continentale, la France, la Suisse, le Japon, Dubaï, au Mexique, au Timor oriental, en Afrique du Sud, Autriche, la Thaïlande et l'Argentine! Et mes premiers Belges viennent réservé, comme je l'ai réservé mon premier séjour en Belgique :) Vous êtes invités à rester chez moi, peu importe dans quel pays vous êtes. Je l'ai hébergé musulmans, juifs, hindous, chrétiens, bouddhistes, athées et probablement d'autres confessions. Tous ont été accueillis, et tout le monde sera toujours à ma place. Très GLBTI-friendly. Très droite sympa aussi! Au cours de ces moments où le monde est sur le bord, Voyage est une merveilleuse façon pour les gens de se connecter, et pour les étrangers à devenir des amis de confiance. Qui que vous soyez, cela peut être votre maison à Sydney. Il y a un parking couvert disponible. Je possède deux appartements dans la même rue, et je fais cette disposition soit pour appartement à réserver. Si vous conduisez à Sydney ou de la planification à la réservation d'une location de voiture, s'il vous plaît laissez-moi savoir afin que je puisse réserver le parking pour vous et votre famille, mais s'il vous plaît être conscient que cela doit être vérifié à l'avance. Je vous propose un énorme, élégant appartement dans une rue calme, à 10 minutes à pied de la gare centrale ou juste cinq à la station de Redfern. Il est littéralement quatre pâtés de maisons de ville. Ceci est la taille et la qualité d'une suite dans un hôtel de haute qualité pour le prix d'une chambre moyenne de la ville. qualité inégalée et la valeur. Si les dates qui vous intéressent ne sont pas disponibles mais vous aimeraient encore la commodité de Redfern, s'il vous plaît vérifier mon autre endroit. Voyez plus loin en bas de page - ci-dessous les commentaires. Vous verrez «A propos de l'hôte». Cliquez sur le lien '+ Plus', puis 'Voir le profil complet. Sur cette page, vous verrez mon autre appartement répertorié comme «plus grand lit à Sydney! Tous les appartements de la ville aura un peu de bruit à traiter. Bien qu'il n'y ait presque pas de bruit de la circulation de la rue, il y a une ligne de métro un pâté de maisons. Grâce à la journée, je ne remarque même pas, et alors que je suis un sommeil léger, ça me dérange rarement la nuit. De nombreux invités commentaires sur la façon calme et calmer l'appartement est, mais certains clients ont remarqué et il m'a mentionné. Je fais fournir des boules Quies si vous en avez besoin (je voyage toujours avec eux de toute façon). fonctions Airbnb sur la base de l'honnêteté, donc je tiens à le souligner - ainsi que de noter la taille et confortable, l'appartement est! Près de 80 mètres de large (860 pieds carrés) l'appartement dispose d'une chambre séparée avec un latex lit queen size, et aussi un queen-size Murphy lit dans l'alcôve de bureau. Vous pouvez voir le lit d'appoint replié contre le mur, derrière mon bureau, dans les photos montrant le bureau. Le salon-salle à manger-cuisine-office combinée est spacieuse. Le contrôle en temps normal est 10h et la caisse est 8h du matin. Ceci pour permettre le nettoyage avant que de nouveaux clients arrivent - mais s'il vous plaît noter que si vous êtes sur un vol tôt le matin, vous pouvez déposer vos sacs hors tension et la tête pour le café et le petit déjeuner - beaucoup de grands cafés! - Pendant que nous finissons de se préparer pour vous. Handy pour les arrivées anticipées du matin. Idem pour l'heure de départ. Je serai aussi flexible que possible. J'ai eu des invités laissent des sacs ici aussi tard à 18 heures le jour de leur départ, plutôt que de trimballer les autour de la ville avant de se diriger vers l'aéroport pour un vol du soir. Mais si pas discuté autrement, la caisse est 8 heures pour permettre à deux heures de nettoyage. Le bâtiment est d'environ 60 ans - autrefois un garage et bureaux - mais a été converti en un bloc de cinq appartements il y a 10 ans. Le mien a été rénové il y a trois ans. Il n'y a pas d'ascenseur, mais il y a seulement neuf étapes de l'appartement, et quatre autres depuis le hall jusqu'à la salle de séjour. Redfern est à l'extrémité sud de la CDB, de sorte que vous pouvez avoir une promenade à droite le long George St à l'Opera House, Circular Quay et le Harbour Bridge, et de revenir dans les jardins botaniques. Je fournis également le thé, le café (avec votre propre machine à expresso), des céréales et du lait frais pour votre petit-déjeuner. Airbnb est à propos de Voyage abordable et l'expérience de vivre comme un local. Ce n'est pas un hébergement pas cher, mais plutôt la communauté fondée sur la confiance, le savoir local, un intérêt commun pour Voyage et croire une commune que rester dans sa propre maison de quelqu'un offre une expérience différente et supérieure lorsque vous voyagez. À cause de cela - et les coûts énormes de Sydney immobilier - Je ne suis pas en mesure d'écarter. Les prix proposés sont moins chers que d'un deuxième hôtel de taux, mais l'appartement est énorme et d'excellente qualité! S'il vous plaît cuisiner! L'office est également bien garni avec des épices, le riz et les pâtes, les huiles, les tomates en conserve, etc. Je suis heureux de les rendre accessibles sur un système d'honnêteté - sentir libre de vous aider, mais s'il vous plaît remplacer ce que vous utilisez. Pas besoin de remplacer les huiles, les épices etc si vous utilisez la dernière du récipient. Il suffit de me laisser une note de ce qu'il faut approvisionner à nouveau! Je veux rendre votre séjour aussi facile que possible. Les ministres, les athées, les professionnels de l'informatique, les skieurs professionnels, navigatrices professionnels et plaisanciers, un chandler, les artistes, les travailleurs sociaux, les bijoutiers, les comptables, les gens sur leur 10e anniversaire de mariage, 25ème anniversaire de mariage, les couples homosexuels, les parents isolés, les tout-petits, les adolescents, les cinéastes , réunions de famille, ancien ami réunions, les infirmières, les propriétaires d'entreprises, les constructeurs, les retraités qui prennent toute une année sabbatique pour profiter de la compagnie les uns des autres comme ils parcourent le monde. Pas un mauvais mot de l'un d'eux, pas un mauvais mot à propos de l'un d'eux. Le monde qui vient à travers votre porte comme un hôte Airbnb rend mon coeur monter en flèche.
La proximité de la ville! Vous ne pouvez pas battre les quartiers qui jouxtent la CDB pour la commodité et la station de Redfern est l'un des meilleurs pour obtenir PARTOUT à Sydney. J'aime l'histoire, l'architecture, le mélange de gens de toutes les cultures imaginables qui vivent côte à côte sur ce village Sydney très moderne. Redfern est l'un des plus anciens quartiers de Sydney, et pourtant cet endroit est si calme sachant à quel point il est au milieu de Sydney. Il est un mélange de 19ème siècle terrasse des maisons, des conversions et des nouveaux développements de l'appartement. La région était terre-à-talons pour les années, mais sa proximité de la ville et intacte l'histoire a vu fleurir dans une nouvelle zone géniale (mur à mur magasins de meubles rétro et de nouveaux petits bars) dans les 10 dernières années. Le centre-ville est à votre porte, et deux grandes gares de chemins de fer au sein de cinq minutes à pied signifie que l'ensemble de Sydney est facilement accessible. La ligne de banlieue de l'Est passe par Redfern, de sorte que la station de Bondi et la banlieue Est sont environ 16 minutes. Bondi et Tamarama Beach sont encore 15 minutes en bus de la gare. Il est une grande ville - et ceci est un endroit idéal pour explorer à partir.
Paul a été très arrangeant en ce qui concerne les horaires de départ et d'arrivée. Nous nous sommes tout de suite sentis à l' aise dans son appartement agréablement décoré, qui est assez fonctionnel et relativement bien équipé. Et c'était vraiment très agréable d'être aussi près du centre de Sydney...
Sylvie
2012-07-17T00:00:00Z
Le logement est spacieux et fonctionnel. Il ne manque de rien. Nous étions en famille avec deux enfants. Le + simple pour se rendre dans le centre est de rejoindre la gare de Redfern à 5 minutes et vous etes sur le port en 10 minutes. (je consigne de prendre un pass à la journée) Je précise qu'il n'y a rien de spécial à voir dans le quartier. Petit bemol au sujet du bruit de la ligne de train souterraine que nous entendons.
Stéphane
2014-08-24T00:00:00Z
Hôte vraiment charmant beau logement spacieux et stylé quartier proche de station de train Redfern pratique pour circuler dans la ville petit bėmol sur le bruit du train qui fait vibrer l appartement ( y compris très tôt le matin!) et sur la propreté des lieux qui est perfectible
Damien
2015-01-19T00:00:00Z
Paul is a great host. Very responsive and helpful. He went the extra mile for us, which was very much appreciated. The apartment was clean and had everything we needed. It's as you see in the pictures and is spacious enough for a small group of friends. Close to Redfern station and the city. It was really handy to have some cereal and milk available in the apartment, nice touch :) This was my first airbnb experience, and it did not disappoint. Highly recommended apartment and gold star for the host!
Disha
2014-05-05T00:00:00Z
Paul was an excellent host! This apartment is beautiful, and dealing with Paul was a complete pleasure. I highly recommend this place. I booked this apartment on behalf of a high profile Australian actor, one of the cast members of a low budget short film I was producing. Paul was generous with his time, as well as his rate - amazingly contributing a significant discount to support our production, which was incredible. He was quick to respond to all my queries, very helpful and conscientious, all of which contributed to a very smooth and comfortable stay for our actor - which was of utmost importance to us! Paul is a great guy, with a beautiful place in one of my favourite parts of Sydney - I would stay with him again, and highly recommend his spot. Cheers! Ella
Ella
2016-04-11T00:00:00Z
Paul's house is very spacious, clean and very close to the train station. My family had a good time at his place and enjoyed very much to do some cooking at night. Paul is very helpful all the way and it's pity that we don't have chance to meet face to face.
Ringo
2014-08-20T00:00:00Z
The flat was very spacious and accommodated everything we could want, as described and was only a 20 minute walk from Darling Harbour which appeared to be the hub of nightlife. Would certainly use Paul's flat again, if we re-visit Sydney and would certainly recommend to others.
Deborah
2014-10-28T00:00:00Z
We stayed in Paul's apartment for a week. All was great! Location wise, it's close to the CBD. Redfern st is just 5 mins walk away and could get to almost everywhere. One could also use (SENSITIVE CONTENTS HIDDEN) map to plan for bus journey to travel around. Paul arranged for a parking spot in the opposite (literally) building and was handy for us to rent a car to travel out. Apartment wise, it was spacious, clean and homey! Kitchen appliance and equipment, as well as some cooking ingredient are provided for. Toiletries, laundry detergent, dryer, iron etc are available too. Highly recommended apartment.
Hong Ling
2016-10-02T00:00:00Z
Type de logement
Logement entier
---
Type de propriété
Appartement
---
Capacité d'accueil
4
---
Chambres
Redfern, Nouvelle Galles du Sud, Australie
以海港大桥和悉尼歌剧院在船上过夜最美丽的港口在世界上你自己的,完全私密,豪华游艇!我们甚至可以把你的海港巡航。没有划船经验需要。感谢所有的精彩评论我们历年获得,游艇现已被列为Airbnb的#1地点在悉尼停留的任何地方,由悉尼先驱晨报评为前三名的一个留在全澳大利亚。
这是怎么回事WORKS 在您入住开始,你会登上在悉尼东部码头(距离市中心大概十分钟半小时,从机场)游艇。然后,我们会带你到一个系泊在港口的夜晚 - 无论是在附近的伊丽莎白湾或在更避风的港湾,通常是一个仅次于Taronga动物园。如果你住在海湾旁边Taronga动物园,你会被一个国家公园所包围,您可以享受游泳到附近的海滩,你会夕阳海港大桥和歌剧院。 如果您选择留在伊丽莎白湾夜间(对此有对您通过支付的Airbnb顶部什么无需支付额外费用),你会从那里你会从拿起码头仅几百米之遥。虽然伊丽莎白湾系泊是完全安全的,请注意,伊丽莎白湾可以暴露在风中,你不会有海港大桥和歌剧院的景色,你会被认为是永久停在那里等船包围,这是不可取的,那里游泳。 您的船长将让你在你的系泊过夜(所以不要忘记带一些食物和葡萄酒或啤酒!)。在你离开的那个早上你有早餐后(如果你在Taronga动物园,另一个游泳!),你的队长会出来给你,带给你回到你登上码头。 在Taronga动物园选择花费额外的$ 200来覆盖它需要去并从那里的时间。您可以轻松地与私人维港游,游艇结合你过夜。请参阅"额外选项",在本节的底部。 维港游 无论你住在游艇上过夜,我们会很高兴带你周围的海港私人2小时之旅,在海港大桥,以往的悉尼歌剧院和过去的独家和非常昂贵的房子东部郊区。如果您想预订游艇三个小时或更长时间,你也将有时间停在游泳或午餐避风港湾。如果你住过夜,从$ 500,如果你预订白天游艇港旅行团从$ 200开始。请参阅本节的定价细节的底部。 WHAT'S ON BOARD 你的床会进行了豪华的床单,毯子,枕头和羽绒被,我们将提供柔软的毛巾,面巾,肥皂等厨房(厨房)具有酒杯两个炉灶锅和烤箱,小冰箱和充足,香槟酒杯,餐具,餐具和锅碗瓢盆。我们也将离开你的烹饪基础知识,例如盐,胡椒,浓茶,咖啡,鲜奶等和小吃碗欢迎。该游艇有热水淋浴和耳语般安静的电动厕所两间浴室。还有在小船上一个热水澡,一旦你已经游泳。在轿车有你的电话,Bose音响系统(带有辅助输入您的手机)和一个DVD播放器配备了DVD可供选择的堆栈USB充电。甲板上有一个遮阳篷,让你冷静和用餐之外的表。 关于游艇 "欧罗巴"是Wauquiez百夫长C45S。她的手46英尺(14米)由欧洲奢侈,她一直建到最高品质。她花费了一点在$ 1M和她是相当大的(及以上级)的种类,你可以与商业包机船队发现游艇。 我将有乐趣? 是!悉尼先驱晨报刊登八个"最令人惊讶的地方,留"在整个澳大利亚的名单 - 而且,我很自豪地说,我们是3号就行了!如果你仍然不能确定它是多么壮观继续留在悉尼海港的豪华游艇,请阅读200+的评论我们已经收到。 需要带些什么 一旦你在船上,下车游艇是不容易的,所以你需要在你带些食物晚餐和早餐,一些饮料(有很多船上的饮用水,但请不要把葡萄酒,啤酒,软饮料等),您的游泳衣,一些轻松的读物 - 当然,你的相机!有在Edgecliff的超市和购物中心,在那里你会登上游艇1200米之遥。 什么不带! 由于篇幅的原因 - 并防止船上的柚木木损坏 - 请只袋每人一个软袋(加上你的食物和饮料),并请穿软底鞋(非标)的鞋子。工作鞋和高跟鞋是严格禁止的。你不能把eskies(冷箱)或手提箱,因为它们可能会损坏木制品 - 如果你的行李箱来了,你就无法登上直到你发现别的地方来存储它们(如果你有一个汽车租赁这是最简单的地方来存储它们)。如果存放行李将是一个问题,请联系我提前做好,我们会看到什么,我们可以安排。如果只有你们两个人过夜,你可能会带来一个以上的(软) 每人的行李包可以存储在后面的小屋。 还有什么我需要知道什么? 该游艇是神奇的两个人,非常舒适的四个人,但同时有三张双人床,你会发现,六人是有点挤。你可能会喜欢把它作为"glamping" - 即富有魅力的露营 - 尽管木卫二是真正的豪华,她毕竟,游艇不是酒店!也请记住,机上有没有240V(市电)电源。 经常问的问题 •我需要一个划船许可证或划船的经验? 并不是所有的 - 一个船长将带动游艇为您和游艇时的上过夜停泊,他会离开你那里,你会在你自己的绝对安全。 •我可以租用游艇,白天参观一下吗? 当然!游艇最多可能需要10名乘客的一日游,我们可以带你到海港游或在宁静的海湾抛锚,所以你可以有午餐,饮料和游泳。请随时把你喜欢的饮料和食物。两个小时巡航/旅行团(不含过夜)花费$ 500强周一至周五和$ 600周六,周日和节假日。其他时间收费是每小时$ 100。 •什么是入住和退房时间? 对于过夜到达时间通常是下午4点,我们将有你回来之前上午10点旱地。如果你想延长住宿时间(或者,如果你下午4点之后抵达),请与我联系。 •凡将船停泊的过夜? 您可以选择伊丽莎白湾或旁边Taronga动物园一个避风的港湾。 (请注意,在这里您可以停泊过夜的确切位置可能取决于天气)。在塔朗加您将有歌剧院,城市的灯光和海港大桥的景色,你会被一个国家公园所包围,它是安全的游泳那里,你可以上岸的小艇甚至桨搭乘渡轮进入城市。这里是住在野生动物园的额外费用 - 请参阅"额外选项"之下。在伊丽莎白湾停留包含在价格的Airbnb内,但请注意游泳有不推荐,你会不会有桥或歌剧院的景色。 •我有一个船牌 - 我可以驾驶自己的船? 是的,你当然可以驾驶船 - 但我们还是会提供一个船长,以确保一切的安全。当然,一旦船是在系泊船长会离开你,但船必须留在系泊 - 你将无法赶她走! •我们可以下船? 强烈建议在从船(当它靠近Taronga动物园停泊)游泳!如果你住只是一个晚上,你可能会喜欢的是在游艇上和去为游泳,但请你记住,让到旱地不是直接的每一分钟:如果你希望能够下车船(例如进入镇),如果你与我联系,安排它是最好的。最简单的方法,如果你住在塔隆加,就是用两个人的小艇到行50米左右海滩,从那里你可以搭乘定期渡轮进城。如果你住在伊丽莎白湾下船的唯一途径就是通过水上出租车(但请警告:水出租车费一般为$ 120各自的方式)。 •我们能否得到回升或在港口周围不同的码头下车? 当然!虽然定期收集和落客点是在悉尼的达令角码头,详情请来电咨询,如果你想在其他地方拿起,我们将看看我们能为您安排。例如,你可能想在歌剧院,玫瑰湾或屈臣氏湾下车,所以你可以吃晚饭,然后在傍晚后捞起。 •是否有附近的停车场? 是的 - 有沿新海滨路免费和不定时停车场,码头在那里你会登上游艇附近,但如果采取了这些空间有达林Point路还有更多的空间大约500米远。 •有没有超市附近? 是的,有从码头Coles和阿尔迪超市在Edgecliff的购物中心,约1200米(一英里的四分之三)。 •威尔住在游艇上是安全的? 绝对!与Airbnb住宿上市的其他船只,欧罗巴配备和认证为商业船只。这意味着她拥有所有的安全设备,你可以想像和游艇每年rigourously测试,以确保她是完全安全的。除了这一点(而不像业主或Airbnb住宿其他船只的运营商),我是认可的硕士5人商业队长这是商业船只的要求(我也是一个RYA Yachtmaster导师!)所以你就可以在非常良好的手中。 •我们会舒服? 游艇是奇妙舒服,并且,是46' (14米)长在该体积内部比的两倍体积更
Le port de Sydney est l'endroit le plus magnifique sur la terre. OK .. peut-être un peu exagéré, mais il est certainement là-haut avec les meilleurs! Si vous avez choisi l'option de Taronga ZOO, vous aurez l'horizon de la ville entière aménagée en face de vous et vous serez à moins de 100m d'un abri, plage de sable fin (vous pouvez nager à terre ou vous pouvez louer le canot du yacht) . A cinq minutes de marche de là et vous êtes sur le quai de ferry où il y a des ferries demi-heure pour vous transporter à travers le port de Circular Quay, le centre de la ville, et de l'Opéra. Si la direction du vent est défavorable pour rester à Taronga, je vais plutôt vous emmener à baie différente qui est également entouré d'un parc national et qui va être magnifiquement abrité du vent. Si vous avez choisi l'option ELIZABETH BAY vous serez dans une baie qui est souvent exposée aux vents dominants - que signifie le bateau pourrait rebondir de haut en bas un peu au cours de la nuit. Le bateau sera entouré par d'autres bateaux qui sont en permanence «garés» là-bas, il n'y a pas de vue sur le Harbour Bridge ou Opera House et il est pas recommandé que vous nagez à Elizabeth Bay.
Our time on the yacht was 10/10!! David was welcoming, entertaining and well-informed of Sydney Harbour which made our 2 hour cruise very much enjoyable. Europa is a beautiful yacht and truly luxurious!! We are already planning our next visit.
Nat
2015-09-07T00:00:00Z
My family and I went ahead with our stay on the Europa despite a less than wonderful weather forecast. David was a welcoming and thoughtful host and being on the Harbour at sunset was spectacular. To ensure our comfort for the night, David recommended a more sheltered mooring, a recommendation we were grateful when there was a hailstorm later that evening. David texted to make sure we OK and we were. It was very cozy on the yacht and we all got a great night's sleep. Thank you David for the memorable adventure!
Claire
2015-08-26T00:00:00Z
you want a stay to remember, stay with David! fantastic host! fantastic place…well harbor! our second trip and won't be our last.
Jess David
2016-06-12T00:00:00Z
A fantastic experience. I would definitely recommend the night stay by the zoo and the view is amazing. Watching the sunset and the skyline change from day to night is magical!
Ann-Marie
2016-08-08T00:00:00Z
David was a very accomodating host, he made the booking process very easy, he was extremely helpful and flexible. David is also very well mannered and made us all feel very comfortable during the trip. I will definitely be back! Thankyou David!
Kristen
2016-12-05T00:00:00Z
We had a truly unique and special holiday on the yacht. We stayed on this beautiful yacht for 3 nights. David is a wonderful host right from the time of our first communication to the time after check out. He attended to the fine details and was very responsible. Highlight was the 2 hour cruise where David showed us the best parts of the harbor. We thoroughly enjoyed the scenery and our conversations. Rushcutters Bay is also in a very convenient location with lots of good restaurants and sightseeing spots close by.
Jasmin
2014-08-04T00:00:00Z
David has been a great host, very thoughtful and dedicated, he answered my several questions very rapidly nd has always been available. My husband and I rented the boat for one night, we had an amazing unforgettable time. Thank you David! I will recommend that experience to anybody!
Cam
2015-03-29T00:00:00Z
Our holidays on the Yacht was perfect ! The boat is confortable and spacious. And David, the owner and the skipper is fantastic, we appreciated his availability and kindness. I strongly recommend to plan the cruise in the bay, whaaoooo. Thanks again David
Nicolas
2015-08-15T00:00:00Z
Type de logement
Logement entier
---
Type de propriété
Bateau
---
Capacité d'accueil
6
---
Chambres
Darling Point, Nouvelle Galles du Sud, Australie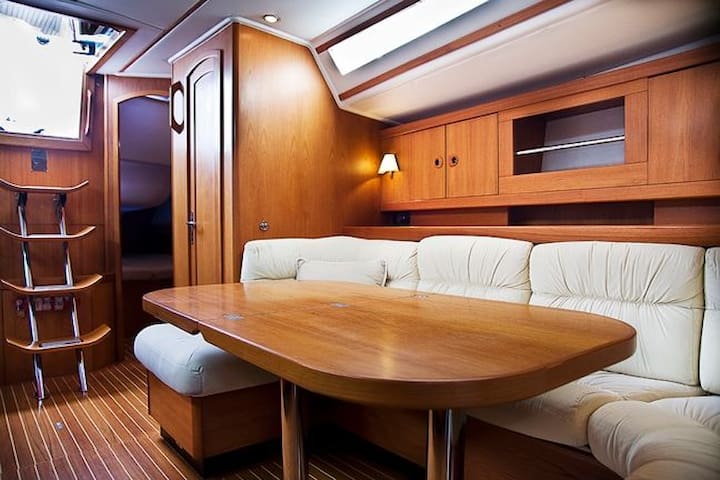 A comfortable private room in a spacious 3-bedroom top-floor apartment in the historic Rocks + FREE PARKING onsite. Sweeping views over Circular Quay, the Opera House & City skyline. Lots of Sydney's best destinations only a short walk away.
Walking distance to: Opera House 12 min. The heart of central Sydney 6 min. Stairs onto the Harbour Bridge 1 min. Museum of Contemporary Art 3 min. 100s of clubs, pubs, restaurants & cafes within 10 min radius. Botanic Gardens and Harbour foreshore walks 12 min. Circular Quay 5min for ferries, buses & trains for fast access to the rest of Sydney. Apartment has modern furnishings, art works and decorations. Living space has fireplace and full entertainment system. Floor to ceiling sliding glass doors between living space and balcony provides 180 degree views and makes this apartment feel even bigger than it already is. Balcony is 17m wide with outdoor setting and BBQ. Modern fully equipped kitchen & laundry. All the basic kitchen needs are provided, including tea, coffee, milk and sugar etc. There's a 24hr convenience supermarket only 2 min walk away. There are 3 bedrooms in total, one master room which is used by us, and two guest rooms. The room for rent is one of the two guest rooms, accessible from foyer and offers great privacy. It has a queen sized bed, build in wardrobes, a desk and it's own sound system. There are 2 spacious bathrooms each with large showers & spa baths. The one in the master room en-suite is used by us, the second one is the guest bathroom shared by two guest rooms.
Situation exceptionnelle en plein centre avec vue sur le port et l'opéra magnifique. Le tout conforme à l'annonce.
Herve
2015-03-23T00:00:00Z
Claus et sa compagne Jessica, qui vivent sur place, sont des hôtes attentionnés, sympathiques, et chaleureux. Ils restent très discrets, mais néanmoins sont toujours là pour vous rendre service si vous le souhaitez. Et leur logement est spacieux et moderne, idéalement placé aux Rocks, en plein coeur de Sydney. Merci à eux deux pour notre excellent séjour de 8 nuits passé chez eux.
luc
2016-03-10T00:00:00Z
Emplacement idéal pour découvrir Sydney. L'appartement à une vue magnifique sur le circular quay et l'opera. "The Rocks", vieux quartier de Sydney, est un quartier superbe, très animé et agréable, avec tout ce qu'il faut pour passer du bon temps. Nous avons passé peu de temps avec Claus et Jessica, mais ils sont agréables disponibles pour répondre aux questions et conseiller
Olivier
2016-10-09T00:00:00Z
Claus and Jessica were great hosts. Very welcoming and relaxed. Gorgeous apartment with stunning views and perfect location for the first time visitor to Sydney.
Catherine
2016-01-19T00:00:00Z
Both my partner and I stayed here after finishing a South Pacific Cruise. Jessica was kind enough to allow us to leave our luggage seeing as we were earlier than check-in time. Thoroughly enjoyed staying here although did get a little hot in the room one of the nights when Sydney cracked the heat chart. Thier two dogs absolutely melted our hearts and were very well behaved. Would be happy to stay here again, the next time we visit Sydney. Thanks again Claus and Jessica!
Kelly
2016-12-16T00:00:00Z
I couldn't have chosen a better location and Claus' apartment was lovely with great views. I spent so much time sightseeing that I didn't see too much of Claus however he, his girlfriend and brother (who we also met) and his two dogs were all lovely and friendly. Thanks you! would definitely reccommend.
Sarah
2014-03-03T00:00:00Z
Molto gentili, vista fantastica.
Paolo
2016-09-05T00:00:00Z
An excellent experience for us in the heart of Sydney. Jessica and Claus were very accommodating and made us feel very welcome. The apartment is very nice, with an excellent view of Circular Quay. What's not mentioned in the official listing is the awesome artwork in the apartment and their lovely dogs - Barney and Tiger - who made us feel very welcome too!
Andrew
2016-08-14T00:00:00Z
Type de logement
Chambre privée
---
Type de propriété
Appartement
---
Capacité d'accueil
2
---
Chambres
The Rocks, Nouvelle Galles du Sud, Australie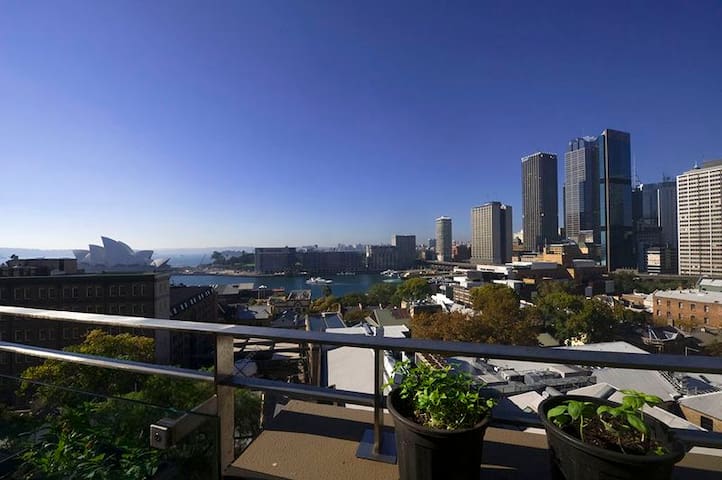 Well done, you have found one of the best locations in Sydney to stay during your visit.
Well done, you have found one of the best locations in Sydney to stay during your visit. Designed and equipped for Airbnb visitors, the apartment is surrounded by walking streets, cafes and restaurants in an attractive village style area. We provide a high-quality bed (picture included), computer and many handy items to enhance your visit. Metro buses & trains are only minutes away. Daily visitor car parking vouchers are available on request. Apartment - Entire home/apt. Located on Corner Orwell St and Llankelly Place, Potts Point (Kings Cross) Sydney, NSW 2011, Australia. Check the street view to understand how great this location is. If this apartment is booked out, then take a look at our other apartment show in the last image. It's a similar style and less than 50 metres away. This furnished holiday apartment is central to Potts Point, which is the best inner-city village area in Sydney. Previous guests consistently review the apartment as well-equipped, perfectly situated, serene, homely and clean. Spacious with a separate living area, this apartment is surrounded by walking streets, cafes, markets, bars, restaurants, deli's, supermarkets, local shops, Saturday organic markets and a cosmopolitan neighbourhood. Well-reputed Room 10 Café is just downstairs. A short walk will get you to Victoria Street, the city centre, Sydney Harbour, Opera House, NSW Art Gallery, Australian Museum, beautiful parks and excellent public transport is minutes away. Our overall aim is to help you enjoy the apartment and surrounding area as much as we do. It has everything you will need for a comfortable stay, and it is professionally cleaned to a high standard for two full hours before each guest. And if there is something we can do to make it more enjoyable, we are only 5 minutes away. Check in and check out times can be flexible with availability, just let us know, and we can work it out :) ★ ★ Key Features ★ ★: LIVING ROOM: - Free UNLIMITED ADSL2+ Internet and WiFi - iMac Computer for video calls, email and the Internet - Free local calls on Land Line Telephone - A mobile phone (just recharge or add your SIM) - Digital LCD TV - DVD player (in TV) and includes many DVDs titles - Conran Dock for iPod, iPhone, Bluetooth & Cable - Light filled windows - Sofa-bed folds down for additional guest. - Extra linen available for 3rd Guest Included for 3 guests. - Sofa Bed use is for a one-time fee of $25 if you book for 2 guests. KITCHEN: - Freshly renovated fully equipped galley - Kettle, tea and coffee - Fridge & Freezer - Stove with 4 burners - Oven - Microwave - Cutlery, utensils, pots, pans, oil, condiments, etc. - Breakfast table BEDROOM: - Comfortable quality queen-size bed - Separate from with door - Quality Linens included and four pillows - Walk through to bathroom - Built in wardrobes BATHROOM: - Full-size bathroom - Full-size bath - Freshly renovated with shower & bath combined - Towels included - Hair dryer - First aid kit LAUNDRY: - Access to Washing Machine and Dryer - Iron - Ironing board - Umbrellas - Phone Chargers - Stationary - Picnic blanket & equipped hamper Just in case you want more details, please read on. ABOUT THE LOCATION: Rich with local history, culture and sophistication, Potts Point is an ideal place to stay or visit. Situated within Sydney City, just a short 20-minute walk to the CBD and a stone's throw from Kings Cross Railway Station, so you can easily catch a train to some of Sydney's beaches major attractions. Sydney Buses, Taxis and Car Share / Hire are also readily available in the immediate vicinity. Daily visitor car parking vouchers are available on request. ☺ PERSONAL SAFETY? We live in the area with our six-year-old daughter, as does many young families these days. Macleay Street has gentrified over the last ten years, and Potts Point is one of the most on-trend and affluent areas of Sydney. The area is highly populated and using simple common sense it's easy to stay safe. CAR SHARE IS AVAILABLE! Forget car rentals. Highly recommended and right outside the front door are two "GoGet" car-share "pods" and there are more than 20 GoGet cars within a two-minute walk. No need to worry about parking when you get back to the apartment if you sign up for these share cars - parking is free! Foreign licences are accepted, we will give you the address for the information pack and activation card. You should register before you leave home. Search for GoGet car share Sydney. Look for the FAQs. ASK US FOR OUR EXCLUSIVE PROMO CODE TO SAVE THE $50 JOINING FEE! EATING OUT? Dozens of restaurants, cafes and bars are on your doorstep. Plenty is happening in the area, and some of Sydney's best restaurants are a short walk (Otto - at the Finger Wharf, or Macleay Street Bistro, down the road, just two examples). One of Sydney's best new cafes (Room 10 - Voted in SMH Good Cafe Guide) is 10m from your door, and there are loads of great places to eat and drink nearby. Wilbur's Place (100m) and Bourke Street Bakery (200m) are just around the corner. You're also just a short walk to the Italian hub of Stanley Street; a 20 min walk into the city, via the Domain and Hyde Park; a 20-minute walk (or less) to trendy Surry Hills. I'll leave you a list of my favourite eating spots on check in. COOKING IN? The apartment is 100 metres from the excellent Harris Farm supermarket (or there's an even bigger supermarket within 200 metres), and there's a Farmers' Market every Saturday only 80m walk away. I'll also leave the kitchen all set up with oil, vinegar, etc. so you can just focus on the main ingredients. There's even a high-end caterer - "Sides & Main" - on your street, selling gourmet meals from their shop-front, so if you are too lazy to cook but want to eat in. Too easy. NIGHTLIFE? Everyone knows neighbouring Kings Cross is famous for nightlife, but you may NOT know that its areas (Potts Point, Darlinghurst, Woollomoolloo and East Sydney) include some of Sydney's best areas to eat and drink in, all within a 5-minute walk. There are lots of small hip bars in the area - including on fabulous Llankelly Place, just near your building. You can also walk 10 minutes to Oxford Street clubs, or just 20 minutes to the centre of Sydney (Rocks, Circular Quay, etc.). I'll give you plenty of tips on arrival. If you like your nightlife more serene Govindas lounge cinema is about 5 minutes up the road, the Old Fitzroy Pub (so much character!) has a cheap theatre attached, and a great vibe. There are also numerous other local theatres and cinemas within walking distance. (I'll leave you a few suggestions for all of this on check in). SIGHTSEEING? Walk to Hyde Park or the Botanic Gardens; the Opera House (probably 30 minutes, via Hyde Park and the Botanic Gardens); or short bus/train to Bondi Beach or other eastern suburbs beaches. Potts Point is in Sydney's centre but has easy access to beaches, the famous Bondi-Bronte walk, and Sydney Harbour (I'll leave you tips with my favourite picnic spots and nearby walks). WORKING? Walk into the city, so easy! Potts Point is walking distance to George Street and the main centre of Sydney. The apartment is also about 15 minutes walk UNSW's College of Fine Arts on Oxford Street, a quick bus to UNSW, easy commute to The University of Sydney. The apartment is a 10-minute walk to St Vincents' Hospital. There's unlimited wireless internet in the apartment so getting online is no problem. GYM'S, YOGA & PILATES? The apartment is located on the same street as P.E. Dept Gym and Fitness First is 5 minutes away. There are also a few boutique Yoga and Pilates classes in the local area. Just tell us what you want to do, and we will advise you on some of the options. PLEASE NOTE: The Potts Point apartment IS up three levels of stairs. That's 60 steps in total folks. No problem for healthy adults (whoever checks you in will be happy to assist you with bags), but just letting you know... Washing machine and dryer one level up in the building (coin operated). Plus I've installed a great drying rack in the bathroom in case you want to handwash anything. Yes, there IS a hairdryer! iMac Computer is provided with ADSL2+ WiFi internet, of course! Also unlimited free local calls available on the land-line telephone. If you require extra bedding for the sofa bed and you are not paying for a third guest, there is a one-time $25 surcharge for the additional laundry charges we incur. One-time and not per night. An Infant cot is also available for a one-time $25 fee. We ask guests to leave $25 on the table for our cleaners who manages the laundry services. The extra bedding set for the 3rd guest comprises of 1 x flat sheet + 1 x fitted sheet + 1 duvet cover + 1 x duvet + 2 x pillow covers and pillows. There are also a couple of soft blankets to put under and over the bedding for extra comfort. The location is superb, but the Kings Cross area IS busy on a Friday/Saturday night. This is an action-packed part of town; one reason it's great to stay here. While the apartment itself is quiet, and I doubt you'll ever hear the neighbours, you might hear some noise from the street at night on the weekends. I think the location is totally worth it, but forewarned is forearmed, so they say! Cars - Parking is available nearby but is a hassle, and it's expensive. Daily visitor car parking vouchers are available on request. Car rental locations are close by and GoGet car share is easy and available close by. Locals walk everywhere or use the buses and trains as the location is central and easy to navigate. If you have a car, I'll give you tips on where to park long-term, and it's less than 5 minutes walk away. Kings Cross train station is only 300m walk away from the apartment. There are windows, but sorry, no view. Although this place is so close to the city you can see the Harbour Bridge from the laundry room (see, washing IS worthwhile), and Centerpoint tower from Orwell Street outside. However you don't need them through a window - they're just walking distance away!
Rich with history, culture and sophistication, Potts Point is an ideal place to stay or visit for those who want to enjoy the picturesque surroundings of a bygone era and still be close to everything Sydney has to offer. Potts Point situated within Sydney City is just a short 20-minute walk to the CBD and a stone's throw from Kings Cross Railway Station, so you can easily catch a train to some of Sydney's major attractions. Sydney Buses, Taxis and Car Hire are also readily available in the immediate vicinity. As for dining out, Victoria St, and in particular Macleay St, are dotted with a range of restaurants to suit all tastes. Kings Cross, Darlinghurst Rd offers a countless number of nightclubs, bars and theatres for those who enjoy the nightlife. Or for the more subdued there are plenty of parks, museums and harbour side charm in the neighbouring suburbs.
Appartement central et bien placé pour le transport. Si vous aimez sortir dans les bars il est parfait par contre malgré le 3 eme étages il est très bruyant et il est difficile de bien dormir. Charlotte est très gentille.
Nathalie
2017-02-21T00:00:00Z
Super appartement bien situé et confortable, on s'y sent comme chez soi ! Chris nous a très bien reçus, nous avons été en contact par mail régulièrement avec Charlotte tout au long du sejour a Sydney. Il y a également un carnet avec de nombreuses infos utiles, rien à redire !
Jean-Baptiste
2014-08-16T00:00:00Z
Great location. Close to train station which was very convenient. Apartment was very clean and well stocked with everything that we needed. There were several markets close by so we were able to eat in a couple of meals. Charlotte provided great directions to get to apartment from airport and also local recommendations. My first experience with AirBnB and couldn't have been any better.
Leslie
2015-04-17T00:00:00Z
Thanks Charlotte! The apartment is in a great location in Potts Point- close to cafes and restaurants , and an easy walk to the main sights in Sydney. Charlotte was a very helpful host. She responded promptly to all communication and provided lots of useful information about the location and things to see and do, in addition to ideas for places to eat. There were maps and brochures in the apartment, some basic food for cooking and plenty of bedding. It was a perfect set up for my son and I- since there was a sofa bed in the living area in addition to the bedroom .
Elyse
2015-07-27T00:00:00Z
Charlotte's listing in Potts Point is very popular and as such I was only able to book 2 nights, the first being literally the night as my flight arrived late and I had to follow the self check-in instructions. As a result of my late arrival and short stay I never got to meet Charlotte or Chris and sadly missed out on the wealth of knowledge they possess that have been mentioned in most other reviews. The space is as described and is a good size, with a comfortable bed, fast internet and a functional bathroom. You get access to the blue folder with recommended places to eat, walks you can do and so on. The cupboards are well stocked with many things from umbrellas to picnic blankets. A longer stay is really needed to take advantage of all the added goodies. For the short stay I had and the fact that I didn't meet the hosts, I felt that a cheaper hotel would have been better value for me.
Sunil
2016-04-01T00:00:00Z
Excellent time in Sydney, Charlotte, thank you very much for your and Chris help. Your house and support is the best experience. Best regards
vitor
2016-10-10T00:00:00Z
We spent two great days in charlotte's and chris's appartement in pott's point. It's a comfy place, very clean, well equipped and not too far from all the sights and the cbd.
Silvia
2015-10-10T00:00:00Z
Het welkom was geweldig. We zaten nog koffie te drinken in een tentje in de buurt toen de eigenaar al naast ons stond. Hij had me herkend aan mijn AIRBNB profielfoto. Hij was vriendelijk en behulpzaam. Erg fijn. Het appartement was uitstekend. Alle bezienswaardigheden van Sydney waren erg gemakkelijk te bereiken. De buurt was een echte backpackers-buurt, met veel leven op straat. Het appartement had alles wat we nodig hadden. We waren er met drie personen en dat ging prima.
Luuk
2016-02-13T00:00:00Z
Type de logement
Logement entier
---
Type de propriété
Appartement
---
Capacité d'accueil
3
---
Chambres
Sydney, Nouvelle Galles du Sud, Australie
Eine erstaunliche offene Lager Umwandlung mit Pool auf dem Dach, Grillplatz und einen Fitnessraum. Der private Gästezimmer für 2 Personen Zu Fuß in 5 Minuten zum Zug (Redfern Station) oder 20 Minuten in die Stadt gehen. Wählen Sie mit einem von Sydneys Original Airbnb Gastgeber zu bleiben.
Mein Zimmer ist nur mit neuen Teppich, Farbe und Möbel aktualisiert. Es bietet Platz für 2 Erwachsene in einem Queen-Size-Bett mit luxuriösen Betten. Das Zimmer ist in einem modernen zwei Schlafzimmer offene Wohnung mit Holzböden, Tageslicht und Klimaanlage befindet. Als Gastgeber lebe ich in der Wohnung und schlafen im zweiten Schlafzimmer. Der neu gestaltete Gästezimmer verfügt über ein Queen-Size-Bett mit luxuriöser Bettwäsche und Handtücher, in voller Länge Schrank, Spiegel, digitales Fernsehen an der Wand befestigt und unbegrenztes Wi-Fi-Breitband. Das Gästezimmer ist privat mit natürlichem Licht, das auf einen Balkon öffnet. Bitte beachten Sie, dass es einige Verkehr und allgemeine Straßenlärm ist so, wenn Sie einen leichten Schlaf haben es vielleicht ratsam, an anderer Stelle zu buchen oder Ohrenstöpsel mitbringen! Beim Check-in meiner Gäste erhalten ein Begrüßungspaket, das Aussie Wein oder Bier, Kekse, Süßigkeiten und Mineralwasser enthält. Als einer der ursprünglichen Airbnb Gastgeber Sydney Ich verstehe, wie wichtig es ist Ihre Reisepläne nicht zu haben, ist in letzter Minute abgesagt. Seit er vor einer Airbnb Gastgeber 4 Jahre Ich bin stolz, dass ich nie einen Gast Buchung storniert haben. Bleiben Sie mit einem etablierten Airbnb Gastgeber! Ein sauber und ordentlich Badezimmer mit Badewanne und Dusche, Pflegeprodukten versorgt werden und begrenzte Nutzung von Waschmaschine, in der Regel 1 Belastung pro Aufenthalt, aber bitte mit Ihrem schmutzige Wäsche nicht von zu Hause aus (dies geschehen ist mehrfach!) Direkt ankommen Ich liefere auch ein Frühstück mit Eiern, Müsli, Toast, Tee und Kaffee, die Sie selbst zu helfen. Es gibt eine neue Espressomaschine mit einer Vielzahl von Hülsen. Es ist ein voll ausgestattetes Fitness-Studio mit Laufbänder, Stepper, Maschinen Gewichte und Hanteln - alle in der Übernachtungsgebühr des Zimmers inbegriffen, ideal für Geschäfts- oder Urlaubsreisen nach Sydney! Das Gebäude verfügt auch über einen atemberaubenden Dachterrasse mit Pool und Grillplatz - nach einem Tag Sightseeing bei einem Bad entspannen und kochen das Abendessen auf dem BBQ. Während die Wohnung ist klimatisiert gibt es keine separate Einheit im Zimmer aber die kühle Luft strömt in das Zimmer mit offener Tür. Die Wohnung befindet sich in der Inneren Stadt Redfern befindet. Redfern ist für junge Profis und trendy Einheimischen bekannt und bietet flippige Cafés und Pubs, während 20 Minuten zu Fuß zum Stadtzentrum oder der Universität von Sydney sein. Sydney Beste Nachbarschaft Bar für das Jahr 2016 ist nur 100 Meter entfernt von der Wohnung! Während nur von der Stadt nur eine Haltestelle entfernt zu sein, ist Redfern nicht im Herzen des Touristenviertels. Es ist ein Inner City Vorort, in idealer Lage ist Sydneys aufregende Stadt der Dörfer weg von den traditionellen touristischen Gebieten zu erkunden. Wenn Sie in den traditionellen touristischen Gebieten bleiben möchten kann ich schlage vor, Sie nach einer Unterkunft suchen in den Darling Harbour und Circular Quay Bereichen. Eine exzellente Mischung aus Restaurants und Cafés von Surry Hills und Newtown ist auch nur einen kurzen Spaziergang von meiner Wohnung. Die Wohnung ist 5 Minuten zu Fuß zum Bahnhof Redfern, nur 1 Haltestelle vom Hauptbahnhof oder zu Fuß ins Zentrum von Sydney in 20 Minuten. Dieser Bahnhof Dienstleistungen Alle Linien einschließlich Bondi Junction, City Circle und North Shore Lines. Sightseeing beginnt hier! Ich begrüße neue Gäste zu Airbnb jedoch bitten, dass Sie den Profilabschnitt abgeschlossen haben, die Auflistung Ihrer Heimatland und die Stadt und ein wenig Informationen über sich selbst vor dem Senden einer Anfrage zu bleiben. Auch im Bereich "Mein Konto überprüfen 'bitte eine Social-Media-Konto verknüpfen und einen Reisepass oder Führerschein hochladen. Als Gastgeber sehe ich nicht, dass die Informationen, die ich einfach wissen, dass Airbnb, dass die Daten halten. Als ich zu Ihnen nach Hause bin eröffnet ist es wirklich beruhigend über meine Gäste im Voraus wissen, um die Buchung zu akzeptieren. Ich bin mehr als glücklich, alle Fragen zu beantworten, die Sie über Ihren Aufenthalt oder mein Zuhause haben. Vielen Dank für weit diese zu lesen. Nun lassen Sie mich mit Ihnen einige frühere Gäste Bewertungen für "Standort" zu teilen. - 'Apartment befindet sich weiter vom Bahnhof, die ich erwartet hatte. " Wie in der Beschreibung erwähnt ist die Wohnung eine einfache 5 Minuten zu Fuß von Redfern Bahnhof. - "Es gibt keinen Parkplatz abseits der Straße." Richtig. Es gibt keinen Parkplatz abseits der Straße, also ich nicht aufführen, dass das Parken vorhanden ist. - "Der Lärm Straße kann von Zeit zu Zeit ziemlich laut sein." Richtig. Straßenlärm kann während der Stoßzeiten recht laut werden, wird dies deutlich detailliert in der Beschreibung. Wenn Sie einen leichten Schlaf seine ratsam, Ohrstöpsel mitbringen oder anderswo buchen. Wenn Sie für ein traditionelles 5-Sterne-Hotel Erfahrung suchen, dann wenden Sie sich bitte an anderer Stelle zu suchen. Wenn Sie einen sauber, ordentlich, freundlich suchen, und einladende Erfahrung für Ihren Sydney Aufenthalt dann ist dieses Angebot ideal. Während Ihres Aufenthaltes, wenn es etwas, das ich tun kann, um sicherzustellen, lassen Sie eine 5-Sterne-Bewertung auf der Airbnb-Review-System dann lass es mich wissen. Ihre 5-Sterne-Bewertung ist wichtig für mich als Wirt und hilft mir, andere zu mir nach Hause weiterhin willkommen zu heissen. Die meisten meiner früheren Gästen erwähnen meinen Hund Oscar in ihren Bewertungen. Nach 14 Jahren zusammen im letzten Jahr sagte ich traurig Abschied von Oscar im Januar. Fühlen Sie sich frei, mir eine Linie fallen zu lassen und sich über Ihren Besuch nach Sydney Chat, bevor Sie buchen. Ich habe seit 20 Jahren in Sydney gelebt und ein Airbnb Gastgeber für 5 Jahre gewesen. Ich liebe reden über Sydney und was darauf hindeutet, was zu sehen und zu tun, während Sie den Aufenthalt genießen
Spencer est une personne très accueillante et très enthousiaste. Il m'a conseiller sur les endroits à visiter à Sydney et me recommander de très bonnes activités. Son appartement est très spacieux et très agréable à vivre ! Encore merci Spencer pour ton accueil, je reviendrai avec grand plaisir !
Elodie
2016-03-08T00:00:00Z
The host was very helpful with suggestions - especially ideas for sightseeing on a budget. The location is well suited for getting into the city. Also, the location is well suited for non-touristy restaurants. The train station is very convenient so getting into the city or any of the suburbs is a piece of cake. We felt safe walking to/from station even at night. Breakfast materials are provided, which was a plus. The place was clean and neat and worked well for us.
Barbara
2016-11-29T00:00:00Z
We stayed for a few nights at Spencer's lovely apartment and enjoyed our relaxing time there. Spencer and Oscar are great hosts! We got a warm welcome and it felt from the beginning like staying with some good old friends! It was a pleasant, relaxing stay. We where for business and some fun time in Sydney and Spencer's place is just ideal for both. I go back any time!
Claudia
2015-03-18T00:00:00Z
A perfect place to stay. Spencer was a very accommodating host who made us feel right at home after a very exhausting trip. The apartment is amazing! and located close to the coolest shops and a variety of eateries and coffee shops. Highly recommend!
Lexie
2016-07-07T00:00:00Z
Spencer (and Oscar the dog) were great hosts for us during our 2 night stay! The apartment is really spacious, and we were able to help ourselves to the breakfast Spencer had provided in the morning. The bathroom was nice, and there wasn't any issue sharing between the 3 of us. The guest bedroom has a comfortable bed, and lots of storage space. Not much extra space in the room, but no problem because you are able to relax in the open plan living area. Spencer offered us a glass of wine in the evening, and it was great to chat and get to know him. The bedroom has a bit of noise from the road (especially with the doors open, but the flat was cool and we closed them the second night). Oscar came to nap under the bed after Spencer left for work in the morning (7am), so you should be happy for a visitor to join you! Outside area on the upper level was amazing, unfortunately we didnt have time to use it - but great BBQ and pool with lots of sun loungers.
Rebecca
2015-03-29T00:00:00Z
Spencer's apartment was very tidy and clean. He welcomed us with Sydney's map and small chocalate. Very useful for us! Oscar is the most cute dog we have ever seen. He is very quiet and handsome. We both like Spencer's big fish tank. It is very cool. Spencer also offered milk and bread for our breakfast. Thanks! We think Spencer's apartment is a pretty good choice if you visit Sydney.
sandy
2015-05-04T00:00:00Z
Thank you Spencer you were an excellent host, I felt very welcomed and well looked after, the room and bed was very comfortable and I slept really well every night which is saying something for me as I often have difficulty sleeping in strange beds. The whole apartment was bright, airy, attractive and very clean. It was very easy to get to from the city very straight forward and very close to a train station, but an easy 30 min walk into the city, there was a great little restaurants close by and a supermarket a 2 minute walk away. Spencer provided a really a really great stay and I hope to come back some time in the future, I really enjoyed our chats. I loved having Oscar keeping me company when I was in.
Karen
2015-04-21T00:00:00Z
Spence kindly agreed to allow us to arrive early and leave our baggage. The appartment was exactly as described and was a very easy walk into central Sydney. Thank you very much Spence for a great stay.
Rebecca
2014-11-27T00:00:00Z
Type de logement
Chambre privée
---
Type de propriété
Appartement
---
Capacité d'accueil
2
---
Chambres
Redfern, Nouvelle Galles du Sud, Australie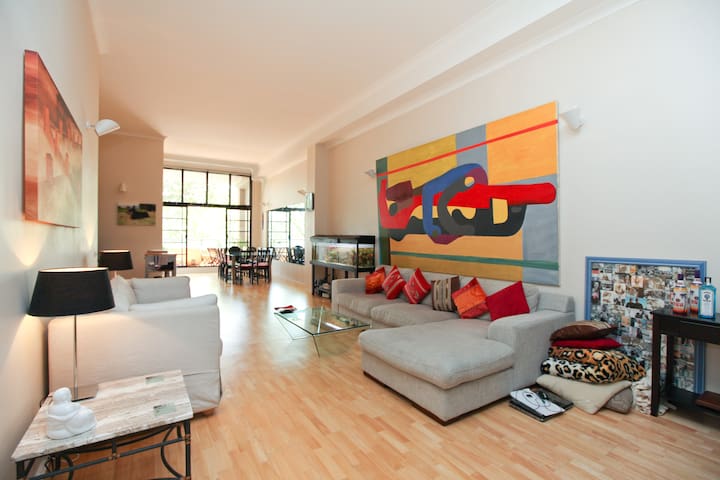 Le Studio est votre pad d'évasion au coeur de Redfern / Surry Hills. Architecturalement conçu. Où industriel et urbain se combinent pour donner une véritable expérience de la ville intérieure. Entouré de parcs et de superbes installations. Proche des transports. Marchez partout
Le Studio est un espace autonome à l'arrière de ma maison de terrasse. Sécurisé, paisible et privé. Le studio a sa propre entrée privée hors d'un magnifique parc. Près de certains des meilleurs cafés, bars et restaurants de Sydney. Guest auront leur propre salle de bains avec une kitchenette simple mais fonctionnel. Y compris un lave-linge, frigo-bar, micro-ondes, grille-pain et une bouilloire. Les clients auront accès à une cour ensoleillée privée partagée par le propriétaire de la maison voisine, entourée d'arbres magnifiques. Je vis et travaille de la maison. Je peux communiquer avec vous autant ou aussi peu que vous désirez. Mon espace de bureau à domicile est bien loin de The Studio pour maintenir la vie privée pour votre séjour. J'ai un petit chien qui est super mignon, il vous accueillera chaleureusement. Il peut être isolé de la cour en cas vous n'êtes pas une «personne de chien». La zone de Redfern nous sommes situés dans est à la frontière de Surry Hills. A seulement 5 minutes à pied de Bourke Street Bakery, Gelato Messina et bien d'autres établissements emblématiques locaux. Redfern est intéressante banlieue de la ville intérieure, avec des éléments de l'urbanité variable. Notre emplacement précise est plein de rues bordées d'arbres et de grands Victorian Era Terrasse Maisons. Totalement charmant et détendu. Vous vous sentirez comme un vrai local après votre séjour ici, sans aucun doute. Les bus et les liaisons ferroviaires sont tous à 5 - 15 minutes à pied d'ici. la station la plus proche étant la gare centrale, un arbre détendue bordée 15 minutes à pied. Les liaisons de bus sont à 5 minutes à pied. De là, vous pouvez prendre un bus dans la ville ou à la plage, qui est seulement un bus de 20 minutes en métro. Summertime à Sydney est si beau, si venez séjourner, profiter des piscines locales, des plages du port et des plages de l'océan en abondance partout.
La zone de Redfern nous sommes situés dans est à la frontière de Surry Hills. A seulement 5 minutes à pied de Bourke Street Bakery, Gelato Messina et bien d'autres établissements emblématiques locaux. Redfern est intéressante banlieue de la ville intérieure, avec des éléments de l'urbanité variable. Notre emplacement précise est plein de rues bordées d'arbres et de grands Victorian Era Terrasse Maisons. Totalement charmant et détendu. Vous vous sentirez comme un vrai local après votre séjour ici, sans aucun doute.
En nous laissant les clés
marine
2016-08-28T00:00:00Z
Quiet and safe neighbourhood with many nice eateries, supermarket, bus stops and train station located within walking distance. Check-in and check-out were smooth, had an undisturbed stay through out, plus a friendly dog in the house is a bonus! Thanks Daniel!
Grace
2016-07-27T00:00:00Z
Great little place, cool and stylish, immaculately clean. Daniel was a great host, easy to communicate with, very flexible on arrival and departure times. I really enjoyed my stay, it was in a quiet street close to lots of activity, amenities and public transport. I would highly recommend both the place and Daniel as host. Loved it!
Sandi
2015-12-16T00:00:00Z
We enjoyed staying at Daniels place. Really great neighbourhood with lots of nice cafes on Bourke Str. The location is convenient just 15 minutes walk to the Central station. There is no full kitchen, but everything what you need for preparing light breakfast as anyway you will be most of your time enjoying Sydney City. The room is cozy and nicely designed. Daniel was very friendly and helpful with things around. Highly recommended.
Martins
2016-04-21T00:00:00Z
Daniel was a good host. Gave us good directions from central to walk down. Helped with our plans with info on the city and even helped us with umbrellas when it was raining! Having Charlie Brown around was lovely!!
Nikhil
2015-09-28T00:00:00Z
Cosy studio, beautifully designed. Perfect for a weekend trip - quick walk to all Surry Hills has to offer. Daniel was easy to communicate with prior to arrival and left a helpful map of the nearby neighborhood, as well as other maps and info for greater Sydney. Highly recommend!
Ryan
2016-06-20T00:00:00Z
Really enjoyed my stay! Great location that is a safe and easy walkable distance to public transport, good food/shops as well as Surrey Hills area. Daniel was a great host and ensured I knew where everything was in The Studio as well as any info I needed for my stay in Sydney. He provided a bunch of guides and even his own annotated map of the local area that highlights the supermarkets, cafe/restaurants/bakery etc. If worried about insects (May's comments), Daniel has provided insect spray, fly swatter as well as an electronic mosquito repellent (plugged into wall) - window also has a fly screen. I enjoyed the fact it was backed onto a little park (that's where The Studio entrance is!) as well as the greenery that Daniel has in his lovely courtyard. The unique studio was fun to stay at and had the most gorgeous morning light shining through. Don't worry, there are thick curtains, in case you're worried :) Only thing was the neighbours were a bit noisy at night - probably had a gathering which could happen around any neighbourhood. Studio window opens to courtyard so if Daniel is having a meeting and you're 'home' during the day, you'll hear them. However I'm sure he wouldn't mind if you let him know - I didn't mind as I had a little afternoon nap one afternoon :) The fridge was stocked with an assortment of condiments and tea was also provided. Shampoo, conditioner, soap and hand soap in the bathroom. In addition to wifi access, a fan, TV/Netflix, washing machine, a little fold out table and some chairs. Nice space to hang up clothes. Really, everything you need :) Wifi is great as if you are from overseas as (SENSITIVE CONTENTS HIDDEN) maps is linked with the Sydney public transport system so you can use it to help you with which bus/train to take, what time and which stop. Felt totally comfortable and welcome at The Studio by Daniel and his lovely dog. Thank you for hosting me!
em
2016-03-03T00:00:00Z
A great little space in Sydney and Daniel has clearly gone the extra mile to make sure anything you could think of needing has been provided. Also wonderfully flexible for check in and out. Would happily stay again.
Corey
2016-11-28T00:00:00Z
Type de logement
Logement entier
---
Type de propriété
Maison
---
Capacité d'accueil
2
---
Chambres
Redfern, Nouvelle Galles du Sud, Australie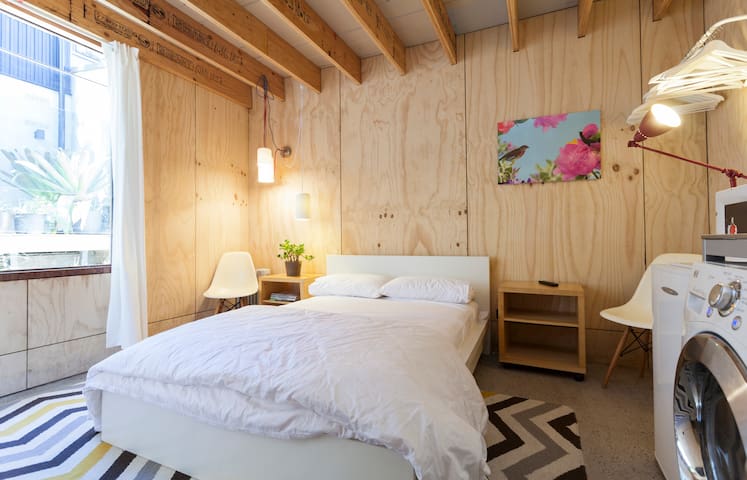 Un ancien entrepôt, cet appartement de style New York a beaucoup d'espace et la lumière du soleil. Idéalement situé à proximité des magasins, des bars, des restaurants, des galeries, des musées et des jardins botaniques, mais niché dans un bel endroit calme. Femme invité seulement (désolé!)
一个阳光灿烂的公寓有两个层次。拥有流向一个可爱的庭院非常宽敞的开放式客厅。抛光的木地板,现代厨房洗碗机,并与第二厕所内部洗衣房。坐落在一个伟大的位置,距离威廉街和CBD不远。
La meilleure chose à propos de la vie à Woolloomooloo est d'avoir tout à proximité. Shopping, restaurants, des bars, des divertissements, la belle Botanic Gardens (idéal pour les pique-niques ou jogging), le port, les transports en commun, et une voie rapide et facile à de nombreuses plages. Il y a aussi un supermarché à 2 minutes de mon appartement.
Super endroit pour visiter Sydney à pieds ! On est proche de tout. Janine est très accueillante et fais tout pour que votre séjour soit des plus confortables.
Adeline
2014-09-09T00:00:00Z
Janine is really a good and kind host, who always gives you detailed and timely feedback on everything you concerned about. The lovely house is more than you see from the picture, clean, spacious, well-decorated, warm, well-equiped, quiet, safe and all of the others. By the way, it is just in the central, making things all in a distance. Janine's becomes my dream house I should say! I arrived at the late afternoon when Janine was still working. But she hurried back home for my check-in, which is really considerate. Sansa is really cute too =] She always enjoys herself happily downstairs. When considering walking late in Sydney might not be very safe, actually in the first day we just avoided coming back late. But after that, we forgot everything =D It does give me very relax stay in Janine's house and stay with Janine.
Yingying
2014-10-06T00:00:00Z
I ADORED Janine's apartment and wished I could have stayed longer. First of all, the location is incredibly convenient and centrally located. Additionally, the apartment itself is stunning - perfectly decorated, clean, comfortable and welcoming. Janine was a fabulous host - easy to reach and happy to provide tips on the area before I even arrived.
Lucy
2016-08-27T00:00:00Z
Janine has been a great host during my stay! The apartment was kept clean all the time and all facilities were well equipped and accessible. The location is very central and walkable to major tourist attractions. It was easy and safe to walk to St James train station at night and early morning. I had a wonderful experience staying here and definitely a great choice to stay again! Thanks Janine :)
Li Sann
2014-11-13T00:00:00Z
Janine is an experienced, hospitable and good host. I am grateful for airbnb hosts like Janine. The apartment is modern, airy and comfortable. Bed is also comfortable.
mei ling
2016-11-01T00:00:00Z
Janine is a fantastic host, and makes you feel right at home immediately. She even lays out a little booklet with information about the house, if you have any questions (how to do laundry, open the skylights, etc.). Plus, she gave some great recommendations for what to do in the city, so be sure to ask her for advice! Her place is bright, open, and a fabulous place to relax after exploring all day. And, just a side note, when I missed my plane, Janine was quick to help (she had someone coming right after me, so I couldn't stay with her, but she contacted her friends right away!). All in all, consider yourself lucky if you get to stay with Janine - it'll make your trip that much more wonderful, I promise!
Kelsey
2014-03-31T00:00:00Z
I loved staying here - i was literally in and out for one night. But it was beautiful and Janine was just delightful. Highly recommended!
Kylie
2016-11-26T00:00:00Z
Janine was a great host - organised, a great communicator, flexible with check-in and her apartment (and cat) are lovely! I had a great one night stay and enjoyed being able to walk from her place to Pitt St Mall and Chinatown within 20-25 minutes. Great location! (a bit hot the night I stayed so I had the fan on high)
Katie
2016-03-02T00:00:00Z
Type de logement
Chambre privée
---
Type de propriété
Appartement
---
Capacité d'accueil
1
---
Chambres
Woolloomooloo, Nouvelle Galles du Sud, Australie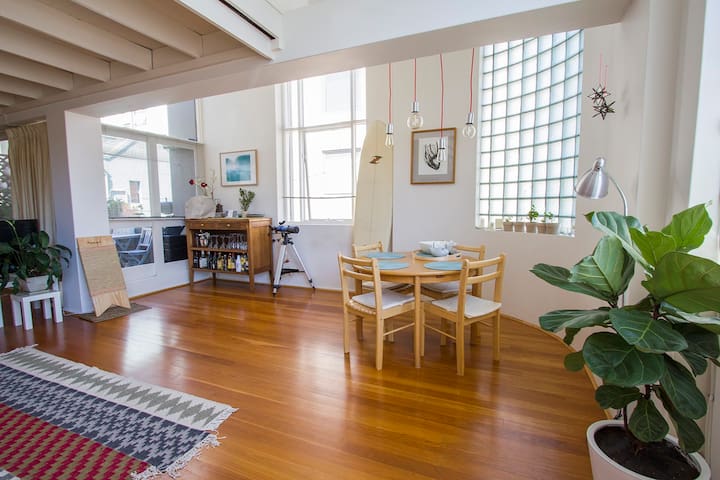 欢迎! 在庭院华丽的怪物树命名,我们舒适的露台家是在一个安静的小街上局促步行距离之内,以最佳的内城。 1 4私人房间,共用浴室。
*非常舒适的大床 *书籍! * 无线上网 *简单,安全的无钥匙门锁 *瑜珈/冥想室 *全厨房(茶和水果提供) *风扇+加热器 *两个共用浴室(一个完整的,一半) *休息/用餐区 *庭院树妖
羊毛厕所茂,厕所是在悉尼的心脏美丽的地区。无论您是在寻找和平,党派或玉米粥,你就可以找到它在几步之遥。收藏领域包括皇家植物园和在即域和安静的老附近,靠近乌鲁姆鲁码头。主要的博物馆,艺术画廊和剧院也都在附近。对于吸毒者咖啡,我们被包围最好的。
Great location, walking distance to everything! Awesome place! They were super friendly and helpful! And i loved the notes, very welcoming!
Victoria
2017-03-14T00:00:00Z
Very lovely place to stay!
Akiva
2017-04-12T00:00:00Z
Das Haus von Andre und Julian ist wirklich super schön, ich habe mich sofort sehr willkommen gefühlt. Alle Zimmer sind liebevoll eingerichtet und auch der Kontakt mit den beiden ist sehr freundlich und unkompliziert. Die beiden waren so nett und haben mir das Zimmer hergerichtet, obwohl es gar nicht online zur Verfügung war. Das ganze Haus ist sehr sauber und ich würde jedem empfehlen ein Zimmer von den beiden zu buchen. Ich komme gerne wieder :)!
Stephanie
2016-06-13T00:00:00Z
Place is great, clean and I would stay again.
Penny
2016-11-05T00:00:00Z
El departamento es tanto o mas bonito de lo que se ve en las fotos. Los accesos super seguros y comodos. No tenes que acarrear ninguna llave!! Los anfitriones son super amables y estan a tu disposicion para ayudarte en todo lo que necesites. Un lugar super recomendable.
Claudio
2017-01-13T00:00:00Z
Julian & André are amazing communicators and very quick to help you with any concerns. Their home is stunning and very inviting. The cleaners do an amazing job to insure you are welcomed in a beautiful, clean, well presented room and comfortable room. I look forward to staying upon my next visit to Sydney.
Kristina
2017-02-25T00:00:00Z
I had an great stay at Julian and André's place. I've met them on my arrival and we had a great conversation. They made me feel confortable and the room is tidy, clean and very cosy, charming on the top floor. I really appreciated the fruits at our disposal in the kitchen and was great to meet the other people in the house. Kitchen is nice and fully equipment, easy to cook there. The good vibes of this flat and meditation /yoga room were really appreciated, as the loverly nature terrace. I will keep a great memory of my stay at this home. Thanks for everything.
Jennifer
2017-03-02T00:00:00Z
Fantastic home in a great location. Amazing communication. Check in and out is so easy! And there are personal locks on all the bedroom doors so as a lone female traveller you feel completely secure. Amazing! Will stay again!
Courtney
2017-04-05T00:00:00Z
Type de logement
Chambre privée
---
Type de propriété
Maison
---
Capacité d'accueil
1
---
Chambres
Woolloomooloo, Nouvelle Galles du Sud, Australie
Krásné a prostorné studio se nachází mezi hlavním nádražím a rušný Crown Street, tento prostor je ideální pro mladé páry nebo přátele. Surry Hills je nahoru a nadcházející okres Sydney, který má úžasné kavárny, bary, butiky, parky atd. Nabídnout. 10min od Sydney CBD a Oxford Street. Nabízí pohodlné dvojlůžko, bar lednice, sporák top, troubou a varnou konvicí. Vlastní koupelna s WC, sprchou a umyvadlem. Odpočiňte si po dlouhém dni se sklenkou vína na 6. patře balkon.
Budete mít prostor zcela pro sebe a bude stěží být jakýkoliv osobní patří. Neváhejte použít některý z našich kuchyňského vybavení, spíž položky stejně jako šampon, kondicionér atd. Chceme, abyste se cítili jako doma! K dispozici je také neomezené Wi-Fi. Nejlepší věc, o studiu, je to, že má má slunečnou venkovní prostor s velkou pohovkou a stolem strávit odpoledne venku na slunci.
Surry Hills je ideálním místem pro cestovatele, kteří chtějí poznávat město, dát si drink v zářivých bederní hospody a dát kávu v jednom z nejlepších míst ve městě (zeptejte se nás na doporučení!) Hlavní vlakové nádraží je 3min chůze a můžete snadno chytit autobusové linky jít na pláž nebo CBD.
Type de logement
Logement entier
---
Type de propriété
Appartement
---
Capacité d'accueil
2
---
Chambres
Surry Hills, Nouvelle Galles du Sud, Australie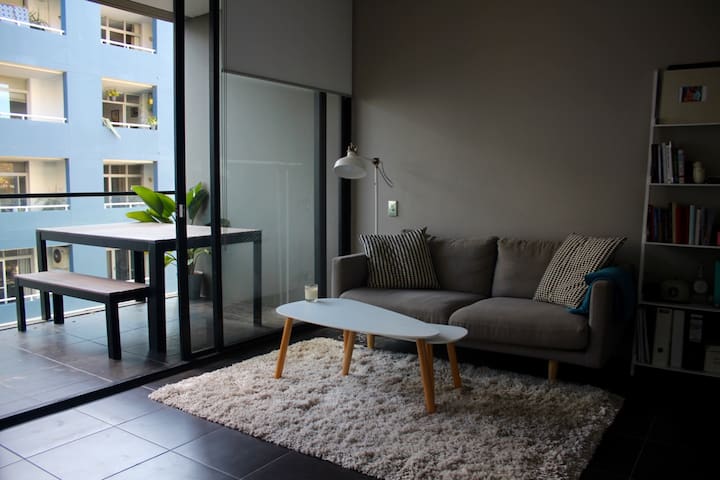 이 객실은 갓 킹 싱글 침대, 당신은 단지 내 도시와 시드니 동부 교외 지역을 탐험하는 펑키하고 아늑한 장소를 찾고 있다면 완벽한 발사 패드로 그린. 본다이과 멋진 산책 떨어져 서리 언덕과 달링 허스트와 도시에 대한 빠른 연결. ' 흡연은 야외에서만 허용했다.
Notre place est une terrasse victorienne traditionnelle sur une rue arborée juste entre deux routes principales pour la plupart, son agréable et calme. Juste être conscient de la chambre est à l'arrière de la maison à côté de la salle de bains et la maison est assez vieux et il grince, donc si vous avez le sommeil léger la pièce peut ne pas convenir. Il y a des stores pour bloquer la lumière. Salle de bains est partagée. Notre salon est confortable mais confortable, se sentir libre d'utiliser le Foxtel (câble) et Netflix. Notre place est super bon rapport qualité - le niveau de prix est comparable à un lit dans un dortoir de 4 lits à Sydney.
패딩턴 (Paddington)는 도시와 본다이 비치 등 놀라운 해변 사이의 교외와 같은 아름다운 마을입니다. 로컬 우리는 좋은 카페와 커피와 지역 예술 시장이있다. 우리는 시드니 축구 경기장, 시드니 크리켓 경기장, 무어 공원, 폭스 스튜디오, 센 테니얼 공원에 매우 가까이있어. 시장은 옥스포드 세인트에 패딩턴 (Paddington) 학교에서 토요일에 있습니다 우리가 제일 좋아하는 커피 장소는 다음과 같습니다 앰퍼샌드 - 옥스포드 세인트 아니 그냥 커피 - 페리 레인 손더 - 5 가지 방법에 위치 먹과 음료 : 건방진 버거 바 - 옥스포드 세인트 와인 도서관 - 옥스포드 일 Mickeys - 저렴한 야간 거래 Cheekyburger - 5-6 타협과 행복한 시간 아더스 피자 - $ (12) 피자 (7) 전 시드니보다 제안에 대한 내 다른 리스팅에 대한 나의 가이드 북을 확인하고는 내부 교외입니다. https://www.airbnb.co.nz/rooms/7421755
The location is very convenient for travelers, near the main roads but really quite. Susan and Glen are very nice. They provide very detailed information of Sydney and nearby for guests. And their cat is very cute and easygoing. I would like to book their room next time.
Jian
2017-04-08T00:00:00Z
This accommodation is perfect if you want to be fairly close to both the city and the beach. The buses only takes about 15-20 minutes each way. Susan and Glen are so sweet and make you feel like you're at home. Highly recommended!
Catherine
2017-02-18T00:00:00Z
Such a great experience with Susan and Glen! The room was comfortable, quiet, and located in a great area - little shops around and a quick bus ride to downtown Sydney. I also loved how Susan complied a list of local sites/cafes/directions. It was very helpful and made my stay better because I got some insider tips to all the best stops. Thanks Susan and Glen! Would definitely recommend.
Nora
2016-06-09T00:00:00Z
Susan is one of the nicest people I've ever met! I felt so at home living in her & Glens lovely home in Paddington! Susan is so interesting & knows all the best places in Sydney, my trip wouldn't have been the same without her recommendations, she went above & beyond. The area is amazing... you have everything you need around you & it's so close to the city too with easy transport close by. Their home is very welcoming, I loved being a guest there & I will definitely look them up next time I'm in Sydney. Can't recommend enough!
Esme
2016-04-30T00:00:00Z
Susan and Glen are lovely people who genuinely enjoy having people at their home. Its a great little room that looks on some amazing greenery outside. Best Airbnb experience I've had so far. Thank you for a great stay!
Anu
2016-05-19T00:00:00Z
Susan and Glen are amazing hosts, that make you feel welcome as soon as you arrive. Their house is on a lovely street, with a bus stop just up the road into the city, and really close to lots of shops and restaurants. The room is lovely, clean and you can tell how much effort Susan and Glen have put into making you feel as much at home as possible. If I were to go back to Sydney I would definitely request to stay here again!
emma
2016-07-15T00:00:00Z
Susan and Glen were absolutely lovely in every way possible. Their home was not only welcoming and charming, but in the perfect location. It was easy navigating a new city being within a 5 minute walking distance to everything you need, including the bus stop. Susan had a ton of excellent recommendations and showed me around the city herself( which was so much fun and the highlight of my Sydney trip). They both went above and beyond and I would highly recommend staying with them. Thank you so much for such a great experience in Sydney!
Kimberly
2016-06-13T00:00:00Z
I really enjoyed my time in Sydney. Susan and Glenn were very nice hosts, helpfull and kind. The room was as described and perfect for me. The house is located in a very nice neighborhood with a close bus stop. It's a place I warmly recommand.
Caroline
2016-05-16T00:00:00Z
Type de logement
Chambre privée
---
Type de propriété
Maison
---
Capacité d'accueil
1
---
Chambres
Paddington, Nouvelle Galles du Sud, Australie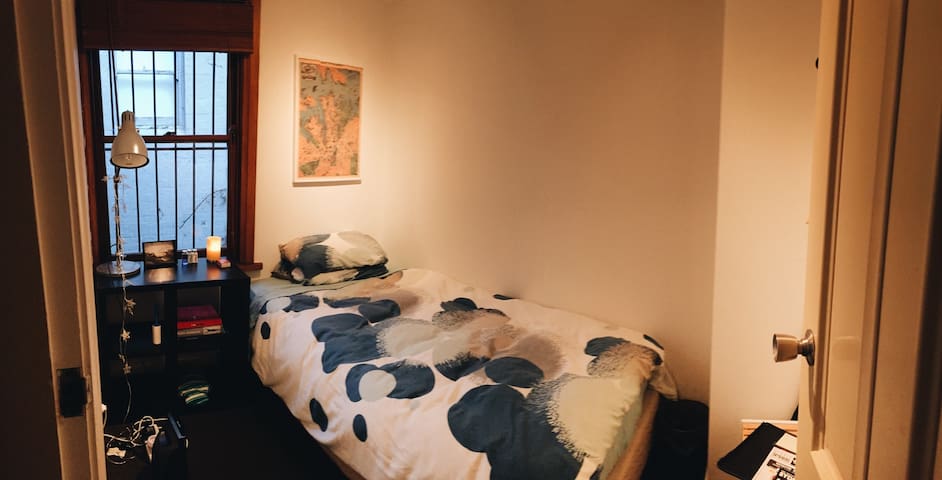 This beautiful studio located in Potts Point has amazing view of the city, harbour and opera house in Sydney. It has a small living room, kitchen and a recently renovated bathroom. Minutes walk from the city, busses and train station.
The harbour and city views
Views, coffee shops and restaurants
Really amazing view from the studio! The area is very interesting and close to the cbd and all the interested point. The host was very fast and available in all the communications. The only little "uncomfortable" things is that I had to bring the keys of the apartment from the host workplace, that is in the cbd and I was in car... Drive in Sydney cbd is not one of the best things to do during an holiday XD Anyway... 5 star place and host :)
Riccardo
2016-09-13T00:00:00Z
The location is perfect for those who want to be close tot he CBD, bars, restaurants, cafes and shops. The view was out of this world, day and night. Small studio but perfect for one person on a short stay. Kitchen very old with no oven, kettle or toaster. Cupboards could be a little tidier to make things easy to find. Apart from that it was perfect for my 5 night stay and Sam was excellent with the communication.
Andrea
2016-05-08T00:00:00Z
Had a great stay at Potts Point, perfect location to explore the city. Totally recommend
Mark
2016-11-27T00:00:00Z
The apartment and the view were perfect!
Moritz
2017-01-01T00:00:00Z
Aparment with the best view in Sydney I can imagine, probably better than any 4-star hotel. Samantha is a great host , very reliable and always available in case of questions. Apartment itself is overall fine, big bed which easily sleeps two people. Only thing to improve is kitchen equipment (toaster etc for making breakfast) and cleanliness. Perfect location many nice cafés and restaurants around, woolworth is close as well as public transport. Highly recommended.
Christian
2016-10-29T00:00:00Z
Se spent a great time in this Studio. As the advertisement said,it is tiny but perfect for a couple, and the views were really amazing!
Noemí
2015-08-21T00:00:00Z
The apartment has very good view. There is the Woolworths nearby. It takes 10mins to kings cross station. But s(PHONE NUMBER HIDDEN) cold and noisy. Samantha and Daniel are horrible host. At the day i arrived, i had to be waiting for 30mins in front of the gate. I pushed the bell, sent some txt, called some phone calls. But nobody answered. I have stayed 7nights. I had booked 3months ago. But even on my first day, they asked me to leave the apartment in the middle. The reason why is just Daniel, the owner of the apartment, came back sooner than he expected. Is that legitimate demand??? I don't think so. Anyway i rejected. And they texted to me 3days later " Ok you can stay but he will need to come and pick up some clothes on Saturday. What time is ok for you?" I said 10a.m. and they said 10 is perfect. BUT NOBODY SHOWED UP. Of course i tried to contact them, but as always they didn't answer at all. I had to waited for 2 hours. When i ask something in syd, they did reply by return very very very few times. Sometimes i got the reply 3days later. I don't strongly recommend.
Kyle
2016-05-31T00:00:00Z
The pictures do slight justice to the actual view. Potts point is a great neighborhood with a more local feel and Samantha is a sweetheart. Wish I could visit more often.
Daniel
2016-05-24T00:00:00Z
Type de logement
Logement entier
---
Type de propriété
Appartement
---
Capacité d'accueil
2
---
Chambres
Potts Point, Nouvelle Galles du Sud, Australie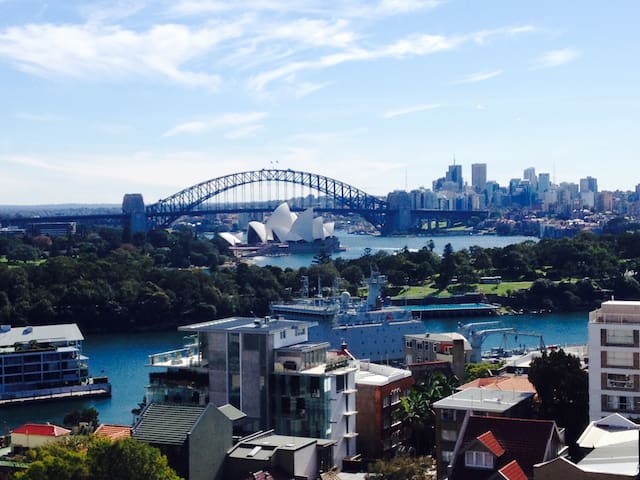 Magnifique maison mitoyenne à Sydney dans le plus recherché après la localisation. Grande chambre avec balcon privé, belle salle de bains, cour fantastique et la pleine utilisation de toutes les installations. Courte promenade à Bourke, Crown & Oxford Street commerces, bars et restaurants.
Ceci est sans aucun doute le meilleur emplacement que vous pourriez jamais demander lors de la visite de Sydney. 2 minutes à pied de tout ce qui est merveilleux et local dans le village du centre-ville de Surry Hills, et à quelques pas plus loin à Sydney CBD, Hyde Park ou Centennial Park. À travers la route de l'emblématique Sydney Cricket Ground et d'autres installations sportives, à 15 minutes de belles banlieues orientales plages de Sydney, y compris la célèbre plage de Bondi. Commencez votre journée avec un café à l'incroyable Bourke Street Bakery juste autour du coin. Notre maison est un très élégant, de conception architecturale et récemment rénové maison mitoyenne. Une combinaison parfaite de l'ancien et le nouveau, et incroyablement détendue environnement. Votre chambre est une grande chambre avec son propre balcon privé donnant sur le quartier et lit confortable lit de taille. Beaucoup de pendaison et tiroirs pour vos vêtements, donc pas besoin de vivre dans une valise. Ceci est également le foyer de Gascoigne & King - tous les clients recevront un de nos bougies magnifiquement faits à la main de voyage de luxe parfumé (détail de 25 $) gratuitement lorsqu'ils vérifient dans !!
Surry Hills est un quartier de la ville intérieure étonnante dans la banlieue est de Sydney. récemment voté 23e banlieue la plus sytlish dans le monde !! Incroyablement endroit décontracté, de superbes installations, y compris un début de l'art nouvelle bibliothèque, des bars impressionnants, cafés et restaurants. mélange fantastique de types créatifs, les familles, les professionnels et les habitants intéressants :-) Vous allez adorer ici. (Website hidden)
Le logement était conforme a nous espérances. Bien situé et bien décoré.
marion
2015-11-08T00:00:00Z
We had a lovely stay at Bron's beautiful home. Bron was very welcoming and gave great recommendations for nearby restaurants. She was also very accommodating of our check-in and checkout times. The area is lovely, quiet, and conveniently located with many cafes and restaurants nearby. The room was very clean and the bathroom had lots of nice products.
Ellen
2016-04-26T00:00:00Z
Bron is a delight and so is the house. Great location. Will stay again.
Bec
2016-10-05T00:00:00Z
Dean & Bron provided a fantastic experience and insight into life in their lovely neighbourhood of Surry Hills. Their home was beautifully appointed and we were comfortable in our private room and bathroom.
Stephanie
2015-09-21T00:00:00Z
Bron's place was perfect for a short stay in Sydney and was located very close to lots of little cafe's and shops.
Eveline
2016-10-29T00:00:00Z
My husband and I stayed at Bron & Dean's home in Surry Hills for 2 nights whilst visiting a concert at Qantas Credit Union Arena in Sydney's CBD. Both were lovely, laid-back and really helpful hosts who made an honest effort to make us feel right at home. We felt very comfortable amongst their family and friends and enjoyed the freedom to come and go at our own leisure. The bedroom and bathroom are a decent size and I appreciated the beautiful styling of their home. We also loved their pets and the location of their terrace is extremely convenient! We were able to walk home from the concert and all areas of Sydney, including Bondi, were in very close proximity. As our first booking with airbnb Bron & Dean have definitely made a great first impression and we can't wait to travel widely using the service. Thank you for your hospitality – we wouldn't hesitate to come back!
Brooke
2015-03-29T00:00:00Z
The experience of living in Bron's House is unforgettable. We spent the Christmas morning together. Bron and her family are really nice. Her son helped us to carry luggages upstairs. Bron considered almost everything and did many extra things for us. She makes candles and planting flowers. I really like her taste of decoration and fragrance. The house always has a comfortable smell.The cats in the house are quiet cute. The location is good. With walkable distance to many restaurants, city centre and train station. Around 7 minutes walk to the big supermarket, 3 minutes to the bus station. It is a really pleasant stay in Bron's house, not only as host and guest, but also like friends.
Yiwei
2016-12-27T00:00:00Z
This is the best place I've stayed in Sydney to date. The house is very beautiful, clean and modern perfectly located in the coolest suburb of Sydney. There are many amazing restaurants within walking distance. The room itself is large with a comfy bed. Bron was a great host and very welcoming. We had a great long chat and she made me feel like home. I couldn't recommend this place more!
Michael
2016-02-10T00:00:00Z
Type de logement
Chambre privée
---
Type de propriété
Maison
---
Capacité d'accueil
2
---
Chambres
Surry Hills, Nouvelle Galles du Sud, Australie
Charme, intime et plein de caractère de cette propriété se trouve juste derrière le célèbre Messine, sur la rue de la Couronne. Avec Horloge Hôtel, El Loco, The White Horse et une cuisine délicieuse dans les 20 mètres de votre maison, vous êtes au cœur de Surry Hills. Central Station se trouve à 10 minutes de marche ou un sprint de 3 minutes. Oxford Street est juste autour du coin. La chambre disponible est bien éclairé, la fenêtre fait face à notre cour et vous donner une intimité totale. Il contient un lit simple prêt pour vous à utiliser.
Vous pouvez accéder à notre place de l'aéroport sont acceptés dans les 20 minutes. Juste prendre le train express de l'aéroport qui passe toutes les 10 minutes dans le centre et marcher à notre place pour plus de 10 minutes. Vous êtes au coeur de Sydney. The Opera House, Sydney Harbour Bridge et dans toute la ville attractions sont withing un rayon de 5 km. Vous êtes entouré par les meilleurs brunch, bars et restaurants de Sydney a à offrir. Nous vivons en fait à moins de 50 mètres de la plupart d'entre eux.
The best hosts I've had from airbnb! They were so nice, helpful and accommodating. The room was definitely the best value, the best place you would find in that area for that price! Very central location, with everything close by and the airport is only 10-15 minutes by train. There is a steep hill from central station, so I recommend getting an uber from the station if you have luggage. Other than that, everything was perfect. Would definitely book this place again if I visit Sydney!
Jaquilin
2017-03-16T00:00:00Z
The host was really welcoming and nice, the room is large enough and the bed is super cozy! There are three people live in the house so I'm the forth, they are so nice! I really enjoyed my stay:) it was perfect! House location is nice, just 5-8mins walk to central station, and lots of cafes around. Host recommended me plenty of place for food and fun. Thanks a lot! If you love diving and wine, you should choose here, cuz the host loves those things! Really joyful stay in the Heart of Surry Hills!
安羽
2017-02-04T00:00:00Z
Comfortable and clean room with ample space for one. Hosts were wonderful and attentive to my every need. Very welcoming helpful with regard sightseeing and places to eat and drink. Location was perfect...very central and well within walking distance or short public transport to the city. Would highly recommend a stay here without hesitation
Bryan
2017-01-29T00:00:00Z
hosts were amazing. will definitely stay again. I highly recommend this place.
Kristopher
2017-01-05T00:00:00Z
Great Hosts! Very friendly! Easy and down to earth People! Location was excellent! easy access to everything. :)
Jake
2017-03-20T00:00:00Z
I really had a lovely time staying at Arkadiusz's place. The location is spot on, 6 mins walk to Mardi Gras parade. The room was nice and clean. The backyard is very cute but unfortunately the rain didn't allow me to sit outdoor. Many great restaurants and cafes within walking distance to try. Would definitely recommend my friends to stay with you in future. Thank you. Minh
Minh
2017-03-04T00:00:00Z
Without any doubt a great place to stay with hospitable guys! Great location in the middle of Surry Hills. Still relatively calm situated in a beautiful side street. Enjoyed my stay pretty much. Thank you :-)
Andreas
2017-04-02T00:00:00Z
Best Airbnb I've ever stayed in. Great host
Martin
2017-03-14T00:00:00Z
Type de logement
Chambre privée
---
Type de propriété
Maison
---
Capacité d'accueil
1
---
Chambres
Surry Hills, Nouvelle Galles du Sud, Australie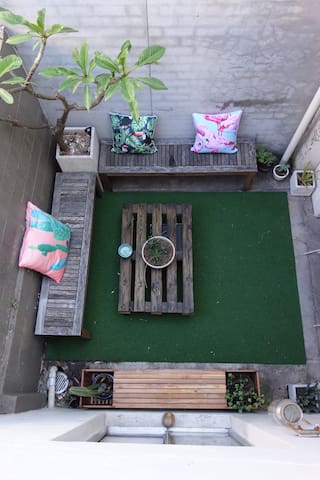 Deux lits simples dans une chambre privée et à seulement 200 mètres de la ville. Ce à peu près la maison la plus proche du centre-ville de CBD dans tous Sydney. Flexible tracas libre check-in avec un code, au lieu de touches Il est dans une rue calme dans le quartier de Sydney les plus branchés, Surry Hills. 8 minutes à pied des stations centrales ou Musée 3 minutes à pied de Bondi et Coogee bus de plage 5 minutes à pied de China Town 15-20 minutes à pied de Darling Harbour 25 minutes à pied de l'Opéra ou plus rapide par le train / bus / uber
Beaucoup de cafés à proximité. Trois chambres à l'étage avec une salle de séjour, une cuisine et une table à manger à l'étage. Immense machine à laver et sèche-linge Serviettes, draps, savon, shampoing, etc tout inclus Fer, planche à repasser, sèche-cheveux Cuisine entièrement équipée La douche est chauffée au gaz, de sorte que vous ne manquerez jamais d'eau chaude. Il y a deux salles de bains. La première est une salle de bains complète avec douche et WC et l'autre est en bas avec une toilette plus une machine à laver et sèche-linge. réservations à long terme ne sont pas disponibles
Excellent, central location with very good access to the City, transportation, night life and dining options. Very, very small bedroom and bathroom - not suitable for claustrophobics but comfortable and reasonably quiet giving the two other rooms appear to be rented as well. Excellent communication with Ben & Mark with very easy self check-in.
Peter
2017-03-19T00:00:00Z
Comfortable, clean and well located. Walked from central station in 10 minutes. Room was as advertised. Bed comfortable and shared kitchen and living area had everything needed.
Chris
2017-03-08T00:00:00Z
Type de logement
Chambre privée
---
Type de propriété
Maison
---
Capacité d'accueil
2
---
Chambres
Surry Hills, Nouvelle Galles du Sud, Australie
Freshly furnished 1 bed modern Tribeca apartment, with integrated air con, balcony, car parking, gym, swim, sauna, & jacuzzi. Convenient location between eastern suburbs and CBD, also a few minutes walk from Green Square and Redfern train stations. Great restaurant and bar culture in Surry Hills, along with main supermarkets only a short drive too.
Type de logement
Logement entier
---
Type de propriété
Appartement
---
Capacité d'accueil
2
---
Chambres
Waterloo, Nouvelle Galles du Sud, Australie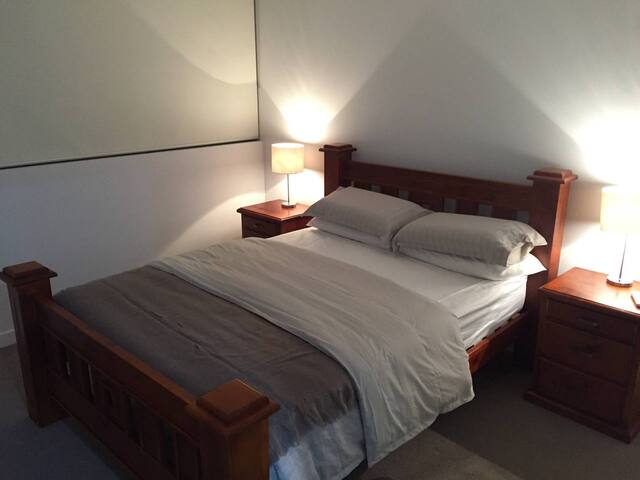 Belle appartement lumineux, ensoleillé, avec vue sur le port et la CDB qui sont à couper le souffle. Votre chambre est la chambre principale avec salle de bains et a une vue sur le port ainsi.
Ceci est un appartement d'une chambre de luxe deux, avec vue sur la ville et le port.
Il y a des cafés et restaurants de charme tout autour de la zone. Kings Cross, la CDB et Oxford Street sont à distance de marche. Ceci est l'endroit idéal pour se baser à l'expérience ce que Sydney a à offrir.
Emplacement parfait, vu exceptionnelle , conseil de Junior parfait. It's The place to be
Didier
2017-03-01T00:00:00Z
L'hôte nous a bien conseiller pour rejoindre l'aéroport au logement ce qui est vraiment un plus lorsque l'on arrive. Ensuite, ce sont des gens très serviable toujours prêt à aider si l'on en a besoin, a nous expliquer quoi faire à Sydney. Pauline et Junior sont des gens super sympas. Nous avons vraiment passé un excellent séjour, nous n'hésiterons pas à y retourner si jamais nous voulons visiter Sydney plus en profondeur ! N'hésitez pas à réserver, c'est vraiment le top du top !
Julien
2016-06-21T00:00:00Z
Nice stay by Pauline and Junior s flat. Terrific view. Well located. Very clean and great mattress.
Paul
2016-02-24T00:00:00Z
Pauline and Junior were wonderful hosts. The view from the place was just amazing. The location was great and right off the King Cross train stop and a few steps away from the market.
Michael
2016-06-16T00:00:00Z
very kind
小果
2017-01-26T00:00:00Z
The place was clean with a spectacular view. Very homey and comfortable and convenience at your finger tips. Very near to the station and many eateries. Perfect for short or long stay. Junior was very friendly, approachable, helpful and accommodating. We had a good chat and its like we have known him forever. Would definitely recommend this place and would definitely came back. Thank you so much Junior for having us.
Nazira
2017-02-23T00:00:00Z
The location has a terrific view of the CBD, bridge and Opera House. It is also very convenient to the King's Cross train station, although we walked nearly everywhere to experience the city's vibe. Cheap eats nearby, but we really liked Bills for breakfast.
Kevin
2017-02-21T00:00:00Z
Amazing stay. Perfectly located and Junior is a superb host. Highly recommended.
Marco
2017-03-19T00:00:00Z
Type de logement
Chambre privée
---
Type de propriété
Appartement
---
Capacité d'accueil
2
---
Chambres
Woolloomooloo, Nouvelle Galles du Sud, Australie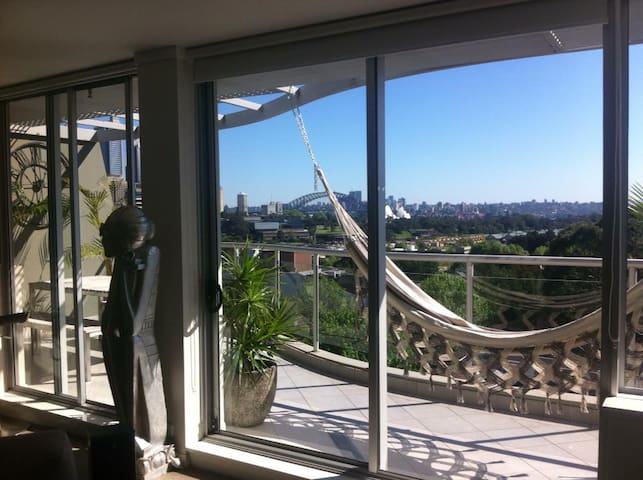 4 bedroom upstairs/downstairs Victorian Terrace with beautiful private laneway garden. To share with 2-3 others. Right in the heart of Sydney's funky Eastern Suburbs. Pubs, café's, bars, restaurants, parks and beach all within walking distance.
1 beautiful sunny room in a stunning terrace house in the heart of trendy Darlinghurst. Minutes away from Oxford st, Darling Harbour, Circular Quay, Kings Cross and trendy Surry Hills. Two minute walk to Kings Cross train station direct to a 5 minute train ride to Bondi Junction. Cool, light airy, quiet rooms to chill n relax in. Amazing garden space. Cat cuddles, awesome living room and kitchen facilities. Hammock available upon request. Im pretty cruisey, love chatting to new people. Love a good drinking session happy to have a pint or 4 with you! Close to everything you could possibly need. Great bars, restaurants, clubs and night life. Not far from Sydney's water fronts and great parks. Yes. Two minutes walk to all buses and train station just around the corner. I have a cat! She is amazing.
It's a very diverse neighborhood. Culturally diverse, gay friendly & pet friendly with many beautiful parks.
Très proche des endroits qui m'interessaient
Anne
2016-04-30T00:00:00Z
Staying at Margo's was great! The location of the apartment is just wonderful, close to a lot of good restaurants, cafés and pubs, and only 15 minutes (by walk) from the center of the city. Margo and her roommates are the best, they made me feel right at home from the start, they helped me out with adresses, advices on the city and we all went out for a drink a few times during my stay. They're are the best! I recommend staying here 100%
Selma
2015-03-17T00:00:00Z
Loved staying here for two months. I was working ridiculous hours but Margo & Jade were great and happy to socialise on my rare moments off. There was a housemate transition as I was living there so I didn't know the third housemate really well, but the new girl Jess seemed extremely lovely. The bedroom and bathroom is quite small but the location is amazing and housemates pretty damn sweet, not to mention little kitty Sabbath. There were some party nights in the house but the girls were really understanding to my work hours and needs. Thanks again, would definitely stay again if I was in Sydney x
Kelly
2014-05-02T00:00:00Z
My stay was excellent. The house is just a short walk from downtown Sydney and the house mates are lovely. I felt very welcome in this house.
Gareth
2016-08-01T00:00:00Z
Great location, great host. Margo and housemates were easy-going, fun company, and made me feel right at home. The house and facilities were all that I needed for a short stay. Many thanks!
Timothy
2014-06-22T00:00:00Z
I had a fantastic time at Margo's. Everyone is friendly. The room is small but sufficient and the location is great. If i am back in Sydney i'll be sure to check the availability of that room.
Amin
2016-05-18T00:00:00Z
Stayed in Thomson Street for 7 nights. Was a great place, in perfect walking distance from the city with Hyde Park 7 minutes away. It's a safe and quiet neighbourhood, and I felt safe walking home alone at night from the city. The house is original and cool, and Margo and her flat mates were very welcoming. The bed is comfortable, and the room is faced towards the quiet backyard. It's a very valuable accommodation, as the price is the same as a shared bed in a backpacker hostel. Would absolutely recommend it for anyone traveling alone or meeting friends in Sydney.
Helga Grønlund
2015-11-29T00:00:00Z
I have a lovely stay with Margo. I would totally recommend staying here if you want to visit Sydney. It is very central and have great shops and restaurants near by. The place is clean and tidy with a funky feel to it.
Amanda
2015-11-10T00:00:00Z
Type de logement
Chambre privée
---
Type de propriété
Maison
---
Capacité d'accueil
1
---
Chambres
Darlinghurst, Nouvelle Galles du Sud, Australie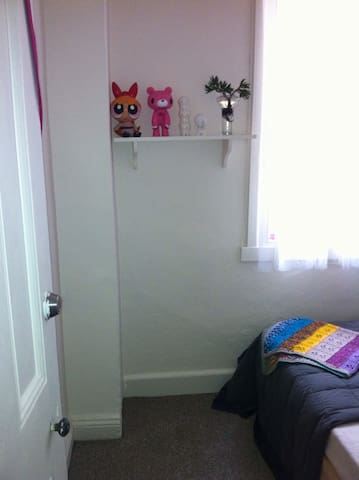 Unwind in a clean, fresh apartment, in an away from it all street. 20 minutes walk, to year round, beautiful Bondi Beach. 10 minutes to the harbour coast. Enjoy your own private room with cupboard, drawers, fan, & fresh made double bed. Modern bathroom & kitchen are at your disposal
Situated on the top level of a small block of 4, the apartment filled with natural light, is medium sized, and according to all who visit, homely, clean, quiet, peaceful and relaxing. Your room, facing the sunny east, is spacious enough for 2 people. And has a fresh made double bed, fan, bedside table & lamp, a set of drawers and a wardrobe.
What I love about my neighbourhood is the general peace and quiet, especially at night, of my little leafy street. It's proximity to both the ocean and the harbour coastlines with their calming and picturesque walks, is special. The gentle breezes off both coasts (and occasionally strong winds) make for comfortable, relaxed, close to nature surrounds. A few minutes walk and you can be at shops, cafes, and harbour beaches. Buses to Bondi Junction, Watson's Bay and the city, and ferries to Circular Quay and the northern suburbs leave from stops 5 and 10 minutes away. The harbourside as well as peaceful, provides experiences for the active. You can paddleboard, kyack, swim and play tennis, or go for runs and walks. And of course 20 minutes in the other direction, iconic Bondi Beach has it all. Surfing (lessons are available), swimming, cafes, bars shops and a real Aussie holiday atmosphere. For those not so into sand, there is the Bondi Icebergs Club (open to all) olympic sized pool, at the southern end of the beach. Complete with a bistro and the Icebergs restaurant. Both with views to die for! There is a lot of choice at hand.
Annie is very friendly and funny. She cared for us. She explained everything when we had questions And she told us always the best Locations in Sydney. The Apartment is very nice our room was very comfortable. We had a very good Time in Sydney. Thank you so much
Thomas
2016-01-14T00:00:00Z
Annie was a lovely woman. She was very open with her home and was very thorough with introducing us to the home. She welcomed us with snacks like cookies and fruit and had coffee and tea available. She is very knowledgeable on the area, giving us suggestions whenever we needed them. She is a wonderful woman to talk to and a great host. I would definitely stay there again.
Rachel
2017-01-02T00:00:00Z
Annie was a very welcoming host, her house was lovely and clean and in a great location. We got on extremely well and enjoyed all our evening chats. Annie was helpful, accomodating and a pleasure to stay with. The house was as listed with a spacious bedroom and nice comfy bed. We will be staying with Annie again.
Richard
2015-06-22T00:00:00Z
Annie is a kind and nice person, she made me feel very welcome and helped me with shopping, laundry, provided a change of sheets half way through my stay, and fun conversation. She has a super electric blanket that heats up the bed, which meant it was warm on my arrival. She even had hot soup waiting for me when I first arrived late at night. Her cosy flat is within a few minutes walk of a bus stop to Bondi Junction, and it is clean, light and very tidy. A great host who knows the meaning of hosting. She also communicates quickly and regularly so you will never be short of an answer to your questions.
Cathy
2015-07-30T00:00:00Z
Annie is a warm, friendly and welcoming host. Her apartment is immaculate and our room was very comfortable with a wardrobe and set of drawers provided. We highly recommend Annie's guest room for anyone who is looking for accommodation in Sydney. Thank you Annie. We enjoyed staying with you.
Judy and kelly
2015-08-08T00:00:00Z
Annie was brilliant! Prior to our stay she had already sent us several suggestions on where to go on New year's eve. We got a warm welcoming, and throughout the stay, she was a great host. Also she helped us get contacts in New Zealand (our next stop). The room was cozy and clean - the bathroom as well. The apartment is in a quiet street in Rose Bay, and it is easy to get to the city center or the beach by ferry/bus. (Try the cafe by the dock - ministry of coffee. It's very good)
Mette
2016-01-03T00:00:00Z
Annie is kind and very nice, she had the bed heated with a great electric blanket when I arrived and had hot soup ready as I arrived late on my first night. Her home is clean, cosy and tidy and a few minutes walk to a bus stop from Bondi Junction. Annie is fun to talk to and made me feel very welcome. She helped me with shopping several times and answered all my questions. She is quick and regular with communications, so you will never be short of info. Thanks Annie!
Cathy
2015-07-25T00:00:00Z
Annie was super! She kept great communication and was incredibly generous during our stay with her. The accommodations were better than expected and in a great location close to the famed Bondi Beach as well as the excellent public transportation. Annie also gave us many great tips helping us make the most of our holiday in Australia. I highly recommend Annie as your host when visiting the beautiful area of Sydney.
Marialuz
2016-02-17T00:00:00Z
Type de logement
Chambre privée
---
Type de propriété
Appartement
---
Capacité d'accueil
2
---
Chambres
Rose Bay, Nouvelle Galles du Sud, Australie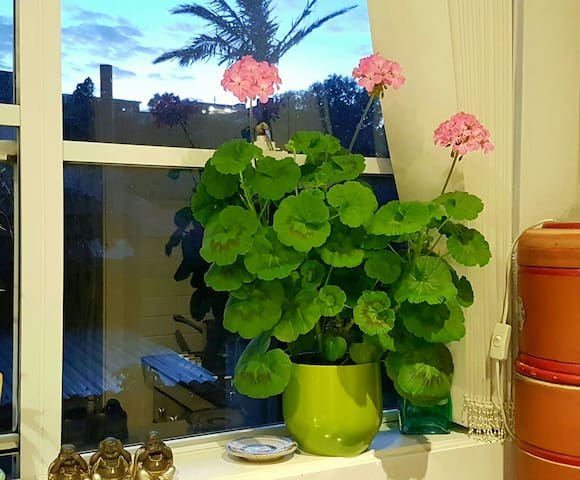 1

–

18

sur

300+ locations
Saisissez les dates souhaitées pour connaître le prix total. Des frais supplémentaires s'appliquent et des taxes peuvent être ajoutées.