This delightful private room is the perfect place for your next visit to Philly! Complete with access to sunny porch, attractive kitchen, and spacious shower. We're centrally located just five blocks from public transportation, & only a 15 minute walk to Center City with access to all the downtown sites.
A Traveler's Cozy Dream The affordable and comfortable guest room comes equipped with a full size bed with fresh sheets, a mirror, towels for showering, and one large window. You will be able to get peaceful and private nights sleep.
The Neighborhood Our spot is just a few blocks from museums and major attractions. There's easy access to public transportation and convenient free parking on the street. We're in the Art Museum District - Close to: -The Philadelphia Museum of Art (15 minute walk) -The Rodin (15 minute walk) -The Franklin Institute (15 minute walk) -Museum of Natural History (15 minute walk) -Kelly Drive and Fairmount Park (15-minute walk) where there's space for running and biking. *There's plenty of restaurants within a 5-minute walk and, of course, we're happy to offer suggestions about the best places to eat, drink, visit, or just hang out!
Première expérience avec airbnb réussie ! Hôtes très accueillants et souriants. Appartement propre et bien situé. Une étoile de plus pour le lit...surtout quand on vient à Philadelphie pour le marathon. Super confortable !
Karen
2016-11-21T00:00:00Z
L'appartement de Becky et Oscar est magnifique, très confortable et très proche du centre ! On y prend vraiment la mesure du "bienvenue chez vous" tellement on s'y sent bien. Becky et Oscar sont de très bons hôtes. Nous avons de belles discussions et nous sommes sentis très bien accueillis. Depuis le logement, il est facile de faire une grande promenade d'une à deux heures permettant de découvrir tous les lieux importants de la ville. Je recommande !
Floriane
2016-05-09T00:00:00Z
Becky et Oscar ont été des hôtes charmants et très serviables. Oscar nous attendait même au pied de l'immeuble pour nous faire entrer. L'appartement est très propre et agréable à vivre. L'emplacement est bien pour visiter la ville, plusieurs restaurants sont à proximité. Merci Becky et Oscar !
Nicolas
2016-07-16T00:00:00Z
Hôtes très discrets, endroit calme et agréable. Attention: assurez-vous que le prix correspond au prix annoncé Merci
Yvan
2016-12-06T00:00:00Z
Oscar est très gentil et nous a très bien accueilli (Becky était absente, nous l'avons croisé le matin de notre départ). Il nous a permis de prendre possession de la chambre 1 heure plus tôt et c'était vraiment très gentil de sa part. Il nous a conseillé plusieurs lieux à visiter durant notre séjour. La chambre est très propre, mais peut être un peu petite lorsque les deux valises sont ouvertes. Le quartier est calme et proche du centre (environ 15/20 minutes à pied).
Elyse
2016-10-29T00:00:00Z
La chambre proposée par Becky et Oscar est très propre et agréable. Appartement chaleureux. Lit super confortable. Idéalement placé, à 15min à pied du City Hall. Très bon accueil. Nous le recommandons à 100%
Antoine
2017-02-09T00:00:00Z
Oscar et Becky sont très accueillants et disponibles. L'appartement est bien situé (à 10min de marche du centre) et proche de nombreux restaurants. Logement très propre et confortable. Je le recommande vivement.
Pierre
2014-06-07T00:00:00Z
Becky et Oscar sont d'excellents hôtes. Nous avons été chaleureusement accueillis dans leur joli appartement. Le logement est bien situé, à 20min à pied du coeur de Philadelphie et proche du musée des arts et de la fameuse statue de Rocky. Il y a plein de restaurants et cafés sympas à proximité. La chambre est cosy, bien chauffée (en hiver à Philadelphie c'est important ! ), le lit très confortable. La salle de bain est spacieuse et très propre comme l'ensemble de l'appartement. Becky et Oscar sont très sympathiques et communiquent facilement et savent aussi vous laisser votre espace intime. Nous nous sommes très bien sentis chez eux. Thank you Becky and Oscar! All the best.
Mel
2016-12-17T00:00:00Z
Type de logement
Chambre privée
---
Type de propriété
Appartement
---
Capacité d'accueil
2
---
Chambres
Philadelphie, Pennsylvanie, États-Unis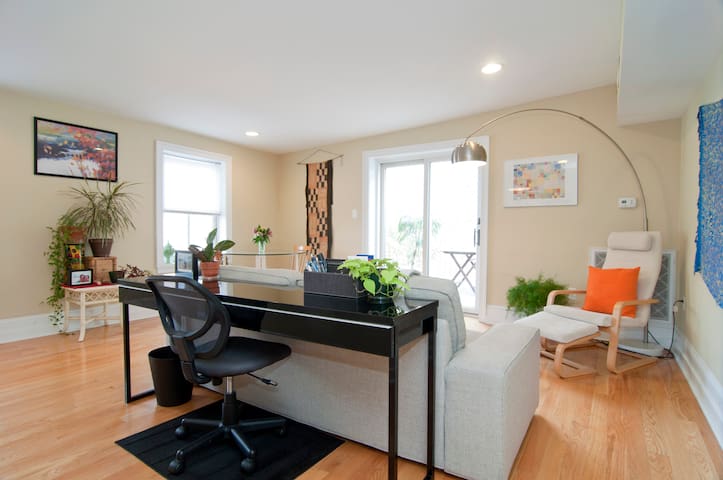 Well-lit private ROOM* with a full-size bed in a 2bd/1bth 2nd-floor apartment. Less than 7 minutes to subway station or bus stop, 15 minute walk to Drexel/UPenn. 10-minute walk to CS Exam. Efficient, clean space with breakfast included. Inquire for alternative check-in times. *This is a private room in my apartment, Airbnb occasionally lists this as an entire apartment but it is for a room.
This is a no-frills room with a full-size bed, fresh linens, towels and basic amenities. Sheets and blanket may be different than pictured as we are constantly washing and rotating them. There are 3 doors in the hallway, the first one on the right is the restroom, the second one is your room and at the end of the hallway is my room. Since we live here and use the same washing machine, stray hairs may unknowingly attach themselves to towels and other fabric. I do my best to assure they do not but if you find one and it disturbs you, I will be happy to change out the linen but please understand they are most definitely clean as I personally wash and change the sheets after every guest.
CVS/Rite Aid is just around the corner. Adjacent to that towards 40th/Market is a decent Chinese takeout place. Down the block next to the subway station on 40th/Market is Crown Fried Chicken and a halal joint. Within a 15 min walk to UPenn there is the popular Fresh Grocer grocery store and several eateries along the way both chain and local businesses, including a Starbucks. There is a Korean place about 10 minutes on foot, Koreana, that makes awesome Korean-style fried chicken but that's really the only item I would recommend there. For actual good food take the subway to Center City and walk around Chinatown or visit the Reading Terminal. I'm a huge foodie and can go on all day, let's talk about it when you get here.
Nous avons reçu d'Amanda un accueil exceptionnel! Tout a été facile et agréable. Nous allons sûrement revenir chez elle à notre prochain séjour à Philly. Merci Amanda :-)
Jean-Pierre
2016-11-14T00:00:00Z
I had a wonderful time at Amanda's place. I already let many of my friends know how much I enjoy my time there. She has a very cute place with great personal touch both in term of organizing and decoration. Amanda is easygoing, welcoming and super kind. I enjoyed little snack that she offered also. I will definitely book this place again when I visit PhillY!
Tran
2017-03-15T00:00:00Z
We didn´t meet Amanda but the room was organised and with everything you might need during your stay, everything was cleaned and we really enjoy our stay! metro station is only 5 minutes walking so it's easy to move anywhere you want!
Maria
2017-01-04T00:00:00Z
It was great to stay with Amanda! The location was good, and I can walk to universities within 10 min. Room was clean and neat, with all accommodation I would need. The neighborhood was quiet too. I arrived at Philadelphia at midnight and Amanda and her husband were so kind to pick me up at station. They are really nice guys! I would definitely stay with them next time to Philadelphia.
Haley
2016-04-03T00:00:00Z
Host was amazing! Bed was very comfortable. Shampoo selection on point. Tasty fruit and cereal. Easy subway access. Street parking right out front. Would recommend to everyone.
Emmett
2016-06-13T00:00:00Z
Amanda was a great host. She informed us of all of the details before we arrived and provided us with everything we wanted and needed upon arrival. She also sent us on our way with some apples and oranges. I would recommend Amanda's place to anyone looking to stay in Philadelphia!
Matt
2016-06-27T00:00:00Z
Amanda thank you so much for being so hospitable! My mom and I had a great time in Philly. It was short and sweet. Your place is super cute. Thank you for picking up when I called you.. I forgot you preferred text messaging! Hopefully my mom and I weren't too loud in the evening. Thanks again!
Justine
2016-05-21T00:00:00Z
It was great staying at Amanda's. She messaged us a day before with instructions on how to pick up the key and when we arrived she briefly showed us around the apartment. The place was very clean and comfortable, we didn't stay long but it was very nice.
Emily
2016-05-02T00:00:00Z
Type de logement
Chambre privée
---
Type de propriété
Appartement
---
Capacité d'accueil
2
---
Chambres
Philadelphie, Pennsylvanie, États-Unis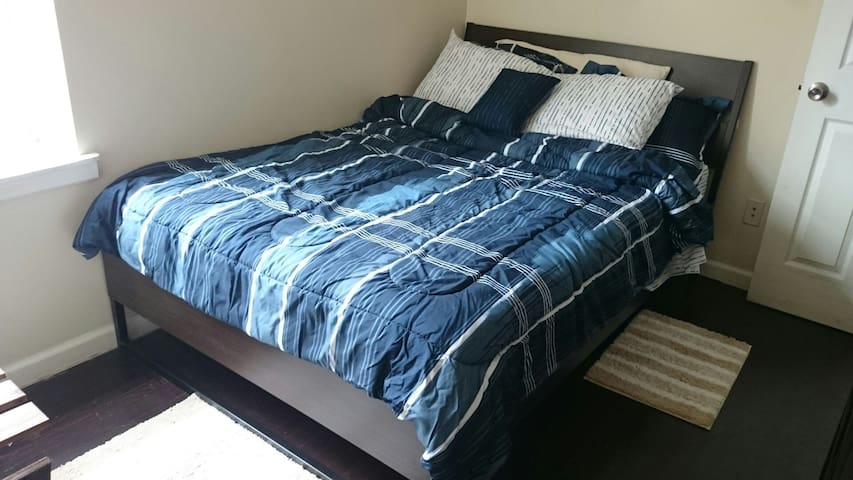 Beautiful Art Museum area studio –sunny and spacious with king size bed, 2 futon sofa beds, mirrored wall, private bath, shower, mini-fridge, microwave, and outdoor patio with table/chairs. Just a few blocks from many great attractions including museums, restaurants, parks, and much more! Easy access to public transportation. Fantastic location!
Yoga Studio and Art Museum Area lodgings- this unique space puts you in the center of the Art Museum District. You are less than 5 blocks from the Philadelphia Museum of Art, the Rodin, Franklin Institute, Museum of Natural History, and much more! Visit Kelly Drive and Fairmount Park for walking, biking, and people watching. There are plenty of restaurants within a 5 minute walk and Center City is a 15 minute walk or a quick bus or cab ride away. There is on-street parking and the space has an open "zen" feel.
I love this neighborhood! It has a small town vibe with big city attractions. You can walk to Whole Foods or a local coffee shop and run into a bunch of friends or you can enjoy great restaurants, museums, concerts, and major events just a few blocks away. Fairmount Park is a gem with many walking/bike trails and numerous historic monuments. The street is quiet at night but nightlife is a quick walk or cab ride away. Center City is easy to get to via public transportation and there are great places to walk, hike, or cycle nearby.
notre hôte, Valèrie est une personne charmante et attentionnée. Elle a à cœur de rendre notre séjour le plus plaisant possible. le quartier est agréable, calme et effectivement près des centres d'intérêt de Philadelphie que l'on peut rejoindre à pieds.
fleury
2014-06-07T00:00:00Z
Nous avons passé un super séjour chez Valerie. Elle a été très disponible et nous avons pu participer à un de ses cours de yoga. Elle laisse une liste de restaurant et autres recommandés et nous n'avons pas été déçu. C'est super appréciable! Le logement est magnifique. Comme des danseuses
Marlène
2016-10-20T00:00:00Z
Valérie est une hôte merveilleuse, accueillante et aux petits soins. A notre arrivée Valérie nous a installé chez elle dans un salon très confortable où elle nous a offert du thé et du cidre chaud maison. Vous apprécierez l'expérience insolite de dormir dans la salle de danse transformée en chambre, de fait elle est grande, et ne vous en faite pas, très bien chauffé. Les WC sont séparés de la SDB, et le tout est très propre. Nous vous recommandons grandement cette annonce pour votre séjour à Phil.
Frédéric
2015-01-02T00:00:00Z
This place was great! So close to the Art Museum (we walked there) and very convenient. Also clean and a great price! Highly recommend.
Kat
2017-03-26T00:00:00Z
This converted yoga studio was a great find. Spacious, well-equipped, as well as close to museums and restaurants. We had a wonderful stay and Valerie was a great host with lots of recommendations.
Isabella
2016-12-24T00:00:00Z
Easy entry, plenty of room, comfortable bed. Serves its purpose.
Barbara
2017-01-22T00:00:00Z
Valerie was an awesome host! The space was spotless and welcoming. We loved the location, so close to fun city activities. We will surely be back when there's an opening!
Aimee
2017-02-27T00:00:00Z
This was the best place I've stayed in Philadelphia. I really enjoyed the environment of the room and the location of it.
Ahri
2017-03-02T00:00:00Z
Type de logement
Logement entier
---
Type de propriété
Maison
---
Capacité d'accueil
6
---
Chambres
Philadelphie, Pennsylvanie, États-Unis
Bright and sunny junior 1B located just south of Rittenhouse Square.
One block south of Rittenhouse Square, the apartment is in the heart of Center City and quieter than living north of the square. Minutes away from groceries and cafes and a 15 minute walk to 13th street for Philly's trendiest restaurants. This is exactly where you want to be!
Type de logement
Logement entier
---
Type de propriété
Appartement
---
Capacité d'accueil
2
---
Chambres
Philadelphie, Pennsylvanie, États-Unis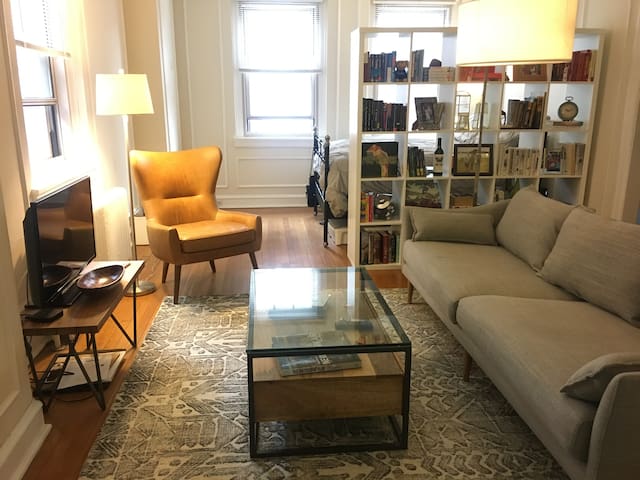 Location, location, location. A ten minute walk from Jefferson Station and Reading Terminal Market, three blocks from Whole Foods and Acme markets. Petit house on a gated mews. Just renovated with a new kitchen and bath and a tiny walled garden.
Quiet, safe and convenient. This house has small, wooden staircases that are typical of this 19th century worker's rowhouse. There is a small, enclosed, brick patio and back garden.
Excellent walking neighborhood, easy access to trains, buses, subway, taxi service, grocery shopping and lovely neighbors. Restaurants and bars, galleries, antique shops, rental bicycles, historic sites, majors teaching hospitals such as Pennsylvania Hospital, the Hospital of the University of Pennsylvania, Jefferson Hospital are all within walking distance. Independence Hall, the Liberty Bell and the Constitution Center, the National Museum of American Jewish History, the African American Museum, the Rosenbach Rare Book Museum are all within walking distance. There is no overnight parking, the only options are lots that are about $28.
Appartement bien situé et vraiment sympa Je recommande
CHRISTOPHE
2016-11-05T00:00:00Z
Michael a été réactif et facile d'accès pour donner les informations nécessaires. Même si nous ne l'avons pas rencontré, il s'est montré attentif. Sa maison est trés agréable, avec une petite cours où il est possible de manger ou prendre un petit déjeuner s'il fait beau. La maison esttr-s bien située dans le centre ville, dans un quartier historique calme et pourtant proche de l'animation. La maison elle-même est dans une petite rue privée très jolie. Une adresse à recommander pour venir à Philadelphie.
patrick
2016-04-16T00:00:00Z
We had a great time at Michael's house and really wished we could have stayed longer; we indeed felt at home there. I loved the old stairs, and it was nice to sit outside in the little garden/backyard. The neighbourhood is amazing (sakura trees were in full bloom while we were there, and there are whole alleys full of them), and a lot of interesting sights, restaurants and public transport are in walking distance (including the Septa Airport Line). For an inner city location, the house is relatively quiet and really feels like an oasis in the city. We even had wifi although it had not been advertised when we booked the place - probably it was recently installed (and was very useful to us). We attented a conference in Camden and did not spend much time in Philadelphia, but if we had we would have liked to shop groceries at Reading Terminal Market or the Italian Market at 9th street and cook for ourselves in the kitchen. I don't think we could have made a better choice and would absolutely stay here again.
Katharina
2016-04-26T00:00:00Z
I highly recommend Michael's place. Easy to get in, well-equipped, perfectly located, and tastefully decorated. Please understand this is a bona-fide "trinity" where the rooms are stacked upon each other for a total of four stories. The stairs are bordering on perilous if you are not careful, but that's not a knock. It's just inherent to trinities. I personally loved the quirk of it but if you have any trouble with stairs I recommend looking elsewhere. 10/10 and I will be looking this place up next time I return to Philadelphia!
Patrick
2016-11-30T00:00:00Z
My time here was absolutely amazing, this apartment is inside the central city, just few minutes by foot to any important place in Philadelphia. The location is fantastic. The whole apartment iso good, clean and has a really good space.
Vitor
2016-11-10T00:00:00Z
Michael was a wonderful host. His description of the house was accurate; directions to get to/in the place were easy to follow; and he even let us stay a little longer past check-out (since he had no other guests coming in). The place is clean and comfortable/cozy (we enjoyed the art on the walls), and on a quiet street in Philly (though near a lot of different good bars/restaurants). As someone who lived in Philly for 9 years, I would highly recommend the place for anyone looking to have the uniquely Philly experience of staying in a nicely appointed Trinity (lots of stairs!) on a centrally located (but quiet!) street.
Paul
2016-04-11T00:00:00Z
Michael's place was such a find!! It is exactly like the photos, pristine, and very comfortable. The stairs are indeed very tiny, but I enjoyed the adventure of being in such an unusual house. It was walkable to anywhere I needed to be during my week stay; I never had to use public transit. I would stay here again in a heartbeat!
Brad
2016-11-28T00:00:00Z
깨끗하고 잘 정돈된 집이었어요. 주변 이웃들도 친절하고, 주택단지 자체도 조용하고 위험하지 않았습니다. 메인 스트리트와도 멀지 않아 여러모로 추천해요!
Jimin
2016-08-27T00:00:00Z
Type de logement
Logement entier
---
Type de propriété
Maison
---
Capacité d'accueil
2
---
Chambres
Philadelphie, Pennsylvanie, États-Unis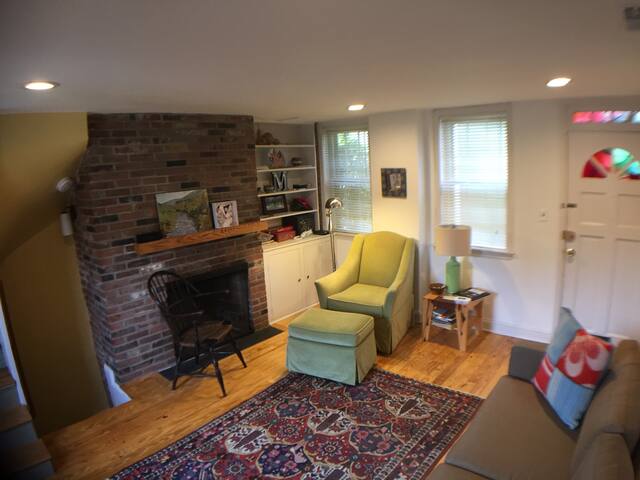 My place is close to Center City, SEPTA bus routes, the Broad St Subway line, a bikeshare station, bars, coffee shops, corner stores, the public library, and the restaurants and bars of East Passyunk Ave. You'll love my place because of the location (easy access to Center City), the ambiance, large shared space, fully equipped kitchen. My place is good for solo adventurers, and business travelers and couples.
Sarah's place was perfect for a one-night weekend in Philly. Located at a walkable distance from the city center. Totally recommend it.
Martin
2016-11-13T00:00:00Z
Type de logement
Chambre privée
---
Type de propriété
Maison
---
Capacité d'accueil
2
---
Chambres
Philadelphie, Pennsylvanie, États-Unis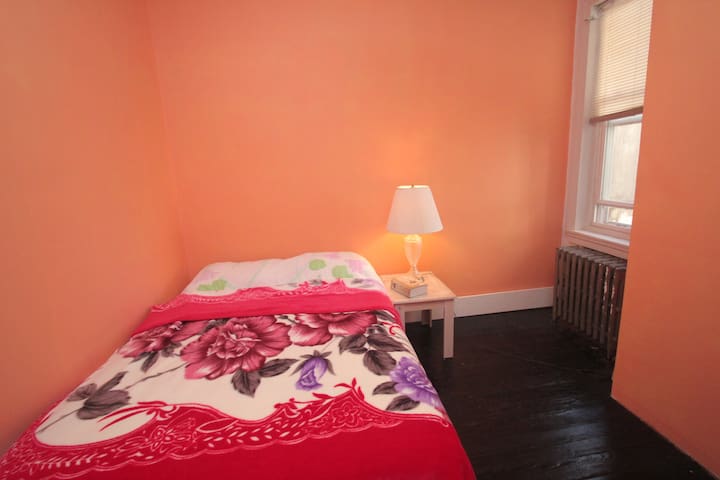 Private bedroom in our clean, comfy, & modern rowhouse. Located in the Graduate Hospital neighborhood in southwest center city, we are a short walk from some of the best bars, restaurants, & cafes in Philly, as well as Rittenhouse Square.
This is a listing for a private bedroom on the third floor of our modern, airy home. Your room includes a double bed with comfortable mattress, table, air conditioner, multiple windows, hardwood floors, and a skylight. There's also some closet storage space and an empty dresser for you. The room is bright, clean, as well as cozy. Also included in this listing is our lounge, which is a separate, private room on the 2nd floor that you can use as your personal living room, office, yoga room, etc. There is a bathroom just down the hall from your room; it's normally the one we use, but while you're here it can be all yours as we'll use the one downstairs. The bedroom, lounge, and bathroom are your own private rooms. The rest of the house (living room, kitchen, dining room, & garden) is shared with your hosts and our friendly pets. We will include some tourism info, a little map of the neighborhood, and a list of suggestions for local restaurants, bars, and sites to see in the city. We'll also provide towels, linens, shampoo, soap, & a hair drier.
We are located in the Graduate Hospital area which is a very safe & friendly neighborhood in the southwest section of Center City. The house is just a few blocks away from South Street West which is the main thoroughfare of this neighborhood with lots of lovely restaurants, bars, coffee shops, and stores. Rittenhouse Square is a bustling, upscale hub of the city and is a only a short walk away. There is also a nice deli right next door and a supermarket nearby in case you plan on doing any cooking in the house.
Nous étions comme à la maison. Maison spacieuse, bien entretenue, calme. Très bien accueillis par Rufus (nous avons très peu vu Sarah car elle travaillait), il nous a aidé pour nos visites et nos choix de restaurant... Petit plus : un petit déjeuner le matin nous attendait. De vrais hôtes qui aiment ce qu'ils font et qui sont dévoués pour nous.
Marion
2015-11-07T00:00:00Z
Que ce soit les photos ou les descriptions tout correspond à la réalité! Rufus et Sarah sont particulièrement accueillants, aimables et disponibles. Ils mettent en plus de tout cela à votre disposition une carte de recommandations à faire dans leur quartier qui s'avère précieuse! Sans parler de leurs 2 chiens et de leur chat qui sont adorables! Je recommande ce Air Bnb qui vous fera vous sentir chez vous :-) et où vous passerez un très agréable moment.
emeric
2016-10-19T00:00:00Z
Nous avons passé 2 nuits agréable chez rufus & sarah. Ils nous ont bien expliquer les visites et les trajes ls avaient toujours une petite attention avec des mots ou autres sur les commodités de la maison. Leur animaux de compagnie sont calme et le chat est rigolos. Agréable séjour à philadelphie
Ludo
2016-08-19T00:00:00Z
Het is een prachtige kamer. Elke ochtend staat er een ontbijt klaar. Rufus en Sarah met 3 hele lieve huisdieren (2 honden en een kat). Zij laten zich graag aanhalen. Je hebt zo een band met alle drie. Bij de kamer hoort een mooie badkamer (erg ruim). De kamer is echt een aanrader! Rufus en Sarah zijn hele aardige mensen. Geen moeite is hen teveel. Ze zijn ook zeer geïnteresseerd. Wij hebben een geweldige tijd gehad in PH.
Tjeerd
2016-08-06T00:00:00Z
THAT was the best Airbnb experience we ever made! The room on the top floor was beautiful, bright and clean and we had for the time of our stay a bathroom just for us. Rufus and Sarah were not there when we arrived, but the communication before was so good, so we knew exactly what to do. They left the key in a lockbox in front of the door and sent us the code so we could easily check in by ourselves. Nice notes sticker on the door to describe where our room is. We were greeted by the beat welcoming committee ever: the two dogs and one cat are so lovely! The neighborhood is safe and good, we could park our car in 20th street without paying anything. You can easily walk in the city from the house. In the evening we met Rufus and Sarah and it was great to talk to them. Unfortunately we didn't see us after that again, we'd love to talk to you guys more! In the morning there we could make us coffee and they prepared fruits and bought bagels for us. Perfect!!! Thank you so much! You are the best hosts on Airbnb we met yet. If we have someday the chance to come philly again, we'd love to stay at your home again! Thanks for the wonderful time in Philadelphia. Best, Anke + Lars
Anke
2016-07-22T00:00:00Z
Rufus and Sarah are great hosts. We felt really welcome immediately. R&S know a lot about the city and love to share it. The room is perfect as is the rest of the house. Last but not least: the pets are great! Thanks a lot!
Coen
2015-10-01T00:00:00Z
I had a great stay at Rufus & Sarah's home when I was in Philadelphia recently for an interview! Their house is beautiful and comfortable - they really made it feel like home for the short time that I was there. I was coming into town for an interview but also to see the city and Rufus printed out a map of the city with specific recommendations on it and was more than happy to talk to me about Philadelphia. They weren't home when I arrived but I was able to let myself in easily and meet their sweet pets. The room was quite large and very comfortable and the bathroom on that floor was completely mine during my stay. I especially appreciated the breakfast that they left for me in the morning. I'd definitely stay with Rufus & Sarah again and recommend staying with them to friends!
Olivia
2015-12-03T00:00:00Z
We had a great time at Rufus&Sarah's home. The house and the room is great, clean, calm and close to the center. We have access to the kitchen too. Rufus and Sarah are very welcoming and very attentive. We spent two great days in Philly. Also, Myrtle, Saddie and Emma are awesome!
Daphné
2016-09-20T00:00:00Z
Type de logement
Chambre privée
---
Type de propriété
Maison
---
Capacité d'accueil
2
---
Chambres
Philadelphie, Pennsylvanie, États-Unis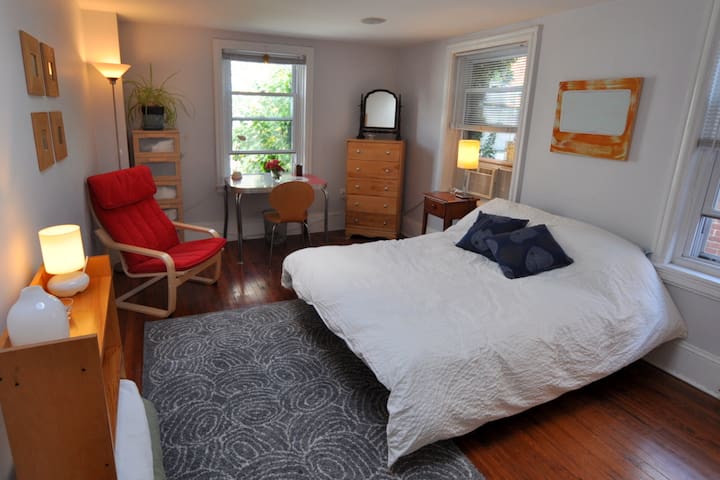 Clean quiet bedroom in extremely convenient part of Center City. Access to all major transportation, restaurants, bars, shops, museums and theaters.
La chambre était exactement telle que décrite, l'appartement très propre, calme et bien situé.
Annick
2015-06-25T00:00:00Z
Je recommande le logement de Stéphanie. Il est bien situé, simple mais suffisant. Stéphanie est très communicative et accessible. Elle a rendu mon séjour facile. L air-co fait un peu de bruit prévoyez des boules-quies.
iolanda
2016-09-03T00:00:00Z
L appartement de Stephanie est très bien situé dans le centre de Philadelphie ce qui est très pratique pour visiter la ville ! Stéphanie est très sympathique et a pris du temps pour présenter les moyens de transports de la ville ou ses divertissements !
Morgane
2015-07-25T00:00:00Z
Mon séjour chez Stephanie s'est passé parfaitement. L'appartement est idéalement situé, dans une rue calme vers le Convention Center, à deux pas du centre historique (Independance Hall) d'un côté et du City Hall de l'autre. L'incontournable "Reading Terminal Market" est à quelques minutes de marche. Stephanie est une personne très agréable avec qui j'ai eu plaisir à discuter. Mon entrée dans les lieux a été grandement facilitée.
Laurent
2016-06-26T00:00:00Z
Stephanie was very hospitable. She met me at the door and gave directions to reach her. The room is exactly like the picture. Nice comfortable bed and nice stay for a single person. The area was very quiet and the room served its purpose for my short stay. I will definitely stay again!
Tammy
2016-09-28T00:00:00Z
Great Host. Perfect for what I wanted. Stephanie was really chill about everything and I felt very welcome :)
Billie
2016-04-23T00:00:00Z
Stephanie was great, always super fast at answering which made my arrival smooth. The room was cute and comfi and Stephanie made everything to make sure I was comfortable even when the lights went out for a couple of minutes in my room.
Vivien
2016-09-29T00:00:00Z
All attempts to contact host previous to trip were in vain. I got hold of her by cell phone at 2:10 pm on the afternoon of my reservation as i entered Philadelphia as a passenger in my brother's car, and asked to go to my reserved room at 3 pm, as advertised. She seemed unhappy to hear from me, and asked if i could come at 4;00 pm instead. So I went with my brother and sister in law to their 5 star hotel and waited in the lobby for an hour and took a cab at the appropriate time to arrive at the airbnb host at 4pm. when I arrived, it was pouring rain, as it had been all that day, windy, and 45 degrees. there was no answer and no one there. repeated phone calls got me no response. so I pushed my luggages the 15 blocks or so in the freezing rain to the Rodeway motel and was able to get a room without a private bath there for $328.38, some $226 more than I thought it was going to cost me to stay 2 days in Philadelphia for a family obligation. I will give her a minus 50 star recomendation, only because my scale does not go to minus 51 stars.
Bart
2015-10-04T00:00:00Z
Type de logement
Chambre privée
---
Type de propriété
Appartement
---
Capacité d'accueil
1
---
Chambres
Philadelphie, Pennsylvanie, États-Unis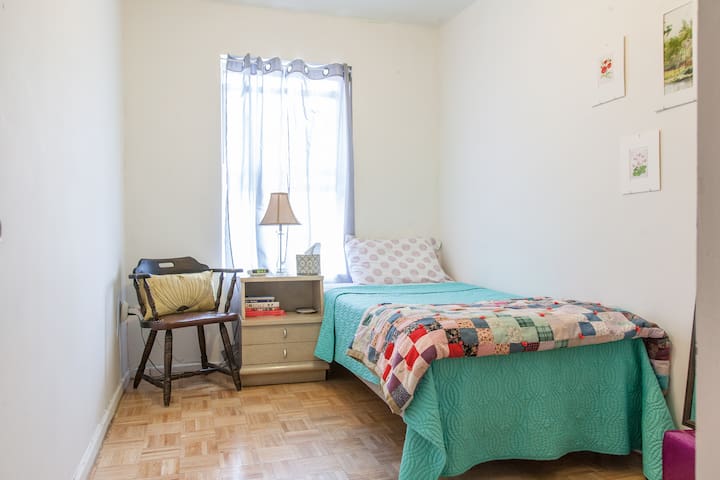 Bright furnished room; private bath, large closet, located in the Hawthorne/Bella Vista Italian Market area conveniently located within 10 minutes to CC & the Broad Street subway, walking distance to South Street, Center City, Avenue of the Arts, Old City, Penn's Landing, Rittenhouse Square & Passyunk Avenue. There is ample (non-permit) street parking. We are close to many amenities, cultural institutions, & restaurants. Note the bed is an antique double so not as roomy as you might be used to.
It's very wonderful place. Interesting and beautiful interior of this apartment, cleanliness and very friendly owners of this house. We stayed on 3st floor and our room was very fine. David said us where we could have dinner, where a different shops, how could go to center of city and what to see. Apartment is in a safe and comfortable district in ~15 minutes from the center on foot. A lot of cafes,restaurants,shops around this house. We have only best feelings and our opinion -it's best place for staying and rest. Thank you very much, David! Моего английского не хватает для описания эмоций. Это идеальное место (на наш взгляд) и благодаря остановке у Дэвида впечатления от Филадельфии получились очень яркими, прекрасными и незабываемыми. Прекрасное место и прекрасные люди:)
Ekaterina
2016-10-23T00:00:00Z
This is an amazing house, every detail in the house is perfect especially the bath room. David and Jerry are the wonderful lanlord, the dog & cats are very qute and my son do love them. From the house , you can easy to get to every where in Philly by walk or bus. The subway is not far away, maybe 10 minates walk can arrive. The supermaket is very close and you can buy anything there.
Chen
2017-01-26T00:00:00Z
Davids home is located just a short walk from the amazing historical sites. It was a perfect location for my trip, beautiful and his hospitality was amazing. You won't regret staying here on your trip to Philly!
Clayton
2017-03-10T00:00:00Z
Great location, you can walk everywhere Room and house beautifully decorated Very pleasant stay!
David
2017-03-19T00:00:00Z
Accogliente, pulito, arredamento di buon gusto. Host veramente gentile e disponibile. Piacevole conversare davanti ad un buon bicchiere di vino. Simpatici gli amici pelosi . Specialmente Penelope. Grazie mille e..... Lo consigliamo vivamente.
Alessandra
2017-02-10T00:00:00Z
David was such an amazing host. He is very friendly and helpful to new visitors to Philadelphia. David had lots of good insights what to do/where to eat from a local's perspective. I would definitely recommend David and his beautiful place to anyone traveling to the great city of Philadelphia.
Teej
2016-11-07T00:00:00Z
David was there to welcome me into his home and show me the accommodations. Everything was as described and David was extremely welcoming. Within walking distance of everywhere I needed to go and no Uber shortage in the area for longer trips. I had a great stay in Philadelphia, the room was comfortable and host amazing.
Brian
2017-01-08T00:00:00Z
David es un anfitrion increible, su casa maravillosa, impecable, cerca de todo, siempre estuvo desde el primer contacto a ayudarnos y colaborarnos en todo lo que necesitaramos, nos recomendo muy buenos lugar, realmente ha sido una experiencia maravillosa, no tengo mas que palabras de agradecimiento para david. El barrio es seguro, con restaurantes y negocios cerca, se puede ir y venir al centro historico caminando tranquilamente. Ojala podamos volver
alejandro
2016-10-20T00:00:00Z
Type de logement
Chambre privée
---
Type de propriété
Maison
---
Capacité d'accueil
2
---
Chambres
Philadelphie, Pennsylvanie, États-Unis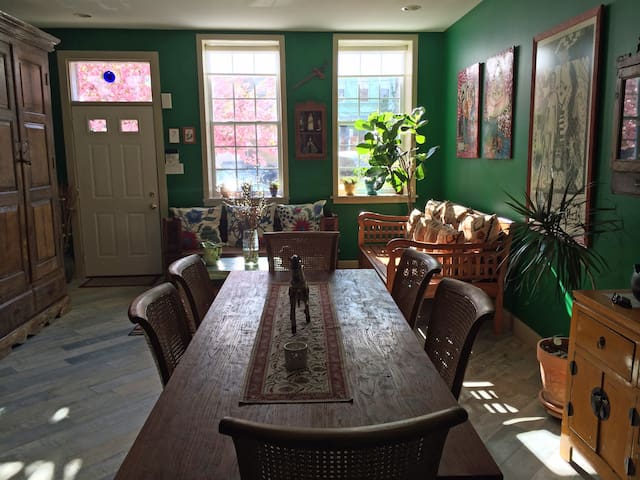 Private entry, patio, & parking. The heart of Center City, Italian Market, & Historic District. A modern trinity home that stretches half a block. 8min-walk to subway & bars, 1min-walk to whole foods, starbucks, restaurants, & shops.
A modern trinity row home in the heart of the city. The apartment is on the street-level connected to a patio area facing famous South street. Please let us know if you have any special requests and we'll do our best to accommodate you.
Kreshnik est adorable, c'etait une rencontré très sympa. La maison est propre et bien équipée. La chambre possède sa propre entrée depuis la rue. Le quartier est très vivant, beaucoup de boutiques et de restaurants pas chers dans le coin. Compter 10 min jusqu'à l'arrêt de metro. Seul bémol, la chambre est mal insonorisée on entend le bruit de la rue, ça peut gêner ceux au sommeil leger.
Morgan
2016-03-11T00:00:00Z
Kreshnik and family were warm hosts to me. They are welcoming and very friendly. Their place is homey, clean, and quiet. Their location is ideally located near grocery shopping and fine restaurants. I would definitely recommend them and their place!
Raymond
2016-10-12T00:00:00Z
The house was nice and the host was very friendly. The only complaint was about their baby who woke us up at 6am on a sunday and then several more times throughout the morning by crying/yelling.
Peter
2017-01-15T00:00:00Z
Our stay at Kreshnik's was perfect. He was always available and provided great locations to eat and hang out within walking distance. The area is about 15 minutes walk to Pat's and Geno's Philly cheesesteaks, a block away from the best lattes (Chapterhouse), another block away from a German style bar with 30 taps (Brauhaus), and a 10 minute walk to The Living Arts where we wound up for a concert. Would definitely suggest to a friend for a 1-2 night weekend getaway!
Steven
2016-03-08T00:00:00Z
This place was awesome. Located on South Street and literally right off the street to everything!! Visare and Keka are great people, very hospitable, and make you feel like you're at home in their home. Can't wait to go back. Definitely will be staying at their place again.
Vicente
2016-09-21T00:00:00Z
Great hosts, very convenient location and the parking spot is a big plus. Will definitely try to book this spot again when I return to Philly.
Aristotle
2016-12-09T00:00:00Z
It was greattttttt!!
Mel
2016-04-13T00:00:00Z
Kreshnik, Visare, and Baby Rron were fantastic! We felt at home as soon as we walked in the door greeted by smiling and welcoming faces! They were entirely open to sharing suggestions for where to explore and they were just generally great to be around at the house! The bedroom was very comfortable and had a private entrance from the street which was easily accessible. We used uber when in a hurry or walked short distances (1-2 miles) to get everywhere we needed to go- the place is conveniently located to many Philadelphia sites. Thank you again for our stay, we would love to visit again!
Lauren
2016-05-01T00:00:00Z
Type de logement
Chambre privée
---
Type de propriété
Appartement
---
Capacité d'accueil
2
---
Chambres
Philadelphie, Pennsylvanie, États-Unis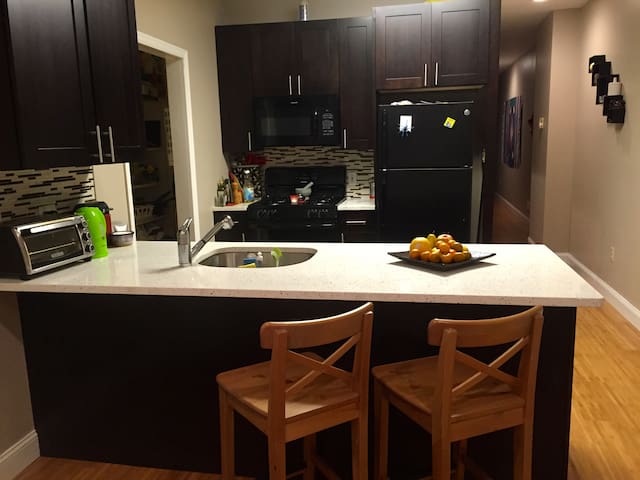 "Sibling Rivalry" : Home base in Francisville / edge of Fairmount: 10-20 min. walk to Art Museum, Convention Center, City Hall, Temple U.; even closer to all of Center City & metro area via nearby subway, bus, trolley, regional rail, bike share. There's still street parking too. Serene, private, design-saavy BnB apt. Full, eat-in kit. & outdoor deck. Twin beds in bdrm of 2 bdrm apt. (for rental of both bdrms -- a pullout double bed in LR to sleep 6!) . I live in building for any help you need.
This condo. apt. is otherwise unoccupied, except for guests staying in 1 of the 2 bedrooms or renting whole apt. So if you are the only guest, for the price of a room, you'll often get the whole apt...
It's a fun neighborhood in transition. Diverse community, but everyone gets along. And pretty much close to every place else.
From the moment I considered booking a room from Michael he was more then helpful to answer any questions I had his responses were quick and very insightful. I would highly recommend renting on of the rooms in his space. The ambience was very bright and comforting the location was fantastic. It was only a 3$ Uber ride into downtown. He was more then happy to answer any and all questions. Thank you so much for the wonderful stay!
Rudy
2016-11-13T00:00:00Z
Michael's really nice. The room is tiny but enough to get good rest. And I love the living room.
Komear
2017-01-01T00:00:00Z
This place was good and comfortable;)
Woojung
2017-01-09T00:00:00Z
Michael is just getting started. But, WOW. He has it together. The apartment looks great and it is really comfortable. He's got it all appointed. And stocked. He was very friendly, welcoming and helpful. It was a really nice place to stay. My friends and I will definitely go back, and we will highly recommend this beautiful apartment.
Erick
2016-11-09T00:00:00Z
Michael was a great host, nice place ,cozy and clean.
Carlos
2016-12-25T00:00:00Z
Type de logement
Chambre privée
---
Type de propriété
Appartement en résidence
---
Capacité d'accueil
2
---
Chambres
Philadelphie, Pennsylvanie, États-Unis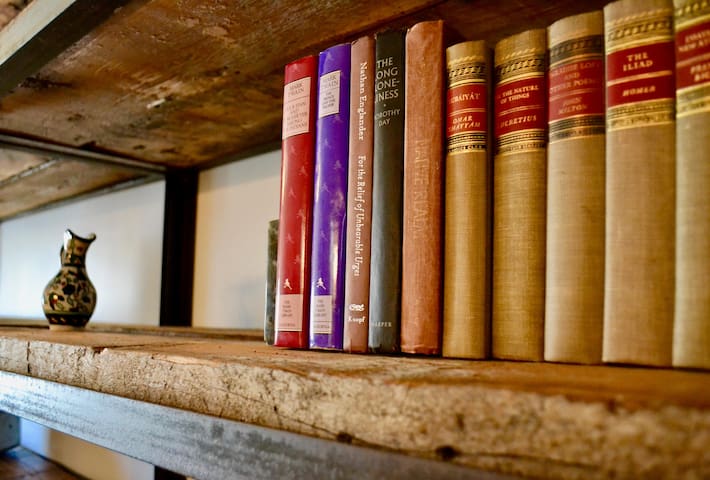 Spacious accommodation, located walking distance to the Rocky steps, 30th Street Station, numerous museums, CHOP/UPenn, and Centre City. Best location to explore the city! Perfect place for the Made in America Concert. Free on street parking (1-2 hour limit), no limit between 6pm-8am. Or there is a public parking garage across the street. We hope you have a 5 star stay :)
Gorgeously renovated large space with lots of natural light, plenty of privacy, and centrally located. Right next to all the great tourist hot spots, the apartment is ideal for seeing the city. We are within a 10 minute walk to the Rocky Steps, Barnes Foundation, Art Museum, Ben Franklin Parkway, Boat House Row, and the Eastern State Penitentiary Tour just to name a few attractions. Not to mention it is an easy walk from 30th Street Station or a quick Uber ride. We are in the perfect area to serve as your home base to maximize your time in the city! Walk Score: 93 "Walker's Paradise" Transit Score: 100 "Rider's Paradise" Bike Score: 95 "Biker's Paradise" The apartment is located a block away from a Bike share Station, on the corner of Winter Street and N21st Street (public bike rental) so it's perfect for renting a bike and riding around the city. We are also a block away from the Schuylkill River Trail (bike/walking path), voted the number one urban path in the U.S, it's perfect for a relaxing run. The whole apartment was just renovated and has brand new kitchen counter tops, backsplash, hardwood floors, custom cabinetry, new refrigerator, and central heat/AC. Our home is perfect for couples, solo travelers, business travelers, and groups up to 6 people. The guest bedroom is very private. It has a comfy queen sized real mattress with Tempur-Pedic foam topper (SUPER comfy!). Not to mention you have your own private bathroom that was just renovated. We provide tea and coffee for guests to help themselves to and an awesome selection of travel brochures to inspire your trip. If you're here for business the room has a desk to work at, great wifi, and an iron and ironing board to get your business outfit all ready. If you are looking to accommodate more than two guests, we are more than happy to set up a queen size air mattress in the living room area right outside the guest bedroom for two people to sleep on. In the living room we also have a futon (with a memory foam mattress topper) that sleeps two. All together we can host up to six people. Please note, the futon and air mattress are reserved for parties of 3 are more.
Safe area located close to many of Philly's most popular site seeing attractions. We are in the heart of the museum district and close to the Franklin Institute, Barnes Foundation, Philadelphia Museum of Art, and the Mütter Museum just to name a few. Our neighborhood also offers great coffee shops, restaurants, Cherry Street Tavern, and more. We love living in this area! See our favourite site seeing attractions in our guidebook recommendation section.
La chambre et la salle de bain privée sont très belles et propres. Nous n'y sommes restés qu'une nuit mais nous n'avons rien regretté. Et l'appartement est bien situé à proximité de la gare "30th station", le trajet à pieds même avec des valises se fait facilement. À pieds, nous avons également pu faire le Franklin Parkway, le City Hall, et même aller jusqu'au Independance Wall et Liberty Bell. Un conseil pensez juste au parapluie, même s'il fait plein soleil et 30° le matin, cela ne veut pas dire que ça va rester ! (Nous nous sommes fait surprendre par la pluie en fin d'après-midi.) En bref appartement très agréable que nous conseillons car idéal pour visiter Philadelphie. Rita et Christie sont très accueillantes et même si elles travaillent, elles peuvent vous répondre très facilement par message pour vous aider ou vous guider.
Sarah
2016-06-08T00:00:00Z
Le logement est idéalement situé à deux pas de la gare (bus et train), des musées et du centre de Philadelphie. Le quartier est calme. Les nuits sont donc paisibles. Des magasins se trouvent à proximité du logement et permettent de préparer un petit déjeuner (café et thé fournis). La chambre et la salle de bains sont conformes à la description et aux photos. Literie très confortable. Un excellent rapport qualité prix à Philadelphie. Des hôtes charmantes et discrètes.
Véro
2016-09-25T00:00:00Z
Appartement propre, mignon et confortable, proche des parks et musées, Rc sont sociables et attentionnées. une excellente expérience ! Clean, cute and comfy appartment, excellent location surrounded by parks and museums. social and attentive host. great philadelphia/airbnb experience !
antonin
2016-06-04T00:00:00Z
Nous avons passe un excellent sejour chez Rita et Christie, Ils sont extremement gentil et plein d attention. L appartement est vraiment bien situe, a proximite immediate de la gare et du musee d art. Nous reviendrons avec grande joie. Bruno et Pauline
Bruno
2016-10-01T00:00:00Z
We had a very nice stay with Rc! The communication was good. We could drop of our bags early in the morning so we could explore the city lugage free! The space is private and clean. And in walking distance to the train station en the city! We would really recommend staying with Rc!!
linda
2016-08-30T00:00:00Z
It was great staying there for 2 days. They were so polite and nice!!
Daniel
2016-03-25T00:00:00Z
We had a wonderful time and loved how close the apartment was to everything Philadelphia had to offer!
Alex
2016-08-05T00:00:00Z
Great space and very welcoming hosts! Would highly recommend for anyone staying in the area.
Andrew
2016-04-03T00:00:00Z
Type de logement
Chambre privée
---
Type de propriété
Appartement
---
Capacité d'accueil
6
---
Chambres
Philadelphie, Pennsylvanie, États-Unis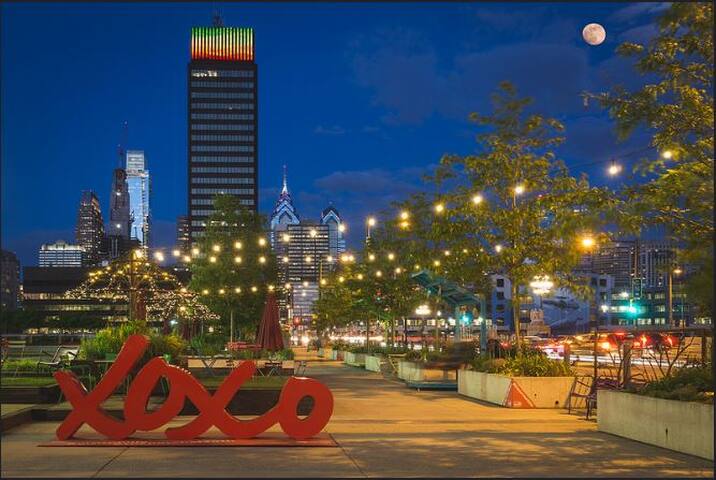 A beautiful private room & bathroom in a luxurious apartment, within the walking distance from UPenn, and USMLE exam center, & close to many bars, restaurants and Cine mark. The apartment is a great place if you wanna take USMLE exam. It's excellent for couples, solo adventures & business ppl.
A furnished, very clean and modern room with a walking in closet, TV set in room, study desk, etc. Private bathroom & shower next to the room. A bright, beautiful living space, a large TV set & a sofa. A fully-equipped kitchen with washing machine & dryer.
One of the safest neighborhood in Philly, like 15 min walk to UPenn, close to plenty of restaurants and bars in Spruce & Walnut street.
Ali and Sahar were incredibly kind and welcoming hosts, I would stay with them again. The location really is great if you are visiting UPenn. It was just about a 10 minute walk to the school of nursing.
Ashton
2016-12-13T00:00:00Z
Both Sahar and Ali were very welcoming and pleasant. I was in a bit of a rush while there, but they made everything easy. The place is as advertised, incredibly convenient and in a perfect neighborhood.
Jared
2016-11-29T00:00:00Z
Ali & Sahar are wonderful hosts! The space is beautiful and comfortable. I'll be staying here every time I come back to Philly. Thank you, both!
Cory
2016-09-11T00:00:00Z
Both Ali and Sahar were super helpful and welcoming, with great communication and very respectful of privacy. Would highly recommend anyone to stay there!
Lucyanne
2016-12-04T00:00:00Z
Very nice and friendly host and clean bathroom.
Qiong
2016-11-03T00:00:00Z
Cool apartment in great location. Short walk from USLME testing location. Hosts were friendly and helpful in answering all of my questions about the surrounding area. Off street parking was also a nice feature.
Carl
2016-09-27T00:00:00Z
This listing is located a short walk from the UPenn medical campus in university city. Everything was extremely clean and comfortable. The bedroom is just down the hall from the living room with the bathroom just next to it. Logistics getting in and out of the apartment were very easy, and parking is available in the lot attached to the building. Highly recommend this listing, especially if you need to get back and forth from the Penn campus for USMLE or interviews!
Emily
2016-12-06T00:00:00Z
Ali & Sahar are very friendly hosts and their place is awesome. It's clean, spacious, and has great taste. The room is private, the bed is comfortable, and it came with clean sheets, towels and a complimentary water bottle. The bathroom is beautiful. I had a great stay and would definitely book again.
Tomás
2016-10-20T00:00:00Z
Type de logement
Chambre privée
---
Type de propriété
Appartement
---
Capacité d'accueil
2
---
Chambres
Philadelphie, Pennsylvanie, États-Unis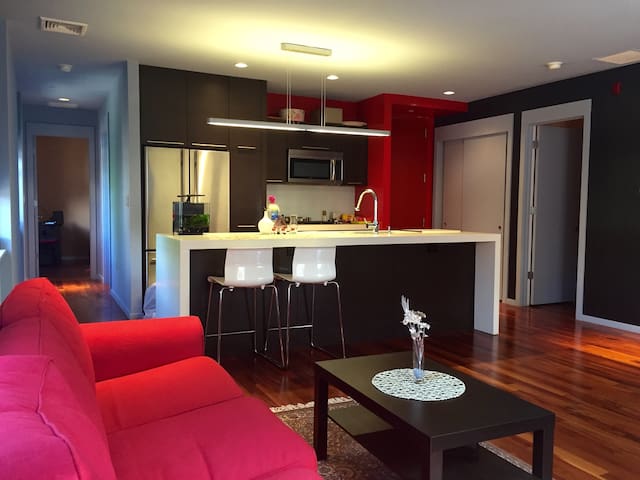 This is a clean, simple, and budget private room with a private bathroom and shower. Room is located in basement of a 4 story apartment complex, gated entry that is separate from apartment tenants. Comes with fresh linens & full size bed and complimentary tea and chocolates. There's also access to coin-op washer and drier, and free WiFi.
This is an up and coming neighborhood. There are 2 bars down the street and eateries within a 10 minute walk along the Spring Garden area. We are down the street from the Philadelphia Mausoleum of Contemporary Art and a 5 min walk away from Union Transfer. We are also a 10 min walk away from Chinatown and a 5 min walk from the nearest Septa Subway Station. Let us know if you have any questions!
Marcus and Jing are great hosts! They replied to my emails instantly and immediately resolved an issue that arose with wifi. Overall the description is accurate - this is a clean and simple room. Bed was very comfortable and warm bedding was provided. However, bring extra clothes as the room does get very cold over night and the little stand alone heater doesn't quite heat up the whole room. The bathroom was small but functional. Marcus and Jing were also kind enough to provide a kettle, tea and water which was a nice surprise. the check in process was easy and overall I was very pleased with my stay. Thanks guys!
Jessica
2017-04-09T00:00:00Z
Great if you're looking for a private room and bathroom. Great location on the outside of CC.
Bianca
2017-03-04T00:00:00Z
Good location if you're planning a short trip and you plan to take public transit or a taxi(uber/lyft). Parking was a nightmare.
Wentrelle
2017-03-26T00:00:00Z
Everything was perfect. The room is cozy and it has everything one needs. Would definitely stay here again.
Mario
2017-03-19T00:00:00Z
Marcus and Jing's private room is a great affordable place to stop over in Philly. I was surprised with the little touches they left - tea making facilities, shampoo, conditioner, shower gel and slippers. The private en suite bathroom was a great bonus for the price. The room was clean and although simple, wifi was fast and the bed was comfortable - what more could you ask for at this price?! :-) This particular room was a basement room which was no issue for us as we only stayed for a quick one night stopover. A small fan heater is available but given the heatwave when we stayed, we found the cooler temperature great! The area was quiet, about 15 minutes walk away from a busy thoroughfare but with some good hidden gems to eat and drink nearby. Thanks again!
Becky
2017-04-11T00:00:00Z
The room was small but had everything we needed. The private bathroom was a huge plus :) on one of our days philly got hit by a snow storm which made the temperatures drop that the heating in the room couldn't cover it all. Marcus and Jing were very helpful with answering questions especially when it came to parking.
Lea
2017-03-15T00:00:00Z
This Air Bnb is wonderful, we spent one night there and we loved it. You can walk to every place everything is close. There is some restaurants around 5/10 min walk where you can eat. The place is quiet and Marcus and Jing were really nice with us and helpful. I highly recommend this air bnb! Thank you again guys it was awsome!
Claudia
2017-03-10T00:00:00Z
Marcus and Jing are awesome host. They are great at communicating with you and answering questions. The room is perfect for a short stay. The neighborhood is "up and coming", where some streets have new buildings and others look more rundown, but perfect for getting to the convention center and city hall.
Janice
2017-04-02T00:00:00Z
Type de logement
Chambre privée
---
Type de propriété
Appartement
---
Capacité d'accueil
2
---
Chambres
Philadelphie, Pennsylvanie, États-Unis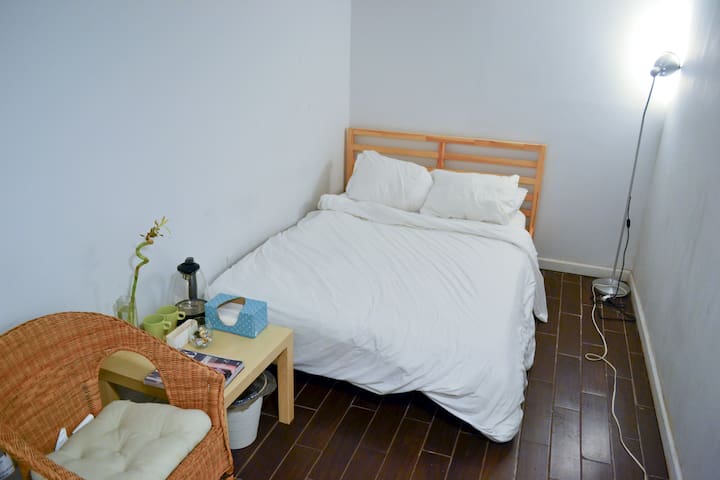 My place is close to restaurants and dining, public transport, and nightlife. You'll love my place because of the high ceilings, the ambiance.
Michael a été un hôte charmant,agréable. Philadelphie est une ville avec beaucoup de charme. l'attrait du quartier fait plutôt banlieue parisienne
Antoine
2016-10-27T00:00:00Z
Nice host and a nice room. As far as the neighborhood, what are you going to do, it's the U.S. But I walked to/from a restaurant several blocks away between 11 PM and after midnight, and wasn't the least bit nervous.
James
2016-07-02T00:00:00Z
It's really a tidy nice room and Michael is a really nice man too. It's close to the subway station make it convenient to go everywhere. Highly recommend if you want to pay a visit here and don't want to spend too much money on living
逍扬
2016-11-25T00:00:00Z
Great value. Michael was very nice and helpful. Not the best neighborhood, but a relatively short walk away from one.
Spencer
2016-10-23T00:00:00Z
Michael is a good host. However, I didn't like the place owing to its neighborhood which can be really unsettling for a visitor. The place is kind of old and the bed creaks a lot!!!
Kiran
2016-12-19T00:00:00Z
Love staying here! The process is right, and the antique claw foot bathtub is my favorite thing in the world right now!
Jana
2016-10-17T00:00:00Z
I loved staying in Somerset! The neighborhood isn't that bad. I walked by myself at night with no problems. Michael was awesome and welcoming. Cute cozy place.
Danielle
2016-09-13T00:00:00Z
I only needed a bed to crash on for a few hours, so the stay was very brief, but it was simple, easy, and the price was great. Neighborhood looks a bit sketchy in the dark, not too bad in the daylight. Didn't actually cross paths with and meet Michael, but he gave great check-in instructions (as to keys, where stuff was, etc) in the event (which was the case) that he wasn't there when I arrived. Only negative was that it was a bit chilly, but that's just the nature of an older house, so to be expected and no big deal.
Natalie
2017-03-25T00:00:00Z
Type de logement
Chambre privée
---
Type de propriété
Maison
---
Capacité d'accueil
1
---
Chambres
Philadelphie, Pennsylvanie, États-Unis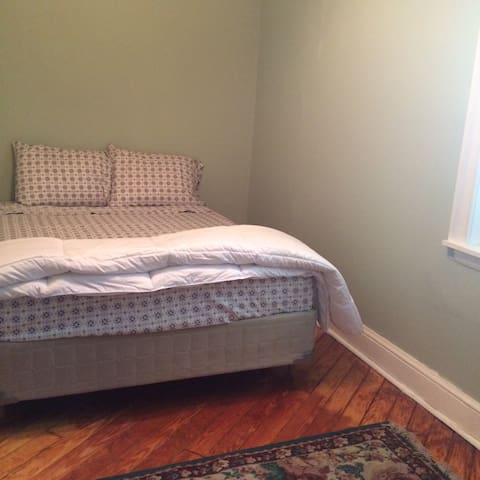 My place is a cozy one bedroom apartment on the second floor of a brownstone convenient to many of Philly's best attractions. It is within walking distance to museums and restaurants in Center City, South Street, Old City, Chinatown and the Convention Center. Also convenient to Jefferson and Pennsylvania Hospital Great for anyone looking to explore Philly from a central location in a quiet neighborhood.
Cozy 1 bed, 1 bath apartment with full kitchen and private deck. Walking distance to many of the best museums, restaurants and attractions Philly has to offer.
Type de logement
Logement entier
---
Type de propriété
Appartement
---
Capacité d'accueil
2
---
Chambres
Philadelphie, Pennsylvanie, États-Unis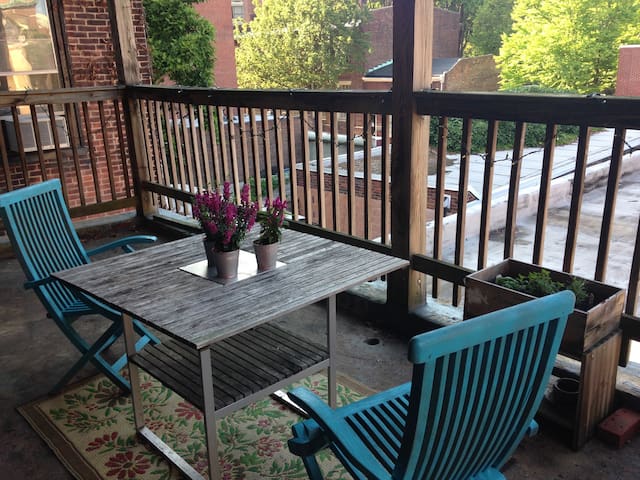 3-story brick rowhouse - I live on the 3rd floor, guest room on the 2nd. Full bathroom on the second floor, with washer and dryer. Living room, kitchen, and back deck are all available to guests! Close to UPenn and Drexel campuses, 30th St Station and the Megabus hub. Center City is a 25-min walk, the Parkway art museums are even closer; the subway and trolley lines are only a few blocks away. Parking across the street is free overnight and ~$10 per day. Couples, families, furry friends welcome!
Helen est très gentille et accueillante. La maison et la chambre était bien notre séjour à était très agréable. Merci pour le séjour!
Ccile
2016-10-28T00:00:00Z
jolie maison, bien décorée, quartier agréable, près de la gare (15 mn à pied) et des musées
Evelyne
2016-10-24T00:00:00Z
Accueil très chaleureux de la part d'Helen et de ses colocataires, rien à dire tout était très bien. Jolie maison dans un lieu très calme et sympathique. Dommage que nous n'ayons pas pu rester plus longtemps.
adrien
2016-09-17T00:00:00Z
Nous sommes restés une nuit chez Helen! Tout est conforme aux photos. La chambre était impeccable, propre et nette pour notre arrivée. La salle de bain est dans son jus mais à notre disposition. Le quartier est un quartier résidentiel étudiant : aucun soucis à s'y déplacer de nuit. D'autant plus que la maison est à 10 min à pieds de 30th st station et du départ du Megabus! Ideal pour enchaîner Philly et Washington comme nous l'avons fait! Helen parle français et fait partie des plus adorables hôtes que nous avons rencontré ! Nous reviendrons sans hésiter chez elle si nous devions revenir à Philadelphie pour un plus long séjour. Nous recommandons!!!
Katia
2017-03-22T00:00:00Z
Good location. Not so clean. Helen is a nice but always delay in response.
jinyu
2017-03-04T00:00:00Z
Helen was a great host, she was really nice and helpful and she answered all our question about the city and the house. The room is big and the bed is very comfortable. Location is perfect, not far from the station, in a university area, but it was quiet at night. I will defiantly go back to Helen´s room.
iraide
2016-10-19T00:00:00Z
Helen was a perfect host. She has answered every question about the city we had, recommended a great pub in the city centre and allowed us to leave our bags in the room the last day, so we could go sightseeing without it. The location is excellent it takes less than ten minutes to get to megabus station or to Art Museum and the city centre can be comfortably reached by walking. I would definitely recommend this place and will book it if I am in Philadelphia ever again.
Petr
2016-11-22T00:00:00Z
Super nette Gastgeberin! Urige Unterkunft, total zentral mitten im Univiertel und zur City nur einige Minuten.
Arne
2016-11-04T00:00:00Z
Type de logement
Chambre privée
---
Type de propriété
Maison
---
Capacité d'accueil
2
---
Chambres
Philadelphie, Pennsylvanie, États-Unis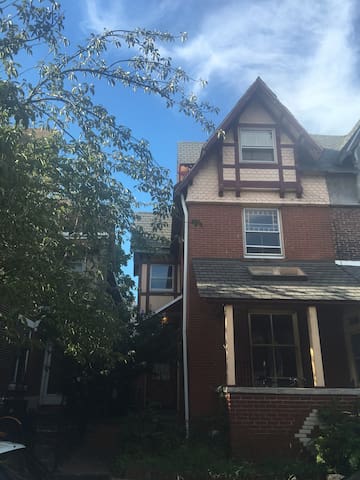 One bedroom apartment in Rittenhouse Square. Lots of light, spacious bathroom, ample living room space to hang out. Perfect location to explore Center City. Only 5 minute walk to public transit.
Erin was extremely nice , communication was very professional. The house is big clean and has everything you need . The house is in the middle of downtown but also quite . Highly recommend
Maher
2017-04-02T00:00:00Z
Type de logement
Logement entier
---
Type de propriété
Appartement
---
Capacité d'accueil
3
---
Chambres
Philadelphie, Pennsylvanie, États-Unis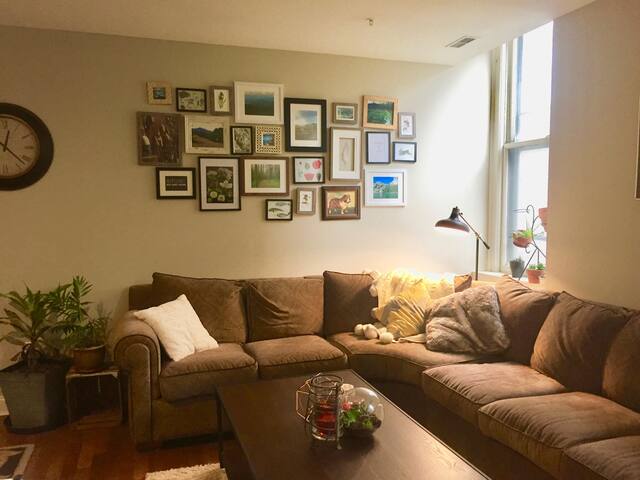 1

–

18

sur

300+ locations
Saisissez les dates souhaitées pour connaître le prix total. Des frais supplémentaires s'appliquent et des taxes peuvent être ajoutées.