This is a ver y chilled spot where you can just relax and enjoy all the beaches around, is perfect for families, is private and there is flexibility on accommodations, depending on your own needs. I will be very glad to help you and recommend some of the best spots around, and will be always around in case you need anything, as well as the help.
Type de logement
Chambre privée
---
Type de propriété
Maison
---
Capacité d'accueil
4
---
Chambres
Puerto Carrillo, Guanacaste Province, Costa Rica
Grand condo sur 2 étages,3 chambres, 3 salles de bain , cuisine très bien équipée,terrasse couverte avec moustiquaire. Gym et 2 piscines sur le site, à 5 minutes à pieds de la belle plage de Playa del Coco, tout près des épiceries et restaurants.
Grand condo de 1600 pieds carrés 3 chambres à coucher au deuxième étages, très grande chambres des maîtres, lit king avec walking et salle de bain privée. Cuisine très bien équipée. Terrasse couverte avec moustiquaire à l'abri des moustiques! Site très sécuritaire, gardien sur place, deux piscines, un jacuzzi et un gym privé, sont à votre disposition pour un séjour inoubliable! À 5 minutes à pieds de la belle plage de Playa del Coco et à 15 minutes à pieds du village de Coco ou se trouve nombres d'épiceries et restaurants!
Plusieurs restaurants, belle plage et soleil garantie!
Great place, would recommend. The host would respond within minutes to our questions and would fix any issues that would arise within a day or two. The condo is well equipped with all you would need to prepare a meal. The bonus was the screen porch (appox. 6x10) in the back of the unit; we saw many birds and other wildlife)
Josee
2017-03-01T00:00:00Z
Type de logement
Logement entier
---
Type de propriété
Maison
---
Capacité d'accueil
6
---
Chambres
Playa Del Coco, Costa Rica, Costa Rica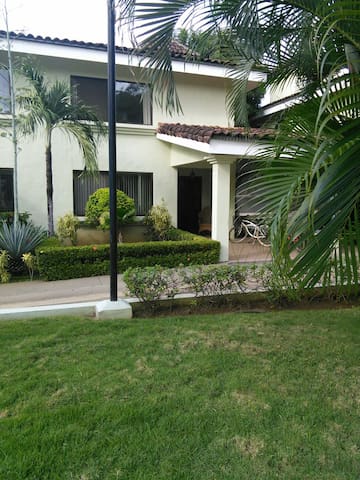 Amazing minimalist front beach house. It has 2 bedrooms with queen size bed and a sofa-bedeach. Living room, kitchen and a deck with an incredible view! Completely open with very good illumination! 2 shower bathroom and the best sunsets (check the pics) High season rates change
Location at the most private area in Playas Del Coco. Incredible sunsets view from the deck.
Very nice home in the nicest and most private area of El Coco. Highly recommended.
Jorge
2016-09-11T00:00:00Z
The host canceled this reservation 55 days before arrival. This is an automated posting.
Mike
2016-10-25T00:00:00Z
The beach and house were great! Having come from a cold northern climate we particularly loved the open air design of the house.
Beverly
2017-03-12T00:00:00Z
Excelente ubicación frente a la playa. La playa más linda del coco. Súper recomendado !!!
Ignacio
2017-01-02T00:00:00Z
Lovely place, shared our backyard with iguanas and parrots!
Tori
2017-01-21T00:00:00Z
A comfortable house in a beautiful location. The sunsets are amazing and the beach is great for walking and swimming. Emilio and his staff took care of everything we needed and went beyond to help us while we were there.
Kelly
2017-02-27T00:00:00Z
Type de logement
Logement entier
---
Type de propriété
Maison
---
Capacité d'accueil
6
---
Chambres
El Coco, Guanacaste, Costa Rica
Vous cherchez un endroit idéal pour échapper en famille ou entre amis? Rêves Tropical maison à Playas del Coco est votre destination. La spacieuse terrasse découverte est confortable et parfait pour les bains de soleil sur le temps de la journée et le ciel en regardant sur le temps de la nuit. Famille peut avoir un barbecue et des amis peut tenir partie sur son mini-bar.
Vous pouvez profiter d'un moment de calme écouter différents sons d'animaux ou de plaisir à regarder en famille le soleil qui descend du ciel. La piscine est immense et très relaxant! Situé à seulement 6 minutes à pied des commodités et 9 minutes à pied de la plage. Cette maison est idéale pour les couples, les familles avec enfants et amis qui voyagent ensemble. Bonnes vacances
Type de logement
Logement entier
---
Type de propriété
Maison
---
Capacité d'accueil
4
---
Chambres
Coco, Guanacaste Province, Costa Rica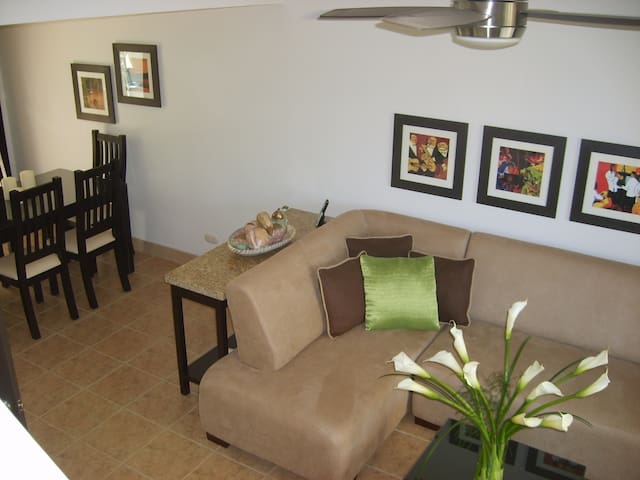 Le BEACH HOUSE PRIVÉE, confortable, propre, et ont tout ce qu'il faut pour être confortable pour un bon prix, s'il vous plaît vérifier les règles faciles et vérifier les images avant de la réservation, tous les informations disponibles et claire, et venez profiter notre MAISON ET VOTRE MAISON.
The Beach House est très confortable Situé à seulement 7 minutes à pied côté soit de la plage. Vous obtenez en ville vers le bas. Vous allez vivre simple et confortable pour un bon prix, Le supermarché local est à seulement 5 minutes à pied. Ocotal plage est très proche de la maison, à seulement 7 minutes avec la voiture, ou 45 minutes à pied, est très agréable de marcher pour se rendre à Ocotal Beach, parce est une belle façon, vous souffle Le pur Air des arbres et des fleurs autour, et Vous pouvez voir comment les gens vivent Costariciens et profiter du live, parce que toutes les maisons locales et les petits supermarchés sont sur le chemin de Ocotal Beach. Quand vous êtes dans la Ocotal Beach Vous allez profiter de l'eau de cristalin et la privacité pffer cette plage. Aussi, vous allez trouver Le restaurant sur la plage, PÈRE COQ, VOUS MIEUX regarder les photos, j'ai toutes les informations que vous devez savoir sur les photos que je poste, merci beaucoup, ma maison est votre maison et j'espère que vous soyez heureux et profiter de vos vacances att Kari :)
L'endroit ressemble à une forêt dans la plage.
Muy buena ubicación, la anfitriona muy atenta!
Fabian
2017-01-02T00:00:00Z
A great stay for value and Costa Rican experience plus a fantastic host , Karen looks after you very well.
Phil
2017-03-08T00:00:00Z
Karen was a great host. She was very helpful with information about the area. She also cooked us breakfast and offered to make us other meals. She even gave us a ride across town. This is a typical Costa Rican beach house that will give you the true experience on how the locals live. There are no fancy extras like a television (but who wants to watch tv while visiting this tropical paradise???) or ac. There are ants but this is to be expected as you are practically right on the sand. Karen makes her best effort to keep the ants out by sweeping and applying pesticide. If you are looking for a cheep place to lay your head and don't need any luxuries then this is your place.
Michael
2017-03-26T00:00:00Z
The host canceled this reservation 40 days before arrival. This is an automated posting.
Alex
2017-03-25T00:00:00Z
Type de logement
Logement entier
---
Type de propriété
Maison
---
Capacité d'accueil
2
---
Chambres
Guanacaste, Provincia de Guanacaste, Costa Rica
Belle maison à Playas del Coco, dans le centre de la ville, à proximité de la plage et des commerces
Endroit calme avec grande cour
Le quartier est sûr et vous pouvez barbouillages épiceries, des bars et des magasins très proches de la maison
Great place, good value, lots of space. It is a 5 minute walk to the beach. Quiet neighbours, would recommend to anyone.
Farhan
2017-03-08T00:00:00Z
Good location close to everything, it would work for a larger group, well equipped. Good for a few days at the beach.
Tiziana
2016-11-02T00:00:00Z
Great big house, great location from town and beach! Definitely a safe neighborhood. And the owner was very prompt to reply to us if we needed anything!
Daphnie
2016-12-13T00:00:00Z
We loved the house, it exceeded our expectations: The location is great, close to Coco center with shops and restaurants and to the beach. We rented bikes, though, as walking would have taken us a bit longer and we needed to get around quickly. It has an absolutely beautiful garden, which is very private. We could observe iguanas, birds, and squirrels in the yard. Awesome! The house is very spacious with many beds and seating options. Additionally, the kitchen was well equipped. However, the cleanliness was lacking and you should bring your own toilette paper.
Janez
2017-03-31T00:00:00Z
El lugar y el servicio brindado fue excelente. Recomiendo este gran espacio las las 3 b. Bueno, bonito y barato
Francisco
2016-10-10T00:00:00Z
Type de logement
Logement entier
---
Type de propriété
Maison
---
Capacité d'accueil
6
---
Chambres
Coco, Guanacaste, Costa Rica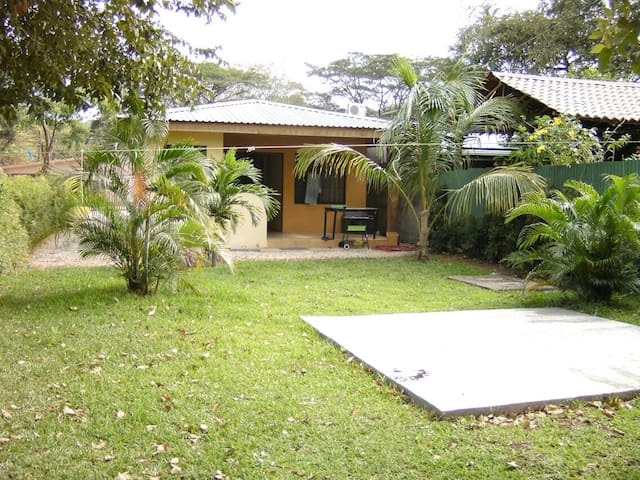 Ce BEAUTIFULLY CUSTOM-MEUBLE 3-Story Villa se trouve à seulement quelques minutes de la plage et du centre-ville de Playas del Coco. Seulement 25 minutes de l'aéroport international de Liberia (LIR). Une vue imprenable depuis votre terrasse privée et une terrasse avec toutes les commodités de la maison.
Cette Villa BEAUTIFULLY CUSTOM-MEUBLE est idéal pour les séjours courts et longs ... Extrêmement élégantes, spacieuses et propres. Cette villa peut accueillir jusqu'à 7 personnes confortablement. 2 chambres joliment décorées, dotées d'un balcon privé walk-out, lits queen-size et placards. Cuisine entièrement fonctionnelle avec de nombreuses améliorations !! Comprend des comptoirs en granit, appareils électroménagers en acier inoxydable (réfrigérateur, cuisinière électrique, four, micro-ondes), expresso et machines à café, grille-pain, mixeur, ustensiles, assiettes, verres, tasses, casseroles, poêles, et le garde-manger. Prenez plaisir à manger dans votre propre salle à manger, bar, au premier étage terrasse privée et grand (avec table de jardin, chaises et barbecue privé), ou d'une terrasse privée et grand troisième niveau (avec table de jardin, chaises, canapé-coin, et évier) zones. VUES À COUPER LE SOUFFLE!!!!! Cette villa dispose d'une salle de bonus intégré à l'arrière (entièrement clos) avec laveuse / sécheuse, douche, et la vanité. Custom-construit, pull-out queen-size, un canapé (peut accueillir 3 adultes confortablement). 5 A unités / C et les ventilateurs de plafond. Grande télévision à écran plat avec le câble. Internet gratuit et Wi-Fi. Beaucoup de serviettes, draps, oreillers, cintres, papier hygiénique, des serviettes en papier, les détergents et produits de nettoyage sont fournis à Villa. * S'il vous plaît noter que ceci est belle Costa Rica, avec un rythme très détendu. De temps en temps, des cas peuvent se produire hors du contrôle du propriétaire (de retard dans Internet, une humidité élevée, un terrain montagneux, les oiseaux bruyants, momentanée panne d'alimentation / eau, etc.), mais ceci est le Costa Rica. Comme les gens du pays disent, "Pura Vida!" S'il vous plaît propriétaire email si vous avez des questions ou des préoccupations.
Playa del Coco est un ancien village de pêcheurs de 100 ans qui a transformé en une destination de vacances recherché. Coco Beach est un coffre-fort, plage propre avec de fantastiques restaurants de fruits de mer, des boutiques de souvenirs pittoresques, les marchés alimentaires et des fruits locaux, boîtes de nuit de divertissement, bateau et des excursions de pêche, des cascades à proximité, des sources chaudes, et des visites sur le volcan. Profitez de cette expérience vraiment incroyable par des singes voyant, les poissons, les iguanes, des lézards, des pélicans, et beaucoup d'autres formes de la faune.
What a lovely place! All amenities, washer, dryer, comfortable living room, nicely decorated, cable tv, WiFi free of charge and 2 separate double bedrooms. And from the rooftop terrace you have a lovely view over the bay. Most people we met in the complex were in their sixties/seventies but also couples with young children. We have to point out this place has one of the BEST views over Playas del Coco. There are 6 pools to take a swim so never a dull moment. Pura vida living! We stayed here for 1 week with our son, age 11 and he loved it too! Supermarket is only 5 minutes away even though there are some stairs to take. No problem for us. You can rent a car or a golf cart if you don't like to walk. But please make a reservation in advance. Playas del Coco is a mix of luxury housing but in the beach area you will find the real Tica life. There are some nice beach side bars, we loved La Vida Loca. Downtown we like to recommend the Papagayo seafood restaurant or just buy a coconut drink from of the vendors out of his car boot. For 2 $ one-way a taxi will get you there. Otherwise, down at the beach it is a 10 minute lovely walk along the shore to get to the lively centre of downtown. You will see the fishing boats moured, and see the pelicans diving for their bait. Also, there are some touroperators offering diverse tours around Costa Rica. We took a tour with Sibu to Playa Tamarindo, Flamingo and Conchal. Make sure you bargain about the price! Don't forget to bring the boogie boards which are available from the villa. Transport to and from the airport (Liberia) can be done by public bus but it is easier to arrange a taxi. All in all we just relaxed at this wonderful, authentic beach resort and would recommend it to anyone.
Pieter
2016-02-11T00:00:00Z
We are 2 female friends in our upper 50's and LOVED this place! The always visible onsite security was really appreciated and never for one moment did we feel insecure. The pools directly behind this condo were really wonderful when needing a down day. We did rent a car for our 7 night stay which made trips to other beaches, dining and shopping a breeze. The best part of every fun filled day, however, was returning to Vincent's lovely condo for a cocktail and a breathtaking sunset. As already stated by others, Vincent could not have been a more helpful and accessible host. Highly recommend!
Nina
2016-03-24T00:00:00Z
We had an amazing time in Vincents apartment in Playas del Coco. Vincent is a great host and offered some really good advise on places to eat and what to do. When we arrived we also got a nice bottle of whitewine that we could enjoy in his great apartment. In playas del Coco everything is within walking distance and it is also a great starting point for visiting beaches around. Playa Conchal and Ocotal are great places if you want to do some snorkeling. We had a fantastic week in this very well equiped and beautiful apartment and would highly recomend vincent as a host. We felt really at home and will not doubt booking here again if we go back to costa Rica.
Erlend
2016-01-18T00:00:00Z
Vincent was a great host and very easy to communicate with. From the moment I booked his villa for my 8 night stay he was more than helpful. The villa was exactly as the photos in the listing show plus more. Great location...very close to surrounding restaurants and beaches, I would highly recommend renting a car or scooter so you can easily visit all the beautiful nearby beaches and resorts. Great place and great host...highly recommend staying here.
andrew
2016-03-08T00:00:00Z
We had a great time as a family vacationing at this Costa Rican getaway. Whenever we had a need we contacted our host & little glitches were quickly remedied. We loved the patios on both the rooftop & main floors. Pura Visa! Thank you.
Carol
2016-02-28T00:00:00Z
My husband and I loved Vincent's condo. We had a great time in Playa del Coco. The pictures on the site are what drew us to the condo. The place was clean, well decorated, Vincent replied promptly to any questions we had and checked in on us to see if we needed anything. We would highly recommend staying here. Short walk to the beach. Great view from both outdoor patios.
Liz
2016-02-02T00:00:00Z
WOW. What an amazing experience. My father and I just had the most wonderful stay in this villa. The place surpassed our expectations. It was really beautiful, super clean, with plenty of space, newly renovated decor and the most incredible view of the ocean (we could hear it from our 2 giant balconies) and sunsets. This condo complex is quite high end and we felt like we had the "crème de la crème" as we say in French (beautiful flowers, 5 pools). There are discreet guards on the property and in the surrounding areas so you always feel safe. Vince the owner was a great "virtual" host, answering all our questions in a timely and super professional (and friendly!) manner. His manager Barb (a fellow Canadian) was so warm and welcoming and made this trip so much richer by sharing her time and knowledge of the area with us. We are so grateful for this experience and having had the good fortune of staying at this villa. We highly recommend it. I even shared my travel logs on my (EMAIL HIDDEN) (check out the Travel section)
Geneviève
2015-02-23T00:00:00Z
Wonderful property. Well equipped . Great view from rooftop balcony. Cable TV made it easy to chill at home on a rainy day. The few minor items that raised an eyebrow were the front doors (double sliding glass) would only lock from the outside. There was security on site, which made me feel a little better. Also the fridge had quite a few items in it which we moved to the bottom 2 drawers and to one shelf on the door to accommodate our groceries. Other than that everything was smooth and easy. Flawless transition w/ the property manager. Did our best to leave it just as we found it. I would definitely recommend this property to future guests.
john
2016-07-22T00:00:00Z
Type de logement
Logement entier
---
Type de propriété
Maison
---
Capacité d'accueil
7
---
Chambres
Playa del Coco, Guanacaste, Costa Rica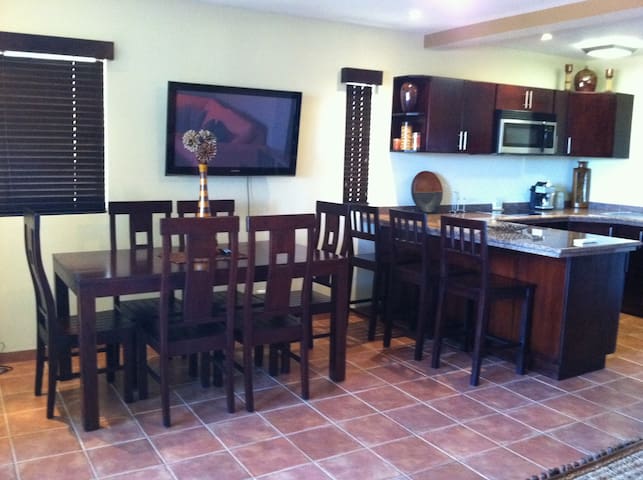 Nous vous accueillons dans notre maison située juste à côté du centre de Playas del Coco et pourtant entouré par la nature. Nous vous proposons une chambre confortable dans une ambiance familiale où vous serez en mesure de se détendre sous l'arbre de mangue après votre journée de plaisir dans Coco!
Notre maison est une maison typique en bois situé sur un morceau de terre où nous vivons avec notre chien, une famille de canards et les singes hurleurs suspendus dans les branches. La façon dont il est construit, la brise circule toujours à travers la maison et garde sa fraîcheur malgré le soleil Guanacaste. De cette façon, votre chambre est toujours cool. La chambre dispose d'un lit double et un lit superposé qui est le double sur le fond et unique sur le dessus. Très humblement, votre hôte est également un excellent cuisinier! Donc, si vous voulez commencer votre journée avec un bon petit déjeuner, il est disponible pour un petit supplément. Fruits de saison, gallo pinto, les œufs, le fromage, le plantain, la tortilla ... Un délicieux plat qui va obtenir votre journée a commencé dans le bon sens! Mais si vous voulez faire cuire, vous avez également accès à la cuisine.
Nous avons eu du mal à trouver. Accueil chaleureux, maison propre mais modeste. Un peu déçue pas de petit déjeuner compris. Les abords de la maison en terre poussiereux
Marie
2015-02-03T00:00:00Z
Lorsque nous sommes arrivés au Costa Rica, Mario et Maria nous ont accueillis dans leur maison et nous ont fait sentir comme à la maison. Ils ont été vraiment adorable comme ôtes.Ce sont des gens honnête et gentil. Chef Mario nous a préparé un souper typique Québécois. Ils sont venus avec nous à la playa. On s'est tout de suite sentis bien avec eux. Ils ont sur leur terrain un arbre remplis de mangues. Je me suis régaler. Nous y sommes resté 3 jours et nous étions super triste de partir. Nous avons vu des singes dans leur arbres... c'est vraiment une agréable façon de voyager. Etant donné que nous ne parlons pas beaucoup l'espagnol, Mario et Maria parlaient vraiment très doucement et nous étions capable de bien nous comprendre. Merci à vous. Vous allez toujours rester dans mon coeur xoxo.
Caroline
2015-03-30T00:00:00Z
Maria and Mario have a lovely home! They were great hosts, and I'm just sorry we didn't have more time to spend with them. Convenient location near the main street and beach.
Shannon
2016-01-01T00:00:00Z
If you're looking for a comfortable, classic Costa Rican experience, Maria and Mario's house is for you! They are typical hospitable Costa Ricans that are willing to help make your experience the best it can be. Down to earth and easily approachable with any questions, they are willing to help. The accommodations are spacious, comfortable, and clean-you'll feel right at home. Also, DEFINETLY have Maria make you a typical Costa Rican breakfast- it's a GREAT way to start your day! I would recommend this experience with anyone and I plan on returning back with my mother in just a few weeks!
Samantha
2015-03-10T00:00:00Z
Maria and Mario are very welcoming and helpful. We had great talk. This was a great typical start for our trip to Costa Rica. Children were happy to see an iguana and an owl on the property. Close to the town and beach.
Karine
2015-02-25T00:00:00Z
Mario & Mario are fantastic hosts. Their home is very close to the beach, grocery store & bus stop - pretty much walking distance from anything you want. They gave us a map of the area for our collection and we shared dinner on of the nights. Most of all they are super friendly and respectful and I would like to make it a point to visit them again when in the area. They even had the patience to teach us some Spanish each day. Pura Vida!!!
Nick
2015-10-14T00:00:00Z
Maria and Mario were very welcoming. Their place was just as described and we had a wonderful stay. The location was perfect and Maria and Mario were delightful hosts. We would definitely stay with them again.
laurie
2016-03-30T00:00:00Z
Maria And Mario are wonderful people and we felt right at home. After arriving and getting situated, Mario took us for a drive to see a few local beaches and catch the sunset. Beautiful! Enjoyed playing a bit of guitar and relaxing with our hosts for the evening. The room and facilities were clean and we loved the delicious homemade meal option! Will definitely visit again if in the area.
Ian
2016-04-18T00:00:00Z
Type de logement
Chambre privée
---
Type de propriété
Maison
---
Capacité d'accueil
4
---
Chambres
Coco, Guanacaste, Costa Rica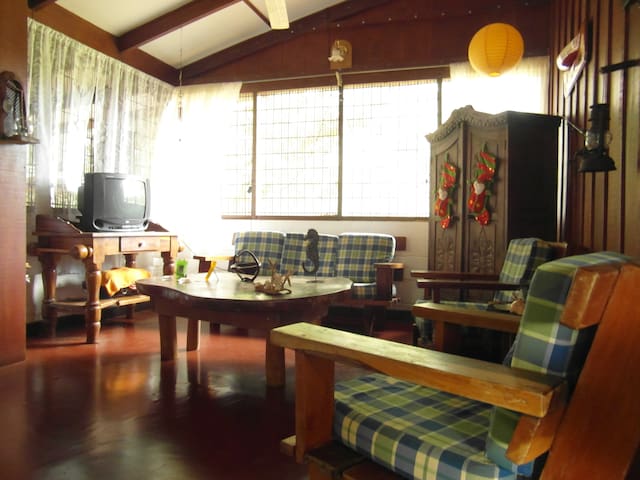 Casa Pacifica # 2 offre 150m2 d'espace et est situé sur la plage nord de Coco à côté du Pacifico Beach Club. Au rez de chaussée il y a la salle à manger, cuisine et une salle de bains. A l'étage supérieur il y a 3 chambres, une salle de bains et une grande terrasse Comme la plage est à seulement 150 verges vous entendez le bruit détendue des vagues. La maison est idéale pour les familles avec des enfants ou des amis qui veulent passer quelques jours sur la plage. Les animaux sont acceptés et places de parking sont également disponibles.
La maison Casa Pacifica # 2 est situé sur la plage nord de Coco à côté du Pacifico Beach Club et se compose de 3 maisons seul, debout. Au rez-de-chaussée, il dispose d'une grande cuisine et salle de séjour et une salle de bains. Dans les étages supérieurs sont 3 chambres, une salle de bains et une grande terrasse. La maison est adaptée pour les familles avec des enfants ou des amis qui veulent passer quelques jours en bord de mer. Les animaux sont acceptés et places de parking sont également disponibles.
La plage nord de Coco est idéal pour la baignade ou tout simplement passer sur la plage. environ 100m de Casa Pacifica est le café de la Playa où vous pourrez prendre un verre et se détendre la musique du beau coucher de soleil. A l'entrée de Las Palmas est une petite épicerie où vous obtenez tous les jours. Dans environ 10 minutes, vous êtes à pied dans le centre de Coco, où la plupart des restaurants, des bars et des boutiques.
Jules est un hôte formidable. Disponible, sympathique et précis. La maison est parfaite, spacieuse, bien équipée au bord de la mer, au calme. La nuit, laissez-vous bercer par le son du ressac... le soir, la terrasse est idéale. Parfaite pour de superbes vacances. Merci encore Jules !
Pierre
2017-02-18T00:00:00Z
El viaje fue muy acogedor... la casa está muy bien equipada y a pesar de que Jules no nos atendió directamente por que no estaba en el país dejó a cargo a su socio de negocios Vladimir y fue muy atento, la casa la entregaron a la hora acordada más bien Jules nos brindó la opción de quedarnos hasta más tarde el día de la entrega, pero como vivimos en la costa caribe de Costa Rica y teniamos que viajar no podiamos quedarnos hasta más tarde... pero fue magnifico el viaje, incluso queriamos alquilar bicicletas y Valdimir nos indicó donde... fue atento. Recomiendo esta casa esta cerca del centro incluso caminando.
Edlin
2017-01-01T00:00:00Z
The house was just what we needed for our group of seven (originally we booked for six, but Jules was able to fit in the seventh on the couch) The balcony has cool breezes and a view of the ocean. We were able to walk into town to get to restaurants - it was about a mile, but we like walking and we could walk along the beach. We particularly want to thank Jules for finding someone to take us out in a boat to remote beaches to snorkel at a reasonable cost. We only stayed two nights, but it was a perfect end to our week long vacation.
Monica
2017-02-12T00:00:00Z
What can I say? This place is great if you want to be closest to the best view of the sunset and far enough away from the Main Street crowd that all you hear are the waves at night. Jules is the greatest host. He actually has three houses on the compound and is available to answer all questions, help you with local questions, get you a cab, share a beer with, etc, etc. he and his friend Vlad went out of their way to make sure we had a good time. The house is a little rough but they are making improvements daily. At the rate they are going with the improvements, this comment will be outdated in a week or so. Great layout, awesome upper deck for socializing, AC is awesome. Great place to get away from it all. We will definitely use this place again if we return to Coco.
Tony
2017-02-09T00:00:00Z
Jules was there to greet us when we arrived and couldn't have been any nicer! The house was just great and we appreciated the air conditioning! We could walk to the beach in about 2 minutes and walk on the velvety black sand and body surf in the waves. So much fun!!! Enjoyed a beautiful sunset from the beach too! We wanted to go snorkeling, so Jules called someone he knew to make a reservation for the next morning. Carlos, the owner of Charlie's Adventures, picked us up on the beach and took us out in his boat to 3 different small islands with lots of fish to see. It was the best experience! Our stay there was too short and we would love to return someday!!
Gayle
2017-02-16T00:00:00Z
We loved our stay with Jules! His home was perfect for our group of 7 students on Spring Break and we had a great time. Jules is an excellent host. He was very communicative with me in the weeks leading up to our visit and even gracious enough to pick us up from the bus stop when we arrived. Whenever he saw us he always checked-in to make sure that we were doing alright and to see if we needed anything. He even gave us a ride into town when we were trying to go to the supermarket one day. His home was very clean and fully furnished (the kitchen even has all the basics - oil, salt, pepper, etc.). We found all the beds to be extremely comfortable and the upstairs patio was great for hanging out late at night. It's about a 10-15 minute walk along the beach to the center of town, but the beach is just 2 steps away. It was a very convenient location for access to the beach, restaurants, shopping, and even excursions. We got picked for our "Adventure Day" at Rincon de la Vieja (zip-lining, horseback riding, rafting, and hot springs) right at the front door. Overall we had a great time and I would definitely recommend staying with Jules to anyone going to Playas del Coco. We hope our future Airbnb experiences are as great as this one!
Jenny
2017-03-13T00:00:00Z
Jules' place is very spacious and has an upstairs patio that is just asking for people to sit around drinking cocktails. The house is simple, not a luxury mansion but it was fine for us as a beach house for the week. We were in town for a wedding at the beach club (right next door) so the location was perfect for me - I would say it's about a 15-20 minute walk to the main street, so it depends what you're looking for. It is only a one minute walk from the beach and is in a quiet area. As with most beach houses, we left many windows open to let the breeze in - that also sometimes carried bugs and sand. We didn't have any problems with this, but if anyone has a particular aversion to the occasional bug or gecko just be aware! Jules was a great host, very helpful and accommodating at check in and through our entire stay, offering suggestions and responsive to any requests. For a simple easy place to stay, this is definitely worth the money.
Elsa
2017-03-01T00:00:00Z
The house its really near to the beach!! And its great!! Have A/C and 3 rooms/ a big kitchen, 2 baths and all in the house its prefectly clean!! 100% recomended
Francisco
2016-08-29T00:00:00Z
Type de logement
Logement entier
---
Type de propriété
Maison
---
Capacité d'accueil
6
---
Chambres
Coco, Guanacaste, Costa Rica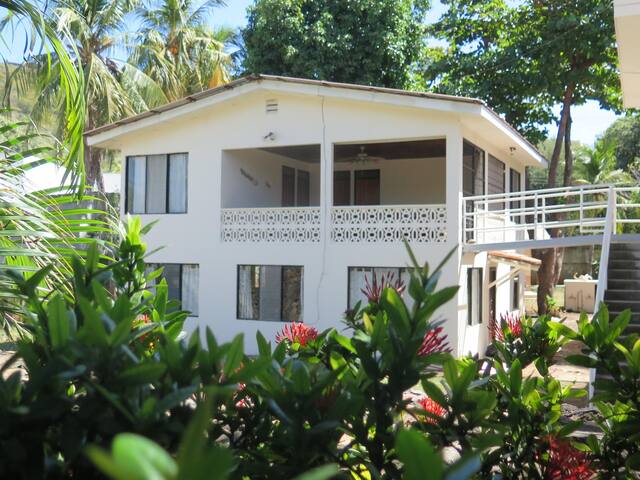 centre Bel endroit pour passer des vacances à trois rues de la plage et à 3 minutes de la rue principale de coco où vous pouvez trouver d'excellents endroits pour dîner, comme Hard Rock Café, Casino, Z Lounge, bar Lizard, banques, marché alimentaire, les services de l'église, et plus ces ressorts aussi chaud
Cet hôtel magnifique est situé au cœur de Coco Beach, à seulement 2 minutes à pied de la plage et à moins de 5 minutes à pied du centre-ville, accès facile à tout
Coco est proche de tout, volcan, Rincon de la Vieja parc national, des excursions en bateau de rivière, pêche, plongée, équitation, la rivière avec des crocodiles, des sources thermales, la visualisation des plages de la Costa Rica très beau pays, nous offrons à nos clients voyagent sur un bas prix
Type de logement
Logement entier
---
Type de propriété
Maison
---
Capacité d'accueil
4
---
Chambres
Coco, Guanacaste Province, Costa Rica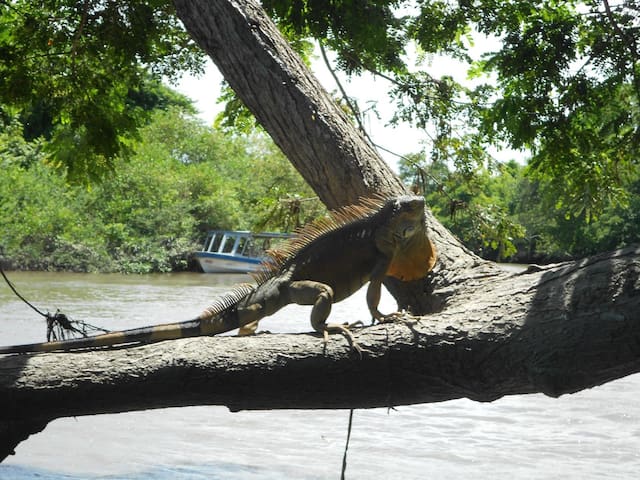 This beautiful 3 bedroom, 2.5 bathroom end unit townhome on the heart of Las Palmas, Del Coco. This home is 1650 square feet of interior space and lovely outdoor terrace. The second floor boasts vaulted ceilings. The place comes fully equipped.
This home is 1650 square feet of interior place. The second floor boasts vaulted ceilings. The master bedroom has à king bed, walk in closet and an en suite bathroom. The second and third bedrooms are both semi- en suites with access to the second full bathroom The living room has à large sofa for your comfort. There is à large flat screen tv. There is a dining table for 6 and à fully equipped kitchen. There is also washer and dryer. There is private terrace and private covered parking with this townhouse.
The complex of Valle Del Sol is located in the Heart of the coveted Las Palmas développent. There is 24 hour security in the development. So you can feel safe and secure with our rental. It is located only a couple hundred of meters from the Beach and only a 10 minute walk to the Heart of dowtown.
Type de logement
Logement entier
---
Type de propriété
Maison
---
Capacité d'accueil
6
---
Chambres
Playa del coco, Provincia de Guanacaste, Costa Rica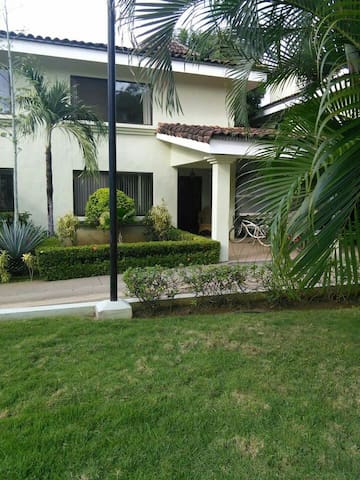 Beautiful 1 bedroom 1200 sqft walk to ocean condo!! With Gorgeous ocean view private balcony and terrace.Next to the main pool,and with in walking distance to the ocean,town and restaurants. Nicely decorated washer, dryer Fully functional SECOND FLOOR CONDO!!!!! (Yes expect Stairs) NO PETS ALLOWED !!!!!!!!!!! NO SMOKING ALLOWED!!!!!
Located about 25 minutes from the Liberia international airport (LIR).Taxi fee around $55 to $75. Near the Gulf of the Papagayo peninsula. About 1200 sft of very nicely decorated and comfortable. The condo is located at the top of the hill next to the main swimming pool, Private stairs,Balcony,and 700 sft Terrace. Fully functional kitchen with electric stove and oven, toaster Utensil,plates,glasses,coffee machine and cups,kitchen knives,pots and pans. Lg refrigerator ,Washer, dryer, tv, iPod/iPhone speakers. DVD player, Two A/C units. Plenty of towels and linens. Plenty of closet space. 2 full bath rooms.
The property is located on a hill, like most homes at coco sunset hill, and have the best ocean views in town. The entire community is within walking distance to the beach, restaurants, night clubs etc.
We loved staying at Angelos place! It is super nice, clean, has amazing views and a cozy pool to top it off. Playa del Coco has a lot of good places, it'll probably take an hour to drive to tamarindo or playa grande from there
Dante
2015-11-27T00:00:00Z
What a great condo! We had a fabulous time and it's in a perfect location with beautiful views. Angelo was great and never took longer than 5 minutes to get back to us when we had questions. We'll definitely be back.
rebecca
2016-02-27T00:00:00Z
Very accommodating and welcoming experience! We had a great visit. From a clean, modern, amazing place to an awesome location. Very safe and comfortable. The unit was gorgeous and Angelo made everything smooth. He answered all my questions before booking and helped us with additional arrangements (i.e. transportation) and continued to be extremely responsive throughout the process. Thank you for sharing your home with us! Until next time... Pura Vida
Shanique
2016-05-13T00:00:00Z
Angelo is a tremendous host. From the moment we considered booking with him to after our stay he was always quick in communicating via messages and texting. He made fantastic recommendations while giving us insight to the city. He made sure that every aspect of our trip would be unforgettable. It felt like he was a friend back home. Everything in the condo is described as Angelo shares. The pictures don't give the condo any justice. The views are so much more breathtaking. It felt like we were living among a painting. Waking up to the bright sun, clear skies and beautiful blue water is a sight. The patio is especially a perfect place to view the sunset. There are two chairs and a easily movable table to eat and drink. The condo is at such a perfect location that you can walk everywhere. The beach, grocery store and coffee shop is no more than a 5 minute walk. Downtown Coco is no more than a 15 minute walk though a taxi ride to downtown or back is only $2 USD one way. Bikes are rentable for $10/day downtown. Having a kitchen with all the appliances made it so much more easy to cook during times of the day where we just wanted to stay in where you can watch TV with many channels. Afternoons in June were usually rainy. There are also some great restaurants nearby the grocery store & coffee shop so you don't have to go downtown. Having two bathrooms was also great for my wife and I. The pool is gorgeous and private. Every day we were there, there was no more than 2 other people. It felt completely safe around the city and in the complex especially with at least 1 security guard in the day and 2 at night. They were all so friendly. Mostly everyone speaks some or fluent English. Though the people do enjoy it if you try to speak some Spanish. They are so patient and helpful if you want to learn how to speak better. There are many stairs but it wasn't a problem for us since we are hikers and it's the reason why you have such a beautiful view. The cooler showers were refreshing after humid days. Do remember to bring your own soap and shampoo. Barbara, Angelo's condo manager, is fantastic. She was there with my name on a sign as soon as we walked out of the airport and she was at the condo on time to drop us off. Talk to Angelo and he will make all airport transporation arrangements with Barbara. We will recommend this condo to all family and friends and will for sure stay there again if we visit Coco once more.
Justin
2016-06-18T00:00:00Z
We had an amazing week at Angelo's beautiful condo. The condo was perfect for our family of 3 and just as described, very clean and modern, a balcony overlooking the largest pool in the complex and private rooftop terrace with fantastic views of the beach and sunsets. Very close walking distance to a coffee shop, grocery store and beach and just a bit further to town, so we did not miss having a car. We felt very safe and did not have to worry about a thing. I think the condo complex was one of the nicest ones we saw and we used the pools and terrace every day. Angelo was always very responsive and answered our many questions and checked in on us several times during the week. He arranged to have Barbara the property manager take us from and to the airport which was a nice relief not to have to worry about getting a cab early in the morning. We had a perfect stay, thanks so much Angelo!
Karen
2016-03-27T00:00:00Z
Lovely apartment with wonderful views! We really enjoyed our stay. The one-bedroom apartment was spacious, stylish and clean. The complex is great, with multiple pools, easy parking, etc. There are a few shops and restaurants nearby and town was only a short drive away or 15 minute walk away. The view from the rooftop deck was awesome.
Morgan
2015-01-13T00:00:00Z
Angelo was very responsive to all of our questions and concerns before the trip. He made sure Barbara was there to meet us with the keys when we arrived. The condo complex is very nice with great pools, and less than a 5 minute walk to the beach. The view from the condo is great, overlooking the pools and the ocean. The condo is pretty close to ask described, but it would be almost impossible to fit 5 people as listed in the description. There is one bedroom and two small couches (aside from an air mattress that I believe is somewhere in the condo), and the couches flip out so they are flat. They would be too small for an adult to sleep on, and would be extremely uncomfortable. The TV is as described, but the TV and wireless internet were not working when we arrived. Angelo warned me of this before we arrived, and had purchased a hotspot for us to use until the Internet could be fixed. Unfortunately, there wasn't credit on the hotspot, so we did not have internet until we spoke with Barbara/Angelo about the Internet and stove both not working. Barbara came the day after we arrived and fixed the stove and the hotspot. The TV and real Internet were fixed the third day after we arrived, and we didn't have any problems after that. I understand everything is much slower in Costa Rica, so I'm sure that's why it took so long after Angelo/Barbara had contacted them several days before we arrived. While we enjoyed the condo and Costa Rica, there are a few additional reasons I wouldn't give the condo a 5 star review. Other reviewers mentioned the condo was "hospital clean" but that was not the case. The floors felt dirty/ sandy, and there were small clumps of long, black hair throughout the condo. There was also visible dust, and in general was not 5 star clean. Also, the pillows in the bedroom were awful. It's obvious they are very old, and they are very uncomfortable. We considered buying new ones at the grocery store. The shower rod in the bathroom/laundry room is broken, and fell out of the wall twice. The last thing I would mention is that I expected there to be basic products like dish soap, hand soap, and paper towels (as there is a paper towel holder on the kitchen counter), but there was no paper towel, there was enough very watery dish soap for a few uses, and only one partially-full hand soap for 3 sinks. I would like to note that we felt very safe in the condo community/complex, and the city of Playa de Coco in general. Overall these appear to be minor inconviences, and it is fairly accurately described, but it isn't 5 star. The listing also says there is access to the Cafe de Playa Beach Club, but this it didn't appear to be a private club, and wasn't special.
Brynn
2015-12-05T00:00:00Z
My family of 3 stayed at Angelo's place for 3 nights. The condo is awesome, very well decorated and has everything you need. The air conditioning works very well. The location is perfect, only a 10 min walk to the main strip at Coco Beach, or 5 mins to La Dolce Vita restaurant. The beach is close by too about a 6 min walk. This is a great condo for anyone wanting to visit Coco Beach !! Thanks Angelo.
Donna & Mike
2014-03-30T00:00:00Z
Type de logement
Logement entier
---
Type de propriété
Maison
---
Capacité d'accueil
4
---
Chambres
Playa Del Coco, Guanacaste, Costa Rica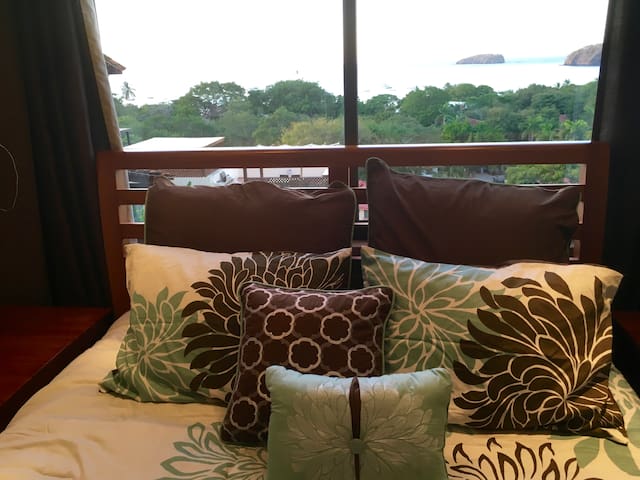 Ceci est la propriété idéale pour 2 couples voyageant ensemble. La maison dispose de 2 suites égales, avec le maître en suites et un balcon privé. Les chambres fendus signifie une intimité totale avec un espace de vie intérieur / extérieur partagé.
L'une des propriétés que dans la région où 2 couples peuvent obtenir une valeur égale. Il y a 2 suites de taille égale, les deux avec douches intérieures et extérieures. Plusieurs plans d'eau entourent la maison qui vous donne un sentiment de tranquillité. Adossé beaucoup de ravin privé, vous pourrez profiter de la beauté naturelle et même une famille de singes hurleurs parfois balancer par! Il existe un système de porte coulissante en verre expansive dans le salon, vous permettant d'avoir cette véritable expérience de vie intérieure / extérieure. La piscine à débordement a une plate-forme profonde de 4 pouces où vous pouvez bronzer en position couchée dans l'eau. La fosse d'incendie engloutie fait un grand flânant et endroit divertissant toute la journée / nuit. Il y a un grand barbecue sur la terrasse. Pacifico est une communauté fermée exclusive au milieu de la ville. Il est une marche rapide à la plage et tous les commerces, les restaurants et la vie nocturne locale. La location de cette villa, vous aurez également accès aux piscines du complexe de condo. Il y a 4 piscines magnifiques, des chaises longues et bain à remous. Si vous souhaitez utiliser le club Pacifico Beach, les adhésions sont un coût supplémentaire. Utilisation de l'installation est facultative. Tous les jours (25 $ / personne), hebdomadaire (70 $ / personne) ou des frais mensuels (200 $ / personne) appliquent. S'il vous plaît noter, il y a des frais supplémentaires pour les cabanas et certaines zones de sièges au club aussi bien. Le club de plage offre deux piscines à débordement, un beau coin salon, service de piscine, restaurant et salles de bain sur la plage. Le complexe propose un service de navette gratuit depuis les condos au club de plage 4 fois par jour. Coco est une ville vraiment amusant avec beaucoup de flare et des équipements pour tout le monde. Ceci est un excellent endroit pour venir à la maison après avoir exploré tous les plus beaux sites que le Costa Rica a à offrir.
Pacifico est un développement de classe mondiale au cœur de Playas del Coco. Avec un club de plage privé, 7 piscines et 24 heures de sécurité, il est vraiment le meilleur endroit pour rester pour vos vacances.
The home is very modern and was very clean. The pool was wonderful and the beds were comfortable. The layout was perfect for two couples and allowed each couple as much privacy as they wanted. The closets and bathrooms were large and the outdoor showers had great water pressure and plenty of hot water. The place has a lot of amenities including air conditioners and televisions in each bedroom and shared living space. The pool was cleaned twice while there and maid service was provided mid week. The outdoor furniture matched the decor but was not comfortable for lounging around the pool. Perfect for playing cards or having a meal but not for lounging. We had a power issue one night but the host was very quick to respond and the issue was resolved. Additionally the hosts were great, always quick and polite. The helped secure a golf cart, arrange for airport transportation and a day trip to a nature preserve. The home is located in a private gated community with no ocean view. It is also about a 20 minute walk from the home to the front gate of the community and another 10-15 minutes to the beach. However, the location is private and great for observing wildlife in the morning. We heard monkeys everyday and on the last day had three of them eating in the trees near the pool. The location will require a golf cart or car for ultimate convenience like grocery shopping or sightseeing. The complex does provide shuttle service but on a very limited schedule. The home is also up for sale so if it is not available know that Sarah and David have other properties in this community and they are great hosts.
robert
2017-01-06T00:00:00Z
Stayed at this gorgeous home over New Years, probably the busiest week in Playa del Coco. The home itself is just as pictured (in both the drawings and the photos); very high build quality, very luxurious, and very private - the private infinity plunge pool with wet-tanning deck was perfect, and the outdoor slate showers off each bathroom were also a huge hit! The view off the deck and from the pool is very nice, looking down a ravine and giving a wonderful jungle/nature feel to the setting. The neighborhood, Pacifico, is simply fabulous - very luxurious and safe, lots of amenities, and a quick golf cart ride to the grocery store or to town or the beach club. The private beach club is a major draw - beautiful setting, fabulous food and drink, great service... and even though we were there the busiest week of the year we never had any problem finding a parking space for the golf cart. David and Sarah were perfect hosts. They arranged our airport transfers and our golf carts, gave us suggestions on which activities/vendors, etc. Not only were we met at the home on arrival and showed around the home and the neighborhood, we were also given a tour of the town. They were very responsive to the minor issues that we had, and were very easy to reach, and extremely helpful. Five stars all around; would very highly recommend!
David
2016-01-05T00:00:00Z
Type de logement
Logement entier
---
Type de propriété
Maison
---
Capacité d'accueil
4
---
Chambres
Coco, Guanacaste, Costa Rica
My place is a rustic, peaceful house in the middle of Coco Beach, directly in front of the ocean. Perfect to relax and take it easy. Coco Beach is a small bay with beautiful black volcanic sand, calm oceans, good for swimming, fishing, kayaking and beautiful sunset walks. The property is large and has many large trees, where we often have monkeys who come to visit. Coco downtown is walking distance, has a nice nightlife, good dining (including a Hard Rock Café) and excellent supermarkets.
Our family has been going to this property in Coco Beach for over 45 years, and three generations have enjoyed coming here for holidays. The house is a rustic nice house with a lot of space, open ventilation and direct access to the beach. The beds have high quality orthopedic mattresses. Our family believes in a low carbon footprint reason why the property has so many large trees and all rooms are equipped with ceiling fans. There is nothing more relaxing than falling asleep with the fresh air and sound of the ocean waves. 25 minute drive from Liberia International Airport. 20 minute drive from Cima Hospital in Comunidad.
Coco downtown has dozens of restaurants, supermarkets, pharmacies, clubs, souvenir shops, food stands as well as two casinos and a Hard Rock Café.
Type de logement
Logement entier
---
Type de propriété
Maison
---
Capacité d'accueil
7
---
Chambres
Coco, Provincia de Guanacaste, Costa Rica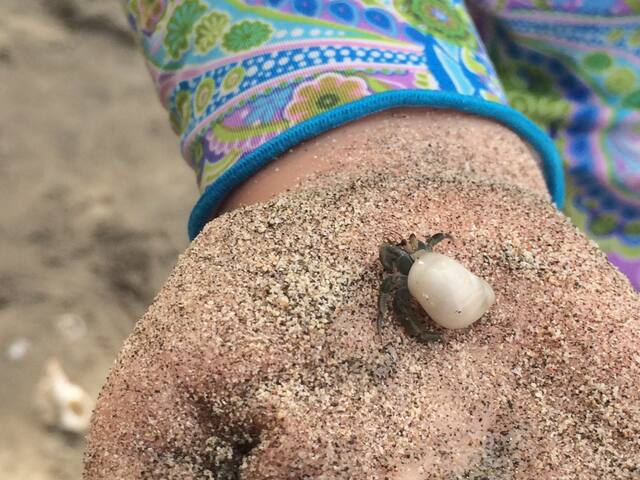 This lovely two story condo is nestled in quite Las Palmas and offers you two bedrooms, living and dining area, a fully furnished kitchen, shower/toilet, sep. toilet, balcony, two garden seating areas, air conditioning, TV, mosquito screens, ceiling fans. This complex is the smallest: only 6 condos. The swimming pool is to share, and you are also welcome to use the recreation area. High speed internet available at internet cafes and most restaurants in Coco.
Only 250 meters to the beach! Groceries, restaurants, cafés are just a short stroll away. It lays 25 minutes from Liberia International Airport. Best location in Guanacaste!
Playas del Coco is one of the oldest beach communities in Guanacaste Province. It has a long been popular tourist destinations for both, local Costa Rica citizens as well as foreigners. The locals call Playas del Coco "El Coco". The beach has gray volcanic sand and stretches over more than 3 kilometers. The tides remain calm and it's very safe for swimming. You will find peace and quiteness. But downtown offers all kind of activities. It has a very pleasant nightlife. This community is only 30 kilometers from Liberia (the capital of the province) and 25 kilometers from Daniel Oduber International Airport.
Type de logement
Logement entier
---
Type de propriété
Maison
---
Capacité d'accueil
4
---
Chambres
Coco, Provincia de Guanacaste, Costa Rica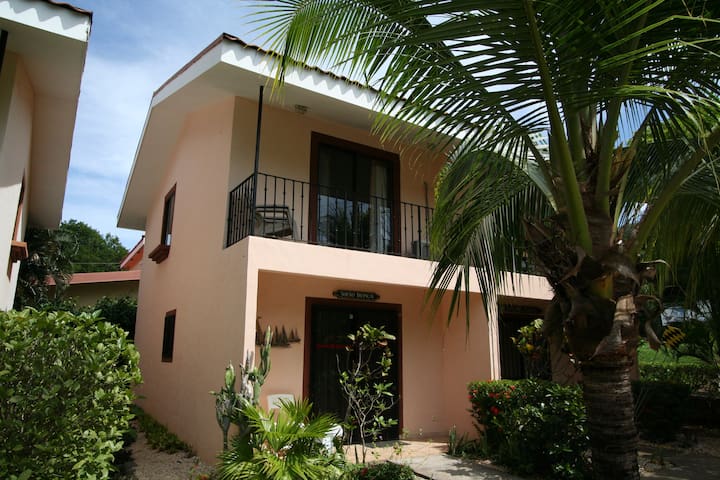 Valle Del Sol is an upscale Playas del Coco community within Las Palmas Urbanization. This house offers 1600 sq. ft. living space with 3 bedrooms and 2 1/2 baths. The main floor boasts a large open plan living and dinning room and divided by breakfast nook kitchen. The kitchen is equipped with quality stainless steel appliances. The second level offers you a large reception at the top of the stairs. Large master bedroom with a walk in closet and en-suite bathroom.
There are A/C units in all rooms and ceiling fans. These unit comes with reserve water systems complete with auxiliary water pump built into their own secure storage. The location of the community is only two blocks from the beach and to a nearby commercial center. The placement of this condo in the community is ideal, with great sunset and pool views. An attached covered parking space is the perfect place to park your golf cart and/or a car.
Type de logement
Logement entier
---
Type de propriété
Maison
---
Capacité d'accueil
6
---
Chambres
Coco, Provincia de Guanacaste, Costa Rica
Big house with garden in front of sea. First floor with 3 rooms, kitchen and bath. Garden with trees, hamacs, and showers.
Big house with big garden. It´s in front of the beach, you can feel the sea brease and the sound of waves in all rooms.
We are 200 meters from the main park, and also we are in front of a beach were you can take a bath without problem.
J'ai voyagé seule et trouvé la maison éloigné du centro quoique à 10 minutes de marche. C'est un quartier tranquille à ceux désirant un endroit calme . mais grâce à mes 2 supers hôtes, j'ai passé un merveilleux séjour innoubliable! Ils m'ont tenu compagnie, m'ont reconduit jusqu'au centro pour plus de sécurité, m'ont diverti et même fait visité des nouveaux lieux! Il y avait même une famille de singe dans l'arbre au dessus de la maison, j'étais contente d'en voir finalement au Costa Rica. La plage est vraiment juste en face, au centro il y a de tout pour s'approvisionner en tant que bouffe et divertissement. Il faut pas s'attendre à de l'eau chaude dans la douche, il en a pas. Maison rustique mais parfaite pour voyager seule ou en couple et aussi parfait pour le prix!
Emylou
2017-01-10T00:00:00Z
I loved to stay at Karens house. The sea view was just like at the photos. I arrived there ill, so i was more in the bed as in the sea. I stayed there before the real tourist season started so i was there completely alone and enjoyed to use everything alone :-) Karen is an Angel. She bought me some honey and lemon to get quickly healthy. Great woman with great spirit. If i come back to coco, of corse i will stay there a second time. I love to have things simple and feel comfortable so this was the right place to stay.
Sonja
2015-12-12T00:00:00Z
Thank you Karen for the amazing time we spent in your place.... Lovely home on the beach and close to all the amenities! See you again later ;-)
Virginie
2016-01-10T00:00:00Z
Karen is very hospitable, approachable & friendly. The rooms were as described, basic but clean and a fridge is provided which is a big plus. The beach situation was fantastic. You are situated right on the beach and you can hear the waves rolling in from your bed. If you love the beach this place is for you.
Ann
2016-02-27T00:00:00Z
Karen's place was a beautiful beach house. Super relaxed ambience and very comfortable. Being right on the beach, there was always a refreshing breeze coming right into our room. Karen was a wonderful and beautiful host. Thank you! 3
Karen
2016-01-01T00:00:00Z
Overall: fantastic! My friend and I definitely experienced a bit of a shock to the heat coming from the much cooler La Fortuna, but we quickly acclimated. The two days we spent in Playas del Coco were definitely a highlight of our trip with everything from the tucked away beach other visitors have mentioned to access to a kitchen. Our first day in town we went to the supermarket and bought enough food for our stay, much cheaper and very convenient. Aside from that we lucked out in being the only guests and really enjoyed lounging in the common area looking out at the Pacific. The room was comfortable and Karen was both very friendly and extremely helpful in giving directions and directing us to local spots we would have never known about. I definitely recommend staying here to anyone planning on visiting in the area.
Brendan
2015-08-28T00:00:00Z
Loved the beach house! It was an absolutely fantastic location. Right next door to a local beach bar. Easy walking into town. Karen Vanessa was very kind and brought us fresh fruit for our stay. The house was very simple, but met our expectations! If you drive do not go over the sandy beach, go around!
Terri
2016-02-14T00:00:00Z
It was my first reservation made through Airbnb , I was afraid as a first timer but, time took care of that just as Karen made it all worth it. Her help and friendliness made me and my wife feel " IN FAMILY" thanks for everythin(URL HIDDEN)Sincerel(URL HIDDEN) Sara and Albert
ulises
2016-01-21T00:00:00Z
Type de logement
Logement entier
---
Type de propriété
Maison
---
Capacité d'accueil
2
---
Chambres
Playas del Coco, Guanacaste, Costa Rica
Mercado is a ten min walk to Main St. and many more stores and shops as well as restaurants. We adore Sahara Mediterranean restaurant (next to Papagayo) Le Coq (Lebanese) next to Casino and Soda Jordan (typical-local foods) across from Village park on the V street also has. polizia station. La Caveja. in front is a good restaurant (a little pricey).
Common grounds are pool, jacuzzi. ok for events until 10pm. NOT in rooms. PLEASE email time of arrival day before.We can arrange room key code for you with security guard.!!!!!!
As with traveling in other countries, please walk in well lit areas. Avoid dark streets and neighbors (barrios)at night. PLEASE email time of arrival day before.We can arrange room key code for you with security guard.!!!!!!
Type de logement
Logement entier
---
Type de propriété
Maison
---
Capacité d'accueil
4
---
Chambres
Guanacaste Province, Guanacaste Province, Costa Rica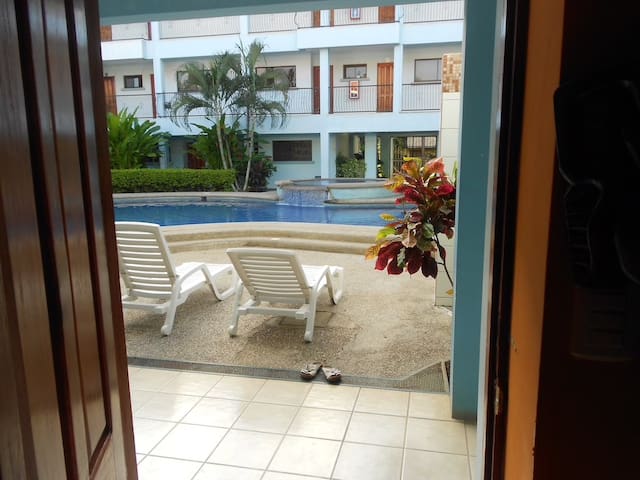 Playas del Coco - Airbnb
:
Moyenne de

4.72

sur

5

étoiles sur les

210

commentaires des voyageurs
1

–

18

sur

36 locations de maisons
Saisissez les dates souhaitées pour connaître le prix total. Des frais supplémentaires s'appliquent et des taxes peuvent être ajoutées.