Appartement indépendant avec une chambre, un salon avec balcon, une salle à manger avec cuisine avec base appartement vybavením.K dispose d'une salle de bain avec WC (douche) et une machine à laver. La maison est située dans un quartier calme.
La maison est située dans un quartier calme du village. Le village est seulement un magasin de meubles, mais dans la prochaine ville (Švihov) les aliments sont ouverts le samedi jusqu'à 20 h et restaurants où vous pouvez vous asseoir confortablement. Pour plus d'options de restauration recommandées pour aller à Klatovy (12 km) ou Pilsen (à 30 km), où vous trouverez également d'autres attractions.
Le village se trouve à proximité de la grande ville de Pilsen, où il y a diverses zajímovosti et de divertissement, tandis que la maison est située à proximité de la forêt de Bohême, qui dispose d'un paysage magnifique et un nombre illimité de sentiers pédestres.
Nice clean apartment with very nice views over the country side, friendly and communicative host
Conny
2016-08-07T00:00:00Z
Pobyt u p. Heleny byl velice příjemný , prostředí okolo ubytování v Červeném Poříčí bylo krásné. Co se týká ubytování samotného tak jsem byl mile překvapený jak byt opravdu vypadá, proto hostitelce mnohokrát děkuji a doufám že do Červeného Poříčí opět zavítám.
Ondřej
2016-07-17T00:00:00Z
Pobyt u Heleny byl velmi prijemny - apartment je nove, vkusne zarizeny, prostorny, s hezkym vyhledem do krajiny, v klidnem prostredi. Helena je velmi vstricna, mila a rychle odpovida. Byli jsme moc spokojeni a vsem vrele doporucuji.
Darja
2016-06-27T00:00:00Z
The stay in Helena's appartment was perfect. She gave us everything we needed and was available for any question. The appartment is very spacious and clean. We will surely come back here in case we go in the country again. Thank you Helena Bruce
Bruce
2016-06-25T00:00:00Z
Majitelka je moc příjemná, ubytování moc pěkné.
Marcela
2016-07-05T00:00:00Z
Helena was a lovely host. We found the house very clean and new-looking (after passing through the first floor which is being renovated.) the views from the Windows over the countryside are beautiful! It was a little difficult to find the place as (SENSITIVE CONTENTS HIDDEN) maps is a bit misleading but we found it with the directions after a few additional minutes.
Willem
2016-10-01T00:00:00Z
Helena is a perfect host and was very flexible with check in time. The accomodation was very clean better than what we expected. We would love to go back anytime. Highly recommended.
Taimoor
2016-07-22T00:00:00Z
Moc děkujeme za nádherné a klidné ubytování. Jen je škoda že nebylo více času na bližší seznámení. Určitě se rádi znova ubytujeme. Moc pozdravujeme.
Iva
2016-08-25T00:00:00Z
Type de logement
Logement entier
---
Type de propriété
Loft
---
Capacité d'accueil
3
---
Chambres
Červené Poříčí, Plzeň Region, République tchèque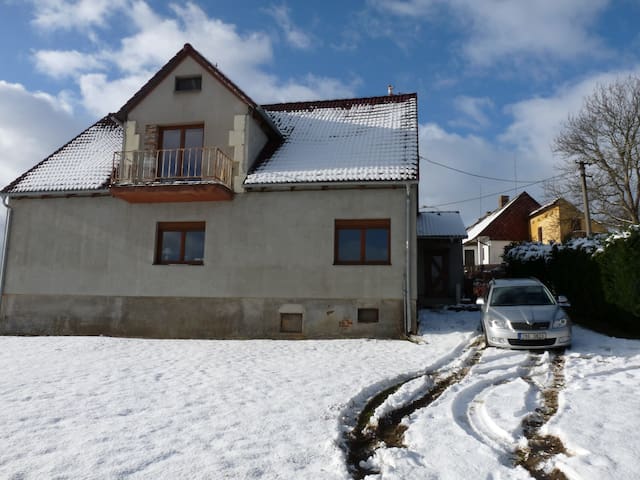 Separate stylish apartment in a former mill with newly built loft in the valley of the river Mze. There is the whole place, including a private terrace with grill and private parking. Instead lovers will appreciate accommodation in direct contact with nature. We pride ourselves on the personal and friendly approach. Two single beds can be combined in a double bed. One option is the emergency bed. Other guests neubytováváme than you and therefore you will have complete privacy, and you can only disturb the birds and the murmur of a nearby river.
It is a separate attic space accommodation for the former smithy, which is adjacent to the former mill. The apartment is fully equipped nadstandartně. Since the fire through the audio / video / SAT, fully equipped kitchen and a terrace located above the p Nahon with seating and grill for free použití. The terrace is private and is intended only for guests of the apartment. Parkování soukromém on enclosed land Několik meters from the entrance of the hotel.
In the idyllic valley of the river Mze are many hiking trails and bike paths. The place is also suitable for fishing, thanks to the nearby (10 min. Drive) Hracholusky dam and it is here where the river Mze in the place of accommodation is coarse downstream and upstream trout preserve.
Type de logement
Logement entier
---
Type de propriété
Loft
---
Capacité d'accueil
3
---
Chambres
Stříbro, République tchèque
Šumava is the Czech name for the Bohemian Forest. The Šumava region is one of the most beautiful regions in the Czech Republic and is a great holiday destination for lots of activities. National Park Šumava is the largest national park in Czech Rep.
Velký Radkov je díky své poloze na samé hranici Národního parku Šumava ideální pro nikým nerušené toulky přírodou, houbaření nebo cyklovýlety. V okolí jsou udržované stopy pro běžky. Nejbližší lyžařská sjezdovka je v Hartmanicích vzdálena jen 6 km hned u příjezdové cesty.
Skvělé místo v nádherné přírodě. Velmi útulná roubenka s perfektním vybavením a velmi milým osobním přístupem. Určitě se vrátíme!
Veronika
2016-07-31T00:00:00Z
We (that is me and 7 friends) had a great weekend in January at David´s place! The apartment is exactly as described and shown in the pictures, everything new and clean. Fully equipped kitchen and very cosy beds! David was very kind, he gave us useful help and tips for hiking and sightseeing around Velky Radkov. If you sleep in one of the two beds directly under the small bell tower (like I did) you will find earplugs useful, because the little weathercock "crows" every time the wind turns when it is stormy outside. Usually I am very sensitive about sounds, but with earplugs I had a deep and recreative sleep. Thanks for everything, David! We have already been thinking about staying again next winter!
Julia
2016-02-02T00:00:00Z
U Davida se nám moc líbilo. Apartmán je krásný, stejně jako celá chalupa. Bonusem je lokalita "na konci světa" mimo obvyklé turistické cíle. Místo nás vzalo za srdce a budeme se chtít určitě zase někdy vrátit.
Jitka
2016-07-26T00:00:00Z
Type de logement
Chambre privée
---
Type de propriété
Loft
---
Capacité d'accueil
7
---
Chambres
Rejštejn, Plzeňský kraj, République tchèque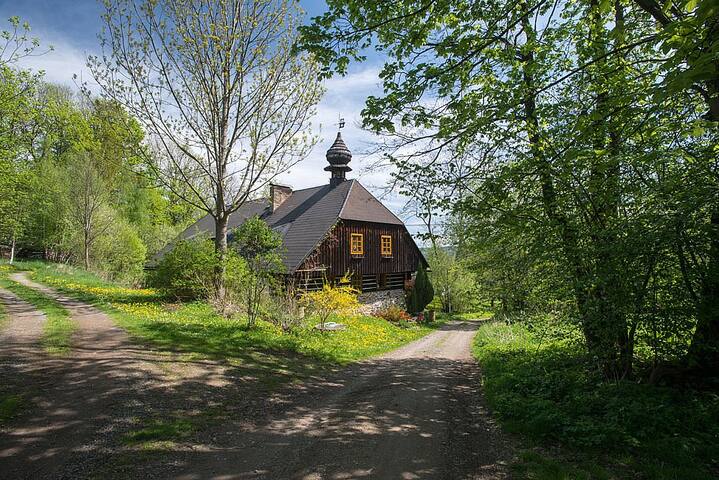 Saisissez les dates souhaitées pour connaître le prix total. Des frais supplémentaires s'appliquent et des taxes peuvent être ajoutées.