A quiet, cozy bedroom & bathroom on the ground floor of a beautiful, modern new home in a verdant, friendly Southeast Portland neighborhood. Enthusiastic greeting by very friendly dog & cat comes standard!
PLEASE READ THE ENTIRE LISTING BEFORE REQUESTING ACCOMMODATION. As a courtesy to our guests, our check-in time is 3:00 pm; however, as we both work weekdays, we cannot have the rooms ready until 5:00 or so. What this means is that our guests are welcome to make themselves at home in their living room or just drop their bags off and head out exploring, but they won't be able to rest their weary heads or hit the showers until we've had a chance to get home and tidy up. (PLEASE NOTE: This listing highlights the primary guest bedroom available, but for parties of 3 or 4 people, we do have a secondary bedroom that also features a queen-sized bed. All guests share the same bathroom, but the second bed shown on the listing is NOT in a common space, it is in its own private bedroom.) There is almost an entire floor available in our brand-new home smack-dab in the heart of fun, accessible Southeast Portland! This means that our guest(s) get not only their own quiet bedroom, but also a private full bathroom AND their own nicely-appointed living room (please note: the first-floor living room is NOT private, as it does not have a ceiling and is the way between the front door of the house and the stairs to the second floor). We are steps away from a frequent-service bus line, a terrific sandwich shop that's open for breakfast, lunch AND dinner, a pizza joint, a Starbucks, and, best of all, a Trader Joe's! The house is about two miles south of the trendy Hawthorne district, one mile south of nationally-recognized Division Street, and about four miles east of downtown Portland. The house itself is a beautiful, soaring Doug Fir- and hemlock-constructed dream home decorated with one-of-kind glass art pieces and potted succulents. Our guests have access to our fabulous kitchen in addition to their own first-floor amenities. We have a very friendly housecat you will likely meet during your stay, but the guest bedroom and guest bathroom doors are kept closed for the comfort of allergen-sensitive guests. We also have two friendly dogs who will greet you eagerly upon your arrival, but who otherwise spend their time hanging out with us and don't wander much to the guest floor. Lastly, to our guests during the colder months: the guest floor tends to be the coolest in the house, and we provide space heaters and afghans for your comfort, but we figure we should let you know ahead of time that if you run cold, ours may not be the ideal place for your stay.
Our neighborhood is so great! We are really close to several cool Portland hubs, but we're on a relatively quiet residential street so we truly have the best of all worlds.
Nous avons passé un bon séjour dans la très belle maison de Brad et Becca. Nous avions notre intimité et une chambre agréable. Et un chat mignon et très câlin qui nous a rendu des visites.
Aurélia
2014-03-07T00:00:00Z
Great space close to lots of good eats. Becca was super helpful and courteous. Overall the experience was great and I absolutely loved portland, so there is a good chance I'll be back.
Stephen
2015-06-22T00:00:00Z
We absolutely loved staying at Brad & Becca's! It was so conveniently close to public transit (which we used almost every day). We also rented a car for part of our stay and finding parking was not a problem! They provided everything we needed (towels, toilette trees, blankets, pillows) and were always available if we needed to communicate with them. We only wish to have interacted with our hosts a little more because they really are great people! We highly recommend staying at this wonderful home!
Cristal
2016-12-19T00:00:00Z
Look no more! This is the perfect place in Portland. Our stay in the Urban Treehouse was great! Becca, Brad, Carlos and Diego (their dog and cat) were there to greet us upon our arrival. The neighborhood is very safe and quiet. The Treehouse is centrally located; we were able to get around town via public transportation/walking quite easily. Becca and Brad's home is architecturally beautiful and the decor is wonderfully artistic. We are looking forward to our return. Thank you Brad and Becca for hosting us in the Urban Treehouse!
Rebecca
2015-05-28T00:00:00Z
Brad and Becca were really friendly and made a few suggestions on where to go and what to eat. They also have a super friendly dog and sweet kitty who were just as welcoming. The room was as described. Ther weather was perfect. It was bright in the day with natural sunlight. You have your own private bathroom and it was clean. I had rented a car and had no problems finding street parking in front of the house. They live really close to a sandwich shop called Shut Up And Eat. They had tasty sandwiches and pickled veggies. It's within a quick walking distance across the street. Also, the house is situated really close to all the districts, except downtown which is 15 min away. Oh, I used the fridge to store drinks I had gotten at the nearby Trader Joe's and used the coffee maker daily, which was nice because I need coffee in the morning to function. The bed was pretty comfortable too.
Nancy
2014-09-04T00:00:00Z
We had a great time during our short stay with Brad & Becca. The place was just what we needed: affordable, comfortable, clean and close to good food and drink. Brad and Becca were very communicative and great hosts. Would definitely recommend staying here.
William
2016-07-04T00:00:00Z
What a beautiful spot!! This is an awesome location with a unique vibe. We felt truly at home. The teepee is romantic and we managed to stay dry and warm in spite of a night of heavy rain. Chris was great; sadly we only met Karen briefly but all in all it was a great experience!
Jacob
2014-09-26T00:00:00Z
Brad and Becca have a nice place, in a great Portland location. I booked at the last minute, and they were accommodating. The bed was comfortable, and there is a private bath as well. The "living room" would have made a nice place to sit and read, but there is no TV available in the private area. Actually, it's not really super private. The main entry to the home passes through the floor you are on, and the sitting area is opened on top with a high ceiling so they can look down and see you, and reminded me of the lion or bear enclosure at the zoo. Other than a very slight lack of privacy, the place is exactly as advertised. They seem like very nice people, and everything was super clean. I would recommend the place, but personally do prefer a more private arrangement.
Dave
2014-12-11T00:00:00Z
Type de logement
Chambre privée
---
Type de propriété
Maison
---
Capacité d'accueil
4
---
Chambres
Portland, Oregon, États-Unis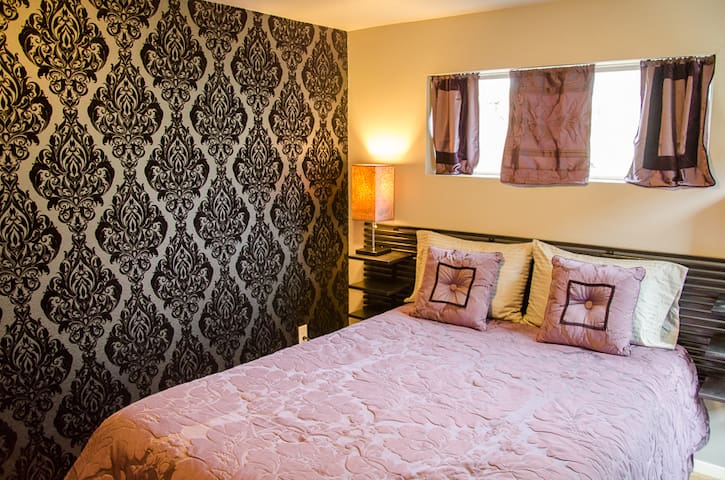 Relaxed + modern one bedroom basement apt. Bright + spacious with a handmade Portland touch. Comfortable for two, it's a great home-base for the traveller wanting to explore PDX! Located in charming Woodlawn neighborhood. Near the park, bars and bus lines.
Handmade by us! We're a craftsman and an interior designer who are not afraid to get our hands dirty. Stay in this remodeled basement where every detail was thought, planned and carefully constructed. We value high-end, conscious design. Our motto is maintain, reclaim and sustain. All of the exposed wood was salvaged from this 100 year old home! We love our house and hope that you do too. It's a great, peaceful place to crash at the end of the day. A plush queen sized bed, a huge doorless walk-in bathroom (ie. divided by a wall), glass walk-in shower and a tiny but efficient kitchen were top priorities when we made this place. The kitchen has dishwasher/fridge/oven stocked with all the pots/pans and plates to make a nice meal at home. Its always a shifting art-installation, so don't be surprised if the art in the listing photos change. We like to collect art and objects during our travels.
We're one block from 2 major bus lines (the 8 goes to downtown) and our neighborhood market, P's & Q's. 3 blocks from Woodlawn park + 5 blocks to our neighborhood hub: breweries, dance hall, coffee shop and restaurants. Woodlawn is a great area and closely located to Alberta Arts District, Mississippi and Kenton.
The apartment was great and in a wonderful location. There were restaurants close by and Anna and Jeremy left great directions for what to do around the city.
Debbie
2015-10-11T00:00:00Z
I couldn't say enough nice things. They've done a fantastic job with the property, it was one of the nicest places I've stayed. It was quiet at night, and the neighborhood was really friendly (and full of great food and beer). I especially recommend the coppa and egg sandwich at the Ps and Qs market for brunch. I had no idea an egg sandwich could taste that good. Anna and Jeremy showed a lot of pride in what they do, both in building up / maintaining the property and in hosting. My wife and I can't wait to visit Portland again, and this is the first place we'll look to for lodging(URL HIDDEN)
Christopher
2014-08-04T00:00:00Z
Anna and Jeremy's space was awesome. We really like the design and layout of the place. The bathroom was really nice. They were very accommodating to our needs as we had to checkin earlier than expected. Anna let me know that we could checkin 3 hours before we had originally planned. She also was very prompt to answering all my questions. I would defiantly stay here again!
Kristine
2014-09-30T00:00:00Z
Anna and Jeremy were the type of hosts that we all hope to have! They were informative, friendly, helpful and responsive! They provided detailed information prior to our arrival that made it easy to find and get into our place. And they provided so much information such as places to get food and great drinks when I let them know that we will be arriving pretty late! The place is exactly like how the pictures look - it is very spacious for two people! Coming from LA, we always appreciate free parking so we were so happy when we were able to easily park our rental car right in front of the house :) I hope all of our future stays through Airbnb will be this pleasant!
Tracy
2015-10-04T00:00:00Z
Anna and Jeremy were very quick to respond and were extremely accommodating hosts. Their listing is so well designed and maintained, and I got the best sleep I've had in a long time. The space was cozy, warm, and the bathroom is to die for! I've been raving about their listing to all my friends! Thank you, Anna and Jeremy!
Stephanie
2015-01-26T00:00:00Z
The coolest basement apt I've ever been in. Anna was great recommend several great places to eat and was very welcoming.
Craig
2016-01-06T00:00:00Z
Anna & Jeremys retreat is all it promises to be and more. I was made to feel very welcome long before check in. After arriving very late in the evening, it was very thoughtful of Anna and Jeremy to leave me some amazing breakfast supplies to I could see myself to a proper start. Everything inside is well kept and the decor just beautiful. The bathroom is very spacious and the morning light that streams in put a smile on my face every morning. Location is close to the airport and very close to some of Portlands amazing food spots.
Ridhwaan
2015-01-19T00:00:00Z
Was in town for work and was looking for a home base that was comfortable and convenient. This place fit the bill perfectly! Was amazed at the beautiful space. The different materials and design elements were everything I love but could never put together myself. Anna was incredibly friendly and offered great neighborhood tips for where to eat, walk, drink for which we were incredibly grateful. Would love to stay again in the future!
Alex
2015-10-14T00:00:00Z
Type de logement
Logement entier
---
Type de propriété
Appartement
---
Capacité d'accueil
2
---
Chambres
Portland, Oregon, États-Unis
Newly constructed in 2016, this modern and private detached garden studio sits in the heart of a quiet residential neighborhood and is a short walk to top restaurants, food carts, and shops in hip SE Portland. The space is compact -- about 240sf-- but cozy, bright and a great place to unwind after a day of exploring Portland!
Our light-filled, cozy studio includes a comfy queen bed, vaulted ceilings, skylights, air conditioning, full bathroom, kitchenette, and small sitting area. It's fully detached from the main house, so offers complete privacy. Floor-to-ceiling glass windows provide views of the west hills and french doors lead to a private outdoor sitting area. It's small --about 240sf-- but the space is well utilized with many amenities such as wireless bluetooth speaker, Portland maps and guides, and comfy pillows and blankets to make it feel like home. The studio has a full bathroom with shower (no tub). The kitchenette includes a small fridge, sink, instant hot water, coffee maker, coffee press, microwave and everything you need for reheating leftovers from the fantastic restaurants and food carts nearby. Complementary tea and coffee are provided along with a long list of restaurant recommendations. There's a growler available for filling, which you can do at The Imperial Bottle Shop on Division Street and at many local breweries and grocery stores nearby.
We love living in the heart of the Richmond neighborhood! Nestled on a quiet, residential street, we're within walking distance to hip and eclectic restaurant and retail districts of SE Portland. A 4-block walk brings you to a bus stop that can get you most anywhere else in town. A short walk from the studio brings you to food, shopping and entertainment (to name a few of our favorites): Restaurants: PokPok, Ava Gene's, Bollywood Theater BEST Food Carts in Portland: Tid-bit and Cartopia Cart Pods Bars: Whiskey Soda Lounge, Imperial bottle shop, Hopworks Brewery Bakeries/Coffee Shops: Little T, St Honore, Grand Central Ice cream: Salt & Straw, 50 Licks, Ben & Jerry's Grocery stores: New Season's, People's Co-op, Safeway Boutiques and vintage shops on Belmont, Hawthorne and Division streets. Powell's Bookstore on Hawthorne. Independent movie theaters: Clinton St. Theater, Cinemagic, McMenamins Bagdad theater and pub City parks: Sewallcrest, Mt. Tabor, Laurelhurst
This place is perfect! Melissa is really sweet and helpful. Communication couldn't have been better. It is clear that they really put time and thought into creating this space. It's extremely relaxing and beautiful. The location couldn't be any better, you're close to buses, great food, and cute shops, but it still feels quiet and private. We spent our mornings sipping coffee and listening to music on the bluetooth speaker. An amazing find on Airbnb: Book it now! Thank you for having us!
Maggie
2016-08-07T00:00:00Z
The guesthouse is just perfect for any couple. It's very clean and has everything you need. The bed is comfy too!
Jessie
2017-03-16T00:00:00Z
The hosts greeted us when we arrived and said they were available for any questions or suggestions. On one day when they left the area, we were informed and told to text them with anything we needed. The reviews are all excellent because it's a beautifully designed place to stay in a great, convenient neighborhood. Melissa and Brian made our first trip to Portland a great experience. Thanks for sharing your space.
Carol
2016-09-15T00:00:00Z
What a fantastic stay. Melissa really accommodated us for our "staycation." Highly recommended!
David
2016-07-15T00:00:00Z
Melissa and Brian have a lovely charming space for Airbnb visitors. Their hospitality was excellent. We thank them for the extraordinary attention to detail for our needs and follow up thereof.
Subhash
2016-10-23T00:00:00Z
What a treat to have landed such a beautiful space. My husband and I were amazed how Melissa provided so many special details from the welcome letter, fresh flowers, Portland coffee and chocolate bar, great reading material and a special Bristol garden where we had dinner. What amazed us the most was how clean the place was and I am talking from baseboards to the top. The location was absolutely perfect. We parked our car and used public transportation. What a beautiful place. No need to check any other place to stay in all of Portland.. Doesn't get any better than this. Be sure to book more days than you originally plan to because you will not want to leave this little slice of heaven
Devorah
2016-09-10T00:00:00Z
Easily the best Airbnb experience I've ever had. The studio is in a great location, easy to access, and is just stunning. There were so many cute details that made it such a welcoming place to stay. Melissa even provided a list of food recommendations and was very responsive to any questions we had. Would definitely recommend!
Tiffany
2016-10-04T00:00:00Z
Melissa and Brian's studio is new, beautifully decorated, bright, and cheery. They really have taste! The space was 5 minute walking distance to the cutest foodie/hipster neighborhood. Everything you is walking distance and the city is a short uber ride away (10-15 minutes). Would stay here again/ recommend to any friends!
Bridget
2016-07-15T00:00:00Z
Type de logement
Logement entier
---
Type de propriété
Chambre d'hôtes
---
Capacité d'accueil
2
---
Chambres
Portland, Oregon, États-Unis
Nestled in the private backyard of our family home, a neighborhood hub. The round, rustic, romantic MudHut hides in a secret garden overlooking the St. Johns bridge and sparkling river, near Cathedral Park, Forest Park, downtown St. Johns, canoe and hiking trails... Firepit, permaculture gardens, loaner bikes, community life, view!
Our hut was handbuilt by family, friends, and community with great love and serves as a guesthouse, homeschool hut, sauna and sanctuary. Wood-heated and candle-lit, it's a tranquil, rustic sleeping space. I recommend staying two nights for an immersive experience in the relaxing atmosphere.
We're in St. Johns, Portland's northern-most neighborhood and a small town of its own with a strong community identity here. Many families here trace their roots back to James John, the pioneer founder of St. Johns who is memorialized all over the neighborhood. Downtown St. Johns is a few blocks away, with plenty of restaurants (Thai, vegan, soulfood, chinese, pub grub, pizza, deli, breakfast, coffee & gelato), an old movie theater and shopping (lots of vintage). Cathedral Park, three blocks away, is gorgeous and photogenic with access to the Willamette River and the awesome overhead presence of the gothic St. Johns Bridge that you can see from the hut. We're also close to a lot of natural areas for urban hiking and paddling. Forest Park, full of trails and old growth forest, is right across the bridge. Just north of here is Kelley Point Park, the confluence of the Willamette and Columbia Rivers; Smith and Bybee Lakes, a wetlands for birding and paddling; and Sauvie Island, with beaches, farms, nurseries, hiking, fishing, & birding. We're on the Pacific migratory fly-way, so lots of raptor action around here. Bald eagles, peregrine falcons and hawks swoop by regularly.
The experience of living in the mud hut is one of a kind. Everything about this place is wonderful. Firstly, I was so impressed by the way its been built and the unique character it exhibits. The fireplace and the candles surrounding the bed just made it so magical for me with the tiny little windows. Soaking into the hot tub with the view of the bridge and a glass of wine is something worth experiencing. I personally loved every moment and I wish could stay longer.
Preeti
2016-08-08T00:00:00Z
Ivy and Potato (the cat) were wonderful host. Loved the fire pit, hot tub, wood stove in the hut and the red towels. We arrived at night and couldn't see the pathway little solar lights would have helped, and the little tea lights are a lovely touch but we couldn't see in our luggage, and the train track noise on Friday night was quite alarming.
Robyn
2016-09-12T00:00:00Z
The mud hut and surrounding gardens felt like a world away from the bustle of downtown Portland, only a 20 minute drive. Ivy was out of town, but we had a great time exploring the place on our own. We cooled down by the water at Cathedral Park under the beautiful bridge at sunset and took some Tulip Pastry donuts over to Forest Park in the morning. For a unique, peaceful spot full of character, look no further!
Katie
2015-08-03T00:00:00Z
This was my best airbnb experience so far! Ivy was extremely welcoming and friendly, showed us around even though we arrived later in the evening. The hut was cozy and very serene. We needed a relaxing weekend free of worry, and we got that. Ivy even helped build a better fire when ours was struggling. Pretty sure I'll be back next time I need a good night sleep in Portland.
brian
2014-12-01T00:00:00Z
We had such a wonderful time staying in the Mudhut! Ivy was so kind and shared her jacuzzi and home-brew with us, and even helped us light the fire in the wood-burning stove. We felt so welcomed and enjoyed the simplicity and naturalness of the Mudhut and the land around us.
Anna
2016-01-19T00:00:00Z
My time at the mud hut was exactly what I needed and even better than I had envisioned. Ivy and her family are very friendly and accommodating. I loved getting to sit and watch her gather herbs and greens from her garden to make breakfast one of the mornings - everything was fresh and so flavorful. She really could make a living being a chef! Being away from my three cats was hard, so it was nice to have a kitty to pet a bit to remind me of them.
Melissa
2014-05-25T00:00:00Z
Ivy was a wonderful host! The mud hut was so cute, cozy, and comfy during a wide range of temperatures. We loved hanging out with the chickens in the raspberry and mint patch, and making coffee each morning in the outdoor kitchen area. Saint Johns is a very walkable neighborhood with great places to eat, awesome parks, and super friendly people. The bathroom is a little dingy, which was our only drawback, but all in all we had a wonderful week.
Ali
2016-06-12T00:00:00Z
This place is magical. It's exactly what is advertised and then some. I was looking for the next closest place on a very long bike tour, and Ivy waited up for me- five stars! Can't say enough nice things about this listing, highly recommended.
Douglas
2016-09-27T00:00:00Z
Type de logement
Chambre privée
---
Type de propriété
Maison écologique
---
Capacité d'accueil
2
---
Chambres
Portland, Oregon, États-Unis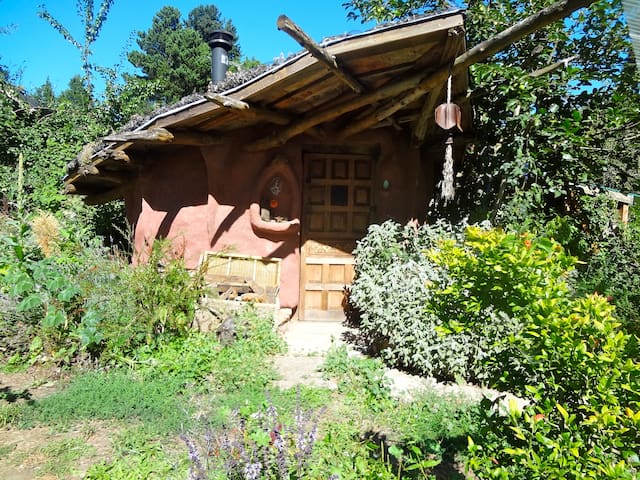 "Ceci est officiellement le Coolest Treehouse dans le Monde" Traveler -Condé Nast Tout bas suite d'invité de niveau avec salon, chambre, salle de bain privée, mini-ponts, et des vues sans fin. Une recherche sur le web "Ceci est officiellement le Coolest Treehouse dans le monde» conduit à une courte vidéo de la résidence.
Located in SW hills, one mile from OHSU near Council Crest. Three miles from downtown Portland. Entire lower level guest suite including bedroom with queen bed, private bath, sitting room designed for lounging with comfy long sofa and bench table for placing ones feet or coffee upon, mini-decks, and shared laundry room.
House resides within 175 acre Marquam Nature Park with miles of trails for hiking or running. Three miles from downtown Portland.
Loved staying at Lance's! Adorable kitty, amazing views, and a friendly host. Everything was perfect and as described.
Kiran
2016-08-26T00:00:00Z
Couldn't have asked for a more beautiful and unique place to stay for our first visit to Portland. Beautiful neighborhood, fascinating house, and wonderful host. Thanks, Lance!
Benjamin
2016-06-21T00:00:00Z
We really enjoyed staying in Lance's treehouse! Beautiful city and mountain views! Lance was a cordial host- providing local recommendations and a history of the house.
Peter
2016-07-22T00:00:00Z
Great and unique house with a magnificient view. Clean and spacious room. Lance was easy to talk to.
Seulah Christina
2015-09-25T00:00:00Z
The place was a gem. It is located on the hills above the city, and you get an unobstructed view all the way to my. Helena and Hood. To be clear to those who rent, the rental is for the entire downstairs area and Lance lives on the second level. Lance was great about communicating and gave us our space to enjoy our stay. He also made coffee for us in the morning and made us feel very welcome! Would definitely recommend.
John
2015-11-28T00:00:00Z
Lance was a great host and the experience at the treehouse was like non other in Portland! We had great communication with Lance prior to our arrival and we had no problems checking in. He made us feel welcome right away like we were staying with a friend. We even had a chance to meet Barbie, his sweet 20 year old cat. Of course, the room was as described and the views were better than we expected. We only wish we could have stayed longer!
Cassie and Gilbert
2015-06-24T00:00:00Z
Best sunrise view! This place is an architectural gem. My husband and I found the room very comfortable and private. Lance and his adorable cat are fabulous hosts!
Vinessa
2016-08-29T00:00:00Z
This place is truly unique. It is nestled inside a dense forest of moss-covered trees with a stunning view of the city (and the sunrise!). It's like something out of a fairytale. We felt very safe and secure in the neighborhood. Lance is a wonderful host and went above and beyond to make sure we were comfortable. I hope to return here on my next trip to Portland!
Emily
2016-09-05T00:00:00Z
Type de logement
Chambre privée
---
Type de propriété
Maison
---
Capacité d'accueil
2
---
Chambres
Portland, Oregon, États-Unis
Cute little Tiny House! It used to be our boys' fort when they were young, now it is a comfortable little retreat for adventurers exploring Portland!
Cute little back yard "granny flat" cottage located near Mt Tabor park in very desirable neighborhood! The cottage is "Portland Style" construction with excellent insulation (R30), new windows, etc.. Great host, free internet, parking, furnished living space that is quite private.. I absolutely love to cook (growing up my parents owned a restaurant), and a made to order hot breakfast is included! Menu items range from homemade granola, homemade biscuits, Lisa's secret-recipe-fried potatoes, and much more! The cottage contains an upstairs bedroom & sitting area. Note: There are steep stairs, so please take that into account if you have joint pain, etc... The QUEEN size mattress is new and comfortable. Downstairs there is a small kitchen with stove, microwave and under the counter fridge. Also downstairs is a full bath with ceramic tile shower. Coffee maker and freshly ground coffee provided in the cottage. Guests are welcome to use washer/dryer in main house. Guests have use of the back yard with fruit trees and some berries when in season. Also the cottage is within walking distance of Division street shops, Pizzicato pizza, the 52nd & Foster street Food Carts and much more. The # 4 bus is just a block and a half away, which can take passengers west directly downtown. The "(URL HIDDEN) app or website is easy to use & can help you get you anywhere from the airport, to downtown, to Powells Books, The Chinese Garden, and so on.
South Tabor Neighborhood is a quiet eclectic little neighborhood with many avid gardners, friendly neighbors, and gobs of dog lovers. We have community get-togethers, work parties, and holiday celebrations! If you are used to neighborhoods where no one knows each other or even speaks to each other this is definitely NOT the neighborhood for you :-D
Lisa's cottage is cozy, clean, & everything you would want in a tiny house experience. The bed & pillows are very comfy. Make sure you eat the breakfast! Lisa is an amazing cook- my husband could not get over how delicious her biscuits & gravy is, I agree! She's an amazing cook & host! We will make sure to stay at the cottage when we come back to PDX.
Jessica
2016-08-21T00:00:00Z
Lisa's listing is pretty straight forward with everything, and her communication is fast as well. I wanted to confirm and ensure our circumstances for booking were ok, and she responded later that evening, and we were booked within less than 24 hours of our arrival. Everything in picture matched what we expected. A small, cozy cottage. Definitely something you can live in while visiting Portland for a day or two. The area is pet friendly, but the stairs to the bedroom are steep; so if you have low mobility it may be difficult (wasn't a problem for us). I don't recommend bringing your dog upstairs, unless you plan on escorting it up / down. Plus, it's carpeted, so I'm sure it's a pain for the host to have cleaned. There's a guest book to write about your trip, it's amazing how diverse (and many) people have stayed there. Lisa really has an awesome thing going for her. Everyone seems to speak glowingly of their experience. Some parts of the cottage are creaky, but noise isn't an issue. The neighborhood is extremely quiet. Careful on your way into the bathroom, there's a bit of a dip! Privacy is abundant, you can draw shades / curtains in almost every window to ensure you've achieved your level of comfort with the outside world. We didn't take advantage of the outdoor / fire pit area. Parking is also a bit tight, but they are open to you parking in the driveway, although we elected for street because we were out & about. The cost is well worth the stay for a night, and the breakfast is a must have. My only regret is not asking for the random breakfast, but I have a soft spot for eggs benedict, and was not disappointed (there's just something fun about being surprised with food).
Rhys
2016-04-03T00:00:00Z
Great stay, everything was exactly as described. Friendly host and awesome space.
Zack
2016-11-03T00:00:00Z
Lisa was so welcoming and helpful- we loved her immediately. The breakfast was absolutely delicious and we couldn't help but request it every single morning! It was like having restaurant breakfast delivered to your door each morning! The cottage is located in a great neighborhood and is very easy to get to - very near the Mt. Tabor park which is gorgeous and also near the eclectic SE Hawthorne area which we frequented. The cottage itself is exactly what you see in the listing - a "tiny house" of sorts with everything that you need right there. Perfect for 1-2 people. We loved it. The whole experience was perfect and we highly recommend it!
Kara
2015-03-09T00:00:00Z
We truly enjoyed our stay! Lisa was a very warm and accommodating host and we loved staying in her cozy cottage. Her home-cooked breakfasts were fantastic, and we appreciated the dog-friendly accommodations. We'll make sure to return next time we're in Portland!
Brendan
2016-11-26T00:00:00Z
We had a wonderful time staying at Lisa's place. It was cozy, clean and you can't beat the location. Lisa brought over breakfast in the morning and it was absolutely delicious! I would definitely stay here again.
Alischa
2016-07-21T00:00:00Z
Fantastic airbnb rental on every level! Great neighborhood, cute, clean and comfortable cottage (the bed/pillows are to die for!) and Lisa's extra special touch of gourmet breakfasts are worth the cost of admission! Thank You Lisa
teresa
2016-03-25T00:00:00Z
We enjoyed our stay. We slept better here than any place we have ever stayed! Breakfast was fantastic! Thanks Lisa!
Lisa
2016-06-27T00:00:00Z
Type de logement
Logement entier
---
Type de propriété
Bed & Breakfast
---
Capacité d'accueil
2
---
Chambres
Portland, Oregon, États-Unis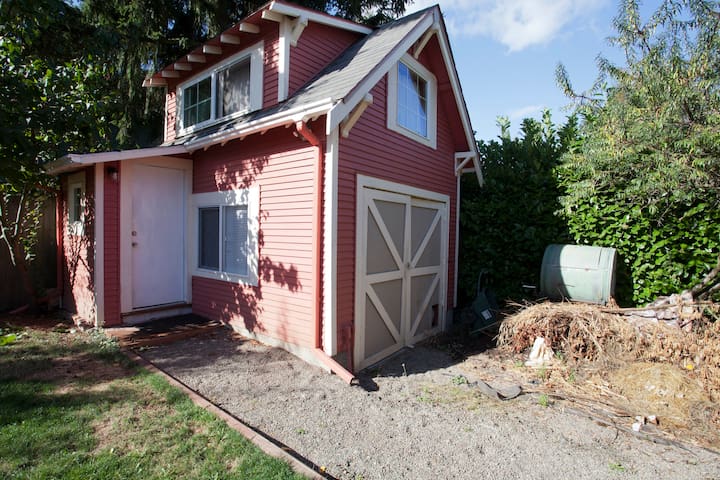 Beautiful Hawthorne apartment filled with skylights. This space provides a great reprieve with the pitter patter of rain during the stormy months, and sunshine streaming in on a breezy summer day.
NEW TO AIRBNB!!! This eco conscious apartment offers an open floor plan with cork flooring, Zero VOC paint, a kitchenette, luxurious sleeping areas, a full bathroom with washer and dryer and a lovely little reading room. Ideal for a small family, a couple, or a girl's weekend getaway, the apartment sleeps up to 5 people. Two queen sized beds and a single pullout in the sitting room give ample options for comfort, and a pack n play is also available upon request. While the kitchenette does not have a stove, it is equipped with a coffee maker, microwave, mini fridge, toaster and optional hot plate. With Porque No, The Woodsman and Mt. Tabor Bakery right around the corner, the need for cooking is minimal. The perfect resting place after a stroll up Mt. Tabor and a day exploring the huge variety of parks, great food, drink and boutiques that make this one of most desirable neighborhoods in the city, this airy, relaxing upstairs apartment with private entrance is ideally located between Hawthorne and Division in the Richmond Neighborhood. With virtually everything you might need within walking distance and the rest of the city easily accessible by bus or bike, this area is thought of by many as the heart of Portland. Our 42 inch LCD TV comes with 36 channels of digital TV, Hulu Plus, Netflix, ITunes, Pandora, and Blue Ray/DVD Player. Maps of the neighborhood, busline, and bike paths are provided. Parking is streetside and free. Parties over 4 will be charged 10 dollars per guest. We hope you will find this the perfect place to decompress after a busy day soaking up all that Portland has to offer.
Excellent location and great place! Walking distance to good food and bars. Stephanie was really nice and accommodating. Some of the ceilings are a tad bit low in one bedding area and the entrance. I say this only because my friend is over 6'0" and she had to duck! But, very comfortable and great decor. Overall, I highly recommend this place.
Heather
2017-03-23T00:00:00Z
Wonderful host. Friendly and very helpful in finding great restaurants and sites to see.
Steven
2017-04-09T00:00:00Z
Very cool space that is very close to lots of restaurants and bars.
Rich
2016-12-23T00:00:00Z
This airb&b is the place to stay! Very comfortable, afforable and equipped with most essentials needed. It is located walk distance to most cool spots. Totally recommend!
Lisa
2017-02-01T00:00:00Z
our favorite bnb so far! Super roomy, clean, & really nice! The family was so nice!
Mary
2017-03-29T00:00:00Z
This sun-soaked apartment is a perfect retreat for a couple, and probably even a small family. The space was bright and homey, and the little seating nook made a great spot to curl up with a good book. Stephanie and her husband were flexible and really accessible whenever we needed anything. The location is on the far East end of Hawthorne, which means a quiet atmosphere but a longer walk to the main restaurant and shopping area of Hawthorne. While the space itself was extremely private, it seemed like it wasn't totally soundproof. In all, a cozy home away from home, perfect for exploring the slower side of Hawthorne.
Kylie
2017-01-04T00:00:00Z
Stephanie's apartment is super sweet. Very comfortable place to relax after a long day of running around Portland. The beds are comfy and the linens are nice quality. Very thoughtfully decorated and in a nice neighborhood.
Jules
2017-03-26T00:00:00Z
Great apartment and great location! The front sitting room is a nice and cozy additional space. Stephanie provided everything we needed, including some delicious coffee from a local coffee roaster.
Karissa
2016-12-18T00:00:00Z
Type de logement
Logement entier
---
Type de propriété
Maison
---
Capacité d'accueil
5
---
Chambres
Portland, Oregon, États-Unis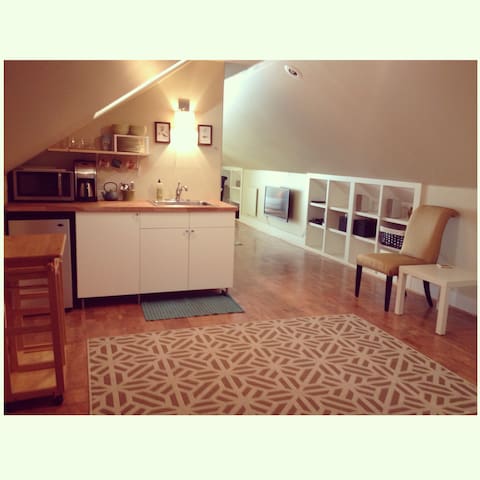 Enjoy Portland in our beautiful, modern guest house. You will be located in a quiet neighborhood nestled between the heart of downtown St Johns and the University of Portland.
Hello! We have a 600 sq. ft, bright, modern guest house tucked away behind our main house. During your stay you will have access to a fully stocked kitchen including: coffee and 3 ways to brew it, microwave, range, refrigerator, toaster, dishware, pots & pans, and baking goods. The space is loaded with windows which lets in a lot of natural light. The lofted area has a queen size bed, large closet, desk area and full bathroom. The space is ideal for 2 people, but it could certainly work for 3. There's a twin blow-up mattress or the couch for the third person. The house is filled with reclaimed wood, handcrafted light fixtures and artistic touches - make sure to check out all of the pictures!
We are located in the University Park neighborhood of Portland - about 1 mile away of the downtown St Johns neighborhood and 1 mile away from the the University of Portland The University Park neighborhood is within walking distance, or a short drive, to parks - including Cathedral Park - bars, food carts, coffee shops, restaurants, a fitness center (Westcoast Fitness) a farmers market (only runs during the summer months), antique/thrift stores, and various other shops. Forest Park, Portland's largest park that's filled with hiking and biking trails, is located 1.5 miles away, directly across the St. Johns Bridge. Please note: Our house is not located within walking distance of downtown Portland!
The place is absolutely gorgeous: spacious, nicely decorated, modern and clean. All one could want from an AirBnB.
Tobias
2016-09-20T00:00:00Z
This AU was perfect! By far one of my most favorite stays! It was a home away from home. Communication was great, location was great, home was great. Easy to get in and out of.
Jessica
2017-01-29T00:00:00Z
Heidi and Marenda were completely wonderful hosts. They were kind, friendly and respectful of our privacy. They were highly responsive to all of our messages, including everything from a request to stay 30 minutes after checkout to providing me with Gorilla Glue when I discovered the temple piece of my glasses had fallen off and needed to be glued. Their home is beautiful and very private despite the many windows that flood the apartment with natural light. Their home is in the university district northeast of Portland's downtown area, though it was only a 15-20 minute drive to arrive at Powell's, a downtown movie theater, and a friend's SW apartment. We already have recommended their home to friends of ours and plan to stay here in the future. Thank you, Heidi and Marenda!
Heather
2016-12-18T00:00:00Z
Our stay at Heidi and Marenda's loft was perfect. Everything you could possibly want on vacation, they have put thought into every detail for all their guests to feel relaxed and comfortable. I highly recommend this place!
Heather
2016-12-01T00:00:00Z
The space is just as gorgeous as the pictures show it to be, cozy and delightful! Heidi and Marenda were helpful and welcoming, offering recommendations of what to do and letting us love their sweet dogs :) I can't wait to come back to their place and explore portland more! The space is a bit far from downtown but I think it was completely worth it for a relaxing space! Till next time!
Erika
2015-12-06T00:00:00Z
As our second ever Air BNB rental I cannot believe how lucky we got! Everything in the listing is accurate and undersells how comfortable, welcoming and perfect this place is! The bed was very comfortable, the bathroom was modern, clean and easily accessible, and the sun shined the whole time we were in Portland! We traveled with our teenage son who used the blowup air mattress downstairs. For three adult sized people we felt comfortable and like we had more than enough space. I totally recommend this rental!
Tracey
2016-03-29T00:00:00Z
Loved this place. Very beautifully designed, fully stocked, not cluttered, very comfortable, and everything feels very new and modern but cozy at the same time. There are even memory foam pillows! This loft was designed for guests and they have books with recommendations for tourists. Absolutely loved it, would highly recommend.
Candace
2016-03-06T00:00:00Z
Marenda and Heidi have such a great space! My husband and I were very impressed by the design, comfort and convenience of this lovely loft! Nice little extras were a treat, and we really felt like it was a home away from home. Cozy, comfortable, peaceful and well equipped! We would definitely stay again if we return to Portland! Thank you!!
Melissa
2017-02-24T00:00:00Z
Type de logement
Logement entier
---
Type de propriété
Maison
---
Capacité d'accueil
3
---
Chambres
Portland, Oregon, États-Unis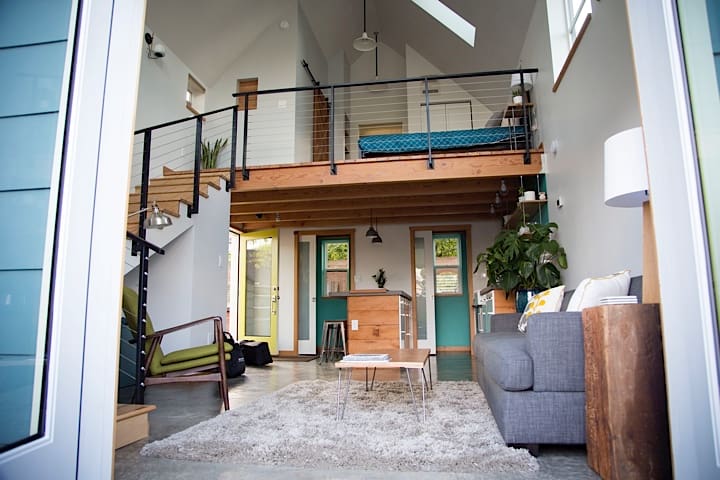 Cozy, restored 1927 Bungalow with built-ins and old hardwoods just 3 miles from downtown. A queen sized bed and bedroom with a full bathroom all to yourself with a newly remodeled gourmet kitchen. The location is very walk-able, on the Portland bike path and 2 blocks from two bus stops.
A classic Portland bungalow with a country kitchen updated with modern amenities. High speed internet is available for guests and parking is not a problem.
We are just steps away from Mt. Tabor and Montavilla, so if you are craving a beautiful walk/hike or want to check out amazing bars and restaurants, you are in luck!
Had an excellent stay, thanks!
Josh
2016-11-18T00:00:00Z
What a lovely, generous couple and beautiful home! Couldn't have chosen a better place for a night of rest. Perfect. Thank you!
Audra
2016-08-30T00:00:00Z
This was our first experience with Airbnb. Peter and Michelle were very gracious and welcoming. The home and neighborhood were lovely. Gunner (their chocolate lab) was so sweet and made our stay even more enjoyable : )
carrie
2016-11-04T00:00:00Z
What a wonderful experience… A charming home, a lovely couple and an outstanding Labrador pup named "Gunner". Peter and Michelle where excellent hosts, and provided flexibility around our check-in time and personal needs. Close to "Montavilla" neighborhood (12 min walk), their charming home provided everything we needed, and did so with style - highly recommend!
Leo
2016-10-03T00:00:00Z
Peter and family were very accommodating of our schedule and communicative about theirs. Very good vibe, clean and comfortable. We enjoyed our stay very much.
Trey
2016-09-23T00:00:00Z
Peter and Michelle made us feel very welcome, we enjoyed our stay very much. Wish we could have stayed longer! Their place is very clean and we felt we had enough privacy. We loved having Gunnar around too. Thanks Peter and Michelle!
Emily
2016-09-19T00:00:00Z
Peter was an awesome host. The place is wonderful and charming. Peter offered lots of great ideas of places to visit and restaurants to try. He made us feel like family friends rather than airbnb guests.
Debbie
2016-11-01T00:00:00Z
Cute home, welcoming hosts, and a handsome dog! So fresh and so clean.
Beth
2016-08-29T00:00:00Z
Type de logement
Chambre privée
---
Type de propriété
Maison
---
Capacité d'accueil
2
---
Chambres
Portland, Oregon, États-Unis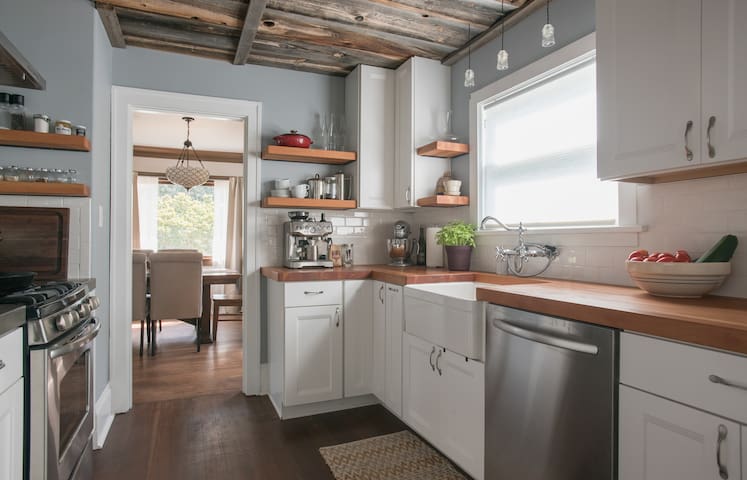 15 min du centre-ville de Portland, ce chalet confortable se sent un monde loin. Avec un foyer au bois, bain, cuisine complète, et un placard plein de jeux et livres à colorier, cette petite maison excentrique est un tueur escapade romantique ou endroit parfait pour les amis.
Cette maison a été construite dans les années 1900 et est si charmant que ça fait mal. Du moment où vous franchissez la porte ferme de style hollandais, vous êtes accueillis par des planchers et des murs pleins d'art bizarre bois franc bien aimé. Equipé d'une grande cuisine équipée avec les outils essentiels, une salle de lavage avec laveuse et sécheuse, un foyer au bois, et une grande baignoire. Que vous soyez à la recherche d'un répit dans le monde ou qui souhaitent explorer Portland, nous avons ce qu'il vous faut. Downtown se trouve à 15 minutes en voiture ou 1 bus qui capte non loin de la maison. Le Rose Garden, Jardin japonais et le zoo de Portland sont à moins de 10 minutes en voiture et un grand arrêt sur le chemin vers le centre-ville.
Ceci est un quartier super calme et paisible. À propos de 8 minutes à pied vous amène à un de mes endroits préférés petit déjeuner, sucré Jam, qui a du poulet et des gaufres INCROYABLE et a la musique live jouer les matins de week-end. Juste au-dessus de Sweet Jam est un magasin d'alcool avec une grande sélection de tous les éléments essentiels ainsi que intéressants, des boissons fabriquées localement. La maison est située dans une rue sans issue donc il y a très peu de bruit de la rue et son tout à fait privé.
Naomi made sure the heater and all the lights were on when we arrived. The house was clean and has a lot of personality. When I accidentally triggered one of the light switches to go out she responded quickly and helped me find a solution. When we come back to Portland, we are definitely going to look into staying here again. Thanks Naomi!
Alejandra
2016-12-24T00:00:00Z
We throughly enjoy Naomi's wonderful home. It was everything we expected. We enjoyed the decor, board games and cozy fire. I wanted to bring home the bed! It's ultra comfortable. I cannot wait to book my next trip to Portland.
Amanda
2017-02-18T00:00:00Z
There are absolutely no bad things to say about this place. Me and my boyfriend fell in love with this place and It looks exactly as the pictures. It was really easy to get to downtown or other areas as the bus is just about a 6 minute walk away. Naomi was an excellent host, answered all of our questions and even helped me pick up my boyfriends surprise cake before our arrival. The house has every thing you need, and Naomi is very reliable. Will definitely love to go back. Thank you Naomi!
Thalia
2016-12-21T00:00:00Z
Naomi was a very kind and friendly host. The house was absolutely beautiful and very unique. Highly recommend this place to others. We felt like we traveled back in time, it was pretty awesome! Naomi was also very kind enough to have snacks in the kitchen for us to munch on. we appreciated that very much! The only problem we had was the electricity in one of the rooms went out but we got it back on, was not a big deal at all! thanks for the nice stay!
Ryan and Sarah
2017-02-06T00:00:00Z
This place is AMAZING!!!!!!! We felt so cozy and at home here. Wish we could've stayed an extra night or two but we will deff be booking this place again when we come out to Oregon.!
Mae
2017-01-30T00:00:00Z
We absolutely LOVED the woodsy location, the delightful decor, and the easy jaunt into PDX for all our adventures. Naomi was easy to work with and we appreciated the flexible check-in and the privacy during our stay.
Bethany
2017-04-02T00:00:00Z
Naomi was a great host, and this was a fantastic little house for us to stay in. Although the rare snowy conditions prevented us from being able to drive up the hill( we had to walk about 0.3 miles up and down every time we left or returned), this was a nice, simple, and affordable place to stay. It was clean and contained all the essentials needed. I would definitely stay here again, and recommend Naomi's house to anyone looking to stay in the Portland area.
Timothy
2017-01-18T00:00:00Z
This place is very cute and comfortable. It's a really short drive from downtown, but it's on such a quiet tree-lined street that it offers a great opportunity to both engage and relax. Definitely worth it!
Spencer
2017-01-27T00:00:00Z
Type de logement
Logement entier
---
Type de propriété
Maison
---
Capacité d'accueil
3
---
Chambres
Portland, Oregon, États-Unis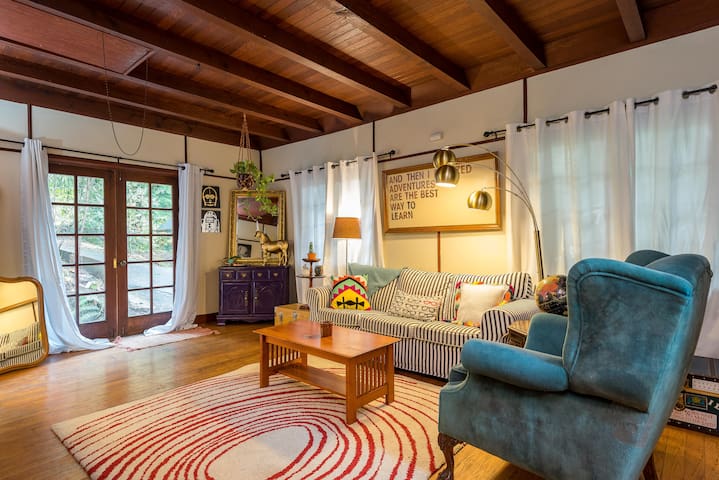 Your own tiny home in the heart of SE Portland. Light-filled contemporary guest house. Newly renovated space in 2016. Brand new furnishings. Quick walk to hip restaurants and shops on both Hawthorne Boulevard and Division Street. This quiet oasis awaits after your urban play. Full kitchenette stocked with continental breakfast. Private patio seating.
Small yet spacious, clever reuse of vintage garage. Open rafters, sky lights and French doors open onto private patio area. Room to do morning yoga. Flexible space. Fold out dining table/desk. Fold-up papasan. Hang/fold clothes & toiletry items in bathroom cabinet. Queen size bed is Ikea PS Lövås. Wooden slats provide comfortable support. (Not your grandmother's uncomfortable fold out sofa bed.)
Walk two blocks north to Hawthorne Boulevard strip or two blocks south to restaurant scene on SE Division Street. Restaurant guides, transportation maps, and walking guides provided. There is sufficient free street parking.
This place is like a little SE treasure. Sara was a lovely hostess and very attentive. The place was modern, immaculate, and conveniently located in town. Great bed and brand new bathroom. Very happy I booked my stay here. Will do again next time I visit PDX.
Nate
2017-04-06T00:00:00Z
My girlfriend and I found this awesome house and took a chance on a spot that had 1 review. The place was amazing and Sara was a great host. Our airbnb was super clean, vibrant and cozy. Highly recommend it!
Sam
2017-04-03T00:00:00Z
I was honored to be Sara's first guest. I've been a First Guest a few times before, and I can say with all certainty that Sara really hit the ground running! She has created an adorable, functional little home-away-from-home in a highly walkable area, close to all kinds of shops, restaurants, and public transportation. What makes her even better as a host is that she is a great communicator! Five stars!
Katy
2017-04-01T00:00:00Z
Type de logement
Logement entier
---
Type de propriété
Maison
---
Capacité d'accueil
2
---
Chambres
Portland, Oregon, États-Unis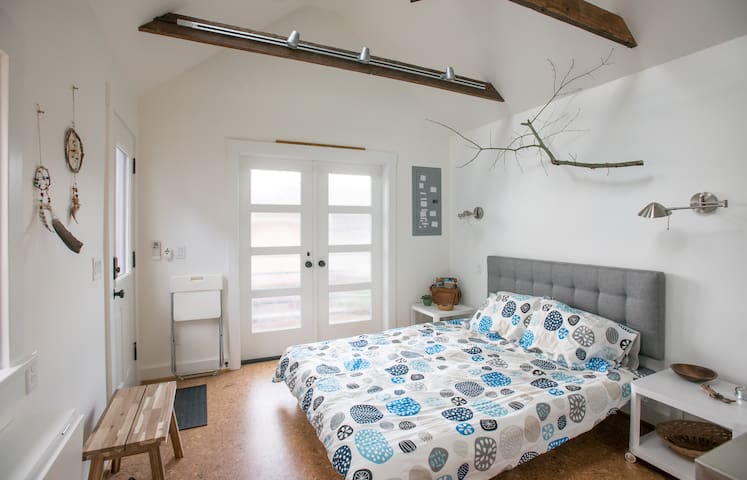 "Talk about location! It doesn't get much better than this. My place is close to endless Portland famous restaurants and very close to downtown. You'll love my apartment because of the comfy beds and trend neighborhood. Walk to coffee, beers, dinner on Belmont/Hawthorne/Division/Restaurant Row. Stroll the neighborhoods, hop on the bus downtown. It's a well loved home, well situated for exploring PDX."
Come enjoy the spacious apartment in the heart of foodie row. My home has been newly remodeled in 2016. It's in the historic Buchman neighborhood with crown Victorian architecture. You get the best of both worlds! Portland's vintage with the amenities of new construction. There is a washer/dryer (great for when traveling!) and fully stocked kitchen.
The neighborhood is absolutely fantastic! This is a walkers paradise with a 91/100 WalkScore. There are endless delicious dining options. Many of Portland's favorite restaurants at all located within walking distance. Hawthorne/Belmont is one of the best streets to explore. Many shops, cafes, restaurants, etc. are all on the same street.
Type de logement
Logement entier
---
Type de propriété
Appartement
---
Capacité d'accueil
8
---
Chambres
Portland, Oregon, États-Unis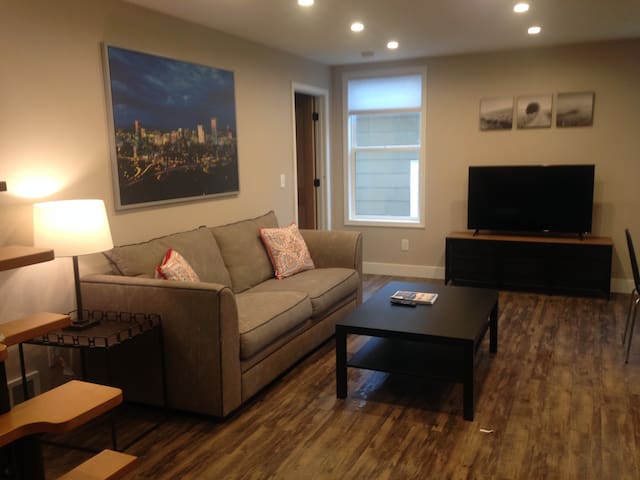 Nous avons surnommé ce magnifique, nouvellement construit Studio indépendant du "Phare" à cause de la façon dont la lumière naturelle se déverse à travers de nombreuses fenêtres du studio de 550 pieds carrés et danse hors des murs et des plafonds voûtés. Un loft offre une vue apaisante. Nous sommes rentrés dans un quartier résidentiel calme du quartier de Westmoreland, mais nous sommes à seulement cinq minutes de marche de plus de 20 restaurants et de divertissement. Westmoreland Park, Reed College et le centre-ville de Portland sont à quelques minutes en voiture.
Que votre voyage à Portland implique un travail, visiter la famille ou tout simplement voir les nombreux sites ici, vous trouverez le phare de Westmoreland l'endroit idéal pour séjourner. Un jardin projeté par les plantes et les arbres soigneusement entretenus garantit une intimité totale. L'intérieur du phare, quant à lui, offre un confort total et plus de quelques équipements intéressants. L'eau chaude, par exemple, est livré à partir d'un chauffe-eau sans réservoir - une caractéristique efficace et respectueux de l'environnement "vert". Alors que seulement quelques minutes de marche de plus de 30 magasins, boutiques et restaurants, le plus fort sons que vous êtes susceptible d'entendre êtes pépiements des oiseaux sauvages qui voltigent sur la propriété.
Depuis que vous avez demandé sur le quartier, nous exposons un peu: Le quartier Westmoreland de Portland a été platted au milieu des années 1920 - une période de croissance explosive dans la région métropolitaine de Portland. Notre maison date de 1925 (notre studio a été achevé en 2016). Il est pas rare pour 100-plus les enfants à sonner notre cloche sur Halloween. cordes Myriad de lumières de Noël illuminent nos trottoirs hiver nuit. Westmoreland Park, à seulement cinq minutes à pied de chez nous, a récemment rouvert ses portes après 18 mois de rénovation visant entièrement à rendre le ruisseau qui coule à travers habitable pour les poissons indigènes. Plus de 20 restaurants et de boutiques amusantes se trouvent à 10 minutes de marche de nous, avec des dizaines d'autres seulement quelques minutes plus loin en voiture. Reed College et Lewis & Clark College se trouvent à proximité. boutiques et des restaurants populaires près de nous comprennent Division SE, SE Hawthorne, et boulevards SE Belmont - toutes les destinations populaires qui sont faits sur mesure pour se promener tranquillement. Au-delà, nous nous considérons comme des polices d'information, capable de vous orienter vers des dizaines de sites différents - alors il suffit de demander.
A beautiful, comfortable cottage that has been expertly constructed, and a kind and helpful host. Excellent all around!
Daniel
2017-01-15T00:00:00Z
We had a delightful stay here! The cottage is charming and quite full-featured. Dana made us feel incredibly welcome! So many little details confirm he is aiming above and beyond as an AirBnB host. The location is very close to downtown while still capturing the neighborhood feel, so getting around is fast and easy.
Jordan
2017-01-02T00:00:00Z
This house is light-filled, clean and modern with a sweet little garden, perfect for coffee on a sunny morning.
Mary Kate
2017-02-21T00:00:00Z
Highly recommend Dana's place. We've stayed there twice now and had great experiences both times. The space is very clean and cozy, and full of light just like the name suggests. Dana made check-in and check-out easy, and was very willing to accommodate our requests about timing. The neighborhood is a family neighborhood and is quiet, but is just a few blocks from restaurants, bars, and some cute boutiques, and is close to downtown with easy access to the Max light rail to downtown and the airport.
Laura
2017-02-08T00:00:00Z
Great place - very comfy, private, and well provisioned. Great location, beautiful neighborhood. Dana was an awesome host - very responsive and kind. Highly recommend!!
Tamara
2017-01-31T00:00:00Z
Dana and his wife were fantastic, just as advertised the place is quiet, super clean, and the beds are soooooo comfortable. Would definitely stay there again without hesitation. Thank you Dana for your hospitality.
Alejandro
2017-03-11T00:00:00Z
GORGEOUS space and thoughtful hosts! Tucked away and quiet in a wonderfully walkable neighborhood with great public transit.
Jennifer
2017-02-17T00:00:00Z
Everything about this place was as described! It was the perfect home to relax after a long day of exploiting Portland. Great value!
Vanessa
2017-03-07T00:00:00Z
Type de logement
Logement entier
---
Type de propriété
Chambre d'hôtes
---
Capacité d'accueil
4
---
Chambres
Portland, Oregon, États-Unis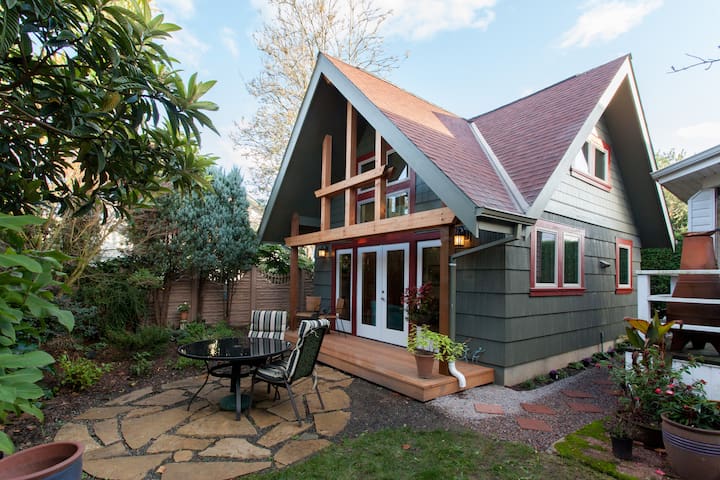 - light-filled basement apartment - modern furnishings - private and peaceful - centrally located
Bright, spacious and NEW private retreat. Separate entrance on the side of the house. Lots of windows face a lush, private backyard and let in tons of light. Queen bed plus pull-out twin sofa bed. Fully-equipped kitchen, bath has tub-shower, wall-mounted TV with DirecTV and DVD player in the living area. Custom local Douglas fir cabinetry and modern accents throughout. All new everything, from appliances and fixtures, to plumbing, electrical, and windows. This studio was part of a basement conversion completed in 2017. Moisture- and odor-free. Great temperature regulation--cool in the summer, and heated in winter via a separate system connected to a thermostat, which you control. There's even a separate Wi-Fi network. No expense was spared in making this studio a cozy place to stay! There is plenty of street parking. You'll easily spot the path to the door, which is lighted at night. You'll receive the door code before you arrive. Come and go as you please, 24 hours a day.
Welcome to Concordia, one of the River City's most desirable neighborhoods! Here you'll be nestled on a quiet street next to historic Concordia University, conveniently located only a few minutes from PDX airport by car; a half block from the bus stop (#17); and less than half a mile from Portland's own New Seasons Market, a liquor store, and good-old Walgreens. Super walkable! Awesome local coffee roasters Extracto down the street, award-winning dining at Beast, Dame, and D.O.C. nearby. The brunch at Nonna (1/4 mile away) is delicious and affordable. Walk down to Yakuza for awesome sushi and the best happy hour in Portland, and another 1/4 mile to the Kennedy School—a converted elementary school with a movie theater, a soaking pool, and a collection of bars and restaurants. Less than 10 minutes on foot to yoga, shopping, coffee, and a bakery at 30th and Killingsworth. Or . . . walk 15 minutes to famous Alberta Street to catch a show at the Alberta Rose Theater, hip licks at Salt and Straw Ice Cream, rooftop dining at the Radio Room, and ultra-curated (tax free!) Portland shopping at Cord, Frock, Ampersand Gallery, etc. It's common to see Concordians out for a late-night stroll to Expatriate for a craft cocktail, or in the middle of an intense bike polo match on the tennis court at Alberta Park, just 5 blocks away. If you're traveling in summer, don't miss the largest art event in Portland at Last Thursday on Alberta Street!
Type de logement
Logement entier
---
Type de propriété
Appartement
---
Capacité d'accueil
3
---
Chambres
Portland, Oregon, États-Unis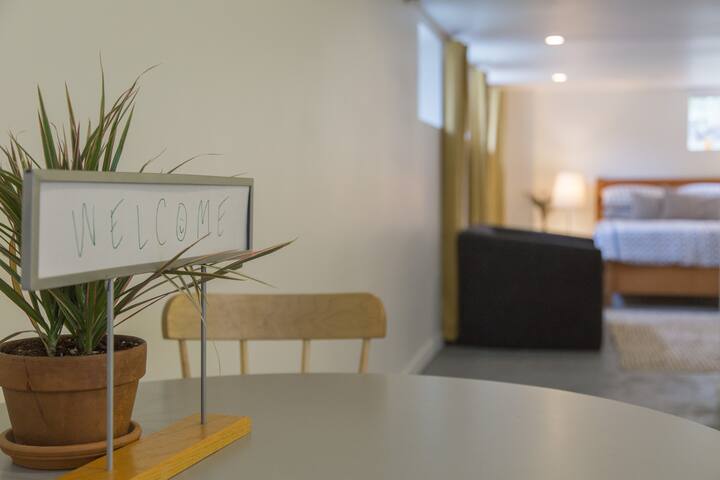 Stand alone mother-in-law apartment, brand new, bright and quiet. Close-in in Portland's Buckman neighborhood. Sleeps 2 comfortably. Amenities include free wi-fi, cable, w/d, full kitchen. Garden available to use. Near restaurants, wine bars, shops, bus line, Whole Foods. Portland at your doorstep!
Buckman is a close in SE Portland neighborhood which is an increasingly popular place to live. The apartment is at the eastern end of the neighborhood. There are parks, a picturesque cemetery, good restaurants, wine bars, craft brewing pubs and the Laurelhurst movie theater, all within walking distance. The #15 bus line runs to downtown on the other side of the cemetery (6 blocks). A little further afield (just over a mile) is the Hawthorne district where there are some off beat shops and more places to eat and drink. Downtown is 2 miles away. The apartment is part of a new build and is situated at the rear of the property next to the garden It is one story up (over the garage) and receives a lot of natural light. It is fully self-contained, all appliances are new which makes self-catering very easy. What it lacks in history it more than makes up for in convenience!
Buckman is pretty close to downtown while still having a residential flavor. It also contains a number of agreeable restaurants, wine bars and brewpubs. Everyday shopping needs such as grocery stores are also well served. Additionally it is pretty easy to get to the major freeways for travel purposes.
The cozy Portland studio apartment was one of the best AirBNB experiences I have ever had. The studio is even more spacious in real life than in the pictures. Everything was well decorated and extremely clean. The location couldn't have been better. Walking distance to amazing restaurants and wine shops. Thank you Cara for providing such a great place for us to stay. We will definitely be staying there again the next time we're in Portland.
(EMAIL HIDDEN)
2014-12-16T00:00:00Z
My sister and I really enjoyed our time in Cara's cozy studio in Portland! The studio was very nice and well-kept, and we really liked the location. It is on a quiet street, but it is only a few blocks away (definitely walking distance) from lots of restaurants, bars, and shopping. There is also easy street parking if you have a car, and it's pretty centrally located. I would definitely recommend this studio to anybody looking for a quiet, but centrally-located place in Portland.
Emma
2015-02-01T00:00:00Z
We loved our weekend at the Cozy Portland Studio Apartment. This studio, over the garage of a house on a quiet street in SE Portland, is clean, spacious and well maintained. The location is close to shopping, restaurants, parks and is in a perfect location for strolling idly in Portland's leafy splendor. We will keep this place in mind for future visits.
Kevin
2014-10-14T00:00:00Z
Cara's place was perfect for our stay in Portland. It was centrally located and walking distance to several restaurants, breweries, and bars. She had a ton of great information on what to do and see. We rented bikes, which was recommended by Cara, and had a wonderful time exploring Portland. Highly recommend you stay here.
Lori
2016-05-04T00:00:00Z
Cara and Roger are very thoughtful hosts and committed to providing their guests with the most comfortable accomodation possible. The room is spacious and well equipped with every imaginable need from cooking supplies (oils, spices) to laundry detergent for the washer and dryer. Cara was readily accessible by her cell phone and solved all our problems and answered every question. It was very clean with nice bedding and fluffy towels and good quality toilettries. There was even a welcome bottle of wine and delicious Stumptown coffee! The location was perfect for our needs: within easy walking distance of eclectic restaurants and coffee shops and a nice hike to Old Town and the Pearl district. We would highly recommend it!
Rita
2014-11-04T00:00:00Z
The cozy studio was great for us, close to everything and very comfortable. We enjoyed our stay.
Jean
2016-02-27T00:00:00Z
Really awesome location, on a beautiful street. The apartment is totally private, very clean and nice and bright. We enjoyed our stay here, and can't wait to return!
Elena
2014-11-10T00:00:00Z
Absolutely wonderful. We wish we were staying a few more days just because the apartment was so great!
Christopher
2015-08-14T00:00:00Z
Type de logement
Logement entier
---
Type de propriété
Appartement
---
Capacité d'accueil
2
---
Chambres
Portland, Oregon, États-Unis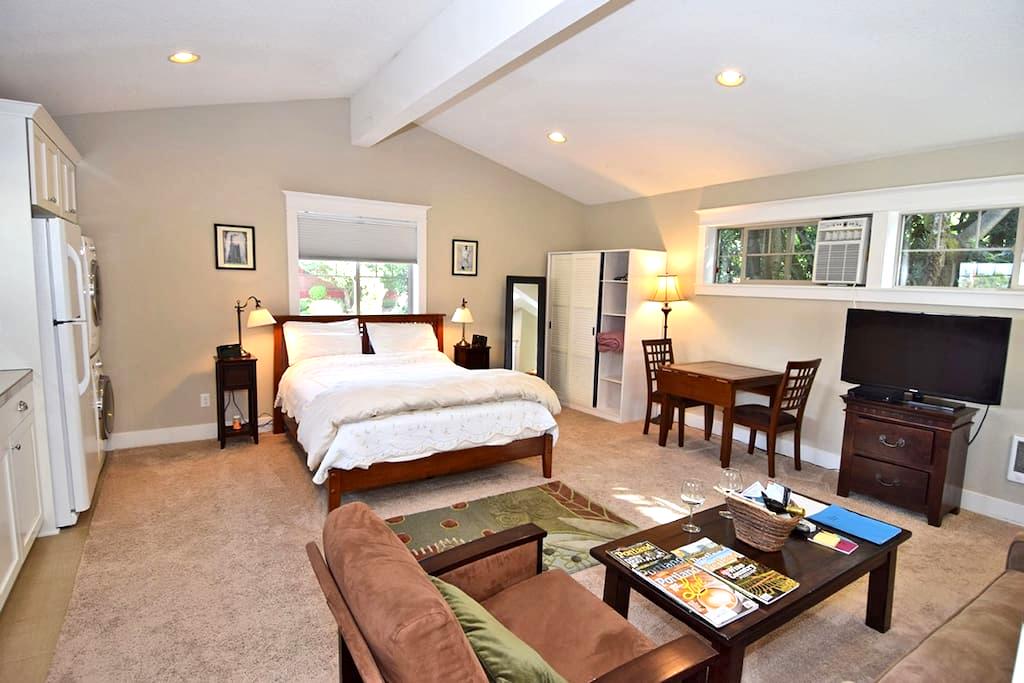 Un studio privé dans une cour de jardin situé au coeur du quartier animé de la Division Hawthorne et quartiers, cette retraite offre l'accès à pied à d'innombrables meilleurs restaurants, boutiques, magasins vintage, librairies cinémas indépendants et plus.
Nouvellement construit en 2013 ce studio est lumineux, moderne et dispose d'équipements complets. Profitez d'une tasse de café infusé tout en vous relaxant sur le canapé dans la salle éclairée par le soleil. Ou asseoir à la table pendant que vous planifiez votre journée avec le vélo là! et Walk On! cartes. Il y a une salle de bain complète avec baignoire, lave-linge et sèche-linge, cuisine complète et un espace de rangement pour les valises. Il y a un lit et un canapé futon, parfait pour les enfants ou un adulte supplémentaire pour dormir. (S'il vous plaît pas plus de deux adultes et deux enfants). Nous fournissons le café et le thé. Faire usage de nos robes confortables fournis, sèche-cheveux, wifi, ipod dock haut-parleur, cartes, brochures et Chinook livre coupons.
Cette charmante retraite, niché sous les glycines luxuriantes, est situé au coeur de la partie la plus souhaitable de Portland intérieur et est à distance de marche de (pour ne citer que quelques-uns): • boutiques uniques et des boutiques vintage dans les rues Division Belmont, Hawthorne et • Une grande variété de restaurants, y compris certains des plus recherchés après, la fine cuisine establishments- Pok Pok, Ava Jean de Bollywood Theater, Nuestra Cocina, Trois Doors Down, et beaucoup d'autres • Chapters Indigo Books sur Hawthorne et Chapters Indigo Books for Home and Garden • Bakeries- Grand Central, Little T de, Saint-Honoré, Roman Candle • film indépendant theaters- Clinton St. Theater, Cinemagic et Bagdad théâtre et pub • Épicerie Stores- Safeway, Nouvelle saison, Fred Meyer et Zupan de • Ice Crème Sel et Paille, 50 Licks, Maple Parlor, Ben et Jerry • Confitures, Genies, Pine State Biscuits, tasse et soucoupe, Pain et encre, Slappy Cakes cafés-déjeuner • L'un des derniers et meilleurs panier alimentaire Pod de Portland (Division et 28) • Bus et trains Max lignes du centre-ville • Facile à pied ou à vélo au centre-ville Esplanade (une marche de 2,5 mile / chemin autour du centre équestre) • Facile à vélo au Corridor Spring Water (nombreux miles de piste cyclable sans voiture) • OMSI- musée des sciences de l'enfance • Ville Parks- Mt. Tabor, Laurelhurst, Sewallcrest
Situation idéale dans un charmant quartier, avec accès facile au centre ville (deux lignes de bus à 5 minutes à pied). Très bon accueil des hôtes et studio bien aménagé, conforme à la description.
Elise
2016-07-07T00:00:00Z
This was our first ever Airbnb experience, and what a great first impression our hosts created! The photos were just as great as in real life. The studio was a cute and relaxing getaway, nestled in the backyard of the hosts' house. We loved having our own private and gated entrance to make our stay more intimate. In addition to that, the location of the unit was ideal as it was in the heart of everything. My husband and I love to walk around and explore and we were pleased to see so many restaurants, bars, coffee shops, and stores nestled between beautiful craftsman style homes, making it a very eclectic neighborhood. We tried to walk everywhere we could to soak it all in in a few days and we are so glad we did. As far as weather went, we were blessed to enjoy sunshine for half our visit. The inside of the unit was particularly neat as it had everything we needed (and more) in an efficient space. We absolutely adored it! The unit had everything from umbrellas to board games to kitchen utensils. The unit was very comfortable and cozy and plenty of space for us both. At nights we cracked the windows open to let in the fresh air and were glad to still maintain seclusion and privacy. Also the neighborhood was indeed a quiet one so we rested very well and undisturbed. We would love to visit again on our next visit
Tara
2016-02-28T00:00:00Z
We had a wonderful stay at the "Wisteria Retreat"! The place was very clean and welcoming. We also greatly appreciated the coffee. I would recommend this place to anyone visiting Portland. It it walkable to downtown, but there are great places in the neighborhood as well.
Angela
2015-10-14T00:00:00Z
The location is great! Walking distance to Hawthorne and Division, both streets have amazing bars and restaurants. The place was clean and tidy- the perfect get away.
Alexandria
2016-10-22T00:00:00Z
I loved my stay here! Ed and Sari are helpful and friendly hosts. The unit was renovated, super comfortable, and the WiFi was great. Highly recommend for all business travelers as well with 24/7 check-in.
Shirley
2017-01-11T00:00:00Z
We really lucked out with this location and host. The listing is exactly as described and the hosts are very kind people. I made an overnight delivery to the residence during my 5 night stay and UPS delivered the package many days late, after I already left. The hosts were so thoughtful and trust-worthy in helping me resolve the debacle.
Lela
2016-05-17T00:00:00Z
Really wonderful space. Amazing location close to a lot of great restaurants and shops. Loved the neighborhood. Would definitely stay there again.
Ryan
2016-04-12T00:00:00Z
We had a wonderful experience in their detached air bnb. They were very helpful with their suggestions and the place was clean and well equipped with the things we needed. I would definitely recommend this place if you visit Portland. Lots of great restaurants and shops right around the corner as well!
Megan
2015-11-17T00:00:00Z
Type de logement
Logement entier
---
Type de propriété
Maison
---
Capacité d'accueil
2
---
Chambres
Portland, Oregon, États-Unis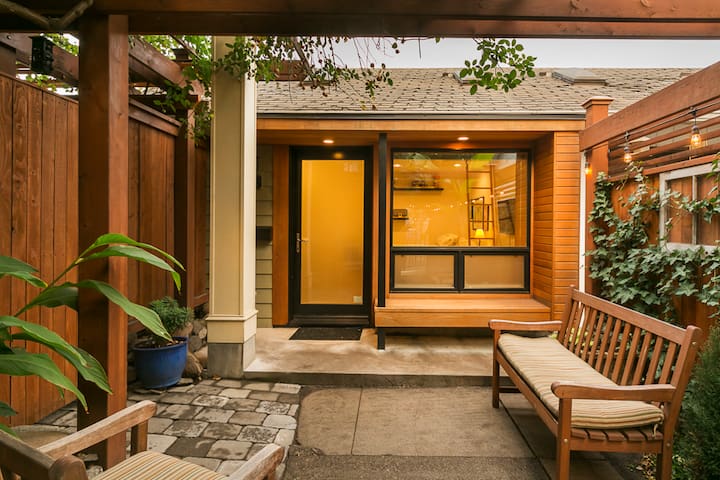 Rediculously beautiful tiny house!! No detail has been overlooked!! Gorgeous beatle pine and fir custom wood interior. Copper sinks and fixtures throughout!! Cozy cozy cozy in Portland's coolest neighborhood!! Full kitchen, custom bathroom. Premium Cable TV. Central location. Free parking.
Rediculously beautiful tiny house!! Custom beetle pine, fir wood interior. Live edge custom countertop, shelves, and vanity. Copper sinks, fixtures, and oil rubbed bronze and copper details throughout. Marble shower, subway tiled bathroom. Radiant floor heating. 2 queen lofts with pure natural latex mattresses (completely allergen free). Propane range. DELUX!!! In Portland's hottest neighborhood!! Right inbetween vibrant Mississippi St and Williams Ave. Walk walk walk!! Free parking. Welcome gifts!!
This tiny house is absolutely amazing. No detail was overlooked! It didn't even seem real. Do yourself a favor and experience staying in this little house. The location is great. I enjoyed the outside patio as well. This house is one of the highlights of my trip to Portland!
Amber
2016-07-30T00:00:00Z
The pictures are exactly what you get! Cozy and cute space. I would definitely recommend to someone who likes a quiet space to kick back and relax!
Michael
2017-02-08T00:00:00Z
The tiny house is lovely and in a great neighborhood! It was easy to get downtown, but the restaurants and shops within walking distance were my favorite! it is very private despite being in a backyard. I would definitely stay here again!
Lauren
2017-03-06T00:00:00Z
Great tiny house. We love staying - perfect spot. Great neighbourhood and cycling to Downtown / sights. Would come again.
Matt
2016-07-05T00:00:00Z
This tiny house is INCREDIBLE! If you've ever needed big inspiration from a small space, look no further. I can't believe how spacious it felt inside despite only being a few hundred square feet. I LOVED that there was Netflix and TWO TVs in the space for entertainment. This is also a very well curated coffee and tea setup :) Oliver was a fantastic host and provided excellent recommendations for the area. This is a very unique and beautiful place that I highly recommend anyone visit.
Kim
2016-12-10T00:00:00Z
Great location
Lindsay
2017-01-17T00:00:00Z
We had a wonderful stay in Olivers 'Tiny House'. Everything we needed was just a few minutes walk away. This is a great neighbourhood and I would highly recommend it for anyone travelling from out of town looking for an authentic Portland experience! The accommodation itself is SO great. We have breakfast at the house every day, the kitchen is well equipped. Thanks for an awesome experience! We'll be back.
Ella
2017-01-27T00:00:00Z
An absolutely lovely "tiny house," much more comfortable than might be imagined given its size. Cozy & well-appointed, in a great neighborhood - we'd love to come back in summer to enjoy the garden!
Julia
2017-02-27T00:00:00Z
Type de logement
Logement entier
---
Type de propriété
Maison
---
Capacité d'accueil
4
---
Chambres
Portland, Oregon, États-Unis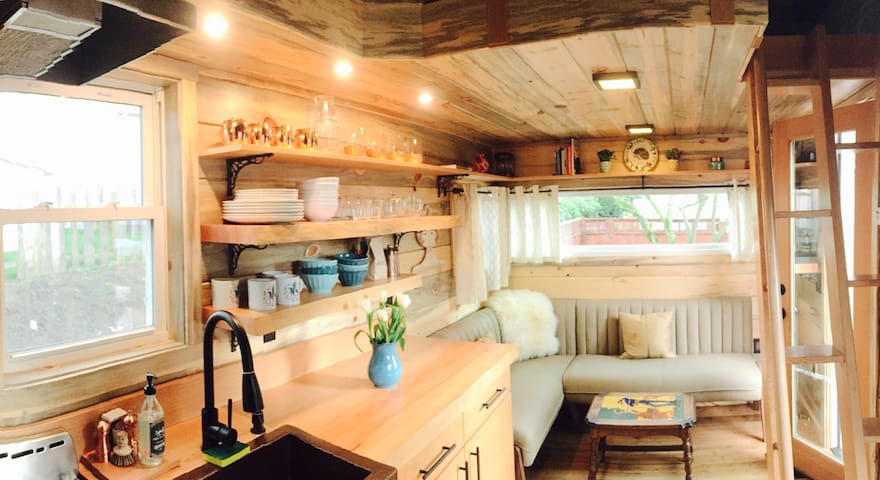 Notre studio maison d'hôtes peut accueillir confortablement deux et dispose d'un mini-cuisine et salle de bain privée. Promenade dans le jardin à votre entrée privée. Détendez-vous par le feu et profiter de l'un des livres d'art de notre bibliothèque. Marcher à proximité Alberta Arts District.
Avec deux petits enfants à la maison, nous avons trouvé peu de temps pour peindre dans le deuxième étage de l'immeuble studio à l'arrière de notre propriété. Venez profiter de ce bel espace! Il dispose de hauts plafonds, beaucoup de lumière, d'un poêle à bois (avec chauffage électrique back-up), vue sur les jardins environnants, une grande table et une table de rédaction d'étaler et de travailler sur, et une bibliothèque de livres d'art. La kitchenette est équipée d'un évier, un mini-réfrigérateur, micro-ondes, cafetière et bouilloire électrique. Il n'a pas de plaque de cuisson ou four ou grille-pain. Nous fournissons le café et le thé. La salle de bain dispose d'une cabine de douche et un éco-toilettes qui recueille l'eau de lavage des mains à utiliser sur la prochaine chasse. Avec des températures estivales en hausse, nous avons récemment ajouté une unité de fenêtre AC pour votre confort. Nous offrons un lit avec un matelas à ressorts Ikea sept pouces et une mémoire de mousse topper de deux pouces. Nos clients rapportent que la salle est étonnamment calme la nuit. S'il vous plaît noter que nous ne disposons pas de la télévision; cependant, notre wifi est assez rapide pour regarder des films ou des émissions sur votre appareil personnel.
J'adore cet endroit. Ceci est un quartier résidentiel avec une large section transversale de la diversité raciale et économique, beaucoup de l'ancien «funkiness capot encore intact, plus récent créativité hipster et une certaine activité commerciale haut de gamme. Attendez-vous à voir un mélange de bâtiments délabrés et la construction récente ou rajeuni. Nous nous sentons en sécurité la nuit, mais je conseille aux femmes de se méfier de marcher seul la nuit, surtout si vous ne disposez pas de débrouillardise beaucoup. Nous sommes à une courte distance de marche de la rue Alberta Co-op, cafés, restaurants, bars et autres commerces. Le bureau de poste, laverie, Safeway et Walgreens sont très proches aussi.
If you love art and art literature then this space is for you. Although it is only one room, with a bathroom, it feels quite large due to the plethora of windows allowing for ample light even on a rainy pacific northwest day. There is ample space to work if your traveling for business or to relax if your on vacation, especially by the cozy fireplace. The space is minimalistic and clean in style so as not to feel overwhelming and cluttered while providing a mix of modern and rustic which exudes "home away from home" comfort. Nell showcases her beautiful artwork that adds an intimate touch to the space. Overall, we feel lucky to have booked this space and if you have the chance you will too.
Adam
2016-11-27T00:00:00Z
This was a perfect place to stay for the 2 nights that we spent in Portland. It was really cold when we arrived, but once we turned on the stove it was tolerable. The place is really cute and had pretty much everything we needed for our stay (private bathroom, kitchen with microwave, etc) and it was 3-4 blocks away from the bus stop. Nell was very quick to respond to our questions which made our stay that much smoother. Would definitely recommend.
Dagmar
2015-12-15T00:00:00Z
So glad we stayed at Nell's Airbnb! First time in Portland and this location was close to Alberta street where all the delicious food and shops are. The Garden retreat was just as it shows in the pictures: quaint, cozy, and quiet.
Julia
2015-11-15T00:00:00Z
Beautiful place. Wish I could have stayed longer.
Kjell
2015-04-03T00:00:00Z
My boyfriend and I stayed three wonderful nights at the garden retreat. The space is beautiful with tall ceilings, reclaimed wood floors and natural light. We enjoyed looking at the art books and Nell decorated the space with her own gorgeous paintings. The bed was comfortable and everything we needed (dishes, coffee, honey, shampoo, etc.) was provided. We were a short walk to Alberta street with many nice restaurants, coffee shops, and local businesses. Nell was fast to answer my questions and gave us great suggestions on places to visit. Would stay again at the garden retreat!
Cassidy
2015-01-16T00:00:00Z
Nell was a great host who was proactive with communication that made everything a very smooth experience. The listing is gorgeous with great aesthetics and I had a great nights sleep on the softest bed ever. I am for sure keeping this place in mind for when my family needs to come into town! I cannot recommend this experience more.
Emilee
2015-07-07T00:00:00Z
What an awesome place! Nell was very accommodating. The studio was incredibly cozy, bright, and inviting. The cast iron stove and vintage radio were great on a damp Portland evening. It was an easy 10-15 minute walk to the Alberta Arts District, which houses great food, shopping, and culture. Bus lines run nearby as well, making it easy to get around the city. This garden art studio was a great place to stay!
Anne
2015-12-06T00:00:00Z
Can't recommend this place enough. Peaceful, bright and airy, stylish and quite cozy. Great bed and linens. Nice touches such as really good coffee and cream already in the fridge made this place feel very deluxe. Excellent location. Easy walk to Alberta street shops and restaurants. Downtown was a speedy 15 min drive. Nell was a good communicator and very sweet when we met her. We'll likely try to stay here whenever we're in Portland.
Nicholas
2015-06-28T00:00:00Z
Type de logement
Logement entier
---
Type de propriété
Maison
---
Capacité d'accueil
2
---
Chambres
Portland, Oregon, États-Unis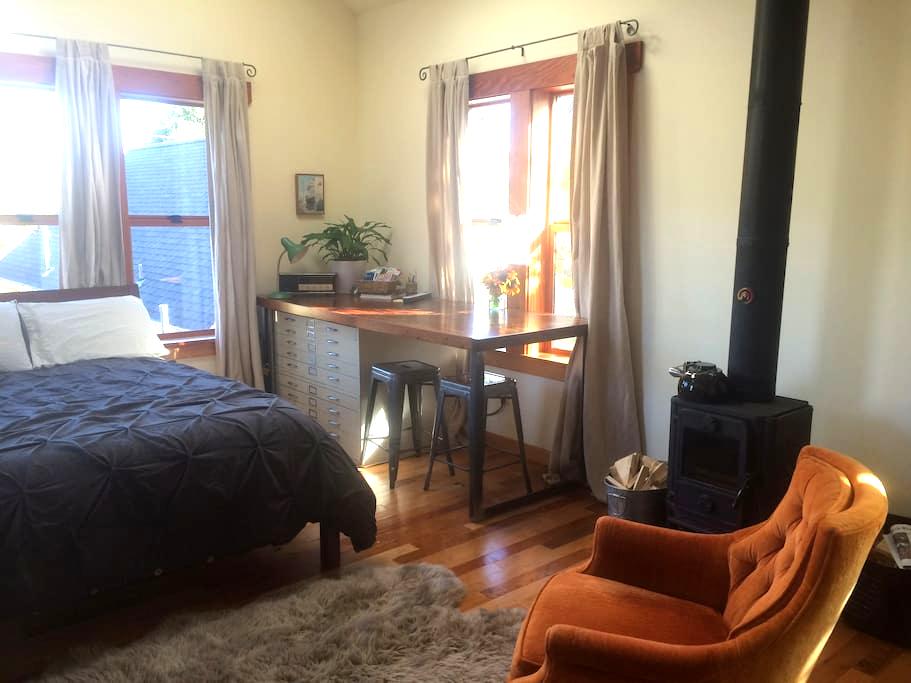 Portland - Airbnb
:
Moyenne de

5

sur

5

étoiles sur les

3215

commentaires des voyageurs
1

–

18

sur

300+ locations
Saisissez les dates souhaitées pour connaître le prix total. Des frais supplémentaires s'appliquent et des taxes peuvent être ajoutées.