Ein ruhiger, gemütlicher Schlafzimmer und Bad im Erdgeschoss eines schönen, modernen neuen Zuhause in einem grünen, freundlich Südost-Portland. Begeisterte Begrüßung durch sehr freundlichen Hund & Katze kommt Standard!
BITTE LESEN SIE DIE GESAMTE LISTING VOR DER UNTERKUNFT ERSUCHENDE. Als Serviceleistung für unsere Gäste, unsere Check-In ist ab 15.00 Uhr; aber, wie wir beide Arbeitswochentagen können wir die Zimmer nicht bereit, bis 05.00 Uhr oder so. Das bedeutet, dass unsere Gäste willkommen sind, sich in ihrem Wohnzimmer zu Hause zu machen oder einfach nur aus ihren Taschen fallen und den Kopf aus zu erkunden, aber sie werden ihre müden Köpfe nicht oder die Duschen treffen können, um sich auszuruhen, bis wir je hatten eine Chance, nach Hause zu kommen und aufzuräumen. (Bitte beachten Sie: Dieses Angebot unterstreicht die primären Gästezimmer zur Verfügung, aber für Gruppen von 3 oder 4 Personen, haben wir eine sekundäre Schlafzimmer haben, die auch ein Queen-Size-Bett verfügt über alle Gäste das gleiche Badezimmer teilen, aber das zweite Bett auf gezeigt. das Angebot ist nicht in einem gemeinsamen Raum, es in seinem eigenen privaten Schlafzimmer.) Es gibt fast eine ganze Etage in unserem brandneuen Hause Klatschenkleks im Herzen von Spaß, zugänglich Südost-Portland! Das bedeutet, dass unser Gast (s) erhält nicht nur ihr eigenes ruhiges Schlafzimmer, sondern auch über ein eigenes Bad und eine eigenen gut ausgestattete Wohnzimmer (Bitte beachten: Die erste Etage Wohnzimmer nicht privat ist, da es keine hat und die Decke ist der Weg zwischen der Eingangstür des Hauses und der Treppe in den zweiten Stock). Wir sind nur wenige Schritte entfernt von einem Viel Service Bus, eine tolle Sandwich-Shop, das zum Frühstück, Mittagessen und Abendessen, eine Pizzeria geöffnet ist, ein Starbucks, und, am besten von allen, ein Trader Joes! Das Haus ist etwa zwei Meilen südlich des angesagten Hawthorne Bezirks, eine Meile südlich von national anerkannten Division Street, und etwa vier Meilen östlich der Innenstadt von Portland. Das Haus selbst ist eine schöne, hochfliegend Doug Tannen- und Schierling konstruierten Traumhaus dekoriert mit one-of-Art Glaskunstwerke und Topf Sukkulenten. Unsere Gäste haben Zugang zu unserer fabelhaften Küche zusätzlich zu ihren eigenen ersten Stock Annehmlichkeiten. Wir haben eine sehr freundliche housecat Sie wahrscheinlich während Ihres Aufenthalts treffen, aber die Gästezimmer und Gästebad Türen gehalten werden für den Komfort der Allergenempfindlichen Gäste geschlossen. Wir haben auch zwei freundliche Hunde, die Sie eifrig bei Ihrer Ankunft begrüßen, aber die sonst ihre Zeit damit verbringen, mit uns hängen und nicht viel auf die Gästeetage wandern. Schließlich unsere Gäste während der kälteren Monate: die Gästeetage neigt die kühlsten im Hause zu sein, und wir bieten Raumheizungen und afghanen für Ihren Komfort, aber wir Abbildung, wir sollten Sie vor der Zeit wissen lassen, dass, wenn Sie gefrieren, wir nicht der ideale Ort für Ihren Aufenthalt sein.
Unsere Nachbarschaft ist so groß! Wir sind sehr nah an mehrere kühlen Portland-Hub, aber wir sind auf einer relativ ruhige Wohnstraße so wirklich wir haben das Beste aus allen Welten.
Nous avons passé un bon séjour dans la très belle maison de Brad et Becca. Nous avions notre intimité et une chambre agréable. Et un chat mignon et très câlin qui nous a rendu des visites.
Aurélia
2014-03-07T00:00:00Z
Brad and Becca are great hosts. They did everything to make my parents feel comfortable. Their home is an amazing place in SE Portland and we highly recommend them as hosts. Great hosts, great home, great city.
Hannes
2014-05-07T00:00:00Z
Our stay with Brad was filled with a really chill atmosphere. He was very welcoming and knowledgeable(he's travelled a lot!). We had our own floor and it really felt like we were a part of the space. We would very much recommend staying here. Brad was just a kid at heart and pretty damn cool to be around.
Juan
2015-07-31T00:00:00Z
We booked this room the night before we arrived and Brad & Becca graciously accepted us, and were very friendly and communicative all throughout our stay. When we arrived, we were delighted to find that their home was even more awesome in person than in the pictures! They made a fantastic suggestions board/map of things to do in Portland from which we took great advantage of, so fear not if you also plan a last min trip like we did. In addition, they have the most adorable kitten ever--it was hard to leave the house because we wanted to keep playing with it! Getting to downtown Portland is a breeze because the bus stop is only a block away, and the neighborhood seems like a safe place. We finally had the pleasure of meeting Becca & Brad on our last night and their warmth and generosity truly left a great impression of Portland on us!
Erin
2014-10-23T00:00:00Z
Awesome neighborhood, fantastic and really accommodating hosts. Had the whole floor to myself! Would definitely stay there again.
Fred
2016-05-18T00:00:00Z
Brad and Becca both greeted us when we got to their house. we also met their cat and dog. the stay was amazing. everything we needed was already provided in our room and bathroom. we had the whole first floor to ourselves. it was a great stay. i would totally recommend staying at their place
Jay
2015-09-09T00:00:00Z
My boyfriend and I drove 10 hours from CA to Portland. Brad and Becca waited for us and gave us a warm welcome. They made the environment feel like home. We relaxed and had a tight sleep. The treehouse is well-decorated, clean and organized. My boyfriend and I really love the design. The location is convenient,too. It is just about 10 minutes away from grocery stores and various kinds of restaurants (Japanese, American, Mexican, Thai, etc). Last but not the least, Brad and Becca's pets really made our days. Their cat is so cute, friendly and soft! I wish we could have stayed longer. We really appreciate the experience staying in this treehouse.
Ge
2016-03-25T00:00:00Z
We are so glad we stayed at Brad and Becca's! I've never spent much time outside of downtown Portland when I've visited before. Brad and Becca's place was super close to lots of really great restaurants and shopping. Great location!
Courtney
2015-04-23T00:00:00Z
Type de logement
Chambre privée
---
Type de propriété
Maison
---
Capacité d'accueil
4
---
Chambres
Portland, Oregon, États-Unis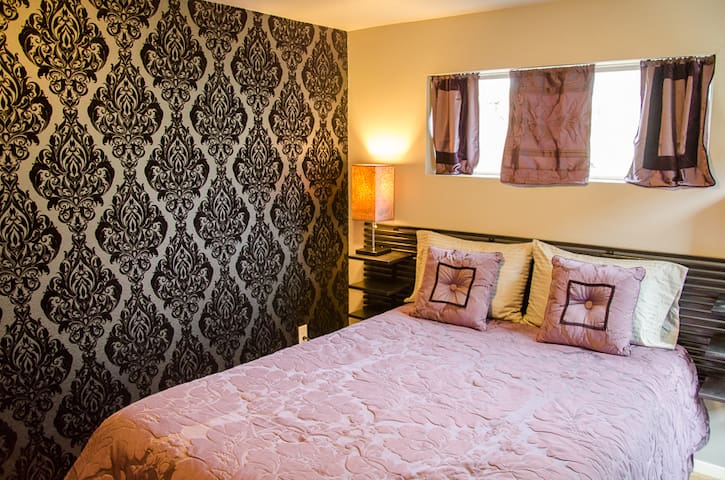 Eingebettet in den privaten Garten von unserer Familie zu Hause, einem Viertel-Hub. Die runden, rustikal, romantisch MudHut versteckt in einem geheimen Garten der St. Johns Brücke mit Blick auf funkelnde Fluss, in der Nähe von Cathedral Park, Forest Park, der Innenstadt von St. Johns, Kanu und Wanderwegen ... Firepit, Permakultur Gärten, Leihgerät Fahrräder, Gemeinschaft Leben, schauen Sie!
Unsere Hütte wurde von Familie, Freunden Handgefertigt und Gemeinschaft mit großer Liebe und dient als Gästehaus, Homeschool Hütte, eine Sauna und ein Heiligtum. Holz erhitzt und bei Kerzenlicht, es ist ein ruhiger, ländlicher Schlafraum. Ich empfehle zwei Nächte für ein einzigartiges Erlebnis in der entspannten Atmosphäre zu bleiben.
Wir sind in St. Johns, Portland nördlichster Nachbarschaft und eine kleine Stadt für sich mit einer starken Gemeinschaft Identität hier. Viele Familien hier ihre Wurzeln zurück zu James John, dem Pionier der Gründer von St. Johns, die in der ganzen Nachbarschaft verewigt ist. Downtown St. Johns ist ein paar Blocks entfernt, mit vielen Restaurants (Thai, vegan, soulfood, chinesisch, Pub-Essen, Pizza, Feinkost, Frühstück, Kaffee & Gelato), ein alter Kino und Shopping (viele vintage). Cathedral Park, drei Blocks entfernt, ist wunderschön und fotogen mit Zugang zum Willamette River und die atemberaubenden Kopf Präsenz der gotischen St. Johns Brücke, die Sie von der Hütte zu sehen. Wir sind auch in der Nähe viele Naturgebiete für die Stadt Wandern und Paddeln. Forest Park, voll von Wanderwegen und alten Wald, befindet sich direkt über die Brücke. Nördlich von hier ist Kelley Point Park, dem Zusammenfluss der Willamette und Columbia Rivers; Smith und Bybee Seen, Feuchtgebiete für Vögel beobachten und Paddeln; und Sauvie Island, mit Stränden, landwirtschaftlichen Betrieben, Kindergärten, Wandern, Angeln, und Vögel beobachten. Wir sind auf dem Pazifik wandernden Fliegen Weg, so viele raptor Aktion hier. Kahle Adler, Wanderfalken und Habichte stürzen, indem sie regelmäßig.
We had a thorough and welcoming tour when we got there. She made sure we knew how to work everything (hot tub and stove, namely), pointed out some perks (towels in case we forgot, delicious home brew) and then gave us our privacy (which was what we were hoping for since it was our anniversary, though we really liked our host).
Liz
2016-11-12T00:00:00Z
The Mud Hut was everything that we expected and more. Very cozy spot altogether and we enjoyed morning coffee overlooking at the bridge and river. Ivy loaned us two bikes for the day and was a great host! We loved the neighborhood and would definitely stay here again!
Sandra
2016-05-02T00:00:00Z
The Mudhut was amazing! My fiance and I did a big road trip of 22 states, and this was easily one of our favourites. We arrived late, only stayed one night and had to leave early; we wish we had booked for much longer!
Megan
2016-08-07T00:00:00Z
I think I made a big mistake by booking the cozy mud hut with big bridge view as my first airbnb experience. My teenage daugher & I were to spend the night in Portland and then drive down to Eugene to Duck day at UofO. This just was not anything like we expected or could accept! When we arrived Ivy was very pleasant & nice & showed us the property. Rustic means no electricy in the mud hut, bathroom in another building with stairs, so if you need to go in the middle of the night you go outside to another building down some stairs.. no flashlight offered. hot tub offered was not clean on the outside, no thank you. perhaps this property should be recommended for couples. I personally was more than disappointed that this was what was offered. My teenage daughter was ready to sleep in our rental car if this was what the evening plan was. So, I just have to be honest here, we left, we returned the key. We were appalled that airbnb offered this property. Not our cup of tea, but by the reviews there are those that are comfortable with this offering. I was concerned with health standards here.. the place was very unkept and dirty to me.. I would not recommend it at all. I am sorry but that is my honest review.. for those that can enjoy this kind of atmostphere, great. But I must say that I have traveled to many places in the world and this by far is one of the worst examples of living spaces I have seen.. Please note that I asked for a refund and Ivy did give me a refund and I am happy for that.. My daughter and I were able to find a nice hotel in Portland that was clean, safe, and nice. Our stays in two different airbnb's in Eugene were great!
Rebecca
2015-04-04T00:00:00Z
Wonderful experience, lovely mud hut ambience in the evenings. We enjoyed the outdoor structure set up as living room (there are blankets for chilly days/evenings), and having a campfire in the evenings. We loved having the chickens cluck around and see the view to the bridge. Check out the Cathedral Park below in the St. John's bridge, it is within 10 min walking distance or shorter drive. +++ Mud Hut highly recommended if you are a nature lover, art lover, and not opposed to basic conditions (small bathroom, futon mattress, no immediate electricity in mud hut).
Tim
2013-10-27T00:00:00Z
Amazing, one of a kind experience. Even came with a cuddling partner
Rebekah
2016-12-19T00:00:00Z
Very much enjoyed my time here. Ivy was accommodating and welcoming, and the hut was warm and comfortable. I loved the scenery from the hut and its proximity to the Forest Park. Had a very relaxing time sitting in the jacuzzi and sipping on the delicious home brew :-)
Nora
2016-04-13T00:00:00Z
Ivy was great. She was super helpful and chill. The mud but was also really neat.
Walter
2016-10-18T00:00:00Z
Type de logement
Chambre privée
---
Type de propriété
Maison écologique
---
Capacité d'accueil
2
---
Chambres
Portland, Oregon, États-Unis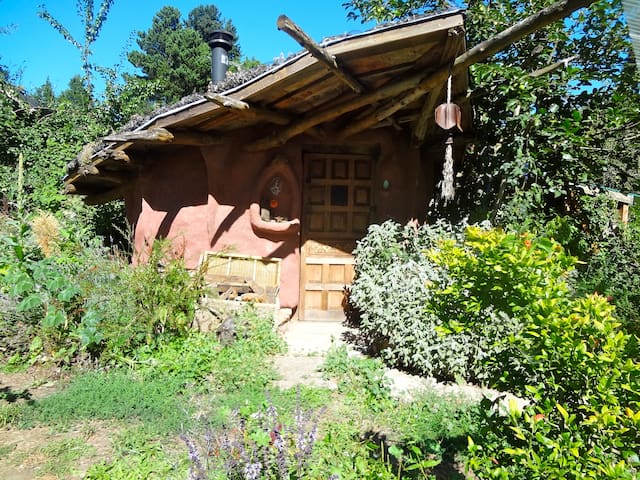 "Ceci est officiellement le Coolest Treehouse dans le Monde" Traveler -Condé Nast Tout bas suite d'invité de niveau avec salon, chambre, salle de bain privée, mini-ponts, et des vues sans fin. Une recherche sur le web "Ceci est officiellement le Coolest Treehouse dans le monde» conduit à une courte vidéo de la résidence.
SWの丘に位置し、協議会クレスト近くOHSUから1マイル。ポートランドのダウンタウンから3マイル。 クイーンベッド、プライベートバス付きのベッドルームを含む全体の下位レベルのゲストスイート、快適なロングソファとベンチテーブルミニデッキ、時のものの足やコーヒーを配置するため、共有ランドリールームでくつろぐために設計された部屋に座って。
ハウスは、ハイキングやランニング用トレイルのマイルと175エーカーMarquam自然公園内に存在します。ポートランドのダウンタウンから3マイル。
This treehouse is one of the most unique airbnb stays that we've had. The view is absolutely incredible. Lance was easy to communicate with, and everything was as described.
Megan
2015-09-03T00:00:00Z
Wow! What an incredible space. The home is truly one of a kind with a beautiful location. Lance was very welcoming and friendly, willing to talk but also seemingly happy to give you your space as well. Great host, would definitely recommend.
Slade
2015-05-14T00:00:00Z
The place was a gem. It is located on the hills above the city, and you get an unobstructed view all the way to my. Helena and Hood. To be clear to those who rent, the rental is for the entire downstairs area and Lance lives on the second level. Lance was great about communicating and gave us our space to enjoy our stay. He also made coffee for us in the morning and made us feel very welcome! Would definitely recommend.
John
2015-11-28T00:00:00Z
Beautiful location very close to downtown. It was great being 10 minutes from downtown, yet secluded in the tree house high above Portland. Lance is great and very accommodating. I would definitely stay here again!
Chelsea
2015-04-12T00:00:00Z
Tree house was beautiful and a great place to stay. Lance was very friendly. Chatted with us when we wanted but otherwise laid back and doing his own thing.
Jay
2015-08-17T00:00:00Z
What a fantastic place! The view is amazing. And it's super comfortable. Our bedroom overlooked the city to the east. We saw the sun begin to. rise over the mountains at 4:30. We had left the shades up because we had to get up at 5 am anyway. Lance was accommodating and welcoming. We arrived a little earlier than expected, but he was very flexible, and it all worked out well. We enjoyed talking with him and he fixed coffee to help us get going in the morning. A great host!
Nancy
2015-06-05T00:00:00Z
I can't begin to speak highly enough of lance, and his home. Lance is such a great host and a funny guy, very kind and welcoming. He made us feel at home right away and told us some great stories. His cat bukowski is amazing too. The space is gorgeous and has a breath taking view. We would love to come back. We stayed for one night and it was amazing.
Alexander
2016-10-19T00:00:00Z
Amazing house. Amazing Host. Couldn't have had a better night stay in Portland. One of a kind view.
Alexandra
2016-02-28T00:00:00Z
Type de logement
Chambre privée
---
Type de propriété
Maison
---
Capacité d'accueil
2
---
Chambres
Portland, Oregon, États-Unis
Lumineux, studio-suite privée dans la belle maison Grant Park. Excellent emplacement central. 650 pieds carrés d'espace privé. Reine-lit dans la suite principale. Double-lit dans la chambre voisine de la lucarne. Facultatif lit jumeau supplémentaire dans la suite principale pour accueillir un cinquième invité. Privée, salle de bains moderne, bar, coin cuisine, coin repas et coin lecture.
Le Pad Suite Funky a tout ce dont vous avez besoin pour plus de commodité, l'intimité et le confort. - Pièce principale avec grand lit, canapé, table basse et 40 "HDTV avec câble (Digital Preferred / HBO / OnDemand). - Ornant chambre mansarde avec lit de taille. - Kitchenette avec petit réfrigérateur, four micro-ondes, cafetière traditionnelle, la presse française et pot de thé. - Table de Foldout et chaises pour manger confortable et un espace de travail. - Chaise de lecture confortable. Barre humide. - Lumineux, salle de bains moderne avec puits de lumière, la vanité et la douche. - serviettes de qualité de l'Hôtel - Sèche-cheveux - Shampooing et gel de bain - Fer et planche à repasser - Dinner & verrerie - Portland support de destination - Un grand parking gratuit juste devant notre porte. - Pièce principale avec grand lit, canapé, table basse et 40 "HDTV avec câble (Digital Preferred / HBO / OnDemand). - Ornant chambre mansarde avec lit de taille. - Kitchenette avec petit réfrigérateur, four micro-ondes, cafetière traditionnelle, la presse française et pot de thé. - Table Foldout et chaises pour confortable espace de travail / repas dans la chambre. - Chaise de lecture confortable. Barre humide. - Lumineux, salle de bains moderne avec puits de lumière, la vanité et la douche. serviettes de qualité -Hôtel -Hairdrier -Shampoo & gel de bain -Fer et planche à repasser -Souper & support de destination -Portland verrerie Parking -Free juste devant notre porte. Je suis habituellement ici si les clients ont besoin de moi, et profiter d'apprendre à connaître nos clients. Mais je vous offre également une intimité totale quand cela est préférable. La suite donne sur le magnifique parc Grant, avec piscine extérieure, des courts de tennis, terrain de jeux, sentiers et quart de mile piste de marche. Il y a une heure 24 QFC Supermarché quelques pâtés de maisons, et Whole Foods, Trader Joe et New Market Seasons sont tous à quelques minutes. Il y a de nombreux restaurants, bistros, bars et restaurants à distance de marche, y compris Shandong (Chine), Sweet Basil (Thai), Nicholas (libanaise), Cha Cha Cha (Mexique), Hale Pele (Tiki), et verser Wine Bar & Bistro (petites plaques). Grant Park est situé au milieu des quartiers NE en circulation de Irvington, Alameda, Beaumont, Hollywood et Laurelhurst. Alberta Arts, Oregon Convention Center et Downtown Portland sont tous à quelques minutes. Grant Park a un score de marchabilité 98%. Nous offrons l'aéroport pick-up pour 15 $ par trajet. (Taxi de notre maison varie de $ 27- $ 36). S'il vous plaît prendre l'aéroport arrangements pick-up avec nous à l'avance. Nous vous proposons la location de vélos avec casques pour 18 $ par jour. Il y a des pistes cyclables qui peuvent vous rendre à une partie de la ville de notre emplacement Grant Park. Nous avons 4 vélos de différentes tailles, qui sont tous en parfait état de fonctionnement. Nous sommes à droite sur le TriMet 77 et 70 lignes de bus et à 15 minutes à pied de la gare ferroviaire de Hollywood Lumière. Il y a généralement plusieurs voitures Zip à travers le quartier. Cliquez sur le Guide en haut de la page pour voir tout ce que vous pouvez marcher dans le quartier. Nous sommes impatients de vous accueillir!
La suite donne sur le magnifique parc Grant, avec piscine extérieure, des courts de tennis, terrain de jeux, sentiers et quart de mile piste de marche. Il y a une heure 24 QFC Supermarché quelques pâtés de maisons, et Whole Foods, Trader Joe et New Market Seasons sont tous à quelques minutes. Il y a de nombreux restaurants, bistros, bars et restaurants à distance de marche, y compris Shandong (Chine), Sweet Basil (Thai), Nicholas (libanaise), Cha Cha Cha (Mexique), Hale Pele (Tiki), et verser Wine Bar & Bistro (petites plaques). Grant Park est situé au milieu des quartiers NE en circulation de Irvington, Alameda, Beaumont, Hollywood et Laurelhurst. Alberta Arts, Oregon Convention Center et Downtown Portland sont tous à quelques minutes. Grant Park a un score de marchabilité 98%.
The Suite was exactly as promised and exactly what we needed. It is clean, comfortable and convenient (especially if you have a car - we didn't need to take public transportation during this visit). Paul was helpful and responsive to all of our messages. We would definitely stay here again.
David
2015-12-30T00:00:00Z
Just spent the weekend at Paul's Funky Pad and I have to say everything was exactly as described. The Funky Pad was super comfy and clean. The place is also perfectly situated. And most importantly, my tiny yorkie enjoyed his stay immensely! He didn't want to leave the comfy bed on our last day :) Overall, I highly recommend this place and would definitely stay here again in the future.
Ruth
2015-01-28T00:00:00Z
Perfect at home and safe feel from the get go - great location, Paul was a perfect communicator and very willing to help with any needs. Beds were comfy and the little things were thought of. Perfect spot.
Matt
2016-07-16T00:00:00Z
Accurate and welcoming. Really nice stay.
Be
2016-10-30T00:00:00Z
Paul was a wonderful host! He contacted me when the space was available, earlier than listed check in time which was perfect since I made it into town early. He was extremely friendly and was happy to meet my puppy even though she had snuck into his personal space of the house. Location in town is close to many parks and the neighborhood was very family/dog oriented and quiet. Never had an issue with street parking even with a large park directly across the street.
Heather
2014-09-22T00:00:00Z
He was very friendly and accommodating!!!
Diana
2017-02-16T00:00:00Z
Paul was a great host, the place is very clean and has everything you need. The location is off a main street, easy to get around town, but you could hear some road noise, it didn't bother me though. Beds are on the softer side, there isn't a kitchen, but everything to make a hot drinks, fridge and microwave. Bathroom is stocked as well, hair dryer FTW! Check in and check out was easy, and for such in-expensive, and clean place to stay in Portland, it is a really good deal.
Alice
2014-05-13T00:00:00Z
The listing was accurate, Paul's Funky Pad was delightfully decorated and in a great neighborhood with many restaurants available by foot. My only surprise was that I expected a private entrance, and, the entrance was by going through the main house. Paul was very respectful of our privacy.
Patricia
2015-08-07T00:00:00Z
Type de logement
Logement entier
---
Type de propriété
Appartement
---
Capacité d'accueil
5
---
Chambres
Portland, Oregon, États-Unis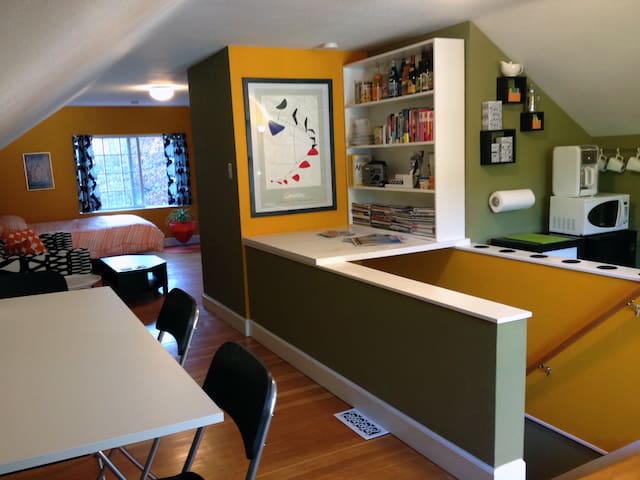 espace tranquille dans un jardin luxuriant. Cette maison d'hôtes dispose d'une kitchenette et salle à manger bien équipée, un canapé en forme de L de détente qui se transforme facilement en un lit de taille. La salle de bain fenêtre ouvre sur votre terrasse privée pour les repas en plein air ou un après-midi dans le hamac. Les autres équipements comprennent une télévision à écran plat avec câble et Netflix, WiFi, un iPod doc et stéréo et un barbecue à gaz, S'il vous plaît voir aussi notre liste pour le studio à l'Oasis Garden. Venez explorer fraîche intérieure NE Portland, à proximité du quartier des arts de l'Alberta et du Mississippi Ave, son une courte promenade de quelques-uns des meilleurs bars et restaurants à Portland. 2 blocs sur le marché Whole Foods ou Irving Park et à 15 min en vélo ou en bus au centre-ville. Bien que vous avez votre propre terrasse du jardin est un espace commun partagé avec nous et le Studio. Nous sommes idéalement situés sur 2 lignes de bus une ride de 15 minutes du centre-ville. l'aéroport est accessible par chemin de fer max léger ou taxi (environ 25 $) Location de vélos disponibles à quelques pâtés de maisons à tout le monde, s Location de vélos et il y a beaucoup de sécurité sur le parking de la rue.
Cette mini maison a vraiment tout le nécessaire pour passer un agréable séjour. Vous trouverez de la vaisselle et des ustensiles dans le coin cuisine ainsi que des produits nettoyants dans la salle de bain. La description est très fidèle à la réalité. Le quartier est charmant, paisible et déborde de verdure. Colin est venu s'assurer que tout se passait bien dès la première journée de mon voyage et semblait très aimable. Si vous désirez visiter le centre-ville plusieurs autobus passent fréquemment. Des petits cafés et restaurants se trouvent à proximité et l'ambiance y est chaleureuse. Lorsque je suis allée à Portland, il faisait plutôt froid, mais le chauffage a su maintenir une bonne température à l'intérieur de la cabane. Je n'ai malheureusement pas pu profiter du coin extérieur, mais je suis convaincu qu'en été c'est génial pour y déjeuner. J'y retournerais avec plaisir et recommande cet endroit!
Maryse
2016-04-26T00:00:00Z
I was in town traveling for business and this was a perfect place to spend the week. Good location, clean and good service.
Duane
2014-03-08T00:00:00Z
The guest house was exactly as pictured and very comfortable. The location was perfect with restaurants and Whole Foods a couple blocks away. Colin was friendly and helpful, but still gave me my privacy while I was there. I plan to stay again next time I'm in Portland!
Jennifer
2014-08-25T00:00:00Z
Really enjoyed our stay here. Easy to get in and out. Walking distance to lots of interesting spots. Super cute space with a nice bathroom.
David
2016-03-10T00:00:00Z
This was a perfect peaceful getaway spot. Would definitely recommend to others and would advise others considering a stay to go for it.
Tyler
2016-05-25T00:00:00Z
We stayed for ten days and had a great experience. The little cottage house was quiant and comfortable even during some hot summer days. It is in easy walking distance to several great neighborhoods. It felt private and safe. Colin was quick to answer our questions and was great host. We will definitely consider staying again during future trips to Portland.
Carolyn
2015-07-24T00:00:00Z
Great experience! We only met Colin but he was very friendly - contacted us immediately on our first day to make sure everything was a-okay. The place is small but a fine size for two people - bed was amazingly comfortable for a pullout and the neighborhood is great. Amenities were also great, Netflix and wifi, the little fridge, coffee etc, all you really need! Very quiet as well, felt secluded even though the oasis is close to the main house/other suite. It still felt really private. Fantastic value for the price - we would absolutely stay here again :)
amber
2015-06-22T00:00:00Z
Whole stay was great! Everybody's Bikes is a must, and was recommended in description and on arrival for bike rentals - owner is so friendly and offers lots of additional materials and recommendations. Colin and Medina were both a pleasure to interact with and made sure I was entirely satisfied throughout my stay. Very impressed by what they have done with their home's back area. Location is great as well, and easy enough to walk to hot attractions further north in Portland; otherwise a bike for very pleasant and quick skips everywhere else :)
Zaden
2016-11-21T00:00:00Z
Type de logement
Logement entier
---
Type de propriété
Cabane
---
Capacité d'accueil
2
---
Chambres
Portland, Oregon, États-Unis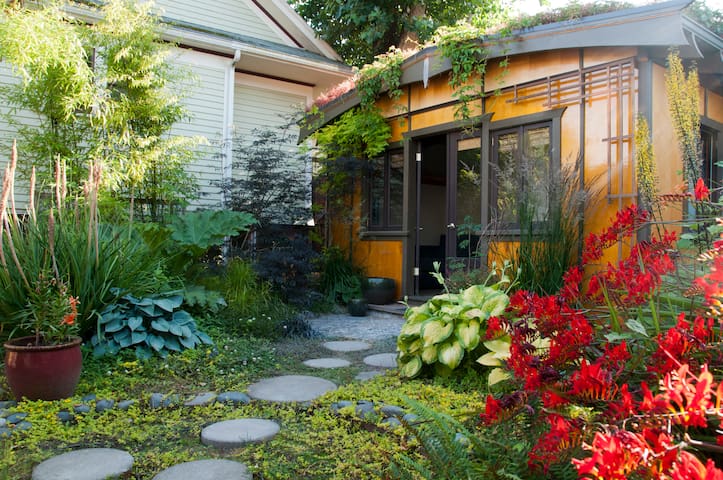 main unique construit maison en torchis à côté de lg. étang w caractéristique de l'eau. Lg. clôturé et cour fermée. du sable, de la paille, l'eau et la terre douce, courbant fait l'espace. En vedette dans plusieurs publications internationales. Le sol est également l'argile en terre avec la chaleur rayonnante ajoutée. Belle lumière naturelle. Il est vraiment un endroit magique.
Il est un curviligne de terre la structure main sculptée dans l'eau, du sable, de la paille et d'argile terre. Il dispose d'un toit radial avec une lucarne de pagode centrale. Lors de la construction du Cob, nous avons utilisé des matériaux récupérés et naturels quand jamais possible. L'isolation du plafond est fabriqué à partir de pulvérisées jeans récupérés et le plancher est fait de la même argile en terre. Il a une porte hollandaise, de sorte que vous pouvez ouvrir la partie supérieure pour la ventilation supplémentaire. Il y a 33 bouteilles bleues sculptées dans différentes parties des murs pour créer des "fenêtres bleues". Mais si vous essayez de les compter, vous ne trouverez que beaucoup. Certains ont fini par se prendre parce que, eh bien, il y avait juste un peu trop bleu. Il a également l'air conditionné et un plancher de chaleur rayonnante. Le lit est un lit double et la salle de bains et un accès supplémentaire kitchenette sont situés dans la maison principale à l'extérieur de la maison en torchis. La maison principale est d'environ 40 pas.
Nous sommes situés dans une très belle partie de Portland près de la SE. Les maisons sont vieilles principalement autour d'un siècle et de nombreux arbres qui bordent la rue, ont tendance à correspondre à cette distinction aussi. Le quartier est très accessible à pied / vélo-mesure, et deux pâtés de maisons d'une rue principale remplie avec beaucoup de grands restaurants, des cafés, des bars, des chariots de nourriture, salons de crème glacée, pizza prendre les taches, commerce de détail, des studios de yoga et oui encore a encore un magasin de matériel à proximité.
Very cool space and the hosts are incredibly kind and accommodating. Walkable to nice neighborhood commercial area and an easy drive into the city.
Max
2016-12-16T00:00:00Z
Jack and Cris made our trip so easy. Everything was as described in their listing. Very cute place. We had trouble getting into the bathroom our first night as it was detached from the cob but they were very quick with their response. The cats that live on the property were very friendly. If we were to ever come back to Portland we would definitely want to stay here again.
Justine
2016-05-31T00:00:00Z
We had a great, short stay here. The house is unique and the heated floors are a perk. Easy access to the restroom and kitchenette were appreciated. We had dinner on the porch with the cute cats and surroundings. Very nice atmosphere for relaxing. Thanks, Jack and Cris!
Tara
2016-06-12T00:00:00Z
Chris was very welcoming. The cottage is in a very serene setting and we enjoyed sitting by the pond with a nice cup of tea. The neighborhood is lovely and it's a short walk to Division St...full of great restaurants and fun and unique places!
Rick
2016-09-22T00:00:00Z
Nice, cozy, and quiet cottage, great communication. Would like to return soon.
Vahe
2016-11-25T00:00:00Z
Lovely place with great private access to the cottage and facilities. Had a beautiful interior and exterior, surrounded by a water feature and lovely landscaping. Would for sure stay again.
Theresa
2017-04-01T00:00:00Z
This was such a treat to stay (URL HIDDEN) a gorgeous unique and earthy property, located in one of my favorite areas in Portland. Hosts were super informative.....and I had such an easy and relaxed trip. Such a beautiful place to wake up to-
Amy
2016-09-01T00:00:00Z
AMAZING!!!!!
Norm
2017-03-17T00:00:00Z
Type de logement
Logement entier
---
Type de propriété
Maison écologique
---
Capacité d'accueil
2
---
Chambres
Portland, Oregon, États-Unis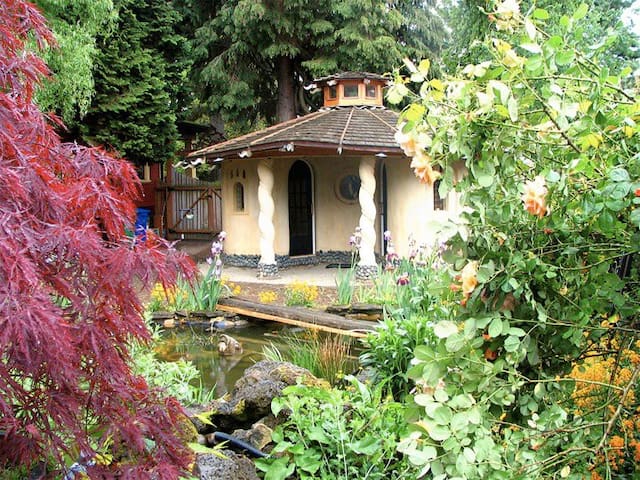 Mein Haus liegt in der Nähe Stadtbahnen und Buslinien in einer ruhigen und sicheren Gegend. Viele Restaurants, Cafés und Bars sind zu Fuß erreichbar und es gibt einen großen Supermarkt in der Nähe, falls Sie Bestimmungen müssen. Es gibt Parks zu Fuß zu erreichen, wie der Adidas Campus ist. Mein Platz ist für Solo-Abenteurer gut und Geschäftsreisende. Es gibt ein weiteres Schlafzimmer, das zwei schlafen kann, und ich habe eine Luftmatratze zur Verfügung.
Staying here was awesome. Sheila's home is very comfortable clean and quiet. I would stay here again. A very affordable convenient place.
Kate
2017-03-27T00:00:00Z
Sheila is such a helpful host! Her details for checking in, even if it's late, we're super clear. The bathroom for guests is great and even has items for if you get sick on your trip! It's not right downtown, but it is well-connected by bus.
Michelle
2017-03-20T00:00:00Z
This accommodation was very convenient to the yellow line of the MAX rail and I had a great time. I was struck by the amount of businesses within neighborhoods in Portland and this neighborhood had some really cool ones. I enjoyed the room and Portland and would happily stay again!
Ellen
2017-02-16T00:00:00Z
So convenient and comfortable!
hannah
2017-01-19T00:00:00Z
Great place as advertised. Transit worked great to get downtown
Michael
2017-03-10T00:00:00Z
Soon after my initial request to book a stay, Sheilah responded (with an accepted response). She also responded quickly after my arrival in Portland, when I asked about gaining official entry to her premises. Sheilah's residence is located on a quiet, tree and nature strewn strip, as advertised. At the end of her block, within maybe 50 or so yards from her place, however, there are three bar/restaurant/evening meeting spots, and also a bus stop. A five minute walk can bring one to a convenience store (Plaid Pantry) and a pretty decent pizza shop (Atomic Pizza); a ten minute walk can bring one to a nice indie coffee shop (Blend), a Thai restaurant, a sushi spot, etc. A ten minute walk in the other direction can bring one to a MAX light rail station for transport north, or for transport south into Portland City Center. The pictures Sheila provided for the room are accurate, for certain. The color palette is mostly tones of grey in between end points of white and black. To me, the room felt very crisp and clean, in the very best sense. The provided bed is a twin bed, meaning the room probably suits best the solo, independent traveler/solo, independent explorer. I can't, off the top my head, recall the nightly booking cost but I think it was VERY VERY reasonable for all that one gains in return. If one is looking for a reasonably priced stay in Portland, not in City Center but with very easy access to City Center, if one is looking for access to some amenities in easy walking distance, if one is looking to feel somewhat situated in nature (think mossy trees and squirrels and squabbling crows) but with 'city' features in easy grasp, well, look no further, you've found your spot!
Michael
2017-01-02T00:00:00Z
Shelia's place was fantastic! I could not have asked for a better value for what I got. Shelia is an amazing host, very down to earth and super accommodating. Though the house is not centrally located, Portland has great public transit, with a bus stop right by the house and a light rail stop within a 5-10 minute walk, both can get you downtown in around 20-30 minutes max. The airport is about an hour by public transit from the house. This is my third Airbnb and was by far the best. I would definitely recommend Shelia and when I return, will definitely stay again.
Alex
2017-03-12T00:00:00Z
The host canceled this reservation 5 days before arrival. This is an automated posting.
Alana
2016-10-30T00:00:00Z
Type de logement
Chambre privée
---
Type de propriété
Maison
---
Capacité d'accueil
1
---
Chambres
Portland, Oregon, États-Unis
Chambre meublée comprend un lit confortable, petit canapé, un bureau, une télévision et des draps propres, dans un charmant immeuble à proximité de centre-ville et à quelques rues du 23e avenue branchée.
L'Alphabet District NW a toutes sortes de merveilleuses boutiques et restaurants. Il y a beaucoup d'agitation passe ici ...
Really nice location, walking distance to anything you may need or want, 5-10 minute drive to downtown and other gear neighborhoods. Toney has put a nice spread of snacks, coffee, teas, wine, and so on. Beautiful cozy place for an unbeatable price. Wouldn't change a thing.
John
2017-02-08T00:00:00Z
Great, ,even Tony's help MIMI help me to cart my srudd from car.
Shabih
2016-12-01T00:00:00Z
Thanks for a great stay! Toney's and Mimi's place was clean, comfortable and quiet, great for me to recover a bit from my jet lag. Mimi was very welcoming and helpful. It's in a great location for looking round the Pearl district and walkable to downtown. Would definitely stay again.
Andrew
2017-03-01T00:00:00Z
This was our first Airbnb experience and it was perfect. Toney and Mimi were both very kind and welcoming. They quickly responded to any questions or concerns we had to make sure we were as comfortable as possible. The place was also incredibly clean. As far as the room, it was very private and the bed was by far the best bed I've ever slept in. The place is close to public transportation as well as only a 10 min walk to lots of restaurants and shops. It was the perfect place to stay in Portland. We hope to be back soon. :)
Natalie
2017-03-29T00:00:00Z
Like staying with old friends in a new town. Super convenient walk to coffee shops and restaurants. Most comfortable bedding ever experienced anywhere.
Kristopher
2017-03-25T00:00:00Z
A very beautiful, well appointed little place in an unexpected location, easily reachable by busses (15 and 77) and streetcars passing close by a wide array of restaurants and the shoppers paradise of 23rd street.
Paul
2017-03-02T00:00:00Z
The place was super comfy and super clean. Super close to 23 Ave.
Alejandro
2016-12-25T00:00:00Z
Toney and his girlfriend are wonderful hosts! They made us feel very welcome. My daughter and I used the kitchen to cook and hang out - a kitchen which is very cozy and well-equipped, by the way! Very centrally located - lots of shops, restaurants, grocery stores. I like to walk so it was great for me to get around. I highly recommend a stay at The Vic!!!
Paula
2017-01-04T00:00:00Z
Type de logement
Chambre privée
---
Type de propriété
Appartement
---
Capacité d'accueil
2
---
Chambres
Portland, Oregon, États-Unis
Unsere modernen, hellen Loft befindet sich im 2. Stock eines Stadthauses und verfügt über ein eigenes Bad. Sie werden die einfache, gemütliche Atmosphäre und einen Hauch von skandinavischem Design lieben.
Wir leben in diesem offenen modernen Stadthaus mit unserem Hund und seine kleinen Sohn. Nach der Eingabe werden Sie von einem europäischen, modernen Stil Raum begrüßt werden. Das Loft befindet sich im Obergeschoss auf der 2. Etage und verfügt über ein Kingsize-Bett, ein Cabrio modernes Sofa und einen großen Schreibtisch für Ihre kreativen und geschäftlichen Anforderungen. Wir haben zwei große Schränke und ein eigenes Bad mit Wanne und Dusche, die einen Trockner hat, Shampoo und Conditioner und alle Ihre Badutensilien sich zu erlauben, sich zu entspannen. Sie haben eine Kaffee- und Tee-Kessel in den Tag frisch zu beginnen.
Kenton ist ein süßes kleines Wohngebiet zwischen Parks verschachtelt und nicht weit von der I-5 und dem Stadtzentrum und den pulsierenden Straßen von Northeast Portland. Wir sind 1 Minuten zu Fuß von Kenton Park und 10 Gehminuten von der Columbia Park, wo man schattige Picknickplätze und Spielplätze finden, die Wasser spritzen Bereiche und wegleine Bereiche für Ihre vierbeinigen Freunde haben. Harpers Spielplatz ein Spielplatz, der an Samstagen ist die Hotspots für alle Familien in 15 Minuten zu Fuß entfernt. Sie benötigen Ihren Morgenkaffee kick? Kenton hat ein kleines Geschäftsviertel und zwei erstaunliche cofffee Hot Spots. Prince Coffee PDX (erstaunlich Kaffee und stroopwaffels) Posies (hat die beste Mandel Latte und ein Spielzimmer für Kinder) Wir haben Walgreens, New Seasons, Green Zebra und Fred Meyers nur eine kurze 5 Minuten Autofahrt entfernt. Es ist eine große begehbare Nachbarschaft Sie einen Spaziergang zu Williamette Blvd tun können, und haben sogar eine geheime Überschau der Stadt.
This is a great room and an absolute steal for the price. Annika was very friendly and made sure I had everything I needed.
Lia
2017-04-12T00:00:00Z
Type de logement
Chambre privée
---
Type de propriété
Maison de ville
---
Capacité d'accueil
2
---
Chambres
Portland, Oregon, États-Unis
Fate un viaggio indietro nel tempo in hotel una storica 1881 del marinaio! La camera a castello è co-ed, con 8 letti a castello tripli. Costruito su misura, che includono la connessione ad altissima velocità wi-fi, luce di lettura e di uscita, tenda di segretezza di ricarica, e bloccabile immagazzinaggio incorporato.
La camera a castello è stato creato come un cenno alla creazione dell'albergo come un luogo sicuro per i naviganti. Troverete la stessa cosa in questo spazio con 18' accoglienti, forti, e comodi letti a castello tripli ceilings-. Ogni letto ha una vasta, solida scaletta per accedere al castello. All'interno del castello si trova un gavone per riporre gli oggetti di valore (portare un lucchetto con voi), una stazione di ricarica per l'elettronica, e lampada da lettura a portata di mano. tende tela spessa fornire privacy. 3 bagni privati nel soppalco sopra i letti sono disponibili, come è un piccolo angolo cottura con frigo di stoccaggio per gli avanzi, acqua calda e fredda fresca, e un lavandino. C'è uno spazio comune di seguito per incontrare altri viaggiatori, e una banca di armadietti per i bagagli più grandi.
Old Town / Chinatown è il centro storico di Portland. E 'la nostra Ellis Island, dove gli immigrati di ogni colore prima scesi a terra, a pochi isolati di distanza al fiume. Ora troverete festival, Il mercato del Sabato, spettacoli musicali e club, ristoranti, gallerie d'arte e negozi, il tutto a pochi isolati della nostra posizione.
This place was great. The entire staff was friendly, professional and helpful. As for the hotel itself, it has a beautiful café on the ground-floor lobby complete with warm, fire-side seating. The rooftop patio is also beautifully designed and even has warm blankets for you to use as you take in the great panoramic view of Portland. The bunkhouse was also clean and modern. The beds were comfortable and the 3 private shower/bathrooms for guests to use were immaculate and soap/shampoo are provided! The bunkhouse experience isn't the typical hostel set-up but is more of a blend between a hotel and hostel. Very nice facility and people = A+ Thanks!
Nathan
2015-11-08T00:00:00Z
I had a really nice stay at the society hotel. For a hostel style sleeping arrangement it was very comfortable and clean. The location in Portland was convenient and the staff was friendly and helpful. I would definitely stay again!
Mia
2016-01-19T00:00:00Z
Everyone was very friendly and everything was convenient and comfortable. It was a great base to explore Portland and the whole experience went as well as I could have expected, and I'd have no hesitation recommending this to anyone looking for a place to stay for a few nights in downtown Portland!
Calum
2016-06-17T00:00:00Z
Great location great vibe very safe feeling.
Randall
2016-11-14T00:00:00Z
Its a perfect hotel!!
小yin
2016-08-31T00:00:00Z
There's just too many great things to stay about The Society. It was my first hostel experience and it surpassed all expectations! It was clean, the bathrooms were nice, staff was amazing, and the bed was like a cloud. I would recommend The Society to everyone. The location was very convenient and there were lots of restaurants, bars, and coffee shops within walking distance. Also, I met some really great fellow guests while staying there. The whole experience was amazing!
Brittany
2015-12-18T00:00:00Z
The Society Hotel was a vey cool, urban and urbane sanctuary with classy interiors, great customer service and patrons from all over the world. The most unique hotel / hostel experience I have had !
Madhav
2016-06-08T00:00:00Z
Really friendly & welcoming staff! Extremely accommodating. Bunks were comfy & roomy enough. Everything was very clean, too.
TZMANICS
2015-12-11T00:00:00Z
Type de logement
Chambre partagée
---
Type de propriété
Autre
---
Capacité d'accueil
1
---
Chambres
Portland, Oregon, États-Unis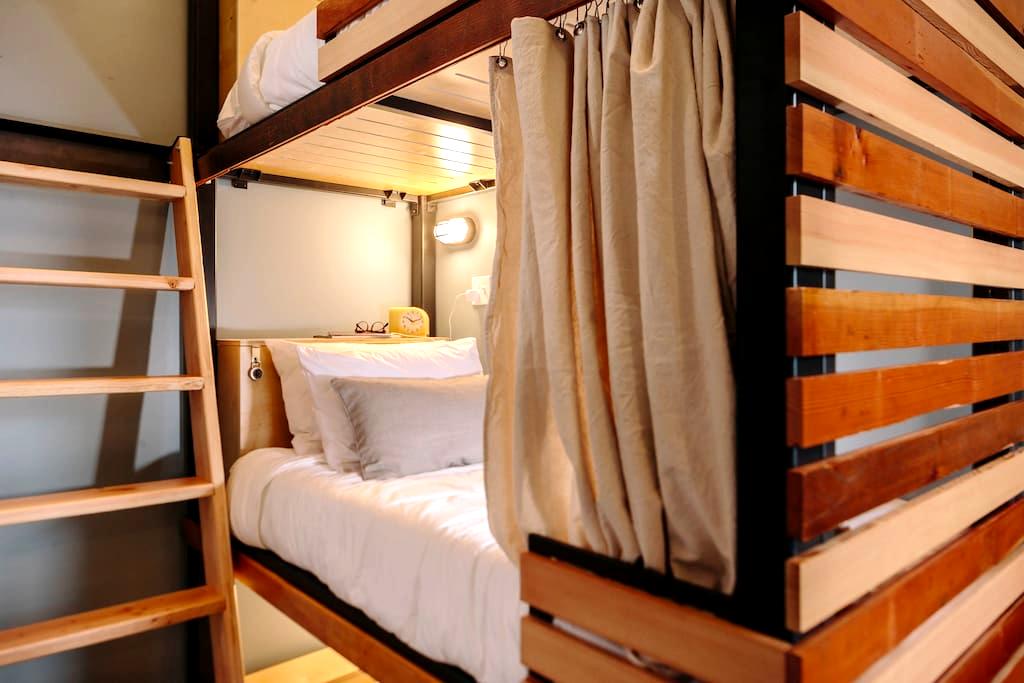 Un rifugio urbano con ingresso indipendente, camera da letto, bagno e cucina. Un sacco di finestre che si affacciano su un patio e un ampio cortile con bellissimi alberi da frutto. Accesso veloce alla I-205. Facile a piedi per gli autobus del centro (30 minuti).
Un raro trovare! Questo accogliente appartamento è dotato di tutti i comfort di casa. Dopo si arriva attraverso il cancello laterale, si noterà la patio coperto darvi il benvenuto alla vostra casa lontano da casa. Un luogo ideale per rilassarsi al di fuori. Potrai accedere al vostro appartamento con un lock-codice chiave (codice dato al momento della registrazione). Camera da letto ha letto matrimoniale (materasso nuovo!), Piena armadio con ripiani per la conservazione. Bagno con doccia con vasca. Forniamo prodotti di cortesia da bagno e asciugacapelli per il vostro uso. La zona pranzo si affaccia sul cortile. accessori da cucina includono frigorifero pieno dimensioni, piano cottura, lavello, forno a microonde, macchina per il caffè, spezzatino, e ripiani in granito. Ci sono un sacco di pentole per la cottura e la tabella di servizio per quattro. Forniamo alcuni prodotti per la colazione per aiutarti a iniziare. Abbiamo avuto amici e la famiglia vive in questa unità per brevi visite e soggiorni lunghi - e in entrambi i casi si sono sentiti a casa e confortevole in questo grande spazio.
A pochi passi dal cortile pochi è Essex Park, un bel posto per una breve passeggiata serale. Viviamo in uno dei viali bicicletta di Portland in modo da poter portare la vostra bicicletta e facilmente aggirare Portland. Se avete bisogno di prendere un paio di servizi che siamo una a quattro isolati a piedi da negozi come Walgreens, Walmart e Fred Meyer (negozio di alimentari, a circa 15 isolati a piedi). Molti ristoranti standard sono in questa stessa area. Un po 'più lontano, ma ancora una facile passeggiata è Portland Mercado con divertenti carrelli di cibo e scelte da pranzo dentro e fuori sotto la tenda. Il quartiere è un grande mix di case famiglia e le convenienze. Amiamo vivere qui. Il quartiere Foster-Powell è un gioiello da scoprire - il che significa che a risparmiare denaro e ottenere la comodità che stai cercando. Pensiamo che godrete il vostro soggiorno qui.
Good location and nice neighborhood. Rooms are clean. Everything is as described.
Shifeng
2016-10-14T00:00:00Z
It was a beautiful place to stay, she left us food to help us start out, it was amazing!
Paige
2016-07-05T00:00:00Z
It was the great experience for us- so clean, so cozy. Tim left some food for the breakfast , it really helped! There were a lot of groceries and cafes around there. The good and safe area, close to downtown- 15 mins by car. We will definitely come back again :)
Maria
2016-09-25T00:00:00Z
Timothy was a very welcoming and responsive host. Upon arrival, we had a little issue with the dead bolt, we called him - didn't even take 3 minutes till someone came and helped us! That is great communication and service!! There was food, milk, juice and other stuff in the kitchen for us to get started, great!! We hope to come back!
Lena & Matthias
2016-08-26T00:00:00Z
What a great place! It had everything we needed and then some. Upon arriving, it was very simple to get into the place and plenty of parking on the street. When you walk in, you enter the kitchen to get to the bedroom which then leads you to the bathroom. The place is clean and well-kept! She even provides milk, OJ, cereal, eggs, bagels, etc for you to have like a true B&B! It was a cute touch! She really goes out of her way to make you feel at home and comfortable and that is greatly appreciated!We are more private people when we travel so we opted to close the connecting door and only ran into Elizabeth once. It was great meeting her as she is very friendly though! For the price, the place just can't be beat if you're going to have a car anyways! It is about 20-30 minutes to the downtown and shopping areas, but well worth the distance! Very cozy!
Katie
2016-05-06T00:00:00Z
Such a cute little place in a nice little neighborhood! The room was super clean and the key code entrance is such a breeze when checking in. They left us some lovely treats in the fridge to make some breakfast in the morning, felt like home as we even stayed in to hang out and rest one of the nights. Would definitely recommend this place to other singles or couples looking for a central location to venture out.
Letty
2016-11-01T00:00:00Z
The room was exactly as described. Clean, quiet, cozy. Elizabeth was a terrific host!
Chad
2016-07-12T00:00:00Z
Elizabeth's apartment is very nice. She goes over and above the usual in supplying soap, shampoo, conditioner and hair dryer as well as other small items in the bathroom. She also goes over and above to supply you with a good breakfast of cereal, milk, juice, yogurt, bagels & cream cheese and eggs. Firs(URL HIDDEN)have been to that supplied breakfast items. I was very pleasantly surprised. I would definitely recommend her apartment to anyone. You will not be disappointed with this one.
beth
2016-06-29T00:00:00Z
Type de logement
Logement entier
---
Type de propriété
Maison
---
Capacité d'accueil
2
---
Chambres
Portland, Oregon, États-Unis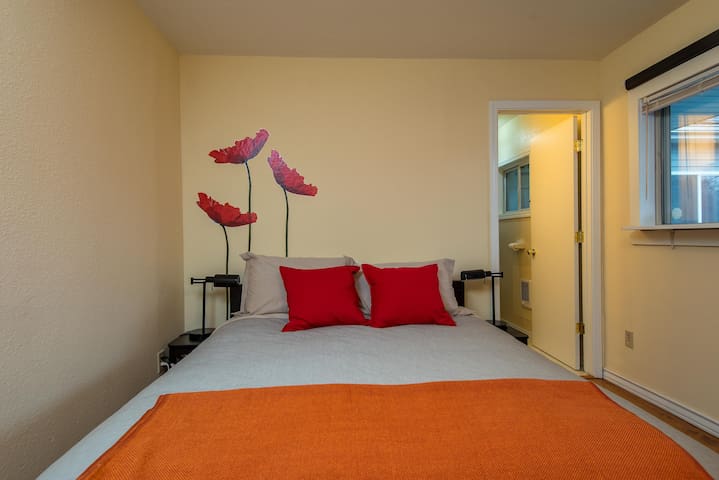 Nous sommes au cœur de la ville dans la ville historique de Portland Heights quartier de Portland. Situation unique qui est à 5 minutes de OHSU, Portland State, Centre-ville, 23e Avenue, et le district de Pearl. Vous avez votre propre entrée privée et terrasse avec la suite spacieuse offrant de nombreuses commodités, y compris salle de bain privée, cheminée, WiFi, TV premium et petit déjeuner continental. Pas de cuisine complète, mais micro-ondes, four grille-pain et une bouilloire électrique sont fournis. Facilité de parking.
Cette suite privée est accessible par un patio directement à partir de la rue.
Près Oregon Health Sciences University et Crest Park Conseil. Le parc offre une vue magnifique et des sentiers de randonnée qui relient au centre-ville et le zoo de l'Oregon. Centre-ville et NW 23e Avenue sont à seulement 5 minutes en voiture.
We had a great time at Elizabeth's cozy little house. The location was great, you could practically walk to food, shopping or to grab a beer at any of the delicious breweries scattered around the area. We will definitely be coming back!
Will
2017-04-02T00:00:00Z
This place was absolutely gorgeous, and plenty of space for just my boyfriend and I. It was very neat and clean and smelled lovely, it had a very homey feel. The host had just about everything you can think of just in case you forgot to pack something, and im sure if there was something extra you needed Beth would help as best she could! We didnt use the host for places to explore or eat (we kind of wanted to adventure on our own) but there was a list of places left on the table, and Beth would be available to help you out with that too! Such a great location too, we had our own car and almost every thing we wanted to do was just minutes away. This place was amazing and in such a beautiful area.
Holly
2017-03-27T00:00:00Z
Such a warm, welcoming place. Truly worth a stay!
Jennifer
2016-10-03T00:00:00Z
Beautiful house and neighborhood, thank you Elizabeth!
Caroline
2016-10-31T00:00:00Z
My cousin and I loved this small place in Portland Heights! It was so cute and comfortable. Elizabeth provided different amenities (snacks in the fridge included!) and info about Portland. Because we arrived during the time it snowed, it was a little tricky with a rental car. We ended up taking uber and lyft and letting the drivers know about the hill. Everything worked out in the end. We definitely want to stay here again!!
Jennifer
2016-12-18T00:00:00Z
Elizabeth's place was amazing! It was exactly like the pictures. It was cozy and private and she provided the essentials and more than what was expected. She also gave some recommendations for food and activities! All in all, 10 out of 10 would stay here again.
Amanda
2017-01-06T00:00:00Z
Everything about this place was great! There is privacy, comfort, and it is close to everything including restaurants, nature, and even nightlife. The room looked just as the pictures do and Elizabeth made herself available via text for any questions or concerns. She also left handwritten notes and a folder full of suggestions and some of her favorite places to dine. We were very pleased with our overall stay.
Yancy
2017-01-29T00:00:00Z
The place was very cozy and relaxing!
Jessica
2017-03-08T00:00:00Z
Type de logement
Logement entier
---
Type de propriété
Maison
---
Capacité d'accueil
3
---
Chambres
Portland, Oregon, États-Unis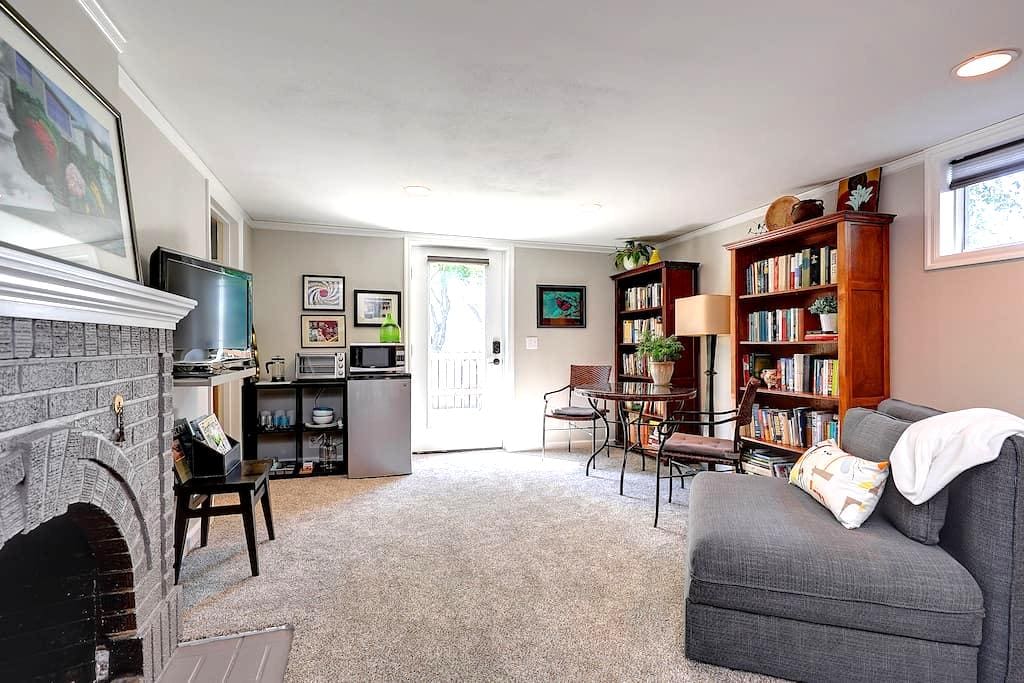 Bedroom: 100% cotton 600 thread count sheets 100% cotton duvet cover White fluffy cotton towels White cotton curtains Living room: Baby grand piano Djembe drum Bongo drums 1973 Martin D35 2010 Gibson J-50 Handmade Bolivian Charanga Wool rug Huge crystal collection
Our beautiful little Vancouver home, amongst the trees of Washington, is a magnet for fun loving people and joyous experiences! The living room is enchanted with a display of various earth crystals, Tibetan singing bowls, and musical instruments including: guitars, piano, and drums. A peaceful space equipped for yoga, meditation, or just simply relaxing. We also have a Wisdom book shelf full of books with information about, health/raw foods, wellness, crystals, yoga, and spirituality. The Bedroom: Bedroom has been freshly furnished with a queen size bed (very comfy), wrapped with 100% cotton sheets, designed with love for your temporary stay here in Washington. One bath towel and one hand will be provided for each guest during their stay.
Our neighborhood is located right next to the Fort Vancouver National Historic Site. There are many trees and flowers that embellish the houses and roads for lovely neighborhood walks. We live very close to downtown Vancouver, a cute little city filled with a local weekend farmers market, coffee shops, bars and boutiques.
This home is the toppest notch. The hosts are very welcoming, and the space feels as warm as your own home would. Anyone, especially someone looking for privacy will definitely love this room.
Riley
2016-10-16T00:00:00Z
I loved the instruments and room's beautiful energy
Stef
2017-02-26T00:00:00Z
Jimmy is a very friendly host and maintains an extremely clean bed and breakfast. Minimalist feel, perfect bed with soft white sheets and dark chocolate at our arrival. Would recommend to anyone staying in Vancouver or portland area, will be staying here again in the future. This place is an oasis
Jayson
2016-09-28T00:00:00Z
Jimmy is a wonderful, kind soul. Anyone from any walk of life would be welcome with him. His place is like it's own little community right in Vancouver. Really great location.
Kaelie
2016-11-10T00:00:00Z
a clean and nice environment. I was welcomed by jimmy and his partner. When I expressed a minor issue with the three cats they were kept away in the kitchen. Lovely comfy bed and the chocolate was just what i needed.
patrice
2016-10-12T00:00:00Z
I don't know why Jimmy has such nice reviews on his profile but they are a complete misrepresentation of his place. This is the most dirtiest and most disguisting place I have ever stayed at - it smells and looks as if it has not been cleaned in years. I ended up washing the bathtub myself because the host completely ignored me nicely asking him to wash the bathtub. The toiled was so dirty it was plain gross. The rug in the bathroom has not been washed in years probably. The floor in the kitchen had some kind of purple food spots left by the people who stated before me. Jimmy only slightly wiped the floor after my third night there because new people were moving into the house. The garbage was overflowing and Jimmy quite frankly did not care for cleaning. Reportedly, he was taking care of a different guest from California. Huh? Did I not pay a cleaning fee? The Dr. Bronner's cleaner, probably a generation old, was gelatinous and plopped out of the container like a pancake - it was disgusting to touch, forget about using it to clean anything. But never mind all this, Jimmy will leave you a chocolate bar so that you can enjoy your stay. By the way this is an open door environment, meaning that you don't get a key from the house or your room, and random people come into the house to use the bathroom. Don't expect to find all the wonderful kitchen equipment Jimmy lists - its not there. His kitchen contains one pot, one pan, one juicer, and a few plates and cups that I did not even want to touch given how dirty everything else was. Quiet frankly, I did not feel comfortable staying there and I would not recommend anyone else, unless you like the hostel like environment in a dirty place for cheap.
Yekaterina
2017-03-05T00:00:00Z
This was our first time using Airbnb, and Jimmy made it such a fantastic experience that I don't think we'll ever want to stay in a hotel ever again! He allowed us to check in early, and to bring our dog along for the stay. Jimmy was a great host. He made sure we had everything we need and was very genuine and kind. The room was cozy, and we LOVED the bed. We wish we could have stayed longer! The next time we visit Portland, we're definitely staying here again.
Tyler
2016-09-22T00:00:00Z
Jimmy was VERY welcoming and kind. He let us have our space yet was also there to answer questions. The bathroom was modern... Hot water was available instantly and the toilet worked great. The floors of the bathroom needed to be cleaned but that would have been my only concern. The bedroom was very cute. Jimmy had just mopped the beautiful wood floors as we were checking in. The bedroom decor was simple yet eye-catching. It made me want to redecorate my own room back home. The bed was the most comfortable bed my husband and I have ever slept in. The sheets, pillowcases and duvet were immaculately clean and so soft! We left a window open in the room so we could listen to rain as we slept. Overall, it was a great experience for the price.
Hannah Trisha
2016-10-10T00:00:00Z
Type de logement
Chambre privée
---
Type de propriété
Maison
---
Capacité d'accueil
2
---
Chambres
Vancouver, Washington, États-Unis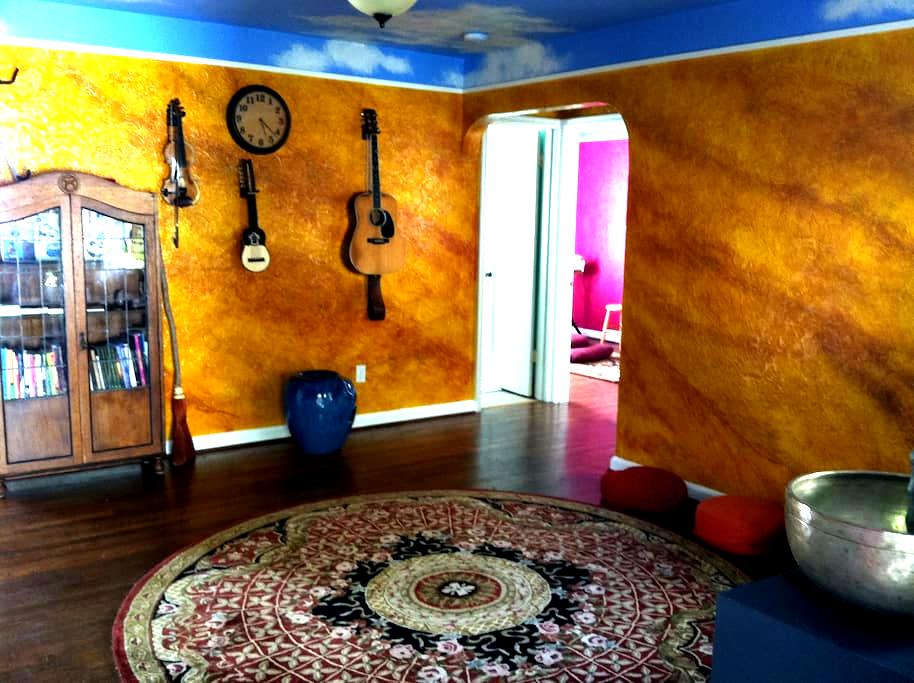 Charme der alten Welt mit modernen Annehmlichkeiten. Voll ausgestattete Küche mit Geschirrspüler und Waschmaschine / Trockner in der Einheit. Kostenloser WiFi für die Gäste. Diese Wohnung befindet sich Totpunkt zwischen The Pearl und Nob Hill. Sehr begehbar, in der Nähe Providence Park Feld (ehemals Jeld-wen Feild, Straßenbahn und Max, Sie sind fünf Minuten zu Fuß von allem, was in der Pearl, Downtown oder NW 21. und 23. Ave. Going to einer Show? Crystal Ballroom in der Nähe ist. sich zu einem Spiel Timber? Das Feld ist nur ein paar Blocks entfernt. Bevorzugen Sie im Spiel bleiben? Whole Foods Market ist Blocks entfernt, und Sie haben eine voll ausgestattete Küche! Es gibt eine Menge in unmittelbarer Nähe zu diesem Ort. Wenn Sie Fragen haben, ermutige ich Sie, mir eine Nachricht zu senden. Wir hoffen, Sie bald zu sehen! Dieser Ort macht die Menschen das Gefühl haben, ein Zuhause weg von Zuhause. BEACHTEN SIE BITTE: Dies sind einige der am häufigsten gestellten Fragen, so nehmen Sie bitte die Zeit, sie zu überprüfen, bevor Sie einen Aufenthalt beantragen. F: Ist es in der Nähe öffentliche Verkehrsmittel? A: Extrem. Wenn Sie fliegen, nehmen Sie die MAX Red Line vom Flughafen zum Jeld-Wen-Feld (nur ein paar Blocks von der Wohnung). Besuchen Sie die Trimet Website für weitere Informationen, haben sie fantastische Reise Planungstools. F: Gibt es Parkplätze? A: Parken an der Straße zur Verfügung. Es ist Genehmigung geregelt, stellen wir die Genehmigung in der Wohnung. zeigen Sie es einfach in der Heckscheibe Ihres Fahrzeugs und Sie können es für ein paar Stunden auf der Straße parken oder die Dauer Ihres Aufenthalts. Sie können jederzeit in der Regel Parkplatz nur ein paar Blocks zu finden, aber bewusst sein, Hydranten, Ladezonen, usw. F: Gibt es begehbare Cafés, Lebensmittelgeschäfte, Restaurants und Bars? A: Diese Wohnung befindet sich im Zentrum einer sehr belebten Gegend. Bitte überprüfen Sie für einige meiner empfohlenen Flecken in der Nachbarschaft der Karte Vorsprung an der Spitze der Liste aus. Es gibt Hunderte mehr aber, so Yelp und Check-out.
Nous avons passé un court séjour à Portland (2 jours), mais nous n'avons en aucun temps regretté notre choix d'appartement car il est très bien situé pour visiter la ville. Un coin central qui nous permet d'aller visiter en marchant plusieurs attraits de cette belle ville. Plusieurs bon restaurants a proximité. Nous n'avons pas rencontré notre hôte mais les indications pour récupérer les clés ont été fournis à temps et furent très claires. Bref nous recommandons l'appartement à tous.
Benoit
2015-08-07T00:00:00Z
Awesome location! Downtown, Pearl, NW, Goose Hollow all just a block or two in either direction. Parking was a breeze with the included pass. Parked car in front of building and didn't move it for two days (though I did wonder if this might be irritating to residents of the building). All necessary amenities included and then some. Very bright, clean, shabby-chic space with a European feel. Was happy to see lots of windows with view of NW Portland! Look forward to staying again.
Debora
2016-03-02T00:00:00Z
We stayed here for 3 nights. The apartment is in a great location for walking to any of Portland's central / west side neighbourhoods (Nob Hill, Pearl, Downtown). The weather was great when we stayed - although we were glad of the apartments air-conditioning during the evenings (with temperatures staying in the high 20's until the early hours of the morning) With so many great places to eat - we never used the kitchen (other than the fridge to keep drinks cold), but it seemed well equipped. Finding free parking (using the apartments parking pass) was surprisingly easy.
duncan
2015-07-20T00:00:00Z
Amazing!!!! Felt like home away from home! I am totally coming back, Brads place is a little sanctuary!
Victoria
2016-02-04T00:00:00Z
Brad's apartment was just as the pictures showed and worked perfectly for our short stay. The decor was second to none and made us feel like we were in Europe! The apartment was well stocked with everything one would need and more. There were even some teas / cereals in case we were hungry and also toiletries in case we forgot our own. The location was excellent as it was steps away from the Pearl District and also walking distance to the food trucks. Apartment was on the quite side of the street and has plenty of parking for us. Check in process was easy and did not need to meet the host to either check in or check out. Would definitely recommend this for anyone who wants to stay in downtown Portland!
Trevor
2014-12-08T00:00:00Z
The apartment is really well decorated, and it is perfect for a couple or two friends who are looking to explore Portland. Brad had all of the amenities. He was very responsive to questions and provided a lot of information up front so you knew what to do upon arrival and departure. The neighborhood was great; very close to restaurants and shops, and we were able to walk everywhere for majority of our trip. It is also conveniently located next to an Enterprise (right across the street) for anyone looking to get a car rental to get outside the city to view some of the nature parts of Portland. We had a great trip, and we would recommend this place to anyone wanting to visit Portland.
Tara
2016-11-07T00:00:00Z
While our stay in Portland was short, this studio apartment was perfect. The location is great and the building itself is quite charming. It was very clean and had everything we needed (including a washer and dryer). The bed was comfortable and even though we were near some major streets we had no trouble with street noise - we even slept with the windows open. We had a great stay and would definitely stay there again. Thanks Bradley!
Lucy
2012-07-17T00:00:00Z
This lovely studio is located on the quieter end of town within easy walking distance of everything, including fabulous restaurants. Closest train stop is only 3 blocks away, so very easy to get to from the airport. No need to rent a car! The studio itself is as pictured, and having the kitchen and washer/dryer were wonderful! Brad is helpful with directions and responds quickly by text. Can't say enough good things about my stay!
Kristen
2014-08-30T00:00:00Z
Type de logement
Logement entier
---
Type de propriété
Appartement
---
Capacité d'accueil
2
---
Chambres
Portland, Oregon, États-Unis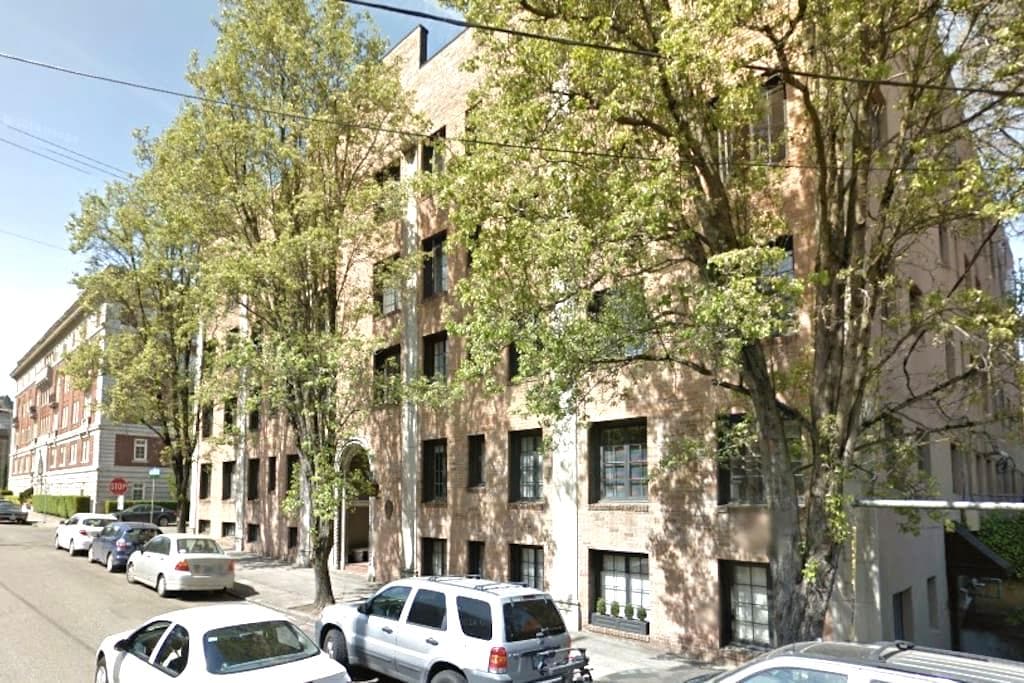 Cette chambre privée est grande avec des planchers de bois franc, une grande baie vitrée, lit queen size, un bureau et un placard. La chambre a beaucoup de lumière et propose des meubles vintage et faits à la main. Il y a des rideaux faits à la main et un porte-manteau à la main fabriqués à partir de matériaux récupérés. Le lit est un matelas queen avec fermeté moyenne et est livré avec des oreillers supplémentaires. Je suis nouveau à l'hébergement, mais je l'espère pour vous aider à rendre votre visite à la grande Portland.
La maison est une ferme de 1923 lil, 3 chambres (dont 1 est détaché) avec des planchers en bois. La maison dispose de hauts plafonds et a beaucoup de lumière. Proche de l'aéroport (11 min), Alberta Arts District (8 min) et 20 min du centre-ville. Marchez corridor 42e Ave Cully pour un excellent repas au Old Salt, Red Sauce Pizza, et plus encore. Cupcake, mon vieux 7 1/2 ans Labradoodle, est super doux et attachant. Elle va certainement vouloir dire bonjour et vous apporter un jouet. Si vous ne voulez pas elle dans votre entreprise, vous pouvez lui dire d'aller au lit, ou un coup de pied des rochers et elle va aller. Elle est bonne avec les enfants et infantrs. Et elle vous lécher si vous la laissez.
Great stay overall. Great host and cute lets!
Morgan
2017-03-24T00:00:00Z
Chach's place was gorgeous! Very cute and the decorations were very unique and intriguing. Her dog is very friendly and the room was clean, simple and comfortable. The blankets were especially great! Wish I could have stayed there longer; will definitely look to book again when back in Portland. Thank you for the stay, Chach!
Rebecca
2017-03-19T00:00:00Z
We stayed with Chach and were delighted by the super comfy bed, charming pets, and Chach is very friendly and accommodating. The house is adjacent to lots of food, shopping and music. A great stay, and we would stay there again. Heather & Chris
Heather
2017-04-01T00:00:00Z
Chach was truly amazing. She was very welcoming on arrival and the beauty was in the details, from a pitcher and cups for water in the room to plenty of fresh towels and wash rags, to the convenience of oatmeal and tea for my pleasure. She recommended an amazing little Mexican restaurant around the corner because I was somewhat in a pinch for time and was just an overall delight to speak with!
Josh
2017-03-31T00:00:00Z
Had a wonderful time getting to know the area and really enjoyed cuddling with the cat. The home was very clean and Chach was very friendly and filled with insightful information about Portland.
Camille
2017-03-22T00:00:00Z
Chach's place was perfect for our brief stay in Portland. It's very clean and the room was spacious and the bed was really comfy. We also really enjoyed having Cupcake around; he was extremely friendly and well behaved :) The place is also very close to the airport (about a 10-15 minute drive) so it makes coming and going very simple. Chach was a super nice and attentive host and made sure we had everything that we needed. Overall a great experience and one that I highly recommend; thanks Chach!
Charlie
2017-03-13T00:00:00Z
Chach is an excellent host, we felt welcome as soon as we walked through the door. Bedroom was comfortable and anything we could have thought of was provided. Dog and cat both super friendly and low key (no jumping or other issues). If you are planning to go to Portland and have a car this place is the perfect distance from everything. Can't recommend enough!
James
2017-03-05T00:00:00Z
I loved staying at Chach's place, it's very clean and cosy and she and her adorable animals made me feel at home. It's not in the center but it's very easy to reach downtown with the buses. The neighbourhood is very safe and just a 15-20min walk to Alberta street where a lot of restaurants are located. I definitely recommend this airbnb and I would stay there again. Thank you for everything :)
Lisa
2017-03-29T00:00:00Z
Type de logement
Chambre privée
---
Type de propriété
Maison
---
Capacité d'accueil
2
---
Chambres
Portland, Oregon, États-Unis
Das Hühnerhaus ist eine umgebaute Garage, die alles, was Sie brauchen für einen Besuch hat. Ich baute den Ort so viel geborgen Material verwenden, das ich finden konnte. Die Loft-Treppen sind sehr steil, so, wenn Sie nicht sehr agil sind, würde ich die ausziehbares Einzelbett im Erdgeschoss empfehlen. Ich bin zwischen dem Mississippi-Bereich, Williams Flur und Alberta Arts District mit 2 Lebensmittelgeschäfte zu Fuß erreichbar. Es ist privat und es gibt Tiere (Katzen und Schildkröte meistens) mit außen zu hängen. Viele Gärten auch.
Die umgewandelte Garage hat Turnhallenboden geborgen (von Portland Community College), die Farbe hinzufügt und 3 Oberlichter Tageslicht hinzuzufügen. Es ist ein Loft zum Schlafen und eine weitere kleine Couch, die als Einzelbett zieht. Der Dachboden ist sehr steil, so vorsichtig sein, wenn man dort schlafen. Es gibt eine voll ausgestattete Küche, aber der einzige Ofen ist ein Toaster. Das Bad ist groß und hat einen stapelbaren Waschmaschine und Trockner in ihm. Ich werde grundlegenden Notwendigkeiten Kaffee, Obst und Überraschungen draußen lassen. Sie werden von einem Spaziergang durch Parkstreifen betreten (fühlen sich frei zu parken, wenn klar) und Treppen hinauf und Gehweg auf der Rückseite Einheit folgen. Der Eingang ist separat und haben Sie Ihre eigene Seite Garten, aber meine Familie nutzt den Bürgersteig, wenn Sie den Hinterhof verlassen .. Es gibt einen Garten, den Sie willkommen sind, zu essen aus und eine schöne Sitz Stelle. Die Nachbarschaft ist sehr schön und praktisch. Es gibt eine vollständige Nahrungsmittel und New Seasons zu Fuß erreichbar. Ich bin zwischen den Mississippi, Alberta und Williams Nachbarschaften. Ich bin 2 Meilen von der Innenstadt und der Bus ist sehr eng. Es gibt funktionierende Fahrräder, die Sie verwenden können, obwohl sie nicht in einem Topzustand sind. Der Ort ist von meist geborgen Material. Es gibt viele verrückte ordentlich Leuchten und eine gekrümmte Kirchenfenster aus einer Baptistenkirche sie rissen. Es ist ruhig und privat, aber Sie könnten ein Huhn, Katze Kampf oder weit weg Zug hören.
Spaß und ruhigen Nachbarschaft, aber Sie können in eine Bar gehen oder ein wirklich gutes Restaurant innerhalb weniger Minuten.
The Hen House was a great place to stay. I highly recommend it. The unit is charming and very unique. We enjoyed the neighborhood's restaurants/bars/shops and proximity to the event we attended downtown. I look forward to staying again.
Daniel
2016-05-23T00:00:00Z
Te Hen House was just as expected, albeit a little more spacious than anticipated. The place was clean and had a well stocked kitchen. Norah left fresh eggs, butter, orange juice and creamer in the fridge for us to use. The neighborhood was quiet, easy to find and close enough to walk to the nearby Alberta District. We never had issues finding parking close to the house on her street. Norah allowed us our privacy and was super friendly when I got around to introducing myself. We had an issue with the wifi never connecting, but not due to lack of trying on Norah's part. She was attentive to the issue and apologetic when we could not get it working. Not having wifi wasn't a big deal to us as we spent most of our time exploring Portland. Overall I would recommend the Hen House as a nice place to stay in a great area of Portland!
Gretchen
2016-05-09T00:00:00Z
I had a great time at Norah's AirBnb! The Hen House is adorable and comfortable and she included many thoughtful details. Thanks so much, Norah!
Vanessa
2016-09-13T00:00:00Z
What a wonderful place! The Hen House made for convenient and relaxing lodging for 2 on our vacation. We enjoyed the spacious bathroom with washer/dryer and the well-stocked kitchenette. The location is convenient to walk to local shops and restaurants, and only a 15 min drive into downtown Portland. We loved it. If you tend to run hot, though, you'll want to know that on really hot days, the loft bed stays pretty warm at night.
Katrina
2014-08-12T00:00:00Z
The "Hen House" was the perfect home away from home! The pictures don't do this unit justice, as it seems slightly larger in person. It was very comfortable, clean, private, and well insulated. We were provided with just about everything you could need (OJ to toothpaste). My favorite parts about the unit included having a heating system that you could control (nice and cozy!) and the large bathroom (with a washer and dryer). I really enjoyed the fact that we were in a residential area, but had our option of either taking a scenic stroll or 10 minute car ride to be able to explore shops/cafes/bars/restaurants/concert venues. Overall, we had a great stay at Norah's and will definitely be back (hopefully it won't be as rainy next time!).
Katie
2014-11-23T00:00:00Z
The Hen House was a perfect place to stay for a short visit to Portland. It is a cozy little apartment with all you need for comfort. The location was amazing as we could walk to both the Mississippi and Alberta st districts and we're one block from the bus stop to downtown. I'd definitely stay again.
Bryan
2016-11-19T00:00:00Z
We really enjoyed staying at the Hen House. The unit is designed very well and makes great use of limited space, so we had plenty of room for two people, a small dog, a week's worth of clothes and toiletries, and a bunch of wedding-related paraphernalia. The cozy space is comfortable, clean, and a great home away from home. The bathroom is huge and beautiful, although the high position of the shower head means that the water pressure isn't very strong. There were all sorts of places to hang up clothes, jackets, towels, etc. The kitchen is well-stocked and very functional, even with just a small fridge, toaster oven, and microwave. The countertops are beautiful wood and the tiny window above the sink gives a view for washing dishes. The salvaged materials lend a quirky flavor and the skylights make for a bright ambience throughout the space. If you have any issues with stairs, the stairs here are rather narrow and could be quite difficult, but they are workable, and the loft is great for sleeping with a comfortable bed. Just watch out for the close ceiling! Norah herself is responsive, considerate, and friendly, but gave us plenty of privacy, which we appreciated! She worked fairly with us to resolve some minor inconveniences. Also, the eggs and coffee she left out for us were delicious! This space probably isn't for everyone, as there are chickens literally right outside the window, and the backyard is definitely used by the family. But we LOVED it and it was exactly the space we needed during our trip. We'd for sure stay there again!
Wil and Jessamyn
2014-10-07T00:00:00Z
Norah's place is really amazing and she was a gracious host. There was a bowl of fresh fruit when I arrived, there were eggs and yogurt in the fridge, coffee, almond milk, tea. The place is exactly as pictured, it's very cozy. Norah was extremely helpful and accommodating. I would love to stay again - wholehearted recommendation!
Kari
2015-09-17T00:00:00Z
Type de logement
Logement entier
---
Type de propriété
Cabane
---
Capacité d'accueil
3
---
Chambres
Portland, Oregon, États-Unis
Den Boho Room er en generøs enkeltmandsvirksomhed soveværelse dekoreret med et sandt farveorgie i vores boheme gamle victoriansk hjem blot et par blokke fra Hawthorne, sydøst Portlands mellow hippie paradis. Dette værelse er lige ud foran indgangen, som er meget praktisk, men betyder du vil høre hallway støj. Dit værelse har et køleskab og et lille udvalg af lokalt fremstillet madvarer til morgenmad eller nogen tid, samt nogle af vores personlige cannabis stash, at vi er glade for at dele uden omkostninger for dig. (Du kan også læse den østlige Room: https://www.airbnb.com/rooms/7247104 og Green Room:. Https://www.airbnb.com/rooms/(PHONE NUMBER HIDDEN))
Vores lille del af sydøst Portland er så specielt. Gang til to store parker eller et vilkårligt antal kaffehuse, restauranter eller barer. New Seasons Market er tilgængelig for alle dine Portlandia dagligvarer behov, og vi er endda temmelig tæt på både lufthavnen og downtown. Vi er på flere vigtige buslinjer, så at komme rundt er let. Spørg efter anbefalinger! Vi forsøger at holde dig opdateret om de bedste yoga studios, nyeste kava barer og nyeste veganske behandler.
Hospitable and welcoming hosts. Comfortable space that felt like a home away from home. I thoroughly enjoyed my stay with Katherine and Fortis. The neighborhood is an ideal location, close to both Belmont and Hawthorne, as well as public transportation to downtown. The provided perks were a HUGE plus. ;) THANK YOU BOTH. Namaste.
Alison
2016-03-31T00:00:00Z
Everything was perfect. Thanks.
Simon
2016-10-06T00:00:00Z
Great location. Easy to access public transit. Great hospitality.
Kayla
2016-07-13T00:00:00Z
After a late arrival Fortis greeted me warmly and I felt welcome immediately. The accommodations were cozy and comfortable and the cannabis treats were abundant and delightful. The location could not have been more convenient, and Fortis was full of excellent neighborhood recommendations. This was an amazing first Airbnb experience; would absolutely stay again.
James
2016-07-08T00:00:00Z
Arrived in afternoon and had to leave quickly to conference. Fortis showed me around my room and the house. Easy peasy. Small, comfortable bed. Potato chips and cold drinks were clutch after traveling or late night snack! Easy,quiet area with hustling Hawthorne street just a short walk away! Enjoyed my stay!
Juan
2016-08-23T00:00:00Z
This place was awesome. Exactly as described and better. I don't think they mentioned heated toliet seat. I didn't use the bidet but it's there so you don't even have to wipe your ass if you don't want to.
Colin
2016-11-20T00:00:00Z
Loved my stay at Hawthorne! I was greeted by Fortis, who graciously gave me a quick tour despite my short notice arrival. Everyone was very friendly and the house is beautiful! The room was very clean and the welcome basket was great! I've been to Portland a few times and always loved the place and I can't picture a better location or better hosts. The house is easily within walking distance of the best drinks and food and a short walk to public transit to get downtown as well. I highly recommend making Shabbat cocktails, it's a great way to get to know everyone. There's one shared bathroom but I never had a wait or issue with availability. Loved my stay at this place and loved my hosts!
Jen
2016-07-03T00:00:00Z
Loved staying with Fortis and Katherine, such a safe, comfortable clean home. So welcoming and helpful with explaining the area on arrival! Having a small fridge in the room was super great, and teas and treats were so appreciated! Would definitely come back to stay again.
Molly
2016-07-31T00:00:00Z
Type de logement
Chambre privée
---
Type de propriété
Maison
---
Capacité d'accueil
1
---
Chambres
Portland, Oregon, États-Unis
vue sur la ville impressionnante du bord du centre-ville avec un accès facile. Promenade au bord du centre-ville et ses options de transit en quelques minutes. En voiture, hop sur une autoroute pointé dans la direction de votre choix avec une vitesse égale. PSU, OHSU, NCNM, Marché paysan
Joy is an amazing host! Everything was exactly as she said it would be. The view of Downtown Portland alone is worth more than the cost of a night.
Ben
2016-07-30T00:00:00Z
Pleasant room, bathroom, and living area, comfy bed, fantastic balcony view, and an amazing host. Beats a hotel stay anyday.
Anton
2016-10-24T00:00:00Z
Dallas was a great host. I arrived late in the evening and he was there to greet me. He made me feel at home. The room was very comfortable with a king size temperpedic bed. Very, very comfortable. Clean and nice private bathroom. What a view! From their window I could see Mt. Rainier, Mt. Adams and Mt. Hood. It was a 10 minute walk to the Max. From there I was able to travel around Portland while leaving my car at the house. Great hosts, great place.
Alan
2016-03-23T00:00:00Z
Great place and as described.
Scott
2015-01-24T00:00:00Z
Great location. Wonderful family. Room was comfortable.
Phyllis
2016-12-02T00:00:00Z
Very cool neighborhood overlooking downtown Portland. Easy to walk downtown. Incredibly comfortable bed, very clean bathroom. Loced our stay here.
Theresa
2016-06-25T00:00:00Z
Very welcome! Beautiful home and this was my first AirBnB experience. The whole thing could not have been easier. I thought it would be a little weird, but we were given plenty of space and privacy. Would definitely recommend.
Viet
2015-04-16T00:00:00Z
We had a fantastic experience and the place was absolutely beautiful. Great location and Joy's family was just so lovely. Would definitely recommend this Airbnb and will use it again when I return.
Daniel
2016-05-24T00:00:00Z
Type de logement
Chambre privée
---
Type de propriété
Maison
---
Capacité d'accueil
2
---
Chambres
Portland, Oregon, États-Unis
Portland - Airbnb
:
Moyenne de

5

sur

5

étoiles sur les

3206

commentaires des voyageurs
1

–

18

sur

300+ locations
Saisissez les dates souhaitées pour connaître le prix total. Des frais supplémentaires s'appliquent et des taxes peuvent être ajoutées.