Saisissez la date d'arrivée au format jj/mm/aaaa
Saisissez la date de départ au format jj/mm/aaaa
Logements que vous pouvez réserver sans attendre l'approbation de l'hôte.
5 lofts
· Préfecture de Gunma
5 lofts
· Préfecture de Gunma
Saisissez les dates souhaitées pour connaître le prix total. Des frais supplémentaires s'appliquent et des taxes peuvent être ajoutées.
Cet été (juillet et août), vous pouvez essayer l'un de ces 100 logements les mieux notés, dans toutes les gammes de prix, pour découvrir Sonoma d'un point de vue local. Entrée dans les lieux 24h/24, réservation instantanée, mais aussi vin et petites spécialités locales à disposition… autant d'invitations à vous détendre et à profiter pleinement de votre voyage.
位置好,离车站很近,房东热情,可以提供餐食。提醒一下楼梯有点窄小,不适合腿脚不便的人。
果
October 2016
Nikko was very nice.everything was good.very nice place to stay . Very close to Tobu Nikko Station
PJ
December 2016
Perfect location, very close to the train station, bus stop, and bakery. Friendly and helpful host.
Kitty
November 2016
房子的位置离电车站很近,非常方便 到达的当天看到房东在装空调,所以晚上睡得特别舒服 另外房东姐姐也很漂亮啊 */ω\*)
振超
November 2016
Good location near Tobu Nikko station and supermaket. This is share house and share rest room also. The owner are very friendly and helpful.
Samart
October 2016
The location is perfect for visitors coming by TOBU or JR. I had a very good time staying this warm house. The hospitality and kindness of the hosts makes me feel like home. Living room is comfortable for all guests to have a tea time. Rooms and washroom are clean. Also there is lots of information about traveling in Nikko. 房子地點極佳,距離火車站約一分鐘路程。這是一個像家一樣的溫馨房子,房間皆位於閣樓,對我來說是很有趣的體驗,上下時要注意腳步。房間和廁所都非常乾淨。能在暖桌旁跟其他房客邊喝茶邊聊天是很棒的回憶!房東和房東太太能說流利的中文和日語,且很樂意協助旅客規劃行程和解決問題
大艾
October 2016
The house was very comfortable to stay with my wife & 3 yrs old kid. The location was very close to station and bus stop. The room was very clean and cozy. The hosts were very friendly and addressed all our issues. I would definitely choose and recommend others to stay there. I am sorry if my kid has disturbed any other guests during night time.
Sourav
November 2016
Wonderful experience at Nikkō at this guesthouse. Host was very accommadating and approachable. Location was probably the best in town with a 5mins walk to station and bus stops.
Yu Yong
November 2016
Type de logement
Chambre privée
---
Type de propriété
---
Capacité d'accueil
2
---
Chambres
1
Nikkō-shi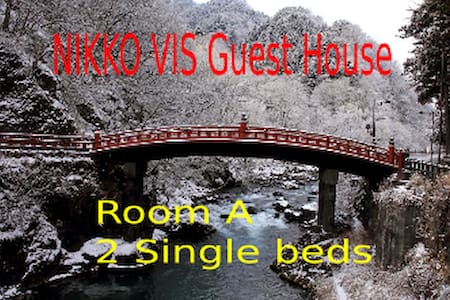 This is a great place, Nikko and her partner are very friendly and can and will help you with anything you need. It's conveniently located, and we felt instantly at home. The only thing that bothered me somewhat, was the rice-grain filled pillow, which was much harder than what I'm used to, so I had to improvise a pillow with some towels. Overall, great place.
Pierre-Yves
October 2016
とても便利な場所、日光駅からすぐ、スーパーもすぐ裏手、ホストのNIKKOさんも旦那様もとても親切でお話が面白い。 日光行くならここにキマり!
masami
November 2016
+交通非常方便! 去东武车站和巴士站步行5分钟以内。 步行2分钟还有个大超市。 吃饭的话不管是出门吃还是买回来都很方便。 +交流沟通很好 房东姐姐人非常好,能用中日英三语交流沟通。 +干净便利 卫生间和浴室都每天打扫,非常干净整洁。 洗漱用品都备了很多,即使什么都没带也没有什么不便。 +导游服务 如果团体入住的话达到一定人数可以追加向导服务。 -隔音不佳 房间没有什么隔音措施,如果遇到比较吵闹的同住人可能会影响休息。 ️总体而言是非常超值的!
轶飞
December 2016
Type de logement
Chambre privée
---
Type de propriété
---
Capacité d'accueil
2
---
Chambres
1
Nikkō-shi
Il faisait très très froid Pas de chauffage a l'etage Pas de communication possible. Connexion wifi très mauvaise Nous ne recommandons pas ce logement
LAURY-ANNE
November 2016
Nous avons été très bien reçu à Nikko. Quelqu'un nous attendait à la gare qui est pourtant à seulement 5 mins à pieds. Accueil irréprochable. Les chambres manquent cependant d'intimité. Il n'y a pas de porte aux chambres, seulement un rideau. Nous recommandons quand même.
Anne-Lise et Cédric
October 2016
Very close to the station. The host is very kind.
Teerawat
October 2016
Chen is very lovely and kind to me during my stay. She help with everything from the stay to places I should visit. I have to say she had made my trip in Nikko (日光) wonderful. I would recommend this place any backpacker visiting Nikko.
Jane
December 2016
This is a great place with wonderful and helpful hosts. They help with direction and transport and were very kind throughout our 4 days stay.
Bruno
November 2016
3 minute far away from station and near to supermarket. Ms Chan is very helpful!
Ernest
November 2016
The host is lovely and friendly. The room and house are clean. It is well located for train, bus and supermarket. It was all warm and cosy. The only two problems are the ladder to the loft where it is hard to bring luggage and the fact that the three rooms in the attic are only separated by curtains/screens. For us there was no problem as we were the only ones on our second night but if they were all full, there would be no privacy and the bathroom/toilet could be a problem.
Olga
December 2016
Nikko is à wonderful place. The guest house is very well located. The hôtes are very kind and helpfull. The home is very charming. I recommand!
Loïc
November 2016
Type de logement
Chambre privée
---
Type de propriété
---
Capacité d'accueil
3
---
Chambres
1
Nikkō-shi
I really liked this guesthouse! They were very prompt when replying to my questions, and the location is about a five minutes walk from to Tobu Nikko station. I didn't get the chance to talk much with the hosts, but they seemed like very kind, sociable people. I would recommend staying here especially if you plan on using the buses to get around.
Ken
October 2016
Nikko was a kind host and always quick to communicate. The room was cozy and the bed was comfortable. I was able to get a good night of sleep. The bathroom was nice and clean, along with the rest of the place. The location is great, just a few minutes to walk to Nikko station where you can easily catch a bus to everywhere else in the Nikko area. Highly recommended to stay here!
Anthony
November 2016
Very nice and helpful host
Nathanael
October 2016
Great host, location is VERY close to station, and its clean and friendly.
Samantha
November 2016
Convenience! This place is perfect if you need a place to recharge close to the train after being out all day. It's nice being a few blocks from everything. Groceries and restaurants are nearby as well. The host is very sweet.
Lindsay
October 2016
Type de logement
Chambre privée
---
Type de propriété
---
Capacité d'accueil
3
---
Chambres
1
Nikkō-shi
Can't beat the location if you plan to travel in Nikko area. That being said we had a good time as we were the only people saying that night. The main thing separating the rooms are thin sliding doors and curtains. So keep that in mind when booking.
(EMAIL HIDDEN)
December 2016
It was really nice place. Chen was lovely hostess, she was very helpfull, nice and kind. There is a plenty of space in the room. We totally recommend this place but especially for young people, because of the steep stairs leading to rooms. Be prepared for sharing bathroom with all guests and host family and there are just curtains instead of doors, but the warm atmosphere will catch you ;-)
Martina
November 2016
I didnt get to stay at their house as I had an accident on Friday. Sorry about that! I think they were very nice.
Junko
November 2016
房東很熱心,會在我到達前主動聯絡和提供協助。 房東懂得日語,英文和普通話,能順利溝通。 地點靠近火車站和巴士站。 The host is enthusiastic, contact me actively before I arrived. She speaks Japanese, English and Mandarin. The house is near the train station and bus station which is convenient.
Ho Chuen
October 2016
The location is great and very convenient but it isn't very private and the wifi was very slow.
Manon
January 2017
离车站很近,很方便!!房东人也很好!!洗漱用品什么的完全不用担心~
wen
October 2016
交通は非常に便利です。部屋も広くてきれいです。快適な滞在でした。 房东很亲切,还给我推荐了泡温泉的地方,房间很宽敞干净。
yun
November 2016
很不错!
锐
November 2016
Type de logement
Chambre privée
---
Type de propriété
---
Capacité d'accueil
2
---
Chambres
1
Nikkō-shi