We live 15km from the Canberra city centre in the suburban Queanbeyan. Our house is a 15 minute drive from Canberra's cultural scene, but also a 5 minute drive from the closest nature reserve. In peak traffic it is a 35 minute drive to the CBD, and off peak it is around 20-25 minutes. We have a downstairs living space that is rarely used, where we have two single beds, and there is an adjacent toilet and shower. You can access the room from outside or from upstairs.
The space is large and open with 2 beds and a desk, and an adjacent bathroom. It can be accessed from either outside or through the main house, allowing for as much or as little interaction as you'd like. We have tea and coffee facilities in the room as well as heating and cooling.
We live in a quiet neighbourhood surrounded by parks and reserves.
This is a good place, if I go to Canberra, I will once again to the Kurt House.
Brian
2016-10-11T00:00:00Z
The hosts were lovely and thought the room was a bit basic, it was just what we needed for the night.
Victoria
2016-10-07T00:00:00Z
Kurt was quick to respond to my queries before we checked in. Upon arrival, we were welcomed warmly by his dad who also made sure we had everything we need. Our stay was relaxing - room was spacious and quiet. We'd book here again if we get the chance.
Jose Ranie
2016-09-03T00:00:00Z
Fast n easy booking and verification approval. Great people and overall a welcoming environment. The room is amazing for the value.
Edward
2016-09-18T00:00:00Z
Kurt and family were wonderful and very accommodating. Check in/out was easy, communication was superb and everything was clean and tidy. Overall a very warm experience.
James
2016-08-27T00:00:00Z
Enjoyed my stay at Kurt's place, very comfortable and convenient.
Michael
2017-02-19T00:00:00Z
Great hosts who were really flexible with my changing arrival time! Really friendly and made sure I had everything I needed!
Jason
2016-09-23T00:00:00Z
Excellent room and location. Epic setup with a seperate front door for entry directly to room and private bathroom. Easy to communicate and so keys. Close to airport and they had all these thoughtful extras like tea and coffee and a wardrobe rack with hangers and powerboards all set up ready. Never had time for breakfast but they offered that too. Definitely on the list to stay again next Canberra trip
Andrea
2016-11-10T00:00:00Z
Type de logement
Chambre privée
---
Type de propriété
Appartement
---
Capacité d'accueil
2
---
Chambres
Queanbeyan West, Nouvelle Galles du Sud, Australie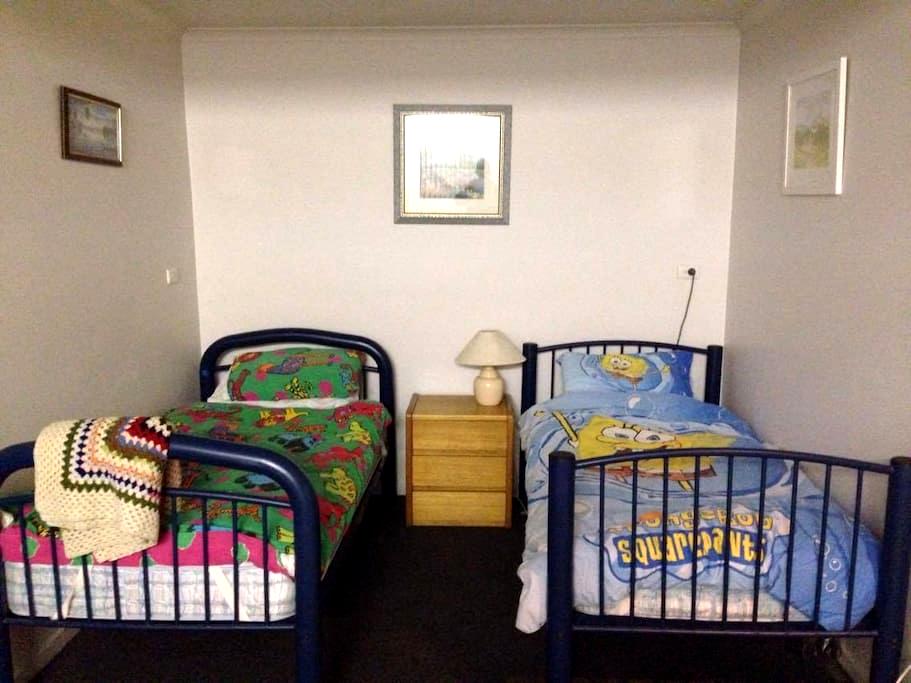 Stay in our spacious light-filled guest room and have access to your own private bathroom and lounge/TV area. Whether you're in town on business or exploring the nation's capital we will do our best to make your stay comfortable.
Guests will have: - A spacious private room - A private bathroom with shower and bath - A lounge/TV area all to themselves - Free Wi-Fi - Breakfast (cereal, toast, eggs, tea & coffee) - Free parking
We live in a very quiet neighbourhood only 2 mins drive / 20 mins walk from Queanbeyan town centre, 15 mins drive from Canberra International Airport, 15 mins drive from IKEA and 20 mins drive from Canberra CBD. We are also very close to the Queanbeyan and Canberra train stations.
Maison agréable au calme. Nos hôtes ont fait en sorte que nous josiane sentions comme chez nous.
Colette
2016-11-23T00:00:00Z
Staying at Carlie's could not have been more perfect. Close to the airport and to the city, exactly what was needed for a quick work trip to Canberra. Unfortunately, I got in late and had to leave early so only got toe briefly meet Carlie and Leelou. Definitely need to stay longer next time!
Virginia
2016-01-15T00:00:00Z
Carlie was friendly and helpful. We had everything we needed for a comfortable stay. We left the toilet door ajar on one occasion and discovered that the dog loves toilet rolls.. Sorry about that!
Eleanor
2016-03-24T00:00:00Z
Many thx for staying up late to let me in. Great bed for a much needed sleep on the way to the snow.
Mark
2015-08-15T00:00:00Z
we had a great time during our stay. Carlie has helpful, the room and bathroom was clean and tidy. we had privacy and Carlie made us feel welcome.
vincent
2016-01-14T00:00:00Z
We recently stayed with Carlie and Ricky for two nights as part of a two week road trip across Australia. The couple were very welcoming and made our stay in Canberra very enjoyable. The house and amenities were neat and tidy and the location was perfect - only a short drive into the Canberra city centre. One of the highlights of our stay was a recommendation to visit a local microbrewery in nearby Braddon. Thanks again, John & Kay!
John
2016-04-18T00:00:00Z
Carline and her husband are warm and easy going people who provided us with an excellent and trouble free over night stop. The room was lovely and we had our own private bathroom too! Easy to get to by car and only a 15 min drive into Canberra city centre. Their dog Leelou is also very gorgeous! :D
Sarah
2015-07-14T00:00:00Z
Ricky and Carlie made us feel welcome when we arrived. Their lovely little dog was extra welcoming. We were especially grateful for them putting on our electric blankets on our second night as we arrived back late from the wedding. They also made food available for us if we required it .
Julie
2015-07-06T00:00:00Z
Type de logement
Chambre privée
---
Type de propriété
Maison de ville
---
Capacité d'accueil
2
---
Chambres
Queanbeyan West, Nouvelle Galles du Sud, Australie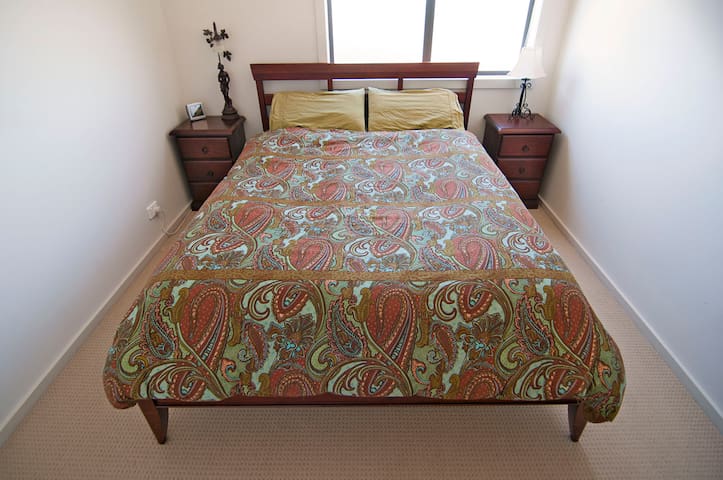 Totally private accommodation to suit up to 9 people. Private room with Queen , family room to sleep another 7. Self contained kitchen with dinning table. Very comfortable home away from home living. Washing machine,fast wireless internet plus more
Very much a home away from home with total privacy. Air conditioned cooling / Heating, Electric Blanket, TV/DVD, Unlimited wireless internet. Modern clean comfortable. Fully self contained kitchen. Washing machine. Taxi's usually quick and close to bus stop and convenience store. Please note you have direct off street parking to your door, your accommodation is half the front of a large house in a very well respected safe family area. Your accommodation will be clean spacious and should accommodate your every need as a couple, family group , single or group. Very much a home away from home with total privacy or if your up for a chat and assistance in the area with your host then Chris will be more then happy to help you. Your accommodation is a large home divided into the front area for guests up to 6 people and the other half privately divided by walls for total privacy by the host and his two daughters. Please be assured of a comfortable,safe,fun and relaxing stay.
Your accommodation is located in a very safe and friendly area very close to Canberra, Queanbeyan and surrounding areas.
Chris was a great host who showed exemplary hospitality, his place was well kept and as described.
Anthony
2015-11-02T00:00:00Z
Chris is very pleasant host and took time to show us the place and make us feel comfortable , the place was very neat and adequate for a big family . The neighbourhood is quiet and a perfect place while staying in Canberra . Would recommend staying .
Mayank
2015-09-28T00:00:00Z
The host canceled this reservation 5 days before arrival. This is an automated posting.
Monch
2016-11-12T00:00:00Z
Good communication with Chris for making all the arrangements. Place was very comfortable and we had a great time. I highly recommend it!
Zed
2015-11-18T00:00:00Z
We loved our stay at Chris' place in Queanbeyan. The house is clean, tidy, and is extremely well appointed with everything you could possibly need. Nothing was too much trouble for Chris, and the book procedure was quick and easy. The house is in a quiet street, close to the city centre and some great restaurants which Chris recommended for us. It's also only a short drive to Canberra. Being the front of his residence, you do get some noise through the walls, but perhaps that's part of the fun of staying in an AirBNB property - it's nothing like a hotel. Thanks Chris. We'll stay again in the future.
Peter
2016-05-30T00:00:00Z
Lovely location. Great facilities - plenty of beds for us all. Great big bath sheet towels. Bottle of wine. Tea/coffee and cooking facilities. Two tv's - more than we have at home! This worked really well for our family holiday. Thanks!
Rebecca
2015-12-27T00:00:00Z
Thanks a lot Chris for a very warm welcome and for our very pleasant stay! House is very nice and cosy. Neighbourhood is very quiet, safe and friendly.
Vadim
2016-03-24T00:00:00Z
I highly recommend staying here. Chris is such a lovely and accommodating host. The place itself is homely and very comfortable. It's in quiet neighborhood but isn't too far from the Canberra CBD.
Sukhdeep
2016-09-11T00:00:00Z
Type de logement
Logement entier
---
Type de propriété
Maison
---
Capacité d'accueil
8
---
Chambres
Queanbeyan , Nouvelle Galles du Sud, Australie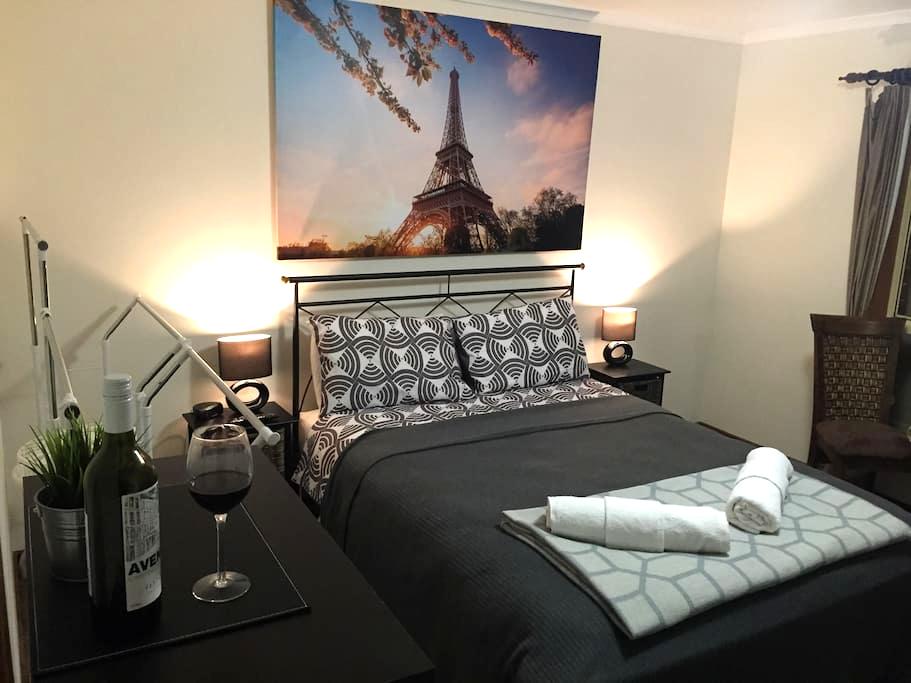 The apartment is located in Queanbeyan, just 5mins away from Canberra. Local shops (Kmart, Coles, Woolworths, Chemists), Medical Center, River Side Plaza, cafes, restaurants and bus stop are located nearby (1 min walk). Neighbourhood is calm and green. Opposite is a lovely park with a lake and jogging track. Undercover free parking is available.
The guest room is cozy and comfortable with a Queen size bed and TV for entertainment. Wardrobe and drawers are available in the personal space to be used by the guests. The bathroom is shared (with a couple; owners) The guest room is for two people maximum. Free WiFi is also available. The shared bathroom is spacious and clean with laundry facility. Kitchen and lounge may also be used by guests. The quite neighbourhood is also an attraction.
The area is peaceful, calm and quite. The apartment has a nice view of a newly renovated park (Queen Elizabeth II) and lake that is situated right in front of it. Queanbeyan has some incredible cafes, restaurants and bars. Riverside Plaza, Kmart, Woolworths and Coles are at a walking distance from the apartment.
Ali is a great host and fun to talk to. The bus stop to Canberra CBD is one minute walk away. Recommended!
Bill
2016-12-11T00:00:00Z
The room was nice, clean n cozy. Everything that's required for a comfortable stay had been provided. The kitchen and bathroom are right next to the guest room which made it easier to go about. Ramsha & Ali are delightful people, made us feel right at home. Would definitely recommend this place to friends traveling to Canberra.
Maria
2017-03-29T00:00:00Z
Ali and his new wife were very friendly and helpful with our check-in. Ali's place was clean and comfortable with all the amenities needed for our overnight stay. Very conveniently located and easy to find.
Kerri
2017-03-11T00:00:00Z
Ali is friendly and very welcoming. The house have all the things you expect to have in a home.
Ainol
2016-12-05T00:00:00Z
Ali house it's nice go staying,very quiet,comfortable,you could own the comfortable room ,could take rest completely!We have good rest in Ali 's house.
Sui
2017-04-05T00:00:00Z
有停車位很方便,距離市中心也不算遠
Ellie
2017-03-31T00:00:00Z
A lovely apartment in a nice area, great for visiting Canberra. Very much enjoyed our stay here, Ramsha & Ali make great hosts and are very welcoming. Would definitely recommend!
Will
2017-03-18T00:00:00Z
Ali was a very hospitable and caring host. he went out of his way to make sure all was ok. I didn't need a 5 star stay, it was a good value for money facility.
Steve
2016-09-19T00:00:00Z
Type de logement
Chambre privée
---
Type de propriété
Appartement
---
Capacité d'accueil
2
---
Chambres
Queanbeyan, Nouvelle Galles du Sud, Australie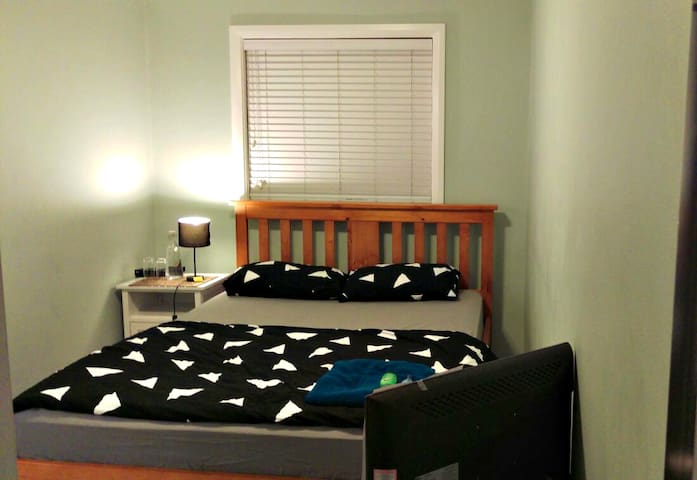 A fully restored solid 1930's building with original charm, high ceilings and modern features. The Warehouse has just been renovated and is the perfect place to kick back and relax. Located at the rear of a residential home, this property is within walking distance to the CBD.
Nice newly renovated flat. Quiet with all the facilities I needed for my short stay and more. Thanks Daniel
Matt
2017-03-16T00:00:00Z
Great place to stay+++
Natalia
2017-03-25T00:00:00Z
Type de logement
Logement entier
---
Type de propriété
Appartement
---
Capacité d'accueil
2
---
Chambres
Queanbeyan, Nouvelle Galles du Sud, Australie
10 min walking from Queanbeyan shops and convenience, 20-25 minutes from Canberra CBD and 15 from the airport. We are offering to stay in a Private Quiet room with Queen size bed (we also have a kid mattress and sheets that we can supply if necessary), wifi and netflix are at you disposition, also a small out door area where you can cook BBQs and spend time. we have a 1 year old cat that spend most of his time outside. Good for couples, solo adventurers, business travelers, and families.
Comfortable clean quiet and convenient
Luana and Pete are fantastic hosts. They are easy going, polite and welcoming. My room was clean, organised and comfortable. I would highly recommend them to future guests.
Daniel
2017-03-03T00:00:00Z
Luana and Pete were very nice and their place was cosy.
Victor
2017-03-17T00:00:00Z
Good house !Pete and Luana is very friendly and you can talking anything with them !
Tingwei
2017-03-26T00:00:00Z
Nice place to stay Only a KM from shops Hosts are really nice It was a great experience
Sanjeev
2017-03-07T00:00:00Z
Great stay, easy regular communication, flexible host, clean comfortable bed, would stay again.
Stuart
2017-04-01T00:00:00Z
Neat, convenient and with friendly hosts, I'd happily recommend staying here to anyone.
Sam
2017-03-21T00:00:00Z
Was a very quiet and comfortable stay
Michael
2017-04-03T00:00:00Z
Good owner and friendly cat!
Tingwei
2017-03-25T00:00:00Z
Type de logement
Chambre privée
---
Type de propriété
Maison de ville
---
Capacité d'accueil
2
---
Chambres
Queanbeyan, Nouvelle Galles du Sud, Australie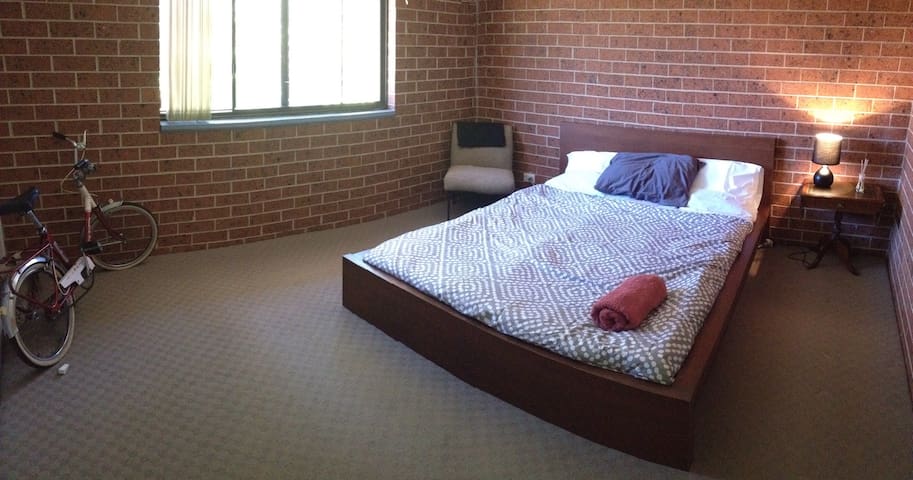 Large 2 Chambre (2 Queens + 2 doubles) appartement est le plancher complète en bas d'un immeuble de 2 niveaux. Entièrement meublé. salle de bain propre, douche et cuisine. Climatisé. WiFi haut débit gratuit salut (NBN à large bande) inclus. Building a été construit dans les années 1960 et a été partiellement rénové. Bien que certains composants peuvent être vieux, il est en bon état. Deux places de stationnement dans la rue hors sur l'allée inférieure. Situé à Queanbeyan 18 minutes du centre de Canberra.
Nous sommes situés près de la gare de Queanbeyan (coin de Ross Rd et Derrima Rd) - Nous vous recommandons (SENSITIVE CONTENTS HIDDEN) map la région pour obtenir une idée de la proximité de vos destinations. Situé à moins de 18 minutes (15km) du centre de Canberra
Harry's place is definitely a perfect place to stay when you come in a group. We were able to make the most of their kitchen amenities during our stay. Great when you are on a budget trip. The location is great. Good driving distance to the factory outlet, IKEA, and Costco. The host also is responsive and communicates fast.
Jallice
2016-09-02T00:00:00Z
Very quiet neighbourhood, opposite Quenbeyan hospital. Beds were well made, portable cot was very clean and neat. Kitchen utensils were plentiful. Shampoo, bath gel were provided via dispenser.
Ashley-benjamin
2016-12-27T00:00:00Z
Good place to stay I highly recommend it
Hollie
2016-11-11T00:00:00Z
Harry was great to deal with and went out of his way to accomodate our needs for our stay
Pino
2017-01-07T00:00:00Z
A very spacious accommodation, that was lovely and cool during the hot summer. Enjoyed walking around the corner to a very good local pub. With a car relatively easy to access all that Canberra has to offer. Harry and Leah were friendly hosts and very helpful.
Emma
2017-03-31T00:00:00Z
We enjoyed our stay especially with kids. Harry was communication was excellent and had all the required details. He was reachable and the flat and the amenities were clean and usable.
Dheerajkumar
2016-10-19T00:00:00Z
We just halted there for sleeping so not much to expect, experience or complain. Overall you find it as described except the bathroom needs some attention. The host is really helpful and communicative.
Nasimul
2016-10-09T00:00:00Z
Pretty large place
Brett
2016-11-09T00:00:00Z
Type de logement
Logement entier
---
Type de propriété
Appartement
---
Capacité d'accueil
8
---
Chambres
Queanbeyan, Nouvelle Galles du Sud, Australie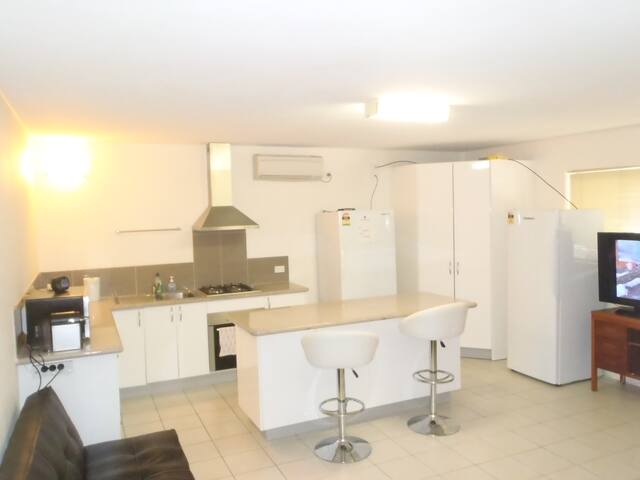 Big house full of atmosphere and class. Lots of space and a house to have fun and relax in. All mod cons in terms of technology and kitchen. Plus outdoor deck and outdoor kitchen!
Please enjoy using our home and treat it with the same respect that you would treat your home.
You can walk from our house down to the park, river and shops. It is a nice neighbourhood with bowling greens, tennis courts, cycling track and amazing park to enjoy. Coles, Woolworths, Aldi, Target and many other stores are at walking distance to our house. Also, there are some great restaurants including Lime Leaves (Thai) and The Royal (good pub food and atmosphere).
The house was well appointed and presented. We had lots of communication prior to arriving and after. Our stay was as expected and very peaceful and quite. The neighbours were wonderful and helped with information generally about lots of places and local history. We used the main bedroom and ensuite which was more than adequate for our needs. The kitchen and outdoors bar be cue area are superb and well appointed with lots of utensils for an easy "cook up barbie" or a little more culinary delight cooking, if so desired. Overall we enjoyed our stay and whilst doing so made good use of the Apple TV and the Big screen projector. Thanks for a great holiday and we will return one day.
Jenny
2016-01-05T00:00:00Z
spent a couple of weeks in Moniques fab home with 4 children. Great location for getting around and the property was better than the description! - would highly recommend for families with children
Garfield
2016-01-25T00:00:00Z
Type de logement
Logement entier
---
Type de propriété
Maison
---
Capacité d'accueil
12
---
Chambres
Queanbeyan, Nouvelle Galles du Sud, Australie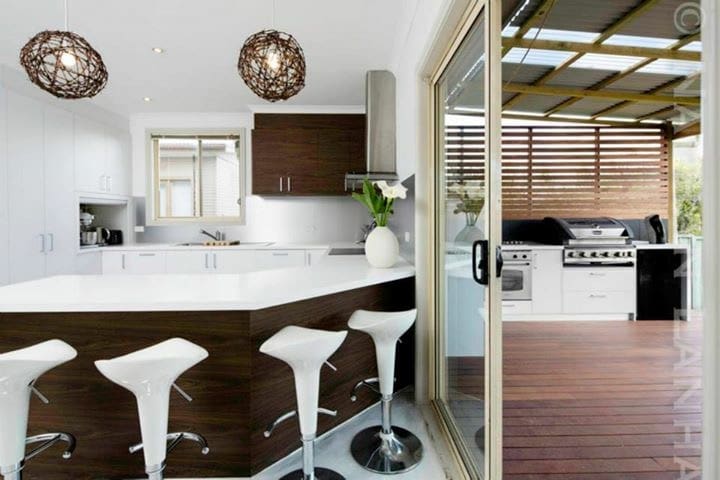 My place is good for couples, solo adventurers, business travellers, families (with kids), and big groups.
The host canceled this reservation 5 days before arrival. This is an automated posting.
Troy
2016-11-28T00:00:00Z
Type de logement
Chambre privée
---
Type de propriété
Autre
---
Capacité d'accueil
1
---
Chambres
Queanbeyan, Nouvelle Galles du Sud, Australie
Here is spare room with a comfortable double bed in a light and airy home. You'll have your own modern bathroom across the hall, which doubles as a laundry. Some nights per week the bathroom may be shared with another guest. Wifi and off street parking are included! I've listed check in time at 5pm but can usually negotiate an earlier time, especially on weekends.
Hôte charmante et disponible. La maison est très bien tenue et la chambre confortable. A 2 pas de la gare de queanebeyan et proche de la ligne de bus.
Antoine et Adélaïde
2016-04-15T00:00:00Z
This is my go to place when I am in Canberra. Lovely place to unwind at the end of a long day. Jeneane is an excellent host.
Zelda
2016-12-04T00:00:00Z
A wonderful hostess, a lovely room close to everything!
Diana
2016-12-13T00:00:00Z
Jeneane is a lovey lady and looked after us very well. Her place is quite homely and comfortable and central! I would definitely recommend Jeneane's place for anyone wanting to stay in Queanbeyan! X
Jordan
2017-01-10T00:00:00Z
Great location for access to anywhere near airport or south Canberra. Quiet neighborhood and close to queanbeyan town centre.
Chris
2016-12-08T00:00:00Z
When you go to Canberra then is this a perfect place to stay! Jeneane is very friendly and made us feel comfortable. Even when we arrived late, she was waiting for us to explain everything. Definitely recommended.
Ruben
2017-02-11T00:00:00Z
Accommodating, friendly, it really is a home away from home
Natashja
2017-03-28T00:00:00Z
Our stay at Jeneane's was lovely, a very clean and calm place to stay.
Julienne
2016-01-08T00:00:00Z
Type de logement
Chambre privée
---
Type de propriété
Maison de ville
---
Capacité d'accueil
2
---
Chambres
Queanbeyan, Nouvelle Galles du Sud, Australie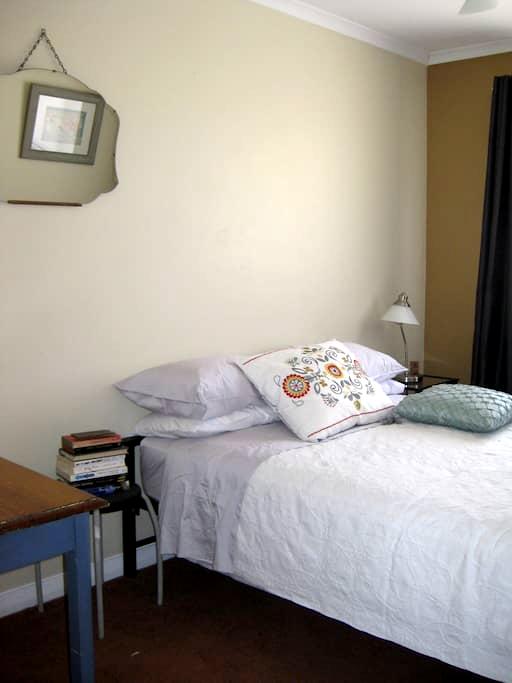 Large 3 Bedroom apartment with large living area and kitchen. Unit is the upstairs half of a 2 floor building. Free high speed broadband WiFi (NBN connection) included. Building was built in the 1960s and has been partially renovated. Although some components may be old it is in good repair. Located in Queanbeyan 18 mins from center of Canberra Large screen TV available. Heaps of street parking and a single off street park at bottom of stairs included in booking. Suits family and groups.
Great space for large groups
We are located near the Queanbeyan Railway station (corner of Ross Rd and Derrima Rd) - We recommend you (SENSITIVE CONTENTS HIDDEN) map the area to get idea of proximity to your destinations. Located less than 18 mins (15km) from the centre of Canberra
Harry was very flexible & took the time to show us the house & make us feel very welcome, the listing is very accurate, the neighbourhood is quiet & the Aldi store is conveniently close by.
Joseph
2016-05-16T00:00:00Z
The host made us feel welcome. The house was all ready to move in when we arrived. Very quick response to any inquiries, too.
Mari
2016-07-14T00:00:00Z
Large place within a short drive to the city centre. Great for families with children. Stayed just after Christmas while on a family road trip. Had two young tikes with us who were happy enough with all the space inside to run around. Note that the floors are tiled which makes for easy cleaning but be conscious that it makes falls harder. Harry and Amy are very responsive and keeps the place in good order with everything you'd need for a comfortable stay.
Jonathon
2016-12-30T00:00:00Z
Harry was very helpful and communicative. The place is clean and ample bedding was provided. The kitchen is a little sparse with a small fridge so you might want to bring some extra pots and pans or other utensils. The house is chilly too although that might be fixed now. Good location for us, quite affordable and the internet is really fast. They have a cute dog too.
Dave
2016-06-30T00:00:00Z
Harry was good man best trip thanks
Afzal
2016-08-04T00:00:00Z
Harry's place was amazing! My two girlfriends and I traveled down from Sydney for the Groovin the Moo festival and found his place easily! The space was huge and we were overjoyed to each have our own room! Could not fault the place or his hospitality! Definitely recommend :)
Keisha
2016-04-26T00:00:00Z
Spacious, well equipped place to stay . Easy communication with the hosts. Would recommend to family and friends. ALDI is 1km from the house
Shubha
2016-12-28T00:00:00Z
Clean, clear and easy communication. Equipped with everything we needed and plenty of space
Skye
2017-03-23T00:00:00Z
Type de logement
Logement entier
---
Type de propriété
Maison
---
Capacité d'accueil
8
---
Chambres
Queanbeyan, Nouvelle Galles du Sud, Australie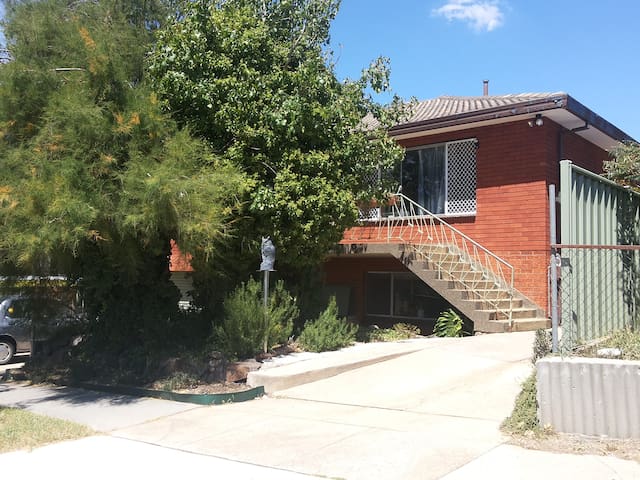 My place is close to public transport, the airport, and family-friendly activities. You'll love my place because of the light, the high ceilings, and the kitchen. My place is good for couples, solo adventurers, and business travellers.
The stay was very good. Very nice place. Very warm too during the winter. High ceilings, which creates nice atmosphere.
Grigoriy
2016-06-14T00:00:00Z
The host canceled this reservation 10 days before arrival. This is an automated posting.
Damien
2016-12-01T00:00:00Z
This is a very nice place to stay, especially if you like the feeling of staying in a place with a real and interesting history. Kate and Paul are great hosts, as are the two little dogs!
Nigel
2016-11-30T00:00:00Z
Once we managed to contact the caretaker, Paul was very helpful. He showed us our room and left us to it.
Deborah
2016-06-26T00:00:00Z
Very good
Phill
2016-07-24T00:00:00Z
Nice majestic place with a real sense of history. It's not luxury, but neither are the prices, and the location is great.
Nigel
2017-01-30T00:00:00Z
Great place to stay. Very spacious and beautiful historic building with fantastic kitchen and lounge facilities. Paul was the perfect host.
Tim
2016-09-17T00:00:00Z
这是一栋很有历史的老房子,房间很大,光线不错。带进入式储藏室和卫生间。房东很用心的提供了符合我们习惯的用品(砧板、炒锅、中国茶叶),还有电热毯和取暖器,也尽力满足我们的一些要求。房子离图书馆很近,离购物中心也不远,很方便。这一个月过得很愉快。
宬
2016-09-11T00:00:00Z
Type de logement
Chambre privée
---
Type de propriété
Maison
---
Capacité d'accueil
2
---
Chambres
Queanbeyan, Nouvelle Galles du Sud, Australie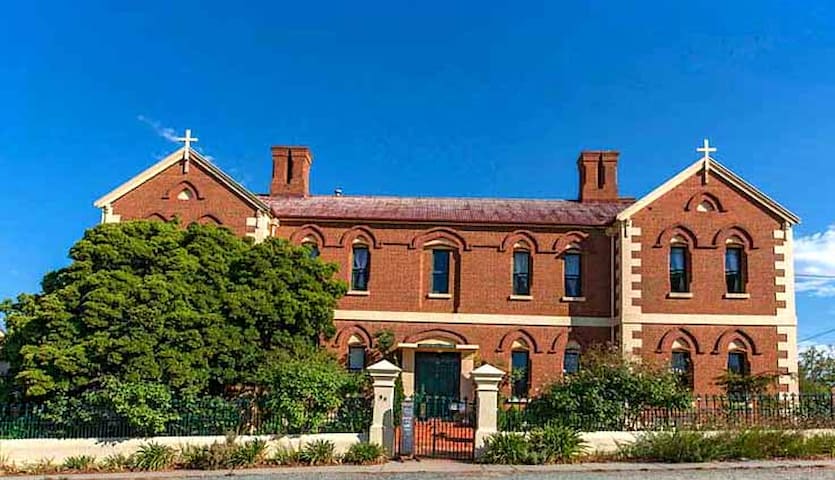 Great Luxury Single Bedroom Private at very affordable price
The host canceled this reservation the day before arrival. This is an automated posting.
Nirvana
2017-04-02T00:00:00Z
The host canceled this reservation the day before arrival. This is an automated posting.
Eva
2017-03-11T00:00:00Z
Type de logement
Chambre privée
---
Type de propriété
Maison
---
Capacité d'accueil
2
---
Chambres
Queanbeyan, Nouvelle Galles du Sud, Australie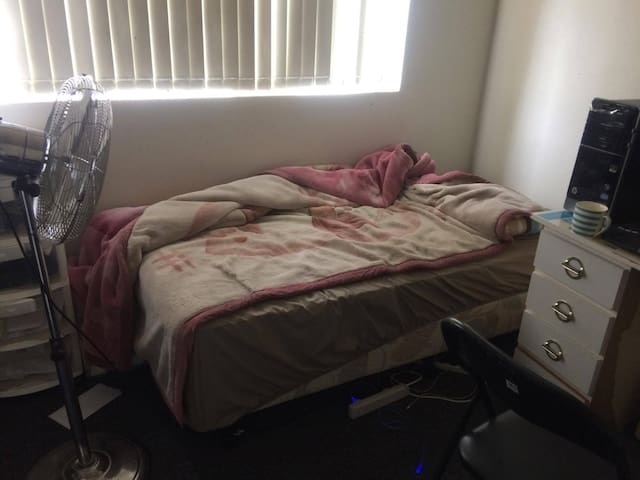 Double en suite room in our garden with separate access. Very private with nice garden outlook. There is a shaded area with seating to relax in next to the room. We are available to guests either in person or by phone between 7 am and 10 pm.
We have a studio en suite room in our garden for short term lease. Very private with a nice garden outlook. While there are no cooking facilities in the room, there is a small microwave for heating food, and a fridge, toaster and kettle are provided, along with crockery and cutlery. Linen, including towels, provided. The bed is a double. Off street car accommodation is a possibility. For bookings of a week or more, your room will be serviced if you desire. Fresh towels provided on request but not more frequently than every three days and fresh bed linen provided weekly by arrangement. Use of our washing machine is available by arrangement as well. There is a large covered outdoor area next to the studio that is an ideal spot for breakfast or for a drink at the end of the day. A BBQ is available for use in this area. We are happy to share a drink and chat and can also assist you plan your sightseeing if you would like. Queanbeyan is within easy travel to major Canberra attractions, and the airport and the accommodation is suitable for both business and recreational travellers. While ideally a car would be best for accessing Canberra, we can provide pick up on arrival by arrangement and can transport to and from Canberra attractions on week days by arrangement as one of us works in Canberra most days. Also, there are frequent buses to Canberra from Queanbeyan - bus stop 100 mts away.
Lovely quiet, residential neighborhood with easy access to local shops and shopping centres and very easy drive into Canberra
I would thoroughly recommend Terry and Margie's studio- great value in a quiet neighbourhood of Queanbeyan, only 12km drive from the centre of Canberra. The room was clean and just-as-described, and we enjoyed having our breakfast in the BBQ area next to it looking out over the garden. Thanks for a great stay!
Kylie
2016-12-31T00:00:00Z
Wir hatten wunderbare 3 Tage bei Terry. Da wir wegen der Feiertage kein Auto bekommen konnten hat er uns immer wieder angeboten uns selbst zu fahren. Er hat alles getan das wir uns wohlfühlen und alles hatten was wir brauchen. Wir würden jeder Zeit wieder kommen (:
Jennifer Denise
2016-12-27T00:00:00Z
A+++
Felix
2017-02-06T00:00:00Z
Terry was a super friendly and fantastic host. The room was exactly as described and had everything I needed for my stay. A bottle of wine was provided on arrival and numerous information was supplied on places to visit in Canberra. I enjoyed my stay thoroughly :)
Arthur
2015-05-24T00:00:00Z
Terry and Margie are the best hosts. It was my first visit to Australia and was exteremely nervous. Terry and Margie went out of thier way on multiple occassions to to make me feel welcome. We had long and wonderful chats discussing our cultures. The room is very cozy and the bed extremly comfortable. The house was clean and tidy as shown in the pictures. Everything in the room worked perfect. I would strongly strongly recommend anyone visiting Canberra to stay at their place. Its a 10 out of 10 for my experince.
Milind
2015-03-12T00:00:00Z
This was our second visit at Terry's place and I can honestly say it felt like going to our second home :) the room was immaculate as previously ,but this time Terry made sure that not only I received my chilled bottle of Chardonnay but also my daugher had some yummy snacks on the table ,very personal and thoughtful touch ,Thank you ! We have visited the Floriade and extended our stay with an extra night ,because it is just so relaxing to wake up for the birds at Terry's place ,having a coffee in the garden on the comfy lounge chairs ,yaaay I miss our holiday already !!! Luckily we had a chance to catch up with Terry on the last night and had a great chat and shared a glass of wine .Amazing ,amazing people and a great accommodation which ticks all the boxes :) See you both in the next school holiday ! Cheers Timi and Indi Highly recommended !!!!! +++
Timi
2015-09-30T00:00:00Z
Terry and Marg were the perfect hosts providing us with this clean and tidy room with their beautiful garden surrounds. Beds, bathroom, kitchen provisions were tops and the covered bar b q area was great for us to spread out. They were available for kitchen ill ups and offered us heating, and anything we wanted.
loretta
2012-03-01T00:00:00Z
This stay was my first Airbnb experience, and what a start! We had such a pleasant experience staying in here. Terry met us on arrival and made us feel very welcome. The accomodation was exactly as described, very comfortable and clean. The bottle of red wine was very appreciated. We thank you so much for your great hospitality. We would love to come back here.
Quesia
2015-09-22T00:00:00Z
Type de logement
Logement entier
---
Type de propriété
Appartement
---
Capacité d'accueil
2
---
Chambres
Karabar, Nouvelle Galles du Sud, Australie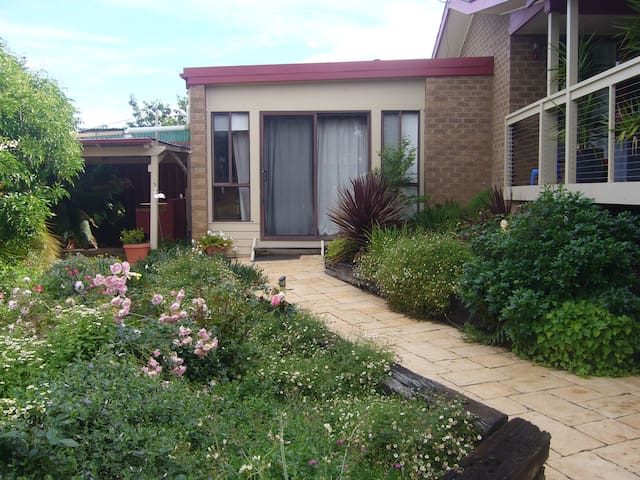 A quiet and centrally located unit only 5 minutes walk from Queanbeyan CBD and 15 minute walk from the train station. Also just a short drive from Airport, Kingston, Manuka, Parliament and Canberra CBD. You'll love my spacious One Bedroom Apartment featuring a large living space with comfortable lounge, dining setting, expansive interior & sit-out balcony with great views, outdoor setting, kitchen, separate bedroom with premium queen size bed and cupboard space & a separate bathroom.
The unit is great for the executive traveling for work or a couple looking for a quiet break.
Queanbeyan is centrally located to the Queanbeyan CBD, Train Station, Canberra CBD and the Airport.
Brad provided a great opportunity for me to utilise when all other Canberra accommodation was exhausted. He was very efficient in his approach and his assistance was A1. Would and will recommend him to anyone
Patrick
2017-03-28T00:00:00Z
I was pleasantly surprised with Brad's unit. It is modern, clean and spacious. Getting access was very easy and Brad''s communication was A1. I travel regularly to Canberra and this was my first stay at Queanbeayn. What a little gem of a place had a great meal at Walsh hotel and went for a beautiful walk in the morning to the Anytime fitness gym along the banks of the river. Wow what a start to the day. Everything is within walking distance. I would definitely come back and would recommend this place.
Lisa
2017-03-30T00:00:00Z
Type de logement
Logement entier
---
Type de propriété
Appartement
---
Capacité d'accueil
2
---
Chambres
Queanbeyan East, Nouvelle Galles du Sud, Australie
Spacious studio apartment in a quiet street, fully self contained with total privacy, including a pretty and secluded deck and garden. Includes one queen sized bed with space for a cot bed/childs bed/s if requested.
Loved the cottage Kate. Had all the comforts of home and set in a very quiet location!
Shayne
2016-03-27T00:00:00Z
Clean, light, airy & comfortable. I would definitely return.
Robyn
2017-02-17T00:00:00Z
Quiet, clean, comfortable & secure. This is such an excellent alternative to motel accommodation - so easy to organise & Kate was a wonderful host.
Robyn
2017-01-12T00:00:00Z
The cottage is great and has everything you could need.
Jack
2017-02-13T00:00:00Z
What an amazing cottage!! Warm and cozy with every possible thing you would need for a home away from home. Very clean with modern appliances. Kate is great, warm, friendly and great to talk to. Would highly recommend to anyone needing accomadation in the Queanbeyan area as its central to everything. Would definetly stay again. Thanks Kate.
David and Amanda
2017-01-28T00:00:00Z
My stay at Sunnybar was luxurious and peaceful. The cottage has everything you need and Kate was very friendly and accommodating. I will definitely stay here again.
Jackie
2016-10-07T00:00:00Z
Thank you so much for providing us with such a beautiful place during our stay. We thoroughly enjoyed it!
Annick
2016-10-17T00:00:00Z
We arrived late at night and Kate's instruction to us was clear. We met the family the next day and all of them are very warm and friendly ! The cottage is a lovely place to stay in. It is spacious, clean and well equipped. 20 minutes walk from the town centre, we bought ingredients to whip up a meal on the cottage. You can make use of the induction stove, oven, microwave, toaster etc. Kate was very understanding too. It was raining heavily on the day we should check out but she offered to let us stay on longer and wait for the rain to subside before we set off on our motorcycle. Very nice of her :)
Vincent
2016-03-11T00:00:00Z
Type de logement
Logement entier
---
Type de propriété
Bungalow
---
Capacité d'accueil
2
---
Chambres
Karabar, Nouvelle Galles du Sud, Australie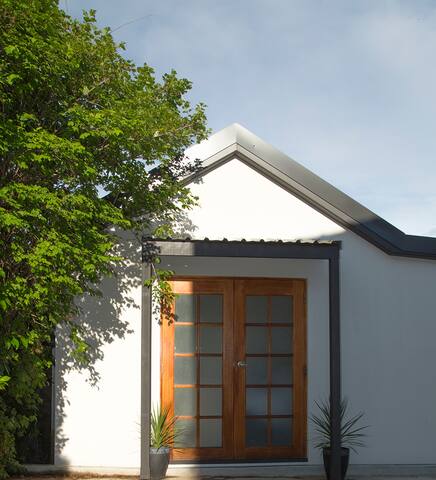 This private apartment is convenient, cozy and calm. It is walking distance to hotel and shops, in a quiet cul-de-sac, close to nature and all of Canberra and it's delights.
This ground floor apartment is 15 minutes southeast of Canberra city and is perfect for relaxing in. It is newly renovated, features large built-ins with hanging space, drawers, and shelves for all your things. It is positioned underneath a family home with it's own entrance. The living area features a window seat, a queen size bed suitable for two guests with bedside tables, a small dining table with two chairs, a tv, two comfy chairs and ample storage space. The kitchen features a microwave, portable oven with two hotplates, kettle, toaster, frying pan, and all the basics for making a feast for breakfast,lunch or dinner. Two comfortable chairs to recline in, and a separate table, with chairs and a window seat. A washing machine is available in the space, along with a shared outdoor clothesline, or you can use the indoor clothes airer provided. Access to a dryer is available on request. A separate bathroom exists with shower and commode. If you have extras on your trip, i.e. a third person staying, we can provide a comfortable single bed in the apartment, or a Porta-cot for a baby. It is 5 minutes walk to shops, restaurants and a hotel, the Parliamentary triangle including museums and more, is 15 minutes away, and central Canberra is 20 minutes. There is access to a large number of parks, many fine wineries in the surrounding districts, and both the beach and the snow are 2 hours away so close enough to visit and return in a single day if you are of a mind.
Jerrabomberra is a very pleasant place to visit, or use as a base for seeing the sights of Canberra. There are numerous walking tracks over Mount Jerrabomberra within 200 metres of the front door, as well as nearby Jerrabomberra Lake. Further in town, there is Commonwealth Park including an all-abilities playground, as well as the Parliamentary triangle and it's museum's, old and new Parliament House, and the National Arboretum. For eating, there is a Chinese/SE Asian Restaurant down at the local shops, the pub has some great food, and there is a Michel's Patisserie, a pizza take-away and a fish-n-chip shop as well. There are too many restaurants in Canberra and surrounds to describe them in any detail. Our favourites are the Griffith Vietnamese restaurant, the Hungry Buddha in Curtin, Ramas at Pearce along with the Ethiopian just next door to it, and getting a snack at Dobinson's in the city centre.
Très bon séjour appartement très bien meublé tout pour faire la cuisine bonne literie katrina est très gentille. Je recommande
Lise
2017-01-09T00:00:00Z
Great value for money if you are needing to pop down for the weekend! Great little apartment underneath Ken and Katrinas home. We were really happy with our stay - thanks so much for making our trip super easy!
Phee
2017-02-25T00:00:00Z
It is near Canberra. And easy place to find.
Ada
2016-12-27T00:00:00Z
Katrina's place is a fantastic place to stay. It was very close to local shops and it was in a very central location to get to Canberra. Would definitely come back
Josh
2017-04-08T00:00:00Z
The space suited us very well and I much preferred it over staying at a motel. The bed was comfy and I liked that there was room to move. Will definitely keep it in mind for the next time we have to be in the area.
Gwen
2016-12-05T00:00:00Z
Katrina was most welcoming and we had a good sleep in spacious surroundings....
Peter
2016-11-27T00:00:00Z
Thanks for letting us in your house. We had a great weekend in Canberra. It was warm inside despite the fact that outside was freezing cold. Playground in the backyard is awesome and my daughter had much fun. Highly recommended place to stay in Canberra.
Oleksandr
2016-05-09T00:00:00Z
This was a lovely private space for me thank you
Alastair
2016-04-10T00:00:00Z
Type de logement
Logement entier
---
Type de propriété
Maison
---
Capacité d'accueil
3
---
Chambres
Jerrabomberra, Nouvelle Galles du Sud, Australie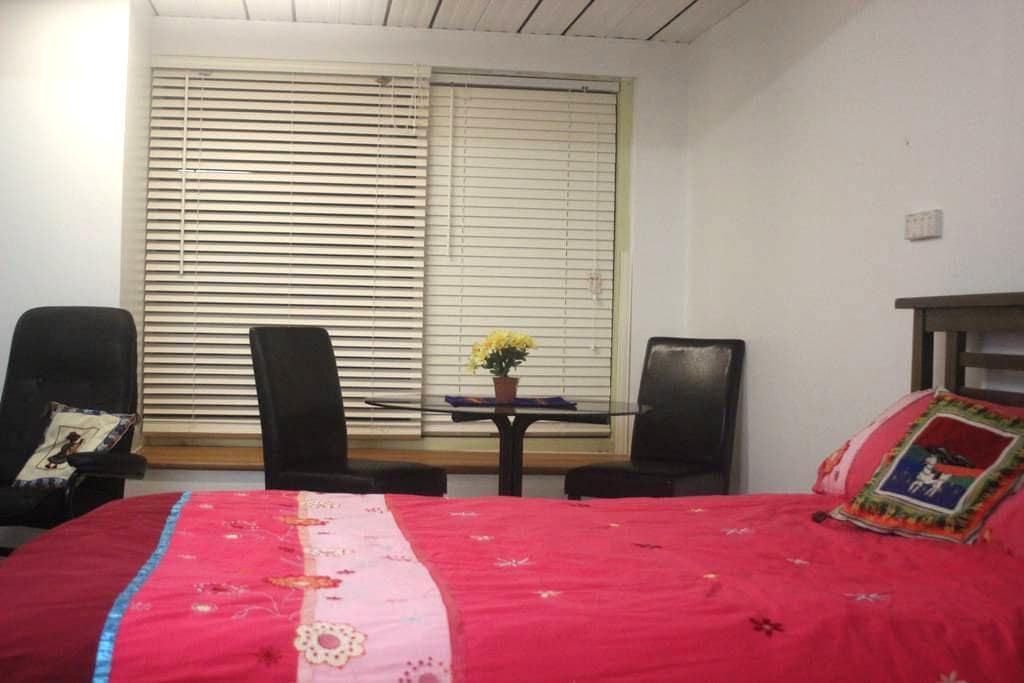 Studio bedroom and private bathroom with private external access. Situated in a quiet street, 25 mins to Canberra City, 15 mins to Kingston foreshore with heaps of restaurants, cafes and bars, 20 mins to Parliment house and 17 mins to Canberra's International airport. Although our property is just over the NSW border it provides easy access to most major centers in Canberra and is only 5mins from the Queanbeyan town centre. A great stop over on the way to the snowy mountains.
Studio room with sitting and TV area (Apple TV with Netflix account). Lots of drawers and wardrobe space and bathroom. Limited cooking facilities including small fridge/frezer, microwave, toaster and kettle. Completely private space, no-one has access to the studio room or bathroom during your stay, access to the room is via a separate gate and is completely private.
It is a good place.長途旅行中途休息好地方
PO-JUNG
2017-02-04T00:00:00Z
Very clean & spacious. Kettle for Tea/ Coffee. Microwave only other kitchen appliance - so take away or eat out required. Quiet, Suburban residential street - glad we had a vehicle to get around.
Ep
2017-04-03T00:00:00Z
We had a fantastic stay at bens place. Just 20 mins from Canberra CBD by car and a 5 minute drive to the high street. The studio has everything you need and is even better in reality than the photos let on :) Very cosy, comfortable and private, perfect for a stop off between Melbourne and Sydney. Highly recommended a stay here.
Alex
2017-01-20T00:00:00Z
Very clean, easy to find (I used maps.me app) close to Canberra & extremely good value for money. Self check in was easy (once I found the lockbox with the key)-perhaps a better description on where it actually is? I never met Ben, but he kept in contact via email, I highly recommend a stay in this lovely airbnb.
Lesley
2017-03-20T00:00:00Z
The room is clean and neat. The home is a reasonable distance from Queanbeyan and a car is needed. But it was ideal and good value for my 4 day stay. Communication with Ben was easy.
Michelle
2017-02-09T00:00:00Z
Lovely studio. The bed was the most comfortable in 4 months of traveling around Australia. The wifi brillant and the Apple TV a great bonus. Definitely recommend
Jane
2017-03-08T00:00:00Z
What a great place to stay super quiet and very clean. Bed was comfy :) Apple TV with Netflix Ben was awesome and communications was fantastic. Highly recommended 5 stars
Robert
2017-03-11T00:00:00Z
This is a very quiet and secluded self-contained studio apartment which has everything you need for a visit. Easy to find and park. The host was very gracious and responsive when there was a hiccup with Airbnb not sending me instructions to access the apartment. This was much appreciated, thank you Ben!
Louise
2017-04-09T00:00:00Z
Type de logement
Logement entier
---
Type de propriété
Chambre d'hôtes
---
Capacité d'accueil
4
---
Chambres
Karabar, Nouvelle Galles du Sud, Australie
Saisissez les dates souhaitées pour connaître le prix total. Des frais supplémentaires s'appliquent et des taxes peuvent être ajoutées.